Disclosure: This page contains affiliate links, meaning we receive a commission if you decide to make a purchase through our links, but this is at no additional cost to you.
Babyliss Pro- 30 piece Heated Ceramic Rollers Review
/ £55.35 / View on Amazon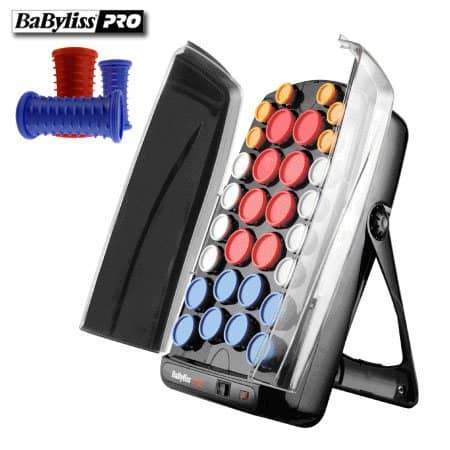 Admittedly when you first look at the upright storage you see a sophisticated game of Connect 4, however, this set of rollers comes with 4 different sizes, 15 clips and 30 colour coded metal pins. There are 2 temperature settings and the rollers have easy grips along with cool rims.
In total you will be able to use 30 heated rollers, 6 small, 8 medium, 8 large and 8 jumbos, this combination will allow for a multiple of curls, shape and volume. It is almost impossible not to have enough!
The rollers feature and easy grip, so you won't have to waste time fiddling around and the cool rims will prevent little accidents.
Different hair requires different accessories, with the choice of clips and pins, this set is suitable for both fine hair and thick hair.
Having the option of two temperatures will again allow you to use this set on various types of hair. There is an indicator light which tells you when the rollers are ready.
The arm on the bottom of the storage will fold away, therefore, saving you space when you want to put your set away.
While there are numerous possible styles with so many rollers, the actual set is simple to use and nice and lightweight. There are enough rollers to be able to curl 2 people's hair at the same time without affecting the professional results.
We were concerned about the length of time it takes in order to heat the rollers but once at the correct temperature, they work incredibly well, although perhaps not for bouncy curls all day long.
The quality of the pins is a drawback. It might be wise to keep a set of pins handy in case these break.
Babyliss are known for there 40 years of contributing to the hair industry and this professional set has everything imaginable to create light waves to voluptuous curls. It is a rather pricey set but considering the entire set, it is worth it.
The colour-coded clips are really helpful, especially if you are in a rush. The box includes instructions which will help any of the novice curlers.
Pros & Cons:
Amazon and the Amazon logo are trademarks of Amazon.com, Inc, or its affiliates.