One of the best options for exercising in the comfort of your own home is the humble exercise bike.
Relatively cheap to get started and offering an effective, versatile but low impact workout, there's a reason so many of us turn to exercise bikes to get our cardio in and burn fat.
But exercise bikes can be surprisingly beefy, and after all, not all of us have the room for a full sized exercise bike to just sit in our house hogging space when it's not in use.
Designed to save space, folding exercise bikes are ideal if you live in a smaller home and don't have the space for a full, static bike or you find yourself using your gym space for other things, like home offices.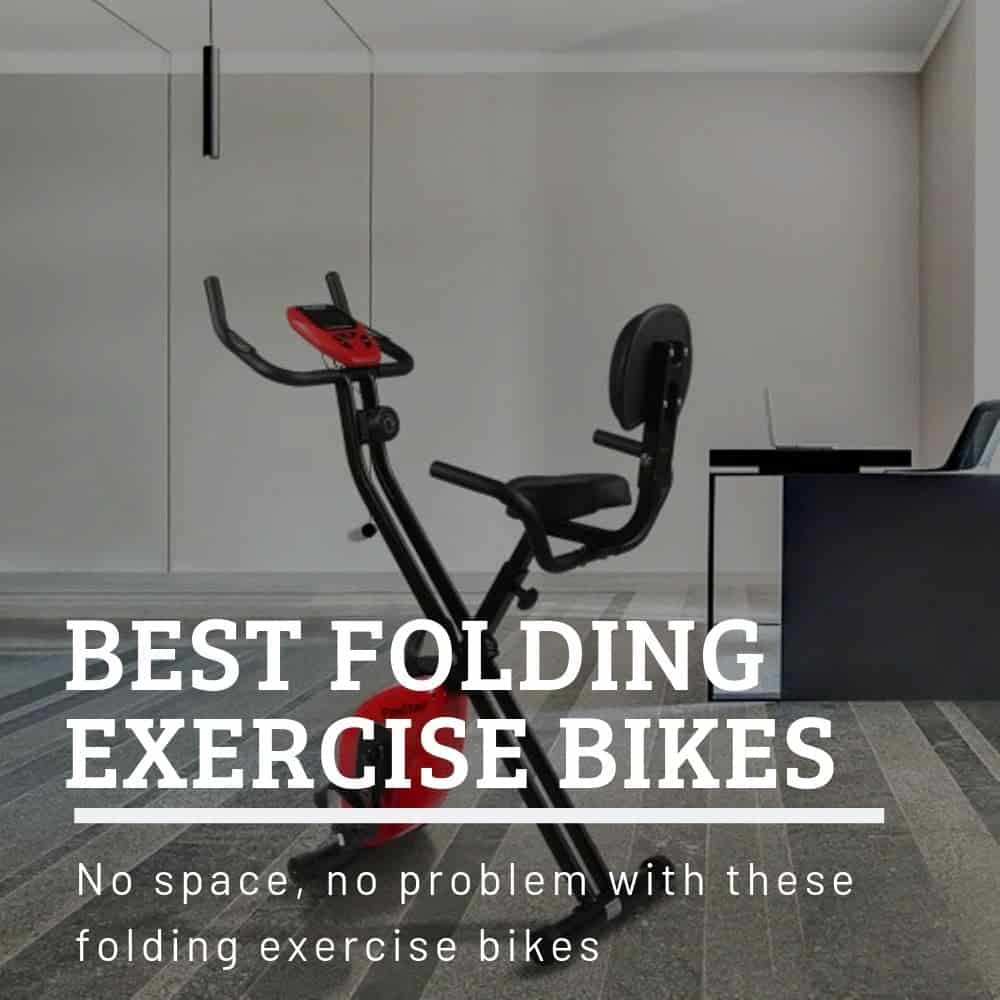 Best Selling Folding Exercise Bikes on the market 2021
| # | Preview | Product | Rating | Price | |
| --- | --- | --- | --- | --- | --- |
| 1 | | Folding Exercise Bike with 10-Level Adjustable Magnetic... | 1,593 Reviews | £169.99 | Buy on Amazon |
| 2 | | Ultrasport F-Bike and F-Rider, Fitness Bike Trainer, Sporting... | 21,364 Reviews | £84.99 | Buy on Amazon |
| 3 | | BCAN Folding Exercise Bike for Heavy People, Foldable Exercise... | 103 Reviews | £169.99 | Buy on Amazon |
| 4 | | Ultrasport Unisex F-Bike Advanced Exercise Bike, LCD Display,... | 15,734 Reviews | £94.99 | Buy on Amazon |
| 5 | | Folding Exercise Bike with 8-Level Adjustable Magnetic... | 73 Reviews | £94.99 | Buy on Amazon |
| 6 | | YYFITT Foldable Fitness Exercise Bike with Resistance Bands, 16... | 442 Reviews | £145.00 | Buy on Amazon |
| 7 | | XS Sports B210 Folding Magnetic Exercise Bike - Indoor Fitness... | 877 Reviews | £109.99 | Buy on Amazon |
| 8 | | YYFITT 2-in-1 Foldable Fitness Exercise Bike with Resistance... | 1,419 Reviews | £163.00 | Buy on Amazon |
| 9 | | Folding Exercise Bike,Exercise Bikes for Home,Indoor Cycling bike... | 21 Reviews | £129.99 | Buy on Amazon |
| 10 | | Fit4home Ltd Stationary Static Exercise bike Bluetooth... | 381 Reviews | £129.99 | Buy on Amazon |
Without further ado, let's take a look at those best foldable bikes.
1. Ultrasport F-Bike Foldable Exercise Bike
Sale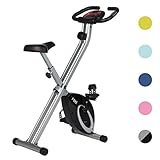 Our number one choice for a folding exercise bike, the Ultrasport F-bike has pretty much every feature you should be looking for covered and more, all for a really reasonable price.
Unfolded, it's stable and robust, with a maximum weight limit of 100kg (220lbs.) Folded, it fits into a 45 x 45cm space, letting you tuck it away into cupboards or slide it into the corner unnoticed.
When it comes to use, there's a lot to love too. 8 resistance settings take you from gentle warm-up to heavy burn. The inbuilt LCD display and heart rate tracker let you know exactly how hard you're working as well as how many calories you've burned.
By all accounts, users reviews are excellent, except for one thing. The seat. Which apparently is like sitting on a brick. But that's an easy fix. You can find replacement seats everywhere online, and it's a matter of seconds to swap it over.
There's a reason Ultrasport are the market leaders in foldable bikes. It's hard not to recommend this model. As long as you're under the recommended weight limit and understand that it's still a foldable bike model, this is pretty much the best exercise bike on the market, for the price.
That's why it's our number one choice for the best foldable bike in 2021!
---
2. Exerpeutic Gold 525XLR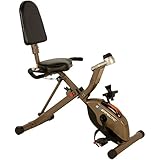 Incredibly heavy-duty, with an exceptionally comfortable ergonomic design and a huge weight limit, the Exerpeutic Gold is designed expressly with your comfort and ease of use in mind.
If, because of medical or personal reasons, you struggle to get on and off of a standard bike design, that doesn't have to hold you back. The semi-recumbent design, huge backrest, and comfortable seat make sitting in this like sitting in a comfy chair, and it's simple to get in and out of.
Constructed of heavy-duty steel, this bike is suitable and safe for pretty much anybody, up to a maximum height of 6'5 and a maximum weight of 181kg (400lbs.) Despite the 25kg unit weight, it's simple to fold up and tucks away to an incredible 27" x 18", plus the built in wheels make moving it around your home an absolute dream.
When it comes time to use it, you have a choice of 8 resistance settings, allowing you to build up to a comfortable pace, and the 3 piece cranking system keeps the pedalling action silky smooth, even at high resistances.
Every opinion we could find of this bike was glowing, with nothing negative to say. As a recumbent bike, remember that you're not going to get the same experience as you would with a standard frame bike, but it's literally the perfect model for low impact exercise, therapeutic rehabilitation and weight loss.
If you need a bike that's not going to overstress your body, whilst still keeping you fit and healthy, this is an exceptional choice.
---
3. Skandika Unisex Folding Exercise Bike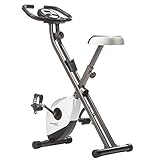 If you're looking for a good quality, middle of the road folding bike that's built well and has a couple of standout features, you could do a lot worse than the Skandika Unisex folding bike.
First off, it's great to note that the build quality all around it exceptional, and the bike itself is incredibly easy to assemble, even if you're on your own.
Once you've got it set up, the large seat and smart, ergonomic design mean you'll be comfortable on it, even for longer sessions. It holds up to 110kg, (242lbs,) and it comes with the usual suite of expected electronics to monitor your workout sessions.
One thing to love about this model is the Bluetooth app functionality. It links into the computer and tracks your daily exercise through the Fitness Data app, automatically updating when you use the bike.
In terms of downsides, there's very little negative to say about it. The design is generic, with nothing standout, but as a folding bike it's probably not going to be in view when it's not in use, and all the measurements are in metric, so if you're not used to kilometres, it might take some adjustment.
Apart from those tiny niggles, this is a quality piece of kit for a good price. It's solid and well built and does everything you need it to do.
---
4. XS Sports Magnetic Foldable X-bike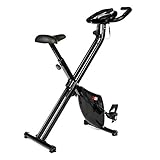 Comfortable and strong, with a great design that's unfortunately plagued by some reliability issues, XS Sports foldable bikes are great little models, when they work.
As a bike, these really are top notch, with a super high build quality and ergonomic design that's really comfortable to use, especially when you factor in the wide, comfortable seat and excellent pedals. They were designed in consultation with gym equipment professionals, so its no surprise that the whole thing feels really sturdy and looks great.
The flywheel is a solid 1.6kg, giving you a good level of resistance for a foldable bike, but it stays incredibly quiet, no matter how high you've set it or how hard you're going, which makes this a great choice for people in apartments or other high traffic areas.
It's also incredibly adjustable. Even people under 5ft report it being comfortable to use, and if you've ever used a bike that's not sized correctly for you, you know how important this is to get right.
The real downside is the electronics. There's multiple instances of the computer not working correctly, or outright failing very quickly. It's covered, and you'll be able to get the problem resolved with no issues, it's just disappointing to have to do this, especially considering how good the rest of the bike is.
If you fancy taking your chances, or if you're not going to use the inbuilt computers, for example, if you've already got an app on your phone or a fitness watch, then this is a great little bike. When it works.
---
5. Proform X Bike Duo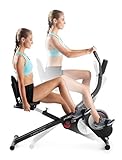 From the outside, the Proform X Bike Duo looks and performs impressively. It outright resembles the sort of high quality machines you'd expect to see in a high class sports centre
First off, the thing that sets this apart. The dual position system. With a few seconds work, you can shift the entire bike from an upright position to a recumbent position, changing the entire structure and feel of your workout and making this bike suitable for any user, at any level.
The ergonomic seat has a built in lumbar support, taking the strain off your body, no matter the position you're in, and when you start your workout, you'll find 14 levels of resistance and 14 progressive workouts to go along with them, building you up whether you're an absolute beginner or training for an event.
The built in LCD screen is large and easy to see, plus there's a tablet holder to keep you occupied during marathon sessions.
It's not all rosy, though. The whole system is a weighty 35kgs, which makes it hard to move even when folded. It might be smart to consider this as a fixed unit that you can fold up if you need to, rather than something you can tuck away after every use.
It's also difficult to assemble when you first receive it and get it out of the box. Plus, it's expensive. Almost three times as much as some of the other bikes on this list.
But once you've put it together, you'll soon realise why. This bike is honestly on a different level to a lot of the others reviewed here. If you're serious about training, or you want the best piece of kit to keep you motivated, this might be just what you're looking for.
---
6. Olympic 2000 Compact Exercise Bike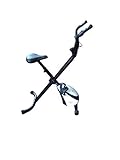 Olympic 2000 Compact Exercise Bike, White
On-board Digital Computer Monitor with the following functions:...
Smooth quite motion, non skid foot pedals with safety strap. Super...
2.5Kg Fly Wheel, 8 step Adjustable Resistance system, Extra Padded...
A fantastic budget option, ideal if you're just getting started and don't know if a folding bike is right for you. If you don't need any electronic bells and whistles, the Olympic 2000 does what you need it to do, for an incredibly reasonable price.
Ergonomically, it's incredibly basic, but that's to be expected. The frame is bare and simple, with no frills on the design side, but it's got all the expected safety and comfort features including non slip pedals and front and rear stabilisers so you won't tip over when you're going for it.
One huge upside of the basic design is assembly and mobility. It goes together in minutes, and you can snap it up and have it out of the way in literally seconds. It's a light 15.5kg as well, meaning you can shift this around the house without worrying about hurting yourself.
The flywheel is a surprisingly weighty 2.5kg, which gives this an alarming amount of resistance for a budget bike, especially at the higher of its 8 settings.
Even for this price, it still comes with a pulse monitor and trip computer that measures pace, distance and calories burned.
The only real downside is build quality. Some users reported that after several months of use, the bike would start to show signs of wear. Honestly though, you get what you pay for, and as a budget, starter option, it's hard to beat this bike.
---
7. Klarfit Azura Comfort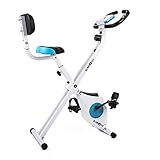 If you're looking for a bike that's going to put the least strain on your body, this should definitely be near the top of your list. This is probably the most comfortable bike we've reviewed today. After all, it's right there in the name.
For starters, the deep, soft saddle and back seat make it comfortable to use for long periods of time, or for those who might struggle with an upright bike. The handlebars are also padded for comfort, something the cheaper bikes might not have, which eases the strain on your hands and arms over longer periods of use
It's got a pretty high 120kg weight capacity, and despite the size and stability of this bike, it's real easy to assemble. It comes as a kit, but according to the manufacturers it only takes around 15 minutes to put together, so you could order this and have it up and running within 24 hours, easily.
In use, it has a heavy 3kg flywheel, almost twice the weight of some bikes on this list, which is good because it increases the levels of resistance you can set it to, but despite the weight of the thing, it's really quiet.
Obviously, it also comes with the normal electronics, with built-in heart monitor and LCD display. This is all placed dead centre so it's easy to see, as well as being simple to set up and use, and handily puts it right next to the tablet holder.
It's telling that this bike has quality reviews across the board, with almost no negatives noted. All this, and it's barely more expensive than most of the other options. As recumbent bikes go, this is a steal, and would definitely be our choice if comfort was your watchword.
---
8. Finether Fitness bike with desk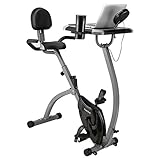 A quality desk bike for an incredibly low price point, there's a lot to love about the Finether.
For a start, as a bike it does an admirable job. The frame might be relatively basic, but there's just enough luxury and smart design decisions to make it feel like quality, especially once you've got used to it.
With its 1.6kg flywheel, standard for this type of bike, and adjustable resistance settings, you've got full control over your workout, whether that's a gentle cruise whilst you work, or a hard burn to top off the day.
In use, it's comfortable and ergonomically sound, with a deep seat, backrest and twin armrests. The desk is adjustable, and with six seat heights you'll find a working position that's comfortable even on the longest days. It's also got a pull out cupholder that fits most water bottles, which is a cute touch.
Inexpensive and solid, it's hard to dislike the Finether desk bike, and customer opinion mirrors that. Plus, once you're done with it, you don't even have to fold it away as the desk is the perfect height to be used as a standing workstation.
As an entry into the world of fitness desks, especially for the price, this is an awesome little bit of kit we'd encourage you to try.
---
9. Exerpeutic Workfit 1000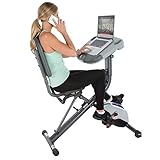 We've already reviewed an Exerpeutic bike above, the Gold 525XLR recumbent, and we loved that bike. The question is, will you love this just as much?
Short answer. No. It's a solid piece of kit, but there's a few flaws that hold it back, and if I were looking for a desk bike, I'd lean towards the Finether (reviewed above.)
It's built to high quality, as you'd expect from an Exerpeutic bike, but then, they have the cost to go alongside the quality. Fully adjustable, with a suite of height and fit settings, this supposedly suits anyone, from a petite 5'2 to a large 6'3.
But therein lies the first problem. According to some users, the way the pedals and central column are laid out, it's just not comfortable to use for long periods of time. As a working desk bike, that's absolutely not the thing you want to hear.
Secondly, it's an absolute beast. It supports up to 136kg in weight, which is great, and it's got a huge, stable footprint and comfortable seat. But this means that even folded up, it's huge. The large 54 x 65cm footprint and considerable weight (~30kg!) mean you aren't going to be shifting this far.
Long story short, if you find this bike comfortable to use, it is a great system. But if you're unlucky enough to not find it comfortable, you'll be sending it back in short order. Consider carefully before you buy this bike, and maybe look at our other options first.
---
Conclusion
Unless you're looking for something specific, the Ultrasport F-Bike is hard to top. The fact that it offers everything you need it to, with great build quality and exceptional price whilst still being incredibly light, easy to move and absolutely tiny whilst folded make it our number one choice of foldable bike.
If you want a quality foldable bike and you haven't already considered the Ultrasport, you're doing yourself a disservice. Seriously. It's that good!
A quick guide to Foldable exercise bikes
Why buy a foldable exercise bike over a static bike?
Generally, there's one reason you're going to be looking for a foldable bike over its static cousin. But even with that in mind, there's still a few things to consider when you're making your choice.
Size and mobility
If you're considering a foldable bike, this is probably your number one concern. After all, there's a reason you want to be able to fold it up and move it out of your way once you're done.
With that in mind, consider these two things when you're buying your bike.
Footprint, and Weight.
A bike with a smaller footprint will fit in many more places than a bike with a larger footprint. Our review list contains bikes that will happily slip into standard cupboard spaces, and others that are legitimately difficult to find space for, so look at how much space you have and where you're going to put it when not in use.
Obviously, heavier bikes are also harder to move, but heavier bikes usually come with mobility options like built-in wheels and handles.
Affordability
Folding exercise bikes are generally relatively inexpensive, with most of the options on our list hovering around the £100 price point. Obviously, you get what you pay for, so larger bikes with more options are going to be more expensive.
Resistance
Foldable bikes tend to have a smaller flywheel, which is what provides the resistance that you're pedalling against.
What this means to you is that a foldable bike won't offer the higher levels of resistance that a static bike might have. If you're not interested in exhausting yourself or training and the highest levels, this won't be a concern, but it's still something to keep in mind, especially if you're training for an event like a triathlon.
Other options
Pretty much every bike out there comes with a suite of electronics that monitor you whilst you work out, but some also come with phone support, app functionality or other smart tools.
It's also worth considering the ergonomic options. If you're going to be pulling long sessions on your new toy, comfort is going to be much appreciated, and a more comfortable seat, for example, will definitely be felt.