Have you always admired the brave surfers who could easily conquer the waves? And, have you always dreamed of riding the waves like they do one day? Well, learning how to surf is not an easy task. But, there is one sport that will provide the same exciting experience but it is much easier to learn. We're talking about bodyboarding! And, in order for this to be an unforgettable experience, you need to get yourself one of the best bodyboards you can get!
So, what is bodyboarding? It's just like surfing and includes riding on the waves. However, this sport is more accessible for those who are not confident enough to surf or who do not have about $500 to spend on a surfboard. This watersport takes you through the water in a completely different way.
With bodyboarding, you will never have to worry about falling off the board because you will be lying down in a prone position and gripping the board. All in all, it is a great sport if you're just starting and you want to build up your surfing skills slowly.
To get you more familiar with this watersport, we have prepared a thorough guide that will teach you everything about bodyboarding. And, of course, we listed the best bodyboards you can get this summer!
Best Bodyboards on the Market in 2021
What are Bodyboards and Bodyboarding?
Believe it or not, bodyboarding is a watersport that came before surfing. It is believed that the sport has its roots in the Pacific islands, and the first people who slid across ocean waves while lying on boards were Polynesians. This old-fashioned way of riding waves has the rider either on their knees or belly. Only, later on, did catching waves while standing evolve, making bodyboarding way older than surfing.
There are three basic ways you can ride a bodyboard. You can do it on your chest, your knees, or you can try standing up.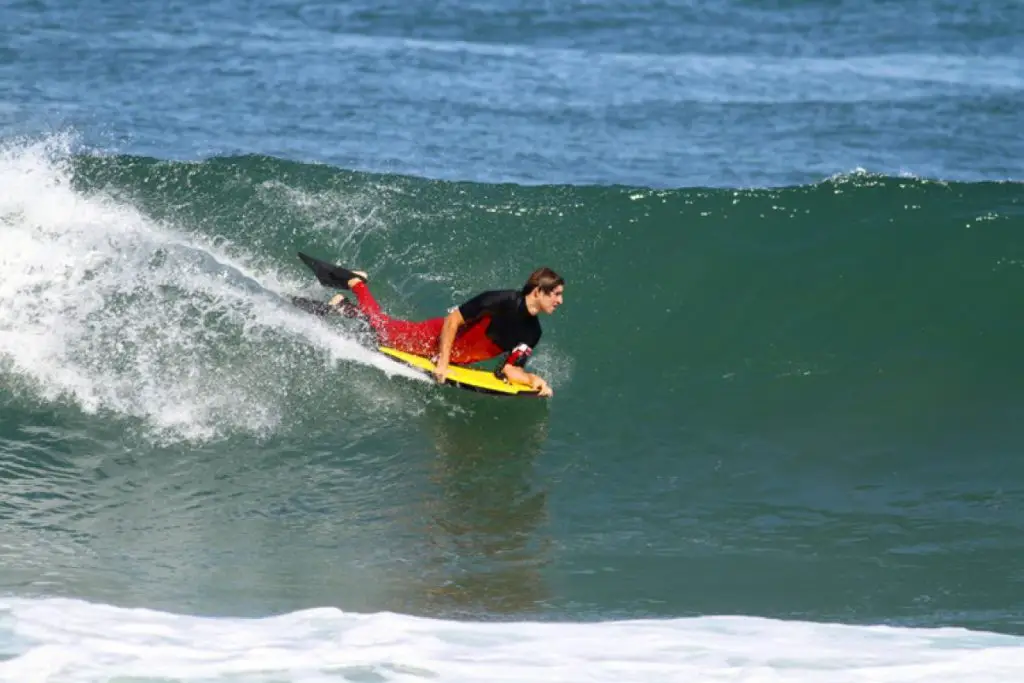 Image Courtesy of Surfer Today
Prone Position
The prone position means driving the bodyboard on your stomach or just chest. This position is recommended to all those who are just starting, as this position makes it very easy to navigate the waves. Also, it takes the least amount of balance.
Riding in a prone position allows you to experience that feeling of getting deep into the wave while it curls over you and creates a tube-like setting. This is a perfect stepping stone for all beginners that will allow them to prepare for other, more advanced tricks.
Maneuvering the bodyboard from a prone position is easy. If you want to turn left, all you need to do is place your left hand on the left corner of the nose and the right arm halfway down the rail of the right side of the board. And, if you need to turn right, just do the opposite.
Drop knee Position
This position is not very common, and only a few bodyboarders ride this way. However, drop knee actually is a compromise position between bodyboarding and surfing. You should try this position only after you gain some experience, since controlling a bodyboard this way is more complicated.
However, if you manage to master this riding position, you'll be able to maneuver through the waters way better than when you would in a prone position.
To ride drop knee, you have to place one of your knees on the back corner of your board and the other foot on the opposite front corner of the board.
Stand-Up Position
Riding a bodyboard while standing up actually defeats the primary purpose of the bodyboard. If you manage to ride your bodyboard this way, then you're actually ready for surfing. Stand-up riding is standing upright on the board and doing tricks on the face and in the air. Not a lot of bodyboarders ride this way, but notable riders like Danny Kim, Cavin Yap, and Chris Won Taloa can do it.
Top 5 Bodyboards for this Summer
1. Own the Wave Super Lightweight Bodyboard – Beach Attack Pack
The Beach Attack Pack by Own the Wave features a super lightweight "Wave Weapon" bodyboard, a premium coiled bodyboard leash (costs about £13) that will keep the board attached to you at all times and a set of fin tethers to make sure you don't lose your swim fins in the waves. The manufacturer added a note saying that fin tethers and leash will be at the very bottom of the board wrapped in a tight bundle underneath the plastic wrapping.
What makes the "Wave Weapon" one of the best bodyboards currently available is the fact that it is very light and features a high-speed slick bottom surface, an EPS core, bottom rear channels, and a crescent tail that will help your performance. Also, the company offers the greatest variety of sizes and colors.
Every customer also gets printed instructions on how to install the leash, use the fin tethers, and also how to look after the bodyboard.
What We Like:
A bodyboard that comes in a great variety of sizes and colors;
Made of quality materials and will last for an extended period of time;
The pack includes a premium bodyboard leas and fin tethers;
The bodyboard is perfect for beginners as it is made to help improve their performance.
What We Don't Like:
Some customers complained that their boards started peeling after a few uses.
---
2. BPS STORM Bodyboard PACK
If you're looking for a sturdy board, then BPS Storm is one of the best bodyboards you can get. Incredibly lightweight, this high-speed board features a slick bottom surface, bottom rear channels, and a crescent tail that offers superior performance.
Similarly to the previous product, this one also includes fin tethers and bodyboard leash. The board comes in three different sizes that range from 33 inches to 41 inches. The 33-inch size is an excellent choice for children who are up to 125 cm tall and don't weigh more than 29kg. The 41-inch board is excellent for all those who are up to 160cm tall and don't weigh more than 55kg. The largest size is perfect for adults who don't weigh more than 85kg.
The core of the board is made from EPS, and it provides strength, durability, and stability. The channeled slick bottom ensures speed and maneuverability. The non-slip surface of the deck provides comfort and allows you to even try and perform tricks through waves.
The BPS Storm can be used both by beginners and advanced users. The product comes with a one-year warranty.
What We Like:
A sturdy, yet lightweight form that ensures superior performance;
Comes in three different size and many different colors;
Features two fin tethers and a bodyboard leash;
The board is made from quality EPS that provides strength, durability, and stability.
What We Don't Like:
The largest model can be used only by people who don't weigh over 85kg.
---
3. Morey Mach 11 Tube Rail
Thomas Hugh Morey started Morey Boogies right after he finished his Mathematics studies. He used his professional skills in composite manufacturing and engineering from Douglas Aircraft to start making surfing-related innovations. The Mach 11 is one of the best bodyboards by Morey. It represents the brand's evolution hallmarked by expert workmanship.
The board features Phuzion Core, a quality, high-density EPS core that is laminated and ideal for entry-level bodyboards. The crescent tail that helps lock the body into a position for superior control. The board also features grooved slots on the bottom skin, which help minimize turbulence and increase the boards hold to the waves, increasing speed. The board also is made from HDPE and features firm high-density bottom skin that adds stiffness and increases speed while retaining flexibility.
So, if you're looking for a bodyboard with PE core, crescent tail, and classic shape that is also flexible and controllable, Mach 11 is the way to go!
What We Like:
High-quality bodyboard that works with prone, drop knee, and stand-up positions;
Made by a reputable manufacturer and has a sturdy construction;
PE core, crescent tail, and classic shape make up for excellent bodyboarding experience;
Phuzion Core and high-density bottom skin ensure the right blend of weight and stiffness.
What We Don't Like:
Bodyboard leash is not included, and some users claim that the bottom seam comes apart easily.
---
4. Ocean and Earth 33″ Zero Bodyboard
Ocean and Earth is known for making some of the best yet very affordable bodyboards. The 33″ Zero bodyboard is one of their best-known models. It is made of high-quality materials that ensure you'll ride smoothly for many years to come.
The core is made of EPS, and it is not only durable but also flexible, lightweight, and highly waterproof. The slick, made from HDPE, is strong and durable. It will take a thrashing and still keep charging through the waves. The deck is very durable and textured for a better grip. These features make the Ocean and Earth Zero perfect for beginners but also intermediate riders.
All Ocean and Earth bodyboards are tested in a heat-induced environment at 70°C for two hours to ensure that the board can endure even the harshest conditions. The leash plug is also included.
What We Like:
A quality bodyboard that comes at an affordable price;
The core is lightweight and flexible, for a smooth ride on the waves;
The HDPE slick is strong and durable;
The leash plug is included in the package;
All Ocean and Earth bodyboards undergo heat testing.
What We Don't Like:
The size of the board is not suitable for all riders.
---
5. Two Bare Feet 44″ Bodyboard with Leash
Two Bare Feet is known for making some of the best bodyboards that come at an incredibly affordable price. This bodyboard features a high-density EPS core that ensures the best strength and durability. The XPE textured deck makes every ride soft and smooth and also reduces stress after flexing and recoil.
The bodyboard features a crescent tail design that makes for the most versatile user-friendly boarding experience and also allows the riders to try out drop knee riding. The HDPE slick bottom adds elasticity that improves recoil to the original shape of the board after flexing. The manufacturer also made sure to include a Velcro leash.
What We Like:
An excellent bodyboard that comes at a very affordable price;
The crescent tail allows users user-friendly boarding experience as well as drop knee riding;
The HDPE slick bottom and EPS core add strength, durability, and elasticity;
The Velcro leash is included in the package.
What We Don't Like:
Some users mentioned that the cord & strap are made of low-quality materials.
---
Best Bodyboards Buying Guide
Now that you're familiar with bodyboarding and the best bodyboards currently available, it's time for you to choose one. This can be quite difficult since all of the products on our list are of high quality. Here are a few factors you should take into consideration before making a final decision.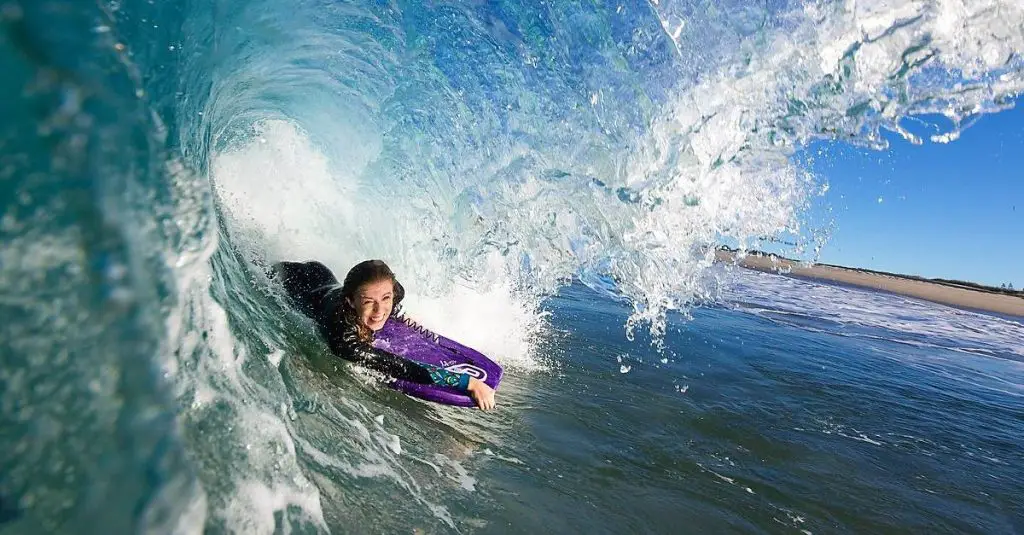 Image Courtesy of Camden Courier
Construction
So many people experienced the following – they buy a bodyboard, use it a few times, and then the board breaks down. If you want to avoid this, make sure to get a product made from high-quality materials. These might be a bit more expensive, but at least you'll be investing in a product that will last you for years.
In addition, the materials a bodyboard is made of determine not only its lifespan but also its performance in the water. For a while now, the best bodyboards are made of polypropylene foam. It is stronger but lighter than polyethylene foam. While it may be more costly than other materials, polypropylene foam ensures that the board lasts longer and performs excellently.
Size
The size of the bodyboard depends on your build. After all, it is called a bodyboard for a reason; it is meant to work with your body. Getting an oversized model will result in poor maneuvering and controlling. A bodyboard that is too small will keep you sitting too low in the water.
Choosing the right size is actually quite easy. All you need to measure is the distance between the ground and your belly button and the distance between your knees and chin. Both numbers should be approximately the same. However, if they are too different, find an average of the two.
Here's a bodyboard sizing chart you can use for easy reference.
| | | |
| --- | --- | --- |
| Board Size (in inches) | Weight (in pounds) | Height |
| 36 to 38 | 65 to 85 | 4′ to 5′ |
| 39 | 85 to 115 | 4'6 ″ to 5'2 ″ |
| 40 | 110 to 130 | 5'3 ″ to 5'6 ″ |
| 41 to 41.75 | 125 to 170 | 5'7 ″ to 5'9 ″ |
| 42 | 145 to 180 | 5'9 ″ to 6′ |
| 42.5 | 160 to 190 | 5'10" to 6'2 ″ |
| 43 | 170 to 210 | 6'1″ to 6'3 ″ |
| 44 | 180 to 270 | 6'2 ″ to 6'4 ″ |
There is another way to check if the bodyboard is the right size for you. Hold the bodyboard under your arm and try to reach the bottom rail. You should be able to curl your fingers around it with no gap under your armpit.
Wave Size
If you are adventurous and you plan to ride big waves, then make sure to get a smaller bodyboard since it will give you more maneuverability and control. But, if you will ride only small waves, get a bigger bodyboard.
Tail and Stringer
Tail and stringer are also quite essential features you should pay attention to. The shape of the tail defines how it works in the water. Crescent-shaped tails are known for adding more stability. They also hug your body in rough seas.
The bodyboard's stringer is responsible for flexibility and stiffness. This part helps boost the durability and endurance of your bodyboard while maintaining its strength and integrity.
---
Related:
---
Best Bodyboards: FAQ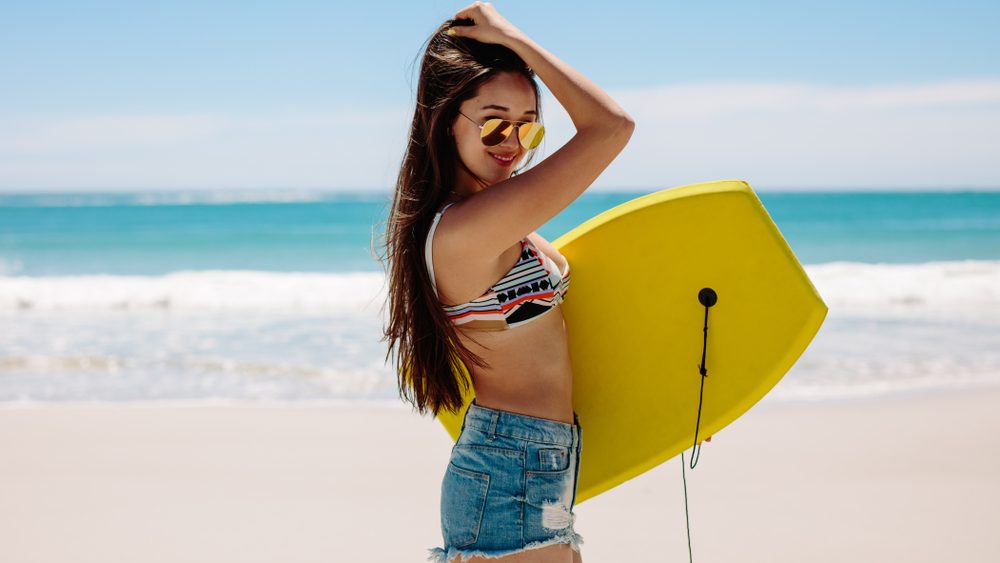 Image Courtesy of Scouting Outdoors
How to properly take care of a bodyboard?
To ensure your bodyboard lasts as long as possible, make sure to clean and store it properly after each use. It is strongly advised to clean the board after every visit to the water so you could prevent the salt from eating away the board. Just use some warm soapy water and a sponge to clean the board. Don't forget to rinse the board with fresh water afterward.
Also, it is recommended to inspect the bodyboard for any damage before storing it. Unattended dents or scratches can go into the core of your board and will damage it in the long run. The sooner you fix the dent, the smaller the damage it can cause.
Before storing the bodyboard, you should let it dry. However, don't place it under direct sunlight. The board should not rest on its tail or nose as this may leave it bent and warped.
How to ride and control the bodyboard?
The first tip for riding a bodyboard is to wax it before use. This will give your body enough grip as you take on the waters and keep you on it when you hit waves. When entering the water, you should hold the nose of the bodyboard and lie down on your chest on the top half of the bodyboard. Move through the water by kicking your feet.
This video will give you a visual explanation of how to ride a bodyboard properly.
https://www.youtube.com/watch?v=dK_4ZL7ZeHo&feature=emb_title
Bodyboarding is a fun sport for all those who are attracted by the idea of riding the waves but find surfing a bit too demanding. In addition, bodyboarding is safer and more accessible. It will let you take on bigger waves as well but with lesser risk than surfing.
But, in order to be able to enjoy riding the waves, you need to make sure to get one of the best bodyboards currently available on the market. By doing so, you will be able to get the hang of bodyboarding more quickly. Also, you'll be able to enjoy the experience more.