Nowadays, a cottage garden is a perfect escape from our busy lives. When done the right way, cottage garden layouts seamlessly blend all sorts of colors, forms, textures, and fragrances. There's no concern for spacing, no worry about planting in odd numbers, no graduations in height.
The greatest part of having a cottage garden is that it lacks any intentional design. Still, it should be planned out and have some sort of formal structure. The greatest deceit is that people think since cottage gardens are so simple to make, there is no need to take care of them. Wrong! Some flowers will turn into thugs, squeezing out others. Self-sowers can quickly get out of control. Perennials will still need periodic dividing, or they will die out.
Since they look so glorious, many people think that cottage garden layouts are very hard to create. But, they're not! You don't have to live out in the country to have one of these gardens. The urban environment will do as well. And, even though cottage gardens work perfectly with log homes and those that feature a country design, we're pretty sure that you'll be able to fit one in a modern dwelling as well.
One thing you should pay attention to is that your cottage garden is located in a sunny area. Ideally, it should be next to a walkway and towards the front entrance of your home. If possible, the garden should be crowned with a rustic-looking gate or even some sort of an arbor.
We mentioned paths because they are a very important element in the design of your cottage garden. Many people make them out of concrete and place them in straight lines. However, this appeal can be softened by an abundance of flowers spilling over each side. And, making the path out of brick, stone slabs, or cobble will give the entire layout a more casual feel. You can also use a path to your advantage and have it guide the eye to charming accents and focal points, such as a bench or tree.
What to Grow in a Cottage Garden?
The beauty of cottage gardens is that you can grow a diversity of plants which will create a natural atmosphere and delight all your senses. And, not only can you get plants that smell nice, but you can also go for textural plants that are pleasing to the touch (for example, lamb's ear).
Grassy areas should be kept to the minimum and planting emphasis focused on herbaceous flowers and the like rather than trees and shrubs. However, feel free to include small fruit trees, ornamental grasses, and flowering shrubs since they essential for creating structure. Deciduous trees, such as redbuds or crape myrtle, can be used to add structural height and seasonal interest.
Shrubs, such as lilacs, can be used to give the cottage garden a structural backbone. Also, you can go for evergreen shrubs which will provide an appealing backdrop for flowers.
But, cottage garden layouts are dull without some showy colors. Using annuals such as poppies, marigolds, cosmos, and snapdragons will add some life to the garden. You can also use some self-sowing annuals or even biennials if you like surprises because they will return each year in different locations. Sweet pea, sweet William, bachelor's button, and forget-me-not all make excellent choices.
Including perennials that bloom throughout different seasons will ensure the continuous color and make your garden interesting all year round. Popular choices are the bleeding heart, columbine, foxglove, hollyhock, and phlox.
You can also top off your cottage garden with some herbs and vegetables. This will not only bring some old-time charm, but it will also make the space useful. Also, many edible plants such as parsley will tickle your taste buds with an herbal fragrance and provide great ground covers.
Last but not least, don't forget the key to all perfect cottage garden layouts – flowering ones. Clematis, honeysuckle, wisteria, and morning glory all make excellent choices. You can use vines to adorn gates and fences or simply have them climb over arches, arbors, or pergolas. Vines can also be used to soften hardscape features and also provide visual height, additional interest, and privacy at the same time.
10 Charming Cottage Garden Layouts
Inspired by Gertrude Jekyll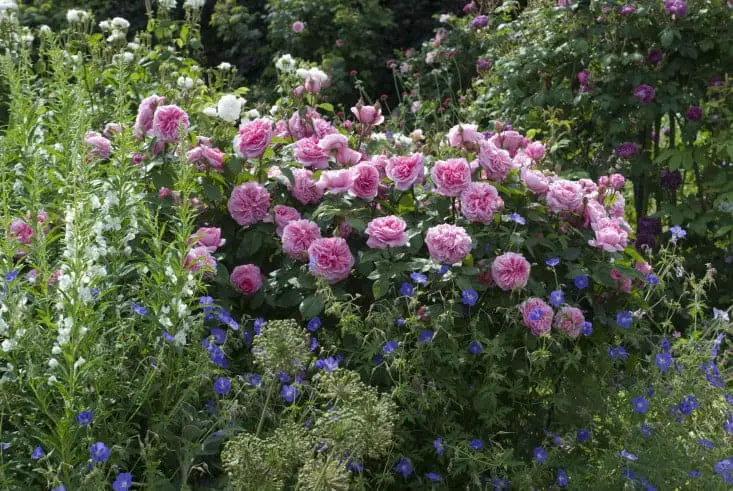 Image Courtesy of David Austin Roses
Gertrude Jekyll (1843-1932) is an English gardener and the patron saint of modern cottage gardens. She popularized the informal, blowsy herbaceous borders we associate with country houses (in England) and picket fences (in the US).
Jekyll got tired of the formal plantings that Victorians used all the time and she advocated a more natural look. Jekyll advised arranging plants by color, height, and flowering season. If you're really into gardening, you can check out more ideas from this marvelous lady in the book called Gertrude Jekyll and the Country House Garden.
In the photo, you can see David Austin's cottage garden. He planted the so-called Rosa 'Gertrude Jekyll' also known as Ausboard.
A Romantic Look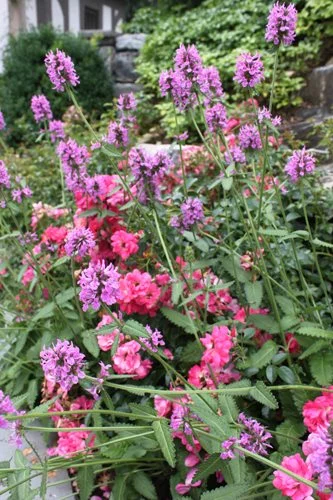 Image Courtesy of Garden Design
People love decorating cottage gardens so that they set a romantic tone. Maybe this is the case because the pastel shades look truly beautiful or because fragrant flowers are popular in this kind of garden. Roses and peonies add color to the garden, scent the air, and add a touch of sensuality.
Of course, you can use other plants as well. For example, in the photo, Stachys officinalis 'Hummelo' is used along with Flower Carpet® 'Pink Supreme' Roses to achieve an exuberant effect. Both plants are very easy to grow and the Stachys can even tolerate some drought.
Enclosed Cottage Garden
Image Courtesy of Garden Design
Regardless of the size of your cottage garden, it is always a great idea to surround it with a fence. However, choosing the right fencing might be a bit tricky since traditional fences used to be much lower. Picket fences are a popular choice and a traditional favorite. Lattice fences are also great since they can support flowering vines such as climbing roses, clematis, and wisteria. Keep in mind that there are many variations and you can always choose a unique color for your fence.
The Ultimate Cottage Garden Layouts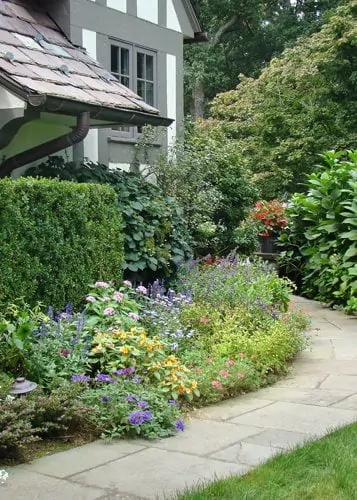 Image Courtesy of Garden Design
As we already mentioned, designing your cottage garden around a pathway is an excellent idea, especially if you have a soft, curving pathway. These add to the homey feeling and are a hit with cottage-style gardens. Besides decorating your garden, you should also give some love to your pathway.
You can decorate it by using hard surfacing such as bluestone, brick (or a combination of old bricks), tile, and stone. If none of these suit your style, you can also try soft paving such as wood chips and gravel. These will work perfectly as long as your walkway is properly edged to hold the materials.
A Little Bit of Everything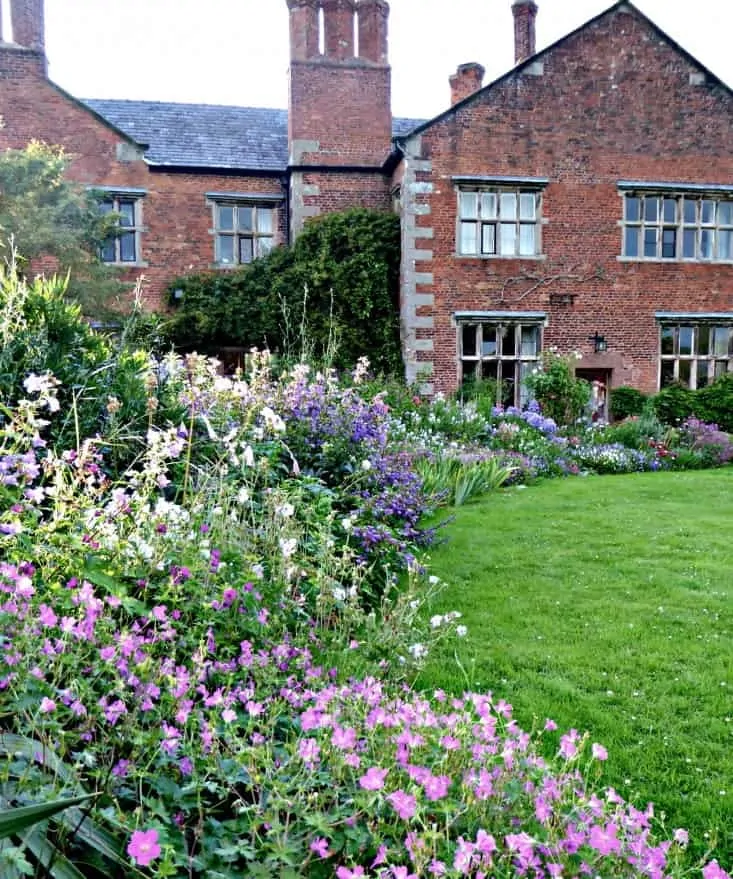 Image Courtesy of Gardenista
All color theorists would shiver at the thought of mixing many different colors. But, when it comes to cottage garden layouts, that is exactly what you should do. What makes these gardens different from a typical garden are all the colors and different kinds of plants.
Besides the aesthetics, there is also one good reason why you should go for a dense mix-and-match jumble – if you have small clumps of several different kinds of plants, you will limit loss to pests and diseases. In the photo, the owner planted the deep-red Easy Elegance® 'Super Hero' rose with the ever-blooming lavender perennial geranium 'Rozanne'. The geranium has great heat tolerance and blooms throughout the summer. Also, it grows easily among other plants, such as roses.
Break the Rules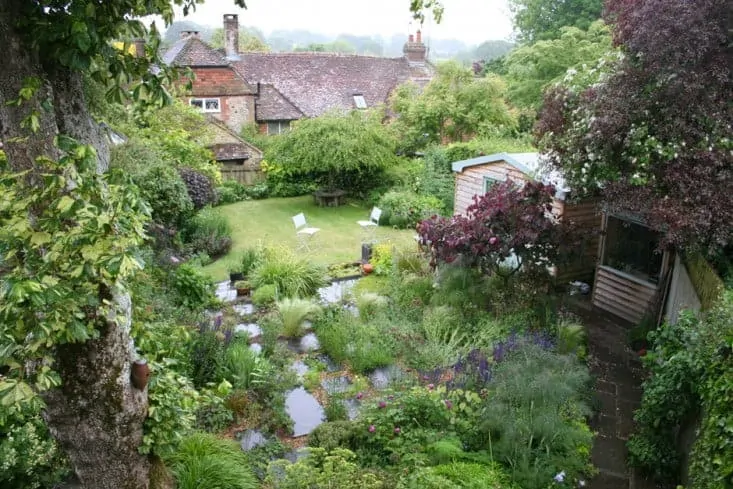 Image Courtesy of Gardenista
The fact that you are reading our article means you are looking for some cottage garden layouts so you can design your own. However, you don't need to strictly adhere to these. You are free to do anything you want, including breaking the gardening rules.
Here's one idea; you can lay out irregularly shaped garden beds and allow paths to define perimeters and spaces in the garden. A meandering walkway is always a better choice than a straight one because it will make the passersby slow down and pay attention to the beautiful garden of yours.
A Little Experimenting Goes a Long Way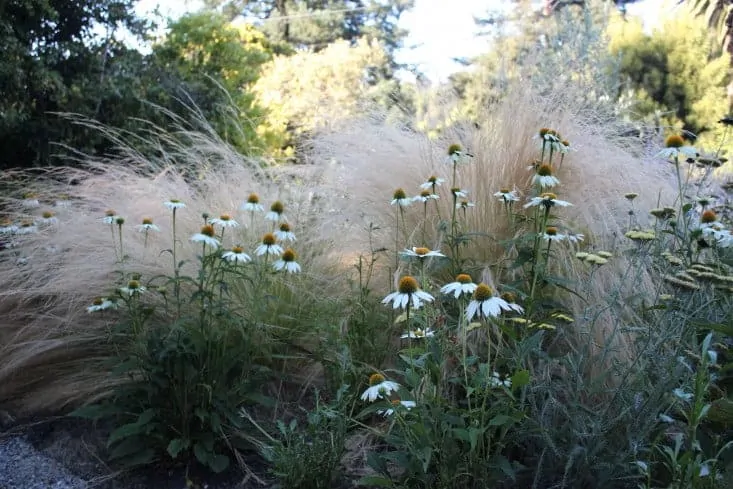 Image Courtesy of Gardenista
If you plan to break the rules and go for a unique cottage garden design, then try experimenting with the plants as well. You don't have to make sure that your flowers are "paired" properly. You can mix some old-fashioned flowers with other varieties (which depend on your climate). For example, you could plant succulents, jasmine, or perennial grasses in your garden.
In this photo, the owner of the garden paired Echinacea Purpurea 'White Swan' with Stipa tenuissima. It sure is an unusual choice, but it looks so beautiful!
Add Some Fun Elements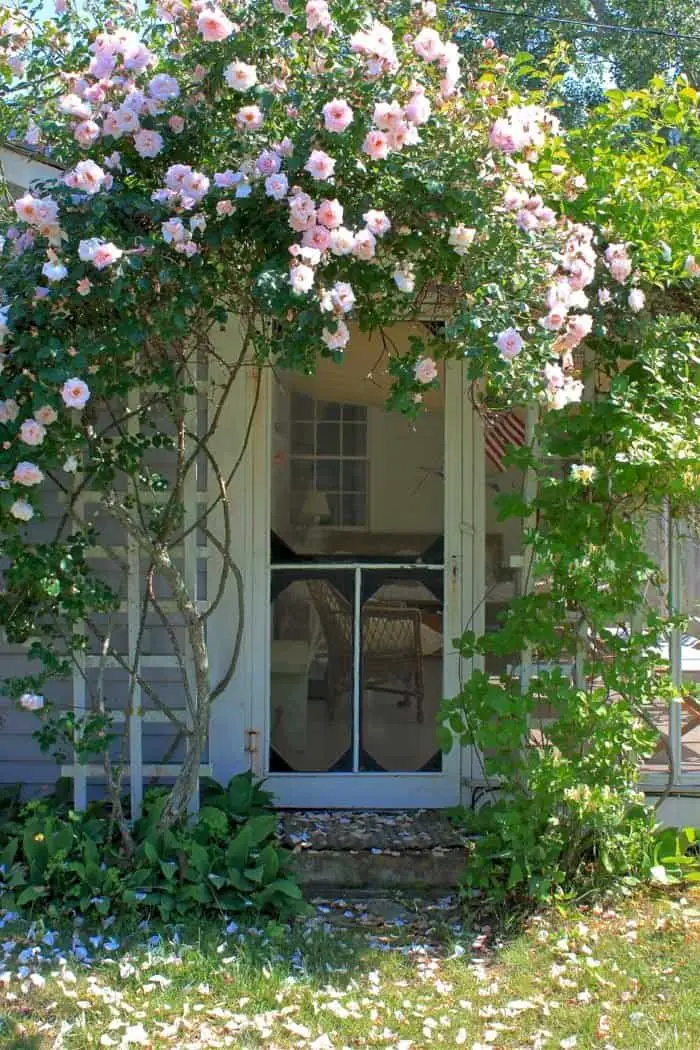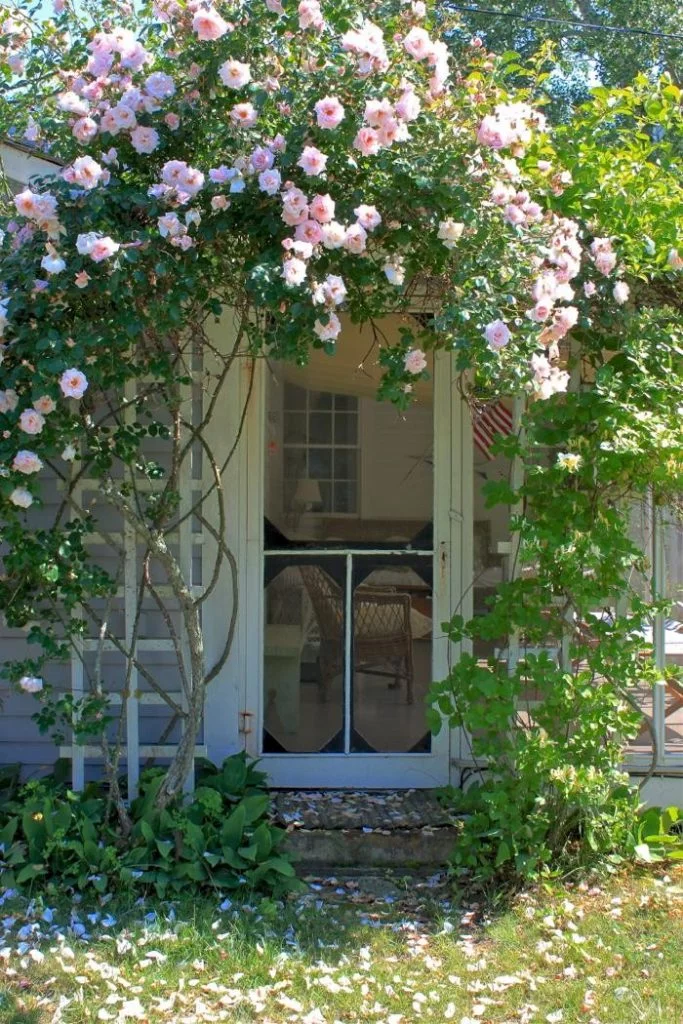 Image Courtesy of Gardenista
Now that we hopefully inspired you to experiment and create your unique cottage garden, we have one more idea for you. How about you add some fun elements to your garden?
Installing arbors and trellises is always an excellent choice since you can train vines and climbers (especially fragrant roses) to grow around an arbor, but also above doorways, against walls, and next to gates.
Besides this, you can also place some decorative items in your garden, such as an old wheelbarrow or moss-covered statuary in a bed. Tools, lanterns, and stone finials can also become a part of your cottage garden tableau. The point is to have fun and share your unique vision with others.
Add Some Furniture
Image Courtesy of Gardenista
In the photo, you can see a garden belonging to Remodelista cofounder Sarah Lonsdale's sister. She installed a bench to make it easier to observe the garden at eye level. This is something you could do as well!
Place some benches, chaises, or chairs strategically in your garden. By doing so, you will lure the visitors to spend time outdoors and marvel at the blossoms. You can also consider adding seats to a hidden corner or just smack them in the middle of an especially pretty flower bed. But, don't forget stepping stones that will guide the way!
Pay Attention To Your Climate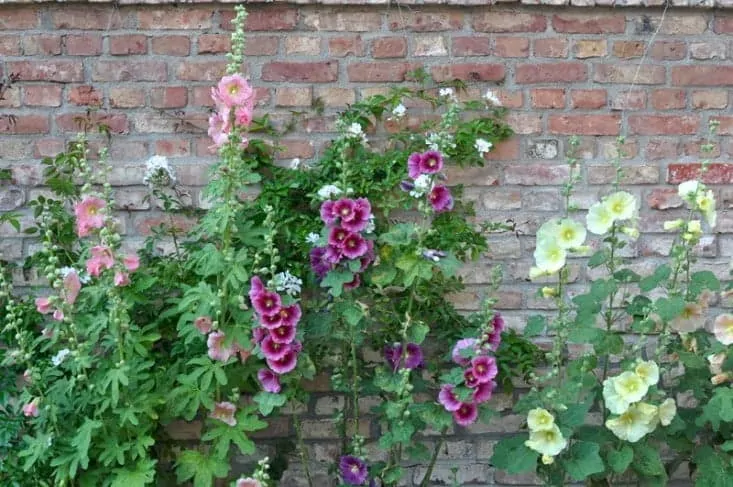 Image Courtesy of Gardenista
When the first English cottage gardens appeared, there was no room for error. Their owners used strictly the tried-and-tested plants that were known to thrive locally. If you live in England (or somewhere with a similar climate) you can plant hollyhock (shown in the picture), foxglove, cosmos, nasturtium, poppy, and nicotiana. However, if your climate is different, just go for your native wildflowers and you will get a similar effect.
What do you think of these cottage garden layouts? They are all so beautiful and we're quite sure that you can use some designs as an inspiration for your garden.
If you're still unsure whether you should embrace the serendipity of a cottage-style garden, let us reassure you with some obvious advantages. First of all, cottage gardens are personal. Even if you try to copy one of these ideas, your garden still won't be exactly the same. Also, no cottage garden will be the same two years in a row. The plants will keep moving around and the balance between them will keep changing.
If you want a beautiful garden, but you're on a budget, you'll be glad to hear that a cottage garden is less expensive than most of its formal counterparts. Even though the plants won't grow overnight, all you need to get started is a pack of seeds (and patience). Even if you splurge on some anchor plants, like rose bushes or flowering shrubs, you can temporarily fill in the rest of your garden with some less pricy plants. Self-sowers will quickly fill in and you can divide and multiply perennials each year.
And, the last beautiful fact about cottage gardens is that they don't have to be perfectly maintained. Even though you may want some order, it doesn't have to be immaculate. In such gardens, there's little possibility that someone will notice a couple of weeds or a plant that needs staking.
P.S. These garden sprinklers will make the maintenance much easier for you!
Which one of these cottage garden layouts do you like the most? And, how do you plan to design your garden? Share your ideas with us in the comments!