Taking a shower is one of the few moments in the whole day where you can have time for yourself – to clear your thoughts, muster the strength for upcoming responsibilities, and to sing a few songs, of course. But singing acapella can get tiresome quickly, and playing music off of your phone is tricky. So why don't you take that experience to the next level with a set of the best shower speakers?
That way, the running water won't dampen the sound of music, and your expensive smartphone won't get destroyed in the process. Furthermore, by always thinking about your smartphone's safety, you only inject additional stress into your life, which isn't good for you. So, if you want to make your morning splash more enjoyable, we've prepared a comprehensive guide on the best shower speakers on the market right now. In this guide, we discuss which qualities make the best shower speaker, well, the best, and how you can benefit if you purchase it.
Best selling shower speakers on the Market in 2020

Best Shower Speakers Reviewed
Now that you know why you should get a shower speaker, you should find out which one is the best shower speaker for you. The shower speakers listed here are guaranteed to spark your inner music diva (or divo) and transform your ordinary shower experience into a fabulous one.
1. Ultimate Ears Boom 3
If the budget doesn't concern you and you want the highest quality, Ultimate Ears Boom 3 will absolutely enchant you.
This not so little cylindrical speaker is IP67 rated, which means it's completely water-, dust-, and dirt-proof. The speaker is also buoyant, so if you decide to take a bath instead of a shower, it will float around you.
The first thing you'll notice are large plus and minus symbols that dominate the speaker's front and serve as volume controls. The top panel features a large, circular multifunction button (guys at Ultimate Ears call that "the Magic Button"), a smaller power button, and an indicator LED.
Key features:
3 inches tall and 2.9 inches wide; cylinder shaped
IP67 rated; buoyant
Loud and accurate sound and spatial 360° stereophonic audio
The battery can last up to 15 hours between charges, though that will depend on your preferred volume levels. As for charging, you have two options, a micro USB port on the back of a speaker for wired charging and a small indentation on the bottom for wireless charging.
Bluetooth connection is pretty stable, without noticeable lag. It easily fills even the larger bathrooms with well-balanced sounds. At maximum volume, kick drums lack deeper sub-bass ranges, and the bass may seem flimsy because it doesn't increase past a certain point. That's why you should listen to music with strong bass components at medium to medium-high volume levels, which is more than enough, even for larger bathrooms.
Overall, this "little" guy does his job excellently when it comes to enhancing the shower experience.
What we like:
Fairly loud for its size
Easy to use, button are easily reachable
Can be linked to other UE speakers
What we don't like:
Weak bass at maximum volume
---
2. Bose SoundLink Micro
This shower speaker is tiny (3.9 by 3.9 by 1.4 inches), a bit pricey, but it packs a lot of punch. It is covered in matte, water-resistant silicone rubber, and IPX7 rated, which means that it be safely submerged underwater for 30 minutes, so it can easily endure even the longer showering sessions.
A perforated grille (through which the speaker emits sound) decorates the speaker's front, and above the perforated grill, you can find three buttons. Left and right buttons are the volume up/down buttons, while a central button is multifunction and controls playback, call management, and track navigation, depending on how many times you tap it.
Key features:
Small and convenient size (3.9 by 3.9 by 1.4 inches)
IPX7 rated; Rubber band for easy fastening
Powerful and clean audio experience
Microphone for talking and recording via phone
You can find a power button and a Bluetooth pairing button on the speaker's top, which are separated by a rubber, flexible band. The band snaps open and closes at the bottom, which means that you can fasten the speaker anywhere in the shower.
And wait until you hear about its audio performance. For a tiny speaker like this, Bose opted out for a single mono transducer next to a passive radiator, with another passive radiator firing out the opposite panel. With a configuration like this, you don't get stereo sound, but you get a powerful and clean bass, which is an acceptable tradeoff, in my opinion. Oh, and it also has a microphone so you can accept calls or record your incredible performance on your smartphone.
All in all, the Bose SoundLink Micro is tiny, versatile, and it will satisfy your needs when it comes to shower concerts.
What we like:
Strong audio performance, with rich lows and crystal-clear highs
Versatile and can be fastened to many objects/holders
Microphone which enables receiving calls
What we don't like:
Charging is via MicroUSB only
---
3. JBL CLIP 3
Relatively cheap, durable, portable, tiny, and loud. JBL really knows how to make these things. Measuring 5.4 by 3.8 by 1.8 inches, this Bluetooth speaker is IPX7 rated, so the shower isn't a problem at all.
Speaker can lie flat on its back and project audio upward, or you can fasten it anywhere you want with the help of a built-in carabiner located on the top. On the front side, it features the JBL logo and three buttons – minus, plus, and play button. Central, play button controls playback, call management, voice assistance, and multiple taps on the play button to control track navigation. On the other side, plus and minus buttons handle volume intensity.
Key features:
Small and convenient size (5.4 by 3.8 by 1.8 inches)
IPX7 rated; Built-in carabiner for easy fastening
Crisp and crystal-clear sounds; 3-watt 40mm driver
Voice assistance
You will find the power button, the pairing button, and the built-in microphone to take calls and use voice assistance on the outside panel and a rubber-covered compartment. A covered compartment houses a 3.5mm aux input and the micro USB charging port.
Beneath the grill, inside the body of JBL CLIP 3, you will find a tiny but powerful 3-watt 40mm driver capable of pushing out incredible sound. The sounds are full and crisp at moderate volumes, the bass is excellent, but it sometimes lacks sub-bass range. When you count in the speaker's size, that's about all you can ask of a speaker this small.
Overall, there's nothing not to like about JBL CLIP 3. The price is great for a speaker of this power level, and you will really enjoy the possibility to attach it anywhere in the shower.
What we like:
Excellent audio for the size and price
Strong audio performance, with rich lows and crystal-clear highs and deep bass
Built-in microphone to take calls and use voice assistance
What we don't like:
The built-in mic offers mediocre intelligibility
---
4. Tronsmart Groove (Force Mini)
Tronsmart Groove (Force Mini) is next on the list of best shower speakers. With this speaker, you really don't have to worry about water (or dust and sand if they somehow end up in your shower) because of it's IPX7 rating. It's rugged and durable, and you won't mind if you drop it from a reasonable height, but it is also big and heavy (weights over one pound), so you'll have to watch your toes.
Besides adequate protection, the housing contains a 10-watt driver and passive radiator to increase bass levels, which provide decent and punchy audio. Lows are decent, mids and highs are clear, and the bass is excellent even at higher volume levels.
Key features:
Medium-sized (4.05 by 2.24 by 4.05 inches), rugged and durable housing
Powerful and rich audio performance; 10-watt driver
24 hours of playtime; 2500 mAh li-ion battery
The most exciting feature is that the Tronsmart Groove is True Wireless Stereo enabled, which means you can pair it with another Groove speaker to create a connection to provide stereo surround sound.
It's also equipped with a good li-ion battery (2500 mAh; provides up to 24 hours of playtime). Connection is established via Bluetooth 4.2 tech, and this will give you a stable connection up to a 100 feet range (great for large bathrooms). There's a micro SD card slot but no aux-in.
What we like:
Large battery with 24 hours of playtime
True Wireless Stereo and 10-watt output
Bluetooth 4.2 technology and MicroSD card slot
What we don't like:
Speaker lacks aux-in port
---
5. JAM HX-P101BK
JAM HX-P101BK is an actual gravity-defying speaker. It doesn't magically float in the air, of course, but it comes equipped with a strap and a sticky pad on the back. You may think that strap isn't "gravity-defying," and you are right because "gravity-defying" comes from the sticky pad.
The sticky pad allows you to attach this speaker to virtually any smooth surface; shower wall, mirror, ceiling, locker door, you name it. The bond it creates is pretty strong, and it was tested by playing bass-heavy music for hours. When the battery finally gave up, even though the heavy vibrations were constantly shaking it, the speaker didn't move an inch.
Key features:
Small and convenient size (5.11 by 2.2 by. 5.11 inches)
"Gravity-defying" sticky pad
Crisp and clear audio
Built-in microphone for calls and recording
Let's go over a few more of JAM's attributes. This speaker is super phone-friendly. You can connect to it either via Bluetooth or via 3.5mm cable.
For its size, JAM has a decent sound quality and loudness. We even tested the calling feature (that JAM supports because of its in-built microphone) under the comfort of hot, running water, and we had no trouble hearing the person that was on the other end. The battery is rechargeable, and it offers up to eight hours of playtime.
Overall, this cute little speaker will win your heart with its compactness and ability to stick to virtually any smooth surface.
What we liked:
Gravity-defying sticky pad on the back
Outstanding audio quality for price and size
In-built microphone
What we didn't like:
---
Related Posts
---
Why to use a shower speaker?
As we already mentioned, the music's main obstacle to overcome when you are under the shower is running water. Phone is not an option because it's too quiet, and you can't really put it anywhere safely, and worrying about your phone will ruin your relaxing moments.
But if you put the best shower speaker in your bathroom, you'll have no worries, only pure enjoyment. The sound will be crisp and crystal-clear; the volume will easily overpower the humming of water. You'll be able to listen to your favorite tunes in their full glory.
Best shower speakers are completely waterproof and durable (so you don't have to worry about water or dropping them). They often have means to be conveniently attached to various surfaces like rubber bands, suction cups, straps, and carabiners.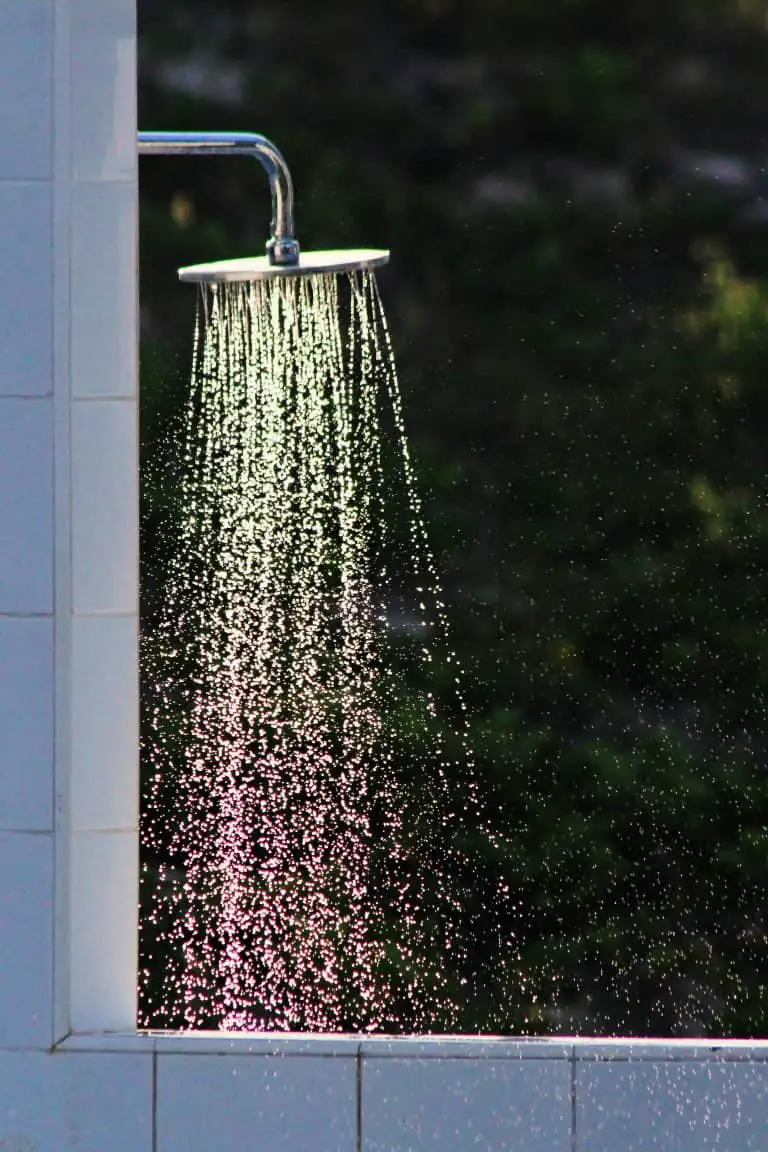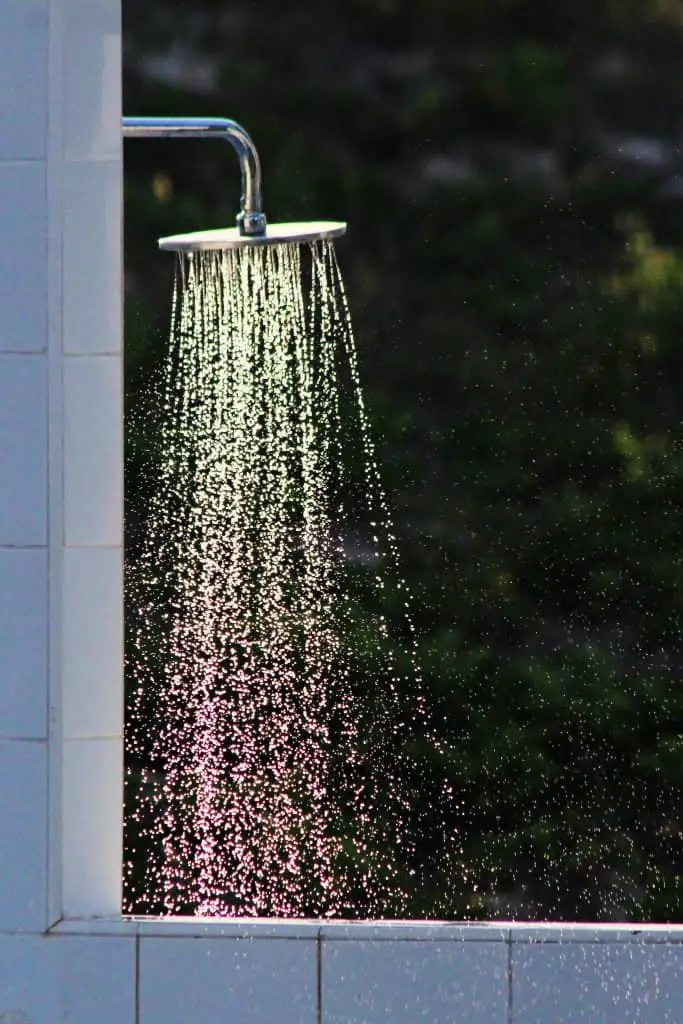 Image Courtesy of Unsplash
How to Pick the Best Shower Speakers That Will Satisfy Your Needs?
If you want to keep looking for the best shower speaker for you, we prepared a little guide to show you what to look out for when shopping. Price is not always the main factor when it comes to overall quality. However, the higher-priced speakers have better sound quality than cheaper ones.
When you are shopping for shower speakers, if you want to ensure full satisfaction, you must consider speakers IP rating, price, audio quality, material quality, size, and versatility.
IP Rating
The first digit after IP indicates the protection level that the enclosure provides against access to hazardous parts and solid foreign objects' ingress. The second digit indicates the level of protection that the enclosure provides against harmful ingress of water.
Number 7 means (for example, IPX7 rated) that the device can endure underwater immersion, up to 1 meter (3 ft 3 in) depth for 30 mins, the best shower speakers. Number 8  means (for example, IPX8 rating) that the device can endure underwater immersion, up to 1 meter (3 ft 3 in) depth for longer than 30 mins.
So IPX7 rating is the rating you should be aiming for when if you are looking to buy the best shower speaker for you. IPX8 protection is better, but the price tag on those is much higher.
Audio Quality
Even though the audio quality is somewhat subjective, it is crucial when you are looking for the best shower speakers for you.
When it comes to loudness and audio quality, size is the deciding factor. Larger drivers are louder than their smaller counterparts, and they can deliver so much more. But, the audio quality also depends on the sound driver's engineering, and better engineering equals a higher price.
So, when you have two tiny speakers in front of you, and you want to know which one is the best shower speaker for you, the larger and pricier one will be better in most cases.
Material Quality
Next up on our list is material quality. If you want more durable and rugged speakers that can be tossed around and survive accidental drops in the shower, you'll like them to be made of rubber or silicone. Plastic can be durable, but it's more prone to scratching and breaking than rubber/silicone.
You will also use these speakers in wet conditions, where is of the utmost importance that they are not slippery (you don't want to chase them around in your shower or bathroom). That's also where rubber and silicone casings have an advantage over plastic ones.
Size and Versatility
Most of the showers are cluttered with many hygiene and personal-care products, and sometimes it can be really tough to make space to put your speaker down. That's why you should consider choosing the smaller one because that will be the best shower speaker for you.
If you want to have a larger one, you need to make sure that it has other means of attaching or placing. For example, they should have carabiners, detachable rubber bands, suction cups like the speakers you found in the review list.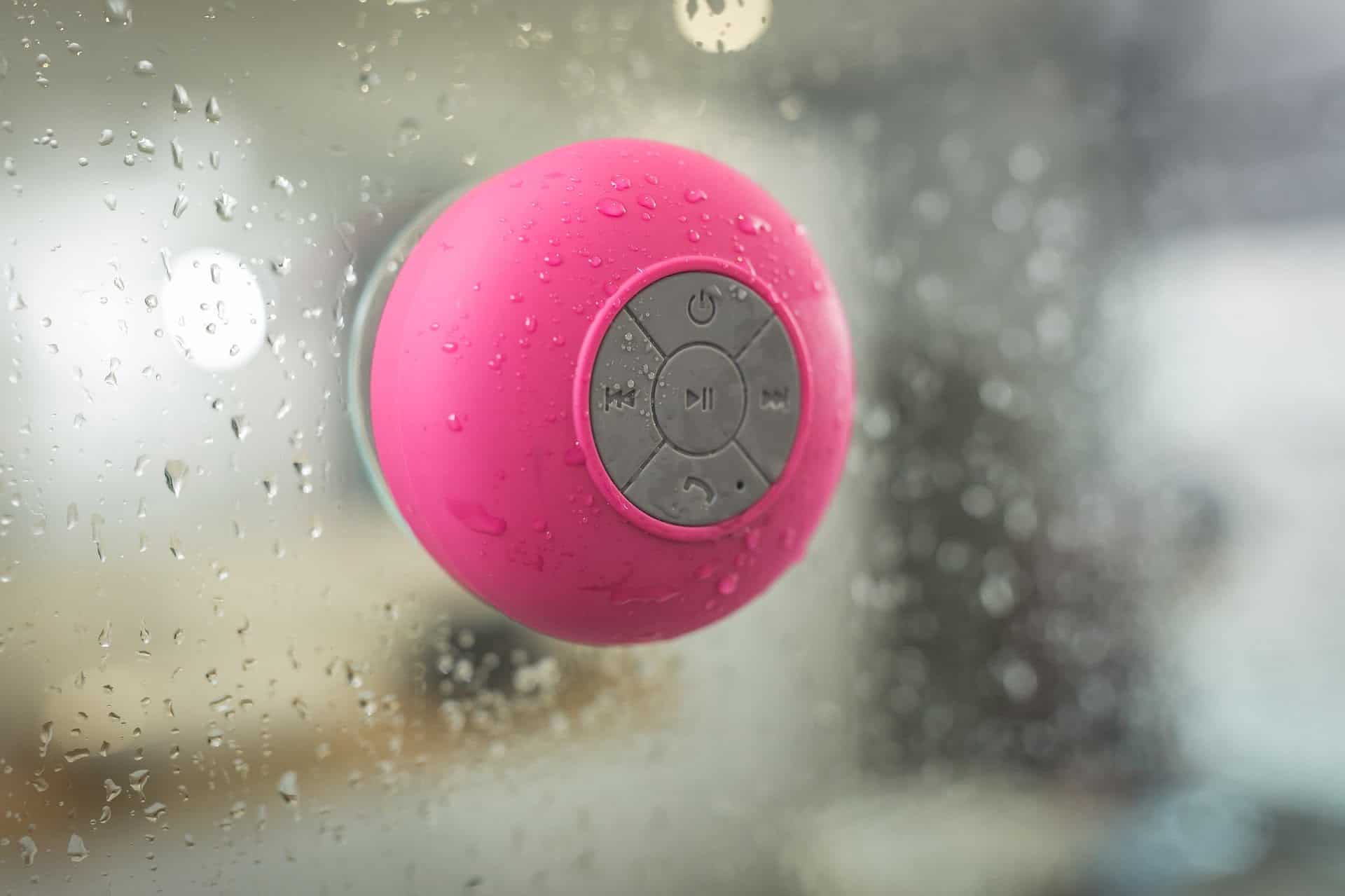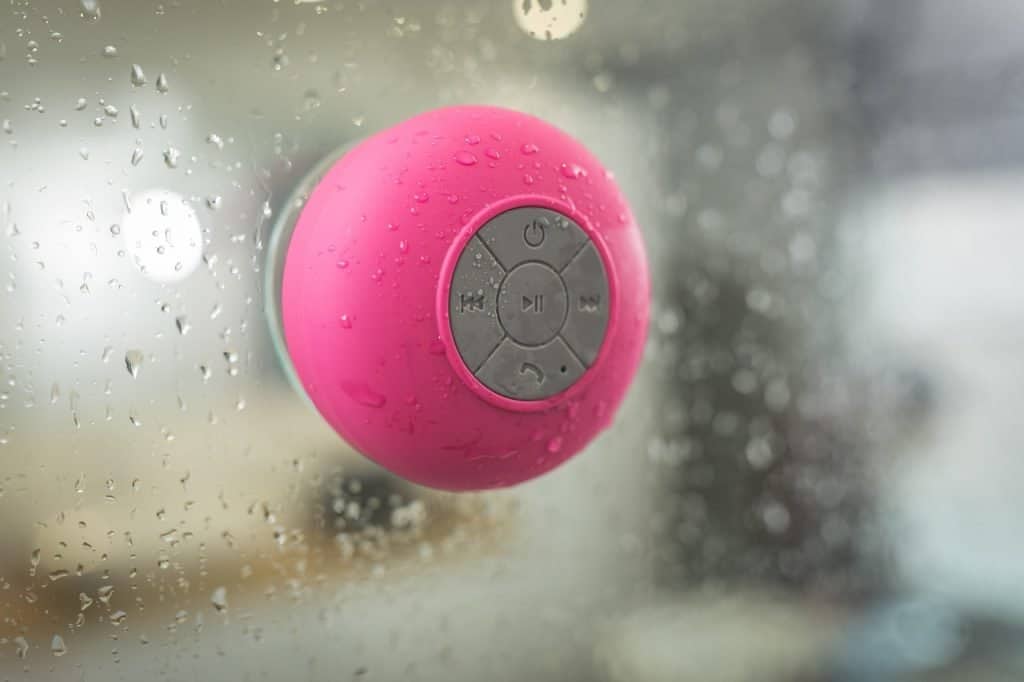 Image Courtesy of Image by StockSnap from Pixabay
After we've gone through all the reviews and buying guide for the best shower speakers, the best shower speaker's title goes to JBL CLIP 3. JBL CLIP 3 is the most versatile speaker we have tested, and it has the best price/quality ratio. The sleek design and the powerful sound will enchant you and will make your showers more enjoyable. If you want to feel like a true superstar during your morning splash, then JBL CLIP 3 is the winner.
If the price of JBL CLIP 3 is too high for you, or you are looking for something a bit different, then the best shower speaker for you could be JAM HX-P101BK, which comes equipped with a strap and gravity-defying sticky pad. It's small, versatile, and it packs a decent punch.
On the other hand, if the price doesn't concern you much, you should definitely go with the Ultimate Ears Boom 3 speaker, which proved to have the best loudness-to-size ratio from all of the medium-sized shower speakers.
So, if you want to take your morning splashes to the next level, now you know what to look out for when buying the best shower speakers for you, and you can easily find the one that will suit your needs.