If you've been working from home for a while, or have recently found yourself in a home office situation, you may have some questions about getting the perfect set-up for online working. Just because you're working from a home office space rather than an in-office space shouldn't mean that you aren't giving it your best.
Making sure that your space is set up just right is one part of the equation. However, perfecting your computer set-up for online work is just as, if not more important. So, here's how to easily improve your set-up for online work from home!
Improving Your Computer's Work Set-up For Working At Home
No matter how frequently you find yourself on online webchats or conference calls with coworkers or clients, you'll always want to be prepared. So, here's how to perfect your set-up!
What You'll Need
A camera to sync with your computer
A laptop or computer
Lighting (natural and artificial)
A microphone
External speakers
An office chair
Step 1: Set up a camera for your online work set-up
Most laptops and computers have built-in webcams. These are fine for online learning courses and the occasional video chat. However, they aren't ideal if a large part of your job consists of web conferences or video chatting. So, you'll want to invest in a better, computer-friendly camera that will attach to the top of your screen. They'll be designed with a clamp that sits right on top of your computer.
We recommend a Logitech webcam. They design cameras specifically for conducting online business. They also sync with most brands of computers and laptops. It brings you better quality, delivering HD 1080p quality. They also have wider fields of view so that your audience can focus on more than just a close-up of you.
Sale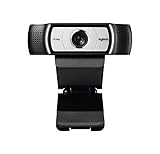 Step 2: Ensure that you have good lighting
Ideally, you should have a home office in a room with lots of natural light. Big windows or clear doors make for great lighting during the day. However, there are always risk when you rely on natural light. Not only will you need to place your desk in the right angle for illuminating you and your space, but you'll also have to account for changes. Darker days or working at night can ruin the perfect set-up.
Buying artificial lighting can be a great back-up for when natural light isn't feasible. Overhead lights aren't always the best as they don't focus on one object. Basic desk lamps can be a great option, especially if you already have some readily available. However, to ensure that you're always perfectly illuminated, you may want to consider buying a specific light for video chatting. LED panels work great for this, as they're designed to light up a specific area for better on-camera results.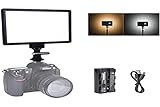 Step 3: Get yourself a vocal microphone
Clear audio is even more essential to online chatting than the camera is when it comes to a computer set-up for online work. You want to make sure that your audience is hearing you properly so that your messages get across as smoothly as they should. Most computer microphones require shouting or awkward positioning to get the best sound. So, investing in a proper microphone can do wonders. You also don't need to place them directly in front of you. So, the folks on the other side of the screen will never need to know!
Microphones that will sync with your laptop are even more budget-friendly than cameras are. All you have to do is plug them in and you'll be ready to go. Some of their perks include better sound control, easy mute capabilities, and more. They can also come in handy outside of the workday, as they're great for recording anything from voiceovers to podcasts.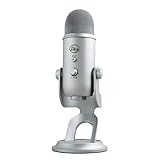 Step 4: Consider external speakers
If your home office permits more noise, it may be worth it to invest in external speakers. This will ensure that the sound you hear is as clear as the sound that everyone else is hearing. It'll also mean that you won't have to wear headphones to another video conference.
Step 5: Spruce up your set-up
Even with great audio and visuals, your audience won't want to watch you from a messy home office. Take the initiative to ensure that your entire home office space is visually appealing. You don't need to do much. Just ensure that the room is clean, free of distractions, and compliments the focus of any video chat (which will be you). A proper desk chair that's not too large is also essential for this. You want to be comfortable, but you don't want the chair to draw too much attention to audiences.
Take a look at our guide for ensuring that your home office space is ideal for working. You should never be caught off guard without a paper and pen for note taking, or a schedule for taking control of your day.
Step 6: Take it for a test run
Once you've got everything set up, make sure you take it for a test run. Have a friend video chat you, and experiment with both audio and video. Test speaking at certain volumes and making sure that your microphone is only picking up what you want it to, and at a comfortable volume.
This will also allow you the chance to perfect your lighting. If you're using natural lighting, you should do this test run under multiple weather and lighting conditions. You will also have the opportunity to fiddle with your entire desk set-up to make sure that it's in the perfect angle for maximum natural lighting.
Working from home can be a hard adjustment. There's plenty to get used to, from seeing and hearing yourself on camera to making sure that your wi-fi is running quickly enough. Perfecting your computer set-up for online work is only part of a task. However, when executed properly, you can ensure that your set-up will never be a problem again. And, with time, working from home will be even more comfortable than any office space!