Disclosure: This page contains affiliate links, meaning we receive a commission if you decide to make a purchase through our links, but this is at no additional cost to you.
The Best Coffee Pod Machines – Great coffee on the go!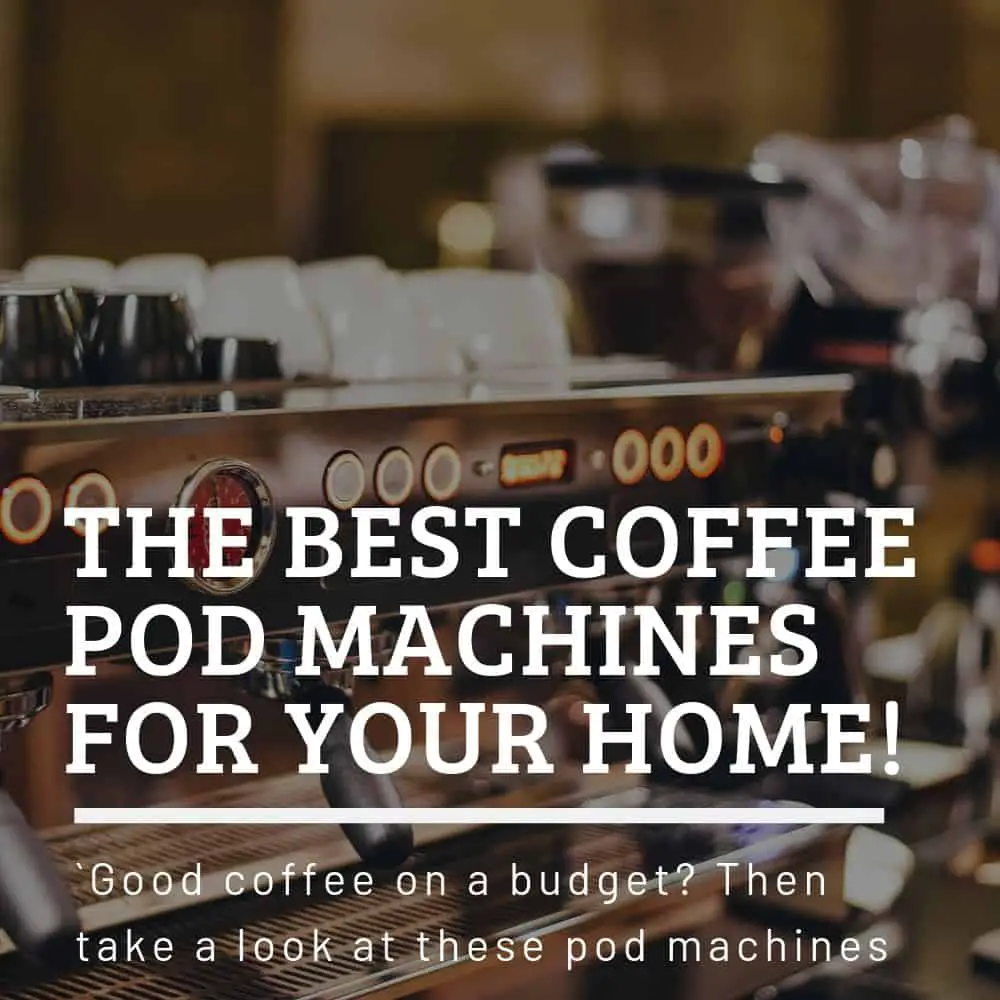 Coffee pod machines have been established in the coffee market for some time. The Senseo models from Philips, which are produced in cooperation with the coffee producer Douwe Egberts, have been around since 2002.
Despite the large capsule competition, the pod machines still enjoy great popularity. A cup of fresh coffee belongs to the beginning of the day as the ringing of the alarm clock. What could be better than the smell of a cup of coffee in the morning?
On this occasion, the coffee pod machine plays its strengths and prepares the hot drink of your choice uncomplicated and above all fast. A short push of a button is enough and the smell of freshly brewed coffee spoils your nose. Even with coffee pod machines, there are some features and quality features that you should consider when buying.
In a hurry? Take a quick look at the Best Selling Coffee Pod Machines in 2020!
| # | Preview | Product | Rating | Price | |
| --- | --- | --- | --- | --- | --- |
| 1 | | DeLonghi Nescafé Dolce Gusto Jovia Pod Capsule Coffee Machine,... | 10,100 Reviews | £42.99 | Buy on Amazon |
| 2 | | De'Longhi Nescafé Dolce Gusto Mini Me, Single Serve Capsule... | 795 Reviews | £61.50 | Buy on Amazon |
| 3 | | Tassimo Bosch Happy TAS1002GB Coffee Machine 1400 W, 0.7 Litre -... | 3,580 Reviews | £43.50 | Buy on Amazon |
| 4 | | Tassimo Bosch Vivy 2 TAS1402GB Coffee Machine, 1300 W, 0.7 Litre... | 4,277 Reviews | £47.94 | Buy on Amazon |
| 5 | | Tassimo Kenco Americano Grande Coffee Pods (Pack of 5, Total 80... | 12,374 Reviews | £17.50 | Buy on Amazon |
| 6 | | Nespresso Essenza Mini Coffee Machine, Pure White Finish by... | 1,150 Reviews | £69.95 | Buy on Amazon |
| 7 | | Tassimo Bosch My Way 2 TAS6502GB Coffee Machine, 1300 W, 1.3... | 607 Reviews | £79.00 | Buy on Amazon |
| 8 | | Nescafé Dolce Gusto KP123B41 Mini-Me Automatic Coffee Machine... | 310 Reviews | £53.00 | Buy on Amazon |
| 9 | | NESCAFÉ Dolce Gusto Genio S Plus Automatic Coffee Machine Black... | 47 Reviews | £64.52 | Buy on Amazon |
| 10 | | De'Longhi EDG 155.BG NESCAFÉ Dolce Gusto Mini-Me Automatic... | 1,809 Reviews | £57.20 | Buy on Amazon |
If you are into the detail? Then take a look at our reviews below to get all the information that you need to make the right choice.
The Best Coffee Pod Machines Guide in 2020!
1. Nespresso Pod Coffee Machine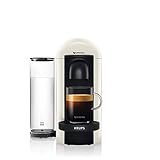 This stylish coffee pod machine will make an excellent addition to your kitchen design, while also giving you some of the best coffee you'll taste.
Key Features
It comes in 3 colours.
Works with different capsule sizes.
This machine comes in white, black, or titanium, so you can match it to your kitchen. While style is important, we also know that when it comes to a coffee machine, taste is the most important thing. This machine will brew you a fresh long-cup with naturally formed cream, as well as traditional espresso. It works with 3 different capsule sizes, you can have whatever option you're after.
When you want your coffee in the morning, you want it fast. That's why this Nespresso machine has a fast heat-up time of only 15-20 seconds. And for safety and energy efficiency, it'll automatically shut off after 9 minutes of non-use. It's very easy to use, with a simple one-touch brewing mechanism. It also automatically recognizes what blend you're using, so you don't have to put too much thought into your coffee.
What We Love
It's long-lasting.
It makes a perfect coffee.
It's easy to clean.
What We Don't Love
The flavours that work with this machine are somewhat limited.
Everyone needs a nice coffee maker in their house. This Nespresso product would look great in your kitchen, or make the perfect gift for someone else.
---
2. DeLonghi Dolce Gusto Mini Me Pod Coffee Machine
Sale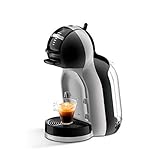 If variety is what you're after, this DeLonghi product is the one for you.
Key Features
40 varieties of hot and cold drinks.
Easily available pods.
Some pod machines are awesome, but the pods that work with them are either hard to find or not full of variety. Fortunately, this product not only has 40 different varieties of hot and cold beverages, but the pods are also available in supermarkets and online. So, you won't have to worry about struggling to find your favourite flavour.
This product uses a high-pressure system with a maximum 15 bar pressure. This means that your coffee will have frothy, velvety tastes to it. All of the coffee grinds stay in the pod. So, you barely have to do any work or cleaning!
What We Love
It's budget-friendly.
It's easy to clean.
What We Don't Love
It's smaller, so it doesn't fit very big mugs.
Not every family needs a massive coffee machine to make dozens of cups at once. For the smaller family, this product will give you the perfect one glass at a time.
---
3. Tassimo Happy Coffee Machine
Sale
Sometimes when you go with a budget choice, you have to worry that your missing out on some important features. With this Tassimo product, you get a budget price for high-end quality coffee!
Key Features
Works with 40+ pods for different flavours and drinks.
Has an adjustable cup stand.
Whether you want a massive mug or a small glass, this product is perfect for the unique drinker. It has an adjustable cup stand that is meant to work with all sizes of glasses,  including travel mugs. The Intellibrew system also works to ensure that you're getting a consistent and quality cup of coffee every time.
With a one-button functionality, you barely have to put any work into using this product. It also heats quickly, so you can make your coffee even when you're in a rush. And the best part about this product? It comes in a variety of colours, and not just the basic ones that you're used to seeing in kitchens. You can choose from black, cream, purple and white, red and black, or red and white.
What We Love
It's easy to use.
It's budget-friendly.
What We Don't Love
It doesn't let you add extra water.
We can't give this product enough stars. For such an affordable option, it's easy to forget that you're still getting above and beyond tasting drinks.
---
4. Lakeland 2-in-1 Coffee Pod Machine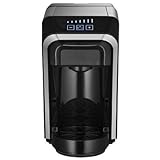 This product may have a higher price tag, but all of the special functions make it worth considering for your kitchen.
Key Features
You can return it within up to 3 years.
Works with 7 different cup sizes.
The Lakeland coffee pod machine is compatible with both Nespresso and Dolce Gusto capsules. So, you'll never have to worry about running out of options. It also uses one-touch controls, taking the difficulty and confusion out of your coffee preparation time. The best part about this machine is how fast it is – it's ready in 20 seconds! You can't beat that.
For using this machine, all that you have to do is put your coffee in and close the tray. There is an automatic puncturing system that does all of the work for you. It's also very easy to clean, as you just need to remove the drip tray for easy access.
What We Love
It's easy to use and easy to clean.
It works with 2 brands of pods.
What We Don't Love
It has a slightly higher price point than some of the other options on the market.
If you're afraid of being limited by your choice in pods, this is the option for you.
---
5. Nespresso Krups Pod Coffee Machine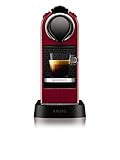 NESPRESSO KRUPS Citiz XN741540 Pod Coffee Machine-Red
Urban smart inspired by retro-modern design, CITES delivers Nespresso...
2 coffee sizes 2 buttons with automatic flow-stop: - espresso (40 ml)...
High-quality results 19-bar pressure insures espresso quality in every...
This product may have a more limited option for pod choices, but it only works with the best of the best. So, you know that your coffee is the tastiest that there is.
Key Features
2 coffee sizes.
Automatic off feature to save energy.
The Nespresso product in a stylish red colour seeks to add a fun feature in your kitchen while taking up only minimal space. Like with most pod coffee machines, this one is ridiculously easy to use and clean. It only takes 25 seconds to heat up, and will also use a 19-bar pressure for the highest quality espresso tasting drinks.
If you like to take your time in the mornings, you can choose a 30-minute timer. Though, unless chosen otherwise, you will be using the 9-minute automatic off feature. So, you won't have to worry about forgetting to turn it off, or wasting extra energy!
What We Love
It's a stylish model.
It produces amazing tasting coffee.
What We Don't Love
The coffee pod choice is more limited.
It is a little pricier than other options.
For the drinker with high-quality taste, you can't go wrong with the Nespresso.
---
Related:
---
Coffee Pod Machine FAQs
The functioning
The coffee pod machine uses so-called "pods" for the production of coffee. This pod consists of a filter paper pillow containing about seven grams of ground coffee (seven grams equals one cup of coffee). The coffee pods are available in numerous flavors; the consumer is not limited to coffee. The offer now ranges from espresso to cappuccino to cocoa and various teas.
The coffee pods are inserted in the device. Thereafter, a precisely measured amount of water at just over 90 ° C is pressed through the inserted pod within about 40 seconds at a pressure of 1.4 bar. A major advantage of this system is the low contact time of the water with the coffee powder in the pod. In this way, the stimulus and bitter substances remain largely in the pod. After only a short warm-up time of the coffee pod machine and after inserting the new pod, the next cup can already be made. It can also be filled two cups at the same time, the machine must be equipped only with a double pod holder.
As far as handling is concerned, the pods offer a similar level of comfort as the very popular coffee capsule systems. The used coffee pods are much more environmentally friendly than the capsules packed in aluminum or plastic. Environmental concerns are basically only in the packaging of the coffee pods because these are also made of aluminum foil so that flavorings remain in the coffee and a better shelf life is achieved.
ESE vs. Senseo – The coffee pod systems in comparison
Numerous pod systems were offered on the international market; Meanwhile, two Pod systems have prevailed, probably the most well-known Senseo system and the ESE system. Senseo is the clear market leader in Germany. By contrast, the ESD system is much more popular in other countries, such as Italy.
The Senseo coffee pod system
The now market-leading Senseo system was developed by the Philips company together with the Dutch coffeemaker Douwe Egberts. Meanwhile, coffee pods with a diameter of about 70 millimeters are offered. These contain a variety of coffee and espresso roasts. The price for normal coffee pods is between 19 and 35 cents apiece.
The name "Senseo" and the brewing system have meanwhile been patented, which is why Senseo coffee pod machines are only offered by the manufacturer Philips. This does not mean that coffee pod machines from other manufacturers, such as WMF or Petra, are not compatible with pods in Senseo format. Classic coffeemakers such as Tchibo, Dallmayr or Jacobs also offer pods in Senseo format.
It should also be mentioned that the system works with a brewing pressure of only one bar, so Senseo machines basically do not produce espresso. However, the brewed pods provide a certain amount of crema and this foam crown reminds of these as on the espresso. On most machines, two pods can be placed in a larger pod holder to make stronger coffee.
The ESE coffee pod system
The second pod system is called ESE, an abbreviation for "Easy Serving Espresso". It describes a standard for coffee pods with 44 mm diameter. This coffee pod system was developed by the Italian Istituto Nazionale Espresso in cooperation with the manufacturer Illy. Matching pods are offered by many coffee roasters, which are mainly found in online shops. In the ESE system, mainly espresso roasts are offered in different strengths. The prices for this system range between 20 and 45 cents per coffee pod.
The coffee machines in the ESE system are designed for the usual espresso preparation. Therefore, they work with a significantly higher brewing pressure than the Senseo system and thus achieve very high-quality results. Since espresso production requires not only the pump pressure but also the pressure actually present in the brewing chamber, the somewhat more expensive ESE machines also deliver tastier results.
Finally, however, it must be pointed out that the proportion of ESE machines in Germany is extremely low and the coffee machines are also considerably more expensive than the Senseo coffee machines. Beginner models are available here from about 140 euros. At the top, there are hardly any limits because higher-end models can cost as much as 300 euros and more.
Advantages over other types of coffee
If you want to "just make a quick cup of coffee," you're better off with the coffee pod machine, as making a single cup is quicker than using a coffee machine.
Also for the next cup is taken care of; because after a cup has been prepared, the water chamber of the coffee pod machine automatically heats up immediately. Now all you have to do is insert a new pod.
The coffee pod machine will automatically produce some foam. This is reminiscent of the "crema" Italian espresso and you feel like you're drinking higher quality coffee, even if it's not a real crema.
Coffee pod machines can also be used as tea makers or to prepare cocoa drinks. The variety of variations is enormous compared to the other coffee systems.
They have a "greener footprint" than capsule machines because they produce less waste and are easier to dispose of. The used coffee pods can easily be recycled on the compost.
The price/performance ratio of a coffee pod machine is significantly better than that of a capsule machine or a coffee machine. The machines themselves are already available from 50 euros, the coffee pods from 19 cents apiece (capsules are available only from about 30 cents apiece).
Important features
The features of a good coffee pod machine, there is basically not much to note. Because most pod machines, at least those of Philips Senseo, achieve only a low brewing pressure. As a result, you are more likely to get a conventional filter coffee. Some portafilters can also be operated with special inserts, especially for the ESE system. These devices then produce proper espresso with a brewing pressure of up to 15 bar.
Of course, coffee pod machines can also produce popular coffee/milk specialties. More preferable are machines with a milk frother that use real milk instead of milk pods. Compared to devices with an integrated milk system, the machines with milk frother have an advantage: a separate milk frother is much easier to care for and clean than an integrated milk system.
When buying, pay attention to additional functions such as the ability to influence the coffee strength by the amount of water used. A height-adjustable spout should also be included as standard, especially if the device is used by several people. A removable and sufficiently large water tank facilitates handling, a pre-brewing function significantly improves the taste of the coffee.
Amazon and the Amazon logo are trademarks of Amazon.com, Inc, or its affiliates.