Mopping is a dreaded chore that is present on everyone's list. And, we're not exaggerating when we say that it is a dreaded chore. According to a 2018 survey, about 20 percent of Americans said that mopping is the bane of their household chores.
Thankfully, there are so many advancements in the world of appliances that will make your life easier. For example, adding one of the best steam mop models to your collection of cleaning supplies will make mopping a piece of cake. Although you might not be jumping for joy at the thought of cleaning your floors, a good steam mop is guaranteed to change the way you view this task forever.
Owning a steam mop will not only make the chore easier, but this nifty tool will blitz away all the bacteria from your floors. And, steam cleaners are proven to be the best option for disinfecting items that you can't launder or clean using regular detergents, such as soft furnishings, upholstery, mattresses, and other surfaces used by multiple people.
Best Steam Mop Models on the Market in 2023
Last update on 2023-11-05 / Affiliate links / Images from Amazon Product Advertising API
What Is a Steam Mop Exactly?
A steam mop is a compact and lightweight mop that is easy to set up, ready to use in a matter of seconds, and has way more cleaning power than a regular mop. Steam mops come with a water tank that is attached to the handle. It usually takes the tank about 20 seconds to heat up and it may need to be refilled from time to time.
Some of the best steam mop models feature a swivel head that makes it easy to maneuver the mop and reach under furniture. Steam mops are best at cleaning hard floors, but some models can be used to refresh rugs and carpets with a proper attachment.
Benefits of a Steam Mop
Once you try out a steam mop, chances are that you'll never want to go back to the traditional mopping method – using a bucket and a plain, old mop. After all, it's such a tedious task. The moment you fill a bucket with hot water, it will start getting cold and losing its disinfecting and sanitizing properties. And, as soon as you soak the mop, the water will get dirty.
A steam mop, on the other hand, retains its heat and will always stay at the optimal temperature that is suitable for disinfection. Thanks to this feature, you will never have to use harsh chemicals which aren't ideal for your floors nor your health.
Have you ever struggled with removing a stubborn stain from your floor? A steam mop will help you remove even the toughest of stains without any extra scrubbing. Also, your floors will be spick and span in a matter of minutes since you won't have to stop, re-soak, strain, scrub, and repeat. With a trusty steam mop in hand, you just pass over the whole floor once, and your work is done.
Also, how many times have you got your socks wet because you walked over a freshly cleaned floor? Well, with a steam mop the floors will dry pretty much instantly. And, let's not even mention that you will never have to get close to a bucket full of grimy mop water again!
How to Use a Steam Mop?
Instructions for using a steam mop vary slightly from manufacturer to manufacturer. However, all models are super-easy to use and they function pretty much the same way. First, you have to fill up the steam tank with water and put on the mop cloth. There are two types of cloths available; you can either go for disposable ones or reusable, eco-friendly wipes. Then, plug in the steam mop and you're good to go.
Before you get to explore all the different features of steam mops, we advise you to think of and decide on the applications to be cleaned. If mopping hardwood floors is front and center, a mop with adjustable steam levels could be helpful. Grime busting can be accomplished with tools specially designed to eliminate ground-in dirt.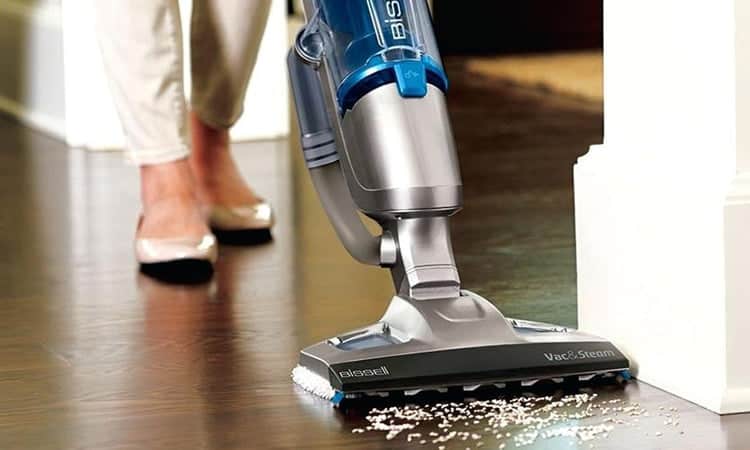 Image Courtesy of Brain and Mouth
How to Maintain a Steam Mop?
Your steam mop might require a little special attention every now and then, just so it could keep steaming smoothly. The best steam mop models come with washable, reusable mop pads. Cleaning these is easy – just rinse the pads and then wash them (by hand or in a washing machine). Most washable mop pads last for a couple of dozen cleaning sessions and will need replacing afterwards. The greatest part of having reusable mop pads is that they usually provide higher quality cleaning results.
The worst thing that can happen to your steam mop is mineral buildup. Over time, deposits from tap water can lead to water flow restrictions and heating element issues, even if the manufacturer claims that their mops can use tap water. Just to be sure, we recommend using distilled or demineralized water.
Best Steam Mop Models Reviewed
1. H2O X5 Steam Mop
Sale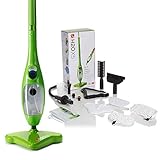 Last update on 2023-11-05 / Affiliate links / Images from Amazon Product Advertising API
The H20 X5 is one of the best steam mop models currently available on the market. After buying this unit, you won't be getting just a mop but also a steam cleaner. The H20 X5 features a removable handheld steamer that can be detached from the mop and used for smaller household cleaning jobs.
This steam cleaner has adjustable steam pressure, which is very useful when you have to clean different surfaces. In addition, the model comes with ten tools that will allow you to clean tiles, bathrooms, and windows thoroughly. These include a carpet glider, assorted round scrubbing brushes, a nozzle to create a powerful steam jet and a window-cleaning squeegee.
Providing up to 1300 watts of power, the H20 X5 ensures high-quality cleaning, sanitizing and deodorizing on every surface. The tool is powerful enough to kill 99.9 percent of all germs, viruses, and bacteria. The mop comes with a 450ml water tank that heats up in 15 seconds.
What We Like:
The mop is easy to use since it is lightweight and maneuverable.
The 450 ml water tank has a fast heat up time of less than 20 seconds, with clean indicator lights.
The smaller head features a convenient design and can fit into corners and tight spaces.
The window cleaning attachment has a cloth to clean windows and a good quality squeegee to give streak free results.
Proper contact with the carpet and easy gliding means that it is suitable for refreshing carpets.
What We Don't Like:
The hose can't be used with the brush nozzle so it may be awkward to reach some areas.
---
2. Russell Hobbs RHSM1001-G Steam and Clean Steam Mop
Sale

Russell Hobbs RHSM1001-G Steam and Clean Steam Mop White & Aqua -...
SUPER QUICK CLEANING - This steam Mop has a super quick 25 second heat up time and is great for chemical-free cleaning..Volts: 100 - 120V
LIGHTWEIGHT AND EASY TO USE - The lightweight design with tilt axis head provides ease of use, making cleaning less of a chore.
CLEAN FOR LONGER - This steam Mop has up to 25 minute steam time, ideal when you have a large area to clean.
NO WASTE - The two microfibre pads can be cleaned in the washing machine to be used time and again.
Last update on 2023-11-05 / Affiliate links / Images from Amazon Product Advertising API
If you're looking for simplicity and practicality, this Russell Hobbs model is the best steam mop for your needs. This tool is designed specifically for cleaning and sanitizing sealed hard floors, as well as freshening up carpets thanks to the featured carpet glider. At just 1.6kg, the mop is featherweight, but it offers a powerful 1400W steam heater, good size mop, and a 7.9 meter cable.
Wondering how you'll store the cable? Don't worry, the handle hooks will do all the work for you. The upper hook pulls out and rotates, so you can easily drop off the coils of cable quickly.
The mop features a 350ml water tank that heats up in 25 seconds. And, these 25 seconds ensure you a run time of 25 minutes. Many users like the automatic steam function, generating steam when you begin cleaning and stopping easily, simply by placing it back into an upright position.
Using the mop couldn't be any simpler. Just fill the water tank, plug it in, and turn on the switch. Unfortunately, there is no variable steam control available for this mop. However, it does come with a free one-year manufacturer guarantee. A free second year guarantee is available upon registering your product.
What We Like:
The 350ml tank heats up in 25 seconds and the mop can run for 25 minutes;
The cable is almost 8m long; other mops feature cables shorter than 6m;
The automatic steam function makes it very easy to use the mop;
Triangular shape of floorhead means can clean corners with ease;
Cleaning head glides well over hard floors.
What We Don't Like:
There is only one steam setting and the mop doesn't feature a steam ready indicator.
---
3. Shark S1000UK Steam Mop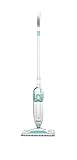 Shark Steam Mop, Lightweight Steam Mop for Hard Floors with 2...
CLEAN HARD FLOORS WITH THE POWER OF STEAM: Confidently clean all types of sealed hard floors, including hardwood, marble, tile and stone. No harsh chemicals, just water.
CLEAN AND SANITISE up to 99.9% of household bacteria with the power of steam. (Sanitisation studies were conducted under controlled test conditions. Household conditions and results may vary. )
REUSABLE CLEANING PADS: Shark's Dirt Grip cleaning pads are machine washable and reusable, made from absorbent, quick-dry microfibre fabric.
EASY TO USE: Simply fill the large 375ml tank with water using the included Filling Flask and you're ready to go. Activate the steam with a manual pump action for total control. 30-second heat up.
Last update on 2023-11-05 / Affiliate links / Images from Amazon Product Advertising API
If you're looking for quality and an affordable price tag, then the Shark S1000UK is the best steam mop for your needs. From the kitchen to the bathroom, the hallway to the living room, this lightweight mop will clean and sanitize all types of floors with the power of steam.
The mop comes with a generously-sized 375ml water tank that will allow you to cover a large area before requiring a refill. Speaking of refills, the tank is detachable so you can easily place it under the tap. Using and maneuvering the mop is quite easy. You can control the pump to manually activate the steam and provide just the right amount exactly when you need it. In addition, the freestanding design makes stopping the steam so simple.
With this Shark steam mop, no corner is too tight. The low-profile mop head easily gets into hard-to-reach spaces for a thorough clean throughout your home. In addition, you won't have to worry about the floor wipe. This mop features reusable microfiber Dirt Grip pads that are machine-washable and uniquely designed to absorb and trap dirt while cleaning.
What We Like:
A quality steam mop that comes at an affordable price;
The 375ml water tank heats up quickly and can cover large surfaces;
The tank is detachable and easy to refill;
Using an maneuvering the mop is very convenient thanks to the pump and freestanding design;
The microfiber Dirt Grip pads are machine washable and they trap dirt while cleaning.
What We Don't Like:
The cable cord is short; only 5.5m.
---
4. Vax S86-SF-CC Steam Fresh Combi Classic Multifunction Steam Mop
Sale

Vax Steam Fresh Combi Classic Mutlifunction Steam Mop |...
Steam + detergent breaks down grease and grime faster than steam alone and leaves floors smelling fresh.Volts: 220 - 240V. Frequency: 50 Hz
Built in handheld steamer which is suitable for cleaning of taps, tiles, windows, mirrors and more. Water tank capacity - 0.26 Solution tank capacity - 200 ml, Steaming time - 15 minutes
Quick and easy - ready to go in 40 seconds. Steam flow rate 15 gram per minute
Angular floor head gets into corners and other hard to reach areas for a more thorough clean
Last update on 2023-11-05 / Affiliate links / Images from Amazon Product Advertising API
The Vax S86-SF-CC steam mop is one of the few models that combines steam and detergent. Filling up the tanks is quite easy. There are separate tanks for the detergent and water, and each can be removed for faster filling. This model has a capacity of 400ml and a steaming time of 12 minutes. But, considering that it takes only 30 seconds for the water to heat up, this shouldn't present an issue. The detergent will leave behind a pleasant citrus smell.
This Vax steam mop features a triangular head that is very convenient for getting into corners or other tricky spots. The cleaning head has three sections. The first contains stiff brushes for getting into corners or working on stubborn dirt. The next is a larger plastic designed for mopping hard floors. And the final section is a glider for cleaning carpets and other fabrics. It is also important to point out that the mop comes with an 8-meter cable for a decent cleaning radius. In addition, the mop won't leave the floors wet after cleaning.
The only downside of this steam mop is that you have to hold the trigger constantly while using the mop. Even though this may seem tiring, it actually gives you a better control over how you clean.
What We Like:
A steam mop that features a detachable water tank and detergent tank;
The 8-meter cable provides you with a decent cleaning radius;
The triangular head can clean corners and other hard-to-reach spots;
The steam mop heats up in about 30 seconds;
A built-in handheld steamer is included and it is suitable for cleaning smaller surfaces.
What We Don't Like:
The steamer can run for only 12 minutes.
---
5. Vileda Steam Mop
No products found.
The Vileda Steam Mop is probably one of the most advertised but also best steam mop models you can get. It packs a powerful steam heater, a triangular head with tilt and pivoting neck, and variable steam power. The mop is robust, easy to use, does an excellent job of cleaning hardwood floors, and can be even used to clean your carpets.
Vileda's cleaning performance on hard floors is among the best. It ensures a smear-free finish, and steam production is outstanding. Using the mop is quite simple as well. There is a big screw-on filler cap, on/off switch on the back, and a Min to Max steam control on the front. It's really hard to get things wrong.
Are there any downsides? Well the water tank is not removable and the body of the mop gets very hot. But, if this is something you can look past, then this mop is a perfect choice for you.
What We Like:
The mop is easy to use, lightweight, and maneuvrable;
The steam mop heats up in 15 seconds;
Cleaning results on hard floors are excellent;
The mop features an accessory that allows you to clean carpets as well;
The triangular head with pivoting neck is perfect for cleaning corners.
What We Don't Like:
The body of the steam mop gets very hot and the water tank is not removable.
No products found.
---
What to Look Out for in a Steam Mop?
Owning a wand of steam-powered sterilization can feel quite empowering. It means there will be no more scrubbing, cleaner mixing, or bucket toting. But there are some design features and functions that can reach past the erasing power of steam to make the user experience even easier.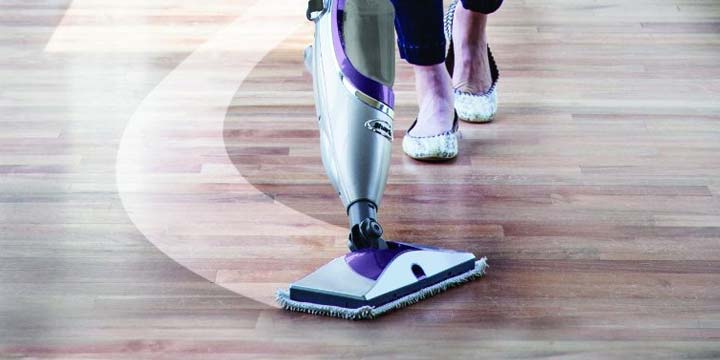 Image Courtesy of OdishaTV
Water Tank Capacity
The smaller the water tank, the more often you'll have to refill it. It's as simple as that. However, having a large water tank also has its downside; it will take longer to heat up before it's ready for use, and the heavier the mop will be. But, it will also last you longer. In general, steam mops tend to have between 250-450ml capacity. Water tank capacities will determine how long a steam session can last, though in most cases, once the reservoir is refilled, the mop is ready for another round right away.
To maximize the steam's cleaning power, large, fast-heating water tanks and adjustable settings can be helpful, improving the results and the user's experience. Also, it is recommended to check out whether the tank is detachable or you have to use a jug to fill it.
Time to Heat Up Tank
How long a steam mop takes to heat up before it starts pumping out steam when filled with cold or room temperature water largely depends on the size of the tank. It may be as little as twenty seconds or it can last up to a minute.
---
Related:
---
Different Steam Settings
The purpose of every steam mop is to sterilize the floors, clean grime with one swipe, and leave little to no moisture behind. Some of the best steam mop models have variable steam settings that can be adjusted with a press of a button or a turn of an adjustable control dial. But, don't be too worried if you like a steam mop with only one setting. These models will also get the job done, especially if you use them for quick and simple tasks.
However, it can be very useful to have some control of the steam. For example, hardwood and laminate floors should be cleaned with a low flow of steam since they benefit from minimal standing water during the cleaning process. High steam settings should be used for tiles, carpets, and grout applications.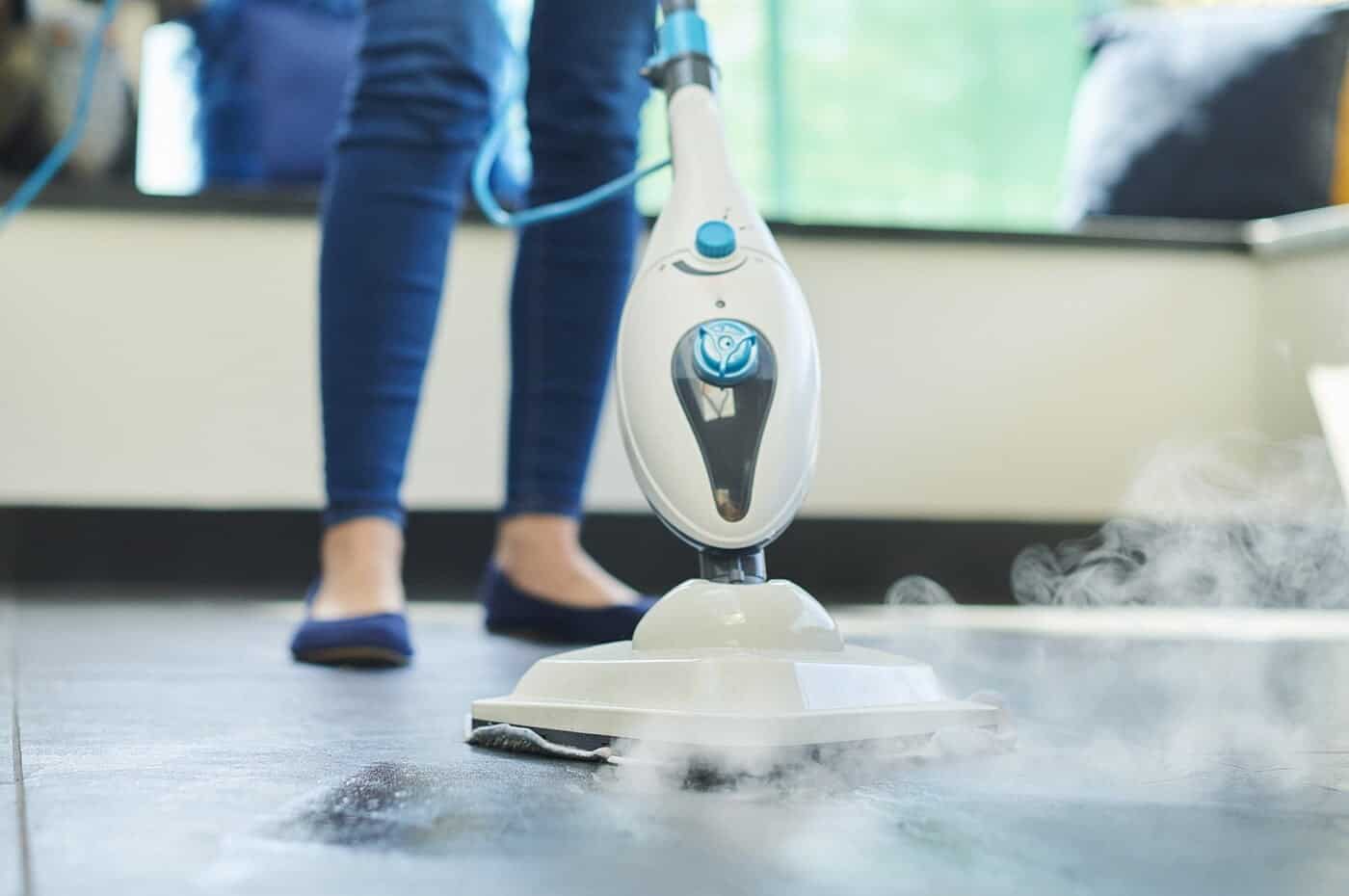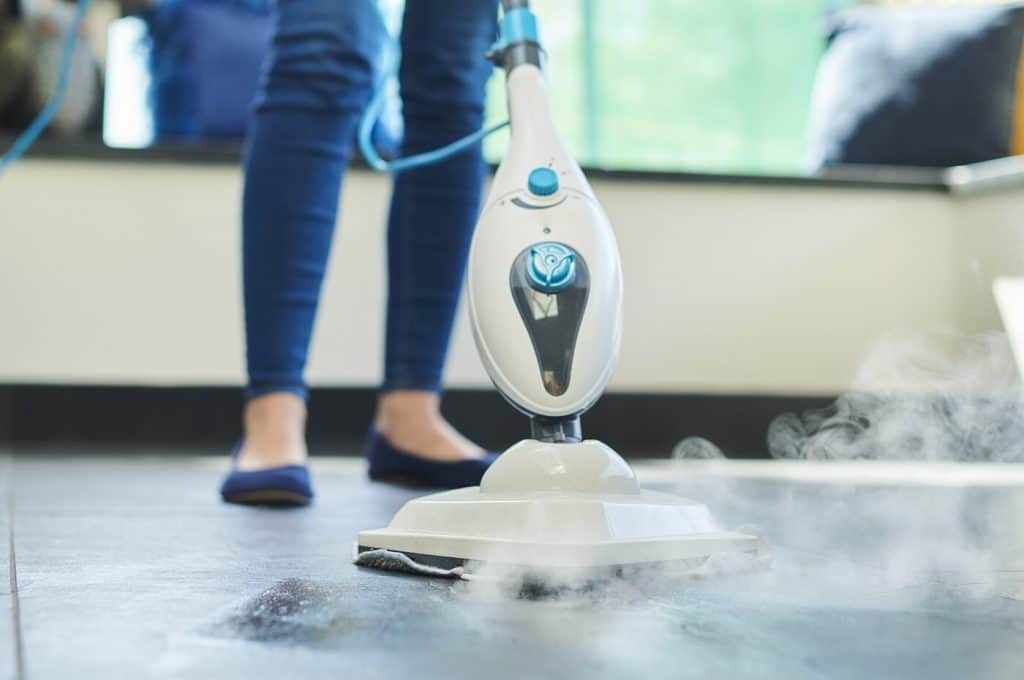 Image Courtesy of Bob Vila
Weight and Mobility
Using a steam mop is supposed to be an incredibly simple task. After all, a steam mop is made for effortless, chemical-free cleaning and it is meant to eliminate the need for scrubbing, wringing, or rinsing and repeating. A steam mop's weight should be manageable, even with a full tank of water.  Striking the balance between lightweight operation and large water tanks is key, as every ounce of liquid counts when it comes to bulk.
Power cord length is also a feature that affects a steam mop's mobility. A long cord can extend cleaning ranging and limit the amount of time spent jumping from power outlet to power outlet. However, there are some steam mops that don't offer on-board cord storage while in use. This can create the need for some strategic cord wrangling while using the mop.
Accessories
In general, steam cleaners come equipped with accessories that are meant to tackle all sorts of cleaning jobs. When it comes to steam mops that don't have a detachable unit, they usually come with limited extras such as additional cleaning pads. Some models come with detergent that is only meant to infuse fresh scent, rather give the steamer extra cleaning power.