If you work remotely or love to relax by playing video games at the end of the day, you already know the importance of a reliable pair of headphones. If you're not satisfied with your current headset, then it is time for an upgrade!
A good pair of headphones with a mic combines sound quality and comfort. More importantly, you also want to find a pair with noise-cancellation that eliminates background noise and echo. We put together a list of the best headphones with mic that will deliver excellent sound and perfectly capture your voice. We made sure to include models that will suit all budgets and preferences – from cool gamer headphones to smart headsets that can be used for work and relaxation.
Keep reading to find the best headphones with mic for your needs!
Best Headphones with Mic on the Market in 2021
5 Best Headphones with Mic Reviewed
1. Beexcellent Gaming Headset
Price: Low
Key Features:
Quality headphones that come with an affordable price tag.
Made with premium plastic and soft memory foam pads for ultimate comfort.
Mic features advanced anti-noise technology.
Compatible PC, PS4, and Xbox One.
Beexcellent Gaming Headset is one of the best headphones with mic that also comes with an affordable price tag.
Made entirely out of premium plastic, this headset features soft protein head and ear pads. It is lightweight, it is adjustable, and it is comfortable. The exterior is decorated with LED lights that adapt to the rhythm and sounds.
High precision 40mm magnetic neodymium driver offers a high sensitivity and strong frequency sound. Coupled with resonating bass, it can provide a relatively pleasant listening experience and bring some vivid and immersive sound to your ears.
The mic also does its job quite well; it features advanced anti-noise technology that will eliminate all the sounds around you. The microphone is adjustable, and it can rotate 120° for maximum comfort.
Obviously, the sound and mic's quality cannot be compared to those of high-end gaming headsets, but for its price, Beexcellent Gaming Headset will surely surprise you.
What we like:
Cheap headset with relatively good sound quality.
Mic features advanced anti-noise technology.
Universal compatibility with devices via 3.5mm jack.
Lightweight and adjustable frame.
Super comfortable to wear thanks to foam pads.
What we don't like:
They do not feel sturdy enough to be able to last a few years.
---
2. Logitech H540 Wired Headset
Price: Medium
Key Features:
Great headphones for music and gaming as well.
Compatible with any PC or Mac.
Noise-canceling mic eliminates unwanted background noise.
On-ear controls make it easy to mute the mic and adjust volume.
Headphones with an adjustable and comfortable design.
Logitech H540 wired headset definitely deserves a spot on our list of best headphones with mic. It comes at a reasonable price and delivers outstanding performance. The headphones feature laser-tuned drivers, and a built-in equalizer provides rich, digital audio for full immersion in music, games, or even calls.
More importantly, the noise-canceling mic will eliminate all unwanted background noise and allow everyone to hear you clearly. The mic is fully adjustable so that you can position it for better voice capture. When you don't need the mic, just tuck it inside the headband.
You can easily adjust the headphone volume or mute your mic with simple on-ear controls located on the right ear cup. The easy-to-see light indicator on the headset cord confirms mute status.
Last but not least, the headset was designed with comfort in mind. The soft, padded headband and ear cups will feel comfy even after wearing the headphones for a few hours. The only downside of the headphones is that they are not compatible with any consoles such as Xbox or PlayStation.
What We Like:
Quality headset that comes at a reasonable price.
The mic features noise-canceling technology and can be tucked inside the headband.
On-ear controls allow you to adjust volume and mute your mic easily.
The headband and earcups are padded and ensure maximum comfort.
What We Don't Like:
The headset isn't compatible with consoles, such as Xbox or PlayStation.
---
3. Mpow Gaming Headset
Price: Low
Key Features:
Compatible with all devices that feature a 3.5mm jack.
Quality headset with excellent price tag.
Delivers crisp sound and high, immersive bass.
The headphones are ultra-comfortable and can be worn for hours.
Noise-canceling microphone ensures crystal-clear chatting.
Mpow makes one of the best headphones with mic that also ensure immersive surround sound. Dual 50mm speakers deliver crisp high, and deep bass. If you plan to use the headphones for gaming, then you will have an audio advantage over your enemies, thanks to this headset.
Whether you're going to use them for work, listening to music, or gaming, the headphones are ultra-comfortable and can be worn for hours. Enhanced padded ear cups provide better noise isolation, and the padded, metal headband makes the headphones even more comfortable and cool.
Mpow headphones have an excellent mic with a noise-cancellation feature that will capture crisp-clear voice, eliminate the annoying echo, and ensure quality communication. The headphones can be rotated 360°, meaning that you can adjust them to capture your voice accurately.
One of the greatest advantages of these headphones is their versatility. You can use them with any device that has a 3.5mm jack. The USB that is included is only used for lighting and cool effects. Keep in mind that to use these headphones with the older version of Xbox One, you'll need to get a Microsoft adapter.
What We Like:
Quality headset that is fully adjustable and comfortable.
The headphones are compatible with any device that has a 3.5mm jack.
The mic features noise-cancellation technology that eliminates background noise and echo.
The 50mm speakers deliver crisp high, and deep bass.
What We Don't Like:
The cables sometimes tangle, making it inconvenient to use the headphones.
---
4. Wantek Binaural F602J35 Headset
Key features:
Type – On-ear; Weight – 3.88 ounces.
Connection type – wired; 3.5mm jack; 5.25 feet cord.
Built-in noise-canceling microphone.
High quality and soft leatherette ear cushion.
Acoustic Shock Protection Circuit technology.
Wantek Binaural F602J35 Headset is primarily designed for mobile phones and the enjoyment of hands-free calls. These headphones enable a natural listening experience. They feature a noise-canceling microphone to reduce background noise, Acoustic Shock Protection Circuit technology that will protect your hearing from sudden loud sounds.
The microphone is omnidirectional, so you can turn it and use it on both the left and right sides of your head. Headphones come with an adjustable headband to fit all head sizes. They are covered with high-quality and soft leatherette that will enhance all-day wearing comfort.
The most impressive features are built-in buttons (volume control, on/off, answer) that will make your calls immensely easier. They can be found on the outer side of the on-ear cup. They are easy to reach and interact with. Another beneficial feature is a shirt clip that allows you to attach the cord to your shirt so the cable won't get in your way.
Audio quality is satisfying for headphones in this price range, as it gives you natural sound, and the noise-canceling ability is pretty decent. Overall, these headphones will provide a satisfying call experience for everyone.
What we like:
Great sound quality
Excellent microphone intelligibility
Built-in volume control, On/Off and answer button
Shirt clip for easy cord management
What we don't like:
Build quality seems a tad bit flimsy
---
5. JAMSWALL 3.5mm Wired Headset
Key features:
Type – Over-ear; Weight – 9.5 ounces.
Connection type – wired; 3.5mm jack; 3.9 feet cord.
High sensitive microphone with omnidirectional noise reduction tech.
High quality and skin-friendly protein leather ear cushions.
Designed for gaming, JAMSWALL 3.5mm Wired Headphones exceeded expectations that were put in front of them. The audio quality is pretty decent, and noise-canceling ability is outstanding for headphones of this price.
Powered by a 40mm magnetic neodymium driver, headphones offer crystal-clear highs and mids, although lows can sometimes lose their clarity. High sensitive microphone with omnidirectional noise reduction tech allows your voice to be clearly heard by everyone you are talking to. Sometimes, the humming current can be heard in the headphones, but according to the manufacturer, it can be removed by lowering the voice adjustment volume level.
These headphones are super comfortable, and skin-friendly protein leather helps reduce heat and moisture build-up as advertised. Earcups are fitted with memory foam and designed so that your ears won't even notice that the headphones are there. The cushion on the headband could be a tad bit more thicker, but it does the job.
What we like:
Solid audio quality;
One key mute function;
Extremely comfortable;
Built-in volume control.
What we don't like:
If the voltage is too low or too high, the microphone may not work.
---
Related Posts:
---
Which Qualities and Features You Should Look for?
The best headphones with mic you can find on the market will surely satisfy your communication and audio needs. Some of them are incredibly durable, and you can use them for years on end without needing a replacement. But there are many different options on the market to choose from right now, and it can be tough to choose the best headphones with mic for you. Also, not all headphone brands available are worth purchasing.
So, how to choose the best headphones with mic? Here are the qualities you should take into account when you are shopping for these kinds of headphones.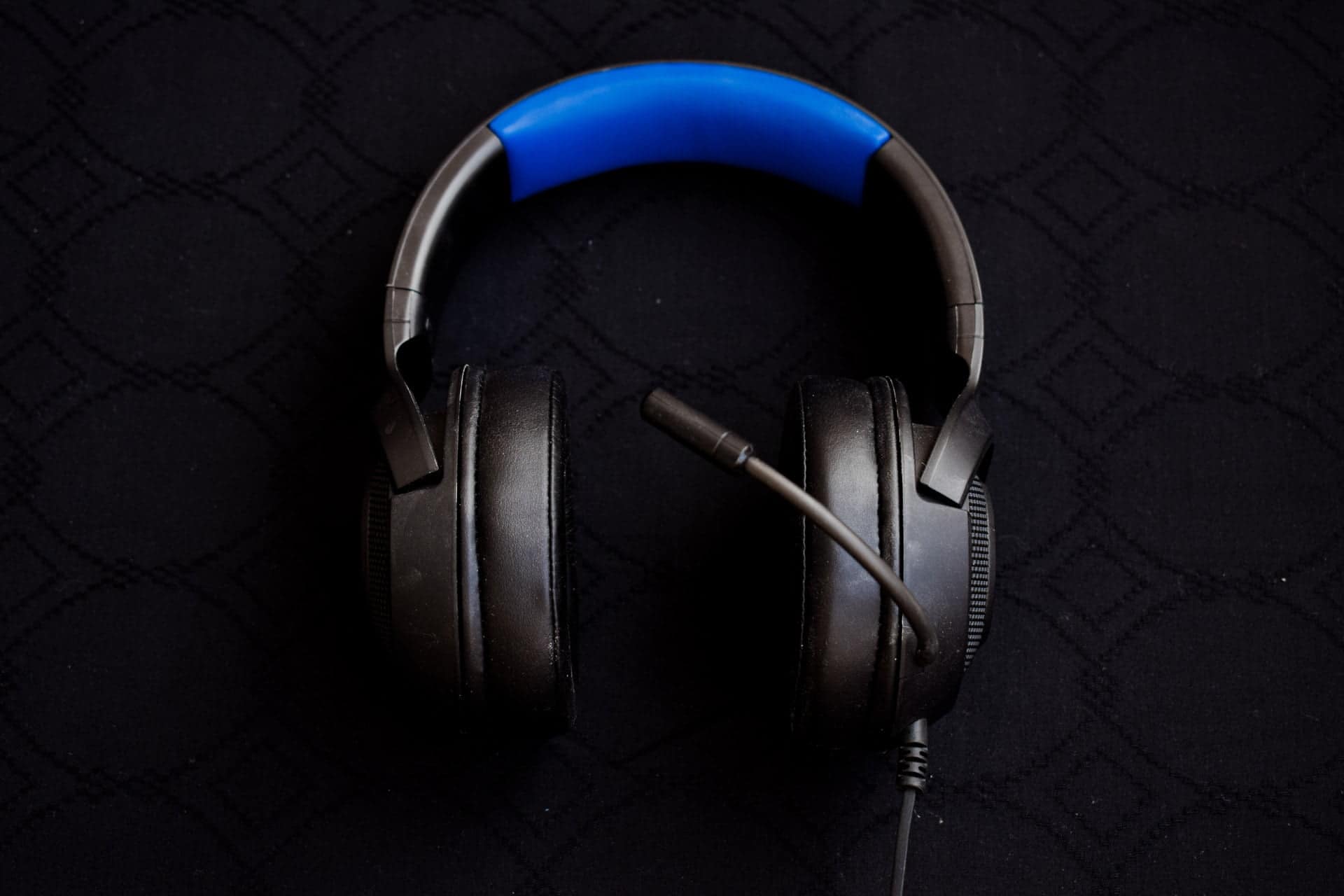 Image Courtesy of Unsplash
Microphone
Communication is an unavoidable part of everyday life. For example, as an online gamer, you'll need to communicate with your teammates both during and in between sessions.; or suppose you take work calls all day long. That is why you should choose the headphones with microphones that provide better voice clarity through their excellent noise-cancellation feature.
Choosing a lousy headset with mic will be an utterly wrong choice for practically any online call. Lousy headsets severely affect your ability to hear what the others are saying due to static, and a terrible mic affects your voice. When combined, bad headphones and mic will make a disastrous experience for everyone on the call.
Wired or Wireless
The first thing you should look out for is if the headphones are wired or wireless because the headphones' type of connection will primarily affect your movement. Both connections do have their advantages and disadvantages.
Wired Headphones
Wired headphones use cables to connect them to a compatible audio source, usually via a USB port or 3.5mm jack. Because they are physically attached to the audio source, they are permanently connected to the power source. This means that they do not need to be charged; thus, you don't have to worry about batteries running out in the middle of the gaming session or a call.
Wired headphones are often cheaper than wireless ones, but they do pack the same punch. Every primary feature that wireless headphones have, wired headphones have it too. Also, they are easy and convenient to use because of their plug-and-play compatibility. Plus, a wired connection is more stable and reliable in a data transfer than a wireless option.
One of the downsides of wired headphones is that they are infinitely more prone to tangling than wireless headphones. Tangled cable is often hindering your ability to use them properly, and there is a high chance of damaging the cable/headphones. Cable also means that you have restricted reach.
Wireless Headphones
Wireless headphones do not require the use of cables or wires. Instead, they are establishing a connection via Wireless USB dongles or Bluetooth. Their most significant advantage over wired headphones is that they have little to no restrictions, which means that they can be used in any position during gaming. If you need to step away from your desk for some time, you can still talk to your friends or colleagues.
Another big plus is cross-platform compatibility, which means that wireless headphones will work with any device that supports wireless standard (e.g., Bluetooth).
The disadvantage of having wireless headphones is that they pose the risk of running out of battery in the middle of a sentence. But the more expensive models have long-lasting batteries with quick-charging features.
Your Choice of Platform
If you are buying these headphones for gaming, the platform you are playing games on will affect your choice of headphones. Almost every headphone on the market is compatible with every platform, but some consoles have certain difficulties. Some consoles may not effectively support individual headphones models' specific functions as they are dependent on certain software features, which are available only on PC, for example.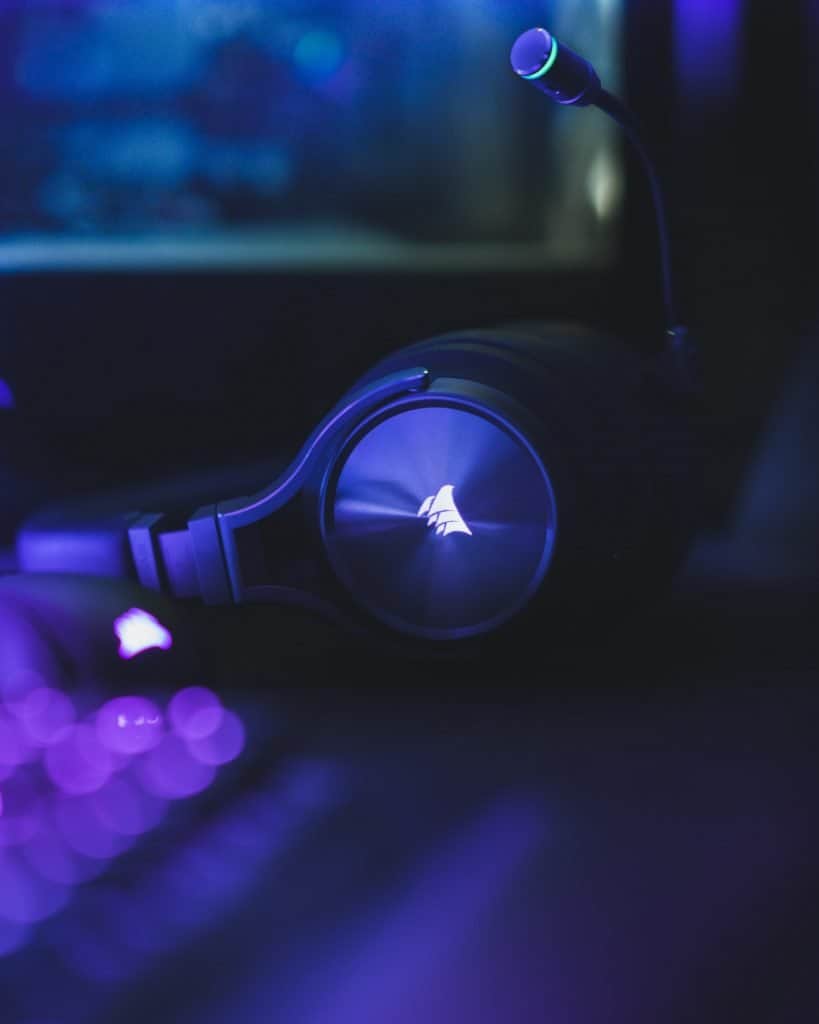 Image Courtesy of Unsplash
Noise Cancellation
The noise-cancellation feature is what makes a difference between mediocre and fantastic gaming experience—hearing music or sounds from every other source can be bothersome.
When you select the best headphones with mic for you, you should look for headphones with good noise-cancellation ability. There are two different ways in which headphones block external audio sources, active and passive noise cancellation.
Passive noise cancellation is a term used to describe headphones that block sound from external sources with its physical design (e.g., tight fit around head and ears). Active noise cancellation is a term that describes headphones that detect background noises and then digitally counter the signal for a crystal-clear and high-quality audio experience.
Sound Quality
Even though the audio quality is somewhat subjective, it is imperative when it comes to picking out the best headphones with mic.
When it comes to audio quality, the general rule of thumb for low-end over-ear headphones is "bigger is better." Larger drivers and diaphragms often have better performance and response than their smaller counterparts because they have bigger vibrating cones, and they provide a larger magnetic field to disturb. Hence, the larger the headphone, the better the audio quality.
For high-end headphones, size is less relevant, and their audio quality depends on how well they are engineered. That's why you won't find anything imposing until you delve deeper into the above-the-hundred-dollar market.
Suppose you are going to use headphones for gaming or music. In that case, you should look for headphones with high precision drivers- High precision drivers can deliver crisp and superior sound quality, including a fantastic bass surround sound, and surround sound offers omnidirectional hearing, so you'll always know where the sound or opponent is coming from.
Comfort, Build Quality, and Aesthetics
Talking/gaming/listening to music can turn into a long experience taking over 12 hours of your day. This means that the best headphones for you will be the ones that are comfortable to wear for extended periods. But how to know which features make headphones more or less comfortable?
Headband and ear cups should not be too tight or too loose; they must offer a comfortable fit. If the headband and earcups are too tight, they might restrict blood flow, leading to headaches and fatigue.
Both the headband and earcups should be made of comfortable and breathable materials. A big plus is if they are filled with memory foam, which allows them to conform to your head's shape for added comfort.
The weight also plays a massive part in comfort. You want to choose a lightweight pair of headphones, not a heavy pair that will weigh your head down. Bulkier headphones are not suitable for extensive use because they are more likely to cause headaches and fatigue.
If you want to invest a lot of money in a high-quality pair of headphones, then you need to be sure that they will last endure many years of continuous use. When you choose the best headphones with mic, they should not only be comfortable but must also be constructed with high-grade materials.
The better models on the market have a steel headband, a strong and durable plastic earcups construction, and premium faux leather covering.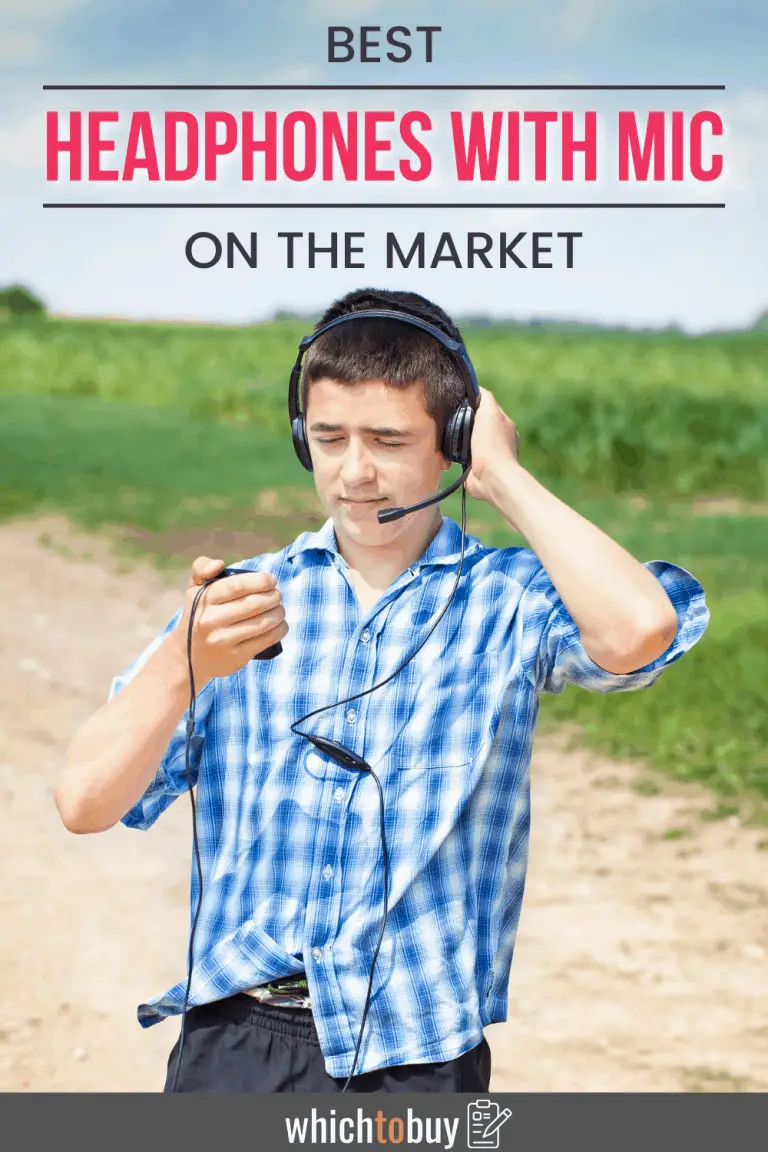 Amazon and the Amazon logo are trademarks of Amazon.com, Inc, or its affiliates.