Most people living in the UK do not have too much outdoor space. Pair that up with the dismal weather, and you will find many residents having to dry their freshly washed clothes on clothes racks or over radiators. However, drying wet clothes over radiators is less than ideal. This way, excess moisture will be released into the air. This can cause trouble for those who have respiratory issues and can even cause mold in your home.
Of course, there is another option – a tumble dryer. However, these appliances tend to be quite pricey, and they take up a lot of space. However, there is a shortcut to drying clothes indoors: enter the modern marvel called the heated clothes airer.
A heated clothes dryer is a perfect choice for singles and couples, as well as families who do multiple loads of laundry every week. It is ideal for all those who haven't got much space or access to an outdoor washing line and need their clothes, uniforms, or gym kit to dry in a hurry.
In this article, we'll explain to you in more detail what are heated clothes airers, how they work, the benefits of owning one, and how to choose the best heated clothes dryer for your need. Also, we'll take a look at the most popular models currently available on the market.
Best Heated Clothes Airer on the Market in 2021
How Does a Heated Clothes Airer Work?
A heated clothes airer is just like a standard one, except that it has poles and legs that can be heated up. The design of a heated airer involves a series of rails on which you hang your clothes – just as you would with a conventional one – and within them are electric elements that are heated when they are plugged into the mains. The effect is a radiator that specifically dries clothes, and that can be put away when not in use.
A heated clothes airer is a very simple machine, and it can be used anywhere in your home as long as you can plug it into an electric outlet. It is quite safe to use around the home, so you don't have to worry about any accidents.
Are Heated Clothes Airers Pricey to Run?
As we already mentioned, you will need electricity to run your airer. So, it's natural for you to wonder how will this new appliance affect your electricity bill. The good news is, running a heated dryer is much cheaper than having a tumble dryer. The device is able to dry your clothes fast, so you won't have to keep it on for too long.
To reassure you even further, let's examine some numbers. The average running cost of a tumble dryer works out at 35.7p per hour. When it comes to heated dryers, on average, they cost from 4p to 6p per hour to run (depending on the size of the unit). The least efficient model we've come across costs about 13.75p per hour, which is still significantly less than using a tumble dryer.
Basically, getting even this less efficient model will be 60% cheaper than a tumble dryer. How did we do our math? Well, we found this online electricity cost calculator comes in really handy. Feel free to check it out and calculate electricity costs on your own!
The Benefits of Owning a Heated Clothes Dryer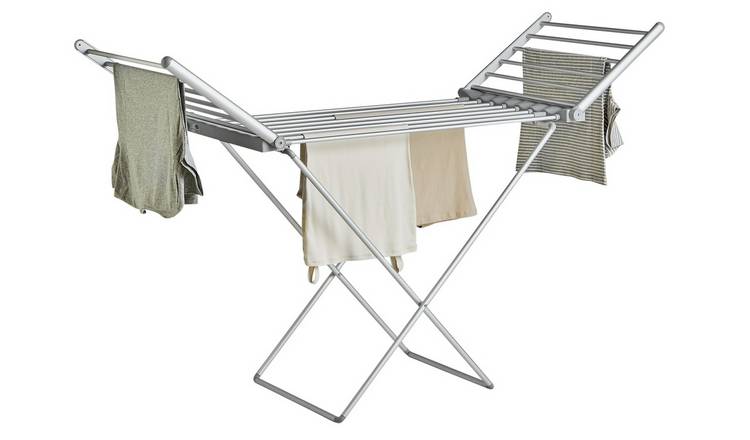 Image Courtesy of Argos
Besides the reduced electricity bill, there are a few other benefits of owning a heated clothes dryer. The first and the most obvious one is that this machine will allow you to dry your clothes quickly and easily, especially if you're in a rush or if it's too cold outside to hang the clothes on a clothing line.
Also, some apartment-dwellers don't have access to a clothing line. Getting a heated airer is a much better option than drying the clothes on radiators or paying for a tumble dryer. In addition, as we already mentioned, hanging clothes on radiators can be a bit problematic. It will increase the moisture in the air, which can have adverse effects on all those with respiratory problems. In addition, excess moisture can easily turn into mold.
Using an electric clothes dryer removes the possibility of any excess moisture in the air as it dries the clothes very quickly. Last but not least, getting a heated airer is a good idea even if you already own a tumble dryer. For example, if you want to dry just a few shirts, it wouldn't make much sense to run the tumble dryer. So, using an airer in conjunction with a dryer can also reduce your costs.
How Can I Choose the Right Heated Clothes Dryer for My Needs?
The first thing you should keep in mind is that heated clothes dryers are all about function rather than style. So, if you planned on choosing the right model for you based on its looks, you won't have much luck there. But, there are a few other factors that can help you make the right decision.
The first thing you should consider is how much washing you usually do. This can help you choose the proper size of the airer. Of course, bigger is always better, but what's the use of owning a huge airer if you're not going to use up all the space?
Then, another thing you should pay attention to is the space you have in your home. There are different airer models available. If you don't have too much space, then maybe a foldable model is the best choice for you. But, if you have an entire utility room, then you can get a larger model.
Once you got the proper size of the airer in mind, it's time to think of the different features. Each heated clothes airer model is packed with different features, and we will list the most important ones you should look out for. But, before we get to that part, let's look at some of the most popular models currently available on the market.
Best Heated Clothes Airer Models in 2021
1. Homefront Electric Heated Clothes Airer
Homefront heated clothes airer is one of the most energy-efficient models. This electric heated clothes airer provides you with a new, eco-friendly way to dry your clothes – perfect for apartments and homes without a tumble dryer or washing line. It is large enough to dry up to 2 meters of clothes (such as underwear, socks, towels, and T-shirts) while costing about 2p per hour to run. In addition, the model is quite affordable.
Even though this airer comes at an affordable price, it is made of quality and durable aluminum and ABS plastic. No matter how heavy the clothes get, the airer won't buckle under pressure. It's durable enough to handle heavy, wet clothing without bucking, giving you the same great performance every time you use it. In addition, using the airer is incredibly easy. It comes with a three-pin UK plug and an on/off switch that's easy to use.
When it comes to the design of the airer, it is quite lightweight and perfect for houses and flats that don't have too much extra space. Once you're done using the airer, you can place it in a cupboard or even under your bed.
What We Like:
An affordable model with 2p per hour run costs;
The airer is made of quality materials that will withstand the weight and pressure of wet clothes;
Storing the dryer is very easy; you can place it in a cupboard or under the bed;
The airer can house up to 2 meters of clothes.
What We Don't Like:
Some customers complained that the airer doesn't get warm enough to dry clothes quickly.
---
2. HOMCOM Folding Electric Clothing Dryer
HOMCOM folding heated clothes dryer is one of the best-quality models currently available that comes at an affordable price. It is made of high-quality aluminum alloy, PP, and ABS, and it can dry up to 10kg of clothes at the same time. The airer will not fold under pressure, and it is meant to stand the test of time.
What many buyers like about this model is that it is large enough to dry all sorts of clothes, yet it is compact when it comes to storing. It features eight hanging rods and two side wings that can get as warm as 55℃ and dry your clothes in no time, without damaging even the most delicate items. Once you're done using the airer, fold it and place it anywhere you deem fit.
Operating the airer is quite simple. It features an on/off switch that is protected and water-resistant. All you have to do is plug in the unit, turn it on, and it will start drying your clothes.
---
3. Dry: Soon 3 Tier Heated Indoor Airer
If you're looking for a heated clothes dryer that can fit lots of clothes, then this model from Dry: Soon is an excellent choice for you. It features 21m of drying space and can easily hold up to 15kg of laundry. And, even though it looks a bit bulky, the dryer is actually quite lightweight. It is also foldable for easier storage after use. However, you should keep in mind that, once you set the dryer up, it is quite cumbersome to maneuver. Luckily, locking clips will keep the dryer secure when open/closed.
Even though the initial price might be a bit more expensive than other models, you'll be investing in a quality dryer that will last you for years. In addition, despite its large size, this unit spends only 5p per hour.
The dryer is most effective when clothing is laid flat on it so that every part touches the bars. This might leave you with a bit less usable space, but if you're in a rush, it will be worth it. For more effective drying, you can place a bedsheet over the unit to trap the heat. Or, you can also get an airer cover from Dry: Soon.
What We Like:
The dryer features a large surface area, making it easy to lay items flat;
Locking clips make the unit much safer;
Made of quality materials that can withstand up to 15kg of clothes;
The model is foldable and easy to store;
Even though the dryer is large, it will cost you only 5p per hour.
What We Don't Like:
Better to lay items flat to speed up drying time, but this will limit usable space.
---
4. Innotic 3-Tier 1200W Heated Clothes Dryer
No products found.
Innotic makes one of the most high-quality and high-tech heated clothes airers on the market. This unit features an intelligent main engine with an LCD display that allows you to set up the timer and choose your drying time base on the type of clothes you're drying. In addition, the dryer is equipped with a wireless remote control that makes setting up the dryer incredibly easy.
Unlike many other heated clothes airers, this one releases negative ions, which increases the bactericidal effect. The airer is equipped with a dust filter to filter pollutants in the air effectively. So, not only will this model dry your clothes, but it will also sterilize them. The airer is quite large, and it can fit up to 30 kg of clothes. But, don't let the size worry you. The unit is foldable so that it can be stored easily, and it features wheels that make moving the dryer around quite simple. In addition, there is a cover included that speeds up the drying.
What We Like:
A large heated airer that can dry up 30kg of clothes;
The airer is foldable for easy and convenient storage;
The wheels make it simple to move the dryer around;
The dryer features a timer and can be controlled by a remote;
The model releases negative ions and sterilizes the clothes as well.
What We Don't Like:
Some users complained that assembling the dryer is quite complicated.
No products found.
---
5. Dry: Soon Deluxe 3-Tier Heated Airer
What is the difference between the Dry: Soon Deluxe and standard three-tier heated clothes airer, except for the design? Well, some things remained the same. For example, this model also comes with 21m of drying space and can hold up to 15 kg of laundry. Even though the unit is large, it folds down to just 8cm wide for storage.
But, the Deluxe model comes with one innovative feature – a timer. This allows you to turn on the airer and run it for as long as you want, without having to check on the dryer frequently. In addition, there is also a control panel at eye level available and a set of detachable castors (sold separately). The model is made of a quality aluminum frame that is durable yet lightweight and easy to move around. When it comes to the run price, this airer will cost you about 6p per hour.
If you want to upgrade this model, even more, consider getting accessories that are sold separately. For example, you can get the heated airer cover that will trap the heat and speed up the drying process even more. Or, you can get the Deluxe Mesh Shelf Duo, a pair of mesh shelves for laying delicate and smaller items flat rather than hanging them over the bars.
What We Like:
The dryer doesn't take long to dry your clothes;
Very large surface area, so it's easy to lay items flat;
The deluxe model includes a timer that allows you to control the drying time;
The control panel is now at eye level instead of ground level;
A useful carry handle makes it easier to move the dryer.
What We Don't Like:
The dryer is quite bulky and would benefit from castors, which have to be purchased separately.
---
Related:
---
Heated Clothes Airer Features to Look Out for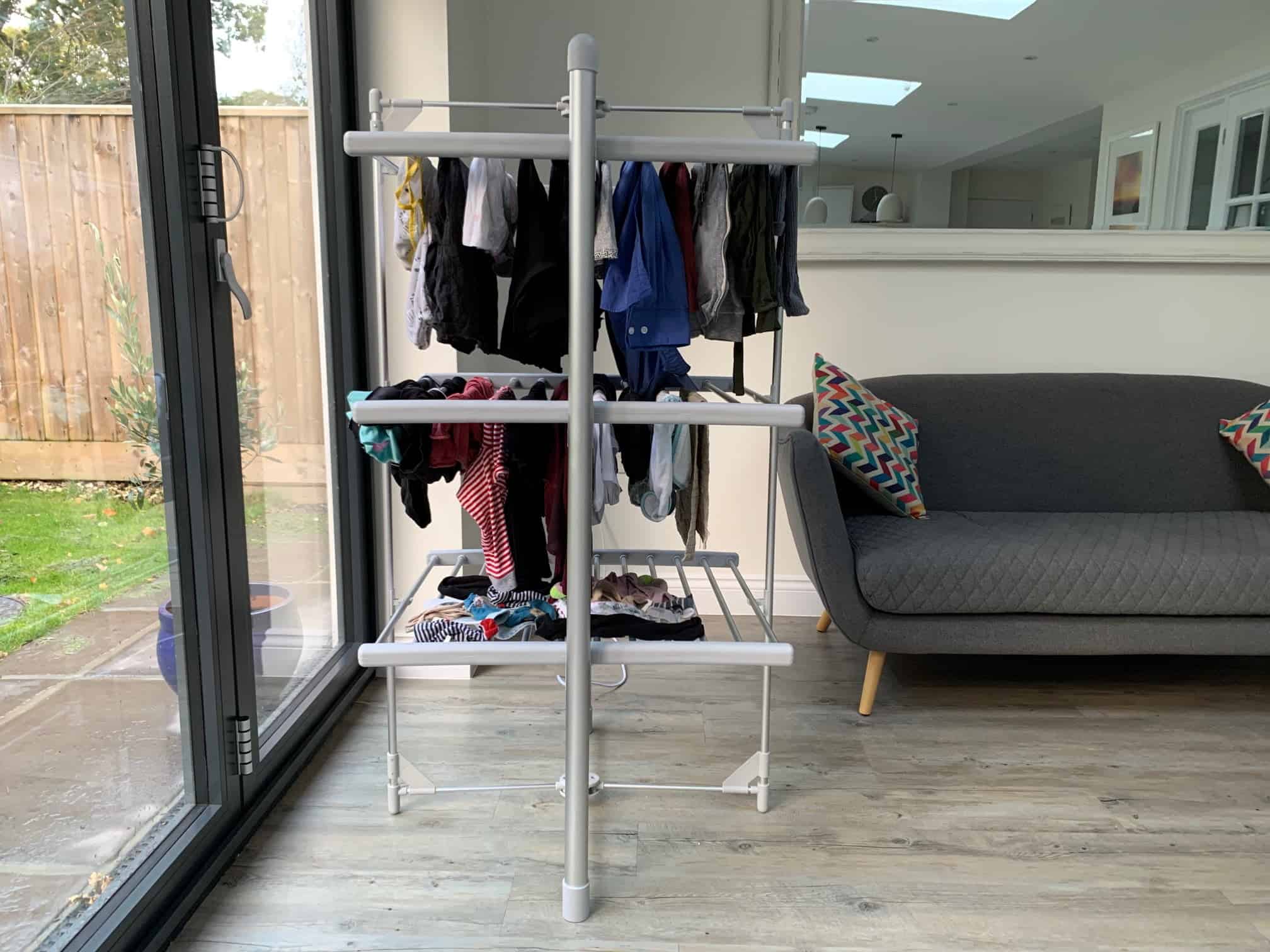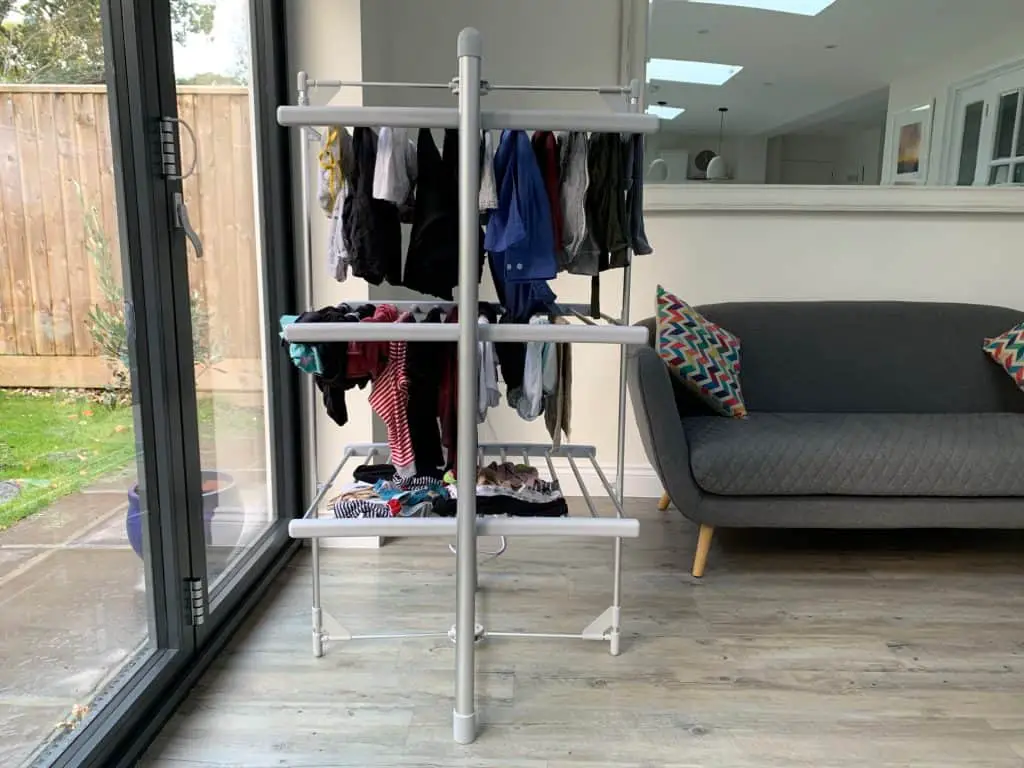 Image Courtesy of Devon Mama
Heated airers are essentially very simple appliances that consist of a frame and a heater. However, there are many different models available on the market, so we wanted to remind you of the important features you need to look for.
Size
When it comes to size, there are two different things you should pay attention to. The first one is the size of the airer itself. Think about how much clothes you usually wash per load. This will help you determine the proper size of the airer and prevent you from choosing the one that might be too big for you. Owning a large airer might be tempting, but keep in mind that it will end up using more electricity than it needs.
Another thing to keep in mind when it comes to the size of the airer is your storage space. Before you start looking at the models, check out the dimensions of the room you plan to place the airer in. If you want a larger airer, but you believe you won't have the space to store it, make sure to look out for foldable models that are compact for easy storage.
Build Quality
A heated clothes airer is an appliance that will carry quite some weight during its use. So, you need to find the one that is made of quality materials that will stand the test of time and also be able to carry all that weight. There have been some user comments on some airers lacking sturdiness, so always make sure to check customer reviews before purchasing a product.
Cost per Hour
What people usually worry about when buying an electric appliance is how much energy it will consume. The good news is that electric airers don't spend too much energy, but the amount varies from model to model.  That is why you should do research to determine the cost per hour to use any specific airer you're interested in.
Keep in mind that some clothes airers can be quite pricey. Even though they are more efficient than tumble dryers and other airers, they may come at twice the price. Make sure to do your research so you could balance out the purchase price with running costs when deciding which one to buy.
Thermostat
Some heated clothes airers come with a thermostat, while others come with a timer or are manual. This feature adds to the safety of the appliance, but it is not essential.
Timer
Speaking of timers, they can be quite handy when it comes to ease of use. Lots of models don't come with a timer. However, those that do are usually limited to a 3-hour timer.
Collapsible
If you don't have too much storage space at your disposal, then it is recommended to get a collapsible heated clothes airer. This way, you'll be able to store it almost anywhere in your home.
Should I Get a Heated Clothes Dryer?
Do you find it hard to make a final decision? Do you still wonder if you need a heated clothes airer? Well, let us help you make up your mind.
If you don't have proper space for drying your clothes (such as a clothesline or a tumble dryer), then it is recommended to get a heated clothes airer. Drying clothes on radiators or on a regular clothes rack is not always the best option as it can contribute to excess moisture in your home that can, eventually, lead to mold.
This simple appliance will take away all the problems of getting clothes dried when you need to do the laundry, and they do it with little expense. If you worry about getting another item that will take up your precious space, the good news is that a lot of airer models tend to be foldable and quite compact. And, the best part about heated clothes dryers is that they come in different sizes and styles with a wide range of price tags, so it is quite likely that you'll find the one perfect for your home and laundry needs.