There's nothing like the smell of freshly cut grass, but, keeping your lawn in tip-top shape requires a lot of time and effort on a weekly basis. That is unless you get yourself the best robot lawn mower available on the market.
Can you imagine taking the summer off from lawn mowing? Well, now it is possible. Robot lawn mowers are small, battery-powered buggies that will make your life easier. These products are available for lawns of all shapes and sizes. Using and programming a robot lawn mower is quite easy, and if your garden has certain obstructions such as flower beds, the robot will be able to go around them. Also, they are very quiet, meaning that these robots can do their thing at any hour of the day without bothering you or your neighbors.
Now you're probably thinking that a neat gadget like this one must cost hundreds of dollars. The truth is, a robot lawn mower doesn't come cheap, but there are plenty of models available that won't break the bank. Some models come with advanced features such as an anti-theft sensor, Wi-Fi connectivity, and even scheduling capabilities, but they are usually more expensive than just the basic ones.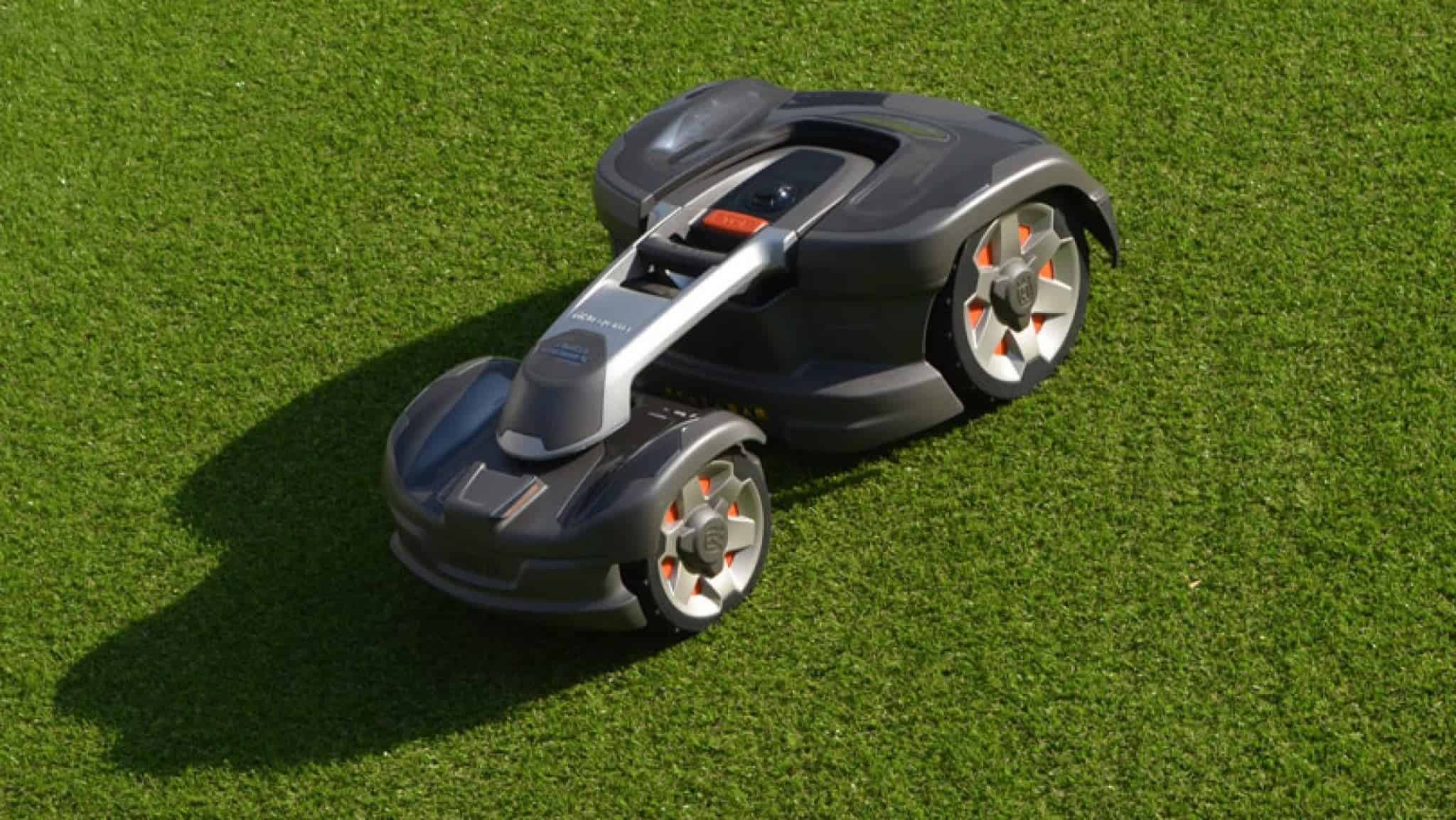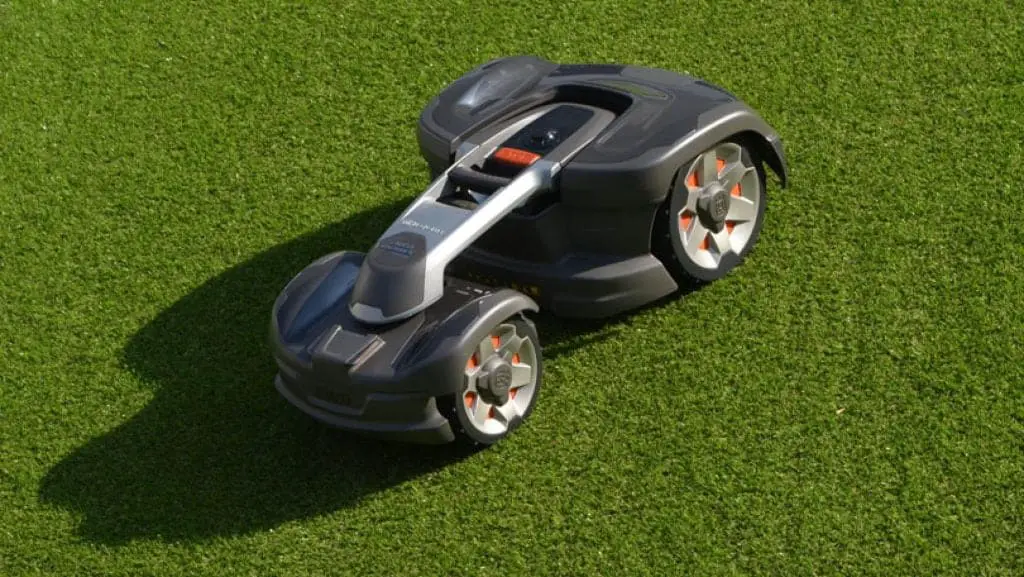 Image Courtesy of PCMag
Best Robotic Lawn Mowers on the Market 2021
How Robot Lawn Mowers Work
Robot lawn mowers are very similar to robot vacuums; basically, you will be getting a Roomba for your lawn. But, of course, the inside of the gadgets couldn't be any different.
The best robot lawn mower models use a battery-operated motor and also feature cutting blades, an AC powered base station, perimeter wire, and sensors that prevent them from wandering off too far.
The perimeter wire is the key to the proper functioning of a robot lawn mower. You lay the wire along the border of your line and connect one end to a terminal on the base station. The wire is held in place using stakes (similar to those used to pitch a tent). As already mentioned, the mower features sensors that use the charged wire as a guide for boundaries. The sensors also guide the mower to the base when the grass is cut or when the mower needs recharging.
All robot land mowers use a rechargeable battery that can last anywhere from 30 minutes to four-plus hours. It all depends on the quality of the product. The charging time depends on the size of the mower and the battery capacity, and you can expect it to last from 30 minutes up to two hours or longer.
Every robot lawn mower has to be programmed. Even though this task might sound intimidating, it is actually not. All you need to do is use the control panel that features the On/Off buttons and additional menus such as timers, cutting history, diagnostics, etc. The best robot lawn mower models come with options such as scheduling cutting times or configuring edge cutting settings.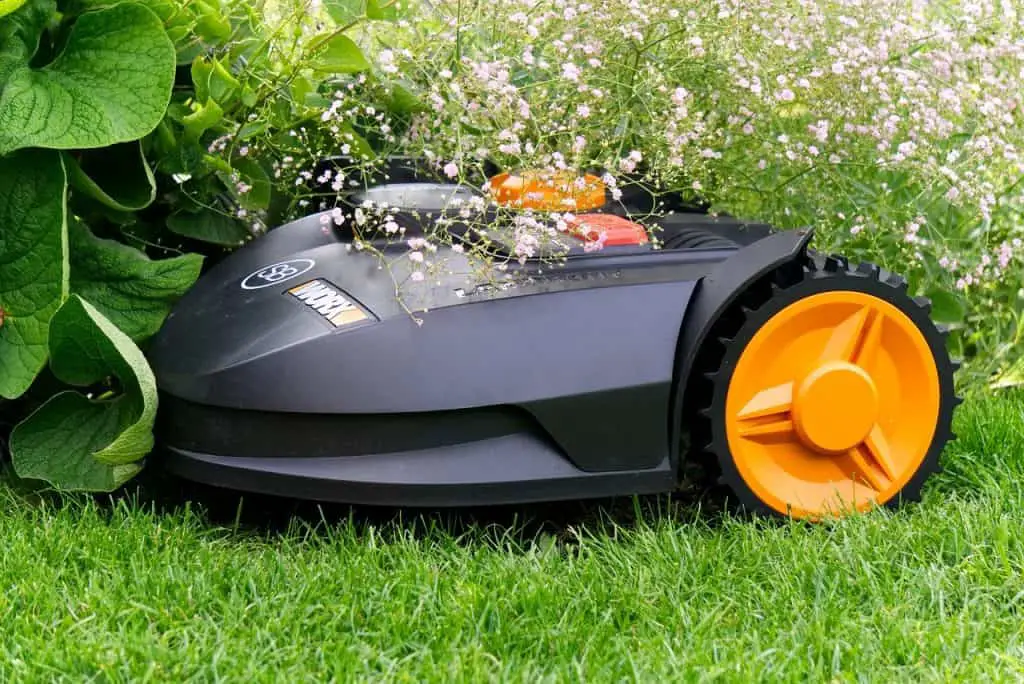 Image Courtesy of Go Gardening Hub
Best Robot Lawn Mower Reviews
1. McCulloch ROB 1000
Mcculloch ROB 1000 is one of the best robot lawn mower models you can find on the market right now. The product comes with a perimeter wire, that can be placed on top of your garden or even below it. This model comes with an advanced feature that allows you to schedule the mower according to your preferences and make the entire mowing process automated.
This robot lawn mower was designed to successfully mow gardens with slopes up to 25% inclination. The effective motor and sturdy wheels will ensure that every part of your lawn is covered for the most satisfactory result. In addition, the unit is powerful enough to handle lawns of up to 1000 square meters in size.
Since robot lawn mowers are mostly outdoors, it is necessary to keep them safe. This one features a very loud alarm and even a PIN code that will keep it protected from thieves.
PROs:
The mower is easy to set up and install;
You can set up your preferred mowing schedule;
Can handle slopes with up to 25% inclination;
The mower can handle gardens as large as 1000 square meters.
CONs:
The mower can't be controlled remotely.
---
2.  WORX Landroid Robotic Mower
The WORX Landroid Robotic Mower features plenty of advanced features that will ensure a perfectly mowed lawn every time. This model can cover 700 square meters of backyard space, making it suitable for many homeowners. In addition, the mower is powered by 20-volt 4 Ah lithium-ion that run a time of a few hours.
This is one of the best robot lawn mower models you can find on the market, and you can even make it better by buying additional accessories. For example, you can get voice control, anti-collision system, GPS tracker radio link, and off-limits feature for your WORX Landroid.
What many users love about this model is that it is very quiet and it won't disturb you or your neighbours even if it works at night. In addition, this machine comes with an intelligent navigation system that helps it to navigate your lawn effectively. Even the narrow paths in your garden will be mowed and you will get perfect results every time. The model features the innovative AIA technology that guarantees effective coverage and smart movement.
PROs:
The mower can cover up to 700 square meters;
It comes with AIA technology that ensures effective coverage and smart movement;
The mower can be remotely controlled via an app;
The model is self-programmable for higher effectiveness.
CONs:
Initial set up may last a while.
---
3. Flymo 1200 Robotic Lawn Mower
If you're looking for one of the best robot lawn mower models that features an affordable price, then here is one for you! The Flymo 1200 R is a robotic lawnmower that can maintain gardens up to 400 square meters in size. In addition, the mower features a cutting width of 17 centimeters, meaning that this model can effectively handle your lawn. The product is powered by an 18-volt 1.6 Ah lithium-ion battery, that allows the mower to run for a while.
Flymo 1200 is very similar to Mcculloch ROB 1000, as it can tackle slopes up to 25% of inclination. The minimum cutting height is 20 millimeters, whereas the maximum height is 50 millimeters. The mower has a mulching function, meaning that you won't have to deal with disposing of the grass clippings; they will be used as a natural fertilizer instead.
This robotic lawn mower features collision sensors that are very sensitive and will help your robot avoid obstructions.
PROs:
The robot automatically returns to the dock station to charge;
The moving pattern is random so all parts of the garden would be covered;
Features sensitive sensors that help the robot avoid obstacles;
Mulching function ensures that you don't have to dispose of grass clippings.
CONs:
Initial installation can take time.
---
4. McCulloch ROB 600 Robotic Lawn Mower
McCulloch ROB 600 is very similar to the first product on our list, the ROB 1000. The only difference between these two is that the ROB 600 can be used for lawns as big as 600 square meters, making this robotic lawn mower also slightly more affordable.
The robot is very smart and it will return to its station for a recharge when it starts running out of battery. You can use the accompanying app to control the lawn mower, however, you need to stand close to the mower in order for the app to work properly.
Starting your robotic mower is very easy thanks to the easy-to-set-up wizard and an instinctive keypad. Also, it comes with a perimeter wire measuring 150 meters so that the robot will know where to cover and places to avoid. Accompanying the perimeter wire are 200 staples as well as connectors, so setting the mower up will be a stroll in the park.
PROs:
The robotic mower is easy to install;
Guidewire technology allows for enhanced exploration of intricate lawns;
The intelligent adaptive cutting mechanism changes the cutting program according to the length of the grass.
CONs:
The app uses Bluetooth, so the robotic mower can be only remotely controlled within a specific range.
---
5. Gardena Smart Sileno
Gardena Smart Sileno is definitely one of the most advanced and best robot lawn mower models available on the market. It comes with many smart options and features a SensorCut system which ensures a balanced cutting pattern. Unfortunately, all the advanced options come at a high price.
This robot lawn mower can be used to mow gardens of up to 750 square meters in size. When it comes to slopes, it does a slightly better job than McCulloch as it can tackle slopes with up to 30% inclination. Besides being very silent when operating, this Gardena model can also work in any weather.
Installing the lawn mower is very easy thanks to its smart system. The product is designed with intelligent technology enabling it to work without much hindrance.  You can schedule the robot mower to work according to any schedule you prefer. In addition, you can use the Gardena smart app, to control the robot remotely.
PROs:
Installing and using the lawn mower is very easy;
Features smart technology that ensures perfectly mowed lawn at all times;
SensorCut mechanism guarantees a balanced cutting pattern;
It can be controlled remotely by using the Gardena smart app.
CONs:
The mower comes with a 200-meter perimeter wire and it may not be long enough for some gardens.
---
What to Look for in the Best Robot Lawn Mower Models?
Ease of Use
It is very important that your robot lawn mower is easy to set up and use. The initial configuration might take up some time since you need to install the perimeter wire. Some of the best robot lawn mower models feature GPS navigation that makes this process much shorter. All you have to do is insert your property's boundary. Once this is done, all you should have to do is sit back, relax, and watch the mower do all the work. Always make sure to choose models that offer the most convenience and require little to no intervention, even if their initial setup takes a bit longer.
Quality of Cut
The most important feature of any lawn mower is the quality of the cut. You want to go for a model that will shred the grass into fine particles that stay on the ground and act as a natural fertilizer that will promote a lusher greener lawn. The last thing you want to is raking the cuttings after your mower. Also, you should make sure that the mower will give your lawn a uniform cut.
Ability to Climb Slopes
If you live on a larger property, it is quite likely that your yard isn't completely flat. The majority of robot mowers can handle a slight slope or incline. However, the best robot lawn mowers will be able to handle any slope on your property. Of course, you shouldn't expect any model to be able to climb mountains, but it should be able to deal with inclines.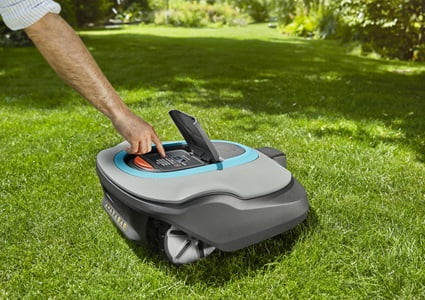 Image Courtesy of Gardena
Smart Perimeter Control
When buying a robot lawn mower, you need to make sure that it will stay off the street or your neighbour's backyard. That is why we recommend buying a mower that features smart perimeter control. Usually, models come with a perimeter sensitive wire. However, you can also get yourself an advanced model that uses GPS.
Safety
Kids are naturally curious and it takes only one second of distraction for them to get into trouble. Pets, on the other hand, might want to attack this weird intruder that is moving on their territory. Even though it is recommended to keep children and pets away from the mower, you should also make sure that your mower has a safety feature. The best robot lawn mower models automatically stop the blades from spinning the moment the mower is picked up or flipped over.
Price
Sometimes, the price is the most influential factor that can affect your decision-making process. It is well known that you always get what you pay for. You may think that getting an incredibly affordable robot lawn mower is a good idea, but, those models are quite likely to break down often. Investing a bit more money is a wiser option since you will be paying for a model that will last you for years to come.
---
Related:
---
Best Robot Lawn Mower: FAQs
Can I use my robot lawn mower while it rains?
There are some robot lawn mower models that work well in all kinds of weather conditions and that are also waterproof. If you live in an area known for frequent showers, you should get one of those models. However, even if you get a model that isn't compatible with wet weather, there's nothing to worry about. All robot mowers feature sensors that will send the unit back to the base as soon as they detect rain. This way, you don't have to worry about leaving your mower out in the open when you are away from home.
How often should I use a robotic lawn mower?
The answer to this question depends solely on you and your preferences. Robotic lawn mowers don't come with any restrictions in terms of the frequency of use. However, how often you use your mower depends on the type of grass you have and the height you prefer your grass to be. Some manufacturers recommend allowing the mower to cut the grass daily as this will make it easier to maintain your lawn and have it looking pristine. However, you can also program a schedule into your robot lawn mower and have it mow your lawn whenever you prefer.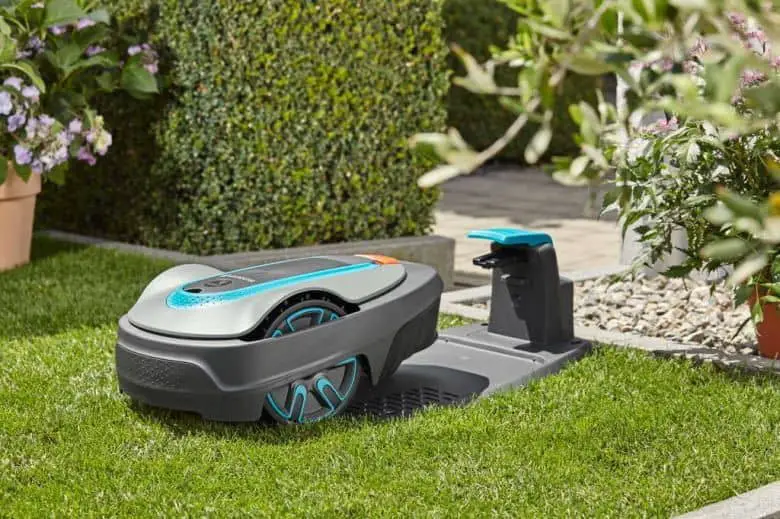 Image Courtesy of AB Smart Health
Do I need any accessories for my robot lawn mower?
The best robot lawn mower models come with everything you need to set up and install your product and get it working immediately. However, there are also models that require you to purchase some accessories such as the perimeter wire and staples. Always make sure to check the specifications so you could know if it will be necessary to purchase any accessories.
How long do robotic lawn mower batteries last?
This depends from model to model, but in general, your robotic lawn mower should be able to run from 60 to 90 minutes when fully charged. Of course, there are more expensive models that have a longer mowing time.
When it comes to the life expectancy of the batteries, they should last you for at least two years before they need to be changed. How long the batteries will last depends on the size and type of your yard, frequency of use, and the model of your robotic mower.
Can a robot lawn mower recognize obstacles and other objects on the lawn?
Yes, they can. The majority of robot lawn mowers feature sensors that can detect obstacles and objects on the lawn. In most cases, the mower will simply go around them. However, it is quite likely that your robotic mower will mow over some smaller objects such as small branches or even fruit. Running over objects is not a problem for a mower most of the time. However, if you have some harder objects like branches or pine cones that frequently fall on your lawn, it is recommended to remove them before the mower is in motion again. It is quite unlikely that these will damage your robotic mower, but may result in you needing to change the blades more frequently.
Can robot lawn mowers be controlled remotely?
Smart technology is present in many appliances and various tools, including lawn mowers. Some of the best robot lawn mower models come with the Bluetooth or Wi-Fi feature that allows you to connect the mower to your phone. This feature is very helpful when you're at work or even on vacation, but would like to change your mower's schedule or maybe turn it off entirely.
Having the perfect lawn has never been easier thanks to the latest inventions in the lawn mowing industry. We have come up with a list of the best robot lawn mower models currently available on the market. All products are very reliable, use smart technology, and will ensure that you never again have to put in time and energy into maintaining your lawn. Investing in any of these models will definitely be a smart choice and help you enjoy a perfectly trimmed lawn for many years to come.