All those who have a garden, often put in most of their time and energy in trees, flowers, and bedding plants, completely forgetting about their lawn. But, no matter how colorful and beautiful your blossoming perennials look, they will lose their shine if the grass around them looks dull. Here are our 18 lawn care tips to make your grass greener.
You should put in the same amount of time, care, and attention in your grass as you do for your flowers. After all, the lawn is the foundation of your garden. And, even though lawn maintenance sounds like the most boring and demanding chore on your list, it's incredibly simple. You just have to keep up what you're doing already, but with some minor adjustments.
Keep reading to find out our lawn care tips to make your grass greener than ever before!
Lawn Care Tips to Make Your Grass Greener than Ever Before
Lawn Cutting
Sale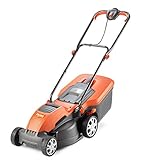 Flymo Speedi-Mo 360C Electric Wheeled Lawn Mower, 1500 W, Cutting...
The ideal lawnmower for first time home buyers as it cuts medium to large sized gardens
Designed to be simple and easy to use with useful carry handle and an easy to remove grass box
Choose your ideal cutting height with a choice of five settings between 20 to 60 mm, easily adjustable with a central handle
Sound pressure level at operators ear dB(A): 87
Last update on 2022-06-15 / Affiliate links / Images from Amazon Product Advertising API
The way you cut your lawn has a huge impact on the health and greenness of the grass. Here are a few lawn cutting tips that make all the difference:
Check your lawnmower blade. One of the simplest yet very effective lawn care tips to make your grass greener is changing the way you cut your grass. Make sure that your mower blade is sharp. A dull blade will just split and hack the grass. As a result, the tips will be yellow and more vulnerable to disease.
Change your mowing pattern. It's recommended to change your mowing pattern each time you mow the lawn. Not only will this ensure an even lawn surface but it will also prevent the grass from 'leaning' as it grows. Varying the mowing pattern also prevents ruts from developing in the lawn. To make this task easier, you can simply get a robot lawnmower that will do all the work for you.
Cut the grass when it is dry. You may be tempted to water your lawn and then mow it. But, according to expert lawn care tips to make your grass greener, mowing wet grass will only result in an uneven finish. Also, it can damage the blades of the grass and clog your lawnmower. If you sometimes have no other choice but to cut the grass when it is wet, make sure to remove the clumps of clippings from the lawn later on.
Different types of grass have different needs. You may be familiar with this, but in case you are not, here's what we mean. Cool-season grasses need more mowing in spring and autumn, whereas warm-season grasses need more mowing in summer. So, make sure to adjust your mowing frequency to the type of your grass.
Pay attention to the grass height. It may seem like something relatively unimportant, but cutting your grass to the correct height can impact the growth and the greenness of the grass. Make sure to keep the blade of your mower low during the first and the last cut of the season. You should raise the blade during the summer so the grass could grow longer. As a result, the shade that prevents weed growth will be created. Also, shaded areas benefit from a higher mowing height.
Warm-season grass types benefit from a short cut. As we already mentioned, each species of grass has different cutting height recommendations. If you're not sure which height is suitable for your grass, make sure to check this guide on Today's Homeowner.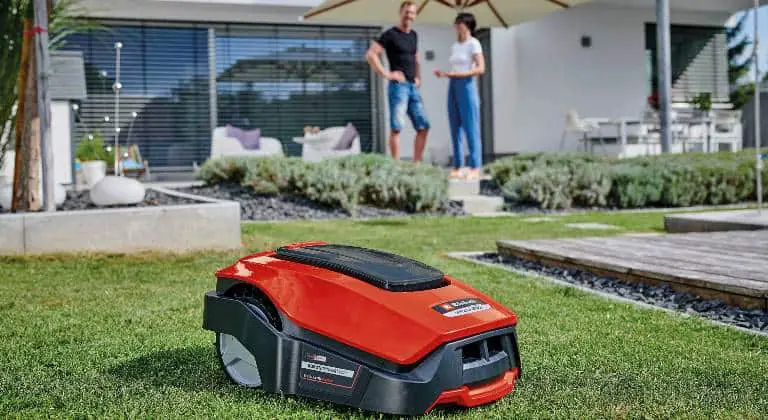 Image Courtesy of Einhell
Grasscycling
Sale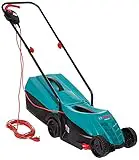 Bosch 0600885B70 Electric Lawnmower Rotak 32R (1200 W, cutting...
The Rotak 32 lawnmower is ideal for small and mid-sized gardens, height of cut 20 – 60 mm
Thanks to its grass comb, the Rotak 32 cuts effortlessly along walls, flower beds and lawn edges
Weighing just 6.8 kg, it is easy to steer around obstacles and transport. Handle type: Standard
Also suitable for tall grass thanks to its hardened steel blade and powerful 1200 W motor
Last update on 2022-06-15 / Affiliate links / Images from Amazon Product Advertising API
Grasscycling is an excellent natural fertilizer. Grasscycling is one of the simplest lawn care tips to make your grass greener. This means leaving the grass clippings on your lawn after mowing. Even though this may sound just like an excuse for being lazy, it is actually an excellent way to nourish and feed your lawn. Make sure to invest in a lawnmower with a proper mulching blade for optimal results.
Avoid grasscycling when the grass is wet. We already mentioned that you should avoid mowing your lawn when it is wet. The same goes for grasscycling; it only works when the grass is dry. Leaving clumps of wet clippings on your lawn can cause untold damage.
Grasscycling is suitable only for regularly mowed lawns. If you don't mow your lawn regularly, then it is recommended to avoid leaving grass clippings after mowing. Long clippings are very likely to stunt the growth of the grass and often lead to brown or yellow patches.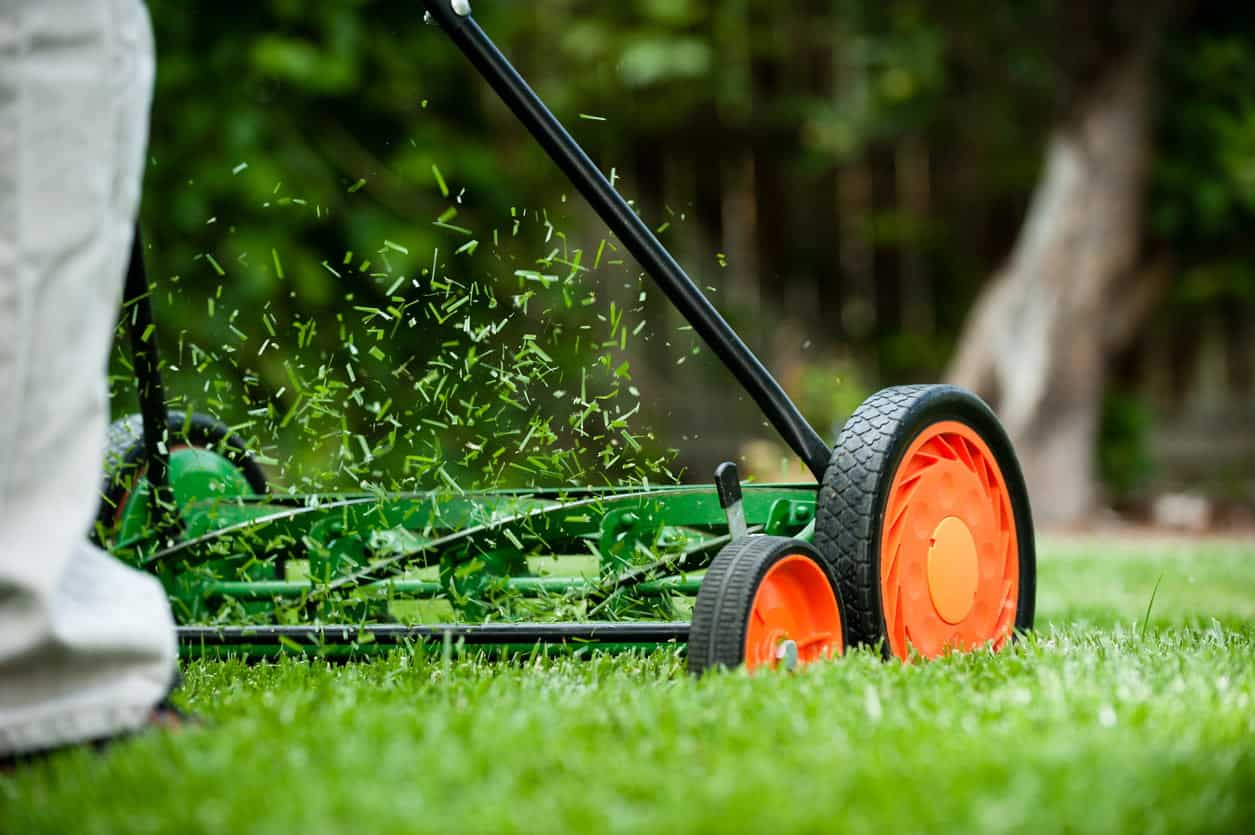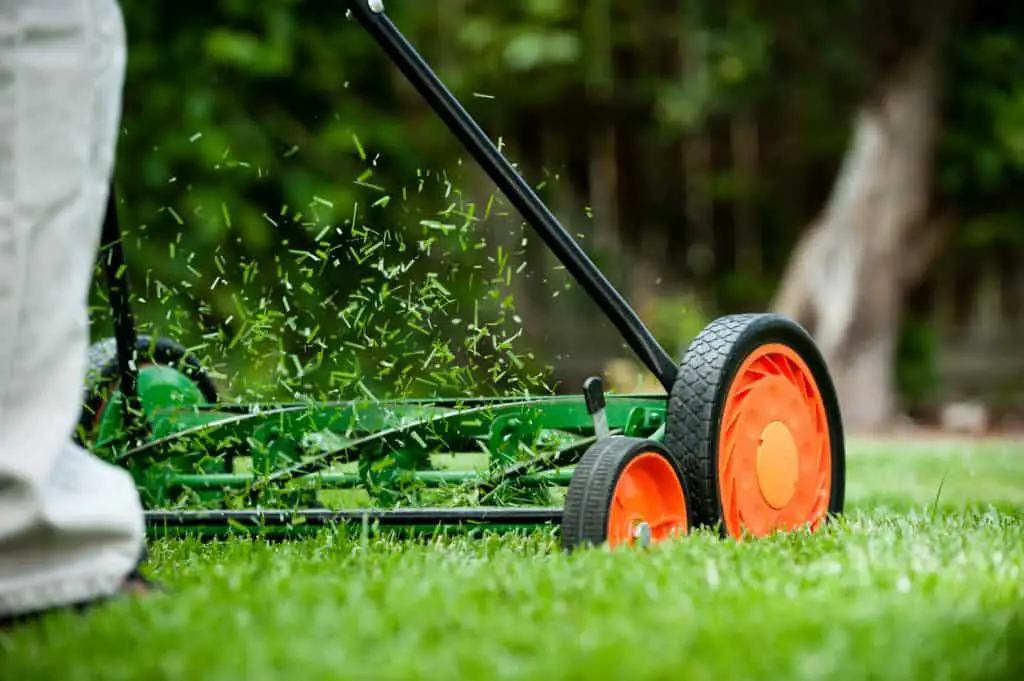 Fertilizers & Weed Killers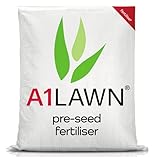 A1 Lawn New Grass Pre-Seed & Pre-Turf Fertiliser - [6-9-6]...
PRE-SEED & PRE-TURF BOOSTER – Our ultimate new lawn feed aids germination and greatly accelerates root development - ensuring your grass seed gets off to the best possible start. It works by adding vital nutrients to the soil, making it perfect as both a pre-seed & a pre-turf fertiliser.
PRE-SEED & PRE-TURF BOOSTER – Our ultimate new lawn feed aids germination and greatly accelerates root development - ensuring your grass seed gets off to the best possible start. It works by adding vital nutrients to the soil, making it perfect as both a pre-seed & a pre-turf fertiliser.
PHOSPHOROUS RICH PRE-GRASS FERTILISER – The high phosphorus content of our pre-treatment feed (NPK 6-9-6) aids healthy grass roots & shoots. The potassium will help your grass become strong & hardy fighting off any diseases that young seedlings are susceptible to, whilst the Nitrogen gives a greener blade growth.
ALSO POST SEEDER TREATMENT – Apply our lawn seed and fertiliser throughout the growing season to enhance your lawn and landscape for quick growing and strong grass. We only use specific premium homogeneous granular products & is rigorously tested to guarantee the highest quality. Easy application, no mixing.
Last update on 2022-06-18 / Affiliate links / Images from Amazon Product Advertising API
The best weed killer is regular lawn maintenance. Believe it or not, one of the best lawn care tips to make your grass greener and get rid of weeds is cutting your lawn regularly and keeping the grass at the proper height. This will create enough natural shade that will prevent weeds from growing. But, if you notice that there are weeds in your garden, make sure to use a weed killer.
Different weeds need different treatments. Not every weed killer works on all types of weeds. So, the first thing you need to do is identify the type of week you are dealing with. Then, research the best treatment plan. Some weeds can be eradicated with one spot treatment, whereas others require prolonged and concentrated dosing.
The best time for fertilizing: early spring and autumn. Make sure to avoid fertilizing during the summer as it can encourage weed development. Light feeding every now and then can sustain the growth.
The ideal time for fertilizing is autumn. If you're wondering what is the best time of the year to fertilize your lawn, it is in the autumn. This way, you will repair all the damage caused by the heat in the summer. Also, this will prepare your lawn for the winter.
Do your homework before using chemicals. Whether you need to use chemicals for fertilizing your lawn or eradicating weeds, make sure to research the product thoroughly, as well as the pros and cons of using it. Always follow the instructions on the product properly and don't forget to take special safety precautions when applying the chemicals to your lawn.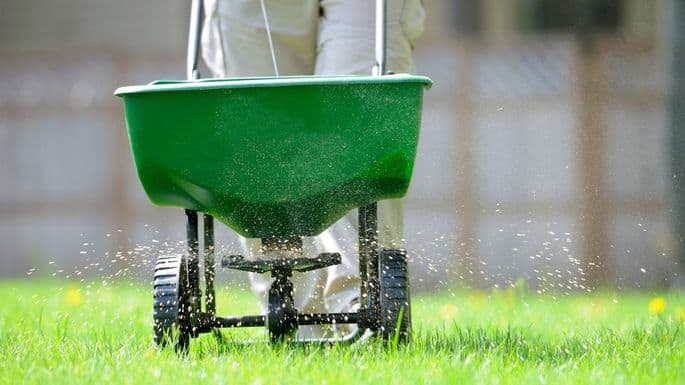 Image Courtesy of Realtor
Watering the Lawn
Sale
WISDOMWELL Wisdom Garden Sprinkler Automatic Lawn Water Sprinkler...
✔Premium Quality Set: Three arms +European plastic double-pass+ ABS plastic rotary lawn sprinkler, 360 degree rotating action without other auxiliary power equipment just by household water supply pressure
✔Effective Water Sprinkler Irrigation System: Patented design of water-saving device can be targeted to save water and time most by adjusting the water density, size and scope
✔Long Spray Diameter Distance: Up to 26ft-32.8ft with international standard pipes and water pressure(2.5bar, Max.4bar)
✔Easy to Use and Quick Installation: The lawn sprinkler equipped with a quick connect adaptor in seconds to start watering instantly. Adjust the nozzles from 15° to 45° for the desired swivel speed and spraying angle to ensure the full coverage
Last update on 2022-06-18 / Affiliate links / Images from Amazon Product Advertising API
Watering depends on the climate and the soil. Watering your lawn too little or too frequently is going to have a negative effect on your lawn. If you live in a drier climate, then your lawn requires more watering. Also, sandy soils tend to drain quicker, so they need more regular irrigation. Clay soils, on the other hand, drain slower and can easily become waterlogged if watered excessively.
The lawn needs about two inches of water weekly. So, if you want to water your lawn regularly, then we recommend doing it twice a week instead of every day. The best time to do this is in the morning when the air is cooler. When you irrigate the grass in the afternoon, the water evaporates quickly. And, when you do it in the evening, the water clings to the grass making it more vulnerable to mold and fungal diseases. Would you believe that such simple lawn care tips to make your grass greener can make such a great difference?
Aerating the Grass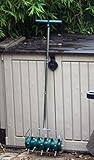 Greenkey Rolling Lawn Aerator & Grass Spiker, Manual Rotary...
EASY TO USE - The large 300mm (12") spiked roller quickly and easily aerates your soil. Just push the aerator over your lawn and it will loosen the soil beneath letting oxygen, water and nutrients reach the roots, promoting the growth of your grass
PROFESSIONAL LAWN CARE - Thirty 45mm (2") spikes provide deep and even aeration, giving you a greener, healthier lawn
COLOUR - Supplied in Green
WIDE APPLICATION - Using this Aerator will help your lawn to breathe, loosening soil to ensure the roots get adequate nourishment, water and air, thereby encouraging deep root growth resulting in a greener and more lush lawn
Last update on 2022-06-18 / Affiliate links / Images from Amazon Product Advertising API
Aerating the grass makes it greener. And, by aerating, we mean poking holes in the lawn so water, fertilizer, and oxygen could reach the soil more easily. If you have plenty of footfall in the garden or even layered soil, then aerating is going to be beneficial for your lawn. It will help the grass grow stronger, making the lawn thicker.
Aerating should be done during the growing season. This way, the soil will get the chance to heal after the soil plugs are removed. It is recommended to aerate cool-season grass in early spring or autumn. Warm-season grass should be aerated in early summer or late spring. Don't forget to apply some weed killer afterward, to discourage weeds from appearing in the holes.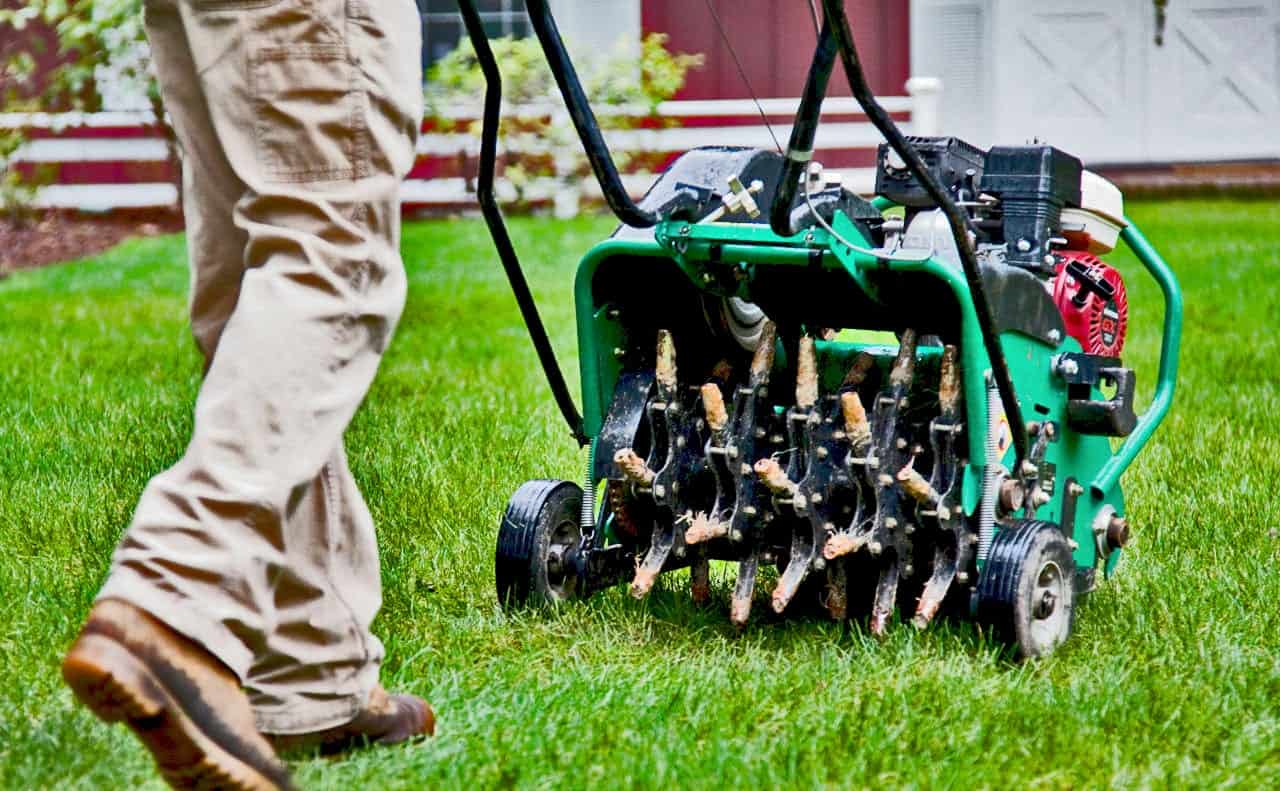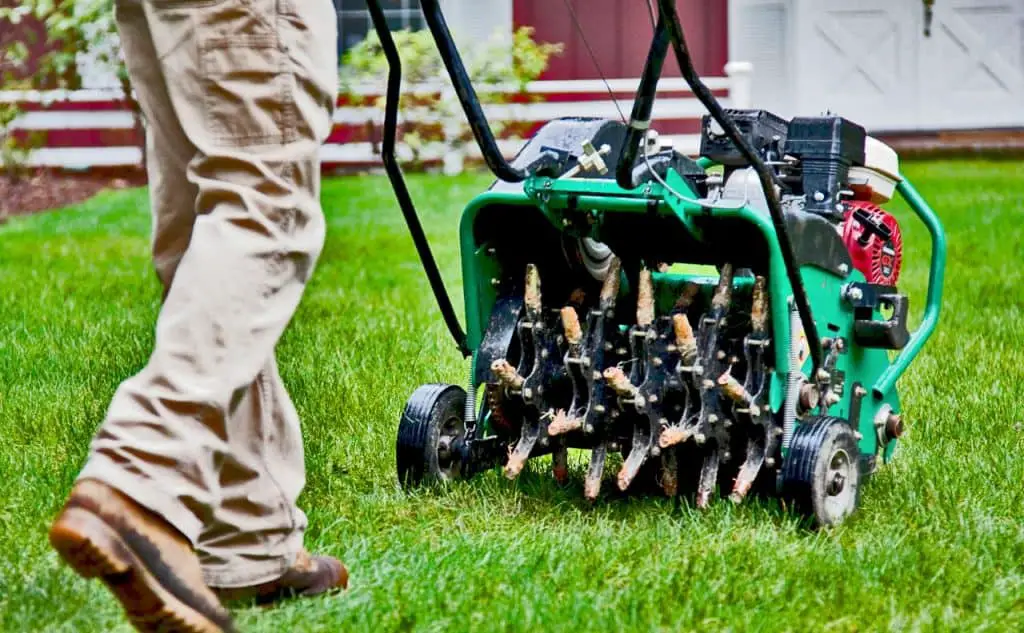 Image Courtesy of ProMow
There are two types of aerators available – plug and spike aerators. Spike aerators simply puncture a hole in the soil, whereas plug aerators remove a plug of grass and earth from the lawn. In general, plug aerators give better results.
These were our 18 lawn care tips to make your grass greener. As you can see, most of them are just simple adjustments to your regular lawn caring routine. There's no need for buying additional equipment or any special products. All you need to do is make some minor routine changes. However, no matter how small these adjustments are, they make all the difference and will help your lawn become greener and thicker than ever before.