Some homeowners think that lawn mower blade should be sharpened frequently. Others feel that this is something they don't have to do at all. The truth is, dull blades will do you more harm than good. It will rip through the grass and leave behind torn tips on the ends of each grass blade. As a result, your yard might start looking brown and become more susceptible to disease. To prevent this from happening, we will teach you how to sharpen your lawn mower blade like a pro.
Sharp lawn mower blades will cut grass cleanly and quickly. This will result in a healthy, neatly trimmed lawn. It is recommended to sharpen the blade of your lawn mower at least once a year. Ideally, this should be done before the beginning of the mowing season. Keep in mind that if you tend to scalp the ground or hit rocks, you should sharpen your lawn mower once again, midway through the season.
Keep reading to learn how to recognize if your mower blade needs sharpening and how to sharpen your lawn mower blade.
How to Tell If Your Lawn Mower Blade Needs Sharpening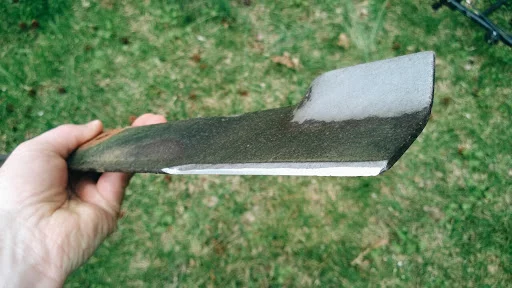 Image Courtesy of Oui Blog
Those who are really invested in lawn mowing can tell that their mower blade needs sharpening just by looking at their lawn after it has been cut. If they notice that the height of the grass is uneven or if the blades are torn, they immediately know that their mower needs sharpening.
But, every regular homeowner needs to know that it is recommended to sharpen the blades at least once a year. But, if you have some spare time, then you can do it every other month or so. In total, that would be three times a year.
---
Related:
---
Tools Needed for Sharpening Lawn Mower Blades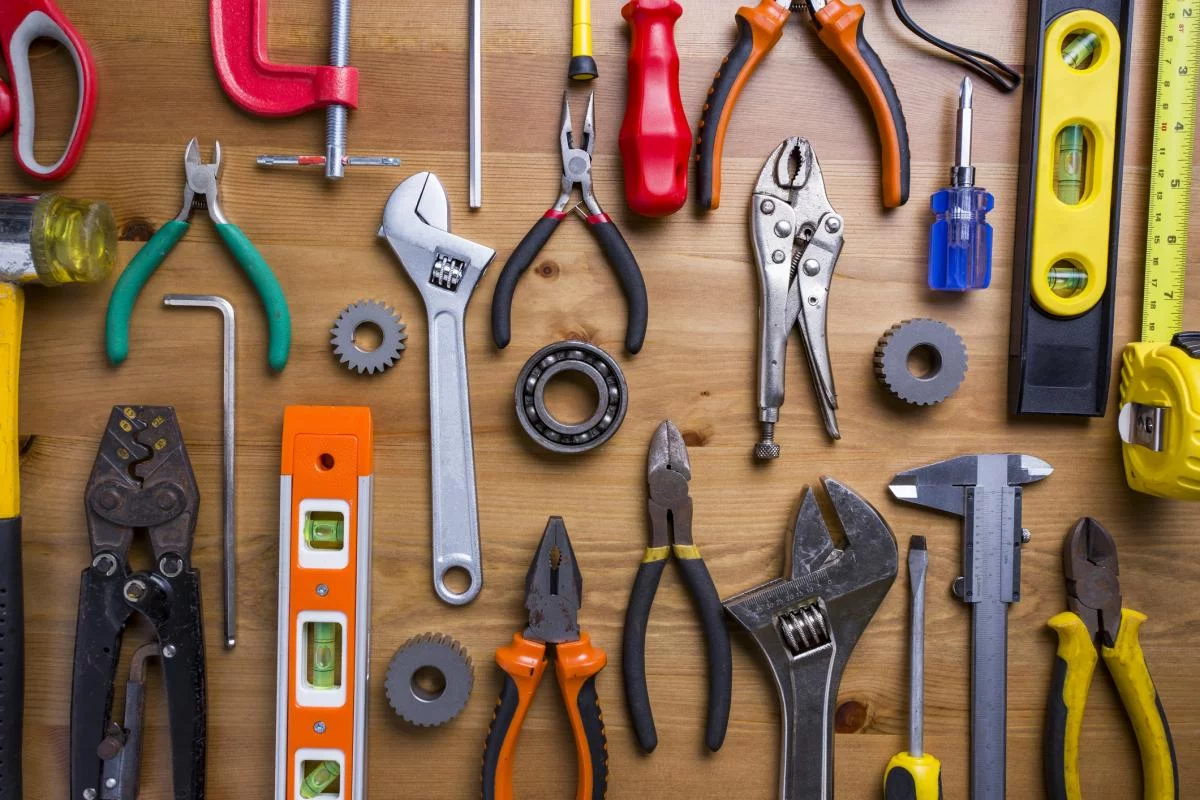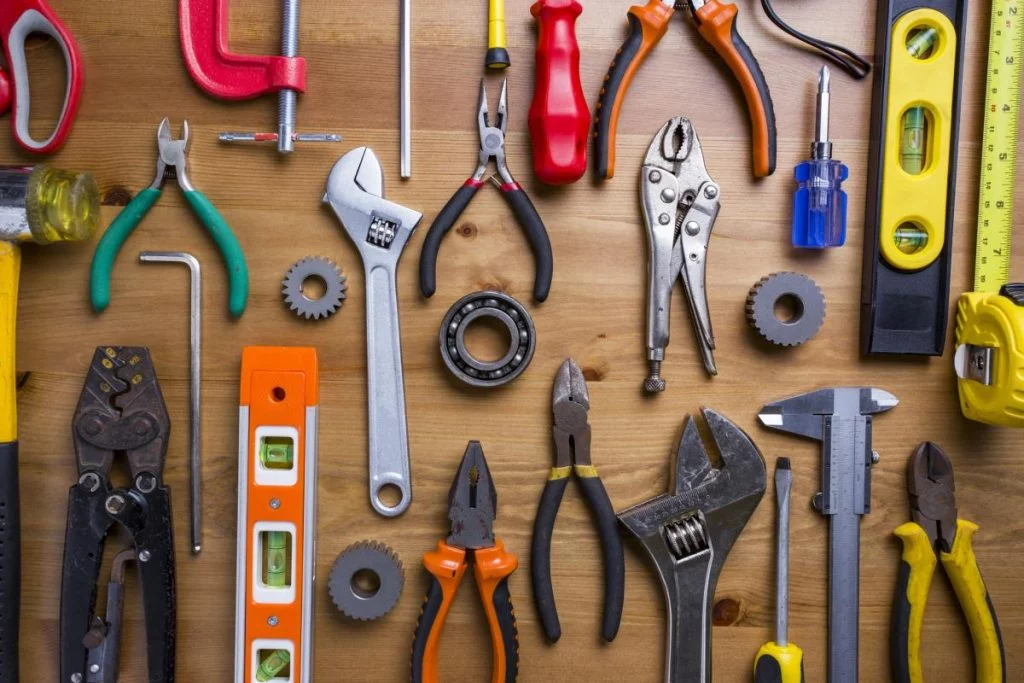 Image Courtesy of Eezee
Now that you know why it is important to sharpen dull mower blades and how often it should be done, it's time to move on to the next step. But, before learning how to sharpen your lawn mower blade, you need to make sure that you have the right tools.
There are plenty of tools that can do the job, including both power tools and manual tools. Choosing the right one depends on how frequently you mow and, on your budget, of course.
For example, if you plan to cut lawns for a living, then you will need to get a high-end power tool that serves this purpose. However, these "grinders" usually come with a price. Expect to pay about $700 – $800 for a quality one.
As a homeowner, you will do much less mowing and a manual tool or a low-end power tool will do the trick for you. If you want to save as much money as possible, then you can just get a file. But, if you own a Dremel tool (or you don't mind investing in one), you can just get their sharpening stones.
Many homeowners possess a power drill and not a Dremel tool. If you are one of them, you can just get a drill attachment specifically made for sharpening lawn mower blades. Most of these attachments feature a plastic guide and a gray sharpening stone.
Out of these three options, sharpening a lawn mower blade with a drill attachment seems like the simplest choice. If you choose this tool, here are all the supplies you'll need to get the job done:
Power drill
Sharpening attachment
Blade balancer
Workbench
Vise
Wrench
Safety gloves
Safety glasses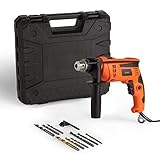 What You Need to Know Before Sharpening Lawn Mower Blades
Before learning how to sharpen your lawn mower blade, it is important to know the following:
How often to sharpen mower blades;
How sharp the blade should be;
When sharpening is not enough.
As we already mentioned, you should sharpen the lawn mower blades at least once a year. Ideally, you should do it every other month during the mowing season. In total, you'd be sharpening the blades three times a year.
It makes sense to make your blade as sharp as possible since you're already undertaking this project, right? Well, not really. You should actually strive for a delicate balance. The edge of the blade should be sharp, but not razor-sharp. As a matter of fact, the latter will not hold up for long time and you will have to sharpen your mower soon again.
If you notice that there are bends or nicks in the blade, then no amount of sharpening can fix that. Instead, you need to buy a new lawn mower blade.
Now that we got the basics covered, it's time to learn how to sharpen your lawn mower blade!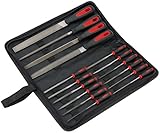 How to Sharpen Your Lawn Mower Blade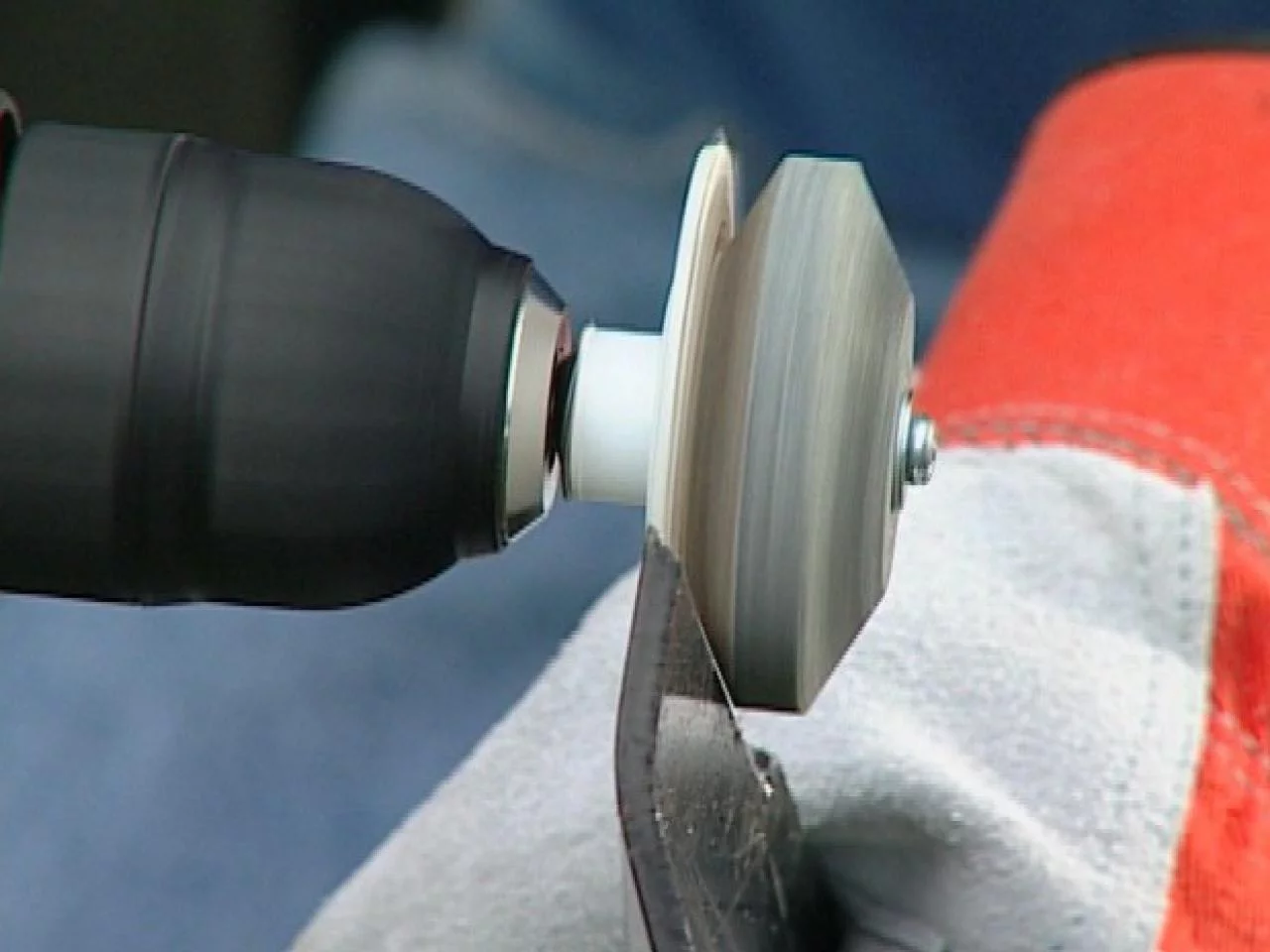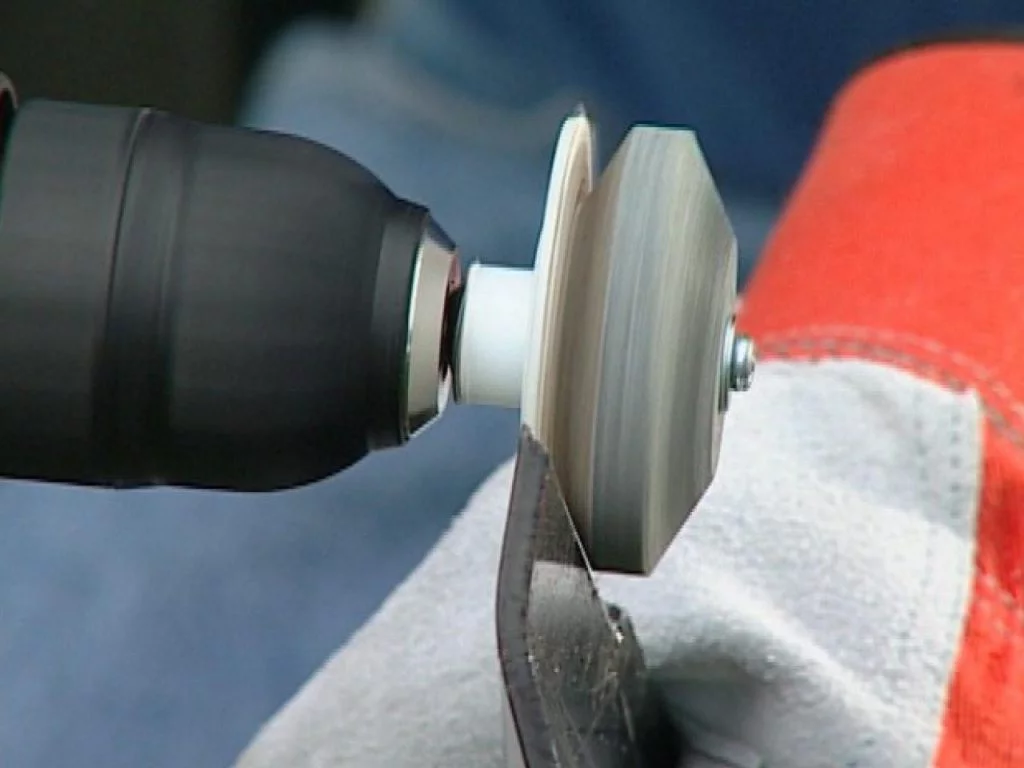 Image Courtesy of DIY Network
There are several ways to sharpen lawn mower blades. You can use a hand file, bench grinder, angle grinder, or even a rotary tool. But, the easiest and most accurate method is using a drill and sharpening stone. These stones are specifically designed for putting a cutting edge back onto dull lawnmower blades.
We have prepared a brief tutorial that will teach you how to sharpen your lawn mower blade. It has just eight steps and you'll get the hang of it in no time. Our tutorial also includes instructions that will teach you how to remove the blade prior to sharpening. But this step is not essential. Depending on the design of your lawn mower, you might be able to sharpen the mower blade without removing it and this will save you a lot of time. However, taking the blade off will give you greater access to the cutting edges. Also, it allows you to inspect if there is any damage to the blade.
Here are eight simple steps that will teach you how to sharpen your lawn mower blade.
1. Disconnect the ignition wire from the spark plug. If you have a cordless mower, just remove the battery pack. Doing this will eliminate any chance of the engine starting up while you're sharpening the blades. Also, drain the gas tank so you don't spill any fuel while you remove the blades.
2. Place the mower onto its side so you could search for the retaining bolt or nut that secures the blade to the underside of the mower. To stay safe, you should keep the blade from turning. You can do this by placing a short wood block between the end of the blade and inside surface of the mowing deck. Then, use a socket or a large wrench to loosen the bolt or nut. If you notice that the fastener is rusted, apply some penetrating oil, wait for a few minutes, and then try again.
3. Once you remove the retaining bolt or nut, you can safely remove the mower blade. Don't forget to mark which side of the blade faces downward. It is important to get the blade bolted back on in the same orientation.
4. Once you remove the blade, take a minute to scrape clean the underside of the mowing deck. You can do this by using a narrow-blade putty knife. Make sure to remove all the grass, mud, leaves, and any other debris. Then, clean the lawn mower blade by first spraying with penetrating oil and then scrub it with a stiff-bristle brush.
5. Usually, lawn mower blades have a cutting edge on each end, which are positioned on opposite sides of the blade. The cutting edges are usually about 3 or 4 inches long and they don't extend the length of the blade. Now, clamp the blade in a vice at an angle with one of its cutting edges facing up.
6. Now you get to use the drill-powered blade sharpener. This tool consists of a round abrasive stone, ¼-inch-diameter steel shank, and a flat sharpening guide. Chuck the stone into your drill and put on some safety glasses. Start the drill at full speed and slip the sharpener over the edge of the blade.
Make sure that the dull cutting edge faces the beveled side of the stone. The flat surface of the guide should be against the rear of the blade. Start moving the stone back and forth along the cutting edge. Apply moderate pressure. Usually, four or five back-and-forth strokes will do the trick. Stop and check the sharpness of the blade. If you notice any nicks and chips, repeat the process.
7. Don't forget to sharpen both cutting edges. Once this is done, make sure to balance the blade. Sometimes, you can remove more metal from one end of the blade than the other. This will result in an unbalanced blade. And, mowing with such blade will result in excessive wobbling that can cause damage to the mower.
How can you know when your lawn mower blade is properly balanced? Simply slip blade's center hole over a nail protruding from a wall. Hold the blade in the horizontal position and let go. If it remains leveled, then the blade is balanced. But, if either end rotates down toward vertical, the blade is out of balance. To fix this, all you need to do is sharpen the heavier end to remove some metal.
Even though this is a good technique, you can also use a lawn mower blade balancer for more precise results. Place the balancer on a flat surface, then set the blade on top. The tool is versatile and can be used with blades with various diameter center holes. If the blade is balanced, it will remain level. If not, then one side will tilt towards one side, indicating which end is heavier.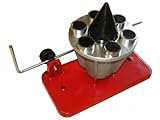 8. Once you sharpen and balance the blade, return it back into the mower. Use a wrench to tighten the retaining bolt or nut. Then, reattach the ignition wire, fill the gas tank, and test out your newly sharpened lawn mower blade.
And that's it! If you weren't sure how to sharpen your lawn mower blade before, we hope that this article helped you out. Also, if you're struggling with maintaining a fresh and green lawn, don't forget to check out our tips to make your grass greener.