A doorbell used to have only one function – it rang when someone came to your door. But recently, the doorbell technology has advanced so much that now you can get yourself one of the best wireless doorbells that will add to the safety of your home.
A wireless doorbell Is an excellent way to see who's at your door or even stop package thieves and porch pirates. A smart video doorbell will alert you to a person's presence, and let you see them and talk to them through your smartphone. Having a wireless doorbell is also a handy feature if you want to talk to a visitor, but you don't want to open your door. Wireless video doorbells are also helpful for those with mobility issues. If you or your family member can't get to your front door easily or quickly, just use a smartphone to tell the visitor to wait.
Installing a wireless doorbell is very simple and won't take up much of your time. The installation varies from manufacturer to manufacturer, but, usually, the doorbell (transmitter) is attached to the exterior of the house, and the receiver (the unit that produces the chime) is plugged into a standard outlet. The receiver then wirelessly connects to the battery-powered doorbell, so no wiring is required as with older systems.
Some of the best wireless video doorbell models can simply be stuck to the outside wall with double-sided tape. However, this option is a bit risky since someone could just walk up to the doorbell and steal it. If possible, you should fasten it to the house with screws.
Best Wireless Doorbells on the Market in 2021
What Is a Wireless Doorbell?
Traditional doorbells need to be wired from the button at your doorstep to the receiver that makes the sound. A wireless doorbell, on the other hand, uses radio waves to let you know when someone is at the door. When a visitor presses the button on a wireless doorbell, a signal is carried over to a bell device or even your smartphone.
In order for a wireless doorbell to function properly, it will need a stable Wi-Fi connection. Then, the doorbell will be able to stream live video to your phone or allow you to enable some other features such as cloud video storage, motion detection, sirens, and interoperability with smart locks and other smart home devices.
Wired vs. Wireless Doorbell
When choosing a smart video doorbell, you can choose between a wireless device that runs on batteries or one that gets its power from low-voltage doorbell wiring. We recommend getting a wireless doorbell as it is much easier to install. In addition, it runs on batteries rather than electricity, meaning that you won't have to deal with any wiring or turn off power in your home during installation. The only downside of wireless models is that you'll have to change batteries frequently. In general, the batteries last from two to six months.
Keep reading to find out what are the best wireless doorbells on the market and how to choose the right one for your home.
Wireless Doorbell vs. Smart Home Security Camera
After reading that wireless doorbells allow you to see who is standing in front of your door, you might be wondering why people install home security cameras at all. After all, both offer the same benefits – they will show you what is happening in front of your home, and they offer motion detection and motion-triggered recording.
The biggest difference is that security cameras lack the doorbell component, and the majority of the models don't let you speak to the person standing outside your door. In addition, if you're upstairs cleaning the bedroom and your phone is downstairs, a security camera won't notify you that someone is standing in front of your door, but the best wireless doorbells will.
In addition, outdoor security cameras require a GFCI (ground fault circuit interrupter) outlet for power, which may limit potential mounting locations, unless they are battery operated.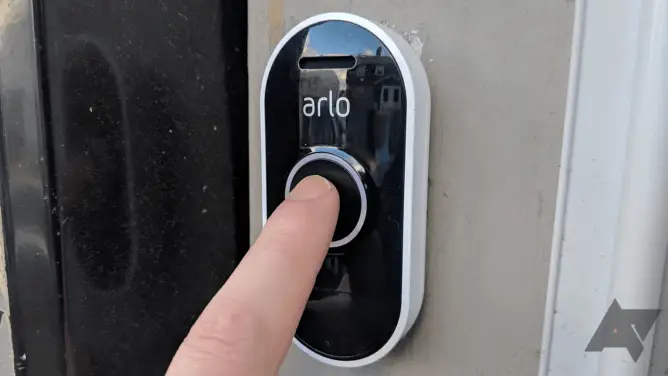 Image Courtesy of Android Police
Best Wireless Video Doorbell Features
There are so many wireless doorbells available on the market, and they come in all shapes and sizes. In general, budget models tend to be bulky and come in limited color options. However, some of the best wireless doorbells are slim and inconspicuous and come in a variety of finishes to complement your home.
Every quality wireless doorbell is equipped with a video camera that sends an alert to your phone along with a live video stream when the doorbell button is pressed. In addition, every manufacturer includes an accompanying mobile app that is used to install the device, configure wireless settings, and set up alerts.
Best wireless doorbell camera models come with advanced features such as 1080p video, motion detection, two-way audio that lets you speak with whoever is out there, and on-demand video streaming. However, you should be ready to pay a bit more for these models.
Among other advanced features, there is also the ability to set motion zones to avoid false alerts from passing cars, high winds, and any critters. Other features include face recognition technology, motion-sensing technology that distinguishes between people, cars, and animals, and even color night vision video. Some wireless doorbells will allow you to set different chimes that will help you distinguish between a doorbell press and a motion trigger.
The latest doorbell cameras offer a pre-buffer feature that records several seconds of activity prior to when a motion sensor is triggered, or the doorbell button has been pressed so you can see what happened just before an event.
In general, even the best wireless doorbells don't offer local storage for recorded video, so you'll have to subscribe to a cloud service in order to view your motion- and doorbell-triggered video clips. The good news is that these subscriptions are as cheap as $3 per month.
Best Wireless Doorbells in 2021
1. OMERIL Loud Wireless Doorbell with 5 Level Volume
For all those who are looking for one of the basic and affordable models, here is one of the best wireless doorbells for your needs. This one is easy to install. All you have to do is plug the receiver into a power outlet. You can fix the doorbell buttons to the doorframe with a few screws or attach it using a double-sided adhesive tape. And, the manufacturer made sure to include all the accessories necessary for installation.
What makes this wireless doorbell stand out from the rest is that it features 58 tunes and five adjustable volume levels ranging from 0-115 dB. There is also a Mute mode available that won't disturb a sleeping baby. The LED indicator will remind you that your doorbell is muted. On the other hand, 115 dB is loud enough to be heard during a party or by those with impaired hearing.
When it comes to the range, this wireless doorbell comes with two receivers that can be set up in the 300m range. In addition, the doorbell features IP55 waterproof protection so it can survive even the harshest weather conditions.
What We Like:
An excellent product that comes at an affordable price;
58 tunes and five adjustable volume levels allow you to fully customize the doorbell;
The doorbell is very easy to be installed;
The IP55 doorbell can withstand even the harshest weather conditions.
What We Don't Like:
Some customers complained that the range is less than 300m.
---
2. Avantek Wireless Long Range Doorbell
Avantek makes some of the best wireless doorbells currently available on the market. And this model is approved by CE, FCC, and RoHS. Installing the doorbell is very easy; all you have to do is plug the mini receiver into a socket and fix the transmitter on a wall with the accessories that are provided in the package. The doorbell uses a CR2032 lithium battery that boasts a three-year lifespan.
Just like the previous product, this one has a range of 300m combined with 52 different melodies and five adjustable volume levels (maximum setting is 115dB). Every time someone uses the doorbell, the eye-catching LED will start flashing to alert those with impaired hearing that someone is at the door.
Thanks to the IP55 waterproof rating, the doorbell can withstand even the harshest weather conditions like rainstorms, direct sun exposure, and even frost. This allows you to install the doorbell anywhere.
What We Like:
An affordable model that is made of quality materials;
The maximum volume level and LED can notify even hearing-impaired people;
The 300m range ensures that you never miss a visitor who comes to your door;
The lithium battery will last you for at least three years;
The IP55 waterproof rating ensures that the doorbell can withstand even the harshest weather conditions.
What We Don't Like:
Some users complained that the bell doesn't work in the 300m range, but less.
---
3. Victure Smart Video Doorbell Camera
No products found.
If the previous two wireless doorbells weren't advanced enough for you, then you'll like this one. Victure makes one of the best wireless doorbell camera models. For example, this one features 1080P HD resolution that allows you to watch on your home at day and during the night. The infrared night vision makes surveillance easier, and the wide-angle lens covers all the spots in your yard.
With two-way audio and on-demand live view video, this smart doorbell lets you view and talk with the people at the front door from anywhere using your smartphone. In addition, it will notify you as soon as someone steps on your property and triggers the PIR motion sensor.
This model features IP65 weatherproof protection and is made to last for years, no matter the weather conditions. In addition, the cutting-edge design for the mounting bracket will keep your video doorbell away from the falling leaves and glare.
Wondering where your videos will be stored? If you don't want to pay a monthly subscription for cloud storage, then you can just insert a MicroSD card into the doorbell. Also, you can choose whether you want to power your doorbell with the rechargeable battery pack or connect it to doorbell wires for a constant charge.
What We Like:
A video doorbell with 1080P HD resolution, night vision, and wide-angle lens;
The IP65 weather protection will ensure that the doorbell lasts for years;
The PIR motion sensor will notify you as soon as it detects any movement;
The surveillance video can be stored on a MicroSD card or cloud;
What We Don't Like:
Some users complained that the motion detector is unreliable at night.
No products found.
---
4. eufy Security Wireless Video Doorbell
The eufy wireless doorbell features a built-in Sony 2K sensor and professional-grade lens that allow you to view activity in picture-perfect resolution. The 4:3 aspect ratio will give you a head-to-toe preview of anyone who approaches your home. With this doorbell, you'll be able to see your visitors in sharp detail as they come close to your door.
What buyers love about this wireless doorbell is that it is made to protect your home as well as your wallet. Once you invest in the doorbell, there will be no additional charges, such as monthly cloud subscriptions. All your data is stored locally. In addition, the doorbell can run on battery, or you can ensure a non-stop power supply via a wired connection.
One of the advanced features that this doorbell has is the ability to control what is detected through the use of the motion sensor, smart human detection, and activity zones. You will be able to receive real-time alerts when anyone approaches so that you never miss a delivery or keep guests waiting.
What We Like:
Crisp-clear image of your visitors from head to toe thanks to the 2K sensor and 4:3 aspect ratio;
The doorbell can run on battery or via a wired connection;
All the data is stored locally, and you won't have to pay any cloud subscriptions;
You can adjust what is detected with the motion sensor and activity zones.
What We Don't Like:
If eufy servers are down, you won't be able to access your recordings or receive notifications.
---
5. Arlo Video Doorbell
What makes Arlo one of the best wireless doorbells ever? Well, first of all, it is the only video doorbell that will call you directly when the bell is pressed – no need to wait for an app to open, simply swipe to answer. In addition, it features a unique square viewing angle and 1:1 aspect ratio. This will allow you to see the full picture in clear detail, from a person's face to a package on the ground.
Besides recording video, Arlo doorbell also allows you to hear and speak to whoever's at your door with crystal clear audio through the built-in speaker and microphone. You can also send pre-recorded responses or let visitors leave you a message if you're not home. One great option that Arlo has is that it allows you to set the siren to sound automatically during an event or trigger it remotely to scare away potential intruders.
Arlo Video doorbell comes with basic motion notifications and live video streaming. For more enhanced security, you can pair your doorbell with a monthly SMART subscription and unlock package detection, 30-day cloud recording, and Foresight Preview – which triggers your doorbell to start recording 3-seconds before a motion event.
What We Like:
1080P HD video with HDR, night vision, and 1:1 aspect ratio;
The doorbell allows you to hear and speak to your visitors;
You can send pre-recorded responses and allow your visitors to leave you a message;
The only doorbell that calls you instead of sending you a notification.
What We Don't Like:
You have to pay a monthly fee if you want to access some more advanced features such as package detection or 30-day cloud recording.
---
Related posts:
---
Features to Consider When Choosing the Best Wireless Video Doorbell for Your Home
Wireless doorbells come with various features. And, it's best if you do your homework and find out what are the benefits of each feature before making a purchase. Here are the features you should look out for when choosing the best wireless doorbell camera for your needs.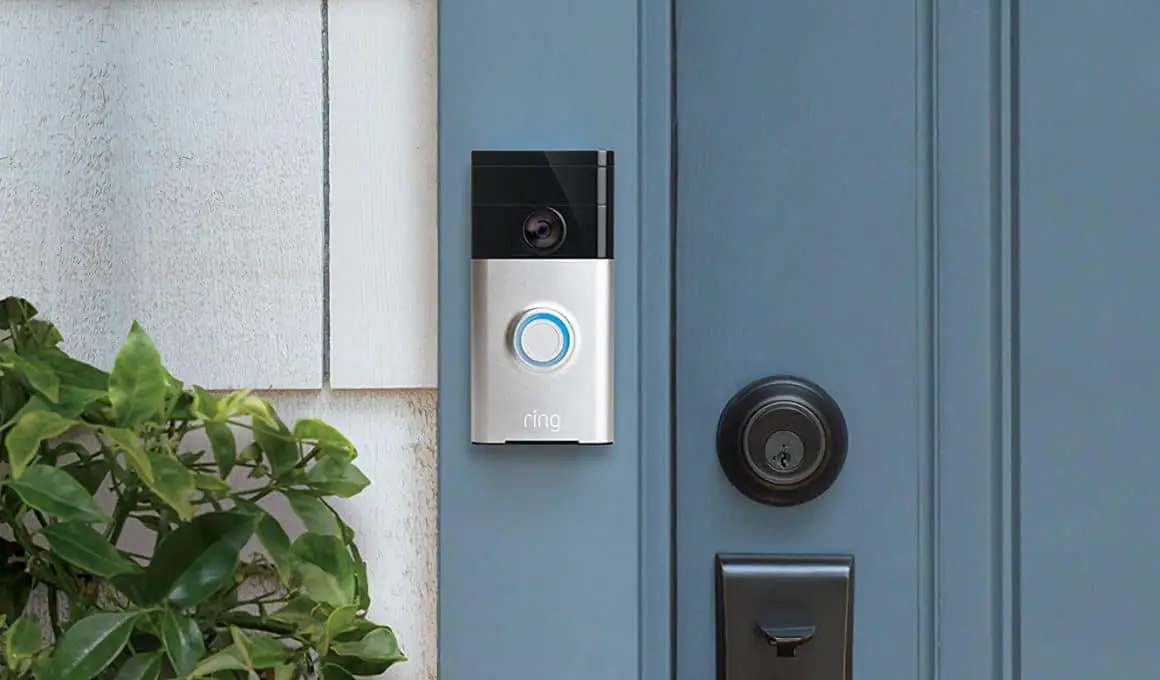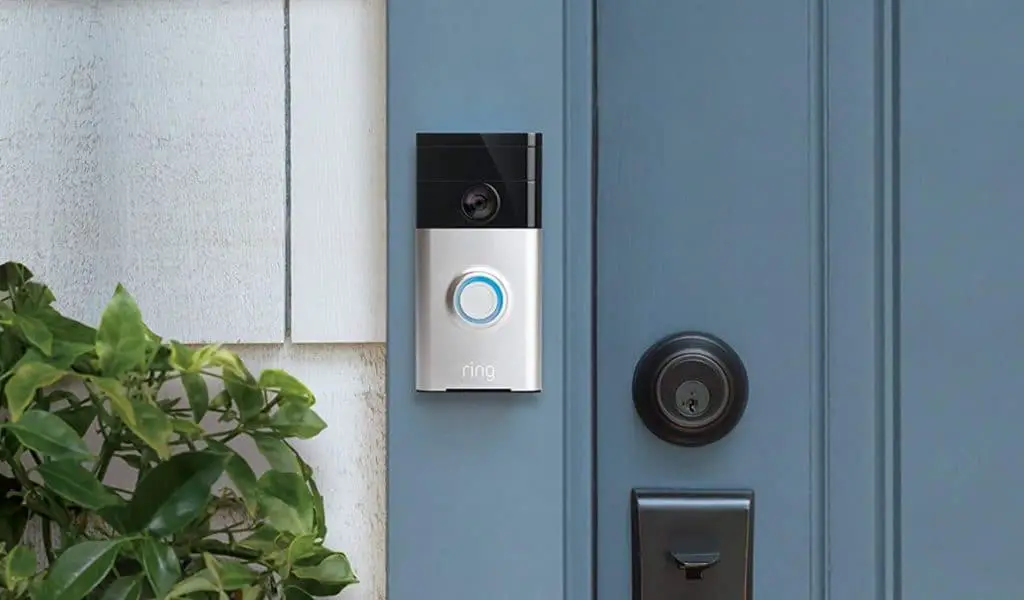 Image Courtesy of Nakono
Weather Resistant
Since your wireless doorbell is going to be outside, you need to find a model that is made of quality materials, and that is weather-resistant. Even if your doorbell is going to be protected by a porch, there is still a possibility that it gets wet when the weather gets really bad or when your sprinkler system turns on. To prevent any unnecessary damage, make sure to get a model that is resistant to water.
Number of Receiver
The majority of wireless doorbells come with only one receiver. However, if you have a large house, you should consider investing in a model that comes with several receivers. This way, you will hear the doorbell ring no matter where you are in the house.
Range
Besides the number of receivers, it is also important to pay attention to the range of the wireless doorbell, especially if you live in a big house. When searching for the best wireless video doorbell for your home, figure out in advance how far you'll place the bell from the receiver and find a unit that can meet that range.
Power Source
Different smart doorbells have different power sources, and you should choose the one you consider most convenient. There are wired models that can be plugged into an outlet, and they will be constantly powered. On the other hand, you can get a wireless model that runs on batteries. Such models can be more convenient and easier to install, but you'll need to replace batteries frequently.
Camera
The best wireless doorbells feature cameras as a part of their advanced security system. The camera will allow you to see who is standing in front of your door. Also, it will record any by passers when you are not at home.
Interoperability With Other Smart Home Tech
Do you already have other smart home security gadgets such as door locks, sirens, or lighting? The great news is that you can get a wireless doorbell that can connect with them. If you want such a model, then make sure to search for the one that supports the IFTTT internet service.
This will allow all your IFTTT-enabled gadgets to interact with each other. For example, if you have a Wemo Smart Switch, you can adjust it to turn on when someone rings your doorbell. Or you can have a Link siren sound when your doorbell camera senses motion.
If you have Alexa, then you should search for a smart doorbell that supports voice commands and allows you to view a doorbell's live stream on an Amazon-enabled display.
Aesthetic Features
Some people care only about the functionality of their gadgets. Others might make their decision by looking at the gadgets' aesthetic features, such as the way that the doorbell looks or sounds. In general, wireless doorbells have several pre-set sounds you can choose from.
The best wireless doorbell camera models will allow you to adjust chime volume. This feature is quite handy if someone in your family is hard of hearing. A louder doorbell would also be a good choice for a larger home where the sound needs to travel greater distances.
Last but not least, you'll want to choose a doorbell that will fit in the style and design of your home.
Do I Need a Wireless Doorbell?
Now that you have seen the best wireless doorbells available on the market, it's time to make a final decision and answer the most important question – do I need a wireless doorbell at all?
A wireless doorbell is an excellent way to safeguard your property against theft and to identify who is at your doorstep before opening the door. This neat gadget allows you to see and speak to the person standing on your doorstep. In addition, it will record footage of visitors that approach your door while you're away or unable to answer.
So, if you're looking for a way to make your home safer, without having to invest too much money, a wireless doorbell is an excellent choice.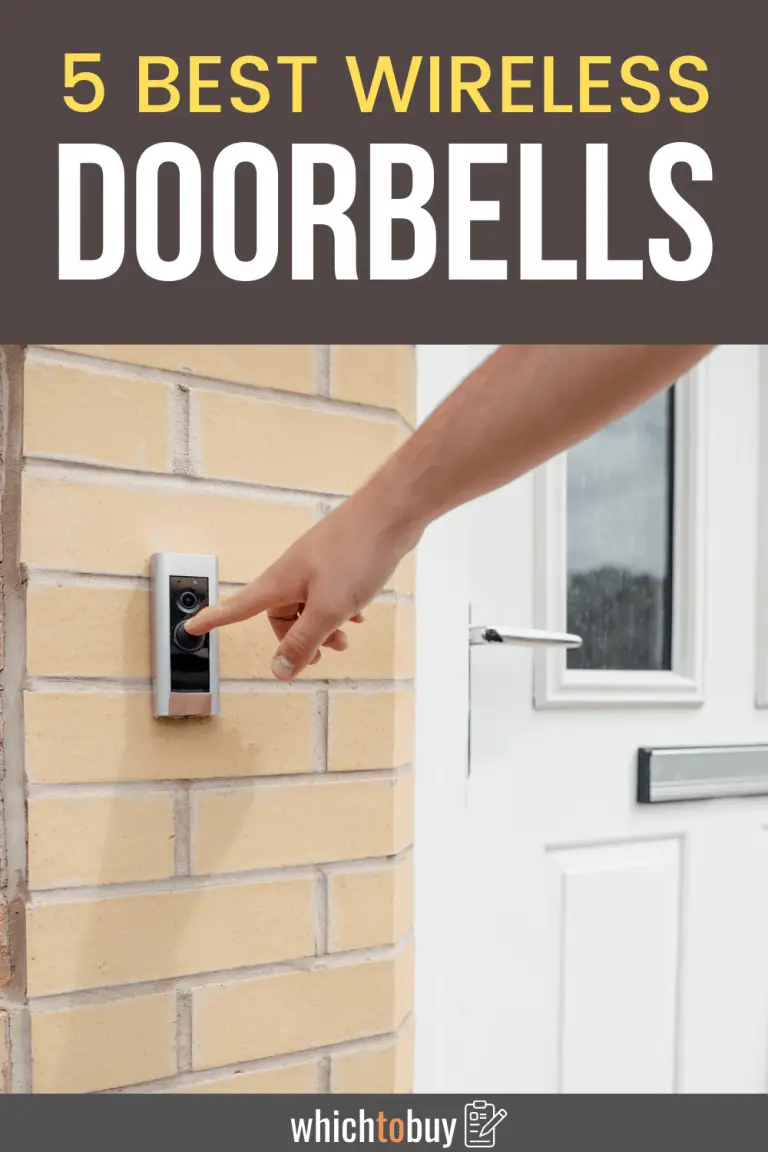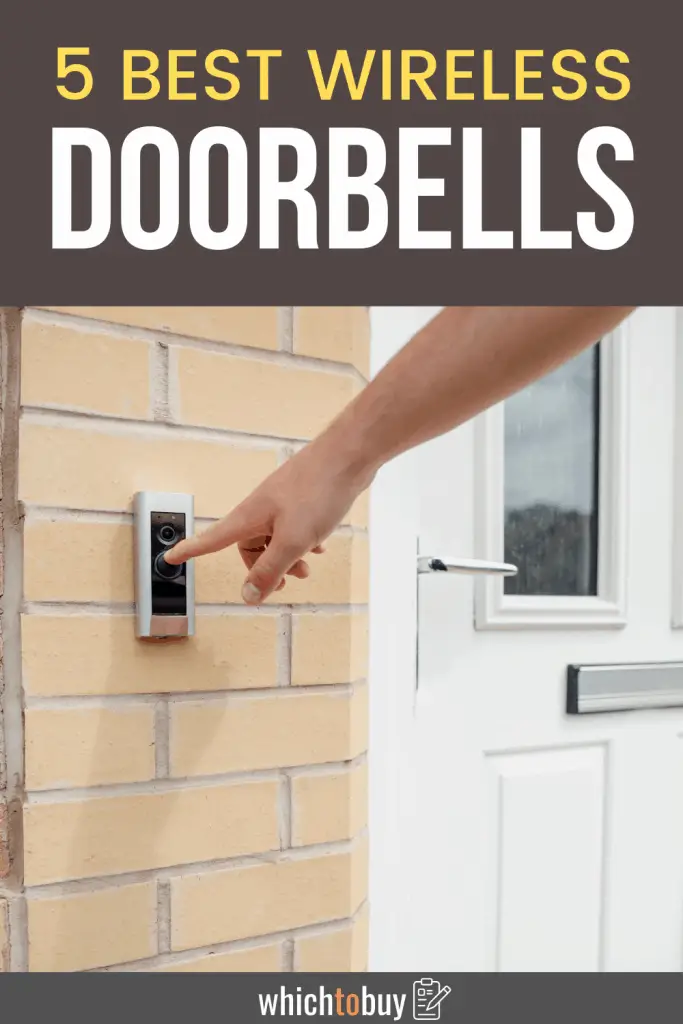 Amazon and the Amazon logo are trademarks of Amazon.com, Inc, or its affiliates.