It's hard to decide what is the best part of summer – all the sunshine and warmth or the long, balmy evenings you can spend outdoors. And, it gets even better if you're lucky enough to have a garden, patio, or balcony. The one thing that can improve the time you spend in your garden is getting the best garden lighting for your specific needs.
Besides helping you to see what you're doing, garden illumination can also create a relaxing atmosphere and make your garden look much prettier after dark. Just with the flick of a switch, you can transform your yard into a truly magical space. Outdoor lighting doesn't necessarily have to be just a lightbulb; you can also get twinkly lanterns that can be hung on a tree or porch lights that give a welcoming glow.
Best Garden Lighting On the Market 2021
We have created this guide to help you see how many amazing garden lighting options there are as well as to help you make your pick. Keep reading to find out what are the best garden lighting models!
Ultimate Tips for Choosing the Best Garden Lighting for Your Home
Here are our tips that will help you understand the different types of garden lighting, where to place them, how to calculate how much lighting you need, and much more! Your summer nights are about to get more fun than ever before.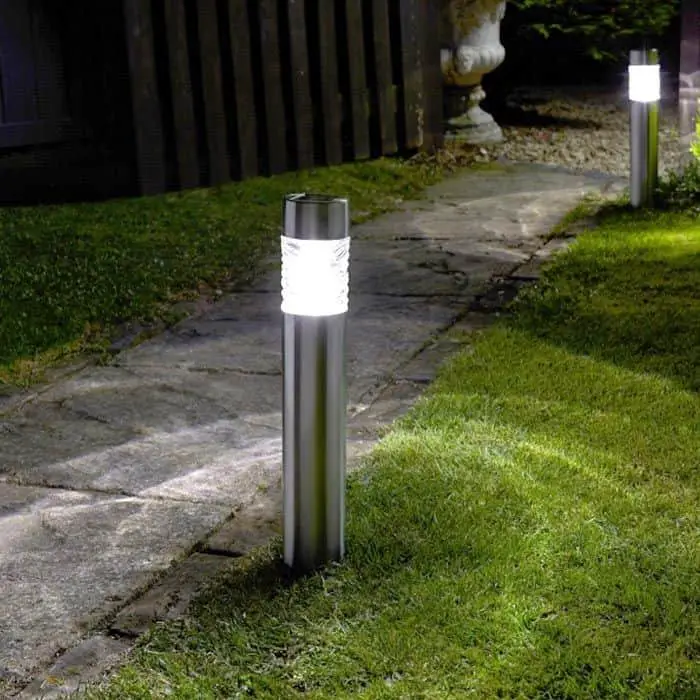 Image Courtesy of Pinterest
Types of Garden Lighting
There are three types of garden lighting that you can place in your garden – accent, ambient, and task lighting.
You can use wall lights, post lights, or hanging lights to achieve ambient lighting. Landscape kits and spotlights are the best choice for those who want to get accent outdoor lighting. And, if you're looking for lights that will just improve the visibility in your garden at night then pathway, deck, or security lights are the best garden lighting option for you.
Do the Math
It makes no sense to start shopping before you figure out how much lighting do you need. The best way to determine how much light your outdoor space requires is with the help of this calculation method: multiply the square footage of the area you want to light by 1.5 to get a rough estimate of the total wattage required. For example, if you want to illuminate 100 square feet of outdoor space, you need 150 watts.
Plan in Advance When Choosing Fixtures
In order to choose the best garden lighting for your outdoor space, make sure to observe it first, and take measurements. This way, you won't choose fixtures that are too small or too large. There is one simple test that can help you choose the right size and position of a fixture.
All you have to do is take a piece of paper to determine the size of a fixture you need. For example, if you want to add lighting to the front porch, your fixture should be one-third the height of the door.
When choosing garden lighting, you want to make sure that it is made of durable and weather-resistant materials.
LEDs Are Your Best Friend
You shouldn't even consider getting garden lights that don't use LEDs. Why? Well, mostly because LEDs can last for a long time and you won't have to worry about changing the bulbs. In addition, they also use much less energy than incandescent or halogen lights.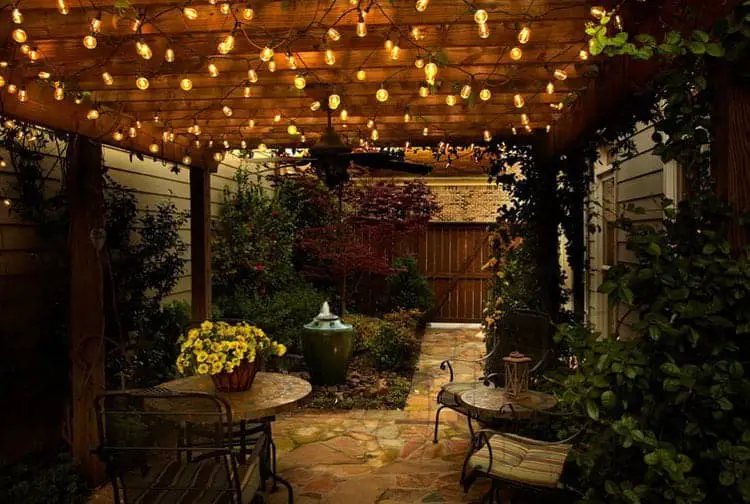 Image Courtesy of Italian Luxury Asset
Look from a Different Perspective
Believe it or not, taking a look from inside your home can help you get a much better picture of your garden. And, this will make it easier for you to decide which lighting to choose and how to place it.
Here is what Michael Murphy, Interior Design and Trends Producer for Lamps Plus, revealed to Real Simple:
"Consider how patio spaces, gardens, and pathways look like from inside your home," Murphy says. "Lighting gardens or shrubbery that can be seen from living or dining rooms give a room-expanding view to the outside at night. Think path lighting for garden areas, or use solar outdoor lighting for a quick and easy style update."
Subtle Lighting Makes a Real Difference
If you're thinking of investing in bright garden lights, here is one scenario you should consider. Imagine inviting friends and family over for dinner. None of them would want a bright spotlight in their faces while they're enjoying their drinks, right? Instead, it is recommended to stick to lighting that will create a soft glow.
This is especially recommended if you're planning to install lights in an outdoor room or a dining area. To create a restful mood, try using lanterns, pendants, or even ceiling fans equipped with subtle lights. When you really need the brightness, turn the fixtures to full light. But, when you're having friends over, just us a dim mode.
Getting Security Lights
Garden lighting is mostly used to create ambiance, but it can also secure your home. You can use lanterns or wall lights to illuminate the sides of your house. This way, you are very likely to discourage any unwanted guests from wandering into your property. You can also get special security lights that will even scare them away.
We prefer using solar security lights, so make sure to check out our top picks!
Best Garden Lighting Review
1. Kolpop Solar Fairy Lights
If you're looking for the best garden lighting that will create a beautiful relaxing ambiance in your yard, then we recommend Kolpop Solar Fairy Lights. These glowy lights are versatile and you can place them anywhere – along your garden fence, around a tree trunk, or even along your balcony. The lights are on a copper wire which is very flexible and can be bent into any shape.
And, what is the best part about owning these sweet lights? Well, they won't add to your electricity bill since they run on solar energy. The lights come with a solar panel that converts the sunlight into electric energy and stores it into a rechargeable battery. As soon as the nighttime comes, the lights will automatically turn on. What happens when there is not enough sunlight? Just insert regular AA batteries and your lights will still work.
The micro-sized lightbulbs can work in 8 different modes so you can create an appropriate ambiance for your every mood. Both the lights and the solar panel have IP55 Waterproof protection, so you can leave them outside without any worries. In addition, the product is covered by a 1-year warranty in the case that anything goes wrong.
What We Like:
Very affordable garden lights that are perfect for creating a relaxing atmosphere;
The copper wire is bendy, so you can place the lights on/around any object;
The lights on solar energy and turn on automatically when the night falls;
Versatile lights that can work in eight different modes;
Lights are waterproof and designed to withstand all weather conditions.
What We Don't Like:
The lights can be used to illuminate small areas only.
---
2. London XT Solar Powered Post Lights
If you're looking for the best garden lighting that can work all year round in the UK weather, then these post lights are a great choice for you. Made out of premium stainless steel, these solar post lights are waterproof and can be safely left out even when it's freezing outside.
Post lights are a great choice for all those who want to add a subtle security feature to their home and also illuminate their garden path. The greatest thing about these lights is that they are wireless, solar-powered, and fully automatic. This means that all you have to do is place them and never worry about them again. The light will even turn on automatically at night. And, thanks to the PowersaveTM option, the lights perform great even in the winter when there is not much sunlight.
The only downside of this product is that two lights come in the pack. And, to properly light up your garden, you're going to need more lights than that.
What We Like:
The lights both illuminate your garden and provide additional security;
Made out of premium stainless steel to withstand all weather conditions;
Solar-powered lights than turn on automatically when the light falls;
PowersaveTM ensures superb winter performance when there is not much sunlight.
What We Don't Like:
Only two lights come in the pack and they are not enough to illuminate an entire garden.
---
3. FLOWood LED Solar Garden Globe Light
If you liked the previous product, but just think that those post lights are not decorative enough for you, we have something else for you. These globe lights are the best garden lighting option for those who want to create a slightly smarter and more elegant look than the traditional solar stake option.
The greatest thing about these globe lights is that they feature a beautiful, decorative design that will beautify your garden even when the lights are switched off. The lights are made of impact-resistant plastic so you don't have to worry about someone knocking them down. In addition, the lights are weather-resistant and feature IP44 protection, so you can leave them out all year round.
Just like the previous models, these lights run on solar energy. When fully charged, they can shine for up to eight hours.
What We Like:
Globe lights that illuminate and beautifully decorate every garden;
Lights run on solar power; can work up to 8 hours when fully charged;
IP44 protection makes the lights weatherproof and suitable for use all year round;
Eight globe lights come in a pack at a very affordable price.
What We Don't Like:
Some users complained that the lights are not bright enough to illuminate larger space.
---
4. Philips Hue Smart Outdoor Wall Lighting
Philips is known for making some of the best garden lightings that comes with amazing smart features. What does it mean to have smart outdoor lights? Well, just that you can control your lights by using your smartphone. Or, if you have Alexa or Google Assistant-enabled smart speaker, you can use voice commands to turn the lights on/off. This feature is incredibly useful when you are away from home, but want to create an impression as if someone was there.
Besides making very practical smart outdoor lighting, Philips Hue products are also very stylish. You can choose between a wall light or pedestal design. In addition, you can order lights that feature a motion sensor. This way, the lights will turn on automatically when someone approaches your home.
Last but not least, Philips Hue outdoor smart lights underwent some rigorous testing so that the manufacturer would make sure they can withstand British weather.
What We Like:
Smart outdoor garden lighting that can be controlled remotely;
The lights come with a motion sensor and light up when someone approaches your home;
The manufacturer made sure that the lights can withstand all weather conditions;
You can set lighting schedules for an easy home security solution.
What We Don't Like:
The lights are very expensive and require Philips Hue bridge to run properly.
---
5. Long Life Lamp Company Outdoor Wall Light
All those searching for the best garden lighting that can simply be hung on a wall, we strongly recommend getting the Long Life Lamp Company outdoor wall lights.
These lights are made of robust stainless steel and are meant to withstand all weather conditions. The lights are compatible with both LED and halogen bulbs, which is great in case you have a preference for a certain bulb type.
Since these are wall lights, they are meant to illuminate the front (or even side) of your home. Depending on the size of the space you want to illuminate, you can choose between a pack of one, two, or four lights. The pack of four lights is the most cost-effective.
The only downside of this product is that the bulbs have to be purchased separately.
What We Like:
Outdoor wall lights that can be mounted to any surface;
The lights are mains powered, making them more reliable than solar lights;
Made out of robust stainless steel and can withstand all weather conditions;
Suitable for both halogen and LED bulbs.
What We Don't Like:
The bulbs have to be purchased separately.
---
Related:
---
Best Garden Lighting: FAQs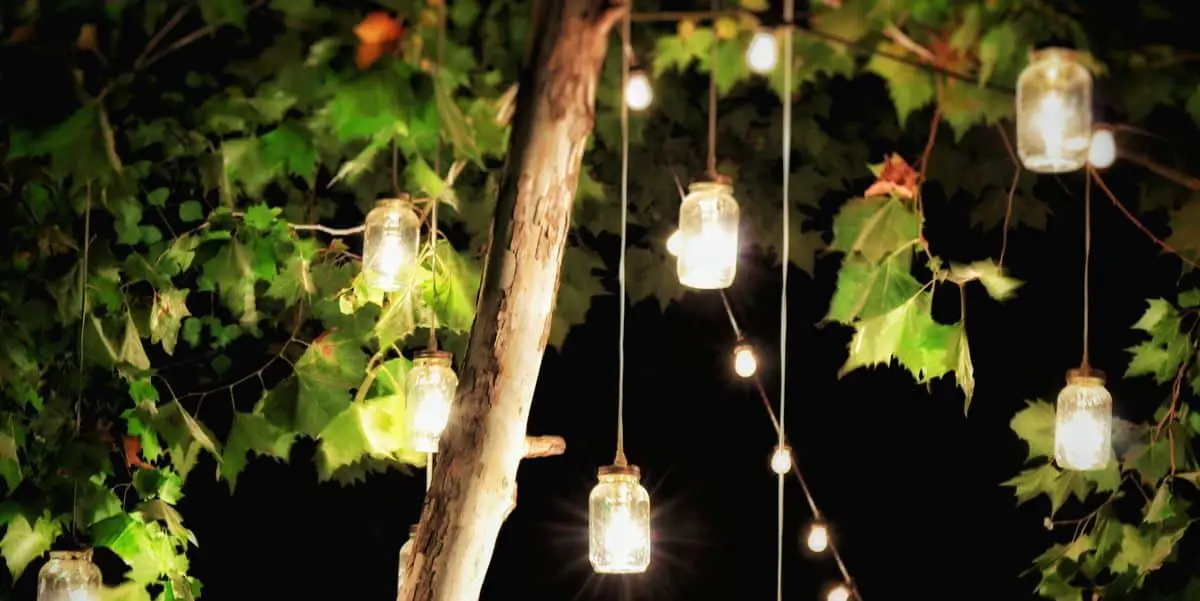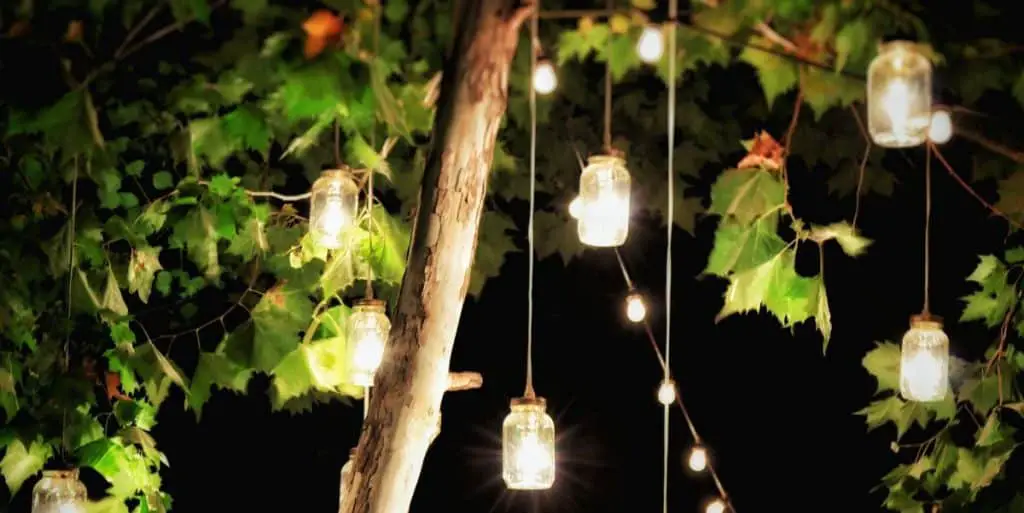 Image Courtesy of Good Housekeeping
What is a transformer and do I need one?
A transformer is an electronic device that changes voltage from one level to another. Most garden lights work at 12 volts, so the change is usually from 240 volts to 12 volts. You need to place a transformer in your garden or shed and connect the lights to the transformer. To do this, you will need to use a low voltage cable which usually runs under mulch and over garden structures.
Can I place the transformer outside?
Yes, transformers are made to be mounted outside. Usually, they are housed in weatherproof IP rated boxes and are meant to be mounted on a wall or post. This way, you can hide them behind plants, landscape features, or even under your deck. There are also special transformer types that can be buried, in case that it is not possible to site a transformer within a reasonable distance of the garden lighting fitting.
How many lights can be powered by one transformer?
Since transformers are available in different wattage ratings, the real question here should be what size of a transformer will be good enough to power your lights. To get to the bottom of this question, all you need to do is multiply the number of garden lighting fittings and the wattage.
For example, 5 light fittings at 20 watts equals 120 watts. And, for this, you will need a 150-watt transformer. It is recommended to always have some spare capacity so you could increase lamp wattage or even add a few more lighting fittings in the future.
Can I install garden lighting by myself?
Installing low voltage garden lighting is something that you can do on your own. However, if you don't connect the lights properly to the transformer or you fail to install anything else, this can lead to a dangerous situation. The safest way to install garden lighting is by hiring a qualified electrician.
Can garden lights get hot?
Yes, they can. However, some lights get hotter than others. For example, 50-watt garden lighting can get very hot after being on for a while. So, it is recommended not to place such lighting in spots where people or pets might stand on them. You can always use recessed light with a protective grid over the lens. Or, just stick to 20-watt lamps that don't get too hot.
Garden lights are an excellent way to decorate your garden, set the ambiance for your outdoor space, and also make your home a bit more secure. We hope that our list of the best garden lighting products has helped you realize how to choose the right lights for your space. In addition, we provided a few of the most popular products on the market currently that could be the perfect fit for your home.