As soon as the snow melts and the birds start chirping, we all get the need to take our DIY ideas to the outdoors. And, when the summer comes, it's all about having the most beautiful garden where you can relax and spend some time with your friends and family. The front yard frames the home and provides an initial welcome. Having a well-thought-out front garden will undoubtedly compliment the natural terrain of the land and also enhance the look of your yard and home. If you're not satisfied with your current look, check out our creative front garden ideas.
It doesn't matter what kind of garden refreshment you're looking to do because we have so many amazing ideas waiting for you. If you have a green thumb, then making our creative garden ideas come to life will be a piece of cake for you.
Ranging from planting colorful plants to liven up your entryway to those clean, minimalist, sparse looks that will make your home look more modern. Check out these ideas to find the perfect front garden solution for your home.
12 Creative Front Garden Ideas for Every Home
1. Modern Stepping Stone Pathway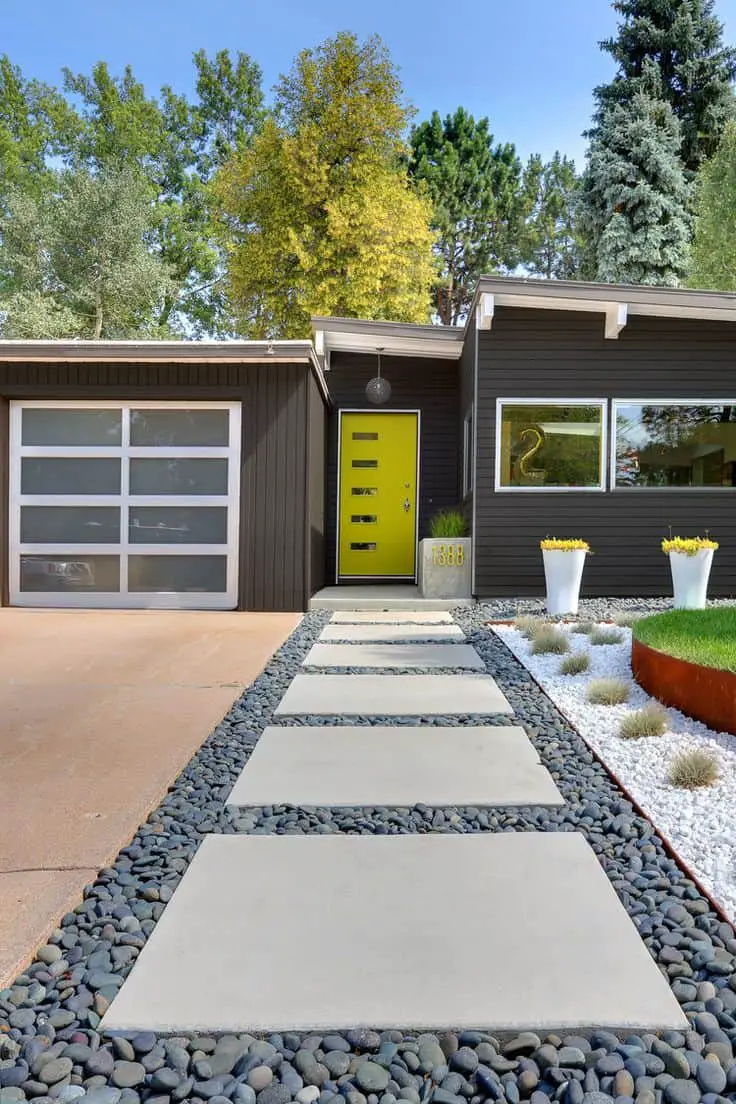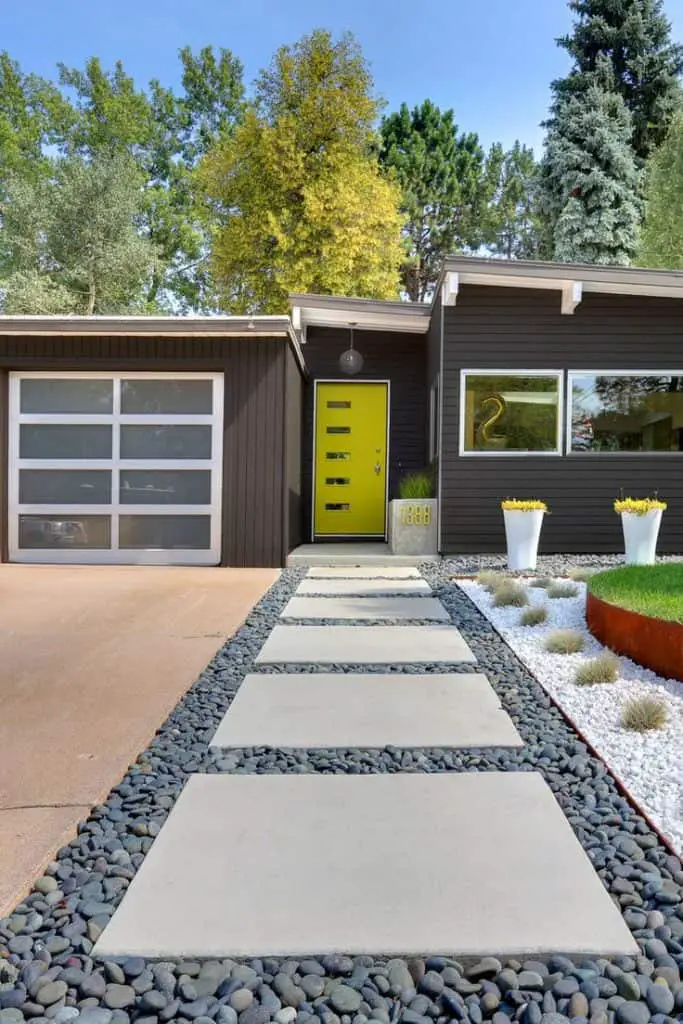 Image Courtesy of Reno Guide
If you don't think that you'll be able to take care of shrubs and flowers, we have one simple solution for you. Transform your pathway! But, there is no need to go for those traditional stone pathway designs. Yes, they are beautiful, but this is something for all those looking to add a touch of a modern style to their home.
Change your solid pavement or stone pathway for this cut-out pavers lining pathway, interspersed with round stones.
2. A Vintage Pathway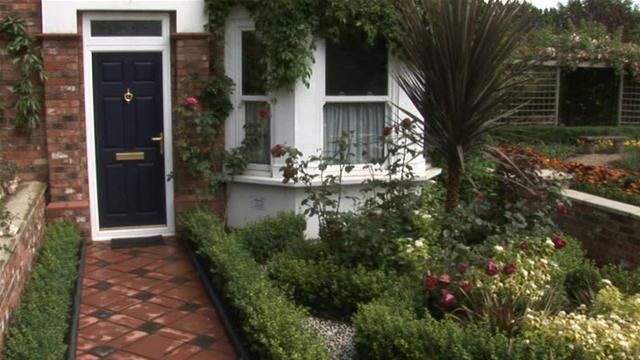 Image Courtesy of Pinterest
If you're not into modern designs, then having a retro pathway must be right up your alley. And, there's nothing more retro and vintage than having a tiled pathway. What's even better is if the pathway leads to a rose framed front door. And, to top it all off, here is one of our many creative front garden ideas – add plants! Lavender, peonies, tea roses, and even the evergreen yucca plant will turn your boring garden into a beautiful cottage garden.
3. Simple Yet Creative Front Garden Ideas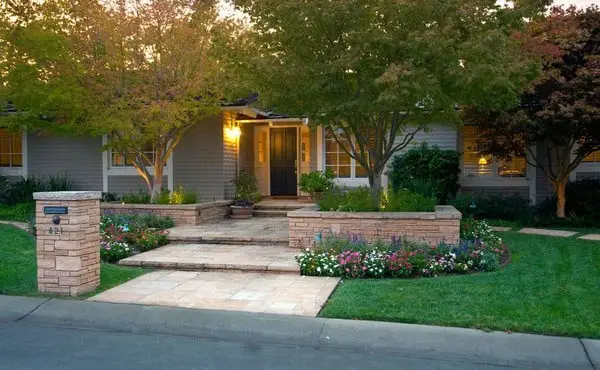 Image Courtesy of Planted Well
If you believe that simplicity and minimalism belong to the most creative front garden ideas category, then this one can be your inspiration. Transform your walkway with some tiles. Make sure that the grass is always well-trimmed and add a pop of color with beautiful flowers. Such a simple, yet such a beautiful idea.
4. Modern Block Garden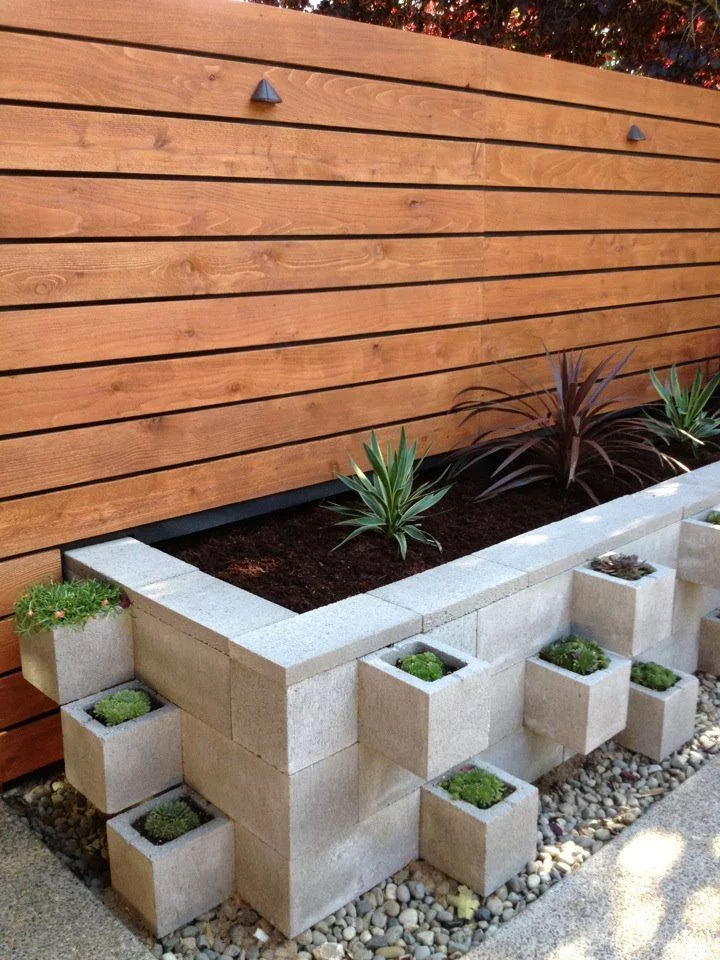 Image Courtesy of Reno Guide
Planting dozens of flowers in the ground is so last year. For all those looking for creative front garden ideas that will make their home look more modern, check this one out. Instead of planting a bunch of flowers and shrubs, you can go for this block gardening option. It will provide an interesting dimension to your front yard and make the plants pop.
5. Artificial Grass
Image Courtesy of Garden Builders
When coming up with our list of creative front garden ideas, we made sure to include something for everyone. This includes also those who want a pretty, green lawn but without having to mow it. Artificial grass is an excellent choice, and, once you edge the grass with grey brick, you will get a modern front garden. If you want to make a creative statement, then pop a tree and underplant it with flowers, such as lavender.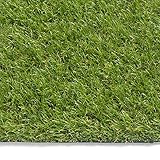 Last update on 2022-06-26 / Affiliate links / Images from Amazon Product Advertising API
6. Creative Stone Planters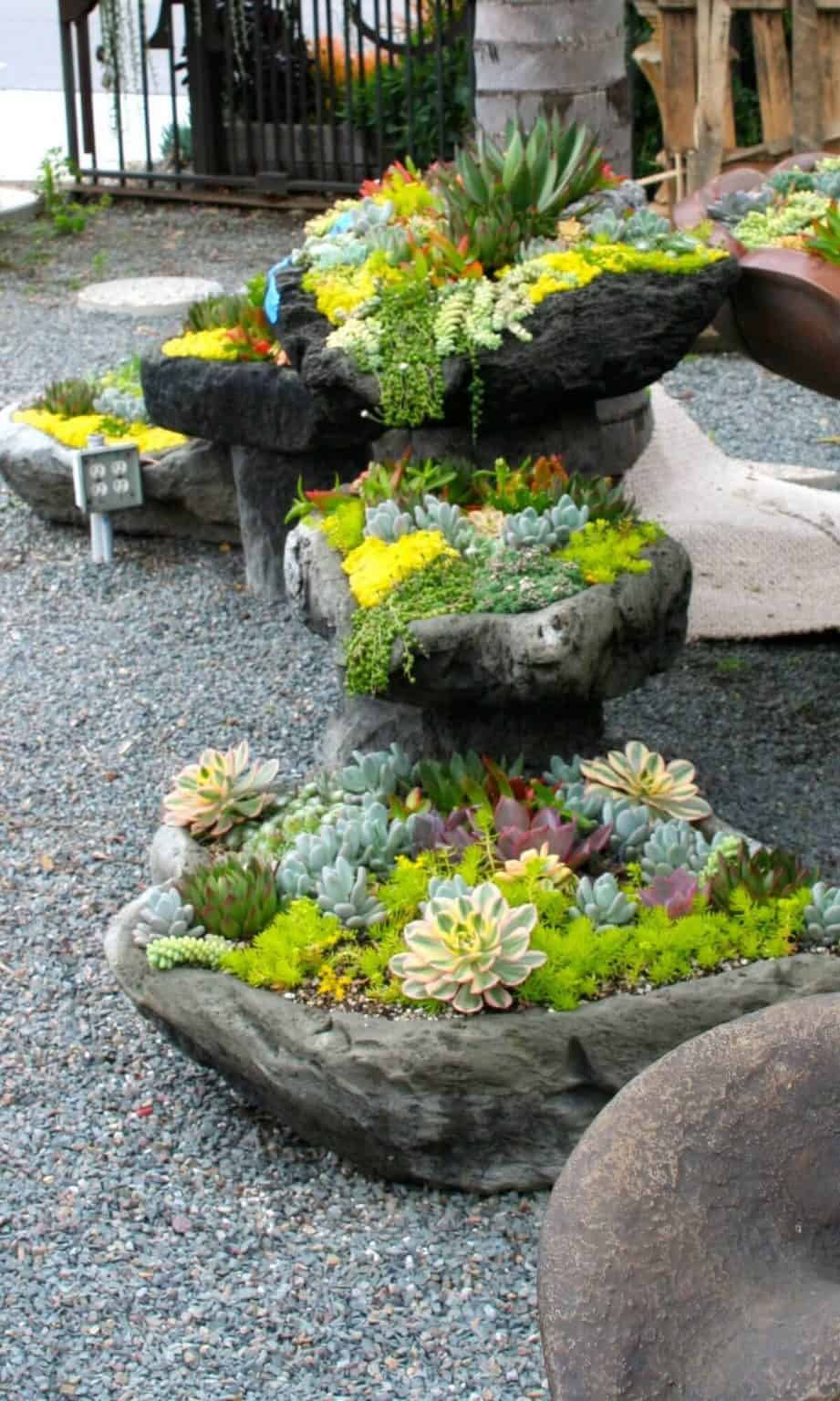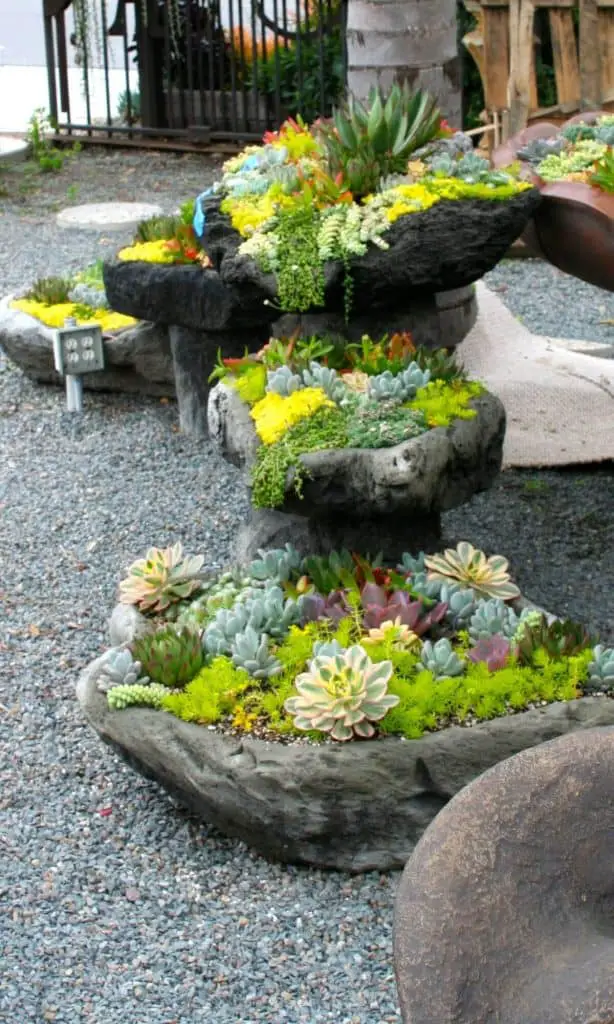 Image Courtesy of Home BNC
These stone planters deserved a place on our list of creative front garden ideas because they are modern, yet rustic and also very easy to care for. You can use them to plant succulents which come in many colors and require little to no care. Use a mix of different types and textures for the most creative results. You can combine aloes, small yuccas, and also creeping succulents. Also, a succulent planter is suitable for almost any climate, so you won't have to worry too much about your plants.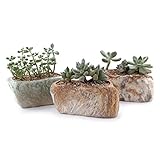 T4U 13.5CM Distinctive Stone Shape Succulent Cactus Plant Pots...
Small Ceramic Plant Pots - Perfect for holding succulent, herbs and catus plants.
Indoor Use - Ideal for windowsill and office table decoration; Perfect Gift for Wedding, Birthday, Chrismas, etc.
A small Drain Hole on the Bottom.
Pack of 3; Dimension: 13.5 x 6.5 x 6.2cm / 5.3 x 2.5 x 2.4inch (L x W x H).
Last update on 2022-06-26 / Affiliate links / Images from Amazon Product Advertising API
7. Flowery Climbing Wall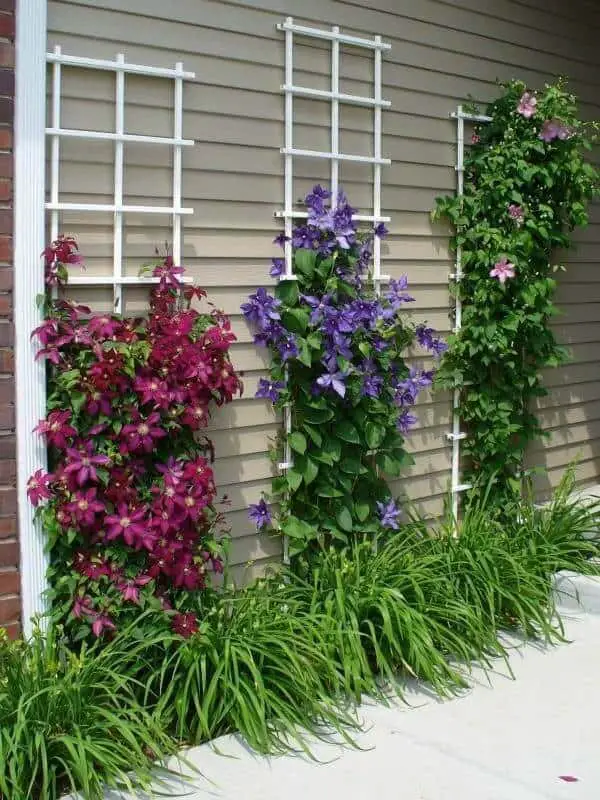 Image Courtesy of Perennial Gardens
All those looking for creative front garden ideas to hide a less flattering part of their home, here is one idea. You can use a climbing wall to hide a not-so-pleasing mailbox, fence, or even a wall. We recommend getting trellises for clematis. This is one showy flower that has so many different varieties and, every summer, it will bless your front garden with so many colors. Most commonly, people go for pink and purple clematis flowers, but, you can get it in almost any color ranging from bright red to indigo.
8. A Lighted Pathway
Image Courtesy of Reno Guide
If you're not willing to make big changes to your yard, but you're just looking for simple decorations, here is one suggestion. You can place subtle lighting along your pathway. Not only will this make the pathway more defined and visible, but it will also enhance the design of your front yard. Lighted pathways are very sensible and attractive and also easy to maintain. If you're not sure where to start your search for outdoor lighting, make sure to check out our top 5 garden lighting picks!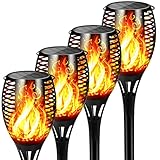 FLOWood Solar Lights Outdoor Garden, 4 Pack, 51LED Hanging Solar...
🔥 [ Solar Flame Lights ] The led flame light is more real and brighter than other solar lights, and the yellow dance flame creates a warm and safe atmosphere. They are the best decoration for outdoor events like a family gathering, party, barbecue camping and festival
🔥 [ Solar Powered ] built-in solar rechargeable battery. It can illuminate about 10 hours after fully charged. More environmental and economical than traditional street lamps which need to plug in electricity.
🔥 [ Water Resistant ] The solar wall lights made of high quality durable and waterproof ABS material, withstanding all weather conditions ,no worries about raining, snowing and frosting, which is suitable for outdoor
🔥 [Easy Installation ] No wiring or cable required,2 installation methods, simply install it anywhere you like and enjoy the warm flame lights.Waterproof ON/OFF button is at the bottom of the torch light. A high efficient solar panel will still charge even in the closed state
Last update on 2022-06-26 / Affiliate links / Images from Amazon Product Advertising API
9. Modern Tile Pathway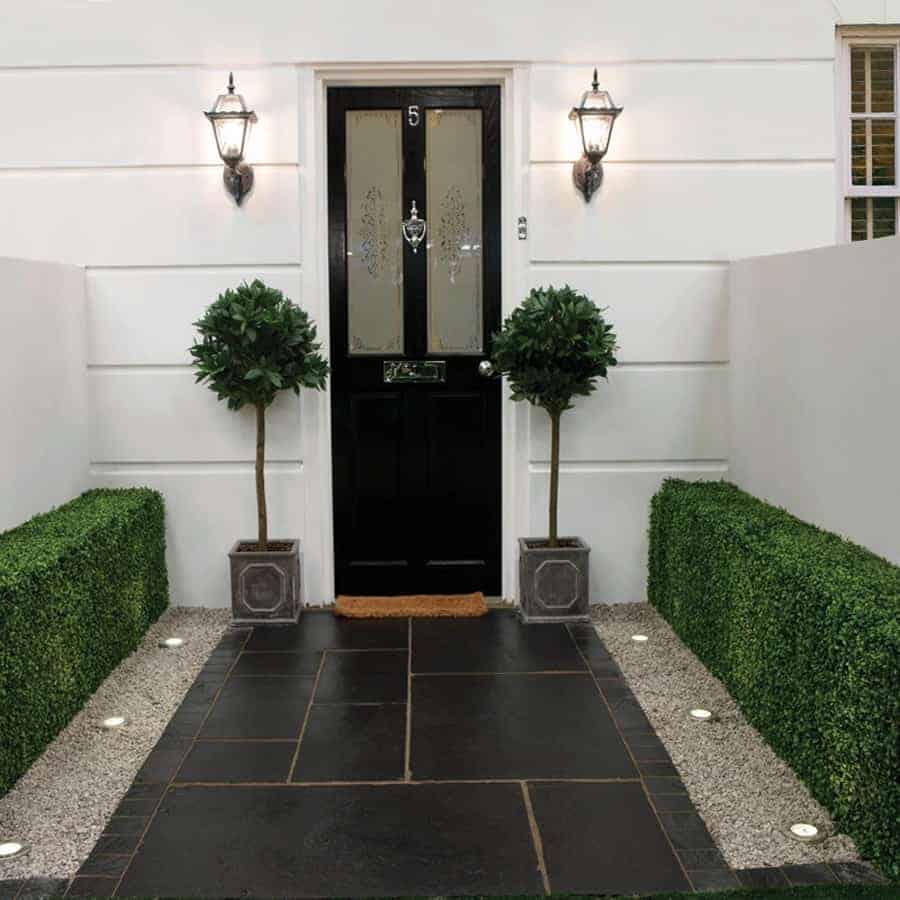 Image Courtesy of Garden DIY Garden
Here is one of the creative front garden ideas which require no maintenance at all. There are so many different ways to decorate your pathway. Using tiles in different sizes will not only make your front garden look sleeker, but also bigger. Then, line the edges with some solar garden lights and include artificial hedges as well. They will add a pop of green to your garden and frame the doorway perfectly.
10. Serene White Garden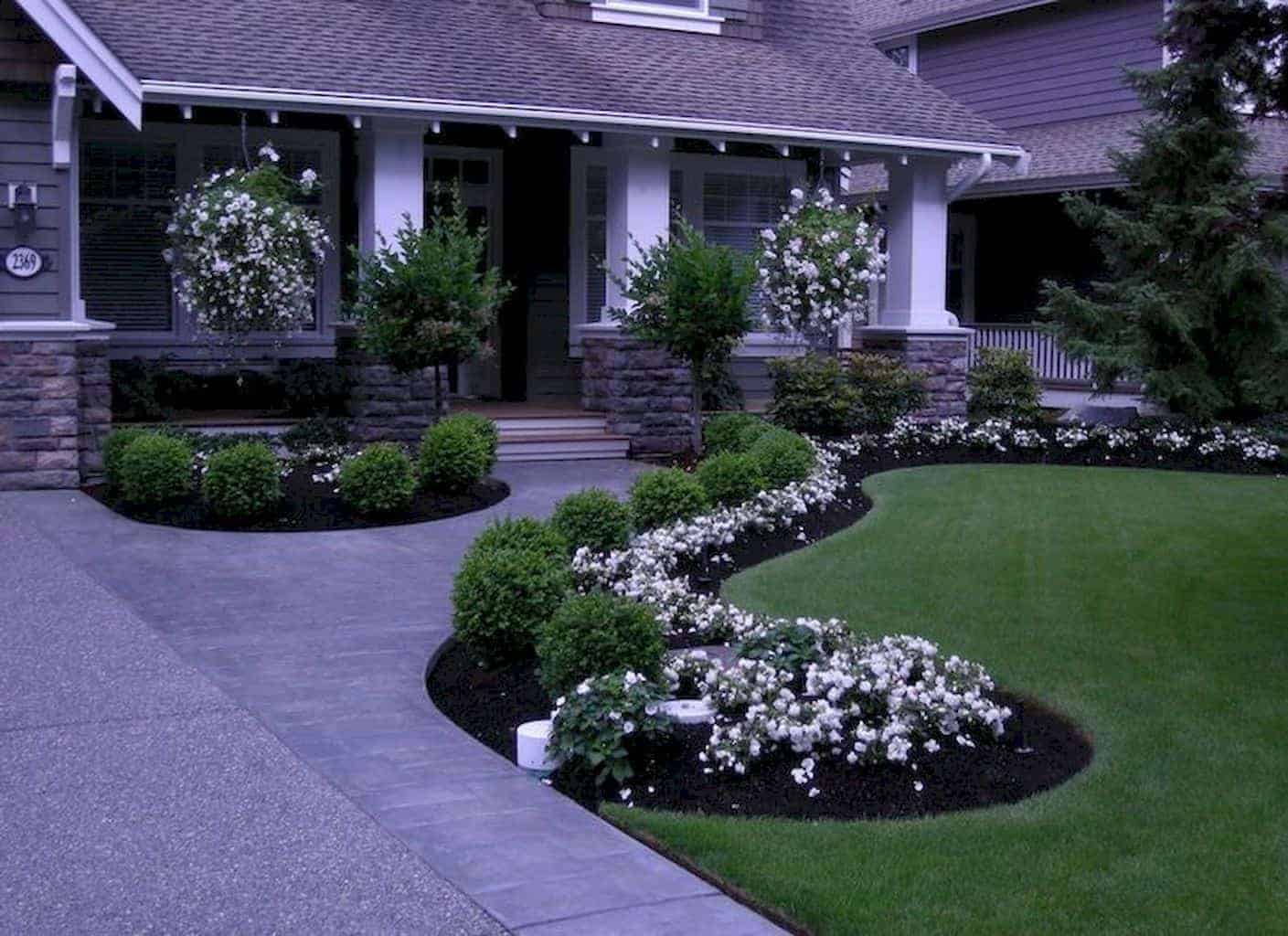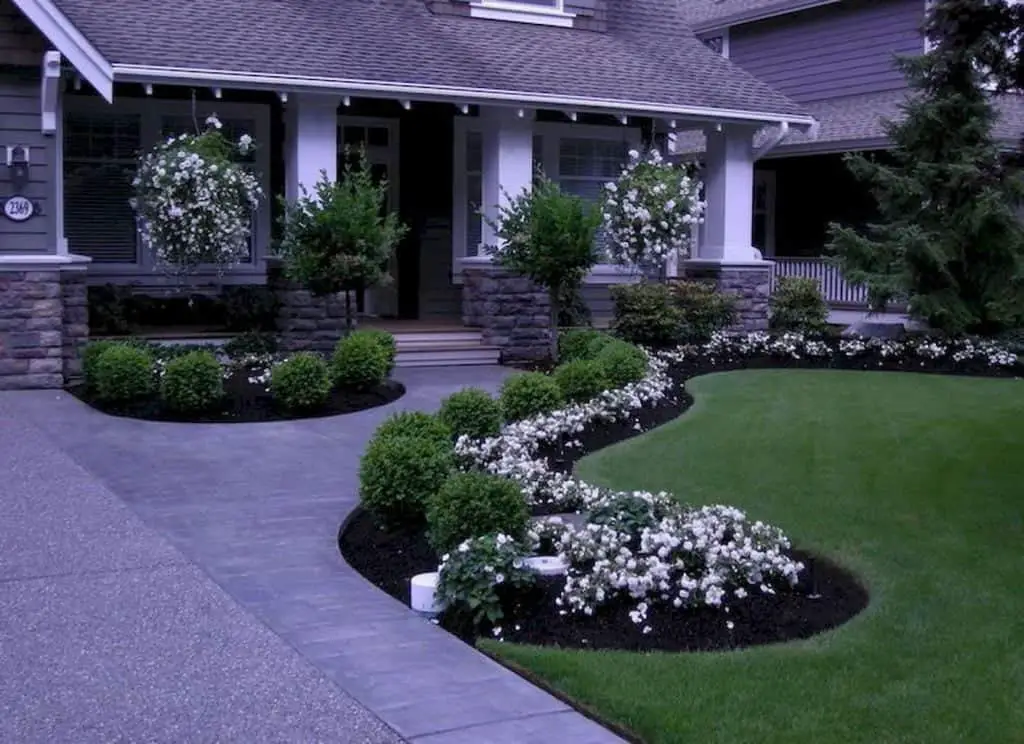 Image Courtesy of Pinterest
If you'd like to decorate your front garden with some flowers and trees, but you're not that fond of many colors, here is one idea. You can choose only one color and repeat it through your garden. Start with your pathway, and create rounded borders. You can also plant a backbone of evergreen balls like yew alongside your favorite plant. As you get closer to the front door, switch things up a bit with trees and hanging baskets that match the color of your flowers.
11. No Maintenance Creative Front Garden Ideas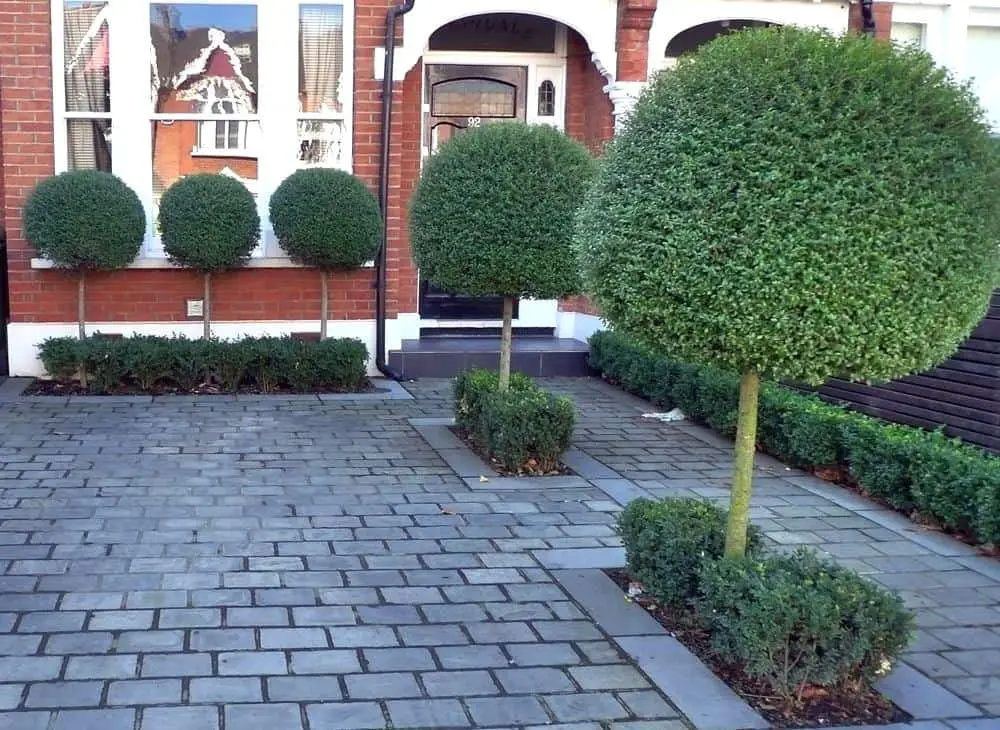 Image Courtesy of RHS Blog
All garden-phobes will love this front garden. It requires no maintenance and yet it is so green. Pave your front yard with a stone that contrasts your hose bricks. Then, you can create a planting area that will separate your pathway from the parking space. When it comes to the planting area, we recommend some standard evergreens such as bay, box, or holly which require no maintenance.
12. Yucca All the Way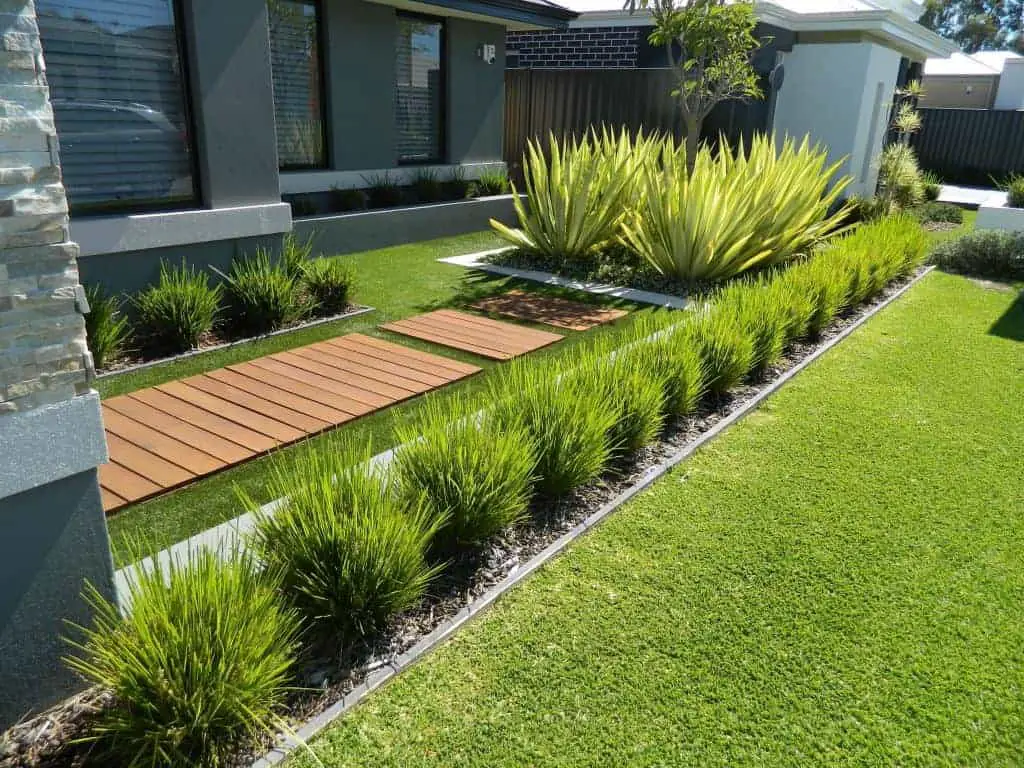 Image Courtesy of Pinterest
There is a simple decoration tip for all those who have a large front garden – create a focal point. But, as you can see in this photo, that point doesn't necessarily have to be in the center. Instead, the focal point is on the side and it features just one tree and large yucca. A line of evergreens draws the eye along the property. The lawn is short and neat, and the warm brown deck breaks up all the green.
These were our favorite creative front garden ideas. We tried to make them as versatile as possible so that everyone can find inspiration for their home. Don't forget to share with us which idea did you like the most!