In today's world, our personal information is readily available to anyone. Just think about your simple online grocery order – you give away your name, your home address, what times you'll be at home, what times you'll be out, and sometimes you even give instructions on how to get into your building.
Concerning, isn't it? But this security impairment that the Internet brought to us can easily be fixed. How? With the use of (one of) the best wireless CCTV system for home.
People who had their packages stolen from their porch or had a car broken into while parked in their driveway can relate to previously-described experience. Mainly because the perpetrator was long gone before they even found out that something is not right in most of those cases.
If you are concerned about your home security or want to keep an eye on your family or pets while they are home alone, it might be time to invest in one of the best wireless CCTV systems. With the CCTV system's real-time alerts, built-in sirens, two-way microphones, and other security features, your mind will finally be at peace.
In this article, you can determine which ones are the best wireless CCTV systems on the market. We prepared few reviews on some of the market's top picks and a buying guide, so you know which qualities to look for when choosing the best wireless CCTV system for you.
After you finish reading, you'll be able to pick out the right CCTV system for you so that you can improve your safety and peace.
Best Wireless CCTV System for Home on the Market in 2021
How Do Outdoor Security Cameras Work?
The majority of smart outdoor security cameras work similarly; they use a Wi-Fi radio to connect to your home network. This allows you to access your cameras anytime, regardless of your location.
Installing Wi-Fi cameras is much easier than their wired counterparts since they don't require wiring or proximity of an Ethernet port. Out of all models available, battery-powered Wi-Fi cameras are the easiest to install because you can place them anywhere (as long as they are connected to your router). These models run on rechargeable batteries, which you can easily pop out and charge indoors with a USB cable.
All CCTV cameras can record both the inside and the outside of your home. Depending on the manufacturer and the model, all footage is stored somewhere (cloud, or even the device itself). Besides, every smart camera can be connected to your smartphone so you can stream live everything that's going on at home, wherever you are.
---
Related Posts: 
---
Benefits of Owning CCTV Cameras
Are you interested in buying a CCTV camera, but you're still not sure whether it's the right choice? We bring you the top five advantages of owning a CCTV camera that will change your mind.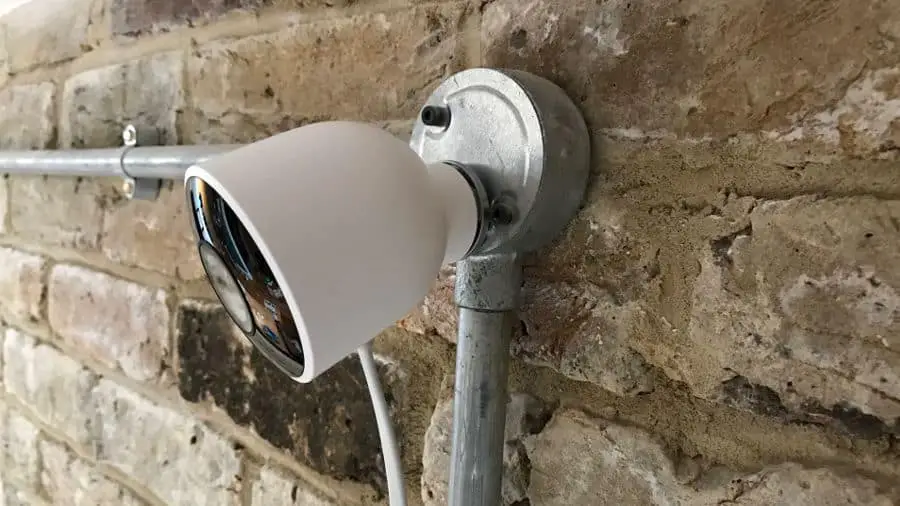 Image Courtesy of TechRadar
Crime Deterrent
Having a CCTV camera installed will act as a deterrent to criminals or anyone who thinks of trespassing on your property. The sight of a CCTV camera alarms trespassers and alerts them of the law's presence, and, in most cases, prevents a person from doing any illegal activities.
Live Activity Monitoring
Do you have a babysitter watching over your precious little one? Or maybe workers are supposed to carry out some renovations while you are away from home? Smart Wi-Fi cameras can be installed both indoors and outdoors, allowing you to monitor what is happening at your home 24/7. With CCTV cameras, you can have total peace of mind wherever you are.
Collect Evidence
We all hope that our homes won't be victims of any crimes. But, if a crime occurs at your premises, a CCTV system can be of great help. Since all smart CCTV cameras store footage, you can use it to identify what happened precisely. Also, the footage can be incredibly helpful for identifying the trespasser.
Sorting Disputes
Believe it or not, a CCTV camera can be beneficial in so many unexpected occasions. Imagine that you keep waking up every day and finding dog poop in your yard. Since a few of your neighbors have dogs, you're not sure which one you could accuse. Well, a CCTV camera could help you sort this issue out. Even though it is silly, things like this happen, and they can ruin your day. But, with a smart outdoor camera, you would always know what is going on in your yard.
Best Wireless CCTV Systems for Home: Review
1. ZOSI 4K 8MP Ultra HD Security Camera System
If you want the best wireless CCTV system for your home, you should consider buying ZOSI 4K 8MP Ultra HD Security Camera System. This gem here has four times the resolution of 1080p.
It comes equipped with an UltraHD 4K CMOS Image Sensor that allows the camera to capture more light. In return, you are getting a recording with improved color, contrast, and better low-light performance.
The very high resolution of ZOSI cameras (3840 x 2160) allows you to record everything with sharper details and digitally zoom into far away objects without losing picture quality.
ZOSI DVR uses advanced H. 265+ video compression, which is the most efficient compression technology available. That allows you to store more video to your DVR while also preserving quality.
Customizable motion detection zone and alerts allow you to filter out false alarms. You can also customize each camera with four different record modes: continuous recording, scheduled recording, record on motion detection, recycle recording.
Cameras are weather-resistant, and they don't require a cable connection to DVR.
What we like:
High resolution and latest audio/video compression technology
Customizable motion detection zone and alerts with 150ft night vision
Free ZOSI app for smart devices
Customizable recording modes
What we don't like:
To be able to enjoy 4K recordings in their full glory, you need to have a 4K or 8K TV
---
2. CORSEE Smart Security System
CORSEE's Smart Security System comes bundled with 8-channel 1080P NVR, four 1080p cameras, and a pre-installed 1TB hard drive.
Wireless cameras feature Auto-Pair technology, which allows for quick setup. All you need to do is to plug them in into power source, and they will automatically connect to NVR.
Cameras can be placed both indoors and outdoors. They are completely weatherproof, with IP66 level of protection. High camera resolution (1080p) provides sharp and detailed recordings with 80˚ angle of view and up to 65ft night vision.
NVR can support up to eight cameras at the same time. It is pre-programmed for 24/7 surveillance, and it locally stores every recording on its 1TB hard drive. A big plus is that cameras are connected directly to NVR, so it's almost impossible to hack them. NVR allows for local monitoring without using the Internet. If you want to monitor the camera feed from a remote location, you will need to connect NVR to the Internet.
CORSEE's Smart Security System also comes with a free app for smart devices, so you can easily monitor the feed and receive motion-triggered alerts.
What we like:
Auto-Pair technology for quick setup
High resolution and excellent night vision
Free app for smart devices
Local monitoring doesn't require Internet
Weatherproof cameras with IP66 protection
What we don't like:
For best performance, cameras need to be in 15ft range of NVR
---
3. Hiseeu Wireless Security Camera System
Hiseeu Wireless Security Camera System offers a quick and easy setup with pre-paired NVR and cameras. They only require power, and they are ready for 24/7 surveillance. Hisseu system is excellent for both home and business use.
Cameras are weatherproof with sleek aluminum casing and IP66 level of protection, which means they are waterproof and dustproof. They can be placed both indoors and outdoors. 1080p resolution allows for recording stunning videos and pictures in HD. They also come equipped with powerful Anti-Interference technology and offer up to 100ft night vision.
The system supports Multi-Alarm alerts triggered either by video loss, motion detection, and sound. You can set up to receive alerts via the free app for smart devices or via e-mail. The free app is really convenient, and it allows for real-time monitoring and replaying camera recordings at any time.
NVR comes pre-equipped with a 3TB hard drive, which can store up to 90 days of footage.
What we like:
Quick and setup with pre-paired NVR and cameras
High resolution and excellent night vision
Free app for smart devices
Local monitoring doesn't require Internet
Weatherproof cameras with aluminum casing and IP66 protection
What we don't like:
Recording modes are not customizable
---
4. TMEZON 8CH Wireless Security Camera System
TMEZON's bundle offers excellent smart security for your home. TMEZON Security Camera System supports both wireless and wired connections (if there is no Wi-Fi, you can set up a wired network).
It is perfect for monitoring large outdoor/indoor areas. It allows you to protect your property from the comfort of your smartphone, tablet, and PC, putting your property under 24/7 surveillance.
The cameras record clear videos in 1080p HD resolution. They are also equipped with 3.6mm LEDs with IR-CUT function, 110° viewing angle, and 50ft Night Vision range. The camera's infrared mode is automatically activated in low lighting conditions so that you can get the best video quality even at night. The cameras are rated as dust-tight and waterproof, and they are encased in a durable housing.
The system allows for easy remote access on all smart devices over the free smartphone app. App's interface is easy to use, and you can watch live feed or already recorded videos anytime and anywhere. NVR Kit also supports sync-playback, video backup, motion detection, e-mail alert, and app alert. Detection plan and detection zones are fully customizable so that you can adjust every camera precisely to your needs.
What we like:
High resolution and video details
Excellent night vision and viewing angle
Free app for smart devices
Weatherproof cameras with durable casing and IP66 protection
What we don't like:
You must have an Internet connection
---
5. SANSCO HD CCTV Security Camera System
SANSCO HD CCTV Security Camera System comes in a bundle featuring SANSCO 8 channel 4-in-1 DVR, supporting CVBS, HD-TVI, CVI, and AHD cameras, four 1080P HD waterproof cameras, and a 1TB hard drive.
The system offers easy remote monitoring and smart playback. You can watch the live feed on your smart devices via the free app for smartphones, or you can play already recorded video remotely and locally on HD TV or monitor.
Camera recording is fully customizable. You can set custom motion detection areas to minimize false alarms. When the motion detector is triggered, the system immediately sends an alert to your app and e-mail. You can even set up a video blind regions, so the specific parts of your home are under full privacy.
With the 1080p cameras, you will enjoy crystal clear image (1920x 1080 resolution) both during the day and night. Night vision is excellent, and it covers up to 100ft and 75° view angle. With IP66 weatherproof metal housing, these cameras can be used both indoors and outdoors.
What we like:
High resolution and excellent night vision
Free app for smart devices
Weatherproof cameras with IP66 protection
Customizable recording modes
What we don't like:
Requires Internet connection
---
Best Wireless CCTV System for Home: Buying Guide
The majority of the wireless CCTV systems work the same way – once an event is detected, the camera will record it and send you an alert. However, each model has different features. There are some features that can be quite helpful and that you should look out for when searching for the best wireless CCTV system for home.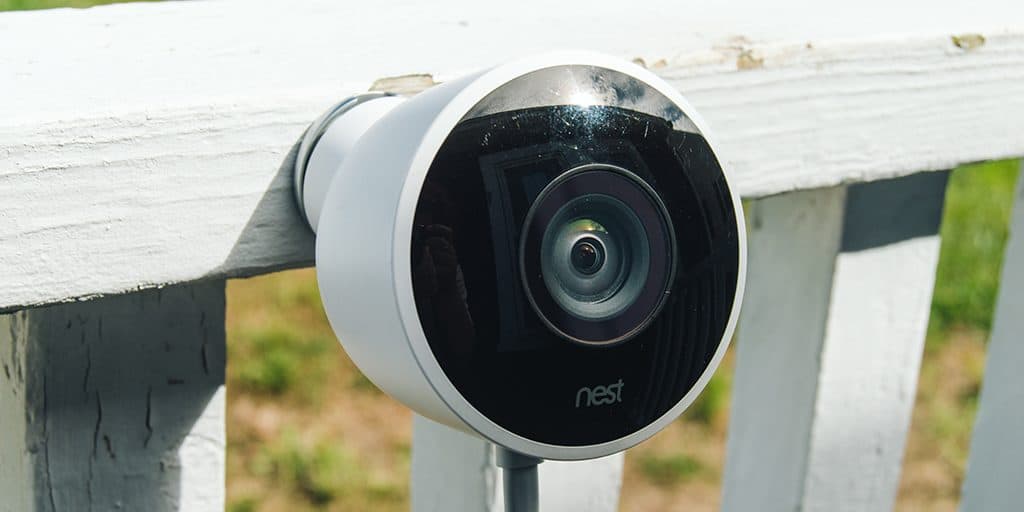 Image Courtesy of The New York Times
Resolution
The first feature you should pay attention to when buying a CCTV system is the resolution. No amount of security video will help you if it's blurry, jittery, or otherwise distorted. Some high-quality models provide 2K or 4K resolution, but they tend to be more expensive, and they also use more Internet and more battery. The majority of newer CCTV cameras support 1080p resolution. However, if these models are too costly for you, a security camera with 720p resolution should also do a good job.
Night Vision
It makes little sense investing in a security camera that records what is going on around your home only during the day. After all, the majority of break-ins and other criminal activity happens at night, so this feature is quite essential.
The majority of CCTV home security cameras support infrared LED illumination. Some models will automatically switch to night vision in low-light conditions, while others allow you to customize when and how it should be activated.
Motion Detection
When choosing the best wireless CCTV camera, it is recommended to get the one that has a motion detection feature. Assuming you're monitoring your home when it's empty, motion detection is one of the most desirable features in a security camera. The sensors pick up movement within the camera's field of view and trigger video recording.
However, motion detection can be a bit tricky as the sensors can be very sensitive sometimes. As a result, any movement such as leaves blowing outside or cat crossing your property can trigger recording. You need to ensure that the CCTV system offers the ability to narrow the range of detection, adjust the sensor's sensitivity, or simply customize this feature to prevent false alerts.
Security
The best wireless CCTV cameras also must have a high-security feature. It has become incredibly easy to compromise Wi-Fi devices such as home cameras or baby monitors in our digital era. So, make sure to go for a model that supports up-to-date wireless security protocols, such as WPA2. It is also recommended that the camera encrypts internet transmission of your user name, password, and live feeds.
Wireless Range
The best part of a wireless CCTV system is that you get to install the cameras anywhere and move them to your liking. But, it would be best if you made sure that the camera always has a stable Wi-Fi connection, no matter where you install it.
Some CCTV cameras come with an ethernet port as well, so you have the option of hardwiring it to your local network. As a result, you will always have a stable connection. A camera that supports power-over-ethernet (PoE) eliminates the need for an AC adapter and relies on just one cable, but you have to make sure that your router also supports PoE.
Battery Backup
Even though we live in a modern society, power outages still happen every now and then. Also, burglars tend to cut electricity before breaking inside of a home. If this happens, your camera will go dark, and there will be no evidence.
Luckily, many quality CCTV cameras can run for some time on battery power, so make sure to keep an eye on this feature. Also, some wireless models run on battery power all the time.
Local Storage
People think that once they buy a CCTV camera, there will be no more costs. Sometimes, manufacturers forget to mention that their cameras use cloud storage for which a monthly fee has to be paid (but it's usually just a few dollars). However, if you'd still like to avoid paying this fee, make sure to get a model that has a memory-card slot so the footage can be stored on the device.
The only downside of local storage is that if the trespasser steals the camera, all the evidence will be gone as well.
Alerts
Home CCTV cameras send notifications to their users as soon as they detect any movement. This feature is handy and allows you to keep tabs on your home without having to watch the live feed all day. Some systems send text alerts while others send e-mails. Also, some cameras notify only one user, whereas others can notify multiple users. Make sure to pick out the model that sends the most convenient alerts for your needs.