Now that the most perfect time of the year is here, it is time for you to take out your grill and enjoy quality time with your friends and family. If your current grill is old or you don't have a grill at all, then here is our list of the best barbecue models you must get. It doesn't matter if you're on a budget or you've never used a grill before, there is something for everyone on our list.
Barbecues come in all different shapes and sizes; you can choose between small, portable charcoal models to large, gas grills perfect for gatherings. However, choosing the perfect model can be a bit overwhelming since there are so many options available.
Besides including the top grill models currently available on the market, we have also prepared a guide that will help you choose the best barbecue for your needs.
The Best BBQs in 2021
How to Choose the Best Barbecue for Your Needs
Choosing the best barbecue for your home depends on a number of factors. For example, you need to pay attention to the size of the grill, the fuel you'd like to cook with, and even the fancy extras that come with some models. And, of course, the price always plays an important factor.

Image Courtesy of Good Housekeeping
Barbecue Type
The first barbecue feature you want to think of is the fuel. Different barbecue types run on different fuels and, believe it or not, fuel plays the most important part when it comes to food flavor. The traditional charcoal design ensures the most authentic, smokey flavor. However, cooking with charcoal will require you to constantly keep an eye on the food. Also, the clean up can get be a bit messy as well.
The second option is a gas barbecue. It is much easier to use and starting those grills up is a piece of cake. You don't need to wait for the charcoal to ignite, you just press a button and the grill will be ready to go. In addition, gas grills are great for cooking all different types of food, including fish and seafood. And, there are some models that come with some pretty advanced features (such as remote controlling the grill).
Last but not least, there are electric barbecues. These are also called set-and-forget models since you just need to turn them on, put the food in, and that's it! The grill will do all the work for you. Even though these grills are the easiest to use, the food flavor is not as smokey as it is when using a charcoal grill.
There are also kamados and hybrid models that are popular choices among barbecue enthusiasts. Or, you can even go for a compact, portable model that would be a perfect choice for your camping or tailgating trips.
If you want to find out more about different grill types, make sure to check out this guide.
Barbecue Size
When choosing the size of your barbecue, you need to ask yourself for how many people you plan to cook.
If you plan to have large gatherings frequently, then the most efficient solution would be getting a large-sized barbecue that can easily meet the demands of eight guests or more. If you're looking for a gas grill, then you should go for four-burner models. However, if you find charcoal grills to be a better choice for you, then you can get a larger model such as a half-barrel.
If you plan to cook for your family and a few friends, then a medium-size grill will be enough for you. This can be a two-burner gas barbecue or a charcoal grill with about 40x45cm of cooking space. These grills are the most common choice and are usually the most affordable option. However, they can be a bit limiting when you host a bigger party.
The last option would be getting a small, portable model that can easily be transported. These grills are the perfect choice for people who often go camping, tailgating, or love bringing their barbecue to the beach. But, of course, the small cooking area comes with portability, so don't expect to be able to cook for more than three to four people at the same time.
Barbecue Features
Your BBQ experience can be much more than grilling if you choose the right model. The best barbecue models can be used to fry, boil, bake, roast, sear, grill, and sauté food. There are also many models that come with plenty of accessories that make the entire grilling experience more convenient.
Here are some barbecue features you should look out for:
Hood – allows you to roast, bake, and grill your food since it retains heat.
Warming rack – useful for warming up or maintaining food temperature
Ash collector – charcoal grill feature; collects ash and makes cleaning easier.
Air vents – charcoal grill feature; opening/closing vents adjusts the temperature of the grill
Griddle – gas barbecue feature; lets you braise, fry, sauté and stir fry food.
Side burner – gas barbecue feature; similar to a warming rack, allows you to cook or heat up sauces.
Drip tray – collects fat drips to ensure easier cleaning and reduce flare-ups.
Storage shelves – useful for storing accessories such as utensils, bottles, and dishes.
Tool hooks – allow you to easily swap between tools without having to put them down.
Image Courtesy of Camp Chef
Ease of Cleaning
Even though this may not seem like an important feature, it actually is. It is important to properly clean and maintain your barbecue to ensure the longest possible life span. For example, having an ash collector and a drip tray makes cleaning much easier. In addition, having removable grates that are also dishwasher-safe will make your life easier.
Price Tag
It goes without saying that the best barbecue models will cost you a couple of hundred pounds. However, there are many quality models that come at an affordable price. What you should always pay attention to is the build quality. Some manufacturers offer grills packed with fancy features, but they use low-quality materials.
Even though you may be tempted to go for an affordable model, keep in mind that it is quite likely to be just a waste of money since it won't last long and it won't give you the desired cooking results.
Best Barbecue Models in 2021
1.     Weber Compact 47cm Charcoal Barbecue
Sale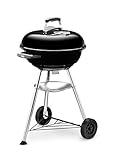 Weber is known for making some of the best barbecue models available on the market, and this one is no exception. At first, you may think that 47cm is small for cooking space but, actually, it is enough to feed up to six people.
This model comes with everything you'd want a charcoal grill to have such as a ventilation system that allows you to regulate airflow and temperature, an ashtray, weatherproof build, and a storage area that can be used for both food and utensils.
This Weber model belongs to the category of affordable grills, but its build quality is actually impressive. The grill is durable and made to withstand any weather conditions, it features rust- and chip-resistant body, and the cooking grate is triple-plated and can withstand acidity and rust.
If you're looking for an affordable charcoal barbecue that will last you for years to come, Weber Compact Grill is the way to go.
What We Like:
A compact grill that features a decent cooking space (can feed up to 6 people);
Combines an affordable price and high-quality build;
Comes with accessories such as an ashtray and a storage area;
It has a finish that prevents rusting, cracking, and peeling while withstanding high grilling temperatures.
What We Don't Like:
Charcoal grills require preparation in advance and are require more work than other types of grills.
---
2.     Char-Broil X200 Grill2Go
Sale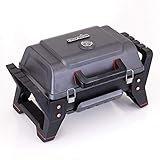 Char-Broil X200 Grill2Go is a portable barbecue that packs plenty of cooking space. Even though the grill looks small in the photos, it can fit up to 12 hamburgers. Just like all other Char-Broil models, it features the TRU-Infrared Cooking System that ensures all your food is cooked evenly. This system also prevents flare-ups and helps you cook up to 50% juicier food while using up to 30% less gas.
When it comes to the build quality, this is certainly one of the best barbecue models you can get; the X200 is built like a tank. And, using it is also a piece of cake. All you have to do is adjust the temperature using a dial and then start the burner by using electronic ignition. It takes the barbecue about 10 minutes to heat and then you're good to go.
When it comes to cleaning, it is recommended to leave the X200 on max heat for 15 after you're done cooking. This is supposed to make the clean-up easier. However, the cleaning is a bit difficult because charred remains tend to get stuck in the triangular grooves.
What We Like:
A sturdy yet portable grill that will last you for years;
The grill is large enough to house 12 burgers at the same time;
TRU-Infrared technology ensures even cooking and reduces flare-ups;
Starting the grill is very simple and can be done with a press of a button.
What We Don't Like:
Cleaning the grill is difficult since the food remains in the triangular grooves.
---
3.     Sage Smart Grill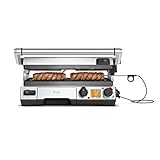 There is such a thing as a smart grill, and Sage makes one of the best barbecue models with advanced technology on the market. This grill is excellent for cooking meat as well as vegetables. It quickly heats up and has even coverage across the entire cooking surface.
What makes this grill smart is the integrated temperature probe that allows you to cook food exactly the way you like it. When the meat is cooked, you will hear a sound reminding you to take the meet. In addition, the grill features five cooking settings that allow you to cook your meat from rare to well done.
What makes this grill amazing is that it features quality heating elements that allow it to cook as twice as fast as a regular barbecue. In addition, the grill can fold out into flat BBQ, allowing you to cook other foods such as eggs or even pancakes.
Unfortunately, all these amazing features come at a fair price.
What We Like:
Features five temperature settings and distributes heat evenly;
Comes with a temperature probe that allows cooking food to perfection;
Includes one flat and one ridged cooking plate;
It can be used opened or closed.
What We Don't Like:
---
4.     Weber Smokey Joe Premium
Sale
What makes Weber Smokey Joe Premium different from the first model on our list is that it is a portable kettle barbecue. To ensure maximum safety, it features a lid that clips in place so the barbecue can be safely carried even during the cooking. When the lid is not in use, it can be used as a windshield.
The greatest difference between the Smokey Joe and Weber Compact is that this model is slightly smaller and features 37 cm of cooking space, which is actually quite generous for a portable grill. This much space is still enough to cook for up to four people.
Since this is a charcoal grill, you have to prepare the coals, light them up, and wait a few minutes for the grill to heat up. Cooking with this grill also is not too fast, but, at least you know that it won't burn your food.
What We Like:
A perfect portable grill that can be taken anywhere;
Even though the grill is compact, it still features a decent amount of cooking space;
The grill is made of sturdy, quality materials and will last you for years;
The lockable lid makes it easy to carry the grill around.
What We Don't Like:
The grill is slow to light up when compared to some other models.
---
5.     Char-Broil Patio Bistro 240R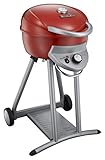 The Char-Broil Patio Bistro 240R is a gas grill and one of the best barbecue models for beginners. It features 240 square inches of cooking space, making it a relatively small model that can fit on a patio or even a balcony. This amount of cooking space can feed two to four people. The grill features one gas burner and one stainless steel and it is covered by a five-year warranty.
The compact size is paired with a solid construction, making the Char-Broil 240R a quality product meant to last for years. The grill features the popular TRU-Infrared technology that prevents flare-ups and ensures that all your food is cooked evenly. In addition, the grill comes with a Surefire electronic igniter, making it possible to start the burner with a push of a button.
The grill also features a separate warming shelf that will allow you to keep the food warm and a foldable side shelf for cooking prep.
What We Like:
A compact grill that can fit in any space yet is large enough to feed four people;
Made out of quality materials and built to last;
TRU-Infrared smart technology cooks food evenly and prevents flare-ups;
The grill is covered by a five-year warranty.
What We Don't Like:
Even though the grill uses TRU-infrared technology, flare-ups still occur.
---
Related:
---
Best Barbecue Models: FAQs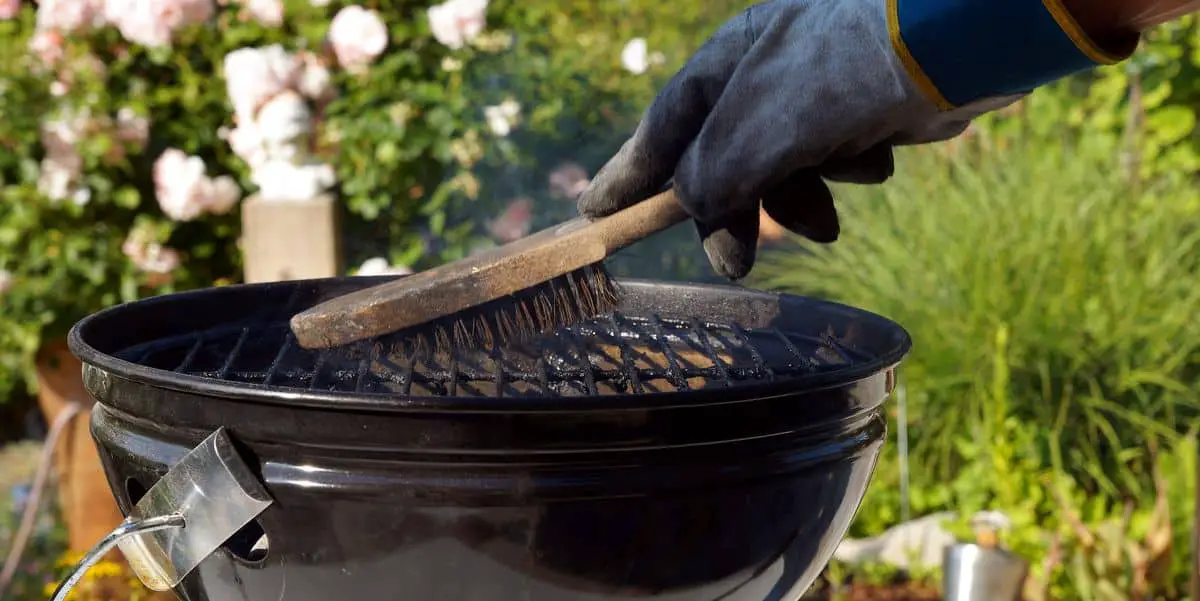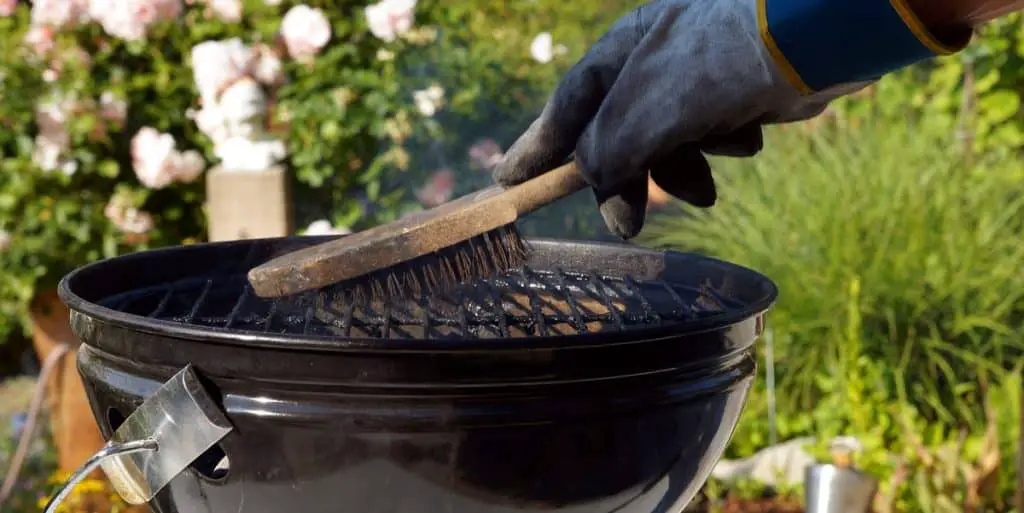 Image Courtesy of House Beautiful
How to choose the best barbecue?
Choosing the best barbecue depends on many factors, starting with the type of grill. The first step is to decide what kind of fuel would suit you the most. Then, you should carefully consider your cooking needs and then decide on the size of the grill. Last but not least, make sure to pay attention to the material of the grill. It is advised to choose a grill made of high-grade stainless steel since it will ensure the longest lifespan.
Always keep in mind that the best outdoor grills can be very pricey. But, sometimes it is better to invest in a model that will cook your food perfectly and last you for a lifetime than going for an affordable model that will not do a good job at retaining heat and may be prone to breaking down.
How to choose the right grill type?
The best way to do this is by considering your grilling experience. Electric or gas are the best options for long-term use and entry-level pricing. Also, they are the most hassle-free grills with the least amount of cleanup. If you're interested in flavor then you should either go for a charcoal or a pellet grill. However, both options require more maintenance and come with higher running costs since you'll have to constantly buy charcoal or pellets.
What types of cooking grates are available?
There are three types of barbecue cooking grates: stainless steel, cast iron, and coated aluminum.
Coated-aluminum grates are the most common option since they combine good performance and affordable price. However, they are the least durable of these three options.
Cast iron grates retain heat better than the other two types, however, it is prone to cracking due to high temperatures.
The best barbecue models usually come with stainless steel cooking grates which are the most durable and also very easy to clean. However, stainless steel does not retain temperature as well as cast iron.
Many grills are dubbed as the best barbecue available on the market, making it very difficult to settle down for one only. We hope that our guide has helped you gain a better understanding of different types of grills as well as their different features. Just read our detailed descriptions to find out the advantages and disadvantages of each grill type, and you will be able to pick one from our list that suits your needs the most.