For so many people, summer equals grilling. Once you do all the yard work, it's time to start cooking. Imagine preparing steak, chicken, fish, hamburgers, hot dogs, chops, brats, or even marinated vegetables on a brand new, shiny gas grill. Doesn't get much better than that, right? For all those looking for a brand-new grill, we have prepared a list of the best gas BBQ models currently available on the market!
Gas grills are the most popular BBQ models currently available, along with charcoal grills. Now, we won't take sides in the most heated grill debate – which grill type is better – since both types come with their advantages and disadvantages.
Best Gas BBQs On the Market 2022
Last update on 2022-06-21 / Affiliate links / Images from Amazon Product Advertising API
What we will do is show you the best rated gas grills. Many outdoor chefs are impressed by these models since they tend to heat up and cool down with minimal mess. These grills allow you to control their heat output with a twist of a knob, just like you do with your kitchen oven. And, for many people, these are the reasons why they decide to go for some of the hottest gas grill models available.
The greatest thing about gas grills is that there are so many models to choose from. You can go for a small cooking space or lots of cooking space. Choose between one burner or six burners. Need something to keep your food warm? Choose the best outdoor gas grill that comes with a side burner!
Check out our list of best gas BBQ UK models that will make this summer the one to remember!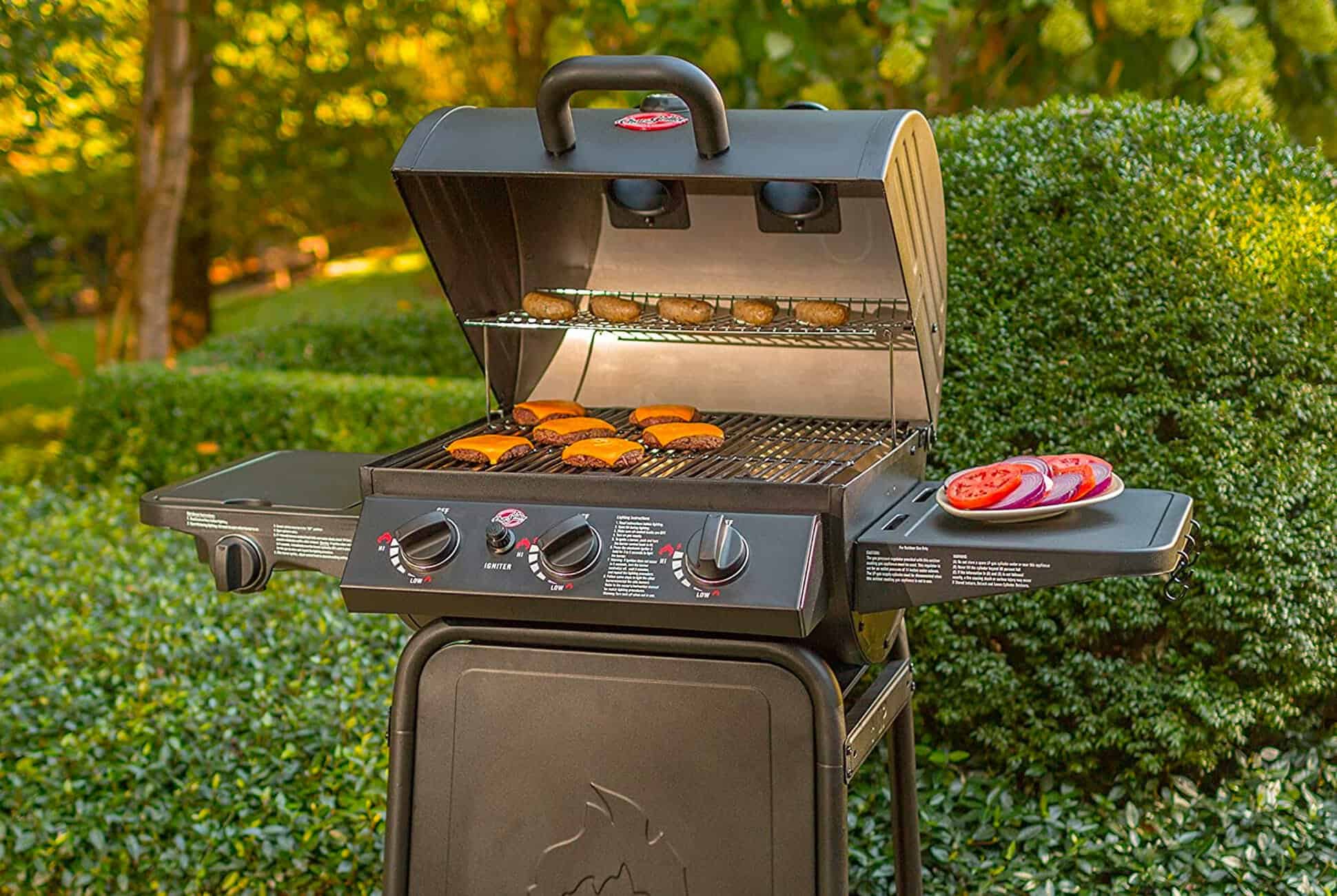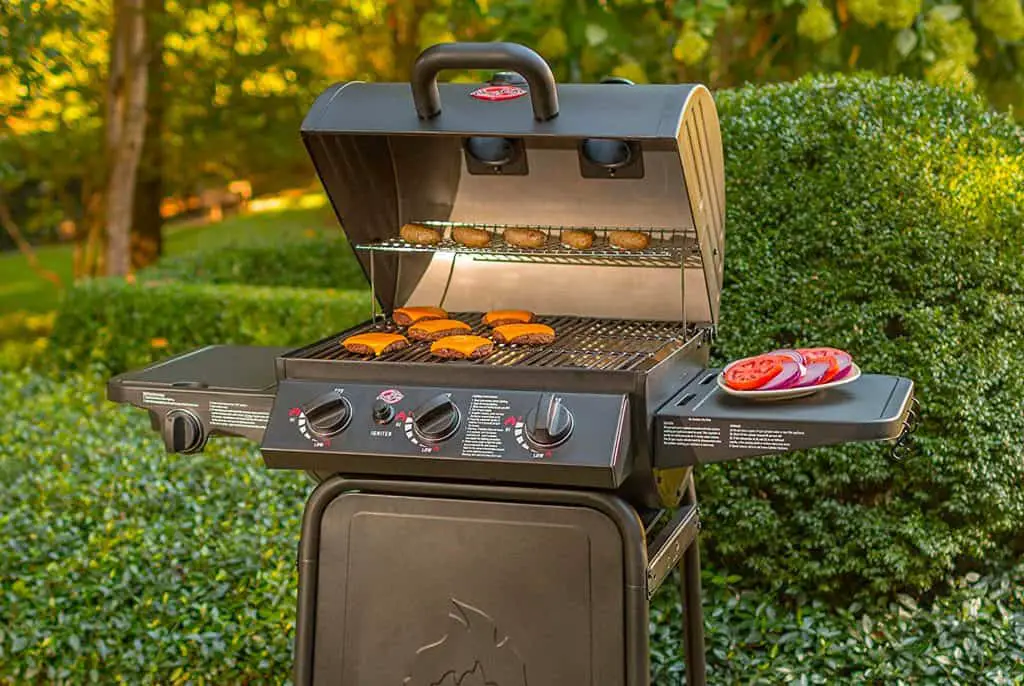 Image Courtesy of Gear Patrol
Best Gas Grill Reviews: Choose the Best Gas BBQ for Your Specific Needs
1. CosmoGrill Deluxe 4+1 Burner Gas Grill
Sale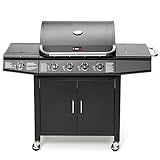 CosmoGrill Deluxe 4+1 Gas Burner Grill BBQ Barbecue incl. Side...
The CosmoGrill Deluxe 4+1 is a premium model for barbecue enthusiasts looking for a more professional barbecuing experience. Both strong and durable, the CosmoGrill features a generously large grilling area to easily cater for up to 15 people at a time.
TEMPERATURE CONTROL: Four stainless steel burners (10 kW) and a side burner (2.5 kW) that can be adjusted and ignited individually via Piezo ignition to accommodate cooking a variety of meat and vegetables with different requirements at the same time. The CosmoGrill Pro 4+1 also features a strong double walled hood keeping heat encased, along with a built-in thermostat enabling you to cook to perfection.
COOKING & MAINTENANCE : Clever Flame tamers designed to protect the burners from grease, improving performance and longevity of the barbecue. Also includes a full length, stainless steel warming rack to keep food warm or used as an additional grill for indirect cooking.
MADE WITH YOU IN MIND: Enamelled grill grates and grease tray that are easily removable for cleaning. The rest of the barbecue requires a simple wipe down keeping it low maintenance. Convenient side table to place plates, cutlery or ingredients.
Last update on 2022-06-21 / Affiliate links / Images from Amazon Product Advertising API
The CosmoGrill Deluxe 4+1 Gas Grill is one of the best rated gas grills currently available. This model comes with four main burners and an additional side burner that can be used for keeping the food warm or even cooking sauces or vegetables.
You probably noticed the word "deluxe" in the name of this model, and you're wondering what special features do you get. As a deluxe model, the barbecue benefits from a large-size porcelain coated warming rack that sits within the domed lid. This can be used to store cooked meats to rest or simply to keep food warm before serving. Inside the domed lid, this grill provides ample cooking space with the benefit of Piezo Ignited grills for quick use.
Then, all burners are made of stainless steel, and the cooking grates out of high-quality porcelain. This means that investing in this grill will be a very wise decision since it was built to last you for years.
This Deluxe gas grill also comes with four base wheels that make it incredibly simple to move the grill around.
What We Like:
A grill that features four burners, making it easy to utilize different cooking zones;
Made out of high-quality materials and meant to last for years;
Features a side burner that is perfect for cooking or warming up food;
The porcelain-coated cooking racks are very easy to clean.
What We Don't Like:
Many users complained about frequent flare-ups.
---
2. Weber Spirit E-320 Premium Gas Grill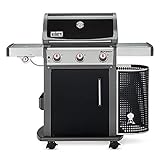 Weber Spirit E-320 Premium Gbs Gas Barbecue
Gourmet BBQ system Porcelain-enamelled cooking grate
Electronic Crossover ignition system
Porcelain-enamelled flavorizer bars
The Porcelain-enamelled lid and built-in lid thermometer
Last update on 2022-06-23 / Affiliate links / Images from Amazon Product Advertising API
Weber grills are known as some of the best gas BBQ models available on the market, and the Weber Spirit E-320 proves this. The BBQ comes with 536 inches of cooking space, which is more than enough for having a few friends over along with your family. The grill features three gas burners with a total BTU output of 36,000.
The reason why this grill is one of the best rated gas grills is its ability to provide even heat across the entire cooking surface. In addition, hottest gas grill models you will find. It can reach very high temperatures, making it a perfect choice for searing. Starting the grill can be done with a push of the button and the Spirit E-320 will reach its maximum temperature in less than 10 minutes.
The grill also features a grease management system that makes cleaning a breeze. In addition, there are flavorizer bars coated with porcelain that will ensure perfectly cook food and also add to the ease of cleaning.
Weber Spirit E-320 comes with stainless-steel side tables which are very useful as prep space or for storing food. The hood of the Weber Spirit E-320 Gas Grill features a built-in thermometer, that will allow you to monitor the temperature.
What We Like:
The grill is made out of high-quality materials;
Large lid handle, warming racks, tool holders, under-grill storage, and lid thermometer make the grill convenient to use;
Large cooking space will allow you to cook about 20 burgers simultaneously;
Easy ignition and doesn't take much time to reach maximum temperature.
What We Don't Like:
Weber grills tend to be very expensive, including this one.
---
3. Char-Broil 3 Burner Gas Grill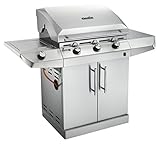 Char-Broil Performance Series T36G5 - 3 Burner Gas Barbecue Grill...
TRU-Infrared Cooking System - cooks food evenly, with less flare-ups to give up to 50 Percent juicier food and uses up to 30 Percent less gas
Stainless Steel Burners - strong, durable burners that are built to last
Surefire Electronic Igniter - light all your burners with the push of a button
Grate-level Temperature Gauge - monitor and control the temperature of the independent cooking zones
Last update on 2022-06-23 / Affiliate links / Images from Amazon Product Advertising API
This Char-Broil gas grill comes with three burners and, just like all the other best gas BBQ models from this manufacturer, it features the innovative TRU-infrared technology. This technology sets Char-Broil grills apart from all their competitors since it cooks food evenly and with fewer flare-ups. According to the manufacturer, it will make your food up to 50% juicier while using about 30% less gas.
The burners are made out of stainless steel and are built to last. The grill features Surefire electronic igniter that allows you to light up each of the burners with a push of a button. There is also a grate-level temperature gauge included which allows you to control and monitor the temperature of the independent cooking zones.
The grill is also equipped with plenty of practical features including wheels for easy mobility, a warming shelf that will keep your food warm, and two sturdy shelves that provide additional workspace. A side burner that is perfect for heating sauces is also included as well.
What We Like:
TRU-Infrared technology reduces flare-ups and cooks food evenly;
Made out of high-quality materials that ensure excellent performance for years;
Comes with plenty of useful features such as an electronic igniter and a temperature gauge;
Covered by a two-year warranty.
What We Don't Like:
Many users complained that the grill is very difficult to assemble.
---
4. Weber Q2200 Gas Barbecue
Last update on 2022-06-23 / Affiliate links / Images from Amazon Product Advertising API
The Weber Q 2200 is one of the best gas BBQ models for those who need a portable grill that can be carried everywhere. Truth be told, the grill is a bit heavy for carrying since it's made of sturdy materials and packs 280 square inches of cooking space. However, it is still small enough to fit on a balcony or the trunk of the car.
This portable grill is made out of cast aluminum, making the Weber Q2200 better than other portable grills since it can hold the heat very efficiently. The cooking grates are made of porcelain-coated cast iron and the burner is made of stainless steel. The grill also comes with a built-in thermometer that allows you to monitor the food.
In addition, this grill features glass-reinforced tables on each side that are perfect for holding your sauces or spices. You can also purchase a griddle accessory and use it to replace the cooking grates and turn your grill into a searing plate or a pancake pan.
What We Like:
A portable grill that can cook food for up to 4 people;
Made out of quality materials that ensure great cooking results;
Comes with side tables perfect for storing sauces and spices;
Buying a griddle accessory adds much versatility to the grill.
What We Don't Like:
The grill is quite heavy for a portable model.
---
5. Char-Broil The Big Easy®
Sale
Char-Broil The Big Easy® - Smoker, Roaster and Grill with...
TRU-Infrared cooking system - cooks food evenly, with less flare-ups to give up to 50% juicier food and uses up to 30% less gas.
Cook without the extra fat - smoke meat, roast chicken, or grill steaks without oil.
Grill top - removable, easy to clean porcelain coated cooking grates that grill steaks and vegetables, without flare-ups.
Rotary ignition - lights quickly and easily with the turn of a knob.
Last update on 2022-06-23 / Affiliate links / Images from Amazon Product Advertising API
Would you believe us if we told you that it's possible to get one of the best gas BBQ models and a smoker, all in one? Char-Broil's Big Easy is more than just a regular infrared grill. It is also a smoker roaster that allows you to grill, smoke, and roast simultaneously. If you're interested in making more than just burgers and steaks, this is one of the best rated grills that will suit your needs. You can use the roasting basket to cook a large rack of ribs or even a whole turkey.
The grill features 180-square-inches of cooking space, which is large enough to fit five burger patties at the same time. But, the bottom part of the grill is where the magic happens. Here, you can fit all cuts of meat, including ribs. If you're serious about all types of outdoor cooking, this is the perfect choice for you.
The only downside of this grill is that it has some trouble maintaining the same temperature over long periods of time. But, considering its price tag, this is definitely a flaw that you can easily overlook. You'll just have to pay a bit more attention to the grill.
What We Like:
A hybrid model – can be used as a grill and a smoker;
The grill can fit large cuts of meat such as ribs and a turkey;
Features TRU-Infrared technology that ensures perfectly cooked food;
The grill is affordable;
What We Don't Like:
The grill is hard to move around and it struggles with maintaining temperature.
---
Related:
---
How to Choose the Best Gas BBQ for Your Needs?
Finding the best outdoor gas grill for your needs can be quite a challenge. It just seems as if there's a seemingly endless list of features and accessories for each grill. And, some of those terms like burners and BTUs can truly be confusing, making the grill-buying process an intimidating experience.
But, don't worry! We're here to help cut through the clutter and find the right gas grill in no time. Besides coming up with the list of best rated gas grills, we've also prepared a simple guide that will help you decide which gas grill is the right choice for you.
Configuration
The first choice you have to make is your gas grill configuration. You can choose between built-in or freestanding gas grills.
Built-in gas grills are designed to be placed into a BBQ island as a part of an outdoor kitchen. These grills can usually be bought with matching outdoor kitchen equipment, allowing you to create an outdoor kitchen that will not just help you make tasty meals but also look pleasing to the eye. Built-in grills make for a natural gathering place in your outdoor area, and can often add significant value to your home.
Freestanding gas grills are a slightly more popular option since these don't have to be built into a structure. Such grills are placed on a movable cart that usually features an enclosed storage area for fuel tanks and cooking accessories. In addition, these grills are portable so you can rearrange your outdoor cooking setup with little to no hassle. When buying freestanding grills, it is recommended to go for a model that has a side burner so that you can keep your food warm or cook your favorite sauce.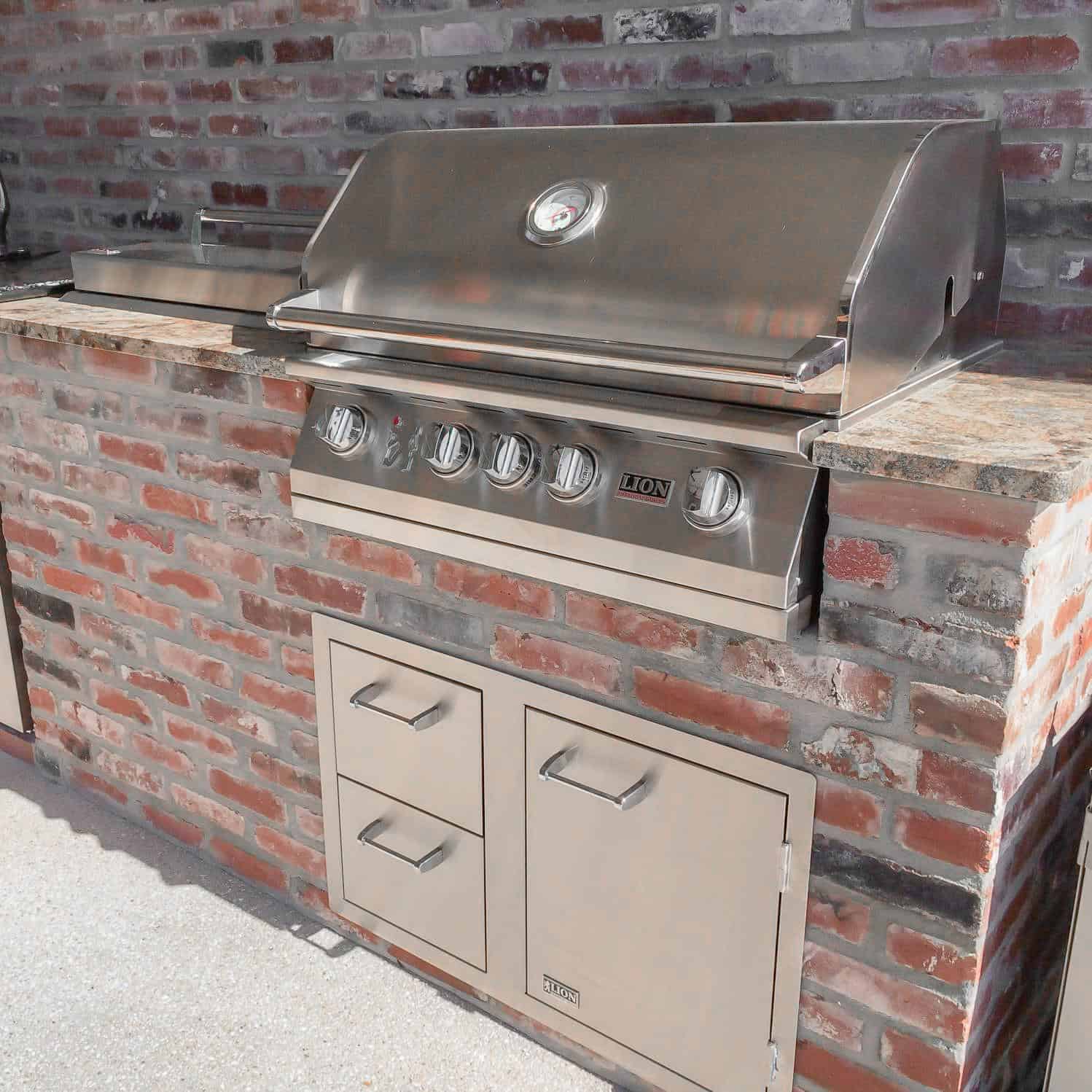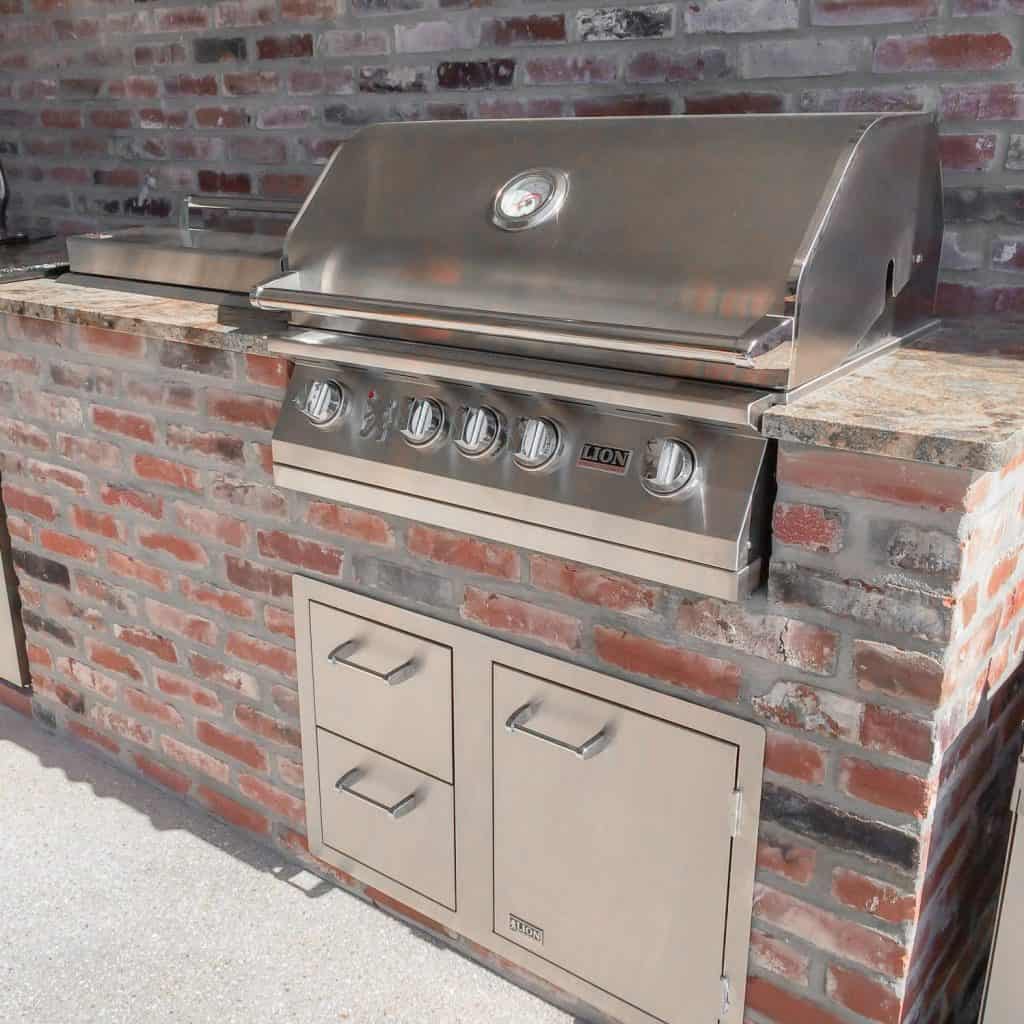 Image Courtesy of Just BBQ Grills
Gas Type
After determining your grill configuration, you will have to choose the gas type. Best gas BBQ models can run on either propane or natural gas. Both types create almost identical cooking results and the grills are similarly priced. Since both fuels cook similarly, your decision should come down to availability and convenience.
You should be entirely confident about the decision you make since converting from one fuel type to another should be performed by a licensed professional only. In addition, if you do convert, it is possible that you'll void the warranty from the grill manufacturers.
Natural gas grills are the most obvious choice for all those who already have existing natural gas lines in their home. Similarly to electricity or water, natural gas will be piped to your home as long as you pay the bills. So, you won't have to worry about running out of fuel or buying new propane tanks.
Propane grills, on the other hand, are a suitable choice for all outdoor chefs who don't have a natural gas line in their home. In order for these grills to run, you'll need to buy a propane tank that is available at most hardware or grocery stores. Once you run out of gas, you'll have to refill the tank at a local propane distributor. Owning a propane grill might seem like you have extra responsibilities, but at least your grill will be more mobile than the grill which runs on natural gas.
Grill Size
Grill size is perhaps the most important feature when choosing the best gas BBQ for your needs. The size determines how much food you will be able to cook simultaneously. If you're looking for a grill that will be able to feed your family and perhaps a few friends, then a small-sized gas grill will be okay. However, if you plan to host large gatherings frequently or maybe even attend cooking competitions, then the best outdoor gas grill for you would be the one that packs plenty of cooking space.
When it comes to the best rated gas grills, they can have up to eight burners. The more burners your grill has, the more cooking techniques you can use. The best way to determine how large the best gas BBQ for your needs should be, just ask yourself for how many people you'll be grilling usually. Always keep in mind that you can turn off a burner or two, but your grill can never get a larger cooking surface.
Small grills usually come with up to three burners and a cooking surface that is 26 inches wide. These grills are perfect for small families. Medium grills come with up to four burners and 33 inches in width. These are perfect if you like to invite a few friends over as well. And, you can also use the multiple burners for indirect food heating. Large grills usually feature three to six burners and can be up to 42 inches wide. These will allow you to use the different heat zones, slow roast food, or cook multiple courses at once. Large grills are perfect for large families or even for backyard cookouts.
In addition to these types of grills, there are also XL grills for those who frequently host large gatherings. These gas BBQs usually feature eight burners and their cooking area is more than 43 inches wide. But, be careful. It would be a waste of money to invest in a grill this large and then not use it to its max capacity.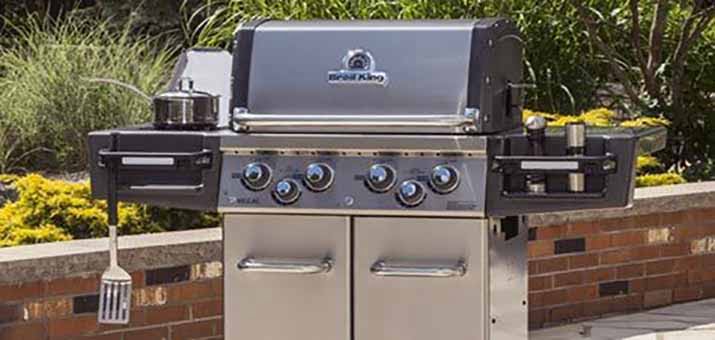 Image Courtesy of Home Tech Lab
Your Cooking Style
So far, we only talked about the grill specifications – its size, fuel type, and even configuration. But, having the best gas BBQ for your needs is all about enhancing the grilling experience. So, the last question you should ask yourself is what do you plan to grill and how do you plan to do it? Your grilling style can actually determine certain important grill features, and you want to customize your grill as much as possible.
So, are you interested in getting the hottest grill available that will leave the steakhouse-level sear mark? Well then, an all-infrared grill will be the right choice for you. These grills are capable of searing even very thick steak. Infrared BBQs are known for high heat, moisture retention, and fewer flare-ups, and they come with a few other benefits as well.
However, if you're into low and slow smoking, then a gas grill that comes with an additional charcoal tray accessory is the way to go. There are also gas/charcoal hybrid grills that come with two fireboxes and allow you to use two different types of fuel. You can also get a wood chip smoker box that can infuse your BBQ with amazing flavor.
Are you just a simple person who is looking for a dependable grill with straightforward controls? Well, there are plenty of such grills available on the market. The best thing about them? They will deliver constant results every single time.
In this article, we presented you with top of the line grills that will deliver perfect cooking results every time. In addition, we've equipped you with all the necessary knowledge that will help you pick out the best gas BBQ for your specific needs. Choosing one of the grills from our list will undoubtedly make you the best pitmaster among your friends and family this summer! So, what are you waiting for?
Don't forget to share your favorite grill with us in the comments!
P.S. If you think that gas grills are too much for you, make sure to check out these small, yet powerful smokeless BBQ models.