There's nothing better than inviting friends and family over, heating the grill, and enjoying the time you spend together. The holy trinity of a great get-together is food, drinks, and entertainment, or to be more precise, breezy bbq party games.
BBQ games will not only spice up your party but also give your guests something to do while they're waiting for the food. Also, they can be a great way to break the ice and help the guest get to know each other a bit better. After all, you can't be shy when playing yard Twister or giant beer pong.
We have prepared a list of amazing bbq party games for adults which includes some classics, yard versions of your favorite games, as well as some nighttime party games. Whether you buy these or make them on your own, your guests will leave your party with full bellies and happy hearts.
Here are 20 amazing bbq party games that will keep all your guests entertained and have them talking about your party for weeks!
20 Exciting BBQ Party Games for Adults
Cornhole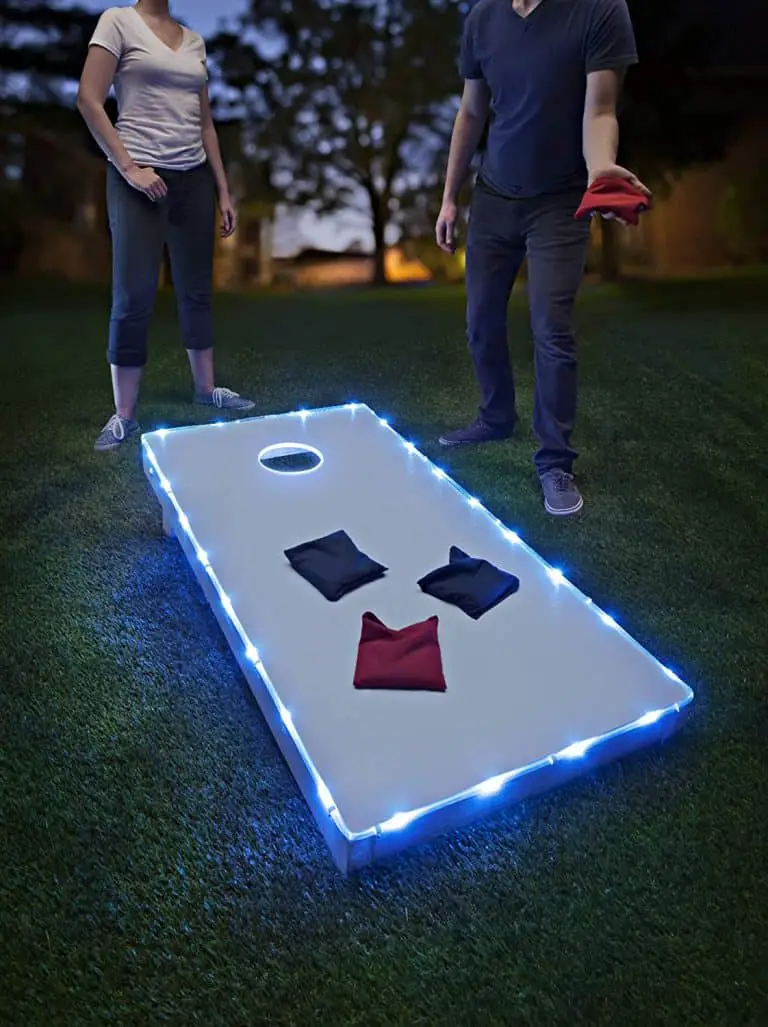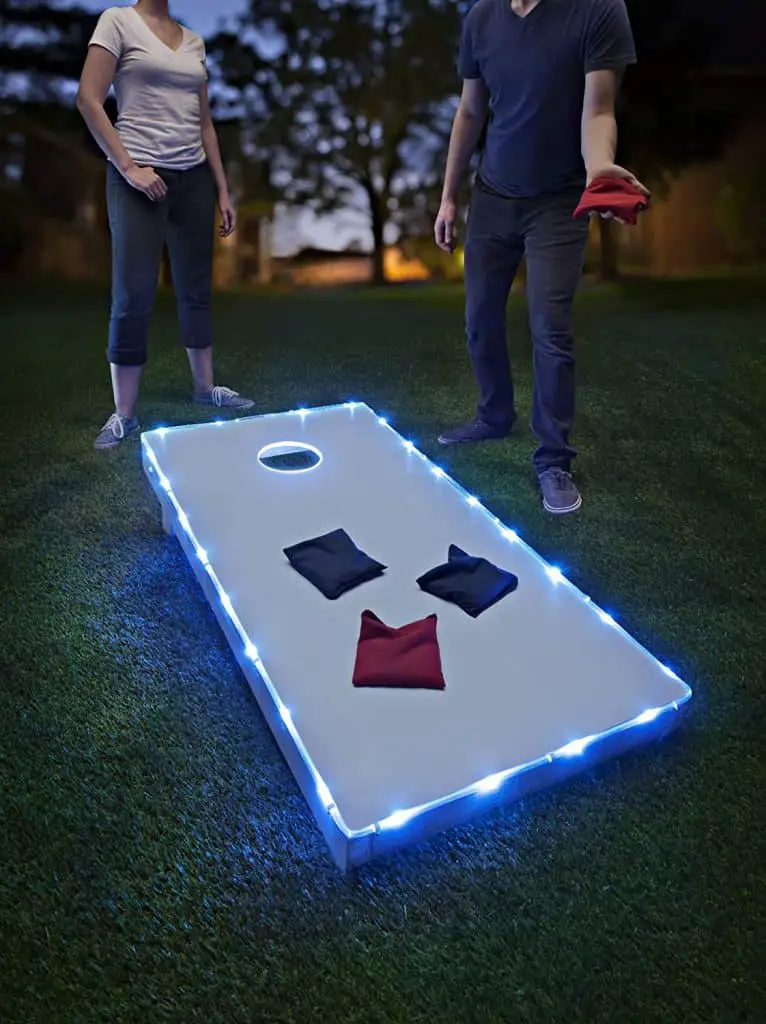 Image Courtesy of Amazon
An all-time outdoor game is Cornhole. This game goes by a few different names, depending on where you live or who you hang out with. But, regardless of the name, cornhole is one of the classic bbq games that are always a hit!
To play this game, you need some backyard space, a cornhole set, and a few friends. You can compete one-on-one or you can group your guests into teams.
The point of the game is to throw as many sandbags through the hole as possible. Each sandbag that goes through the hole will earn you three points, whereas the sandbag that stays on the platform loses you one point. The goal is to reach 21 points before your opponent. And, you won't believe how challenging and exciting this game can be until you try it out yourself!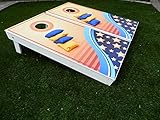 Cornhole Deluxe Full Set (Stars)
Built here in the UK to a high quality spec.
Approx 12kgs in weight with a fully laminated vinyl deck. A comfortable weight to handle and store.
Designed to ensuresthe bags don't bounce. That's what happens on lightweight, aluminium or plastic boards
Strong frame with a super-smooth water-resistant deck, painted then laminated
Last update on 2022-06-04 / Affiliate links / Images from Amazon Product Advertising API
Lawn Twister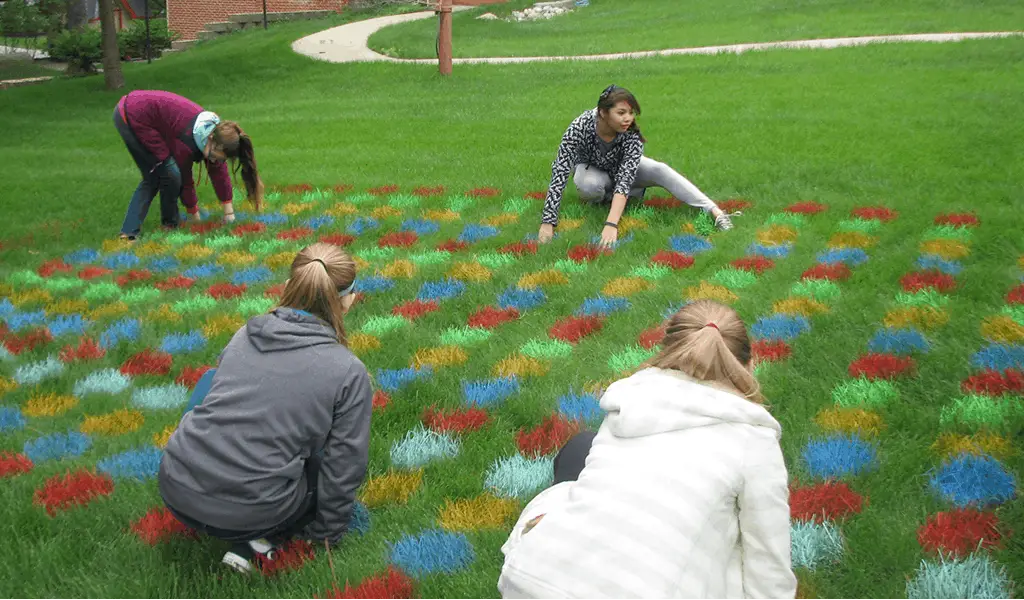 Image Courtesy of The Land Store
Twister is such a hit game for kids but adults as well. And, if you're planning to have a BBQ you must bring this indoor game into your backyard.
What makes lawn Twister better than the original game is that you are not limited to the fields on the mat, and the participants won't get tangled. All you have to do is get some spray paint and paint the dots on your lawn. The colors you need are: green, yellow, blue, and red. You can use the spinner from the game or make your own if you don't have the game.
If you want to add a twist to Twister, try playing the game with the sprinklers turned on!
Giant Jenga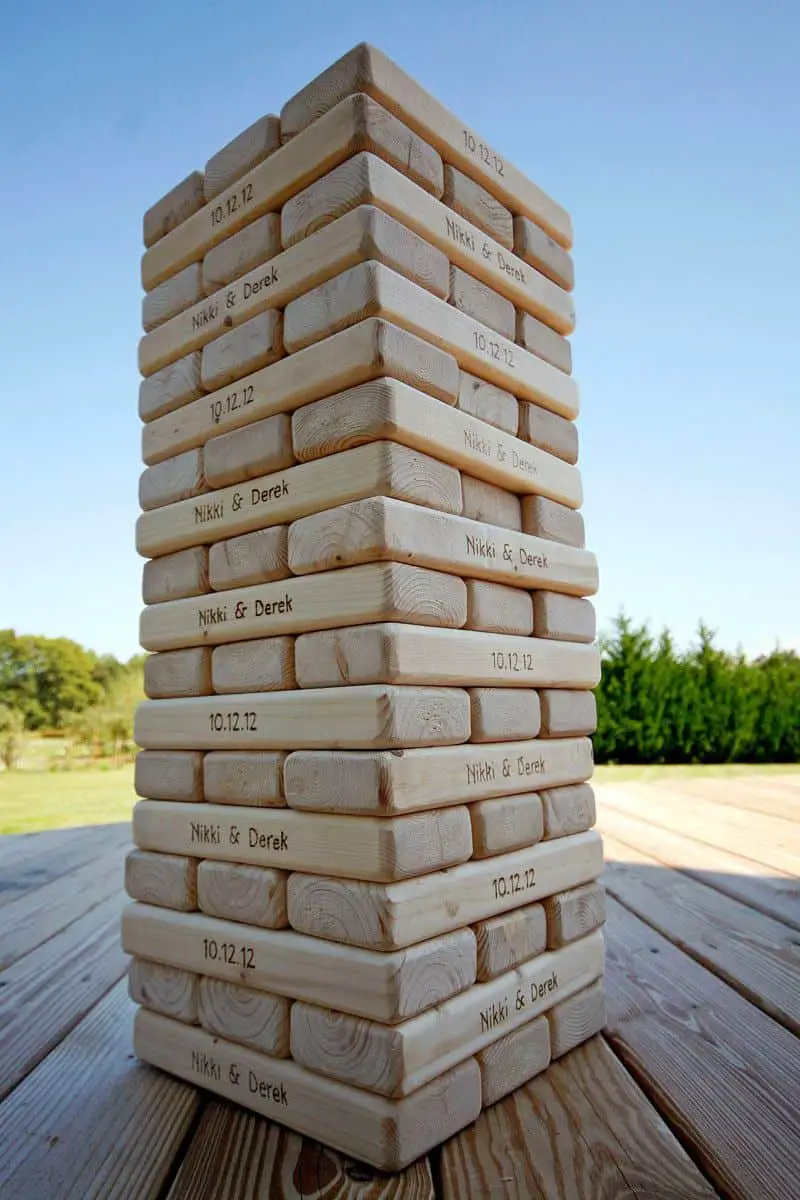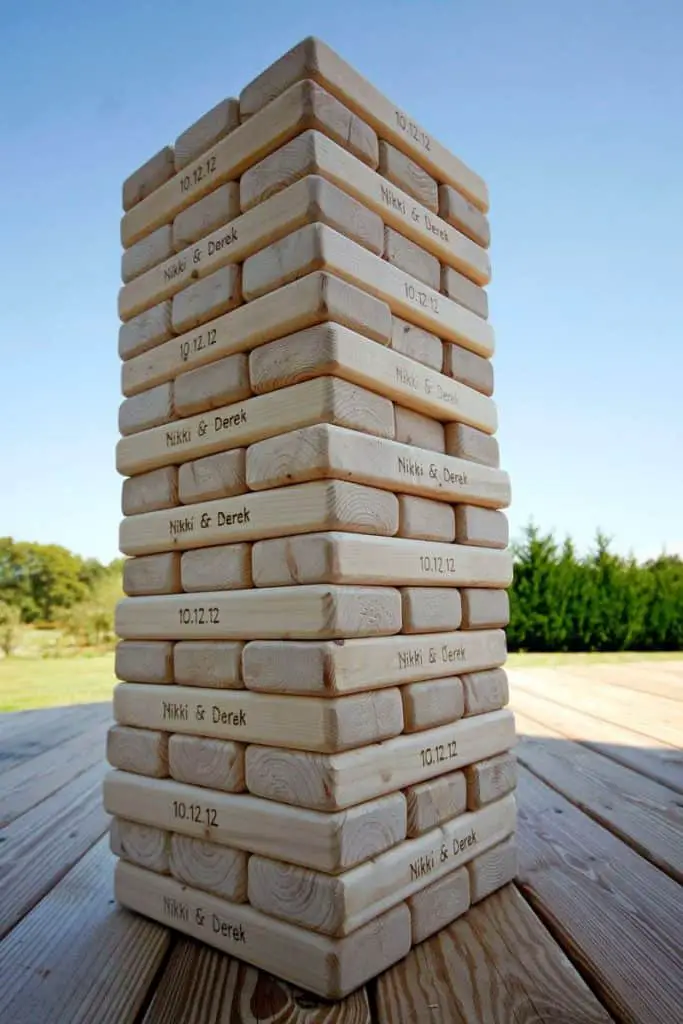 Image Courtesy of Pinterest
Everybody loves Jenga! This exciting game requires a little strategy and, once you take it to your backyard, it will require a lot of stamina. Giant Jenga takes this traditional game to a whole new level.
To play the giant version of Jenga, you'll stack rows of blocks into a tower (alternating how they lie in each row). The players take turns and the aim is to carefully remove a block, hoping it's not the one that makes the tower collapse.
Whoever moves a block that causes the tower to collapse loses.
Sale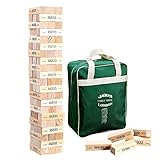 Ultimate XL! Tumble Tower - Superior 5ft Size for adults - Build...
GIANT SIZE - BUILDS OVER 5 FEET TALL - Builds a Giant tower over 5 feet tall during play. Massive Giant Size.
HAND FINISHED SMOOTH BLOCKS - Handmade with smooth Sanded finish - As you would expect from Jaques. Do NOT buy un-sanded cheap blocks
STRONG CARRY CASE - Complete with Luxury durable canvas Storage Bag
GREAT PARTY GAME - Fantastic Party Game for playing in the garden. One of the Most popular Garden Games of the last 10 Years
Last update on 2022-06-04 / Affiliate links / Images from Amazon Product Advertising API
Garden Bowling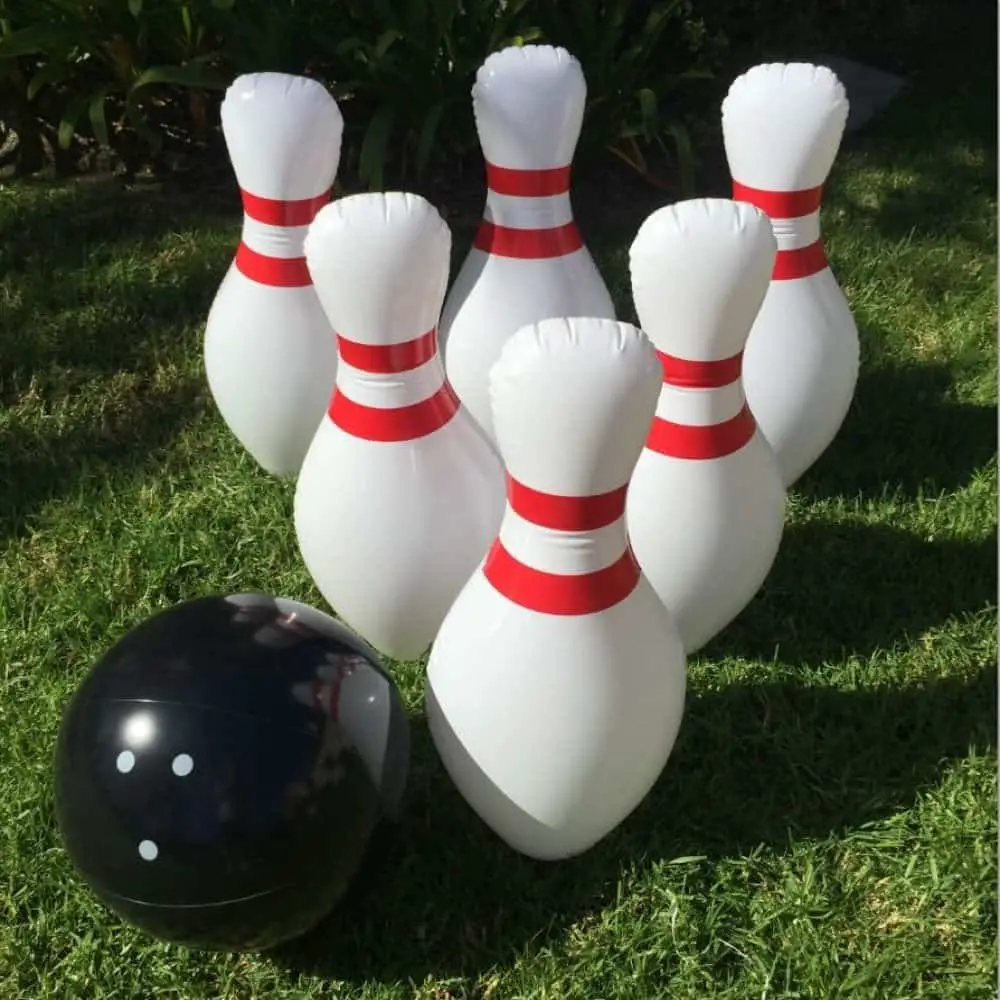 Image Courtesy of Giant Jumbo Games
There's nothing more fun than bowling in a bowling alley, right? Wrong! One of the most fun bbq party ideas is playing bowling in your backyard. There are two ways you can play this game.
First, you can get a giant bowling set that comes with a bowling ball and pins that you blow up. The great thing about this version of bowling is that even those who are not good at bowling can enjoy the game. Everything is oversized, so it will be quite difficult to miss the pins.
There is also a DIY version of this game called water bottle bowling. Take a trip to your recycling bin, grab ten old bottles and fill them with water. Then, set the bottles up and use any ball to knock them down.
Water Balloon Volleyball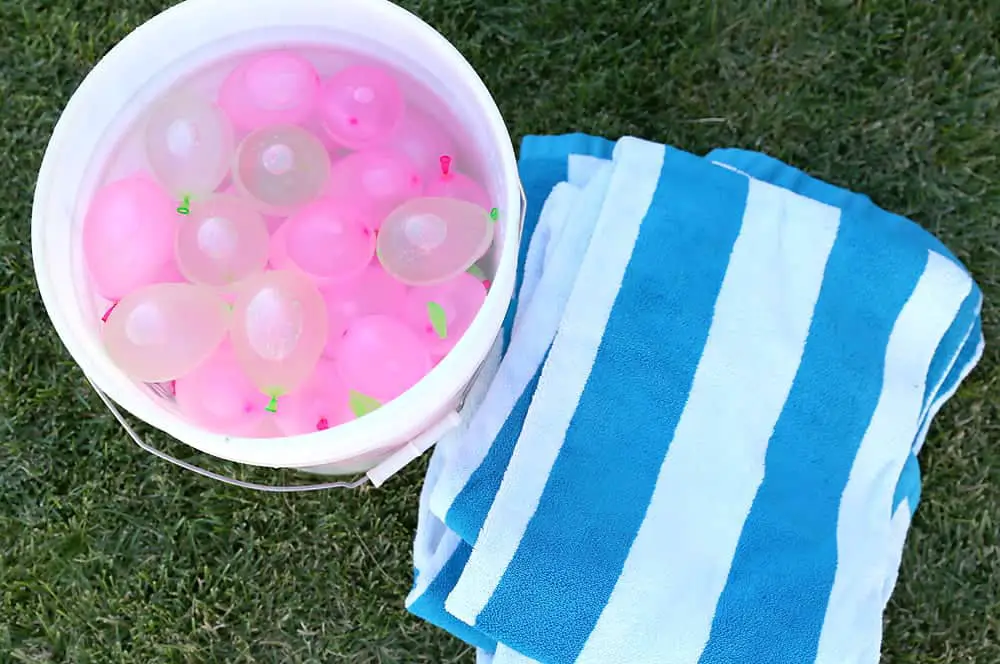 Image Courtesy of It's Always Autumn
Here is one of those bbq games that will refresh you but also (possibly) get you drunk. It's just like regular volleyball, but instead of a ball, you'll be using water balloons and beach towels. Oh, you'll also need a net or something you can use as a net.
Divide your guests into even teams. The teams should be divided into pairs and two players have to use a beach towel to toss the balloon to the opposing team who has to catch it. If the opposing team misses the balloon, they have to drink. If the balloon was tossed so hard that it breaks, the tossing team has to drink. You can find another way to award points, but we just think that drinking is more fun.
Water Balloon Fight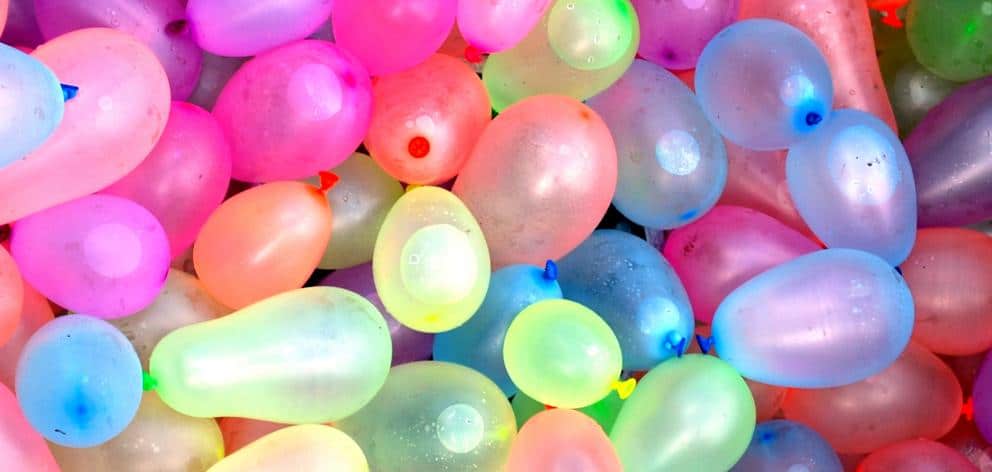 Image Courtesy of Otago Daily Times
Speaking of water balloons, here's one classic we couldn't skip – water balloon fight. The weather will be hot anyways and you'll want to cool down. So, there's no better way to do that! You can just run around with your guests and randomly throw water balloons or you can kick the game up a notch and play water balloon dodgeball.
What might be tedious is preparing the water balloons for the game. Having to fill up each water balloon is not that fun and can take a long time. But, the great news is that there are balloons you can fill up in bulk. Make teams based on balloon colors and start playing!
Sponge Water Bombs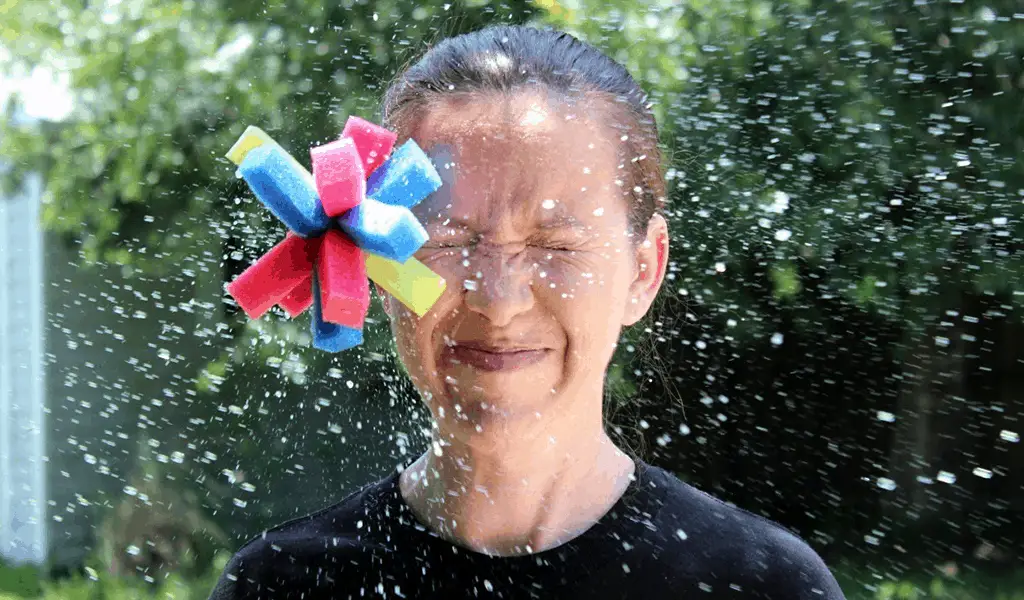 Image Courtesy of The Land Store
Let's say you loved our previous suggestion, but you dislike the idea of throwing water balloons. Sometimes, they can be painful when they hit your bare chest or, even worse, your face. And, even though you get the balloons that can be filled up in bulk, you'll have to clean all of them from your lawn. Not worth it, right?
Well, if you still want to play water balloon fight without the mess, we have a solution for you. How about you play sponge water bomb fight? All you have to do is pick up some sponges at your local dollar store, cut them in smaller pieces, and soak them in water. Then, it's time to fight without causing any mess (or pain)!
Horseshoes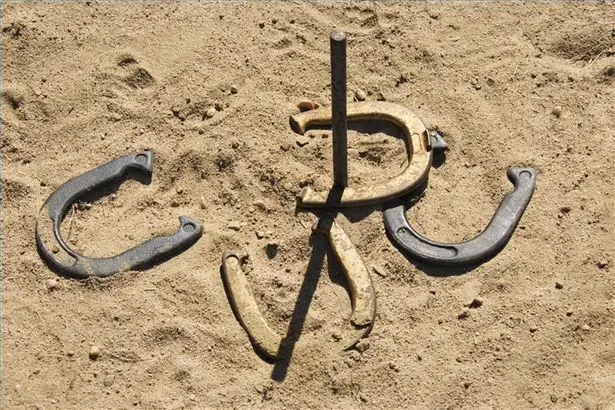 Image Courtesy of Getty Images
Horseshoes aren't just to be used for horses; they can fun also be used for entertaining bbq party games for adults. This exciting game is very easy to learn but challenging to master.
To play the game, you'll need to get four horseshoes and two stakes. Traditionally, the stakes are placed 40 feet apart, but you can arrange them based on your preferences and the size of your backyard.
The rules? Well, obviously, the aim is to ring the horseshoe around the stake. If you manage to do this, you get three points. If the horseshoe lands within 6 inches around the stake, you get one point. You play until one player or team hits the score you all agreed on, such as 20, 30, or even 100 points (depends on how good you're at playing the game).
One useful tip for reducing the bouncing and sliding of horseshoes is to add a pit of sand around each stake.
Lawn Darts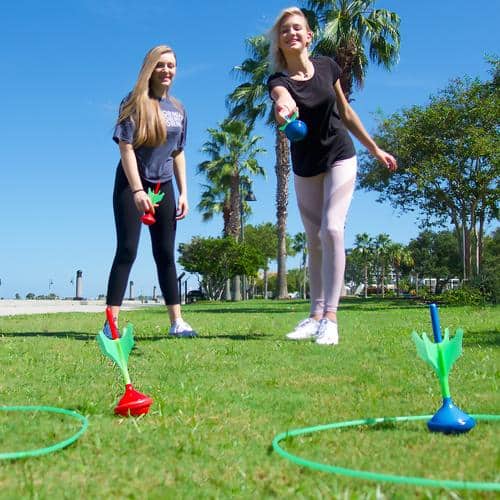 Image Courtesy of Fun Sparks
One of the most fun bbq party games for adults is lawn darts. If you haven't played this game before, then you must give it a shot at your next BBQ.
Lawn darts are similar to the traditional game. The only difference is, as you can guess from the name, that you have to aim the darts at your lawn rather than a standard dartboard. This is one of the not-so-many bbq games that can also be played at night if you buy a glow in the dark set.
How do you play? Well, get a set of target rings and lawn darts. Then, place the targets all around your backyard, get some darts, and shoot! Oh, and don't worry, these darts are yard-friendly.
No products found.
Pong Golf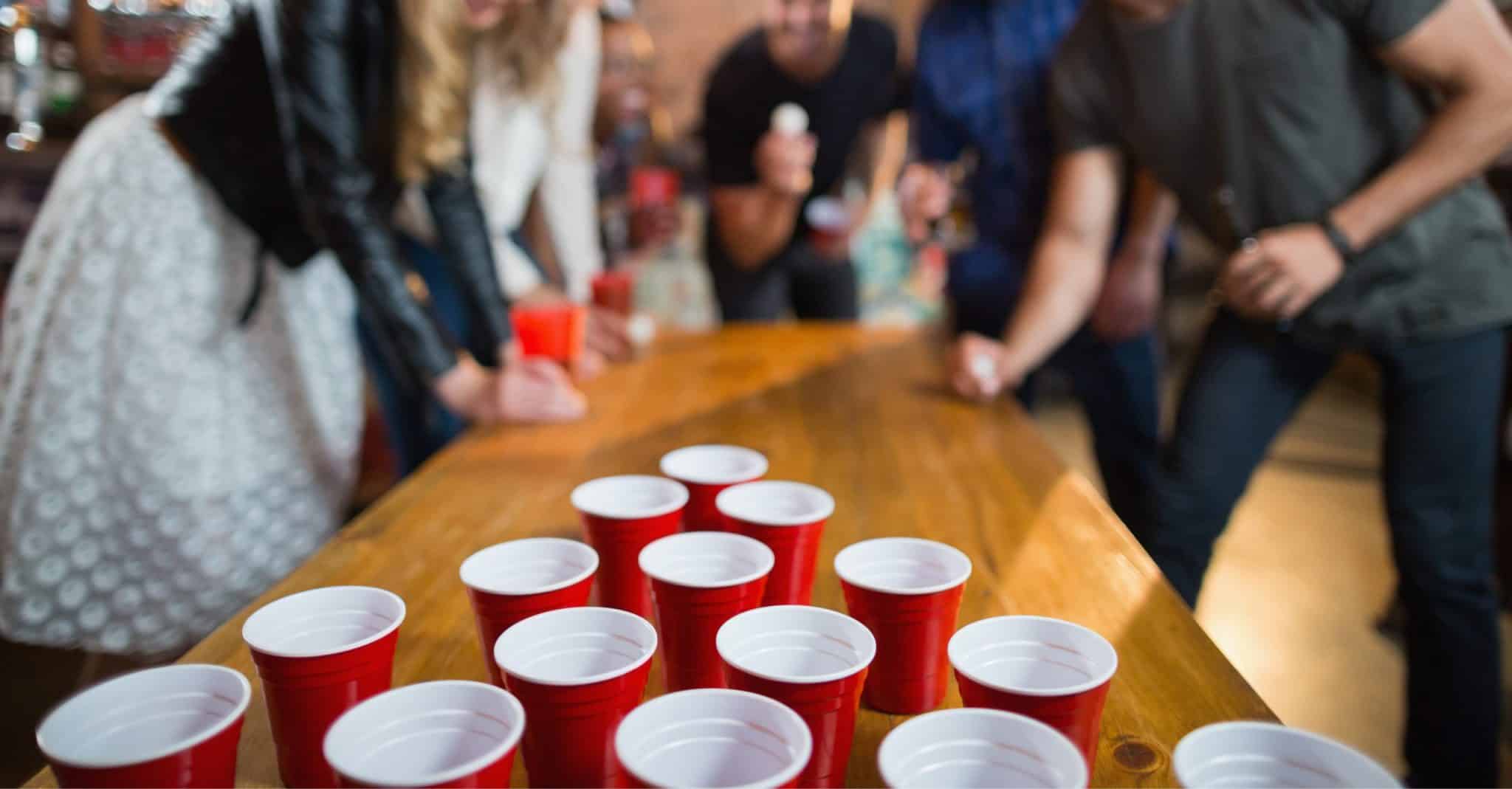 Image Courtesy of Patchogue
What do you think, is it possible to combine beer pong and golf? Well, when it comes to bbq party games for adults, everything is possible. If you and your friends love golfing and drinking beer, this game is ideal for you.
The game is very similar to beer pong. Your aim is to sink the ball in all of your opponent's cups. But, instead of tossing the ball, you have to use a golf club! Whoever manages to remove all of their opponent's cups wins.
Slip & Slide Drinking Game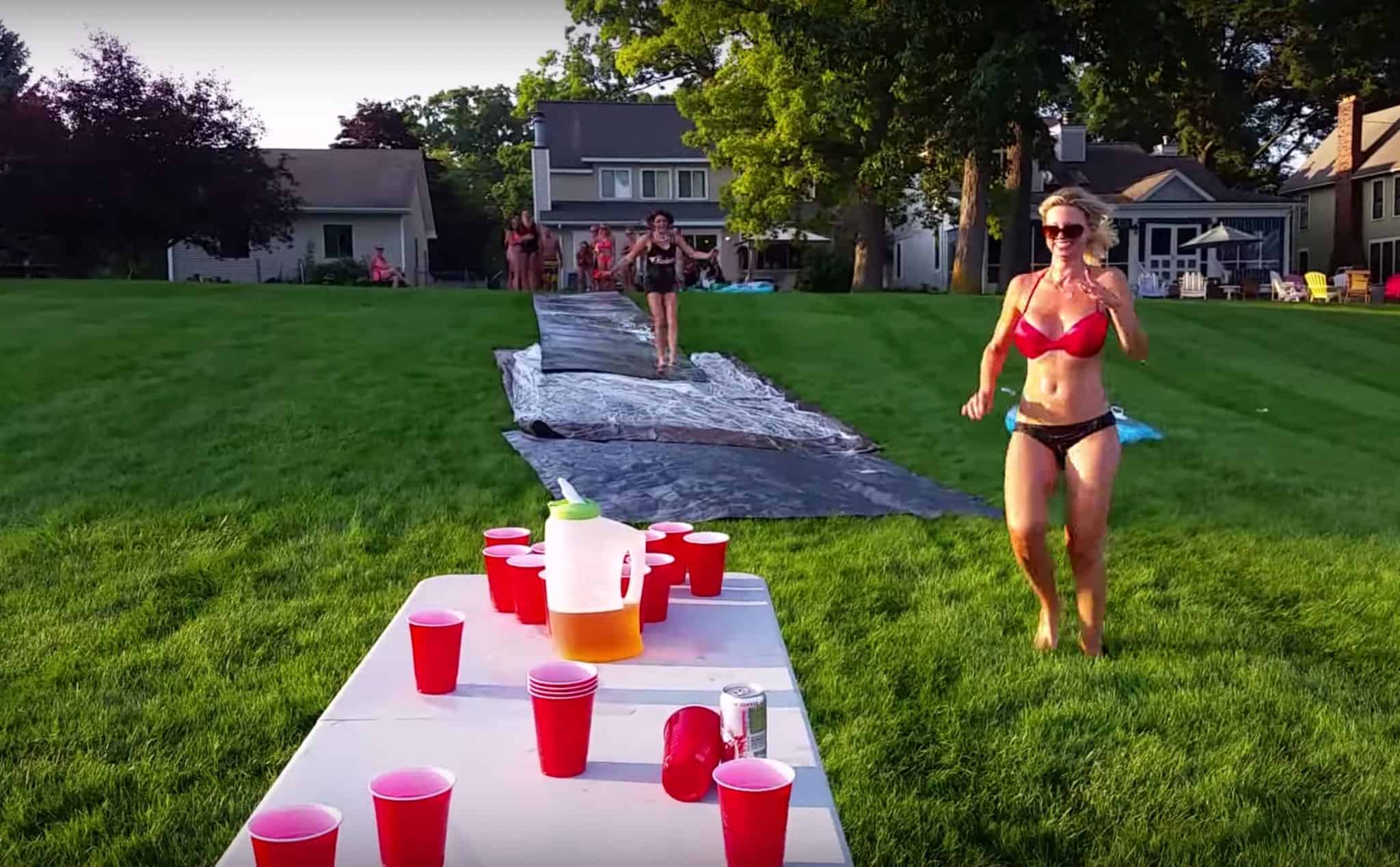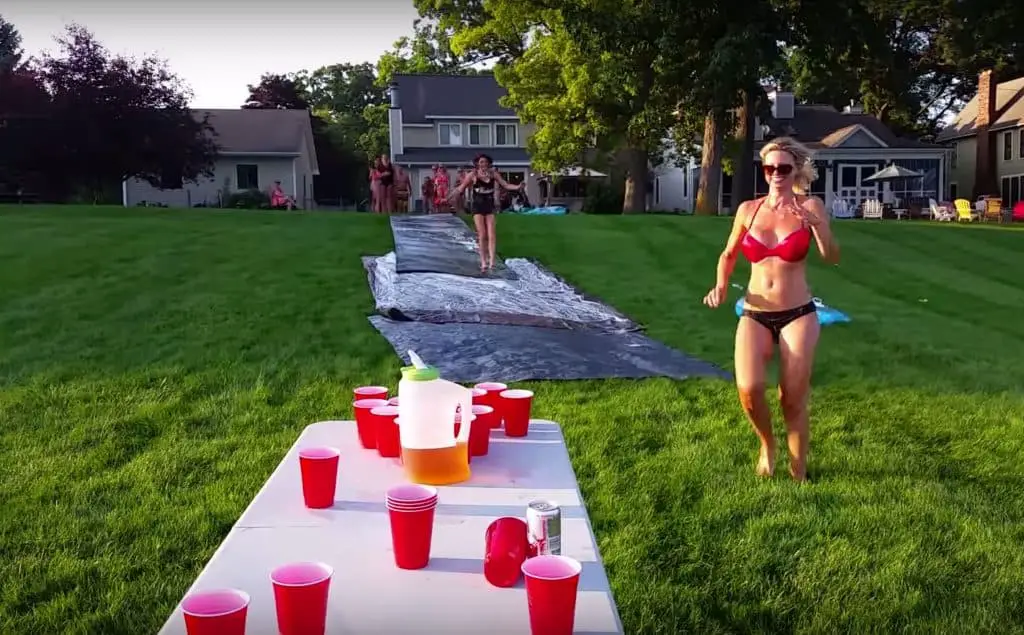 Image Courtesy of Unofficial Networks
Okay, this is probably one of the most fun bbq party ideas ever! How does combining slip and slide with drinks sound to you? Amazing, isn't it!
What you'll need for this game is a roll of thick plastic sheeting, measuring about 6 feet wide and 50 feet long. The slide works best on a slope. But, if your rad is flat, you can add pool noodles around the edges. Then, add some baby soap all around the slide and turn your hose on or use sprinklers.
The rules for this game are pretty simple. To win this drinking race game you must be skilled enough to flip your cup after you chug. Then—and only then—you can fling yourself down that Slip 'n Slide so the next member of your team can play.
Kan Jam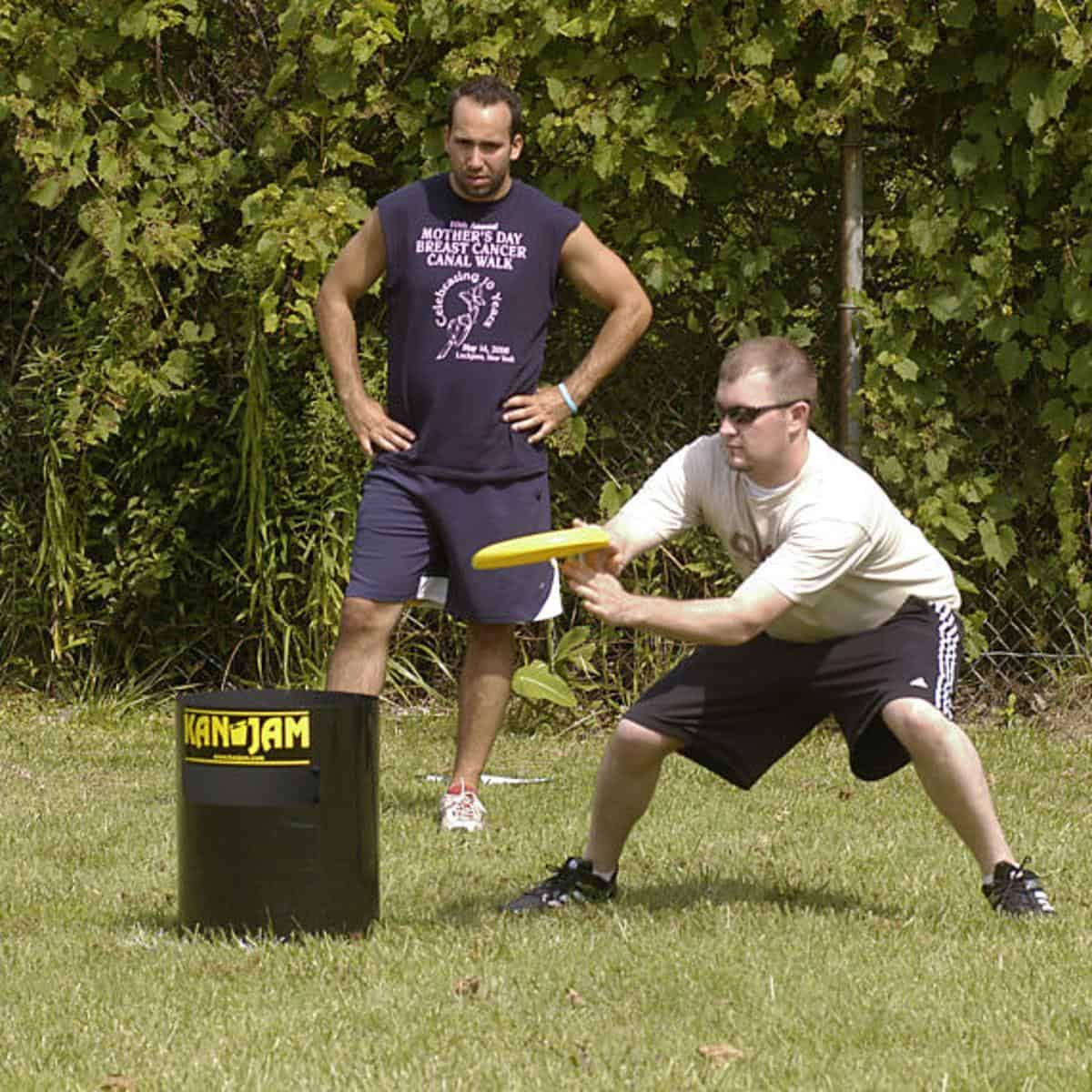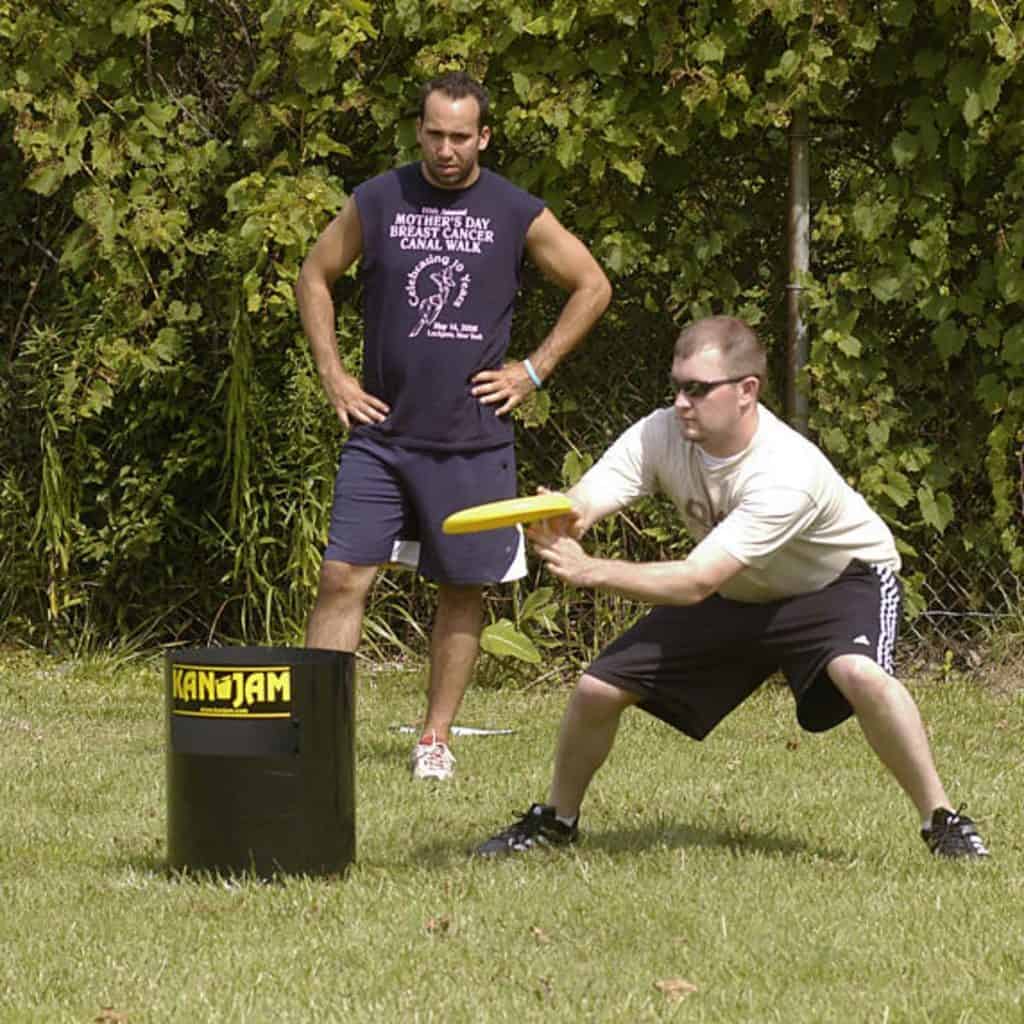 Image Courtesy of Niagara Gazette
If you're looking for bbq party ideas that don't require too much effort setting up, then kan jam is the perfect choice for you. The game is very similar to playing frisbee, except that you have to hit a target.
Kan Jam is also known as garbage can frisbee and the aim of the game is to toss discs toward a can with and get exactly 21 points. Your partner will stand behind the can to assist you in hitting it.
Each time you hit a can, you get one point. Since you have a partner, if he/she hits the thrown disc and it hits the can, you also get one point. But, if you manage to have the disc fly perfectly inside the front slot, you win the game instantly.
Bottle Bash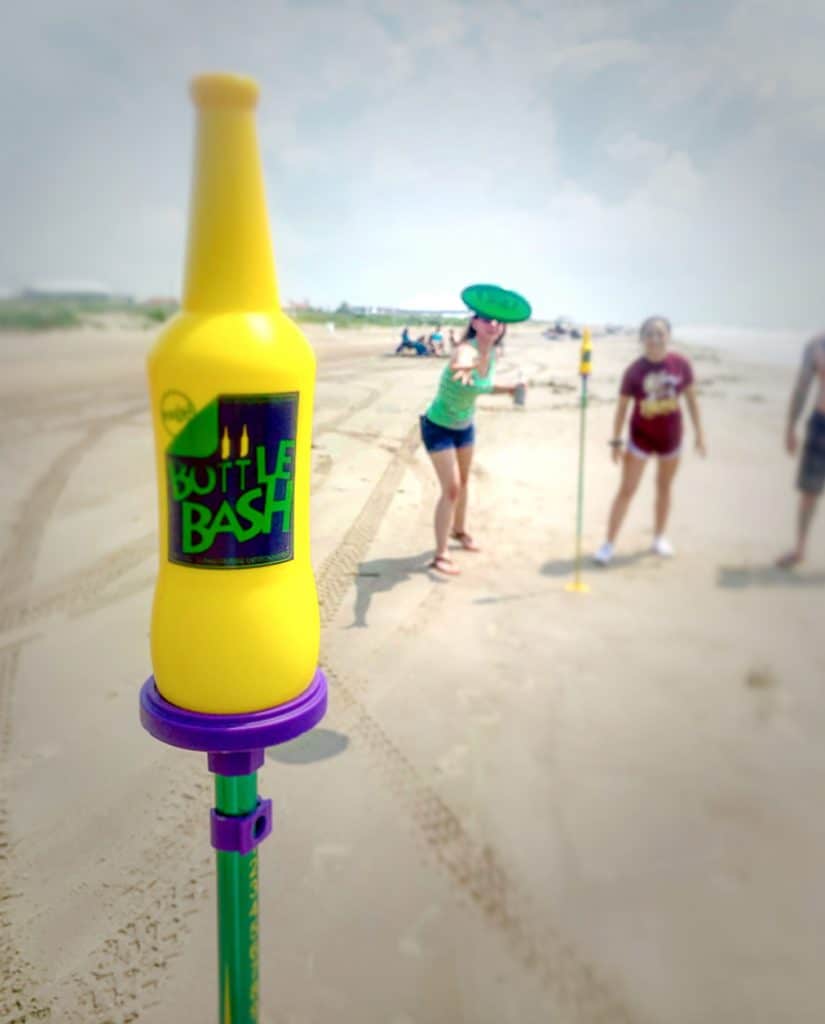 Image Courtesy of Island Adventure Rentals
Bottle bash is very similar to Kan Jam. You have a frisbee and you need to knock the bottles off of a pole.
Unlike our previous bbq games which have unlimited players, this one works the best with two or four players. One person starts by tossing the frisbee while the defense tries to catch the frisbee and bottle before it hits the ground. If the bottle hits the ground, you get two points. And, if the frisbee hits the ground, you get one point.
Just like with Kan Jam, the aim is to get 21 points. However, there are no instant wins here.
Giant Yard Pong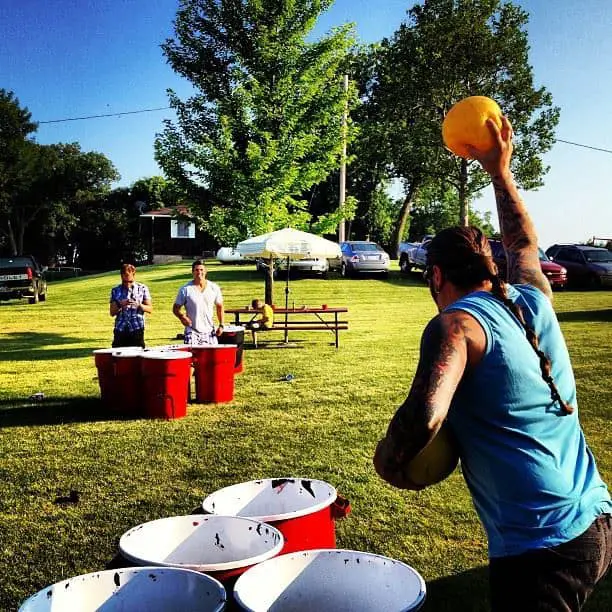 Image Courtesy of Guff
If you're looking for more fun bbq ideas for adults which involve drinking, how does giant yard pong sound to you? The game works just like beer pong, but, instead of classic cups, you use giant ones. Or you can even use buckets or trash cans! However, you probably don't want to fill any of these up.
Divide your guests into teams. Each team takes turns throwing balls into six giant cups, buckets, or trash cans (we'll just call them cups from now on). If the ball lands in the cup, it is removed. Whichever team eliminates the other team's cups first, wins.
If you have a pool, then you can take this game to the next level. Just add the cups and the balls to your pool. Floating will make everything more fun!
Gigantic Backyard Yahtzee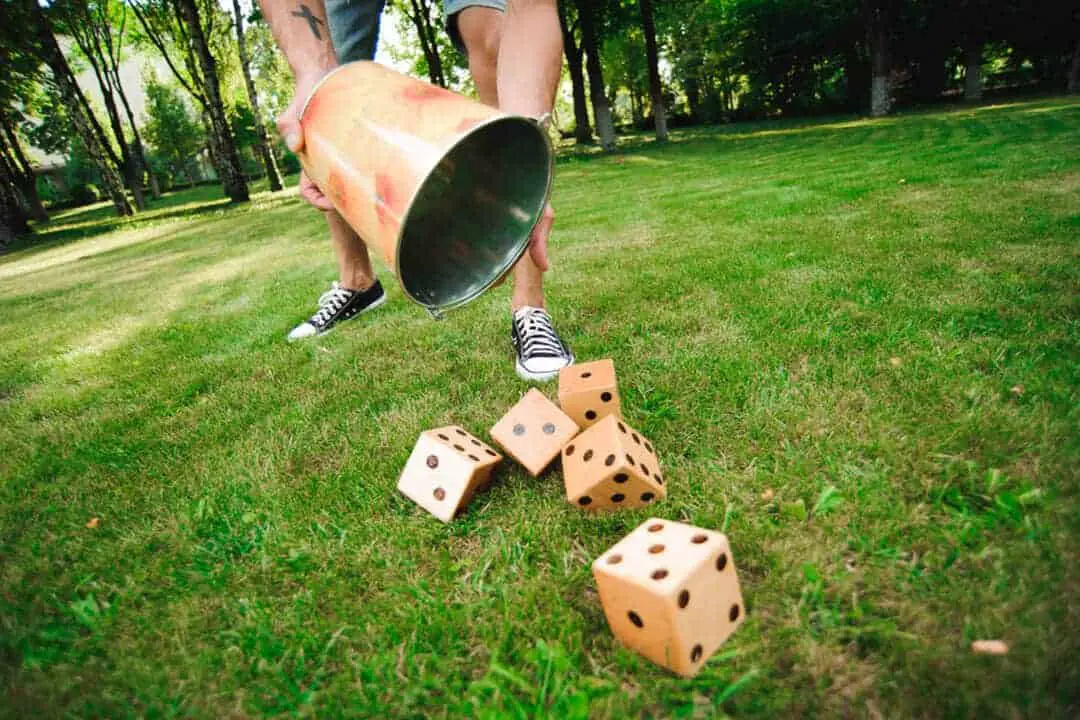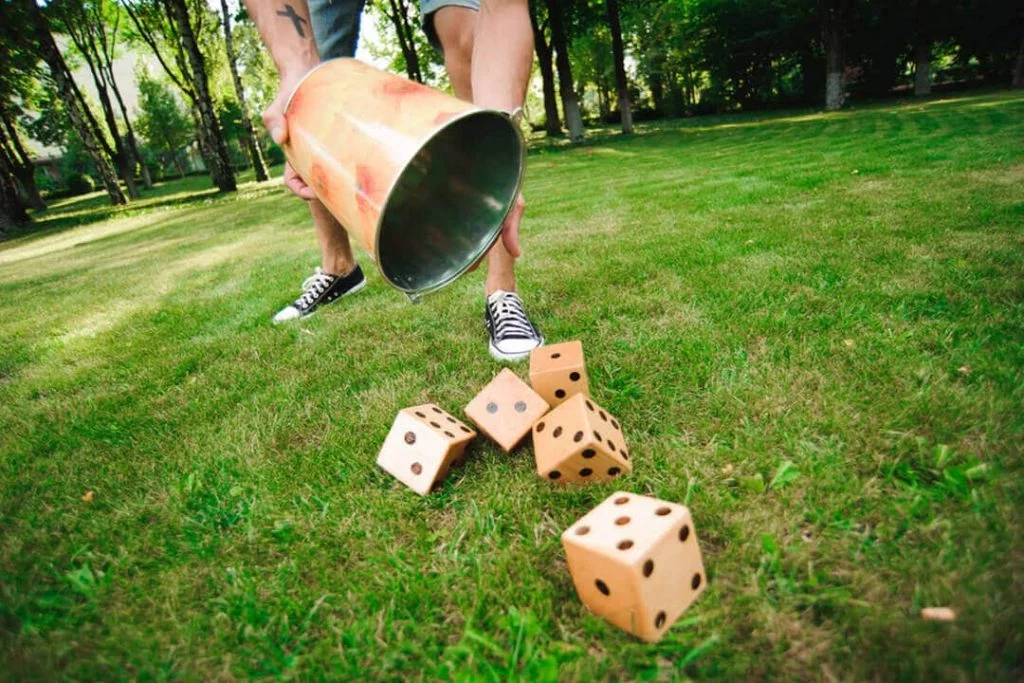 Image Courtesy of Backyard Games
If you're looking for bbq games that involve strategy, then we recommend playing giant Yahtzee. This is a fun spin on the original game and what makes it giant is that you have to roll the dice in a lifesized bucket and then toss it into the yard. This way, you'll add some movement and excitement to a classic strategy game.
Haven't played Yahtzee before? Well, let us explain the rules. The game is half strategy but also half luck. You roll the dice and try to match different combinations on your scoresheet. If you get 5 of one die within three rolls, you get to yell, "YAHTZEE!" and get an extra 50 points. Of course, the person with the most points wins.
You can also use the giant dice for other games, not just Yahtzee.
No products found.
Giant Checkers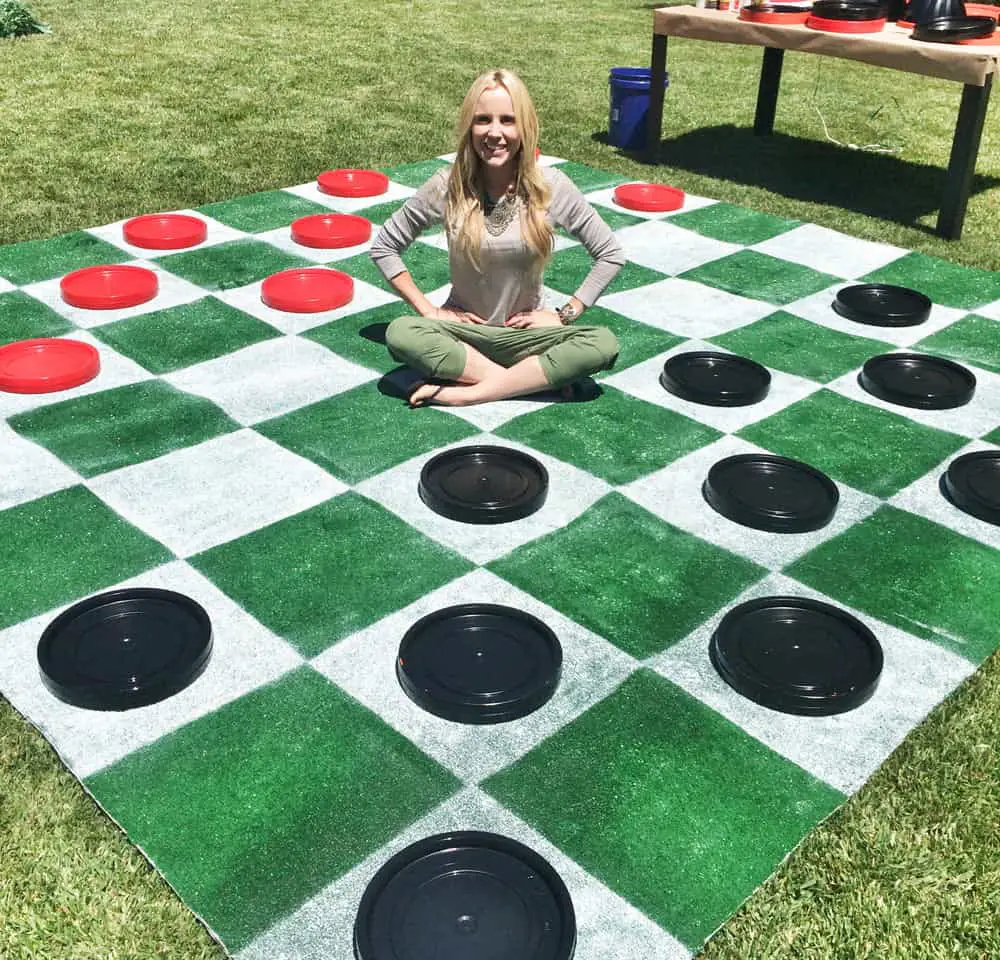 Image Courtesy of Jessie Daye
Who would have thought that there so many board games that have their own giant version that is perfect for bbq games? So many people love playing checkers, but, the game gets even more fun when you get to move enormous pieces around your backyards.
Just like the original game, each player or team starts with either black or red checkers on the board. The goal is to move around the board without allowing your opponent to "jump" over your piece and take it off the board.
Giant checkers include life-sized game pieces along with a large blanket as the board. Starting the BBQ by playing checkers on the blanket and ending it by sitting on it while eating your food sounds simply amazing!
Kickball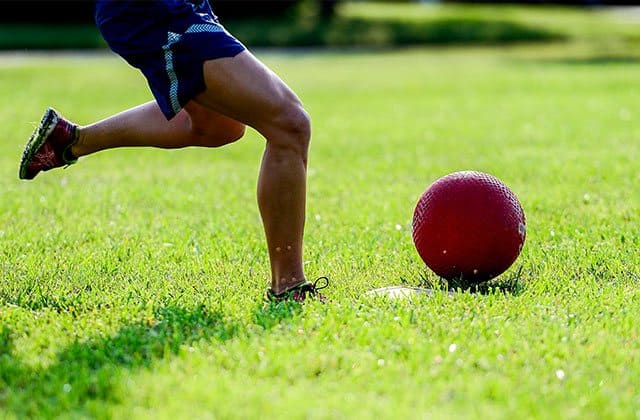 Image Courtesy of Grapevine
One of the incredibly fun bbq ideas for adults is playing kickball. This game is great for all those who prefer running and kicking to sitting and thinking. However, if you plan to play kickball, make sure to find a spot that is not near the grill.
Kickball is a game similar to baseball. But, instead of hitting the ball with a bat, you have to kick it. To play the game, you will need two teams. One team will be in the field and the other up to bat. The pitcher will roll the ball to the kicker, who then has to kick the ball and run to first base. All of the rules in baseball apply to the game of kickball.
The greatest thing about kickball is that you don't need any equipment, just a ball and a group of friends.
Bocce Ball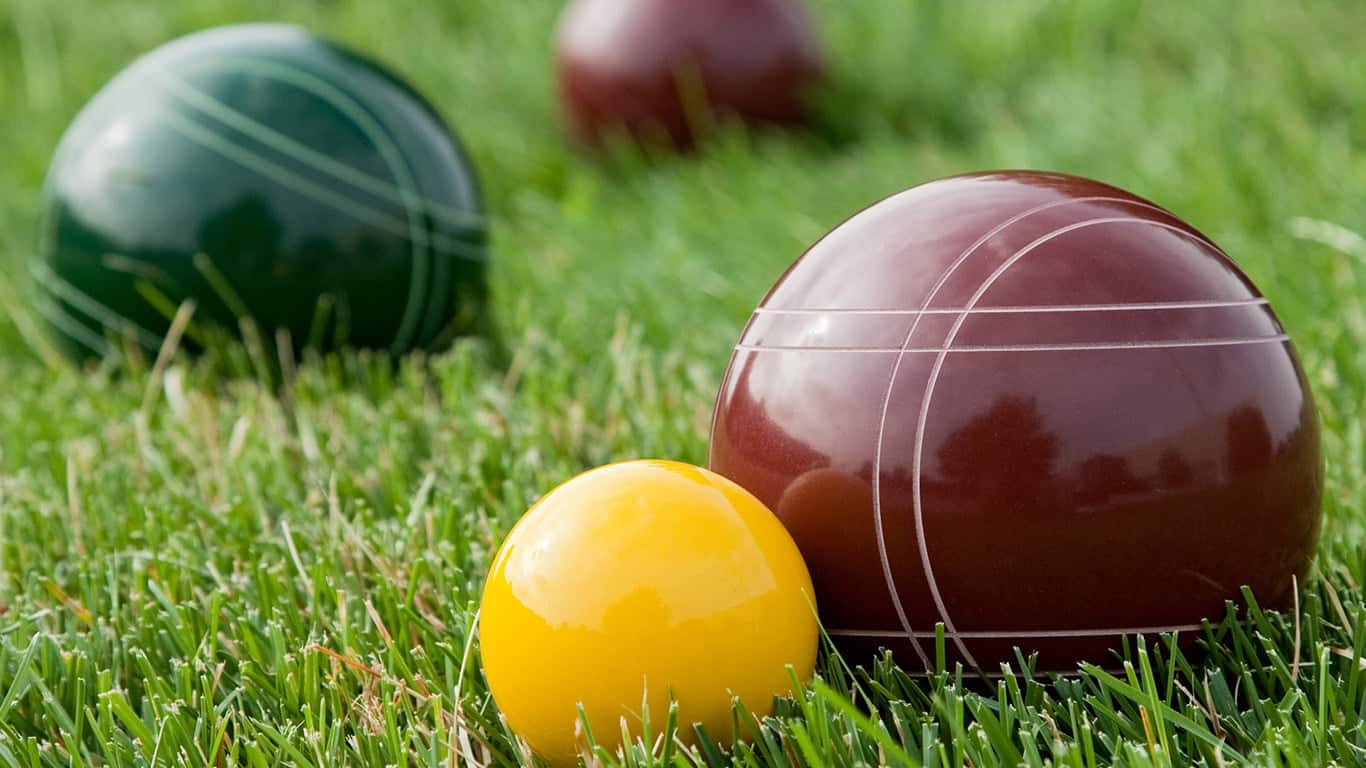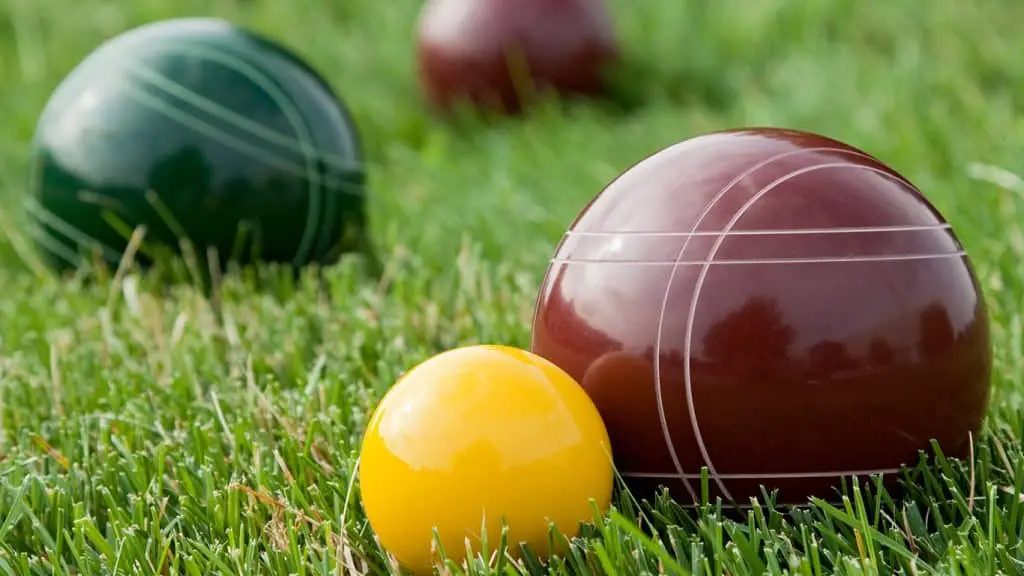 Image Courtesy of Mulligan's Pointe
Did you know that there is a game that combines bowling and skeeball? It's called bocce ball and it is one of the best bbq party games, especially if you have friends who are not good at sports. This game is very easy to learn and it doesn't require much strength or skill.
The game starts when someone throws the smallest ball (called pallino). This ball is used as a marker. Then, the first player takes his turn and tries to throw his bocce ball as close to the pallino as possible. Each person or team takes their turn until all of the bocce balls are thrown. Whoever gets closest to the pallino, wins the round.
The winner is then considered the "in" team and they get points for every ball that is closer to the pallino than the other teams. The game ends when someone reaches 13 points (or however many points you choose).
Badminton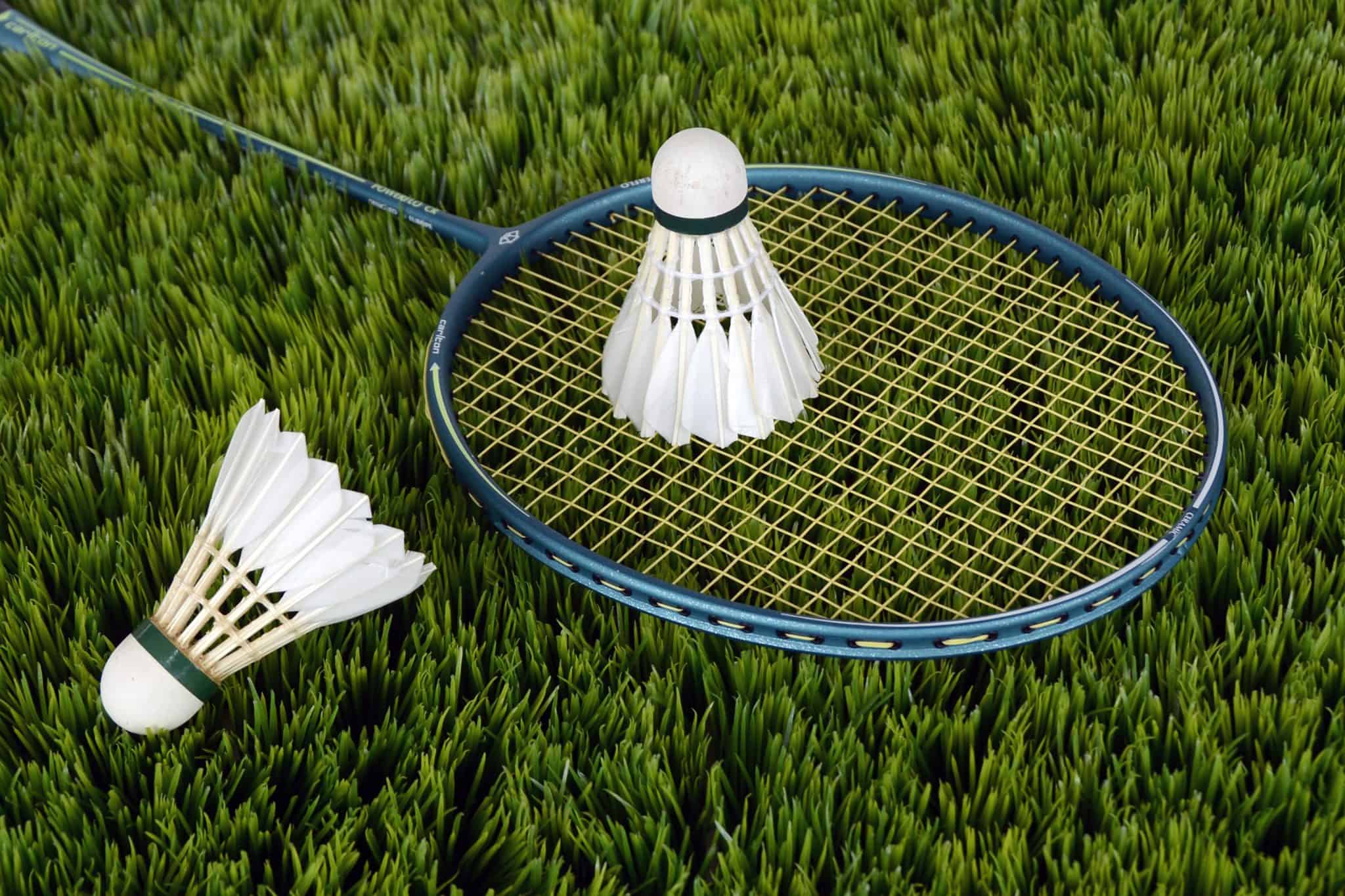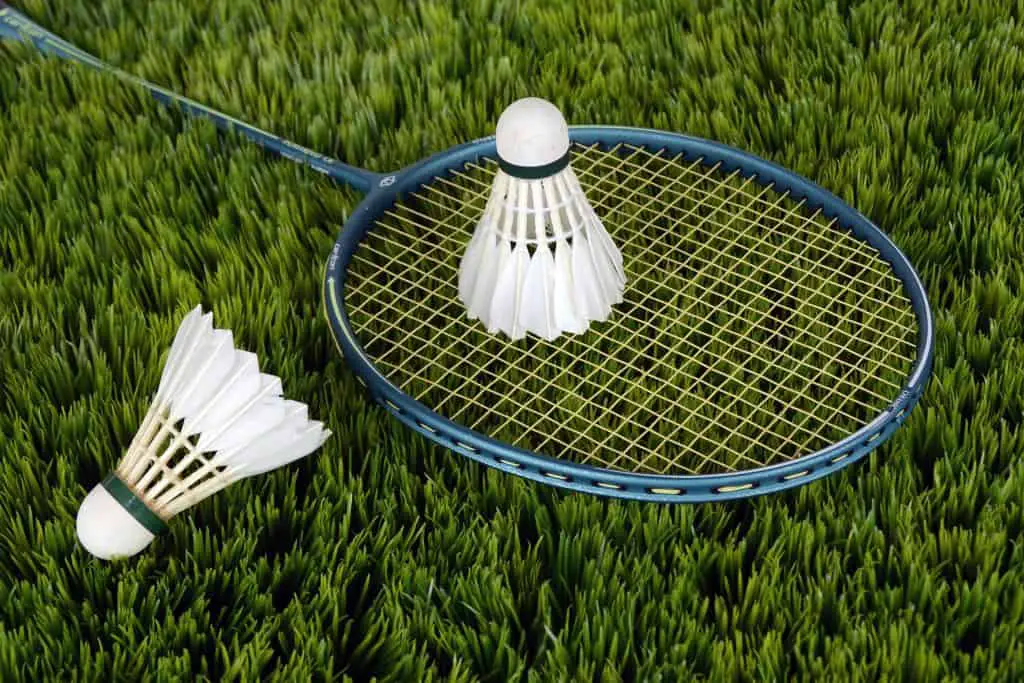 Image Courtesy of Wikipedia
Badminton is another classic and it is one of the most fun bbq ideas for adults who like sports. Unlike in tennis, players who play badminton use a special ball called shuttlecock. You can play one or one or with a team of doubles. Each player uses a racket that is slightly smaller and lighter than a tennis racket. The aim is to hit the shuttlecock over the net and into the court before your opponent can hit it.
Each time the ball hits the floor, you win one point. And, of course, whoever gets the most points, wins!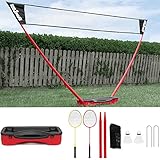 Urban Pop Up Badminton Set [Full Set] ? SIZE 3m (Width) ?...
Size: 3 METRE (width)
It's an easy to use portable post, net, racket and shuttlecock set that includes everything you need to get straight into action
Everything packs away into the case for easy storage and transport
Assembly takes approximately 45 seconds
Last update on 2022-06-04 / Affiliate links / Images from Amazon Product Advertising API
Spikeball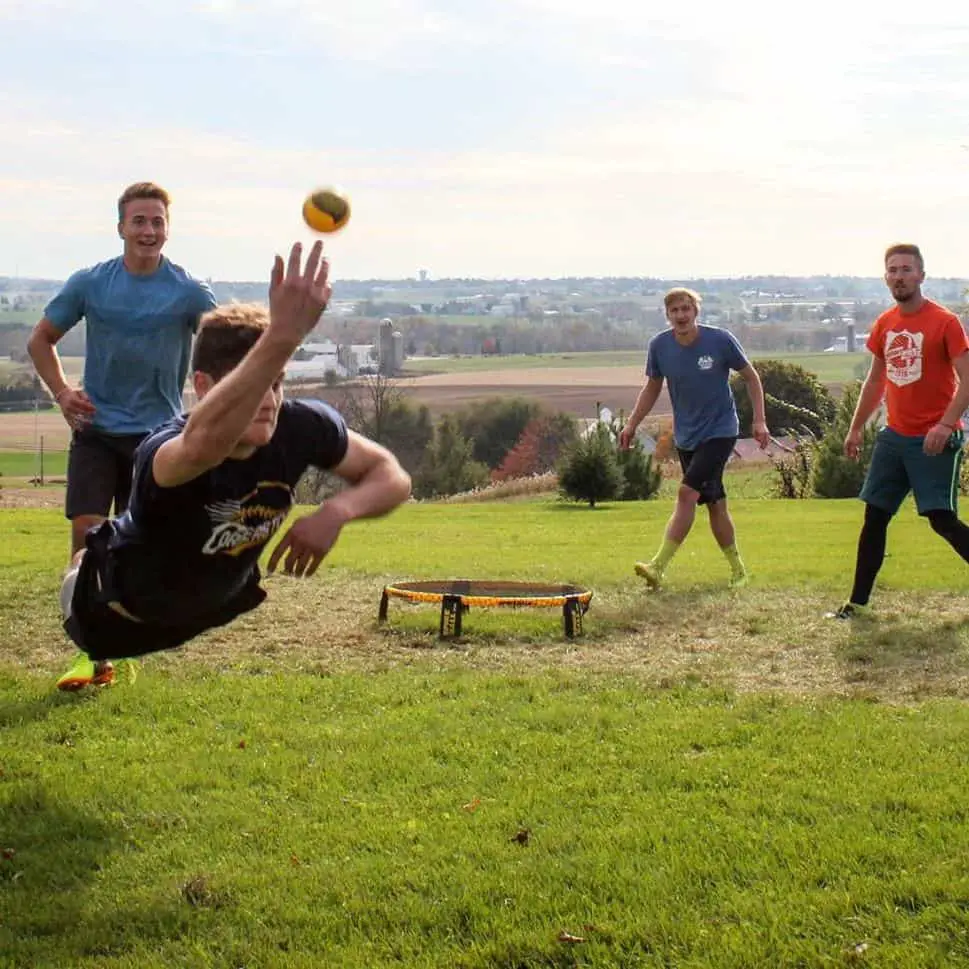 Image Courtesy of Wall Street Journal
Spikeball is one of the most exciting bbq party ideas. The game is a combination of foursquare and volleyball and it is a perfect choice for those who like a little challenge and competition. However, keep in mind that sometimes people can get too competitive, so make sure that the game doesn't end up ruining your party.
The goal of the game is to hit the ball over the net to the other team so that they can't hit the ball back, just like in volleyball. What's different is scoring. You get a point every time the ball hits the ground and the rim. Also, every time the ball rolls over the net instead of bouncing, points are awarded. When the ball bounces back and hits the net, your team gets more points. Last but not least, you also get points if your teammate hits the ball more than once in a row and catches or throws the ball instead of hitting it.
Sounds like so much fun, doesn't it?!
BBQ party games for adults are an amazing way to add some excitement and friendly competition to your gathering while the food is getting ready. We hope that our list gave you some ideas and that you have chosen at least one game you'll play at your next BBQ.
Have you played any of these games before? Which one you look forward to the most? Share your thoughts and stories with us in the comments!