There's nothing better than the rich aroma of grilled ribs, chicken, beef, hot dogs, and even veggies. Grilling is the favorite pastime of so many people. But, it can be an extremely tedious task if you don't have the right equipment. If you are fond of grilled food but don't like the smoke and messing with charcoal, then you must get one of the best smokeless bbq for your home.
A smokeless grill is a grill that doesn't emit any smoke during cooking, making it perfectly suitable for indoor use as well. Harsh elements like snow and wind can make grilling outdoor even more daunting and frustrating, but not when you have the right indoor grill. Most indoor smokeless grills are electric, which makes them safe, convenient, and easy to use.
These grills are an excellent choice for both small and large gatherings. It will help you serve tasty food when you have a large family gathering or just a few friends who love to enjoy some scrumptiously cooked meal at your home. However, let's face it; purchasing the best smokeless indoor grill is never an easy task. That's where we will help you out!
With the smokeless charcoal grills, you won't have to expose yourself to smoke ever again. Wait, did we just say smokeless charcoal grill? How does that make any sense?
Keep reading to find out and make sure to check out our list of best smokeless bbq models!
Best selling smokeless bbq on the market in 2022
Last update on 2022-06-22 / Affiliate links / Images from Amazon Product Advertising API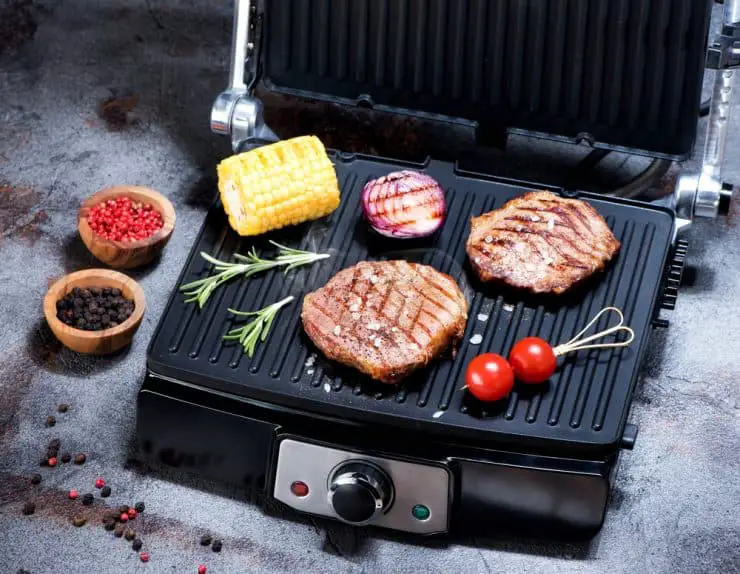 Image Courtesy of Idapt
How Can Smokeless and Charcoal Fit Together?
The traditional way of grilling food involves charcoal and plenty of smoke. However, there is a way you can enjoy that mouth-watering charcoal flavor without exposing yourself to any smoke with the help of the best smokeless bbq models.
Smokeless grills are fast and efficient. They are usually powered by electricity and they use infrared technology and reflective coatings. These grills are typically made so that fat (and other drippings) don't fall onto hot areas.
However, there is one thing you should keep in mind. Even the best smokeless barbecue is not 100% smoke-free. These models minimize smoke greatly, but some smoke will still be produced. Just like when you're cooking on a stove, a minimal amount of smoke has to appear, especially when you're cooking at 400°+ degrees.
How do Smokeless Charcoal Grills Work?
Traditional charcoal grills produce smoke mostly when the fat drops from the cooking grids onto the fuel source. However, smokeless grills were designed to handle this issue in a couple of different ways. First of all, these grills use infrared technology and carefully positioned reflective surfaces. The heat from the infrared source is reflected towards the food rather than positioned directly under it. Due to this, moisture drops will fall on a cool collection plate instead of the heating element. As already mentioned, smokeless still may produce some smoke, but that happens only when you cook fattier cuts and heavily marinated foods.
Smokeless grills also reduce the possibility of a flareup because they use an electric heating element, which is placed beneath the grill to ensure even heating and reduce the amount of moisture that comes into contact with it. Some smokeless grills have a built-in extractor fan, which additionally reduces the amount of smoke produced.
The best smokeless bbq models will provide you with excellent flavor and a minimal amount of smoke. Keep reading to find out what are the best smokeless barbecue models available on the market.
The Best Smokeless BBQ Models
1. Tefal Optigrill Plus XL
Sale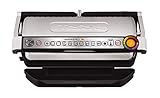 Tefal OptiGrill+ XL GC722D40 Intelligent Health Grill, 9...
Effective grilling results from rare to well-done; automatic thickness measurement adapts the cooking for efficient results
LED cooking level indicator accurately indicates the level of cooking from rare to well-done; 800 sq. cm cooking surface, with 33% more grilling space (capacity for six to eight people)
Nine automatic cooking programmes (burger, red meat, sandwich, sausage, fish, poultry, seafood, bacon and pork), which automatically adapt the temperate to each type of food to cook it perfectly
Manual control, featuring four adjustable temperature settings to cook all sorts of food, including frozen foods
Last update on 2022-06-20 / Affiliate links / Images from Amazon Product Advertising API
The Tefal Optigrill Plus XL is definitely one of the best smokeless bbq models you will find on the market. It is large enough to feed your friends and family and it does a great job at making food go from rare to well-done thanks to its Automatic Sensor Cooking.
One feature that makes the Tefal Optigrill stand out from the competitors is that the grill actually lets you know when your food is cooked. The cooking performance of this grill is just magical. The grill ensures evenness of coverage, meaning that it will grill your food right up to the edges. A colorful light on the handle indicates the cooking process, from preheating, to starting to cook, to rare, to medium, to well done. Every time the next cooking phase starts, you will hear a beep so you don't have to open the grill and check how your food is doing.
You can even use the grill to cook frozen foods. A snowflake icon on the handle represents this mode. Just choose your type of meat and the frozen icon, and the grill will do all the rest.
Cleaning and maintaining the grill is very simple. Just remove the grill plates and the drip tray and put them in your dishwasher.
The only downside of the grill is that it is a bit bulky. But, this is the result of it being packed with so many awesome features!
What We Like:
The Automatic Sensor Cooking does all the work and notifies you when your food is done;
The grill is packed with so many feature, allowing you to cook a variety of foods (including frozen food);
The grill distributes the heat evenly across the entire cooking surface;
Cleaning and maintaining the grill is very simple.
What We Don't Like:
The grill and the lid is heavy, so it will press and flatten your food a bit.
---
2. KCZAZY Electric Smokeless Grill with Glass Lid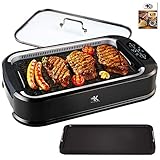 KCZAZY Electric Smokeless Grill with Glass Lid, Indoor and...
▶️INDOOR SMOKELESS GRILLING & SEARING -- √ This indoor smokeless grill is adopted advanced airflow technology. With state-of-the-art smoke-carrying fans, smoke is significantly reduced without influencing cooking efficiency. √ It grills food with the same taste, flavor and beautiful grill marks comparing to charcoal/gas grills outdoors. √ Enjoy steaks, bacon, shrimps, burgers, fishes, kabobs, sausages, pork chops, chicken and more to perfection All-Year-Round! Effortlessly!
▶️NON-STICK GRILL PLATE & EXTRA GRIDDLE PLATE -- √ XL Grill/Griddle Plates: cooking area 35CM*20CM (13.75"*8"). √ Each package includes a non-stick grill plate and a non-stick griddle plate. √ Aluminum drip tray collects extra fats, juice easily.
▶️HEATS UP QUICKLY TO A STABLE TEMPERATURE -- √ LED Temperature Control Panel allows you stabilizing the grilling temperature: UK version from 120°C to 250°C, US version from 220° F to 450° F. √ Glass lid for heat quicker and protection for splashing!
▶️DISHWASHER SAFE & COMPACT and PORTABLE -- √ The electric smokeless grill is easy to plug in your kitchen and camping picnic area. √ Grill/Griddle plates, drip tray, collection pan and glass lid can be taken off easily and thrown into a dishwasher, makes clean-up a breeze! √ What's more? With superior gift box, the best gift for your family and friends.
Last update on 2022-06-20 / Affiliate links / Images from Amazon Product Advertising API
From afar, this fantastic smokeless BBQ product barely looks like a BBQ at all! The glass lid and small design of this product makes it look more like an every day kitchen product, but we're here to tell you that it's worthy of a place at your next barbeque. And the best part? It's smokeless!
The grill is made with dishwasher safe materials and is designed to be compact and portable. Every piece can come apart for separate and easy cleaning. Not only can you use it at your events, but you can bring it to neighborhood cookouts, too! It's easy to plug into any kitchen, camping, or outdoor picnic area.
This product uses an indoor smokeless grilling and searing system. This is done through an adopted and advanced airflow technology system using smoke-carrying fans within the product.
So, if you're in a search for the best smokeless bbq for use at home and outdoors, this is the one for you!
What We Like:
What We Don't Like:
It is smaller in size than many other similar products
---
3. Judge JEA81 Electric Table Top Grill
Sale
Judge JEA81 Electric Table Top Grill Teppanyaki Hot Plate 43cm x...
HEALTHY EATING SMOKELESS TABLE TOP GRILL - steak, marinated chicken, fish, eggs, vegetables and even pancakes can be cooked with little or no oil to lock in the nutrients and flavours while fat runs off into a removable drip tray
EASY TO USE WITH 6 HEATING LEVELS - simply turn the dial to set the temperature you need from a low 100°C for delicate foods to a sizzling 240°C for quick cooking and browning
EXCELLENT INDOOR BARBECUE - perfect for social cooking to serve on the table in front of friends and family and ideal to experiment with different marinades and sauces for a teppanyaki hot stone experience in your own home
DURABLE EASY-CLEAN NON-STICK - even food cooked on the maximum temperature comes away cleanly from the premium non-stick surface and is very easy to wash up after use
Last update on 2022-06-22 / Affiliate links / Images from Amazon Product Advertising API
If you're looking for the best smokeless bbq, but you're not willing to spend too much money, here is one recommendation for you – the Judge Table Top Grill!
This grill comes with a nonstick grate and griddle, and at an excellent price! This product comes with six unique heating levels so give you the option to cook whatever you'd like, at whatever temperature works for you. The manufacturer also included a drip pan (or a grease catcher) right below the grate. This prevents any food drippings from burning, meaning that you won't have to deal with any smoke. Also, this makes cleaning a piece of cake.
This bbq is an excellent choice for you even if you haven't done much grilling before. It'll make the perfect addition to your kitchen!
What We Like:
An excellent grill for an affordable price;
The grease catcher prevents any smoke from appearing;
Six temperature settings give you a decent control;
What We Don't Like:
Some users complained that the grill does smoke a bit.
---
4. George Foreman Large Fit Grill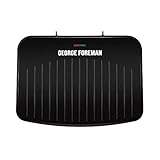 George Foreman 25820 Large Fit Grill - Versatile Griddle, Hot...
Updated Look and Feel - With a new premium look and feel, the Large Fit Grill comes in a Shiny Black with Matt Finishes. Its Bevelled Upper Housing will make a statement on your kitchen counter.
Speedy Heat-Up - You can cook your favourite dishes, quicker than ever. From switch on to plate in under 6 minutes vs' conventional electric oven grill set at 230 degrees.
Easier to Clean - 2 x easier to clean vs your conventional electric oven, and clean in 1 wipe with a paper towel while plates are still hot.
Clip-in Drip Tray - With George Foreman's Clip-in Drip Tray, you can sit back and know the excess fat and other residue is collected for you, in one convenient place that can be easily cleaned.
Last update on 2022-06-22 / Affiliate links / Images from Amazon Product Advertising API
The George Foreman Large Fit Grill has been redesigned so it could become the best smokeless bbq on the market. The manufacturer updated the grill's look and feel, making the unit more premium. This grill comes in a shiny black color and it features a matt finish. In addition, the streamlined designed was created to save your space and allow you to use and store the grill almost anywhere.
But, what matters even more than the grill design is the performance. Now, the George Foreman Large Fit Grill takes only a few minutes to heat up. Your food will be cooked in about 6 minutes, which is much faster when compared to a conventional electric oven grill set at 230 degrees.
In addition, you will never have to worry about cleaning the grill thanks to the clip-in drip tray, which collects all the excess fat and food drippings for you. This makes the cleaning process incredibly easy.
Last but not least, this grill comes with a two-year manufacturer's warranty. If you register the product online, you get one extra year.
What We Like:
A large smokeless grill that is also compact and easy to store at the same time;
Updated look turned this grill into a premium model;
Cooks food quickly and evenly;
Cleaning and maintenance is incredibly simple;
Comes with a three-year warranty.
What We Don't Like:
Some users complain that the grill is smaller than they expected.
---
5. Quest 35910 Electric Indoor BBQ Grill – Minimal Smoke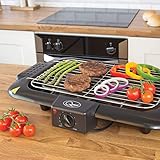 Quest 35910 2000W Indoor Electric BBQ Grill / Adjustable...
ELECTRIC INDOOR BBQ GRILL – No matter what the weather is like outside, you can enjoy the BBQ experience indoors with this easy-to-use grill. Whether it be breakfast, fajitas, steak, burgers and so on, your friends and family will love this fun way of dining.
THERMOSTATICALLY CONTROLLED – The indoor BBQ features a chrome plated grill with stainless steel heating elements, and an adjustable temperature gauge that will bring the unit up to the perfect temperature for cooking delicious BBQ foods.
REDUCED ODOUR & SMOKE - The BBQ grill measures 50cm x 33.5cm, and features an innovative water-filled drip tray that helps to reduce odours and smoke, ensuring your home can stay smelling fresh throughout the cooking process.
ANTI-SLIP FEET – This barbecue grill features 4 non-slip feet that will keep the unit anchored safely to the worksurface at all times. The electric grills cable is approximately 0.8-metres in length, and the unit operates on 2000W of energy.
Last update on 2022-06-20 / Affiliate links / Images from Amazon Product Advertising API
This product may advertise itself as 'minimal smoke', but we can assure you that a smoking grill won't be a problem! Use this product both indoors and outdoors and be reminded of a classic cookout.
The grill itself is thermostatically controlled and uses a chrome-plated grill and a stainless steel heating system. It also has a water-filled drip tray which is designed to not only reduce smoke, but odours, too!
This grill only takes five minutes to warm up. Begin by preheating on the highest setting and turn down to your preferred or required setting once it's done preheating. From there you'll have a simple and quick barbeque experience!
What We Like:
The grill is versatile and can be used for indoor and outdoor cooking;
The temperature is controlled with thermostatic technology;
The grill is covered by a 2 year manufacturer's warranty.
What We Don't Like:
The maximum temperature is lower than many competitors.
---
Related:
---
How to Choose the Best Smokeless BBQ
Almost every grill on the market will cook your food. But, the question is how well will the food be cooked. You should never settle for less than the best smokeless bbq which produces that authentic smokey taste and also makes the entire grilling experience enjoyable.
Here are some things you should keep in mind when choosing the best smokeless bbq for your home. First, we'll cover a few questions you should ask yourself before choosing a grill, and then we'll focus on the grill features you should consider carefully.
Grilling Location
The first thing you're going to want to ask yourself is where do you want to use your grill. If you live in an apartment and have a small balcony, then smokeless charcoal barbecue is the right choice for you. These are also a great option for people who live in colder climates and who don't want to freeze outside just to be able to grill their food.
However, if you're looking for a grill that you can take tailgating with you or use it in your backyard, then the smokeless bbq might not be the best option for you. Why? Well mostly because it requires electricity and you need to have an outlet nearby. If this something you don't mind, then the smokeless bbq is the right choice for you!
Food You Plan to Cook
You may think this is not significant, but, when it comes to choosing the best smokeless bbq for your needs, you need to plan out in advance what you're going to cook. If you're into grilling exceedingly lean cuts of meat, or fish, then maybe maximum smoke reduction isn't what you should be looking for. Instead, you would be better of a ceramic cop that's easy to clean.
But, if you love grilling slightly thicker cuts of meat then getting a bbq that has smoke reduction capabilities is what you need. These units are also suitable for grilling vegetables.
So, make a list of foods you plan to grill and decide which bbq is the right choice for you.
Who Do You Plan to Cook For
Before you decide on which smokeless charcoal grill you want to buy, you need to think of the people you're going to cook for. Do you plan to cook food for your family only? Do you plan to throw amazing bbq parties where you can show off your skills? Or, maybe you just want to use the grill for some "me" time?
Once you have an answer to these questions, then you can decide which grill you need and how big should it be. Knowing why you're grilling will make it possible to get the best smokeless barbecue for your needs.
And now, let's take a look at the grill features you should keep in mind when choosing the right bbq for you.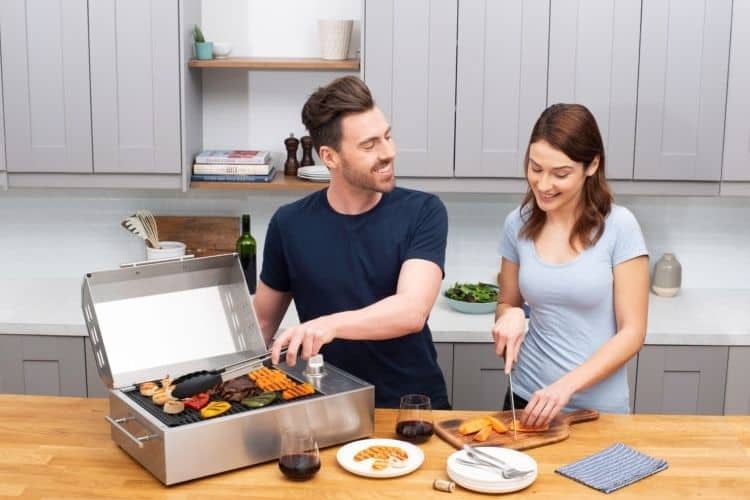 Image Courtesy of  Trend Hunter
Temperature Control
Grilling is all about heat control. Too much heat will burn your food, while low heat will leave your food undercooked and dry. Some smokeless grills come with a simple on/off setting or they feature a few cooking settings such as 'keep warm' and 'hot'. But, the best smokeless bbq will give you precise control over the temperature, so make sure that you get a grill that gives you the freedom to control the temperature according to what you are cooking.
Cleaning and Maintenance
With a smokeless grill, cleaning up is very easy since you don't have to dispose of burnt down fuel. Most of the grills feature a non-stick grilling surface. The best part of owning a smokeless grill is that many models can be washed in a dishwasher. However, keep in mind that the non-stick coating lasts longer when hand-washed.
In addition, some models come with drip trays that make cleaning excess fat or marinade a piece of cake. Grease can be very difficult to clean and can even destroy the best smokeless bbq. That is why drip trays are very useful. Just make sure that the tray is inclined to help keep things smooth and less messy.
Size, Weight, and Portability
Smokeless grills come in all shapes and sizes, so make sure that you pay attention to the description of the grill. It's advisable to measure the counter area where you plan on keeping your grill and compare it to the dimensions of the model(s) you're interested in.
Weight should not be much of an issue since some of the best smokeless bbq models weigh under 20 pounds. This way moving and storing the grill is not a chore, and you can take the grill with you wherever you go.
Cord Length
Since the majority of smokeless charcoal grills are powered by electricity, that means you'll need to have a power outlet nearby. However, some models come with lengthy cords and make it easier to use the grill. If the power outlet is far away from the spot you want to place the grill, make sure that you get a model with a lengthy cord.
Cooking Space
We've briefly mentioned cooking space, but now is the time to go into details. Once you decide how many people do you plan to cook for, you can decide how large should your grill be. The best smokeless bbq models are quite large and feature a cooking surface of up to 140 square inches. This is enough to feed your family and a few guests who come over.
Other Features
Some smokeless grills are basics while others come packed with features. Here are a few you should keep in mind: drip trays, dual burners, elevation, improved cover, and, of course, design. These features improve the overall performance of your grill and offer desirable results to the cooked food.

Image Courtesy of Men's Journal
Benefits of Using the Best Smokeless BBQ Models
Smoke-Free Cooking
The most obvious benefit of using a smokeless grill is that you don't have to deal with excess smoke, yet you'll still be able to enjoy the authentic smoky flavor. Since the grill functions using electricity, almost no smoke will be released. This makes the grill suitable for indoor use. Also, electricity as a power source is a very safe option since it presents little to no fire hazard.
Healthy Cooking
Cooking indoors means that fresh air circulation is limited, but you don't have to worry about this if you use a smokeless bbq. These grills ensure that no hydrocarbons enter your food and that you don't breathe air filled with dangerous carbon-monoxide produced by charcoal burning.
Ease of Use & Convenience
The best smokeless bbq models should offer you the convenience of using the grill anywhere and storing it wherever you see fit. These grills come in compatible sizes, making it easy to carry and store them, as well as long cords.
Also, smokeless grills are very convenient since you can use them to prepare and cook different types of dishes, thanks to precise temperature controls.
Economical
Electricity is one of the cheapest fuel sources for grills and smokeless grills don't need too much power, so you don't have to worry about your electricity bill. In addition, instead of buying stakes at restaurants, you'll be able to prepare your own tasty food.
The Best Smokeless BBQ: FAQs
How much power do smokeless indoor electric grills use?
The answer to this question is – it depends on what you're cooking. Some cuts of meat require cooking on low heat for extended periods of time. Others may require sizzling temperatures.
Also, some smokeless grills can consume more power than others. But, if you get one of the best smokeless bbq models, you won't have to worry about electricity since these grills are very economic.
How long does it take a smokeless grill to reach the right temperature?
Pre-heating time varies from one grill to another. Some grills are super-fast, while others may take about 10 minutes to heat up. It all depends on the model. If you don't like to wait, make sure to check the grill specifications before buying it.
Are smokeless grills safe for indoor use?
Yes, they are. These grills don't produce carbon-monoxide since they run on electricity, not charcoal. If your food or grease burns, some smoke can appear, but it is not poisonous. These grills are safe to the extent that you can use them in poorly ventilated spaces.
How do I get rid of the smoke that is produced while cooking?
Even though they are called smokeless, even the best smokeless bbq models can produce some smoke if your food or grease burns. Luckily, there are a few tips that can help you reduce and get rid of the smoke.
First of all, avoid using oils that have high smoke emissions like canola. Also, you can minimize smoke by cooking fatty foods one by one and by trimming the fat before cooking the food.
Now that you know how to choose the best smokeless bbq for your needs, the only thing left to do is choose the model you like the most. Share your choice with us in the comments!
P.S. If you plan to invite people over, check out our list of large group games for all ages so you could have an unforgettable time together!