There is probably no person in the world who doesn't like pizza. With so many different types and toppings, this simple food is capable of impressing even the most sophisticated palates. And, why would you bother ordering pizza and waiting for it to come when you can make it in the comfort of your own home. The final result will be so much better, especially if you have one of the best outdoor pizza oven models.
Outdoor pizza ovens have gained popularity due to their quick cook times, cooking versatility, and ease of use. Owning a pizza oven will also allow you to put a twist on the classic barbecue once you get to treat your family and friends to mouth-watering pizza made in your backyard.
Nothing beats than having your personal pizzeria in the comfort of your own home. And, what many people don't realize is that pizza ovens can be used for cooking all different types of food. A pizza oven will also allow you to sear steaks, roast chicken, and even bake cookies.
To help you find the best outdoor pizza oven for your needs and budget, we've come up with a list of the most popular models that will help you find the right one for you. Also, this article will help you learn everything there is to know about outdoor pizza ovens.
Best Outdoor Pizza Ovens in 2022
What is an Outdoor Pizza Oven?
What makes an outdoor pizza oven different from a regular oven? Well, mostly the fact that these ovens are specially made to cook at very high temperatures. In addition, they come in a number of different types and sizes.
Usually, traditional outdoor pizza ovens are made of brick and heated using a wood-fire placed inside the oven. But since it can take a lot of time to prepare, heat, and cook in such ovens, many people go for the alternative – gas flame outdoor pizza ovens. Last but not least, there are portable pizza ovens which are an excellent and more affordable way for you to have delicious pizza at home. These are much smaller than the traditional pizza ovens, but they can still reach crazy-high temperatures and cook pizza in under a minute. Typically fueled by gas, there are even some models that use wood pellets to imitate that smoky wood flavor.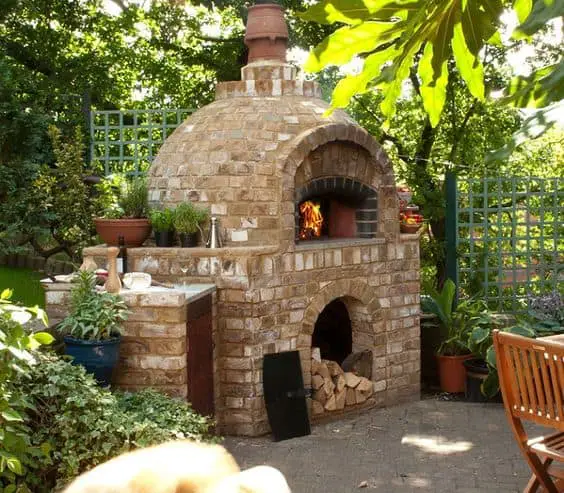 Image Courtesy of Insteading
How do Pizza Ovens Work?
So, what is so special about pizza ovens? You can just use your regular oven to bake pizza, right? Well, an outdoor oven is versatile and it can be used for grilling, roasting, and baking. In addition, these grills can reach incredibly hot temperatures (over 800°F/425°C), significantly reducing cooking time.
Even though these ovens use fire, that's not what cooks your food. Although pizza ovens are first heated by wood or gas flame, the base and dome use bricks, tiles, and insulating layers to trap in all of the heat, which cooks the food (not the fire). However, this process of heating up the oven can last a while, sometimes even a few hours. Luckily, there is a solution for that as well.
The greatest thing about the best outdoor pizza oven models is that they stay hot for days because you use a huge amount of cooking material. When you want to use the oven the next day, the grill will still be hot and no additional heat up time is needed.
What makes outdoor ovens much different from regular ovens (besides the heat) is the base which is made of tiles. Such a base can get really heated and allow you to cook pizza in under two minutes. How incredible is that!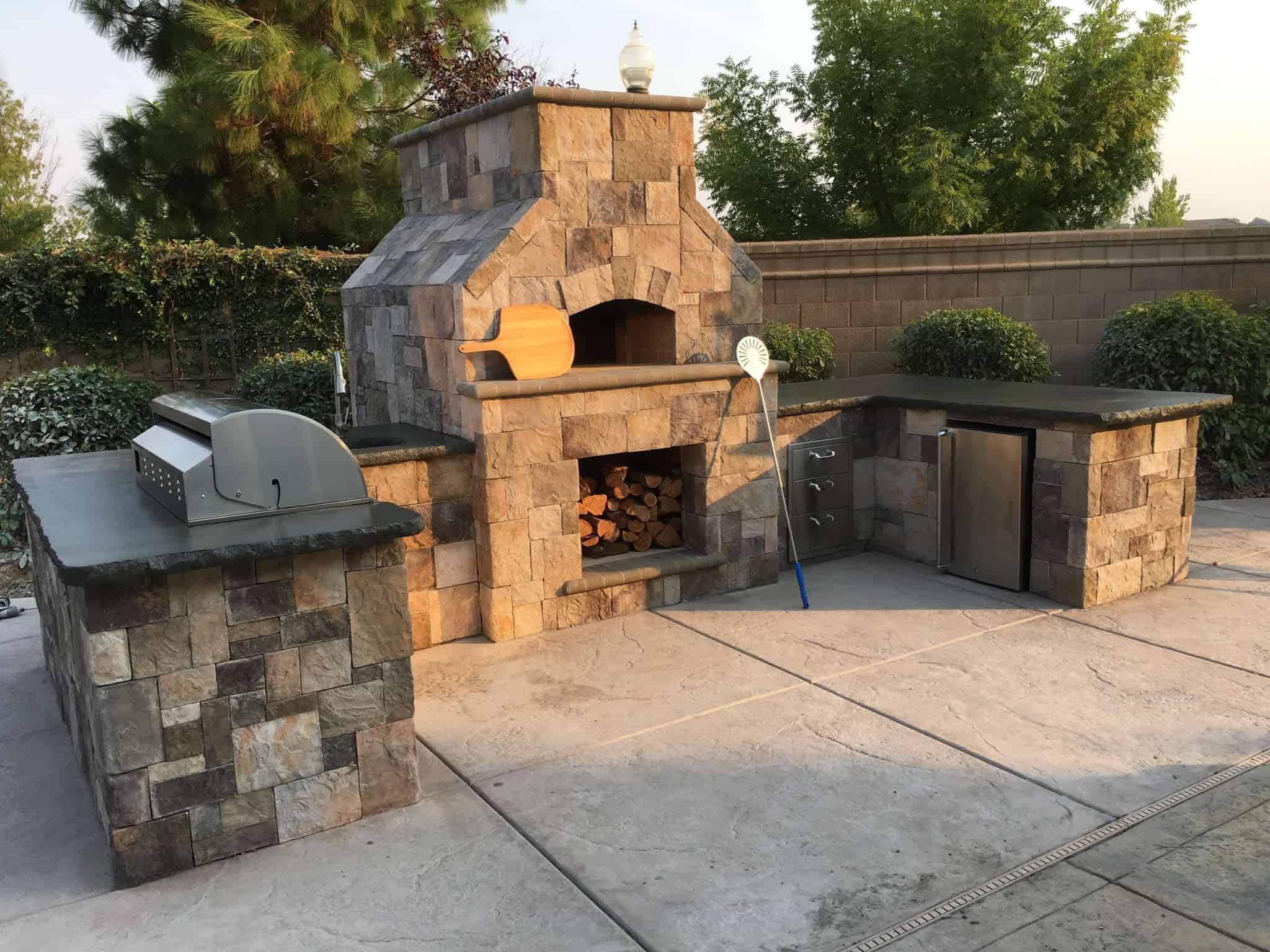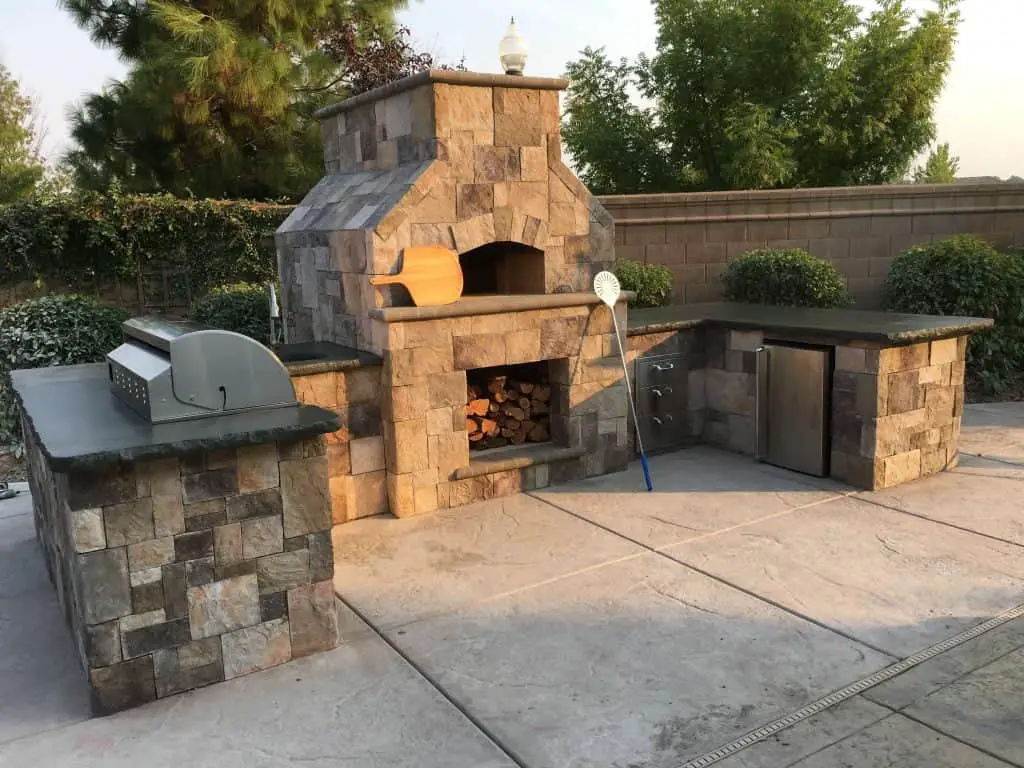 Image Courtesy of Forno Bravo
Different Types of Outdoor Pizza Ovens
We mentioned briefly that there are two types of pizza ovens – those fired by wood and those fired by gas. Now is the time to dig deeper and help you understand the difference between these two models. This can be really helpful and help you choose the best outdoor pizza oven for your needs.
The first thing you should know is that neither type of outdoor ovens is better. Both have their advantages and are made for different uses. It is up to you to recognize which type will suit your needs better.
Many people will say that a wood-fired pizza oven is the best outdoor pizza oven you can get because it ensures the most authentic and rustic cooking experiences you can have. However, owning such an oven requires a lot of preparation, lighting, and working with wood. Some find this process harmonious and joyful, while others perceive it as a tedious task. You probably already know which camp you're in…
Every pizza perfectionist will tell you wood-fired ovens create the best flavor. And, they are completely right. There's nothing that can replace that slightly smoked, slightly charred edge that gives a pizza that extra tasty flavor. In addition, you can also experiment with the hardwoods and fruitwoods, and explore all the different flavors you can produce.
But, all this creativity comes at a price… you always need to have a supply of firewood nearby. And, you can't use any firewood. You have to use quality firewood i.e. plenty of close-to-dry hardwood. Sometimes, finding food is not the easiest task.
Another downside of owning a wood-fired oven is that it needs plenty of attention; you must look after the food you cook in it all the time. This is actually what makes baking with such an oven an art form.
But not everyone is interested in that. Some people prefer reliability and simplicity. If you belong to this category, then an outdoor gas oven is the right choice for you.
It takes only about 30 minutes for a gas oven to heat up, whereas, that process can last up to two hours for a wood-fired oven. Gas ovens are also very easy to use; all you have to do is set them and forget them.
Since gas ovens are more reliable, they are also a better option if you want to use the oven for other foods. While roasts are a great option in a cooling wood oven, baking bread needs a more precise and steady heat.
Last but not least, outdoor gas pizza ovens are cheaper and your budget will be grateful for choosing this model. Even though a gas oven can't produce that authentic smoky flavor, it will still allow you to cook mouth-watering food.
The Best Outdoor Pizza Oven Models
1. Ooni 3 Outdoor Pizza Oven
We said that the best outdoor pizza oven is a portable model that is capable of reaching high temperatures and helping you bake delicious goodies. Well, the Ooni 3 is exactly one of those models.
This portable outdoor oven is capable of reaching very high temperatures (932°F/500°C) in 10 minutes and cooking your pizza in about 60 seconds. The oven is powered by gas and the gas burner attaches onto the back of the oven, providing a convenient and easy option to power it.
The oven is made of brushed stainless steel which provides great heat retention but also weather resistance. The oven body is insulated with ceramic fiber for even more improved heat retention.
The unit's gas burner is what makes cooking with Ooni 3 incredibly easy. The burner allows the oven to reach and maintain the desired temperature with ease. In addition, it gives you precise control over the oven's temperature if you plan to use it for cooking other foods.
What We Like:
A lightweight, portable unit you can place anywhere;
Made out of stainless steel which ensures even heat distribution and weather resistance;
The oven is insulated with ceramic fiber for excellent heat retention;
The gas burner makes it easy to set precise temperatures and cook all types of food;
What We Don't Like:
It would be nice if an oven cover was included.
---
2. Forno Buono Napoli Outdoor Oven
If you're looking for the best outdoor pizza oven which also happens to be an entry model, then this is a perfect choice for you. The Italian company Forno Buono has enjoyed a stellar rise in reputation as one of the country's leading pizza oven manufacturers. Unlike the previous model, this is a wood-fired oven that offers quality and versatility for a moderate price. Also, it is a great choice for those who are on a budget.
The oven comes with a pizza stone that ensures all your food is cooked evenly. A fuel shelf store is included as well and it allows you to store sacks of wood or charcoal. The oven features 'double-skinned' thermal walls that prevent the oven's exterior from getting too hot. In addition, the oven comes with wheels, making the unit very portable.
What We Like:
A high-quality unit that can be bought at an affordable price;
The oven is fueled by wood and will infuse your food with the authentic smoky flavor;
A pizza stone ensures all food is cooked to perfection;
The thermal walls prevent the oven's exterior from getting too hot, making the unit very safe.
What We Don't Like:
The oven is not suitable for those who dislike constantly monitoring their food while it cooks.
---
3. BURNHARD Nero Stainless Steel Outdoor Pizza Oven
The BURNHARD Nero Outdoor Pizza Oven is one of the best outdoor pizza oven models available on Amazon, according to customer reviews. What makes this oven stand out from its competitors is that it is fueled by wood, but it doesn't take a long time to heat up. Once you've got the charcoal, wood, or briquettes burning, it takes the oven less than 10 minutes to reach 500 °C.
The oven features so many clever details, which makes it very convenient for use. The body of the oven is made of two layers of stainless steel separated by a layer of wool insulation, allowing it to cook your food perfectly and maintain high internal temperatures for a long time. In addition, it features a removable door with a built-in thermometer so you can keep an eye on the temperature at all times. Last but not least, you can use the refill opening to add more fuel without opening the main door and cooling the oven down.
This oven features a pizza stone that absorbs heat quickly and holds it in, baking your homemade pizza to crispy perfection in 5 minutes. The manufacturer claims that you will be 100% satisfied and that is why they don't fear to offer free return shipping on the oven.
What We Like:
A high-quality pizza oven that comes at a decent price;
Packed with many details which make the cooking very convenient;
The oven is excellent at maintaining consistent temperatures;
Takes only 10 minutes to heat up and 5 minutes to bake a pizza.
What We Don't Like:
A few users complained that the oven might take a bit longer than 10 minutes to heat up.
---
4. Pizzacraft Deluxe Pizza Kit
One frequently asked question regarding pizza ovens is can you use a grill as a pizza oven. The answer is both yes and no. A barbecue is not made to reach the high temperatures pizza ovens do, so they are not suitable for this task. However, there are some special tools that can help you transform your grill into a pizza oven.
Pizzacraft Deluxe Pizza Kit can be used to transform your kettle grill into a pizza oven. Even if your grill can't reach temperatures higher than 400°F/204°C, this kit will help it reach 900°F/480°C easily. This temperature is ideal for cooking tasty, crunchy pizza. In addition, temperature this high is enough to cook a pizza in less than 5 minutes.
This kit includes a stainless steel kettle converter, 15-inch round pizza stone, 13-inch wide folding aluminum pizza peel, and charcoal fence. According to customer reviews, the kit fits the majority of 18-inch and 22.5-inch Weber Kettle Grill models, as well as Home Depot's Master Forge Grills.
What We Like:
A kit that allows you to transform a grill into a pizza oven;
The product comes at an affordable price;
The kettle converter fits the majority of popular grill models;
It takes only a few minutes for the grill to heat up and less than 5 minutes to cook pizza.
What We Don't Like:
The unit is not universal and suitable for all kettle grills.
---
5. BBQ-Toro – Pizza Oven for Gas Barbecues
The previous product was suitable for kettle grills only. However, this one is much more universal and it will allow you to turn almost any gas or charcoal barbecue into one of the best outdoor pizza oven models.
What is included in a package? Well, you get to choose. You can go for just the pizza oven, or you can also grab the set which includes a pizza stone as well as a pizza shovel. The way this kit works is very simple. Just place the cover on your grill and it will gather heat which is suitable for cooking a pizza.
The cover is made of high-quality stainless steel with a 1.5 mm thickness, which makes it great at retaining heat and allowing the grill to reach high temperatures. The cover also comes with a thermometer that will help you set the ideal temperature. Speaking of temperatures, the temp range goes from 50 °C to 400 °C.
What We Like:
A pizza oven cover that can transform almost every barbecue into a pizza oven;
You can choose between the cover only or a set that includes a pizza stone and shovel as well;
The cover allows your grill to reach temperatures that range from 50 °C to 400 °C;
The included thermometer allows you to monitor the temperatures easily.
What We Don't Like:
The cover is not as advanced as the other pizza oven models we presented.
---
Related:
---
How to Choose the Best Outdoor Pizza Oven for Your Needs
After seeing so many different outdoor pizza oven models, you might think that you'll never be able to decide on one. But, choosing a pizza oven is easier than you think.
The first thing you need to decide is which type do you prefer – a wood-fired oven or a gas oven. We already discussed the differences between these two in detail, so you should have no problem deciding which option is more suitable for you.
Then, you need to think about your budget and how much money are you willing to spend? Even though it can be pricey, we suggest investing in one of the best outdoor pizza oven models. It is going to be a large investment, but it will pay off in the long run. Such ovens are characterized by quality and you will never have to worry about them breaking down.
Here are a few other features you should have in mind when choosing the best outdoor pizza oven for your needs.
Insulated Construction
In general, steel is the preferred material for basic construction mostly because it is a lightweight material that has decent heat retention. High-quality models will also feature an outer layer of some other material to improve insulation, with silicone and ceramic being the materials of choice. Silicone will greatly reduce heat radiation and make the oven a bit safer to touch, while ceramic will add an extra layer of retention, but the oven will be very hot on the outside.
Size and Portability
Owning a lightweight outdoor pizza oven is a big plus. Some of the best models are designed to be relatively portable, and the average weight is about 30 lbs. Less weight means that setting the oven on soft ground (such as grass, clay, or soil) will be possible, whereas heavy models can only be placed on a concrete table.
Design
The best outdoor pizza oven models feature a domed design since it will allow much better ventilation via a chimney or smoke port. The crust should come out crisp and lightly charred and smoky, not blackened with soot or soggy to the touch. You don't want your pizza to be too smoky or moist, so paying attention to ventilation is important.
Speaking of ventilation, it is recommended to stay away from models that vent the smoke out the front. By the time smoke rolls out of the interior, it will have already flavored your pizza. There are different types of ventilation, and you should go for an option that won't affect heat retention.
Price
Even though you might want to get the best outdoor pizza oven on the market, your budget might not allow you to do so. You can get an excellent pizza oven for about 250£, which is actually quite a reasonable price. If you intend to use the oven regularly then you will definitely get your money's worth.
The most enthusiastic outdoor chefs can even consider investing in built-in models that provide excellent cooking performance but come with an exorbitant price.

Image Courtesy of Maple Mtn Fireplace
Best Outdoor Pizza Oven FAQs
Does a pizza oven need a chimney?
Yes, a chimney is an absolutely essential part of a wood-fired pizza oven. It is needed to vent out the smoke and the hot air from inside the oven. Without the chimney a constant stream of smoke could be billowing out of the front of the oven, not to mention ruining the pizza.
But a pizza oven can also function without a chimney if it uses gas instead of wood as a heat source.
How hot can a pizza oven get?
This depends on the model, but, in general, the temperature inside the majority of pizza ovens ranges from anywhere between 400°F (205°C) all the way to 900°F (480°C).
The ideal temperature for baking pizza is around 650-750°F (340-400°C). Such temperature will allow you to bake a crisp pizza in no time. Keep in mind that different foods or even pizzas require different temperatures. For example, baking a thick pizza with lots of cheese should be done at a lower temperature. However, thin Neapolitan pizzas require high temperatures and short cooking time.
Why do pizza ovens get so hot?
A pizza oven doesn't only get so hot to ensure a short cooking time. The high heat is essential for baking a perfect pizza and it will make the water inside the dough evaporate quickly – puffing up the dough and cause those delicious dough bubbles.
In addition, cheese and sauce need to be exposed to high heat to melt fully. Last but not least, high heat will produce some black charring which adds so much crispness and flavor to a cooked pizza.
How long does it take to heat a pizza oven?
It depends on the heat source. Gas-powered pizza ovens are much quicker and they take about 40 minutes to heat up. A wood-fired oven, on the other hand, can take a few hours to heat up. Also, you need to spend extra time preparing, lighting, and re-stocking wood.
How long does it take to cook a pizza in an outdoor pizza oven?
Since outdoor pizza ovens can reach very high temperatures, it takes them usually 90 seconds to 3/4 minutes to cook a pizza. The cooking time depends on the type and temperature of the oven, the type of dough, the thickness of the pizza, and the toppings.
What else can you cook in a pizza oven?
You can use a pizza oven to cook other foods, not only pizza. After all, it is still an oven and you can use it to bake bread, roast chicken, lamb or pork, or even use the oven as a smoker.
Owning a pizza oven is incredibly convenient. Not only will you get to cook the most delicious home-made pizza (and other goodies as well), but you'll also get to throw unique parties for your friends and family. A pizza oven is something that never gets old, and it never fails to provide a great time. And, when combined with these amazing adult bbq games, all your parties will be a blast!
Everyone deserves amazing pizza and choosing the best outdoor pizza oven for your needs might be tricky if you don't have the right guide. We hope that our guide cleared up some things for you and helped bring you one step closer to making a decision.