The most tempting thought in the world would probably be the feeling of gentle summer breeze and sun on your skin while you inhale the tangy perfume of aromatic rubs and charcoal. And also the rich aroma of grilled ribs, beef, chicken, and even veggies.
But if this thought comes up in the middle of winter, or you don't have a backyard, lawn, or balcony to place a grill, it might be unachievable. Unless you like to battle the elements and stand outdoors to cook in a heavy coat and gloves, or you have one of the best indoor electric grill models.
Try to remember the feelings you had last time you had an outdoor barbecue. Well, owning the best indoor electric grill for your personal needs offers the perfect way to get close to that feeling. You heard that right. An indoor grill is the latest trend for enjoying a stress-free and hassle-free barbecue in the comfort of your home, especially if your affection for outdoor grilling is being hampered in any way. Unfortunately, not every one of them is up to the task.
In this article, you can find out what are the best indoor electric grills available on the market. We prepared a few indoor grill reviews on some of the top picks on the market, and a complete guide on which qualities to look for when choosing the best indoor electric grill. After you finish reading, you'll be able to pick out the right grill for you, so you can enjoy having a BBQ whenever you want.
Best Indoor Electric Grill on the Market in 2021
The Benefits of Owning an Indoor Grill
Outdoor grills are undeniably superior and have more sentimental value than indoor grills. Still, when you grill outside, you have to take account of many things, like weather conditions, potential fire hazards, cleaning processes, etc. When it comes to those things, indoor grills have few advantages.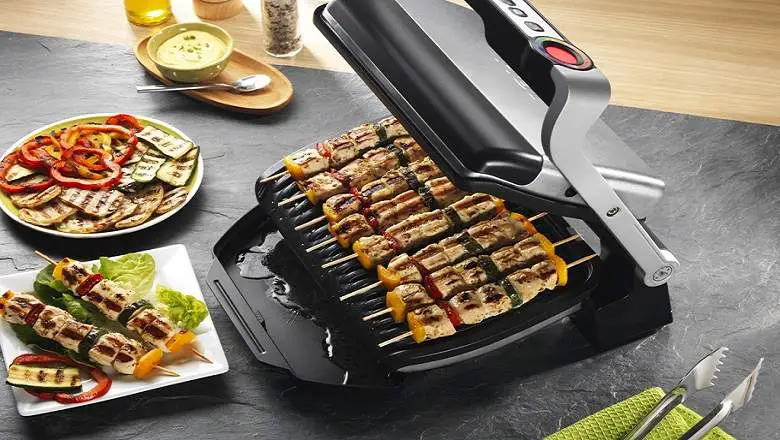 Image Courtesy of Heavy
You are not affected by weather conditions
Heavy gusts of wind or sudden downpour are the biggest enemies of outdoor enjoyment. But with the indoor grill, you don't have to think about that at all. No matter what the weather conditions outside are, you can still enjoy the barbecue you planned.
No risk of flare-ups
Once the fat and grease start to fall through the grate gaps of a charcoal or gas grill, there is a high chance that you'll encounter violent bursts of flame. That poses a serious fire hazard if it catches you off guard. Since indoor grills don't use combustible fuels and run on electricity; instead, there is no risk of flare-ups, and such fire risks are minimized.
Convenient and easy to use
There is no hassle with the indoor grills. All you have to do is to plug them into the power source and grill away. You can even adjust the temperature with a dial or knob – one feature that charcoal grill is missing.
Fast and easy cleanup
Before you safely store it away, the parts of gas-fueled and charcoal-fed grills have to be hand washed. On the other hand, many elements on indoor grills are dishwasher-safe, which means that you are able to spend more time on actual cooking than having to hand-scrub the greasy parts.
Less smoke
Last but not least advantage of indoor grills is that they produce much less smoke during cooking. That is one of the essential qualities that an indoor grill has. Even though certain manufacturers claim that their indoor grills are entirely smoke-free, they are not, but the smoke is considerably minimized compared to the smoke that comes from gas and charcoal grill.
The Two Main Types of Indoor Grills
There are two types of indoor grills – open grill and contact grill. Even though they each have covers, there is a massive difference between them. The cover of an open grill doesn't come into contact with food when it's closed. On the other side, the cover of a contact grill is pressed against the food that's cooking inside, which provides a more even cook.
Open grills have one massive advantage over contact ones. They are the only type of indoor grills that can adequately handle unevenly-shaped foods like vegetables and shrimp. They are also generally larger and will come closer to recreating the taste of meats grilled outdoors.
The advantage of contact grills is that they cook food faster because they simultaneously cook both sides of the food. Many models have hinged floating cover, so they are able to easily accommodate different foods of different sizes. Also, most of the cooking parts are removable and dishwasher-safe, so they clean up more easily.
That being said, open grills are better if you want to get as close as you can to the feeling that you are actually grilling. The grilling technique is the same as the outdoor grill – wide grate sits over a drip pan, you need to flip food over, and they hold more food at once. On the other side, contact grills take up less room in the sink or dishwasher, and they are ideal for making grilled sandwiches.
Keep reading and find out what are the best indoor grills available on the market.
---
Related Posts:
---
The Best Indoor Electric Grill Reviews
1.      Royalswill Electric Indoor Barbecue Grill
Royalswill Electric Indoor Barbecue Grill features a huge cooking area (36 x 21cm), and it is the best indoor electric grill for those who often throw parties and family gatherings. The cooking area is coated with a non-stick surface, which means that you need to use small oil quantities when cooking. Extra grease is drained into the drip tray, making it healthier than the traditional grill and also making it easier to clean after cooking.
This model comes with an adjustable thermostat, and you can choose from five settings depending on the type of food you are cooking. It heats thanks to a powerful (1500W) electric element quickly. This high power output contributes immensely to food flavor.
Royalswill Electric Indoor Barbecue Grill offers a great way to enjoy grilling season all year long by bringing the fun of grilling inside and leaving the smoke and mess outside. It is perfect for cooking a healthy breakfast and delicious meals with minimal fuss. Its relatively compact size makes it suitable for camping or caravanning.
What We Like:
Adjustable heat controls provide more precise and even cooking;
The grill allows you to cook a variety of foods
Cleaning and maintaining the grill is effortless.
What We Don't Like:
The grill doesn't have the lid, so containing smoke is a bit troublesome.
---
2.      Tefal OptiGrill Plus
Tefal OptiGrill Plus is one of the best indoor electric grills that belong to the contact grills category. It can detect exactly how many items are on the grill and adapt the temperature and grilling cycle accordingly. The intelligent system removes the guesswork from grilling. OptiGrill ensures that you always have correct information about the state of the food inside with audible alerts and color-changing LEDs. This way, you will always know when meat is rare, medium, or well-done – no more worries about under or overcooking the food.
It packs a powerful punch at 2000W and sears food at very high temperatures, locking all the flavors and juices. Plates are made from a non-stick material, so oil is unnecessary, and they also leave the food with trademark grill pan markings. The body has a brushed stainless steel finish, and despite the robust, heavy-duty handle, it is a real eye candy.
OptiGrill Plus features six automatic cooking programs and a temperature control with four temperature settings, designed for maximum versatility. The grill plates and drip tray are easily removable and dishwasher safe, which makes cleaning a breeze.
What We Like:
The grill distributes the heat evenly across the entire cooking surface;
The Automatic Sensor Cooking does all the work and notifies you when your food is done;
The grill is packed with so many features, allowing you to cook a variety of foods (including frozen food);
Cleaning and maintaining the grill is very simple.
What We Don't Like:
The grill and the lid are heavy, and they will flatten your food a bit.
---
3.      George Foreman Large Red Steel Grill
The contemporary design and bold red color of the George Foreman Large Red Steel Grill make it one of the best indoor electric grill models and a great addition to your kitchen. The size (37.1 x 37.9 x 10.7 cm) is perfectly suitable for every occasion, but it comes with a slight disadvantage. Its compact size makes it easy to store, but if you plan to cook food for more than four persons, it may take you a while. The bonus is that it also comes with a cord wrap that allows for easy vertical storage.
Grilling plates are non-removable, but they are coated with non-stick material, so after you are done with cooking, a simple wipe will make them ready for your next use. It also has an easily removable drip tray that slides and clips into place.
George Foreman Large Red Steel Grill features a powerful heating element, a seven portion grill designed with a beveled upper steel lid, internal branding, and stainless steel handle.
What we like:
Compact size suitable for easy storage;
Design that makes the grill visually ideal for every kitchen;
Maintaining and cleaning the grill is a breeze.
What we don't like:
Compact size is a disadvantage when it comes to cooking for larger groups of people.
---
4.      Tower 3-in-1 Grill, Sandwich, and Waffle Maker
Here is the one multifunctional grill that makes all your wishes come true, whether you are in the mood for grilled food, melted cheese sandwiches, or corn syrup waffles. Its compact size and sleek design are making it suitable for cooking food directly on the dinner table.
Tower 3-in-1 Grill, Sandwich, and Waffle Maker features 900W output with separate grill, sandwich, and waffle plates. Plates are made from non-stick aluminum alloy and are easily removable, so cleaning is a piece of cake. This model doesn't feature a grease drip tray, so grilling oily food can be a tad bit problematic.  Also, you have to 'burn' the newness off the plates, which is to be expected, but it doesn't take long.
What makes this model great is cool-touch housing and automatic temperature control that provide reliable and safe use. It is excellent for people who love tasty toasties and fluffy waffles.
What we like:
Compact size and ease of use;
Cool-touch housing safety feature and automatic temperature control function;
Accompanying waffle plates and grill plates for versatile cooking options;
Cleaning and maintaining is a piece of cake.
What we don't like:
The power output is not strong enough, so it takes more time to make food.
---
5.      Ninja Foodi Health Grill and Air Fryer
This grill is one unusual but versatile combination, which provides incredible results. With the Ninja Foodi Health Grill & Air Fryer, it's quick and easy to create your favorite meals. You can cook both fresh and frozen ingredients with an authentic chargrilled finish.
Food cooks quickly and evenly with little or no added oil. The grill features Cyclonic Air Technology that circulates temperatures up to 265°C around food to achieve even cooking and searing, making this model undoubtedly one of the best indoor electric grill models. The same technology combined with a temperature-controlled grill plate, splatter guard, and cool-air zone provides a virtually smoke-free experience.
The package includes a sizeable 5.7L cooking pot, 3.8L crisper basket, and grill plate. All parts are non-stick and dishwasher-safe so that the cleaning process won't be messy at all. It also includes a cleaning brush and a chef-created recipe guide.
It comes with an inbuilt timer and easily programable cooking functions with – Grill, Air Fry, Roast, Bake, Dehydrate. With this grill, you can achieve authentic chargrilled flavors in the comfort of your home.
What we like:
Inbuilt timer and five different cooking functions;
Cyclonic Air Technology that cooks and sears food evenly;
Sizeable cooking pot, crisper basket, and grill plate for versatile cooking options;
Dishwasher-safe parts for easy cleaning.
What we don't like:
It is heavy and takes up a lot of space
---
Best Indoor Electric Grill: Buying Guide
Indoor grills are great for recreating the genuine experience of outdoor barbecue. They will cook your food, and they will provide flavor. But the question is how well.  You should never settle for less than the best, so here are some factors you should keep in mind when choosing the best indoor grills.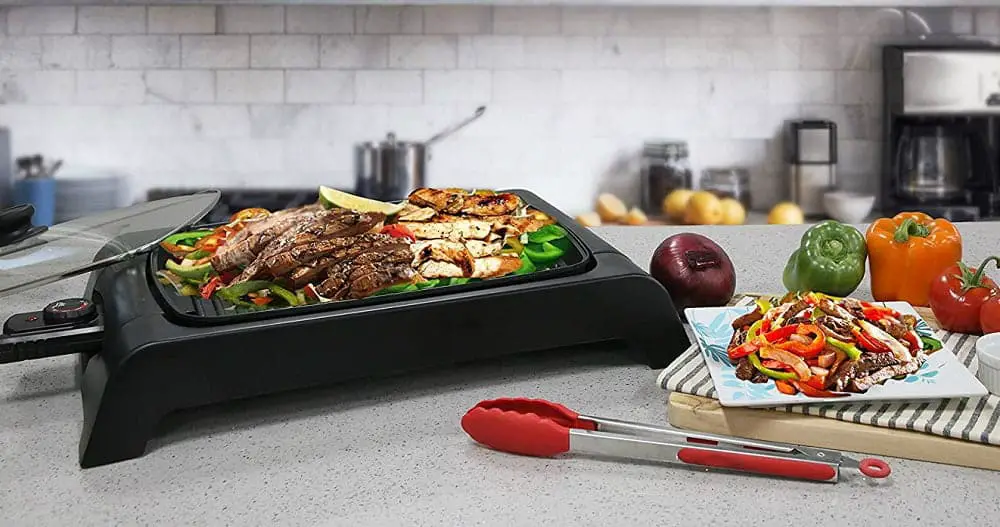 Image Courtesy of Brooke Roberts
Price
When searching for an excellent indoor grill, you want to get the best bang for their buck. Indoor grills are typically less expensive than outdoor ones. Price can vary a lot and is mostly dependable on the internal capacity, material that the body is made from, and the addition of special functions like defrosting and specific-food cooking.
Size
Indoor grills are often smaller in size so that they can be easily stored. Their low capacity is suitable for small groups of people, which means they aren't exactly the perfect match for large parties. Generally, these grills can serve up to five people, but a few models on the market can serve up to eight people.
Construction
When selecting an indoor grill, you should be wary of the two main components: the heat source and the temperature control. The heat source will determine how fast and how hot the grill gets, and adjustable heat range means that you can vary whether you're sizzling some veggies on low heat or searing a thick cut of meat on high temperatures.
With that in mind, you want to get a grill with high energy efficiency and direct, easy-to-use temperature control. For example, a solid range to cook any different type of food is around 1300 to 1800W.
Cleaning Ease
When it comes to cleaning the indoor grill, you should take care of: material that plates or grate are made of, are the parts mostly removable and dishwasher safe, is the drip tray deep enough.
Cooking grates and plates on most indoor grills have a non-stick coating, or they are made from non-stick metal alloys. While food may still stick to a non-stick surface, non-stick materials are much easier to clean. You should keep in mind that the same cannot be said for uncoated cast iron grates, even though they are dishwasher safe.
The drip tray is also a crucial part of an indoor grill. The drip tray should be deep and broad so that it won't overflow during cooking, but you must also consider its accessibility and dishwasher-compatibility.
Safety
Here are a few pointers to check whether the indoor grill meets all of the safety requirements it should. The first thing you need to look for is protection against heat. That means that it has to have a cool-touch surface, lid cover, and insulated handles.
Secondly, it needs to have a proper electricity fail-safe mechanism, like an automatic shutoff, kill switch, in case of fire hazard. Also, the power cord should be long enough for convenience, but not too long.
Thirdly, you should always opt for a grill with a smokeless grilling feature. Despite their small size, indoor grills can get pretty smoky. That's why the best indoor grills have a built-in smoke filter. This feature is hugely beneficial for apartment dwellers and BBQ lovers with asthma.