Best Portable BBQ in 2022 – A BBQ You Can Take Anywhere
If you love spending time outdoors and going camping or on picnics, then you can improve your experience by treating yourself to a portable grill. This small appliance will allow you to make incredibly tasty meals anywhere, from your backyard to the shore of a lake. You don't need too much cooking space to get those perfect, grillmaster-worthy results. One of the best portable BBQ models will also do the trick.
Small, portable grills can also bring some serious heat despite their size. And, since they are built to be carried around, they will become an inevitable addition to your camping trips or any other outdoor adventure. Also, a portable BBQ is an excellent choice for city-dwellers or anyone who doesn't have a big backyard.
Choosing the best portable BBQ for your needs can be a bit tricky. There are so many brands and models to choose from. Ranging from portable electric grills to packable grills that fold into nothing more than a backpack to take hiking or camping, we will help you find the model that will suit all your needs.
Keep reading to find out what are this year's best portable BBQ models and how to choose the right one for you.
Best-Selling Portable BBQs on the Market in 2022
Last update on 2022-06-18 / Affiliate links / Images from Amazon Product Advertising API
Benefits of Owning a Portable BBQ
Before we show you what some of the best portable BBQ models are, it's worth mentioning what are the benefits of owning such a grill.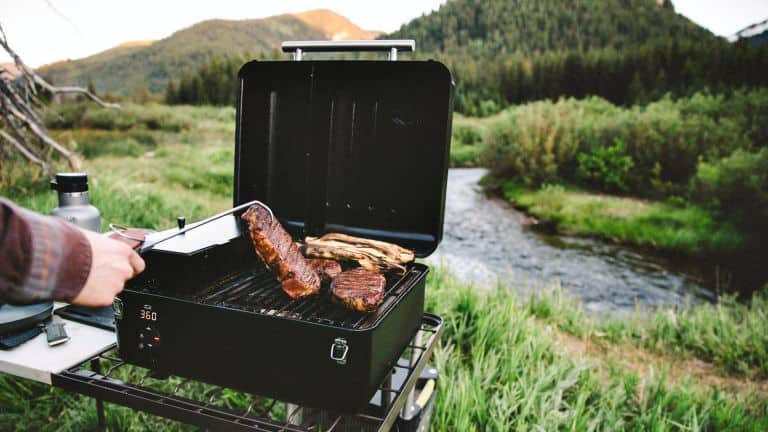 Image Courtesy of Fifth Floor
Compact size. The most significant benefit of owning a portable grill is its small size, making it easy to manage the unit. All those who have limited outdoor space will appreciate this feature.
Lightweight. Not only are portable grills compact, but they are also lightweight and easy to carry around. This is not the case with any other regular-sized grill.
Suitable for those who barbecue rarely. If you love grilling meats and veggies once in a while, there's no need to invest in a bulky high-end model. Instead, go for a small one that will deliver practically the same results. The only minor downside is less cooking space.
Packed with accessories. Even though they are small and compact, portable BBQs come with nifty accessories that can enhance the cooking experience. For example, some models feature an additional shelf that slightly increases the amount of cooking space.
Who Should Get a Portable BBQ?
Portable grills aren't only suitable for people who frequently go camping, picnicking, or tailgating. They are also an excellent choice for apartment dwellers who have limited outdoor space. All grills in this category are light, small, and compact enough to fit into any surface, including the back of a car.
On the other hand, if you have enough backyard space and love to grill for your friends and family, then you'll be better off with a full-sized grill. For more info, make sure to check out our list of the best barbecue models for this season.
Also keep in mind that the cooking space and the capacity of a portable grill isn't ideal for cuts of meat that require slow or indirect cooking, such as roasts or pork shoulder.
Different Types of Portable BBQ Models
There are two types of portable BBQ models – gas and charcoal grills.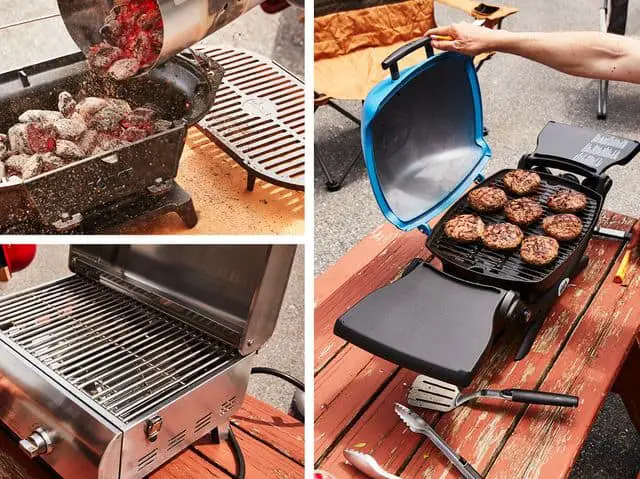 Image Courtesy of Popular Mechanics
Gas (Propane) Grills
Gas grills are suitable for those who want to grill at least once a week and who want to have the most convenient cooking experience. However, in order to get that, you'll have to sacrifice some heat and the authentic smoky taste.
Here are some benefits of owning a gas grill:
Using a gas grill is more convenient than a charcoal one. Gas grills ignite with a press of a button and take only a few minutes to heat up.
Controlling the temperature is done quickly by turning a temperature dial. This will reduce any flare-ups, excessive charring, and even undercooking.
Propane burns clean, and you won't have to deal with smoke.
The firebox cools quickly, and you can pack the grill without having to dump ashes.
The cons of owning a gas grill are the following:
Propane grills can't burn as hot as charcoal grills. As a result, the food will be cooked with deep grill marks but little browning between them.
The propane burns clean and won't impart the authentic smoky flavor to food.
Gas grills and propane canisters are more expensive than their charcoal counterparts.
You can't dispose of propane canisters. Instead, you'll have to return them to a designated location, such as hardware stores for disposal and recycling.
Charcoal Grills
Charcoal grills are a perfect choice for all those who are looking for an affordable unit that can be used occasionally, and that will deliver a smoky flavor and high-heat searing.
Here are some benefits of owning a charcoal grill:
Charcoal burns hotter than gas and, therefore, can sear food better.
Food cooked on a charcoal grill is infused with that authentic smoky flavor.
In the long run, a charcoal grill and briquets will cost less than a gas grill and propane canisters.
The cons of owning a charcoal grill are the following:
Charcoal produces smoke, which may be an issue for small, fenced-in spaces.
Briquets can get a bit messy.
Once the grilling is done, you have to snuff out hot coals and empty the ashes.
Best Portable BBQ Models
1. Femor Stainless Steel Charcoal BBQ Grill
No products found.
Portable grills are usually meant to serve three or four people. But, Femor managed to make one of the best portable BBQ models that can feed up to 10 people. The grills is made of high-quality stainless steel, which is prone to rust and any deformations caused by outdoor elements.
The grill is fueled by charcoal and it features vent holes on both ends of the grill. This way, the air circulation is more stable and the heat is evenly distributed. Just like all charcoal grills, this one will infuse your meat with that authentic smokey flavor. Also, this model features a lightweight folding foot design, making it easy to carry and store the grill.
Assembling the grill is simple thanks to the easy-to-follow instructions. In addition, you won't need any tools.
This Femor model features plenty of accessories, including thickened carbon mesh, two thickened stainless-steel grills, a non-stick pan, a storage rack, a storage basket, a storage plate, a tong and a grill handle. And, in case this model is too big for you, you can always go for the smaller ones offered by the same manufacturer.
What We Like:
A portable model that is large enough to feed up to 10 people;
Made out of high-quality stainless steel and is resistant to outdoor elements;
The air vents do a great job of distributing the heat evenly across the cooking surface;
The grill comes with plenty of accessories for the ultimate grilling experience.
What We Don't Like:
Just like all other charcoal grills, cooking with this one can get a bit messy because of the ashes.
No products found.
---
2. Portable Mini Charcoal Grill
No products found.
If you're fond of grilling, but you don't want to invest too much money in a grill, here is the best portable BBQ in terms of affordability. And, the greatest thing about this model is that it is made of premium iron. This makes the grill resistant to scratches and dents. Deforming and damaging the model won't be done easily.
This charcoal grill is very portable, which is both an advantage and disadvantage. Its compact size will allow you to fit the grill almost anywhere. However, if you plan to cook for more than four persons, it may take you a while due to the small cooking surface.
If you're not that of a DIY person, no worries. There are no screws or special tools needed to assemble this grill. The grill can be folded and its legs rotate and click into place easily.
What We Like:
Made of premium iron; the grill is resistant to scratches, dents, and abrasions;
Small and compact model that can fit anywhere;
The foldable legs can also rotate, making it even easier to store this grill;
The assembly is very simple and doesn't take up much time;
One of the most affordable models available.
What We Don't Like:
Some users complained that the legs are very flimsy.
No products found.
---
3. VidaXL Portable Gas Grill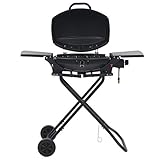 vidaXL Portable Gas BBQ Grill with Cooking Zone Black Garden...
Turn your garden into a second kitchen with our portable gas barbecue!
It will make your outdoor cooking experience sizzle, effectively turning your backyard into a second kitchen.Thanks to the powder-coated steel body, our barbecue grill has a sleek and stylish design and is very durable
It has one black-enamelled cooking grid and a heavy-duty hood
Two foldable side tables offer additional space for creating sauces or your favourite side dishes
Last update on 2022-06-18 / Affiliate links / Images from Amazon Product Advertising API
For all those looking for the best portable BBQ in terms of ease of use, VidaXL portable gas grill will do the trick. The grill features a cooking area of 0,15 m2 that is large enough to feed your friends and family. The BBQ features a powder-coated steel body that combines both a stylish design and durability. The barbecue features 15,000 BTU and does a great job of distributing heat evenly.
Just like all the other gas grills, using this one is incredibly simple. The grill features Piezo ignition and will heat up in a few minutes. The temperature is easily adjusted just by turning the knob.
Even though it may look bulky, the grill is very easy to move around thanks to the two wheels.. The side tables are foldable and the grill can be carried like a suitcase. Speaking of side tables, they are a quite useful addition to the grill since they provide extra space for making sauces or side dishes.
What We Like:
An affordable gas grill that is large enough to feed friends and family;
The grill is powerful (15,000 BTU) and distributes heat evenly;
Starting the grill and controlling the temperature is incredibly simple;
The grill features foldable side tables, perfect for making sauces or side dishes.
What We Don't Like:
Assembly is a bit complicated and might take up a few hours.
---
---
4. 22.5 inch Portable Kettle Charcoal Grill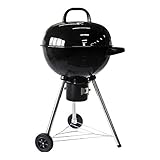 22.5 inch Portable Kettle Charcoal Grill in Black, Perfect for...
EXTRA LARGE COOKING AREA & STORAGE – The Extra Large chrome cooking rack allows you an extra large cooking area surface to cook alot of food at the same time. Great for parties and events, it also features a bottom storage shelf for storing your grilling tools.
TEMPERATURE CONTROL – Features a venting system to allow you temperature control over your charcoal ensuring your food is cooked evenly.
ENAMEL COATED - Heavy-duty, robust steel construction and enamelled porcelain cover which can withstand weather and wear. It also features carry handles along with wheels for easy movement.
EASY TO CLEAN & ASH CATCHER – Made from heavy duty steel, this easy to clean BBQ grill is easy to clean thanks to its all round smooth finish. It also features an ash catcher to safely collect the ash with a handle to dispose of when finished.
Last update on 2022-06-18 / Affiliate links / Images from Amazon Product Advertising API
All those looking for the best portable BBQ in terms of the cooking space, here is one recommendation. This charcoal grill features a heavy-duty, robust steel constructions and enameled porcelain coat that can withstand weather and wear. Even though the grill is sturdy, it features carry handles and wheels that make it easy to move the model around.
This model comes with plenty of cooking space that will feed both your family and friends. There is also a bottom storage shelf for all your grilling tools. Controlling the temperature during cooking is very easy thanks to the advanced venting system. The grill also comes with an ash catcher that makes the cleanup much easier.
What We Like:
A charcoal grill that is easy to cook with thanks to the advanced venting system;
The grill is made from robust steel and enameled porcelain, and can withstand all weather conditions;
The large cooking rack provides enough cooking space for small gatherings but also parties;
The grill is easy to clean and the ash catcher makes ash disposal very simple.
What We Don't Like:
Even though the grill is easy to move around, it is not the most portable model available.
---
Related:
---
Best Portable BBQ: Buying Guide
As we already mentioned, there are two types of portable grills for you to choose from – gas grills and charcoal grills. If you skipped that part, let us remind you that gas grills are more convenient to use. They start with a push of a button and take only a few minutes to heat up. Charcoal grills, on the other hand, are less expensive and will infuse the food with the authentic smoky flavor. However, using these grills is a bit less convenient and can sometimes get a bit messy.
It is up to you to decide which model will suit your needs better. Regardless of the type of grill, here are a few other factors you should pay attention to when choosing the best portable BBQ model for your needs.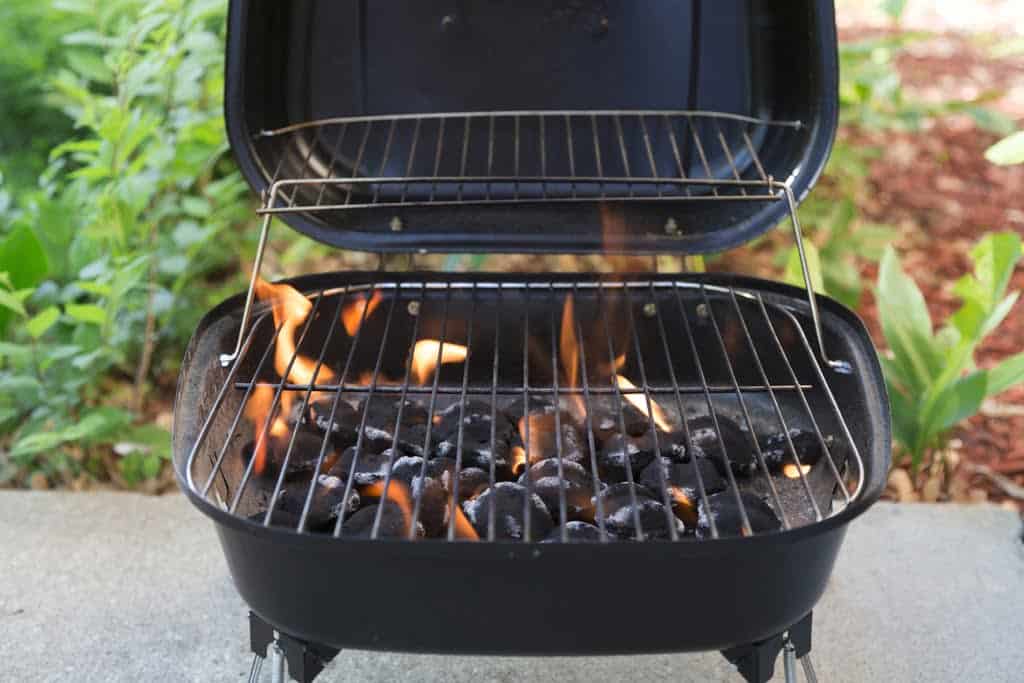 Image Courtesy of Badass Heat
Heating Element
Regardless of the grill type, it is important to pay attention to the heating element. This part should be designed in a way to control flare-ups that might occur if any grease drips on the exposed flames.
Flare-ups won't only affect the taste of your food, but they can also be quite dangerous. You can also look for a portable BBQ that features a grilling plate. This part will divert the grease away from the flame and also reduce the chance of flare-ups.
Power Source
The power source depends on the type of grill you choose. Make sure to go for the option that is more convenient for you.
If you get a gas grill, then you will need to purchase propane tanks. There are several options available; you can either go for one-pound small tanks or a larger, refillable propane tank. Before deciding on one, try to identify how much fuel you'll be consuming.
If you get a charcoal grill, you'll just need to get bags of charcoal regularly. That will be all the fuel you'll need.
Construction Material
The construction material of the BBQ defines the durability of the grill and how well it retains heat. Some of the best portable BBQ models are made of steel, as this material is a perfect combination of durability, lightweight, and lower conductivity.
Aluminum is also a good option as it is very lightweight and cost-effective material. But aluminum grills might have some trouble retaining the grill temperature.
Ceramic grills are also an option. They heat evenly and are capable of retaining heat very well.
Grill Versatility
A simple grill might be enough for most people. However, if you tend to go camping frequently, you may want to have a more versatile model. For example, you can get a grill that supports a range top as this will help you prepare a variety of meals. You can also go for a model that has several burners to make the cooking fast.
Airflow
This feature is essential for charcoal grills only. The vents are used to control the temperature, so you need to choose a grill with proper airflow. It's recommended to go for models that have one vent at the top of the grill and the other in the center of the firebox.
Warranty
All grills should have some kind of warranty. However, the duration and coverage of the warranty vary from one manufacturer to another. In general, even the best portable BBQ models come with a limited warranty that lasts for one or two years.
---
Related:
---
Best Portable BBQ: FAQs
Is it possible to use natural gas with a propane grill?
It is, usually, but you will have to make some conversions. It is recommended not to make these adjustments on your own. Instead, get a licensed gas technician to do it for you.
Can I grill on rusted grate?
If your grill contains loose rust, it is recommended not to grill on it since the rust may stick to your food. In case of minor rusting, you can just clean the grate before using it. Ingesting rust in one meal is not harmful. However, if done over a longer time, it may cause some problems to the intestinal tract.
How much heat output should a portable grill have?
Heat output is usually measured in BTU. For example, a 300 square inch grill should have about 18,000 BTU output. But, the heat output is not the only feature that determines a grill's cooking capabilities. Besides large BTU, the grill should be able to distribute heat evenly. If not, then the grill is quite likely to dry out your meat.
We hope that this article has helped you grasp everything there is to know about portable grills and also choose the best portable BBQ model for your needs. Share your favorite model from our list in the comments!