Now is the perfect time of the year to buy a new grill and enjoy the tastiest BBQ ever in the comfort of your backyard. However, it doesn't matter if you're buying a new grill for the first time or replacing your well-worn one, choosing only one model out of all the best outdoor grills is a very difficult task.
First of all, there are so many different types of grills to choose from. And, once you settle down for a type, it is up to you to choose only one model out of so many good products available on the market. It is exactly this abundance of options that makes picking an outdoor grill quite overwhelming.
If you're a new griller, gas grills are a great place to start. They are simple to use, easy to control, and deliver perfect results every time. But, if you're curious about other options, don't worry, we got you covered! Our list of the best outdoor grills will not only include those fueled by gas, but also other types as well. After taking a look at our top picks, make sure to scroll down and learn about their major differences.
Best selling Outdoor Grills on the Market in 2022
Last update on 2022-06-26 / Affiliate links / Images from Amazon Product Advertising API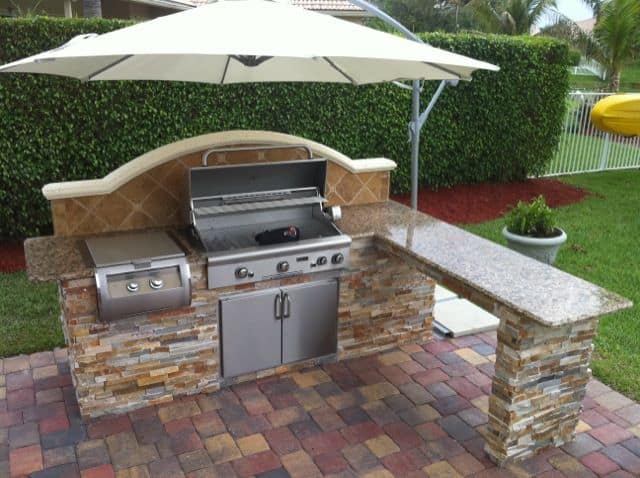 Image Courtesy of Pinterest
Best Outdoor Grills Review
1. Char-Broil 3 Burner TRU-Infrared Gas Grill
Sale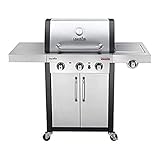 Char-Broil 140736 Professional Series 3400 S - 3 Burner Gas...
TRU-Infrared cooking system - cooks food evenly, with less flare-ups to give up to 50% juicier food and uses up to 30% less gas.
Stainless Steel burners - strong, durable burners that are built to last.
Surefire electronic igniter - light all your burners with the push of a button.
Lid-mounted temperature gauge - monitor the inside temperature of your grill.
Last update on 2022-06-26 / Affiliate links / Images from Amazon Product Advertising API
Gas grills are the most convenient and easiest to use grills, making them the best outdoor grills for beginners. This Char-Broil grill is packed with three burners that are powerful enough to cook all foods to perfection. In addition, the grill comes with a 10,000 BTU side burner, which is perfect for prepping sauces for meat marinades.
Speaking of burners, they allow every chef (regardless of his skills) to make fine cooking adjustments and choose the appropriate temperature. The grill is made out of stainless steel that ensures a rugged and long-lasting outer shell for the grill body. Also, this model features TRU-Infrared cooking technology that delivers even heat and cooks juicier food.
What makes this grill perfect for beginners is the No Flare-Ups technology which ensures even cooking across the entire cooking surface. Speaking of which, you this Char-Broil model is a mid-sized grill which means that it is big enough to cook about 15-20 burgers at the same time. Cooking grids are porcelain-coated, meaning that they are rust-proof and very easy to clean.
PROs:
The grill is very easy to use and perfect for beginners;
Made out of stainless steel that ensures a long life span;
Porcelain-coated cooking grids are rust-proof and easy to clean;
A mid-sized grill that can house up to 20 burgers at the same time.
CONs:
The infrared technology doesn't infuse food with a smoky flavor as a charcoal grill would.
---
2.  Weber Compact Charcoal Grill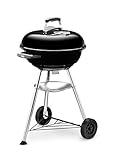 Last update on 2022-06-26 / Affiliate links / Images from Amazon Product Advertising API
Nothing can beat the meat flavor you get when using a charcoal grill. And, Weber's original kettle-style grill continues to stand the test of time as the best grill for cooking with charcoal. What makes this grill stand out from other charcoal grills is that it is very affordable, yet made of quality materials.
Charcoal grills can be used to reach incredibly high temperatures, and Weber performs great in all high-heat searing tests. It will allow you to cook crispy yet juicy chicken and flavorful ribs.
Some may dislike the simple construction of the grill, but, that is exactly what makes this grill stand out from the rest. Many manufacturers pack their products with unnecessary features. With Weber, you won't have to deal with too many parts to assemble and you won't have too many features to handle while cooking.
47 centimeters of cooking space is quite large, and will allow you to prepare tasty meals for your friends and family.
PROs:
47 centimeters makes this grill compact yet capable of cooking plenty of food;
The grill is perfect for searing foods at high temperatures;
Made of quality materials that ensure equal cooking temperatures;
The grill is very affordable.
CONs:
The grill doesn't come with any advanced features or technology.
---
3. Kamado Joe II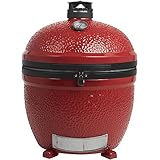 Kamado Joe Big Joe II Stand Alone Charcoal Grill, Red
Premium 61 cm ceramic grill with a thick-walled, heat-resistant bowl that retains heat and moisture.
Patented ash pull-out - cleaning is easy with a pull-out drawer.
Wire mesh glass fibre seal - The double thick seal provides a superior airtight seal and the 10 times the life of normal industrial seals.
Kontrol Tower Top Vent - Maintains an even air setting for precise airflow management when opening and closing the dome.
Last update on 2022-06-26 / Affiliate links / Images from Amazon Product Advertising API
The first thing you should know about kamado grills is that they tend to be very expensive. But, investing in one of these models is perhaps one of the best decisions you can make.
Kamado cookers are definitely some of the best outdoor grills you can find since they impart a delicious smoky flavor to everything they cook. And, when it comes to the best kamado cooker, there is no better model than Kamado Joe II.
This model comes with more capabilities than many popular grills. First, they can reach much higher searing temperatures and you can also use them for low and slow cooking. Kamado Joe II certainly has a luxury price tag but it delivers plenty of cooking power for the money.
PROs:
The grill is very versatile and can be used for low and slow cooking and searing as well;
Features half-rack design which doubles cooking space ;
The grill is made out of high-quality materials that will stand the test of time;
One of the most advanced kamado cookers available on the market.
CONs:
The grill is very expensive.
---
4. Weber Spirit II E-220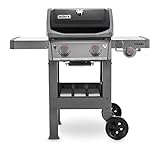 Last update on 2022-06-26 / Affiliate links / Images from Amazon Product Advertising API
Some grills feature a simple design, while others come with plenty of bells and whistles. Weber Spirit II E-220 belongs to the second category. When it comes to the best outdoor grills that feature smart cooking technology, there is no one better than Spirit II.
This model is a gas grill that includes two burners that pack plenty of cooking power. The grill also comes with a propane tank scale and a side burner that can be used for prepping sauces or keeping your food warm. Along with the grill, a built-in thermometer is included and it will allow you to closely monitor the temperature of your food and get perfect cooking results every time.
The Spirit II boasts the advanced Weber grilling system with improved infinity ignition, burners, porcelain-enameled grid, and grease management system. Last but not least, you get to choose between a natural gas or propane gas model.
PROs:
A gas grill that is simple to use but delivers excellent results;
Features smart grilling system that makes cooking easy;
Made out of stainless steel; cooking grates are porcelain-coated;
It comes with a built-in thermometer that monitors food temperature.
CONs:
Some users complained that assembling the grill is very difficult.
---
5. CosmoGrill XXL
Last update on 2022-06-26 / Affiliate links / Images from Amazon Product Advertising API
If you love hosting large gatherings, then you need to find yourself a spacious and powerful grill. And, CosmoGrill XXL is a perfect choice. The grill measures 142x46x113 cm and the cooking area measures 72×42 cm.
If you're not clear what do these numbers mean, let us help you out. The cooking space is big enough to house plenty of food that can feed a large group of people. There's even enough room for a whole chicken or brisket. The charcoal tray can be adjusted easily by using the crank handle, so you can bring the f0od closer to the coal, if necessary.
Besides plenty of cooking space, you'll also be getting a warming rack that keeps the food warm once it's cooked. Foldable storage shelves either side of the barbecue are great for holding condiments, and 4 hooks on the edge of each shelf offer space to hang cooking utensils.
The grill features optimum temperature control and a built-in thermometer that allows you to keep an eye out on your food temperature. In addition, two wheels that make it simple to move the grill around your garden are included.
PROs:
A huge amount of cooking space that is suitable for large gathering;
A powerful grill that distributes the heat evenly ;
This is a charcoal grill, meaning it will infuse your food with that authentic smokey flavor;
The two wheels make it easy to move the grill around.
CONs:
Using charcoal grills requires some preparation in advance as well as thorough cleanup.
---
Related:
---
Different Types of Outdoor Grills
The first step for choosing an outdoor grill is deciding what type of grill would you like. To be more precise, you are choosing the type of fuel your grill is going to use. The two biggest players currently are gas and charcoal, but many people also go for electric and wood pellet grills due to the ease of use.
In order to be able to choose properly, it is important to know what advantages and disadvantages come with each of these grill types.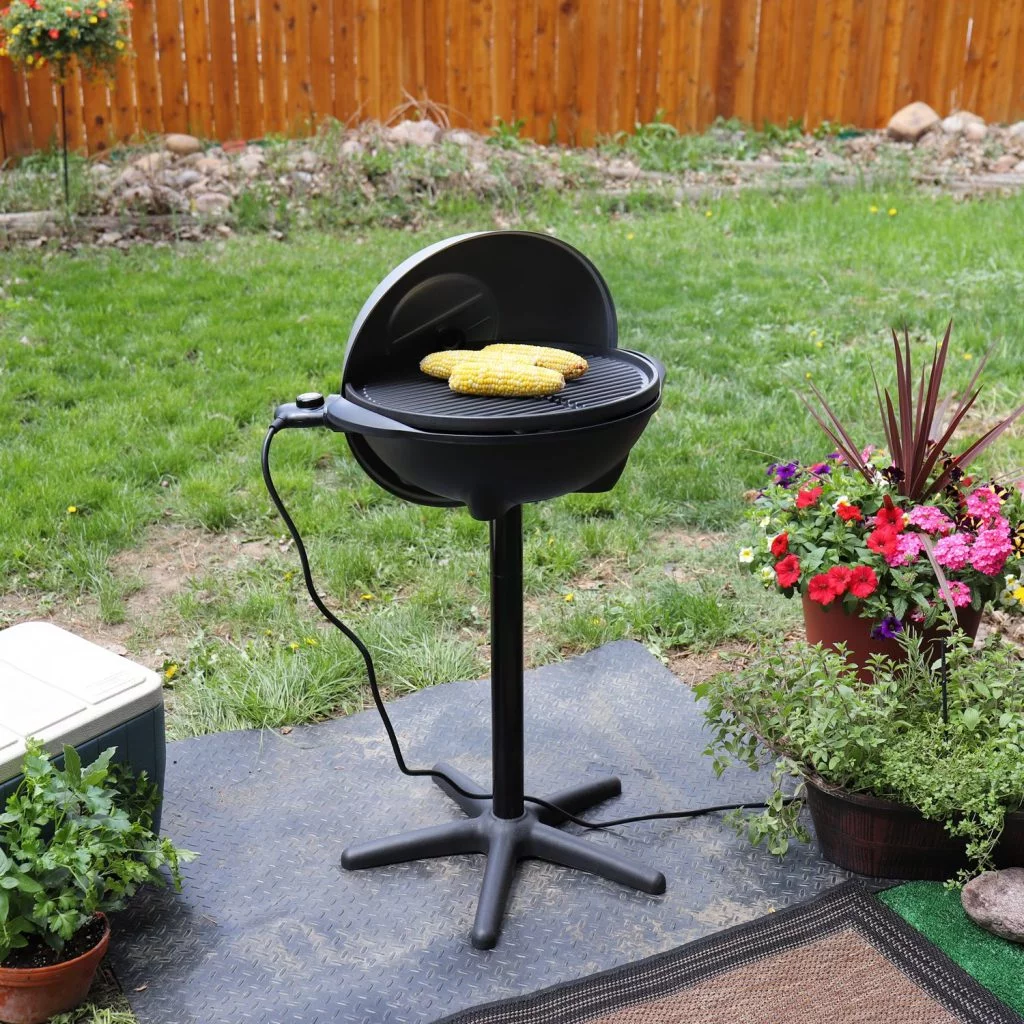 Image Courtesy of The Spruce Eats
Gas Grills
Gas grills seem to be the most popular options for all grillers. Why? Well, it is mostly because of their low operation cost and ease of use. Gas grills ignite immediately thanks to the built-in lighters and gas burns clean and hot. This means you'll be able to cook on-demand and with less waste.
In addition, these grills offer excellent control of the cooking temperature. All you have to do is turn a knob and choose the desired temperature, and the grill will do all the rest. These grills heat up fast and different temperatures allow you to cook all sorts of meats and vegetables as well.
Keep in mind that gas grills don't get as hot as charcoal, and this may present a problem to all those who intend to cook steak only.
There are two types of gas grills available – propane grills and natural gas grills. Propane-powered grills feature tanks that can be easily refilled at local grocery stores or gas stations. A full tank can get you about nine hours of cooking time. However, this depends on how many burners are running and how much gas is flowing.
Natural gas grills have to be connected to your home's natural gas system; the system that powers all the appliances in your home. This is a more affordable option and you will never have to worry about running out of fuel.
Charcoal Grills
Charcoal grills are the best choice for all those who want to infuse their food with that authentic, barbecue-y flavor. However, these grills require more work than other models; you have to set up the grill, use briquettes or charcoal to ignite it, and then clean out the ashes once you're done with cooking.
Charcoal is the cheapest fuel you can get for your grill, and charcoal briquettes are very easy to find. What is unique about this type of fuel is that charcoal burns with slow, high heat and passes the natural flavor on to your food. In addition, charcoal grills come in all shapes and sizes, so you will be able to buy a small model perfect for camping trips or even a full-size grill and smoker capable of cooking at volume.
However, cooking with charcoal requires some planning since it takes charcoal grills up to 30 minutes to reach proper heat levels. All in all, charcoal grills are the perfect choice for those looking for the "traditional" grilling experience.
Electric Grills
If you're looking for the most convenient grill type, then electric grills are the way to go. Some of the best outdoor grills belong to this specific category. These grills don't require any fuel, but they are dependent on an electrical outlet. This is ideal if you live in a neighborhood or even a building where gas and charcoal aren't permitted.
The only downside of using an electric grill is that your food won't be infused with that signature smoky flavor. In addition, some electric grills produce little to no smoke and are perfectly safe for indoor use. If you are an apartment-dweller or just an occasional griller, here is our list of top smokeless BBQs that might be suitable for your needs.
Pellet Grills
This type of grills uses hardwood pellets made out of wood scraps as its fuel. Pellet grills are almost as good as charcoal grills when it comes to infusing your food with a delicious, authentic hardwood flavor. However, the only downside of these grills is that they are costly and so are some wood pellets.
A wood pellet grill will give you a nice smoky flavor. These grills also proved greater and more fine-tuned temperature control thanks to a digital thermostat. Using pellet grills is very simple; all you have to do is load the hopper with hardwood pellets, set the thermostat, and close the lid. An auger-fed burner sustains the desired temperature by feeding the right amount of pellets. An induction fan circulates the smoke throughout the cooking chamber for even heat and flavor distribution.
Even though it uses hardwood pellets as fuel, a pellet grill still requires an electrical outlet. Many users think that pellet grills are the best outdoor grills due to the ease of use and the fantastic flavor infused by the pellets.

Image Courtesy of Landscape Construction LLC
Kamado Grills
Kamado grills are a great choice for those who want to expand their grilling skills. Originally found in Japan, these oval-shaped cookers feature high-fire ceramics covered in insulated steel and refractory materials. Kamados are known for their excellent heat retention and will use much less charcoal than a normal grill. However, a kamado might also cost you a bit more.
The Kamado houses a ceramic or stainless-steel bowl that holds charcoal and wood. The bottom of the grill features a draft opening that feeds oxygen to the coals. In addition, these grills come with an adjustable vent that is used to control exiting air or smoke. These two vents make kamado grills an excellent choice for both grilling and smoking.
BBQ Smokers
Last but not least, it is important to mention smokers. An all-purpose charcoal grill can serve as a smoker and it will infuse your food with a tasty flavor. However, only BBQ smokers are capable of cooking the tastiest ribs, salmon, bacon, and pulled pork. All BBQ lovers who dream of cooking perfectly smoked and barbecued meats should be looking for a smoker rather than a grill.
BBQ smokers are similar to grills and you can also choose between models fueled by charcoal, propane, electricity, or wood. All smokers vary in sizes and cooking capacity.
Best Outdoor Grills: FAQ

Image Courtesy of Luxury Outdoor Living
How to choose the best outdoor grill?
This is a very difficult question to answer. Choosing the best outdoor grill depends on many factors, starting with the type of grill. The first step is to decide what kind of fuel would suit you the most. Then, you should carefully consider your cooking needs and then decide on the size of the grill. Last but not least, make sure to pay attention to the material of the grill. It is advised to choose a grill made of high-grade stainless steel since it will ensure the longest lifespan.
Always keep in mind that the best outdoor grills can be very pricey. But, sometimes it is better to invest in a model that will cook your food perfectly and last you for a lifetime than going for an affordable model that will not do a good job at retaining heat and may be prone to breaking down.
How to decide on a certain grill type?
The best way to do this is by considering your grilling experience. Electric or gas are the best options for long-term use and entry-level pricing. Also, they are the most hassle-free grills with the least amount of cleanup. If you're interested in flavor then you should either go for a charcoal or a pellet grill. However, both options require more maintenance and come with higher running costs since you'll have to constantly buy charcoal or pellets.
Is propane grill a gas grill?
Yes, it is. Most gas grills are designed to use propane as their fuel. Besides propane, this type of grills can also use natural gas as fuel. The majority of propane grills can be easily converted to natural gas grills.
Should I get a grill or a smoker?
The answer to this question depends on your preferences, that is the food you want to cook and the way you want to cook it. If you're looking for speed, then grills are the right choice for you. However, if you love smoky meat and have the time to enjoy the sometimes-lengthy cooking process, then go for smokers.
Smoked meat is usually moister than grilled meat, and sometimes people really appreciate the smoky taste. If you would like the best of both worlds, you can get a hybrid model that is a combination of a grill and a smoker.
With many different best outdoor grills available on the market, it is difficult to settle down for one only. However, this guide should bring you one step closer to finding the perfect grill for your needs. Just follow our tips to decide what type of grill you need and then pick the one from our list that belongs to that category. Trust us, you can't go wrong with that!