There's nothing better than inviting your friends and family over on a sunny day and spending quality time together. Whether you decide to host a party, barbecue, or a general get-together, you should always think of a few ways to entertain your guests. And, there's no better way to have fun than playing games. If you love to invite many people to your place, then you should think of a few games that everyone can play, especially if your guests have kids. We'll make your life a bit easier and hand you down a list of fun large group games!
We have put together a collection of all-time favorite fun outdoor games for large groups. Our list is a combination of outdoor yard games, outdoor games you've probably been playing all your life, and a few games you probably haven't heard of before.
Here are our top outdoor group games for adults and kids!
15 Large Group Games That Both Kids and Adults Will Love
Tag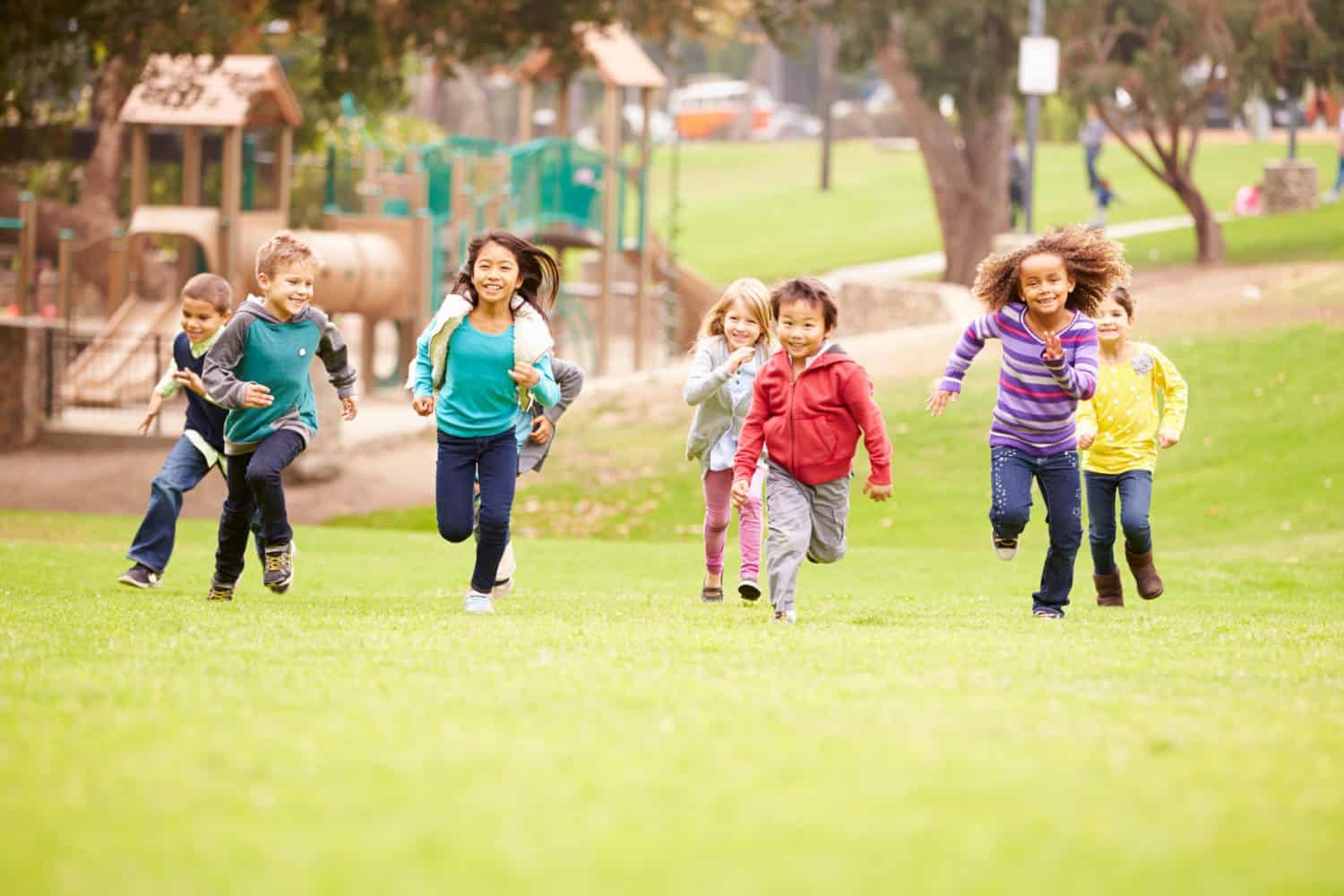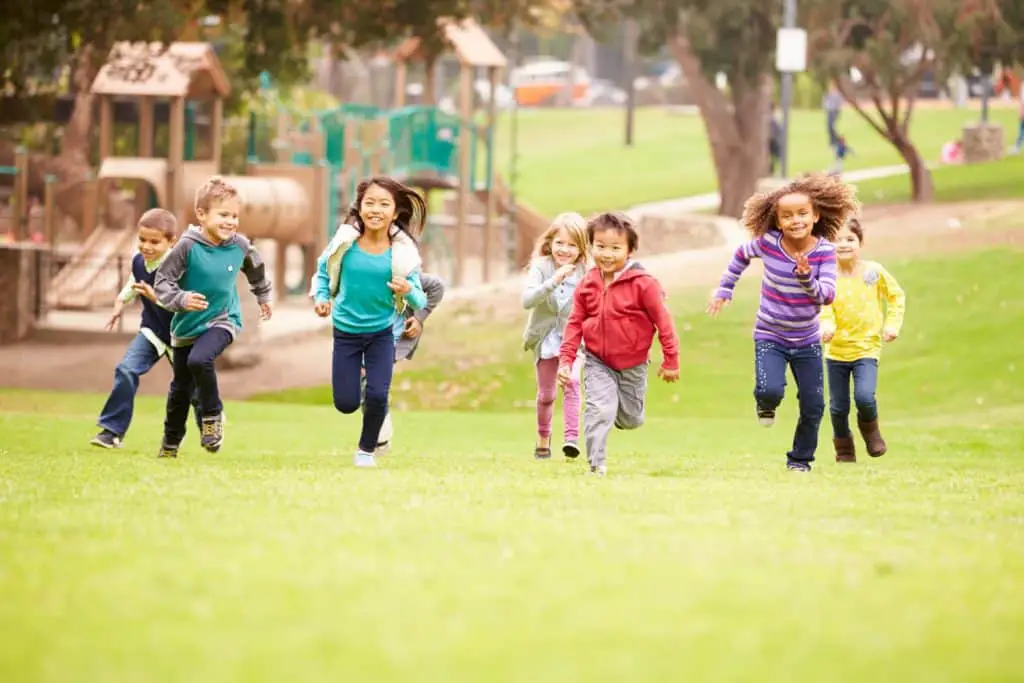 Image Courtesy of Game on Family
This is an all-time favorite. Every child likes tag and they find the game even more exciting if adults join them. Sure, it will be tough to run around and chase children, but this is a great way to combine having fun and working out!
The best thing about tag is that it doesn't require any additional items, just a few kids and attentive parents. Did you forget how to play tag? Let us remind you!
One person is chosen as "It," and that person has to run around, catch others, and tag them by tapping them on the shoulder. Whoever "It" tags become the new "It."
Freeze Tag
Image Courtesy of Care
If the kids are bored with playing tag, then you can introduce them to an interesting variation of the game – freeze tag. This is one of many fun outdoor party games for all ages and it will help you kill some time while waiting for food or refreshment.
The difference between freeze tag and the normal tag is that whoever is tagged by "It" must stop right in their tracks and freeze. The frozen person can be unfrozen if another player taps them on the shoulder. If "It" freezes all the players, then he wins!
To make this game a bit more challenging, you can give "It" limited time to freeze all the other players.
Giant Jenga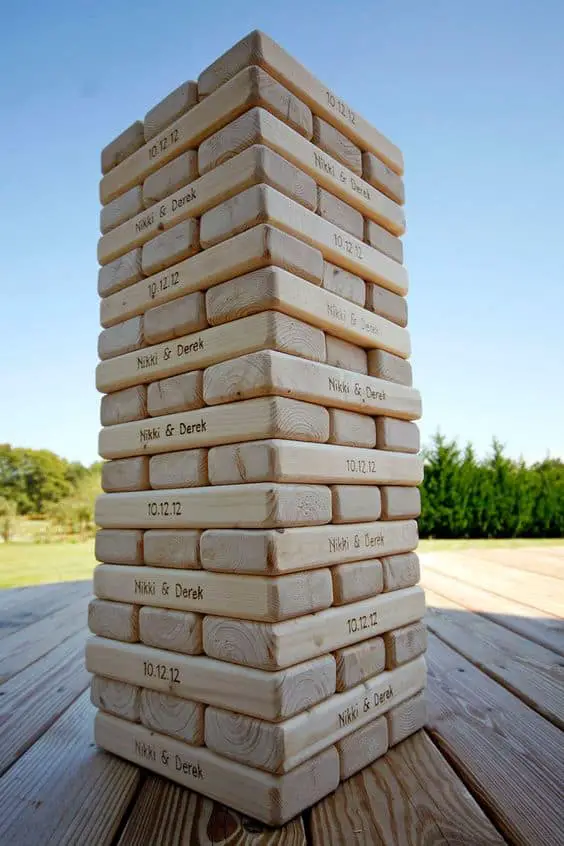 Image Courtesy of Pinterest
This is one of the most entertaining outdoor party games for adults and kids. Giant Jenga is a game that combines little strategy and lots of stamina. The giant pieces take this traditional game to a whole new level.
To play the backyard version of Jenga, you'll stack rows of blocks into a tower (alternating how they lie in each row). The players take turns and the aim is to carefully remove a block, hoping it's not the one that makes the tower collapse.
Whoever moves a block that causes the tower to collapse loses.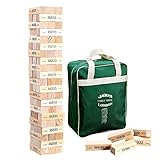 Ultimate XL! Tumble Tower - Superior 5ft Size for adults - Build...
GIANT SIZE - BUILDS OVER 5 FEET TALL - Builds a Giant tower over 5 feet tall during play. Massive Giant Size.
HAND FINISHED SMOOTH BLOCKS - Handmade with smooth Sanded finish - As you would expect from Jaques. Do NOT buy un-sanded cheap blocks
STRONG CARRY CASE - Complete with Luxury durable canvas Storage Bag
GREAT PARTY GAME - Fantastic Party Game for playing in the garden. One of the Most popular Garden Games of the last 10 Years
Last update on 2022-06-11 / Affiliate links / Images from Amazon Product Advertising API
Water Balloon Fight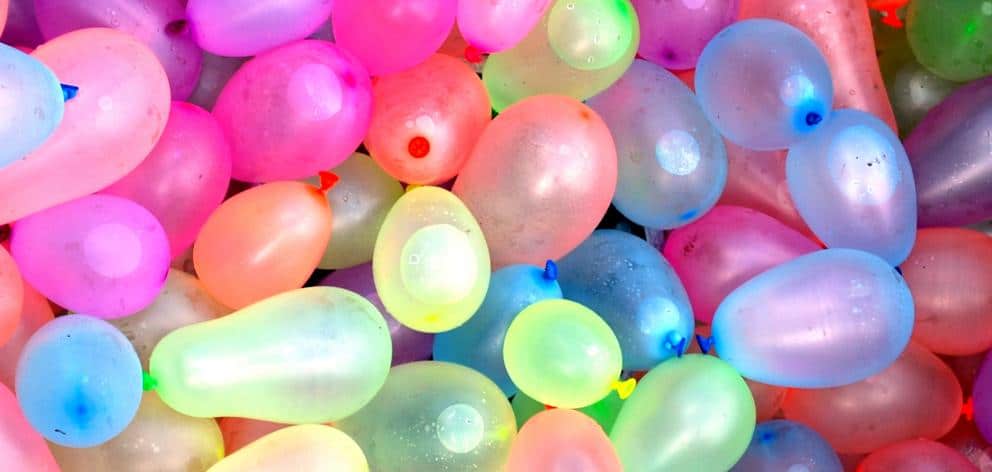 Image Courtesy of Otago Daily Times
Running and playing tag on a hot summer's day can be really exhausting. Instead of doing that, here is another suggestion – have a water balloon fight! It's a great way to have fun and cool down at the same time. A great way to kick this game up a notch is by turning it into water balloon dodgeball.
If you dislike this game because you find the thought of preparing the water balloons tedious, we have some great news for you. Instead of filling up the balloons one by one, now you can buy balloons that can be filled up in bulk.
Chess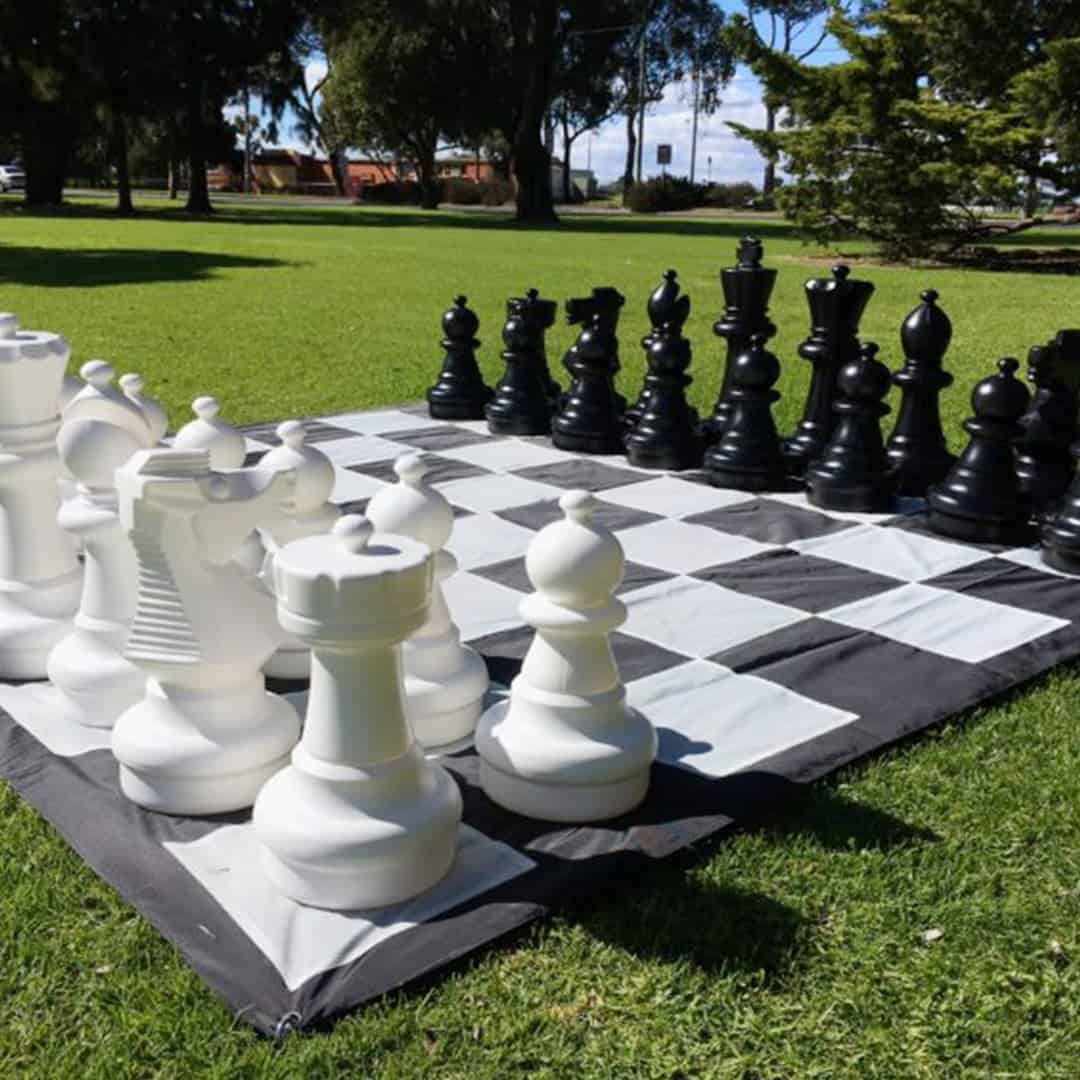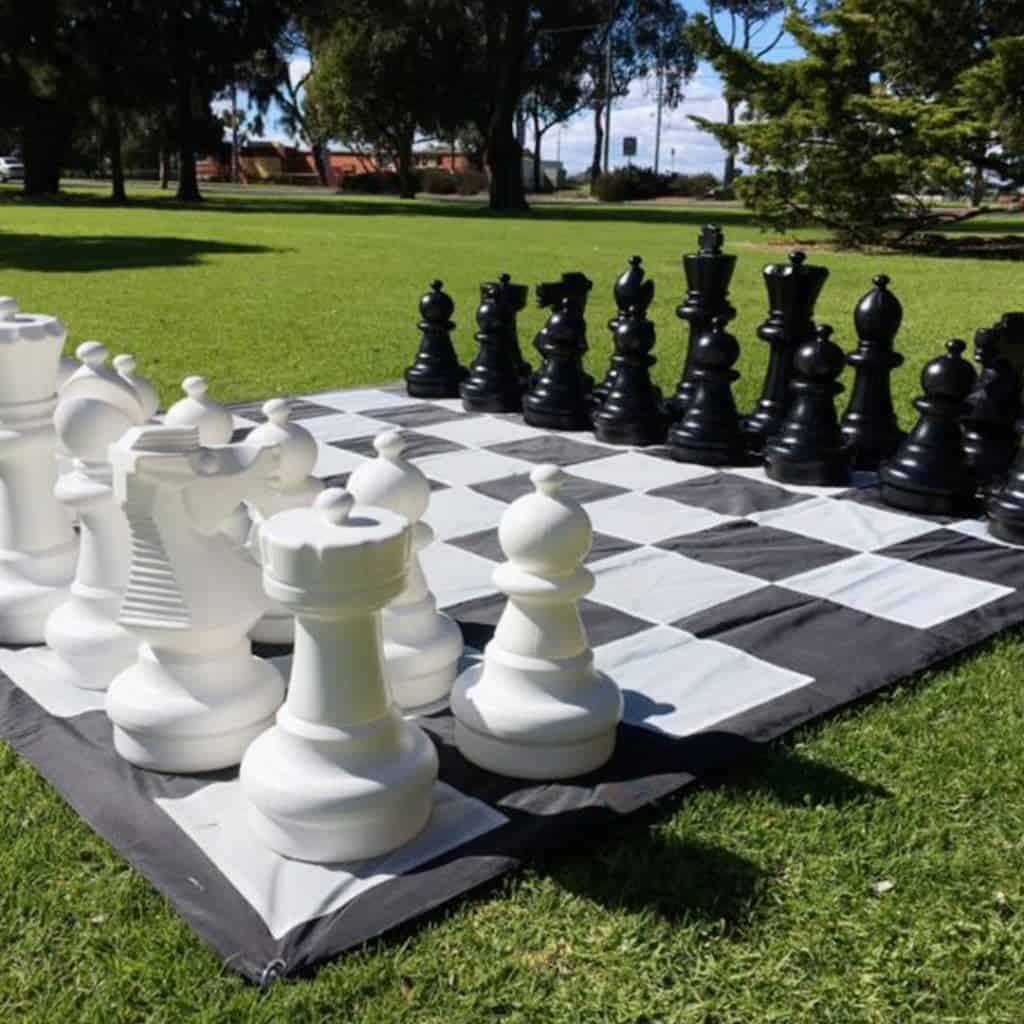 Image Courtesy of Yellow Octopus
If you're planning to invite grown-ups only, then here is one of our outdoor party games for adults. If you think that chess is a game for two players only, you are so wrong! Once you get giant-sized chess, you'll see that this strategy game is a perfect choice for competitive groups.
Divide your guests into two teams and strategize to determine the best moves. The more players are in your team, the greater the chances of disagreement are, so get ready for some intense gameplay!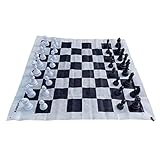 Last update on 2022-06-12 / Affiliate links / Images from Amazon Product Advertising API
Balloon Down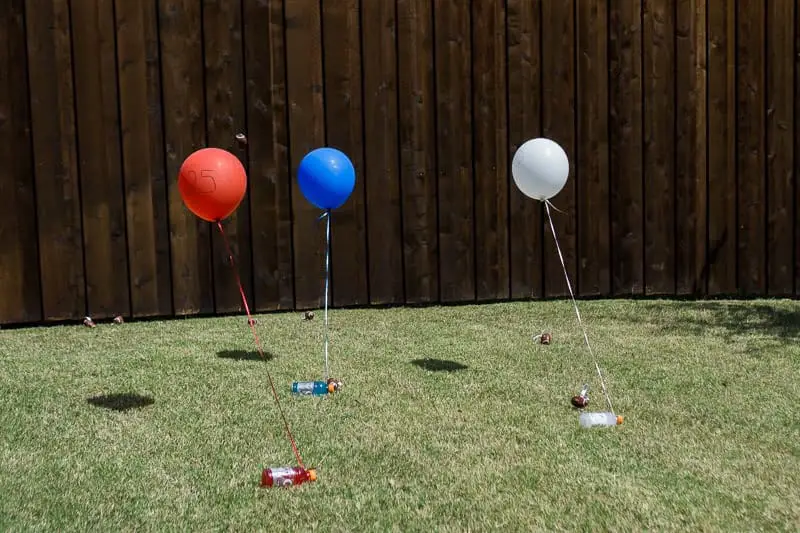 Image Courtesy of Play Party Plan
To play this game, you'll need three balloons blown up with helium and tied to something that will hold them down. Write point values on each balloon (e.g. 25, 50, and 100 points). Then tape a line on one side of your yard and place the balloons 10-15 feet away from the line. If you want to make this one of the outdoor group games for adults only, then put the balloons even further away.
The lowest scoring balloon should be the closest to the line, the next highest scoring balloon behind it, and so on.
Then, grab small footballs and toss them! The aim of this game is to hit as many balloons as possible. Make sure to write down all the points.
Musical Chairs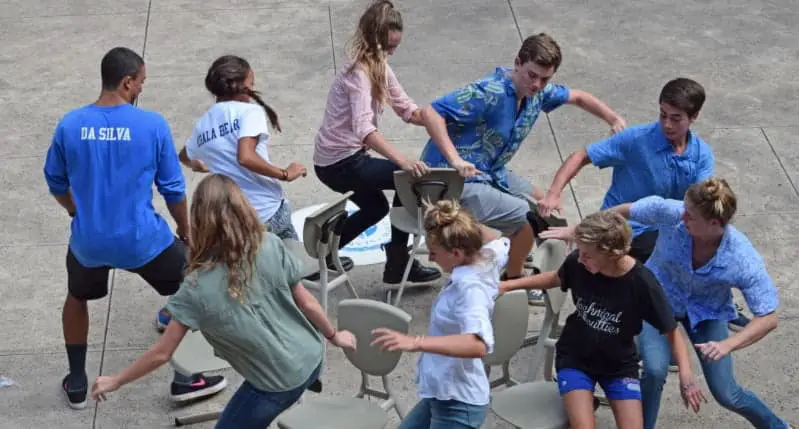 Image Courtesy of Living in Dialogue
This is one of the fun outdoor games for large groups that is very easy to learn and both kids and adults love it. The game starts when you turn a music player on. Then, the participants run (or walk) around a set of chairs. The number of chairs should always be one less than the total number of players. When the music stops, each participant must sit on a chair.
Whoever is left without a chair is out. As soon as one player bows out, make sure to remove a chair. Play the game until there is only one chair and two players left. The last sitting player wins!
Badminton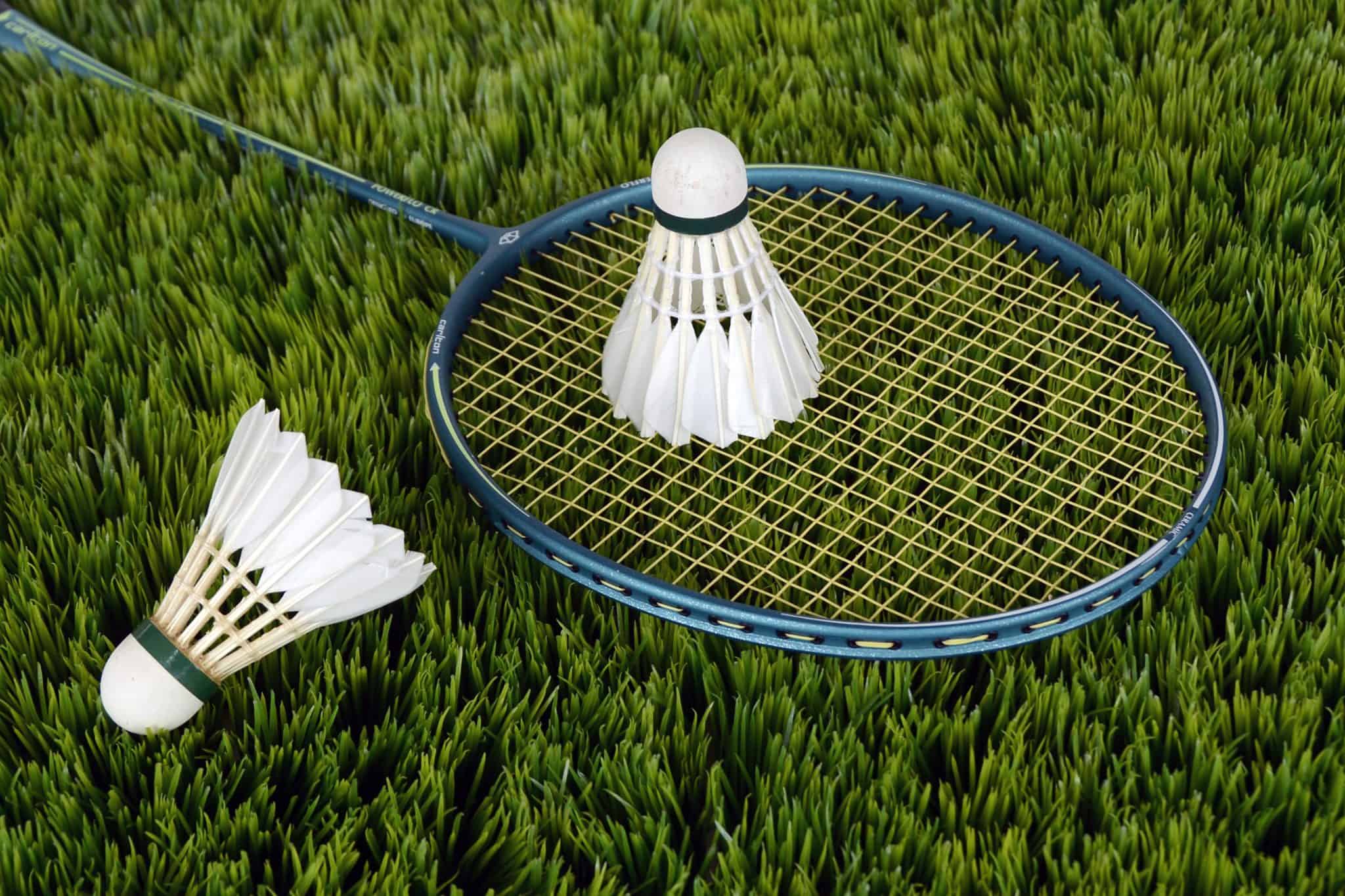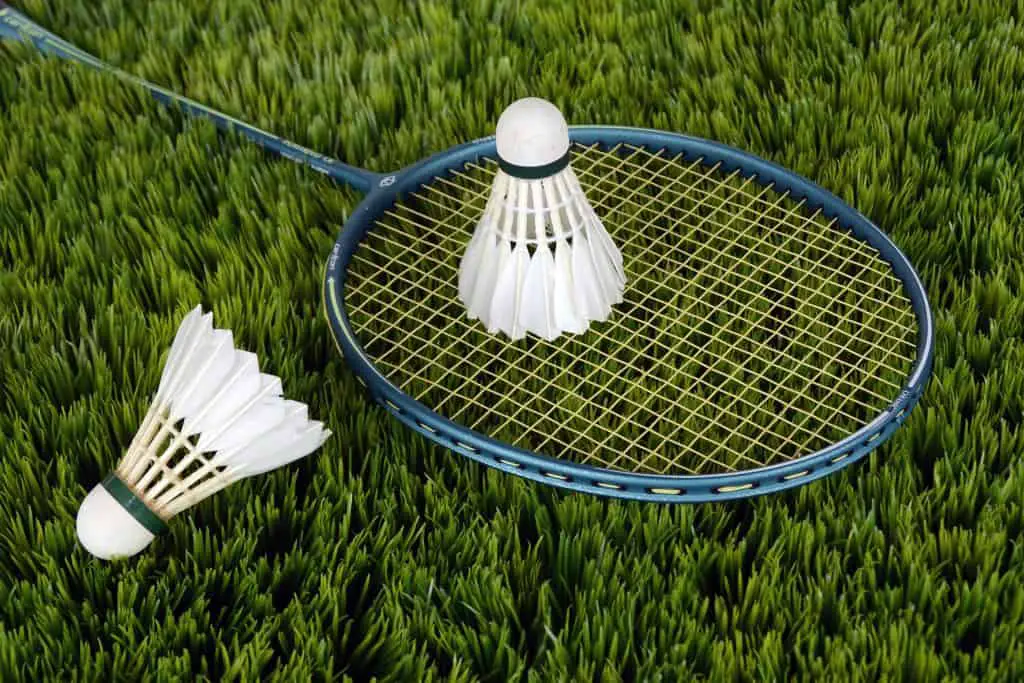 Image Courtesy of Wikipedia
If you're looking for one of those fun outdoor party games for all ages, then badminton is an excellent choice. Everyone who loves sports will be glad that you decided to take the rackets out!
Unlike in tennis, players use a special ball called shuttlecock. You can play one or one or with a team of doubles. The aim is to hit the shuttlecock over the net and into the court before your opponent can hit it.
Each time the ball hits the floor, you win one point. Of course, the aim is to get the most points and win!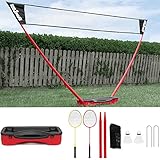 Urban Pop Up Badminton Set [Full Set] ? SIZE 3m (Width) ?...
Size: 3 METRE (width)
It's an easy to use portable post, net, racket and shuttlecock set that includes everything you need to get straight into action
Everything packs away into the case for easy storage and transport
Assembly takes approximately 45 seconds
Last update on 2022-06-13 / Affiliate links / Images from Amazon Product Advertising API
Volleyball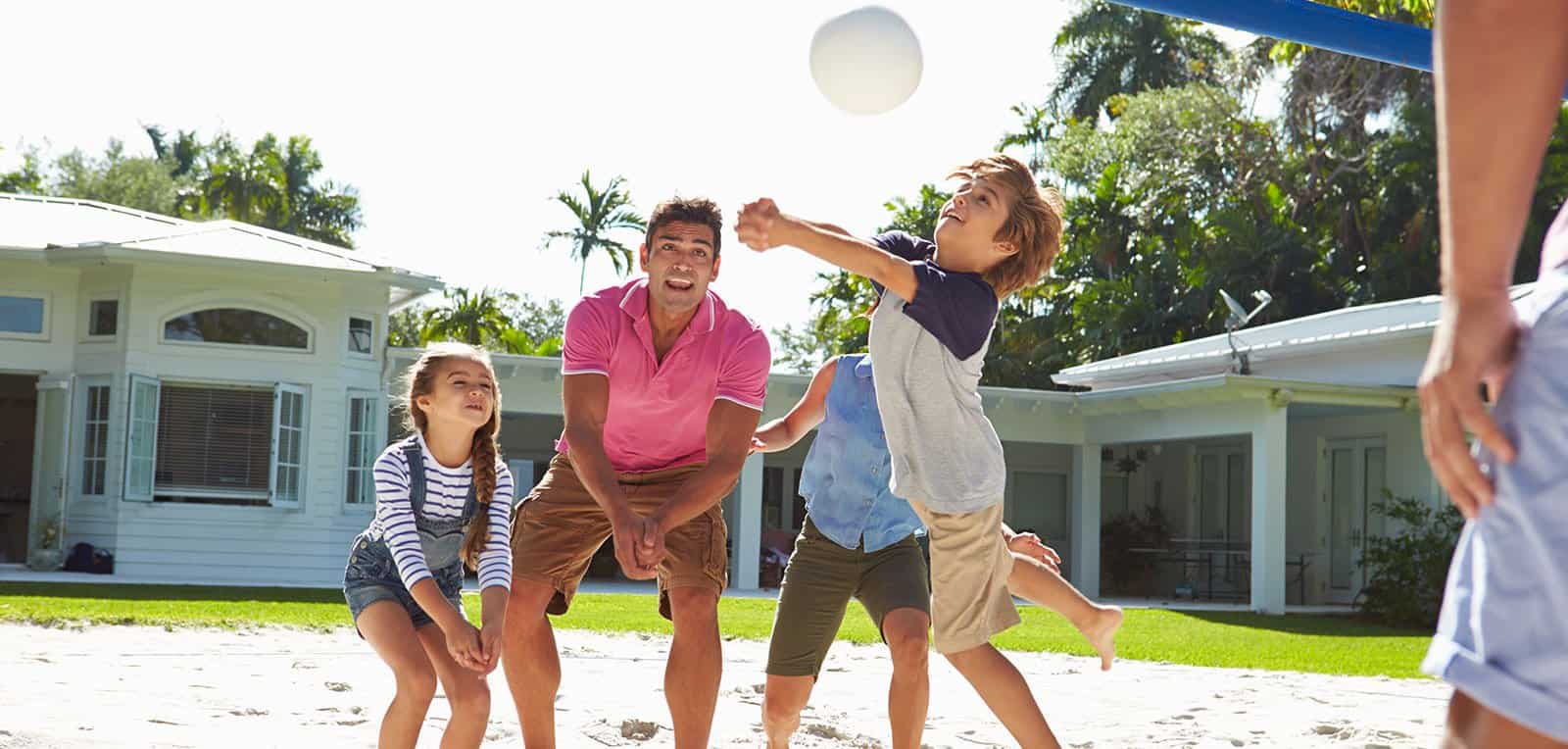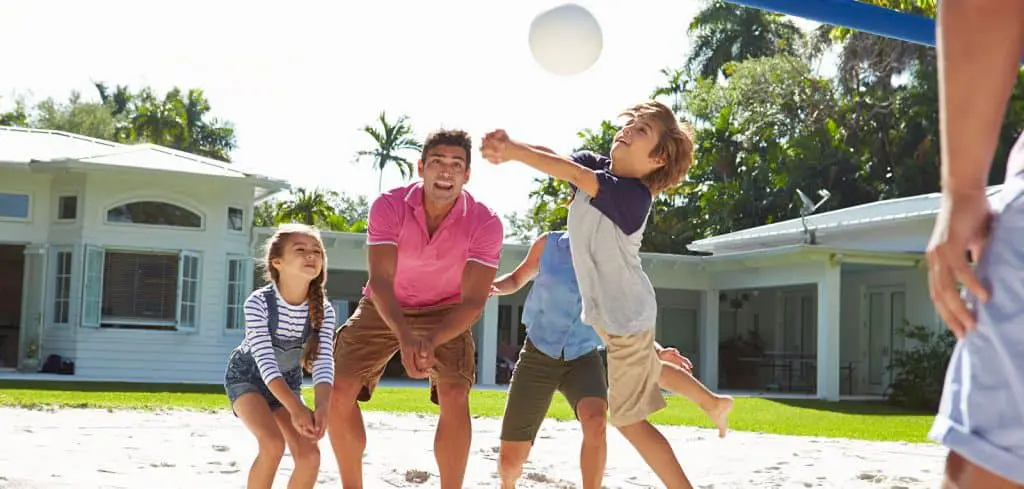 Image Courtesy of My Backyard Sports
A game that is perfect for both kids and adults is volleyball! To play, all you need is any ball. However, to make the experience even more interesting, you can always get a real volleyball and a net. The ideal number of players is twelve (six players on each team). But, just like with all large group games, you can modify the rules and the number of players.
Wondering how can you play volleyball without a net? Well, just hit the ball around with your guests.
Lawn Twister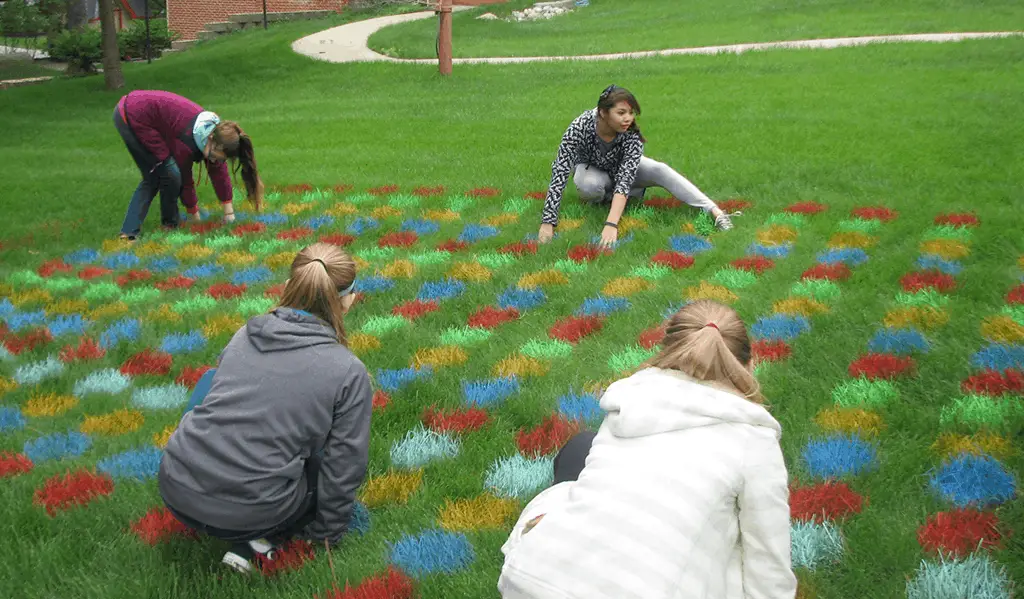 Image Courtesy of The Land Store
Kids love playing Twister and adults find it amusing as well. But, how can you turn Twister into one of those large group games? It's very simple; instead of using the original mat, take the game into your backyard and onto your lawn.
To play Lawn Twister, you will need some spray paint in four colors – red, blue, yellow, and green, and a spinner. You can use the one from the game or make your own. You can make lawn Twister much larger than the original mat so that a large number of players can participate.
If you want to add a twist to lawn Twister, just make sure to turn the sprinklers on!
Cornhole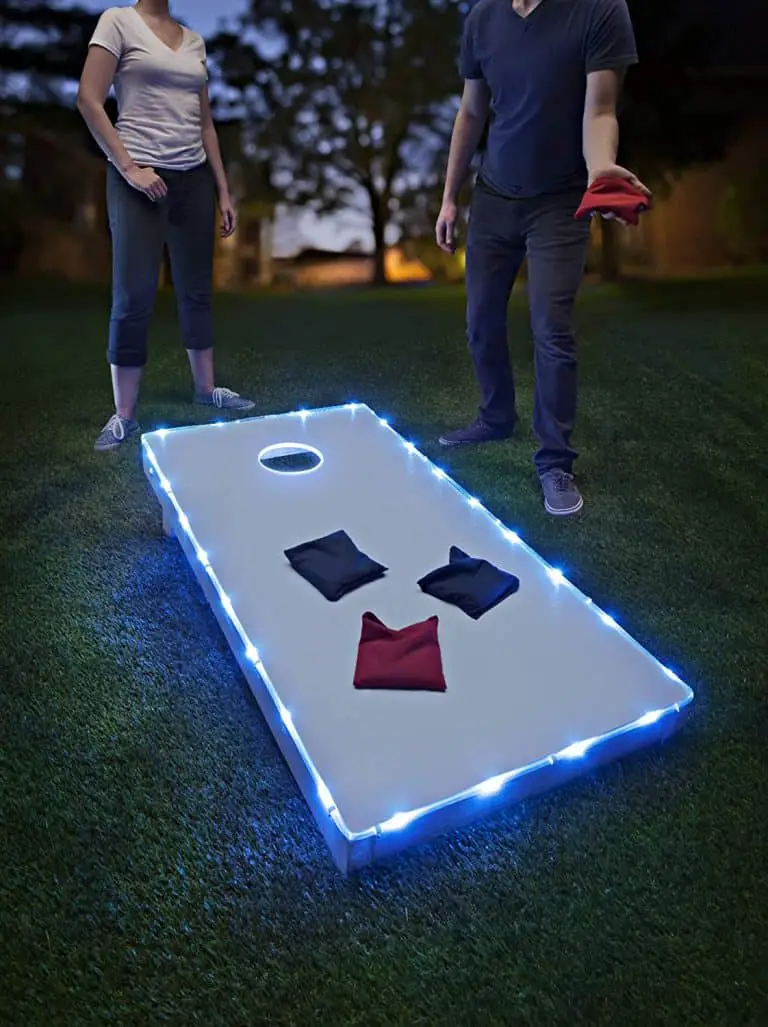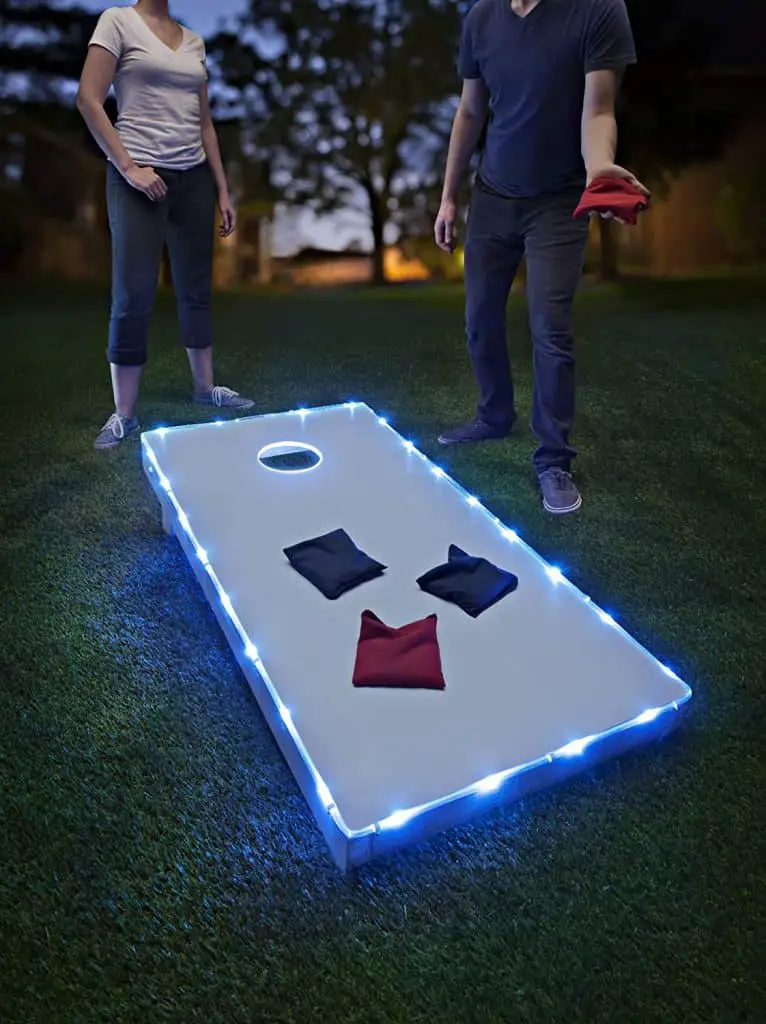 Image Courtesy of Amazon
Cornhole is one of the classic fun outdoor games for large groups that can be played for hours. Since this game has many different names, you may not recognize it at first. But, once you read the rules, you'll know which game we're talking about.
The aim of cornhole is to throw as many small bags into wooden platforms as possible. Each sandbag that goes through the hole will earn you three points, whereas the sandbag that stays on the platform loses you one point.
You can make this game very competitive by keeping score or you can just toss the bags for the sake of having fun. If you have an especially large group, set a time limit and see how many people can land their bags before time is up.
Horseshoes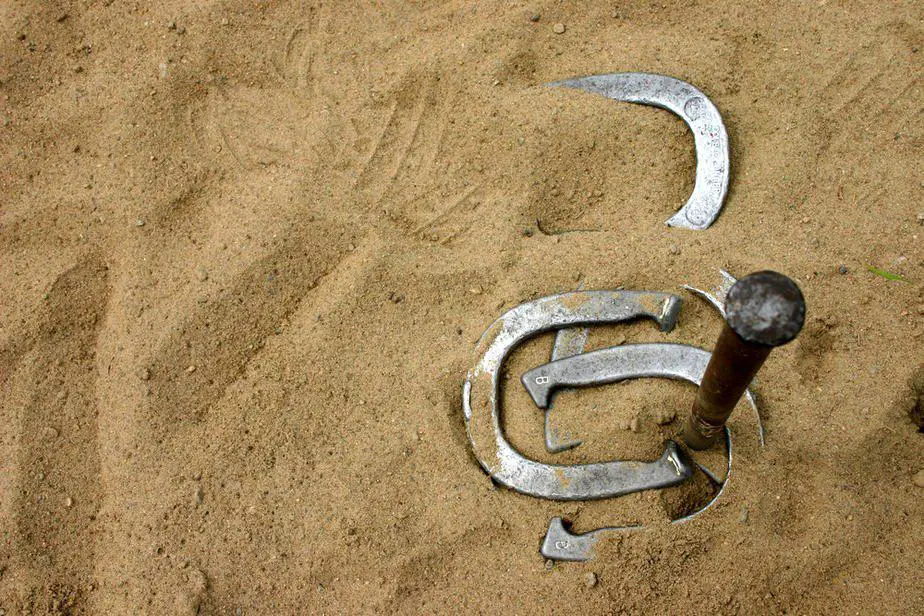 Image Courtesy of Getty Images
Horseshoes is a game you can play on your own or turn it into one of the most amusing large group games. Just like cornhole, this game can be very relaxing, or you can turn it into a competition. The rules are simple: grab a horseshoe, throw it, and try to ring the horseshoe around the stake. If you manage to do that, you win three points. If the horseshoe lands within 6 inches around the stake, you get one point.
Whoever reaches the predetermined score first wins the game.
Frozen T-shirt Race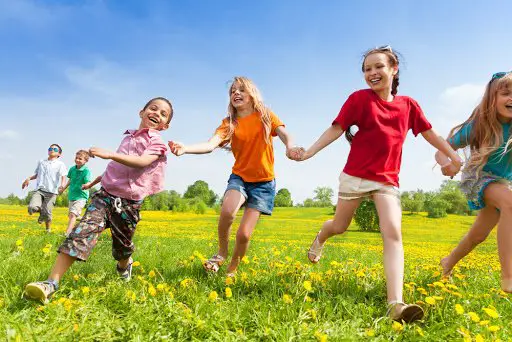 Image Courtesy of Crystal Smiles
Well, this is one of the few outdoor group games for adults and kids that should be avoided during the winter. Here's how to play!
Divide your guests into teams. Ideally, each team should have five or more players. The first player will put on a t-shirt that's covered in ice, and they have to transfer this shirt to their teammate. This is easy, right? Well, not quite. This has to be done while holding hands. If the players break the connection, their team loses. Also, if the player can't pass the shirt, it's game over.
The process of transferring a frozen shirt from one person to another is very tricky. But, it will make you laugh and have a great time!
Tug of War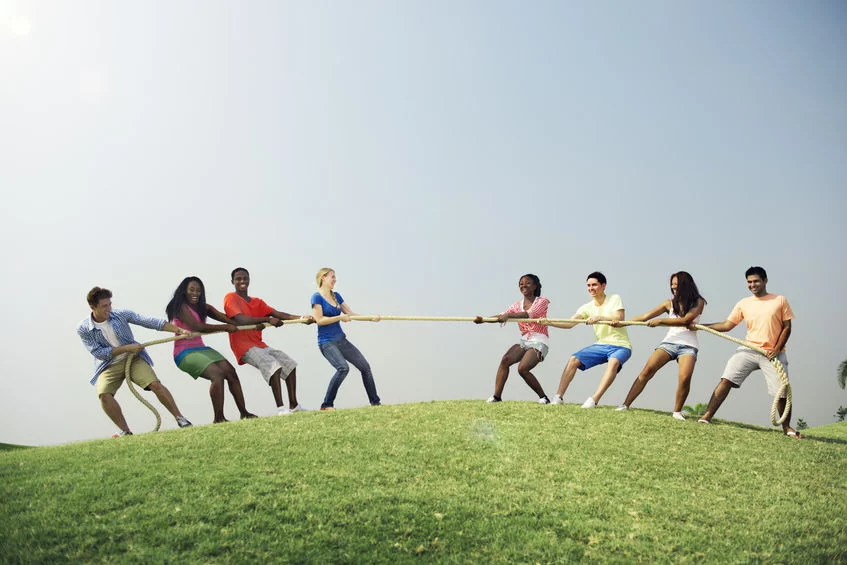 Image Courtesy of Mohammad Dekkak
Tug of war will always be considered one of the most fun and most competitive games for large groups. We all enjoyed playing this game in school, and, it will be even more fun when you get to play it in your backyard with your friends and family.
To play tug of war, all you need is a rope, and that's it! But, you have to make sure that the rope can support a good amount of weight. Lay the rope across your yard, and have one team hold one end and the second team the other. Then, start pulling the rope. The last team standing wins!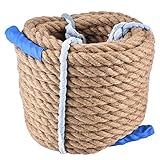 Alomejor 20m Jute Rope Durable Natural Jute Climbing Rope Twine...
【 Durable And Wear Resistance】-This tug of war rope 20m is wear resistance, friction resistance, good elasticity and is not easy to break.
【TorsionPressure Resistance 】-This heavy duty adult tug of war rope adopts high quality jute, with strong resistance to pressure and .
【Long Enough 】-The sturdy jute rope climbing rope length approx 20m / 65.6ft Diameter approx 20mm / 0.8in. Long enough for use.
【 Varies Use】-Brown string can be wide used for varies applications for tug-of-war competitions or rock climbing, also packaging, tying, greenhouses.
Last update on 2022-06-12 / Affiliate links / Images from Amazon Product Advertising API
Kickball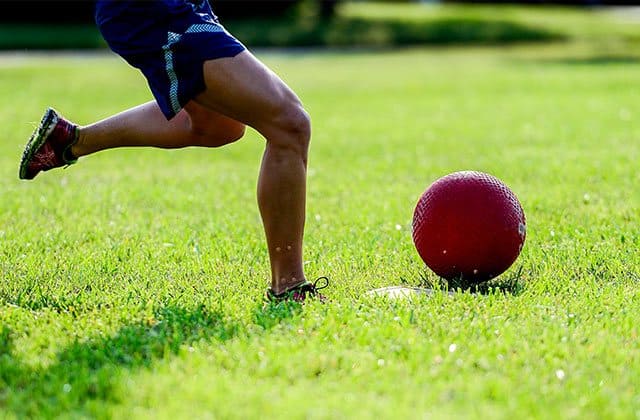 Image Courtesy of Grapevine
One of the incredibly fun and sporty large group games is kickball. It is a perfect choice if your guests love running and kicking instead of just sitting.
To play kickball, you'll need to find some space in your backyard and remove any items that can be broken. Kickball is very similar to baseball. There's just one difference; instead of hitting the ball with a bat, you have to kick it. All the other rules remain the same.
If you're going to throw a big gathering, then you should be well prepared and think of a few ways to entertain your guests. And, there can't be a good party without playing some large group games.
We chose 15 incredibly fun outdoor party games for all ages that all your guests will love. And, the best thing about all these games is that they don't require any special equipment. No matter which game you choose, we're quite sure that your guests will be more than excited to play it!