Fire has long held a powerful fascination for human beings. It no doubt taps into primordial feelings of being safe inside the cave with the warmth and protection of our fire, while the sabre-tooth prowls in the cold and scary darkness outside!  Here are some of the best fire pit designs around to allow you to recapture some of that age-old magic.
In a hurry, Best Selling Fire Pits on the Market in 2023
Last update on 2023-10-25 / Affiliate links / Images from Amazon Product Advertising API
Our Fire Pit Choices
1. Esschert Design Fallen Fruits Oxidised Woodland Globe Sphere Fire Pit Basket Bowl Cast Iron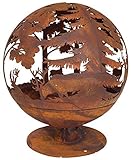 Last update on 2023-10-25 / Affiliate links / Images from Amazon Product Advertising API
The Esschert fire pit basket is a beautiful, elegant and efficient way to add warmth and inviting ambience to your outdoor space or patio.
Key Features:
Stylish, unique, eye-catching design
Easy to move when empty
Weathers attractively over time
As fire pits go, you will have to go far to find one that is as visually stunning as this one. In the dark, with the shifting flicker of flames, the laser cut shapes of graceful trees and woodland creatures create a simply magical effect. The rust finish will only be further enhanced by fire, time and exposure to the weather. Positioned in a favourite spot in your garden or on your patio, this is surely one of the best fire pit baskets around to create a superb focal point in your outdoor space.
There are very few social occasions which won't be enhanced by congregating around this fire pit. It is a great conversation piece, as well as a wonderful aid to relaxation as one falls under the simply mesmerising spell of the fire backlighting the beautiful shapes.
What We Love:
Its sheer beauty when in use
Large aperture makes feeding in wood simple and easy
What We Don't Love:
Not suitable for use as a barbeque
---
2. PRISP Outdoor Fire Pit for Garden and Patio, Large Hexagonal Fire Bowl
Last update on 2023-10-25 / Affiliate links / Images from Amazon Product Advertising API
The sturdy PRISP outdoor fire pit is one of the best fire pit options available to provide  any patio, garden, backyard, or camp site with a safe source of heat.
Key Features:
Large 61 cm durable steel fire bowl can hold a lot of firewood
Mesh spark guard protects against flying embers and sparks
Includes poker and cover
The design of the PRISP makes it easy to transport and clean, so it is an excellent option for use in your garden, on your patio, as well as for camping. The unusual lattice design of the fire bowl adds to the beauty of this hexagonal brazier that is finished in an attractive oil-rubbed antique bronze. This modern version of the timeless fire pit will bring a real touch of elegance to any outdoor setting.
You can burn firewood and logs in the large fire bowl, and the poker stick/fireplace tool ensures ease and safety of usage. The PRISP fire pit will ensure that you enjoy many evenings with your family and friends as you relax in the warmth with the soothing crackle of the fire in the background. Don't forget the marshmallows!
What We Love:
The fire tool/poker makes it easy to handle the spark guard
The cover of waterproof Oxford fabric to extend the fire pit's life
The clever mesh spark guard with handle
What We Don't Love:
The safety of the PRISP fire pit is not in any way affected by this, but after repeated use you may see the paint discolouring and flaking.
---
3. TRUESHOPPING Astral Garden/Decking Fire Pit with Cooking Grill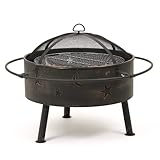 Last update on 2023-10-25 / Affiliate links / Images from Amazon Product Advertising API
The Astral Garden and Decking fire pit provides a simply great way for you, your family and your friends to barbecue, socialise and relax late into the evening while keep wonderfully warm and snug!
Key Features:
Steel mesh spark guard cover included
Barbeque cooking grill
Durable and attractive wrought iron construction
Weather-proof cover
This is one of the best fire pit options for ensuring an inviting atmosphere at your evening parties. With its attractive design, steel mesh spark guard cover and versatile barbeque cooking grill, it will not only be a very practical and versatile addition to your outdoor entertainment space, but will add a real tone of style to it as well. The lovely moon and star cutouts in the sides of the grill add greatly to the appeal of the Astral.
Please note, though, that this highly efficient fire pit gets extremely hot, so it is intended for use outdoors only, and should not be used on wooden decks or near any other combustible items. Only ever burn firewood, logs and charcoal in it, and do keep the littlelies and pets well away from it. Please do not touch it with your bare hands – use protective gloves and suitable tools.
What We Love:
The lovely laser cut-out shapes of moon and stars in its side
The versatility – you have warmth and you can cook on it
The weather-proof cover that will extend its life
What We Don't Love:
As the Astral is made of steel it may suffer rust discolouration in time.
---
4. Harbour Housewares Cast Iron Fire Pit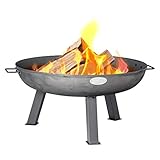 75cm Diameter Cast Iron Fire Pit Outdoor Garden Patio Heater Wood...
Strong cast iron construction - naturally strong with incredible heat radiance and resistance; designed to stand the test of time. Heat and rust resistant.
Oversized Bowl Design - Allows for maximum exposure of your fuel to oxygen, meaning easier lighting and a longer, more sustained burn.
Easy to Assemble - Comes with all required screws and fittings as well as a hex key. Easy to remove legs if needed to store away for winter.
Dimensions: Diameter: 75cm Width (inc. Handles): 87cm Height: 38.5cm
Last update on 2023-10-25 / Affiliate links / Images from Amazon Product Advertising API
With its elegant, classic and sturdy design, this cast iron fire pit radiates heat simply amazingly well, and is sure to last well.
Key Features:
Large bowl makes for easier lighting and  longer burn
Very easy to put together with the Allen key provided
Two-year warranty gives you peace of mind
With its excellent heat dispersion, this classic and durable cast iron fire pit offers the ideal space for you, your family and friends to gather. It will turn those chilly evenings into memorable occasions to cherish for years to come while you share the special magic and special ambience that a crackling outdoor fire brings with loved ones.
The tripod construction offers excellent stability on virtually any terrain or surface, while the inclusion of sturdy side handles makes for easy movement and transportation.
What We Love: 
Its simple design is classic and timeless
It comes in three sizes so you can choose one to suit your needs
The clever tripod design ensures safety on any surface
What We Don't Love:
The design comes with a hole in the middle which might allow hot coals or embers to fall through and damage the surface on which it stands.
---
5. KOJIN Multi-Functional Elegant Black Square Outdoor Garden & Patio Luxury Heater Fire Pit Brazier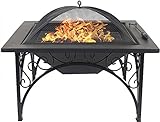 Centurion Supports KOJIN Multi-Functional Elegant Black Square...
An attractive design with a square frame, the Kojin fire pit is practical and convenient, and can be used with charcoal, logs, coal and wood. Elegantly designed and finished in black, The Kojin charcoal fire pit is perfect for providing warmth in a garden, yard, patio, terrace, or similar areas.
The Kojin is a clever multi-function 3 in 1 Fire Pit - it can be used as a Fire Pit / Barbeque / Ice Bucket (To use as Ice Bucket, line the pit with plastic to stop water escaping).
The safety mesh lid allows you to watch the burning fire, encloses the fire for safety and prevents sparks and debris flying out. The poker tool can be used for both removing the mesh cover and rearranging the logs or coal.
For your convenience, the following accessories are included with the Kojin garden fire pit: poker tool, barbeque grill, safety mesh lid, charcoal rack, clear and concise instructions for easy self-assembly, waterproof protective cover to protect it from dust, leaves and rain.
Last update on 2023-10-25 / Affiliate links / Images from Amazon Product Advertising API
The Kojin is really beautifully designed and is made of steel. It consists of a brazier that is set in a square frame that rests on strong, elegantly crafted and highly decorative legs.
Key Features:
It is multifunctional – can be used as a fire pit, barbecue and ice bucket
A domed mesh cover ensures safety
A useful range of accessories is included
A waterproof cover protects it when not in use
The middle name of this beautifully made fire pit is versatility! It can be used with wood, logs, charcoal and coal. It comes with a barbecue grill so you can cook on it. The curved mesh cover is an important safety feature. It allows you to watch and fully enjoy the beauty and ambience of the fire, yet prevents embers and sparks flying out. The nifty poker tool provided allows you to remove the mesh cover safely, add fuel and adjust the fire as needed.
Finished in elegant black the Kojin will be a highly decorative addition to your garden or patio. It comes with comprehensive instructions for its use and assembly, as well as a charcoal rack. It will light literally up and make those chilly evenings truly memorable. And in the heat of summer, simply line it with plastic, fill it with ice and use it as a wine, beer and general drinks cooler. How cool and stylish is that?
What We Love:
The strong legs are equipped with vertical supports for added stability.
The elegant black powder-coated finish is rust resistant
What We Don't Love:
Some reviewers seem to find assembling for the first time a little tricky
---
6. Charles Bentley Metal Fire Bowl with Hollow Console
Sale
Last update on 2023-11-03 / Affiliate links / Images from Amazon Product Advertising API
The Charles Bentley fire pit is made up of two parts, a black steel fire bowl that sits atop a grey hollow rectangular base that is constructed from fibre clay.
Key Features:
It is beautiful in its striking simplicity
It is available in two sizes to suit your space
The enamel coating of the steel bowls is resistant to high temperatures
When you buy the striking Charles Bentley fire pit, you are not just getting a fire pit, you are acquiring a lovely feature piece that will add decorative interest to your garden or patio with its strong sculptural quality. The fire pit will provide warmth and light on chilly evenings as you relax outside with friends, or will just add interest and atmosphere to those long, lazy summer evenings.
As the fire bowl is treated with an enamel coating that is resistant to high temperatures, you can burn either wood or charcoal in it. The fire pit is delivered with a full set guidelines regarding safety and the simple assembly that the firepit requires.
What We Love:
The sculptural quality and simple elegance of the design
The clay console is weather resistant
The hollow console can be used for storage
What We Don't Love:
The extreme simplicity of the design may not be to everybody's taste.
Items stored in the hollow console may get wet when it rains.
---
Related:
---
Fire Pit Questions & Answers 
Which points should I consider before I buy my fire pit?
There are several points that you should consider. These include, first and foremost:
Where are you going to put it? The space that you have available for the fire pit will determine the size. If your space is large, you can go for a large fire pit. However, if your space is a bit restricted, you will have to go for a more modestly sized fire pit. Remember that the material that the fire pit is made of will get extremely hot. You want to allow plenty of free space around it so that people can move around it safely.
Check that the municipal bylaws in your area allow you to have a fire pit in your garden, and what specifications apply.
What is the prime purpose of the fire pit? Is it just decorative and to create a lovely ambience, or do you actually want to grill or cook on it? These factors will obviously influence your choice of fire pit.
Do you want the fire pit to be portable, or will it be placed in a permanent spot? A portable fire pit will obviously have to be light enough to move and should ideally be equipped with handles to make that easier to do. Portable fire pits are more versatile allowing you to move it around your garden or patio, take it along to friends, when you go camping, etc.
It is always advisable to choose the best fire pit that is made of the best materials that you can afford as inferior quality materials will affect how long your fire pit lasts. High quality steel is always the better option, as are rust-resistant finishes.
Consider the style of your house, patio or garden and what type of fire pit will best complement the space where you intend to put it.
Obviously, you should also consider the price of the fire pit and what you can comfortably afford. You do not want to break the bank to acquire a fancy fire pit! A modestly-priced fire pit that is well designed can give you just as much pleasure and offer you the same magical ambience of fire as a more expensive and ostentatious one.
What are the safety considerations that I should bear in mind regarding a fire pit? 
There are many safety factors to consider before you buy your fire pit:
The first one to remember is a blindingly obvious one, and you are no doubt well aware of it. But it has to be stated nonetheless – fire is dangerous and if not contained can have catastrophic consequences.
So the first thing you need to ask yourself is whether you can accommodate your new fireplace safely.
Do you have sufficient space for it? Won't you be putting it too close to combustible materials that might catch alight?
What is the surface like that you want to put your fire pit on? It is always advisable to have your fire pit on a paved surface that will not ignite should coals or embers land on it.
If you have small children and pets, can you safeguard them sufficiently or will you be putting them at risk?
Make sure that you have the proper tools like fire tongs, pokers, lifters and protective gloves to deal with your fire pit properly.
And don't forget to invest in a proper fire extinguisher that is easily accessible in the case of a mishap.
What materials do fire pits come in?
Metal fire pits are very popular and they come in a great variety as regards price, size and finishes. Often metal is combined with stone, tile, slate or other metals to create interesting designs.
Cast iron fire pits are generally the least expensive fire-pits. They are very popular as cast iron is an excellent conductor and it is resistant to corrosion. Cast iron fire pits are available in a great variety of styles, colours and finishes. The rusted look is very popular. However, bear in mind that cast iron is very heavy, so if weight is an issue, you might have to consider a lighter material.
Some of the most beautiful fire pits are made of copper. Copper is not only beautiful, but ii is corrosion resistant, durable and radiates heat adequately. It is also a very malleable material so easy to shape, which makes it a popular material for fire pits. It will weather in time to form a patina. Some people like this, but if you prefer it shiny, you can remove the patina with a metal polish and a healthy dollop of elbow grease!
Steel fire pits are generally significantly lighter than cast iron ones, and they are also more resistant to the weather. They come in a large variety of finishes with  powder-coated steel being the most durable. Price-wise steel is usually less expensive than copper, but more expensive than cast iron. Painted steel is the least expensive finish on steel fire pits. This finish will only last for about a year, but it is easily restored by just repainting with heat-resistant paint.
The appeal of a fire pit can be difficult to spell out and pin down. But it is fair to say that the best fire pits are not necessarily the most expensive or elaborate ones. The best fire pits are the ones that unite people in closeness and camaraderie as it not only spreads warmth, but also a sense of security and good fellowship – with that saber tooth tiger but a distant memory!