There's nothing more inviting than lounging in your favourite patio chair. If you spend countless hours soaking up the sun, reading a good book, or enjoying a barbeque in your backyard with friends and family, then you should consider investing in high quality garden furniture for your home. 
Although style and comfort are important, there are several other key factors to consider when buying outdoor patio furniture. Here are some tips to help guide your purchase:
Consider Its Purpose
Are you interested in hosting large gatherings or intimate dinner parties? Perhaps, you're just looking to create a casual space to lounge outside with friends? If you know what you're seeking, you can eliminate unnecessary purchases.  
If your dinner parties are typically held indoors, then you may not need to buy an outdoor dining set. Similarly, if you're planning on building an entertainment area on your patio then you should think about buying more furniture to accommodate guests.
It's best to know the activities you plan to have outdoors, so you have a better idea of what to buy. 
Invest In Quality
Budget-saving tips may come in handy for smaller purchases, but it's best to invest in higher quality pieces without, of course, breaking the bank. That is, unless you have a large budget. Ideally, seek style and comfort at a reasonable price. 
Sales are rampant across retailers at the end of each season. If you can, hold off on making large purchases until the end of July and August, when they're more likely to be discounted. Additionally, many online stores sell quality pieces at affordable price points. A site like www.gardencentreshopping.co.uk sells garden furniture in a range of designs. 
Stay within your budget, but don't buy furniture that's too flimsy or cheap. If it only lasts one or two seasons, you'll just spend more time and money having to replace it. 
Look For Durable Materials
Now that you've determined how much you can afford to spend, it's time to think about the weather. How will your desired pieces of furniture withstand the rain? Be sure to buy pillows and cushions that are water resistant and made from fabric designed for outdoor conditions. 
Avoid polyester as it tends to soak a lot easier than other materials. Outdoor storage cupboards or pillow covers are a must in these circumstances. 
What about the composite of the furniture? You want to choose materials that are easy to care for and durable in the long run. Here are some suggestions:
Wood:

Furniture made out of wood is typically lower maintenance. It's a classic option that doesn't need constant upkeep because it withstands harsh climates. In the summer, the heat won't absorb as much as other materials do. If you're fearful of rain, rest assured that wood used for furniture is typically water repellent and has little risk of sustaining water damage. Wood is also cost effective since it has a natural style that's timeless. As there is no need to be constantly updating furniture, you will save money and time in the long run. Consider buying cedar or rattan. Both are durable kinds of wood that should last for many years. Rattan is also lightweight and flexible, almost like bamboo, and there are plenty of stylish

rattan bistro sets

for sale. 
Metal: 

Metal is a good choice because most metal furnishings are made out of iron, stainless steel, or aluminium. All three are viable choices. Since aluminium doesn't rust, it offers a longer lasting alternative to iron. However, if you do choose iron, just make sure it has been powder-coated to prevent rust. Stainless steel is another durable and inexpensive material to consider. All three last longer since they don't need screws or bolts to put together. Metal is more versatile and can be shaped into a variety of different styles. Those looking for easy upkeep are in luck; you can simply use soap and water to rinse metal furniture to make it look polished again. The only negative aspect of metal is that it can heat up in the summer, if left in the sunlight. 
Synthetic Materials:

Another option are synthetic fabrics, such as synthetic wicker—a UV- and water-resistant material. This is a cheaper and more durable alternative to regular wicker, which may not withstand harsh outdoor conditions. It's also easy to care for, as you just need to wash it down with soap and water, much like metal. As with its metal counterparts, synthetics are versatile and can cater to a variety of tastes. Many synthetics resemble real wood or metal. Therefore, it's a stylish and budget-friendly option. 
Buying furniture made from any of these choices will ensure your investment is a financially sound one that requires minimal maintenance.     
Consider Storage Or Coverings
Once you've budgeted and picked out your desired furniture pieces, it's important to protect your investments by keeping them safe from harsh weather. There is no reason to spend hundreds or thousands on furniture only to let it perish outdoors. For larger items like couches, consider buying a protective, water-proof cover, but for smaller things like cushions, find storage spaces to store them when they're not in sure. If you have a garage or a basement, you could use it to keep your pillows, as long as the area is finished and dry. The key is to keep the temperature stable. For this reason, if you have no free areas in the house with dry air, you can look for public storage units. 
If you don't have extra space, consider buying furniture that folds away. This way, you can just stack and fold chairs rather than leaving them exposed to the elements. A bit of protection can preserve the quality of your investment and help you save money down the road.
Don't Buy Without Measuring Your Space

 
How large is your outdoor area?  Have you noticed its shape? Is it narrow or broad? It's crucial you measure prior to purchasing anything, so that you select the best furniture for the size and shape of your space. 
Bulky furniture in a small space will not enhance the look of your patio. In fact, it may make it appear smaller and cluttered. For smaller spaces, look for bar tables and stools. Remember, you want ample space to walk and feel comfortable. 
---
Related:
---
Choose The Right Style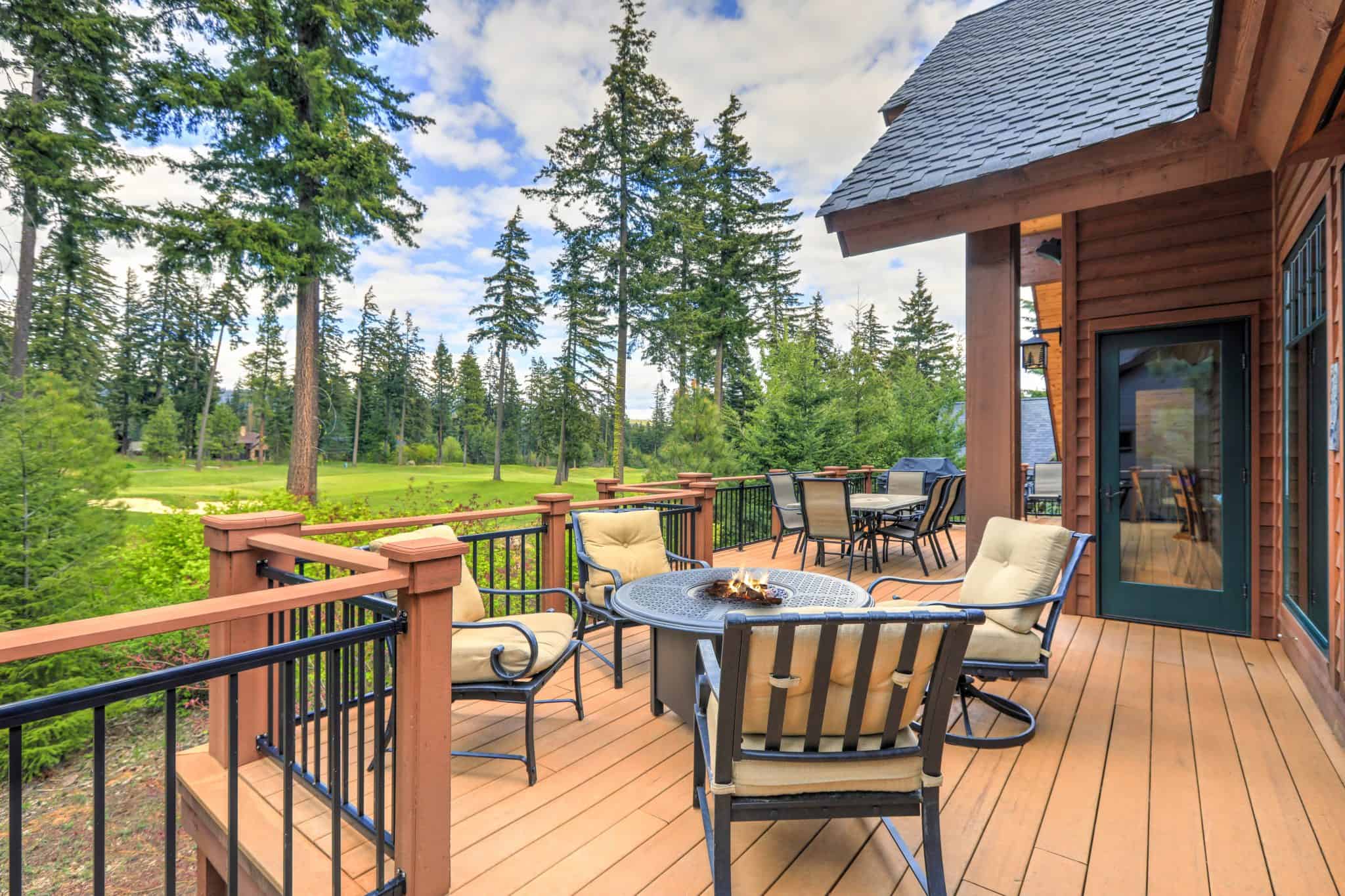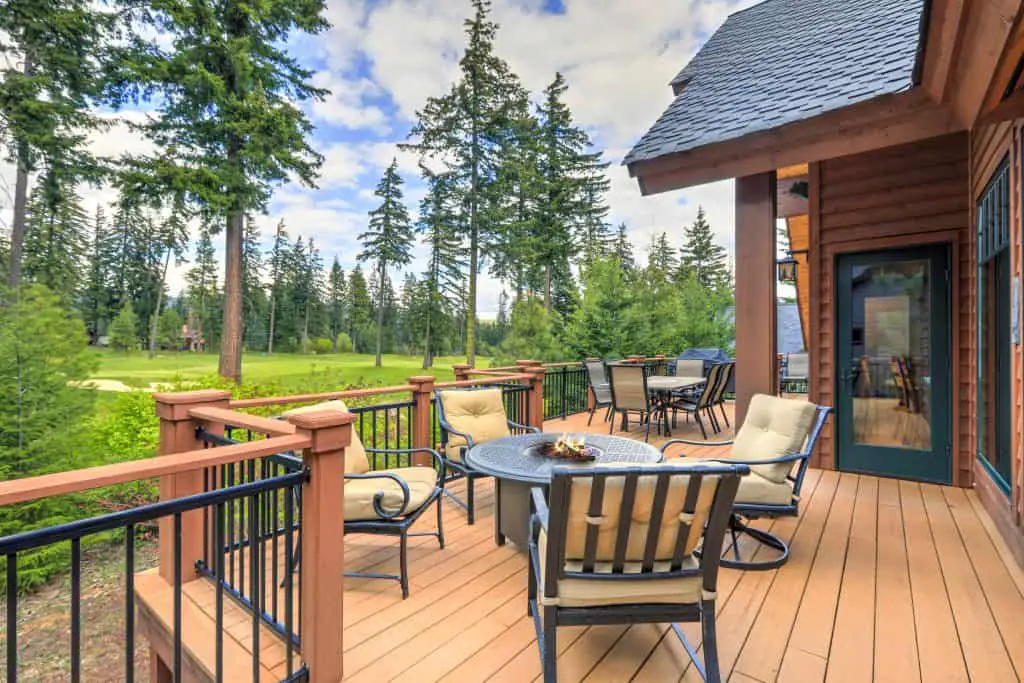 Make sure that your patio reflects the entire style of your home. You can add different shapes and colours but just make sure it isn't too far off from your original style. 
Look for accents and patterns that are an extension of what you already have side the home. You don't want to purchase an item that's too contemporary if your interior is more of a traditional style. Look for complementary furniture that'll help enhance the overall look of your home. 
Add Accessories That Compliment Your Home's Exterior
These days, there are plenty of stylish outdoor accessories for sale, from electric candles to cushions. Look for colours that match what you already have outside. However, don't feel obliged to settle for all neutral tones, either. Add bold colours and vibrant accent pieces to avoid a dull appearance. Just remember to choose pieces that don't clash with what you've bought already.
You can also add a rug to the mix. Don't opt for rugs that you would use indoors, however. It's best to try materials that'll withstand the elements. Your best option is to purchase a rug that's made of synthetic materials. This way, you will have a durable rug that won't attract mildew. If you're worried about stains, choose synthetics made out of polypropylene. It's a solution-dyed material that resists stains and liquids. If you do need to wash the rug for whatever reason, you can just use soap and water. Polyester and acrylic rugs also work, since they provide the same protection and are easily cleaned. In terms of style, synthetic rugs are a more vibrant choice since many come in a wide array of vibrant colours. 
Try It Out For Comfort
You don't want to invest in an expensive patio set only to find out it's uncomfortable. This will not only be an issue for you but also for your guests. So, it's better to opt for plush cushions and soft pillows that you've personally sat in.
If you don't like the feel of it, don't buy it just because you like the style. Although the look is important, you won't please your family or guests with chairs that are hard to sit on, no matter what they look like. That's why it's vital to sit and relax in the patio set prior to making that valuable purchase. 
Conclusion
It's important to know what to look for when choosing garden furniture, if you want the best quality for your investment. Choose pieces that match your own unique style, made from weather resistant materials that'll last in all outdoor weather conditions. That way, you can always enjoy hosting parties and relaxing in your favourite lounge chair for many years to come.