Would you like to start a garden, redesign your current yard, or you just want to fill an empty plot of land? Lucky for you, we came up with a list of incredible garden ideas that you can use for inspiration. Ranging from small, simple gardens to those that integrate pergolas or even streams, this collection of designs will definitely help you kickstart your next garden project.
Our list of garden design ideas contains something for everyone. If you're just interested in growing flowers, then you'll find some ideas on how to adorn your yard. All those who have a small backyard will also be able to find something to transform their outdoor space. Last but not least, those who want to want to plant herbs, fruits, or veggies will also find the ideas they are looking for.
But, before we get to the creative part, here are a few things you should pay attention to.
Things to Consider When Coming Up with Garden Design Ideas
1. Define Your Style, Preferences, and Needs
Before you start looking at our garden design ideas, you need to be sure of some things such as who is going to use the garden and for what. Are you looking to transform your outdoor space into a place for relaxation? Or, do you need a space for inviting friends and family over? In that case, you will also need a garden dining set.
Once you decide on this, you will be able to choose a garden style that will suit your needs.
2. Always Keep the Walkways Safe
It is easy to get carried away when coming up with your own garden design. Sometimes, people even forget the basics. So, we're here to remind you to always keep your walkways safe. By this, we mean to make them safe and easy to walk on. Make sure to choose appropriate materials and even out any slopes, to ensure that people don't trip. And, if you notice any issues with your walkway, make sure to address them right away.
3. Plan Out the Space for Pergolas and Arbors
Would you like to add a pergola or arbor to your garden? Well, before doing anything make sure to measure your garden and to find enough free space for the structure. You don't want tree branches coming in and your guests hitting their heads. And, if you're in need of some inspiration, check out our list of amazing pergola ideas.
4. Be Patient
When you come up with some amazing garden design ideas, you'll probably want to make them come true overnight. But, the truth about designing a garden is that it usually takes a while. Smaller projects can be finished within a week or two, but larger ones may take even several months. It is important to stay patient throughout the process. In the end, all your hard work will pay off and you'll get to enjoy spending time in your garden.
10 Creative Garden Ideas for Your Home
1. Small Garden Ideas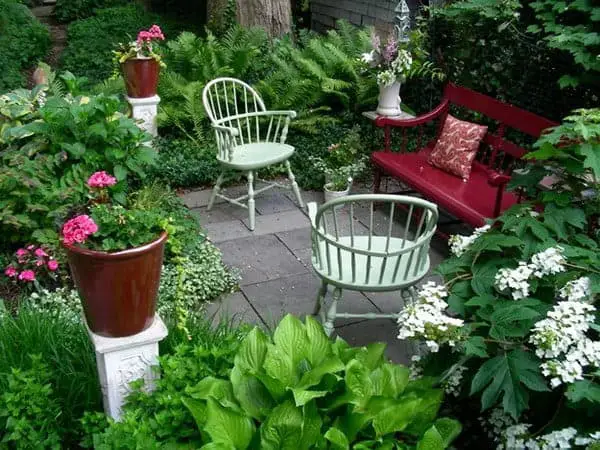 Image Courtesy of Planted Well
Many people who don't have much outdoor space think their garden is unusable. It truly is a difficult task to make the most out of a small space. But, it is possible. Just think of what you would like to have in your garden and get creative.
Want a place where you can drink coffee in the morning? Well, you may not be able to fit a big table and an outdoor sofa in your small garden. But, you may be able to place a chair and a small end table there!
2. Multi-Purpose Garden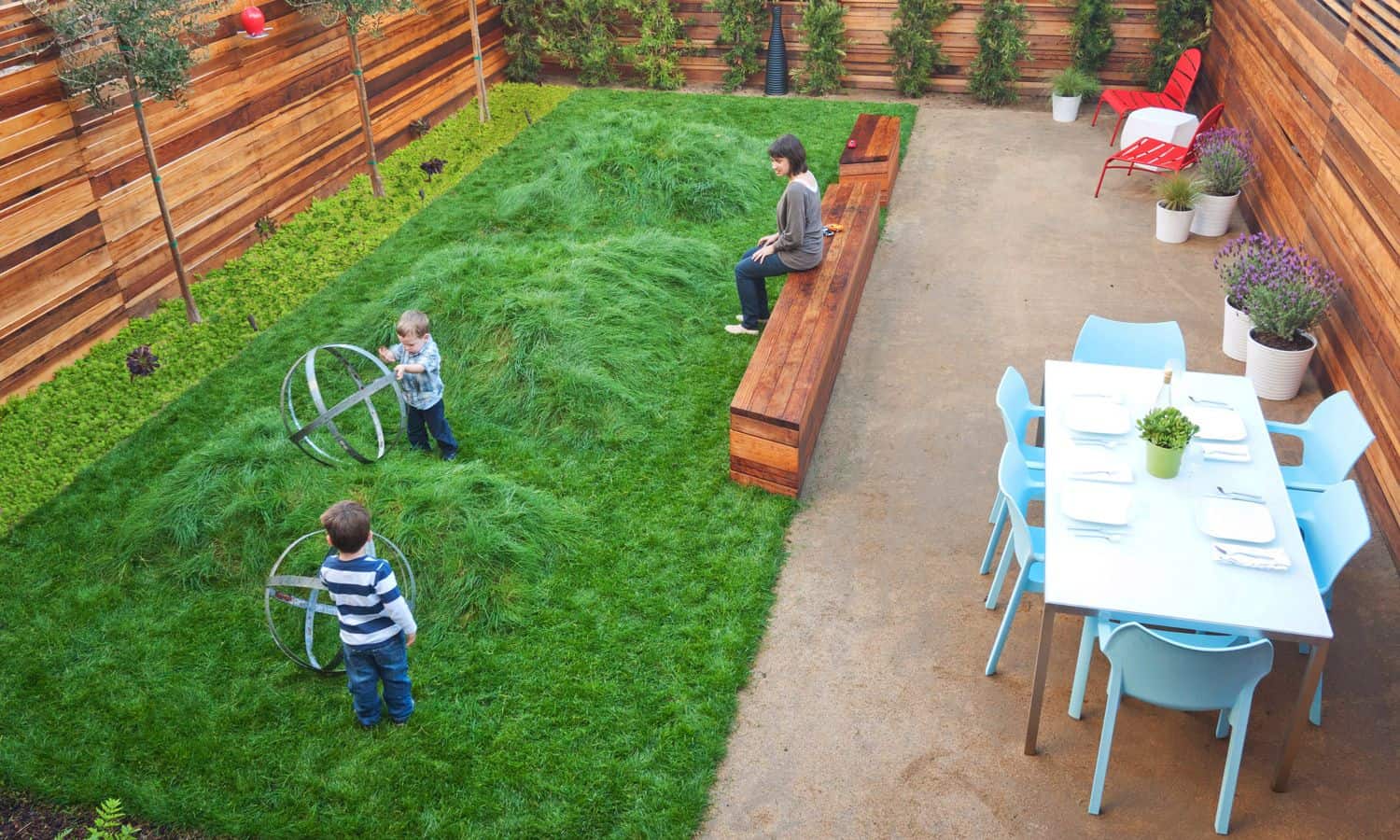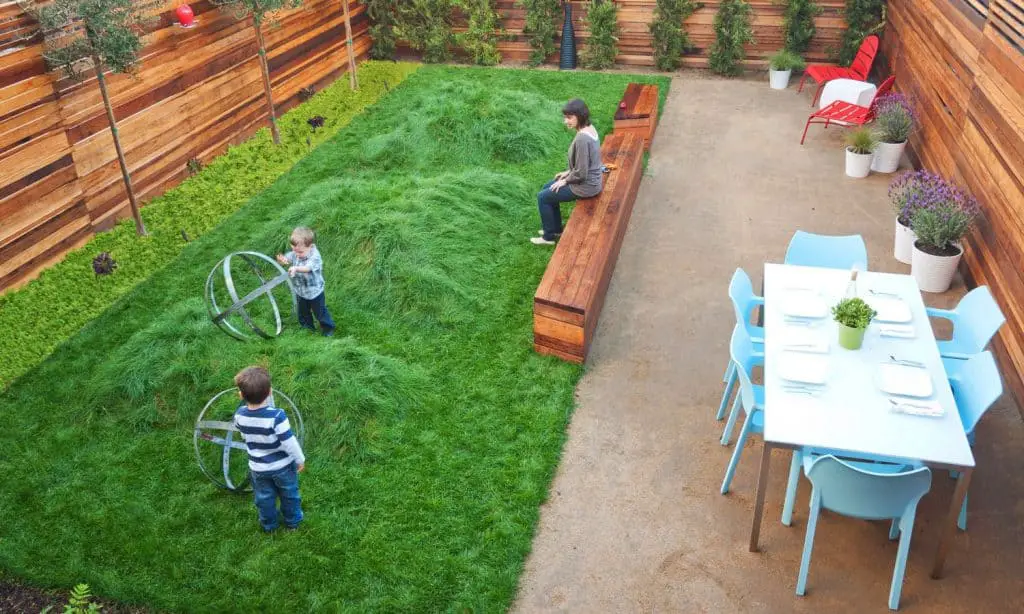 Image Courtesy of Remodelista
Is it possible to come up with garden design ideas that will include something for every family member? Yes, of course, it is! And, this photo is a perfect example. Creo Landscape Architecture came up with this garden design. They included dining and seating spaces for adults combined with a grassy part for the children. The outdoor space was used smartly and the end result is a safe, engaging, and attractive garden for both parents and children.
3. Extended Living Space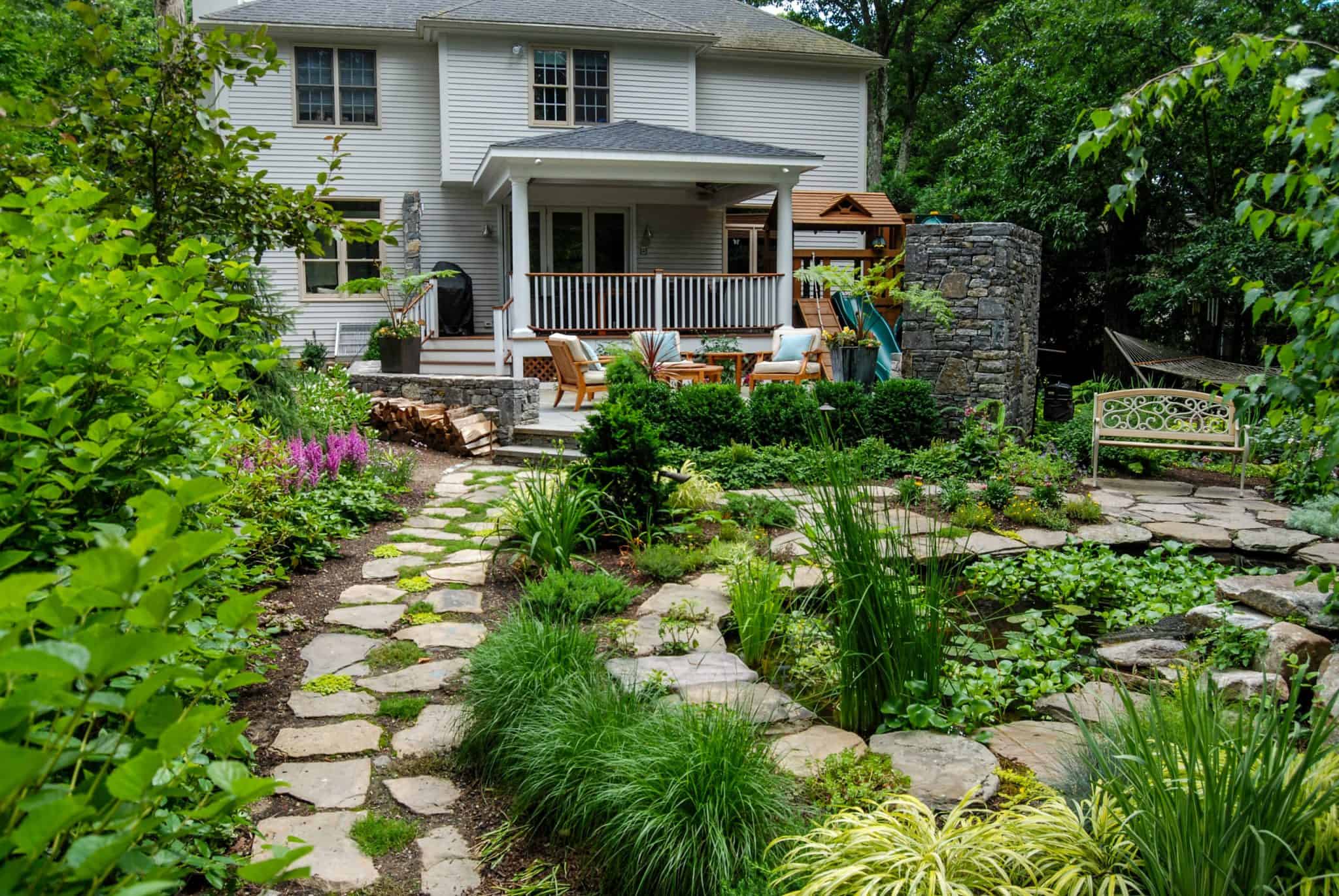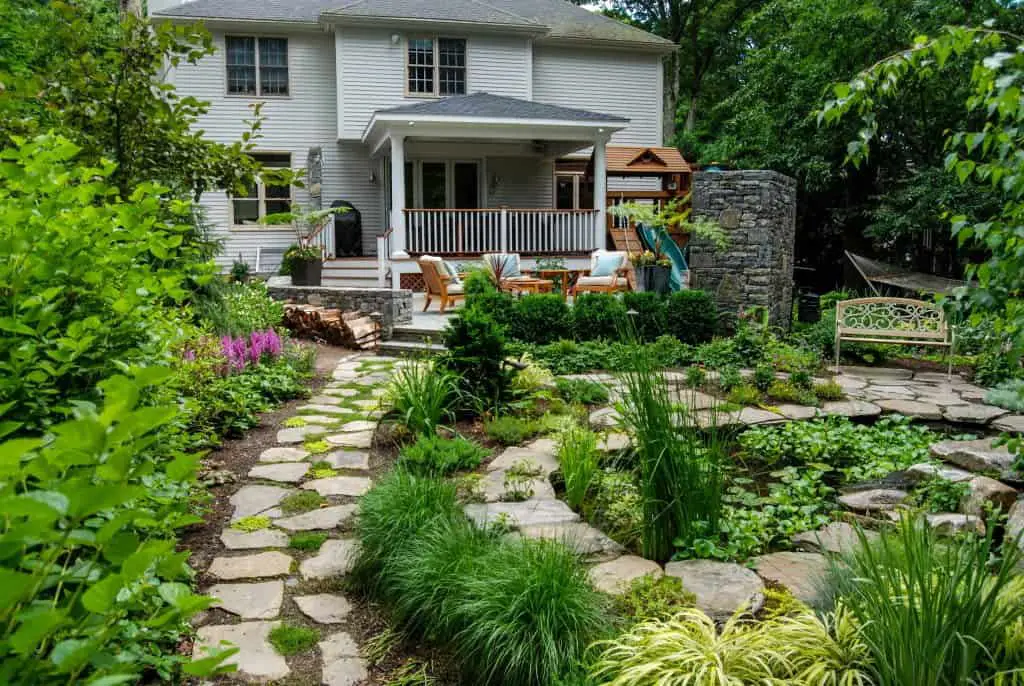 Image Courtesy of A Blade of Grass
Are you looking for interesting garden design ideas that will help you extend your living space into your yard? Well, here is an idea for you! This outdoor space was designed by A Blade of Grass. The team of designers thought of reconfiguring the porch to step down to an adjacent raised bluestone patio. Then, a series of outdoor rooms were created, including a living room, a playroom, and even a koi pond.
4. Garden Transformation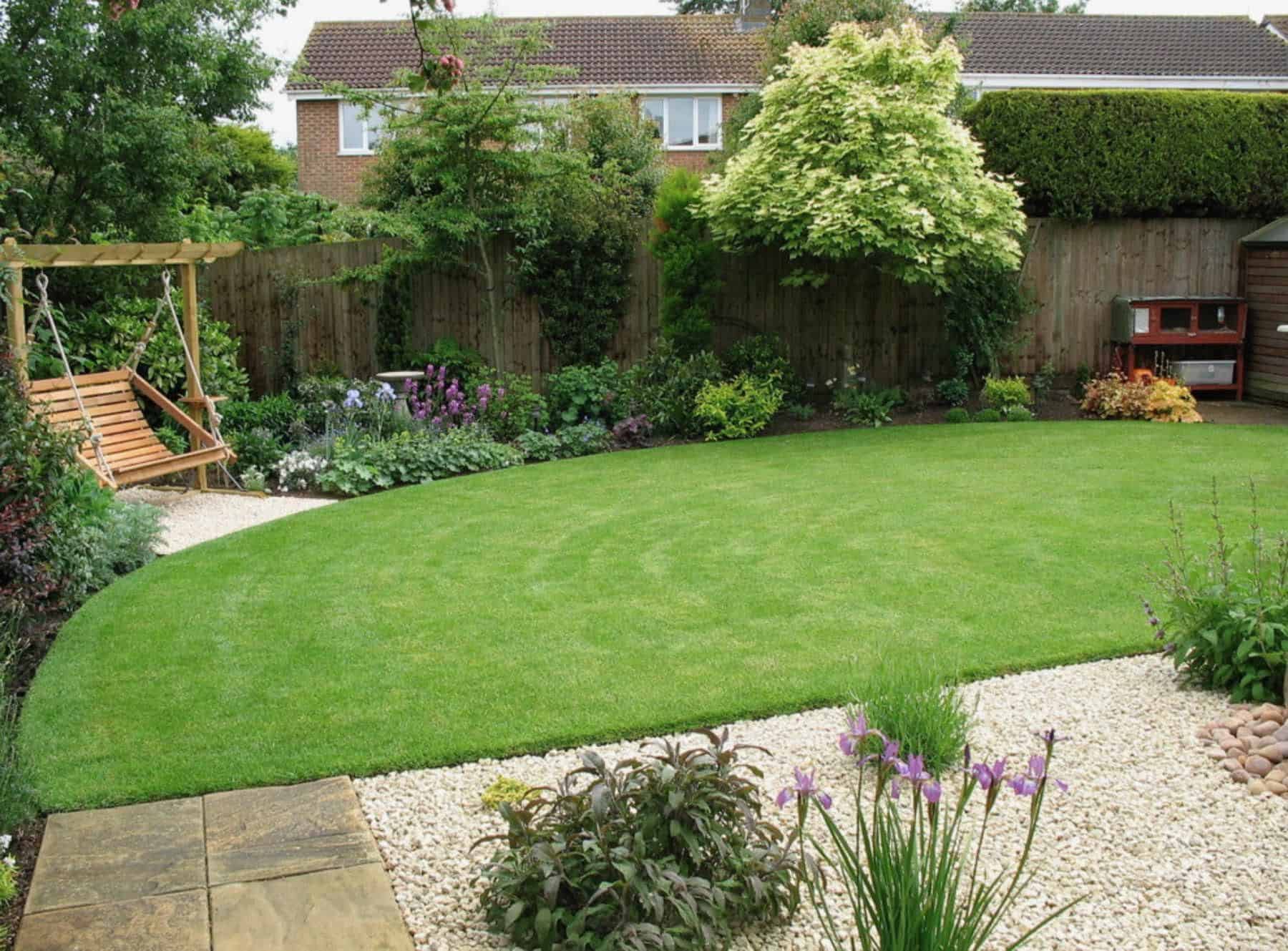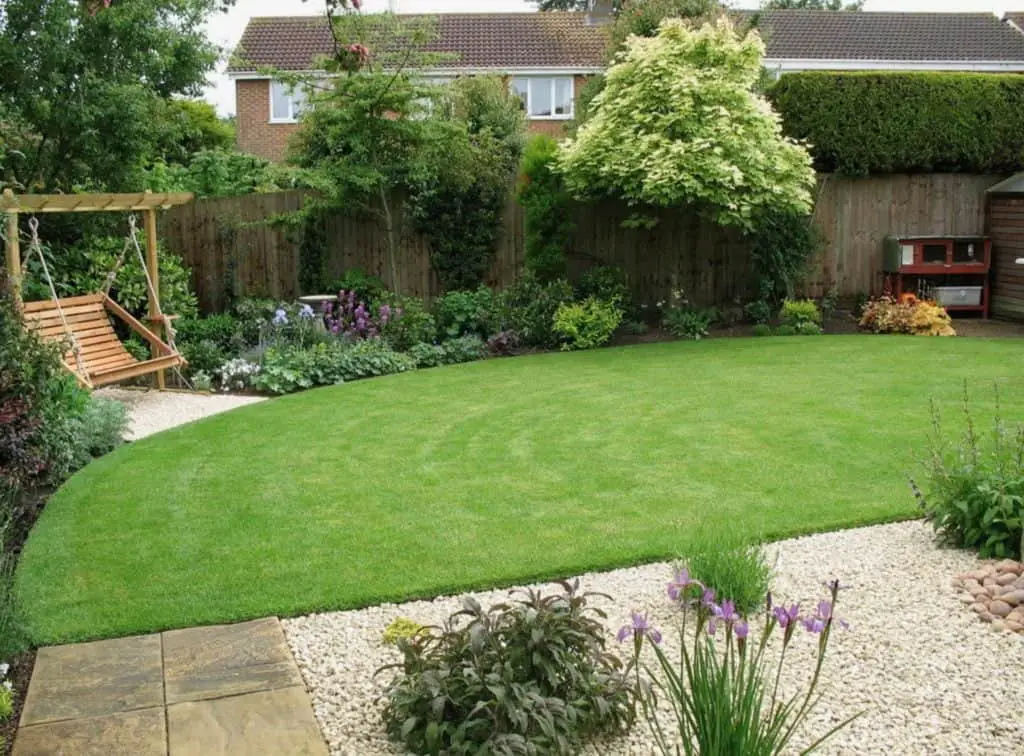 Image Courtesy of Jane Harries Garden Designs
Let's say that you had a grassy garden filled with children's toys. But, now your children are all grown up and you want to create some outdoor space for yourself. Well, Jane Harries Garden Designs has an idea for you. The house owners preferred minimalistic garden design ideas, so they removed all the oversized trees. Then, they decided to reconfigure the law to create larger borders and an informal planting design with a romantic feel. Last but not least, a children's swing was replaced with a porch-style swing settee.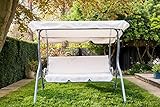 Last update on 2022-06-21 / Affiliate links / Images from Amazon Product Advertising API
5. A Cozy, Intimate Garden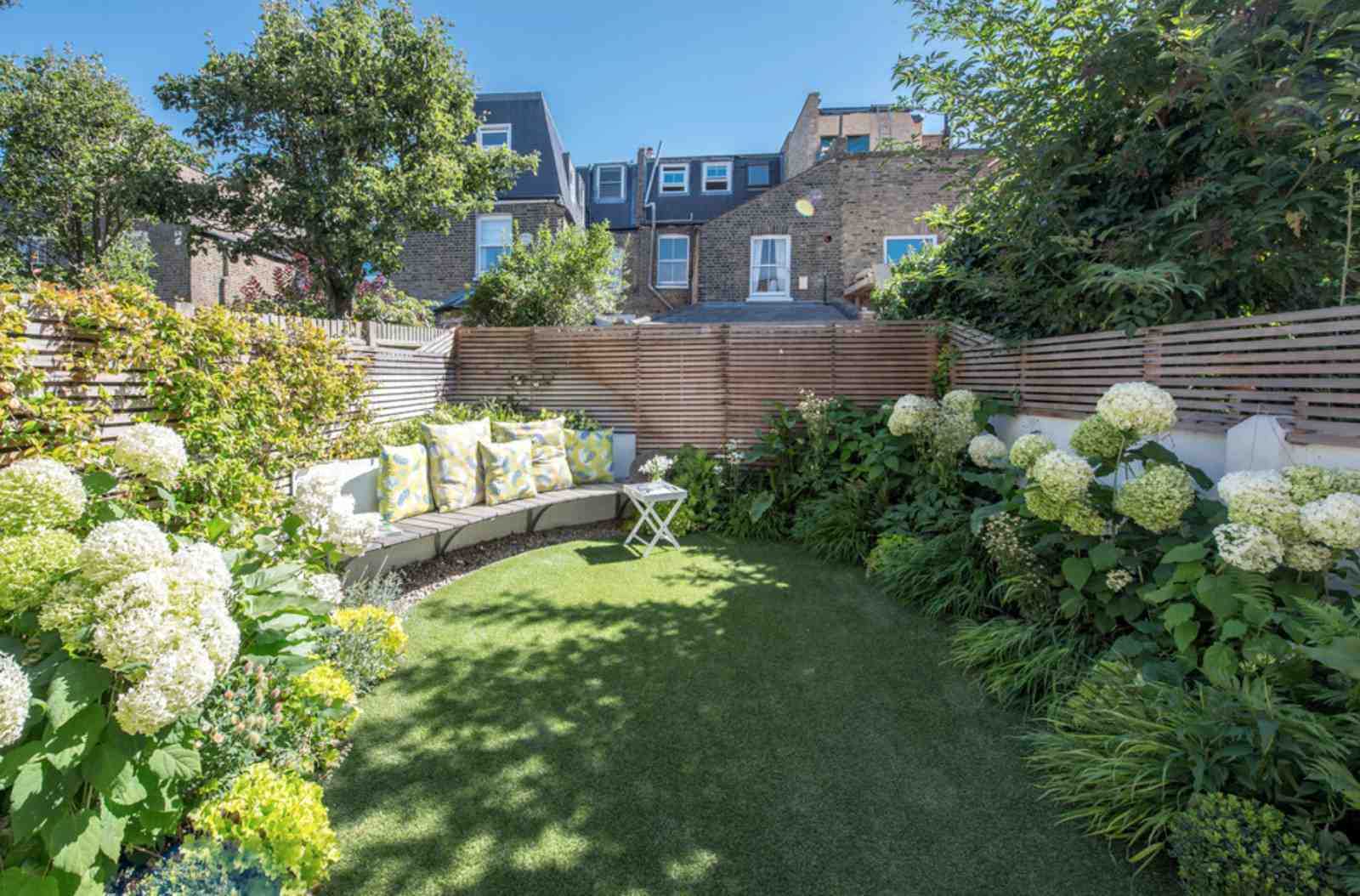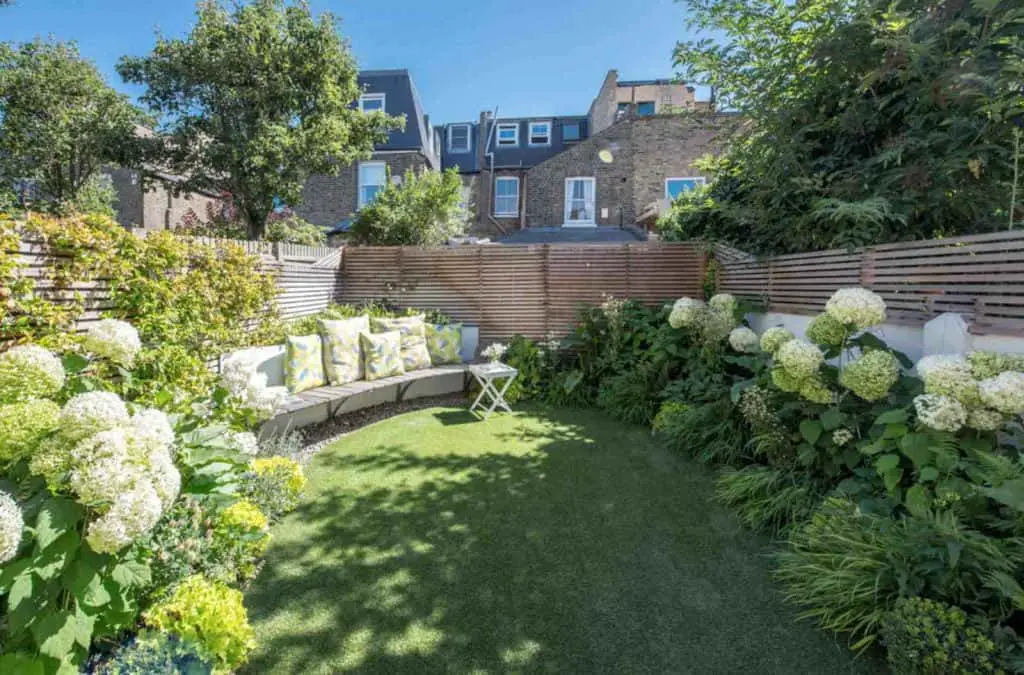 Image Courtesy of Kate Eyre Garden Design
Are you looking for garden design ideas that will help you transform your outdoor space into a hidden oasis that allows you to escape from everything? Well, making that idea come true is incredibly simple, and you won't need to invest too much money. You just need to plant flowers or bushes near your fence so they could provide more intimacy and also beautify the space. Add some outdoor furniture (a simple bench will do) and, you're done!
6. Relaxing Garden Design Ideas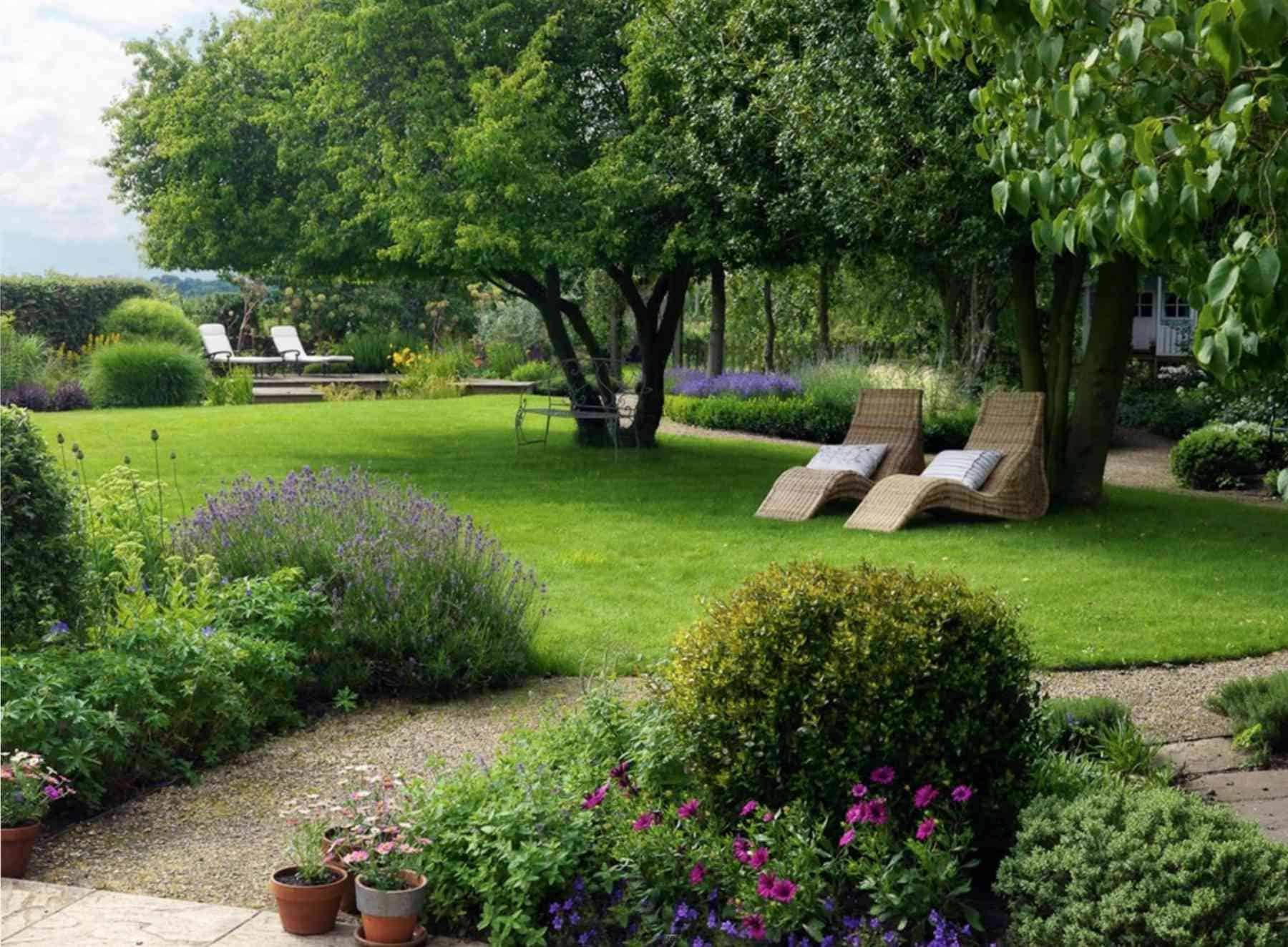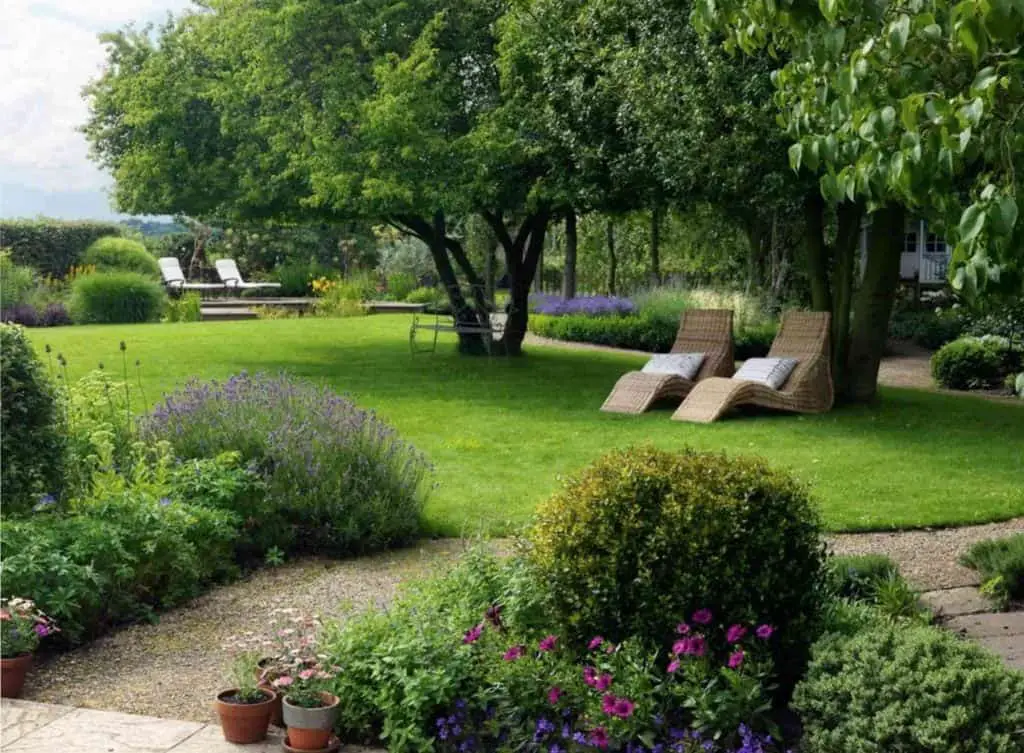 Image Courtesy of Joanne Winn Garden Design
If you don't worry about other people disturbing you, there is no need to create a secluded outdoor space like in the previous example. If you only care about relaxing in peace, then get a few garden lounge chairs and place them anywhere in your garden. To beautify your surroundings, you just need to make sure to maintain the lawn regularly. You can also add a few flower beds. In this case, not only did flowers add some color to the garden but also provided a transition between the lawn and the patio.
Sale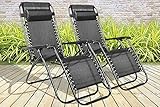 BARGAINS-GALORE SET OF 2 RECLINING SUN LOUNGER OUTDOOR GARDEN...
Pair of zero gravity reclining folding chairs. Locking handles to lock chair into the desired position.
Secured with elastic cords. Folds up instantly and are lightweight for easy portability and space saving. Adjustable padded headrest for ultimate comfort.
Made from textilene; a mesh fabric designed for outdoor use which is a rugged durable material which will last for many years without fading.
90CM X 65CM X 110CM
Last update on 2022-06-21 / Affiliate links / Images from Amazon Product Advertising API
7. Vegetable Garden Design Ideas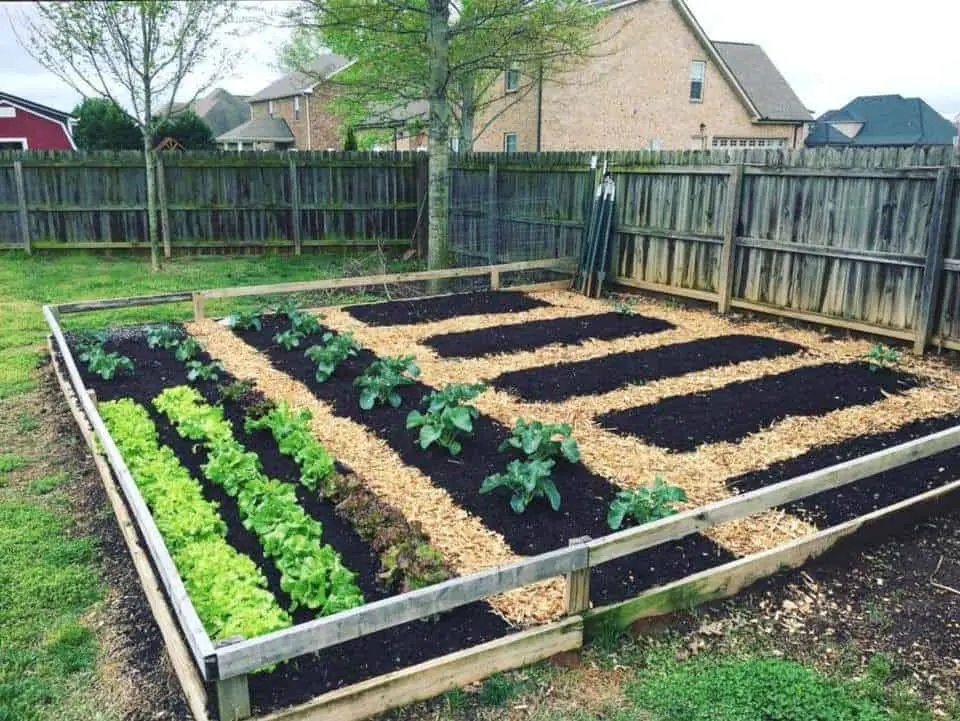 Image Courtesy of @backyardgardener
Do you have some extra space in your garden? You should use it to plant vegetables. Not only will you get to eat fresh and healthy produce, but the geometry of a vegetable garden becomes an interesting design element. And, don't limit yourself to vegetables only. Plant a few trees as well. Sure, it will take them some time to grow, but they will provide the perfect shade during hot summer months.
8. Modern Garden Design Ideas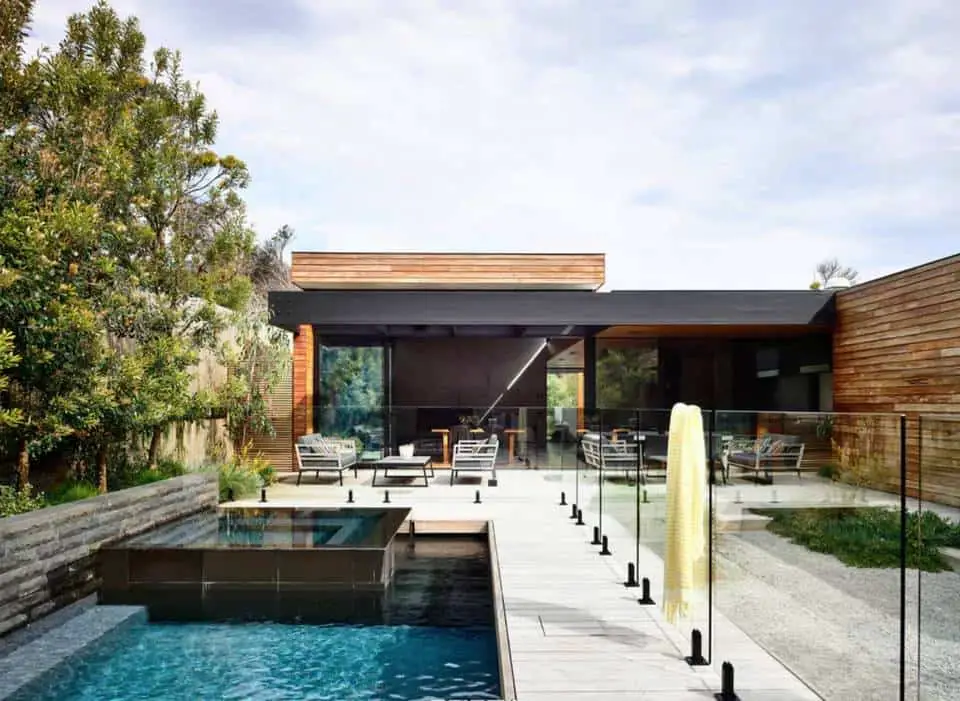 Image Courtesy of Kargosha
Does your home feature a contemporary design and you would like a matchy garden? Well, feel free to use this idea as your inspiration. This contemporary garden features a patio, spa, outdoor kitchen, and a swimming pool. In addition, softscape plants add greenery to the yard. Of course, your garden doesn't have to incorporate all these features. Just placing items that imitate the straight, square edges to match the lines of the home would have done the trick.
Sale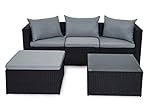 Evre Outdoor Rattan Garden Furniture Set Malaga Conservatory...
SPARKLING SURFACES, COMFY CUSHIONS The glass top of the Evre Malaga Coffee Table is sparkling and clear, keeping the design sleek and sophisticated, and anti-glare so you won't be blinded by sun beams bouncing off of the table. The safety glass is tempered to withstand weight and heat, perfect for al fresco dining or relaxing with a drink. The seat and back cushions are 7cm thick and padded, and the cushion covers are easily removable and hand washable.
STYLISH & STURDY The strong and sturdy frames of the Evre Malaga Set and Coffee Table are made of powdered steel - a toughened metal that is specifically made for the outdoors. Woven around the frame is the polyethylene (PE) rattan, a material that is extremely resilient - it's comfortable, UV resistant, long lasting and durable!
WIPEABLE & SHOWER-PROOF The PE rattan weave and glass coffee table top are wipeable and really easy to clean, use a damp cloth or antibacterial wipes and dry completely! The cosy seat and back cushions are dirt resistant, shower-proof and can be gently hand washed! Extend the lifespan of your furniture by keeping it covered when you're not busy enjoying it!
MODULAR FEATURES Despite being sturdy and durable, the furniture is lightweight, easy to move and navigate to rework your set in a way that suits you and your space. Floor protectors are another thoughtful feature of the Evre Malaga, protect your decking for ease of use.
Last update on 2022-06-23 / Affiliate links / Images from Amazon Product Advertising API
9. Flagstone Patio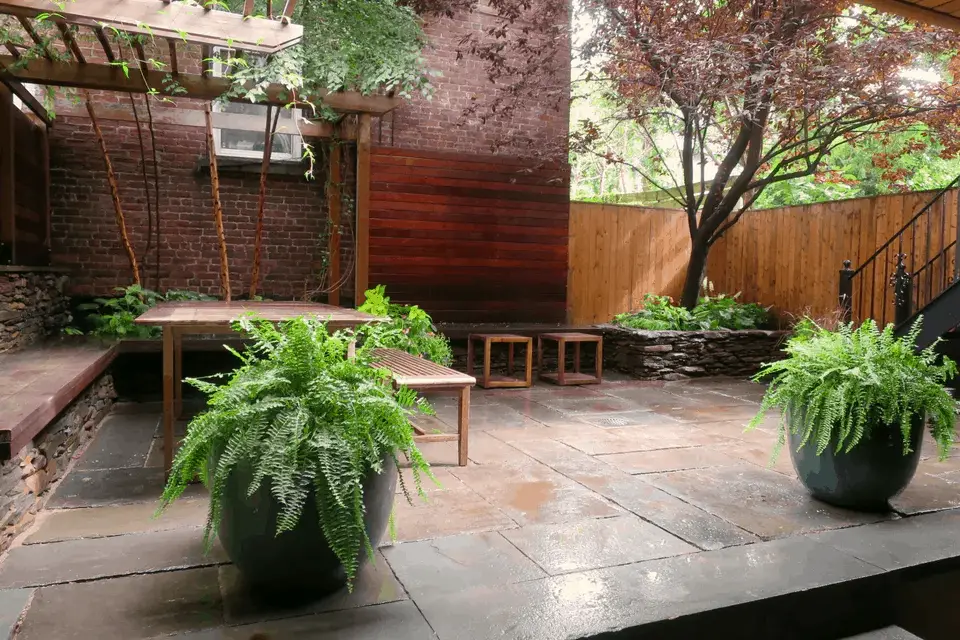 Image Courtesy of Pinterest
Does your patio desperately need a makeover? Take a cue from this photo. The homeowners covered theirs in flagstone and then they added built-in wood seating to create a small dining area. The plants they used for decoration are ferns and Japanese maple, which are shade-tolerant plants. Garden design ideas such as this one are perfect for small urban landscapes that look the best when decorated with patio surfaces and potted plants.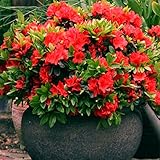 1 X RED Azalea Japanese Evergreen Shrub Hardy Garden Plant in...
Pot Size (Supplied): 9cm Pot (Image for Illustration purposes - supplied in growers pot)
Characteristics: This deciduous shrub has a bushy habit, boasting fiery-red coloured flowering in Spring and Summer and mid-green foliage all-year-round.
Growth & Spread: Ultimate height and spread of 0.5 - 1m. It will take 5-10 years for the Azalea to reach this peak growth.
Period of Interest: The Spring and Summer months are when this Azalea will produce striking red flowers that are extremely eye-catching. The mid-green foliage is an all-year-round feature, with the only months of non-solitary growth coming during the traditionally warmer seasons.
Last update on 2022-06-21 / Affiliate links / Images from Amazon Product Advertising API
10. Modern Outdoor Dining Area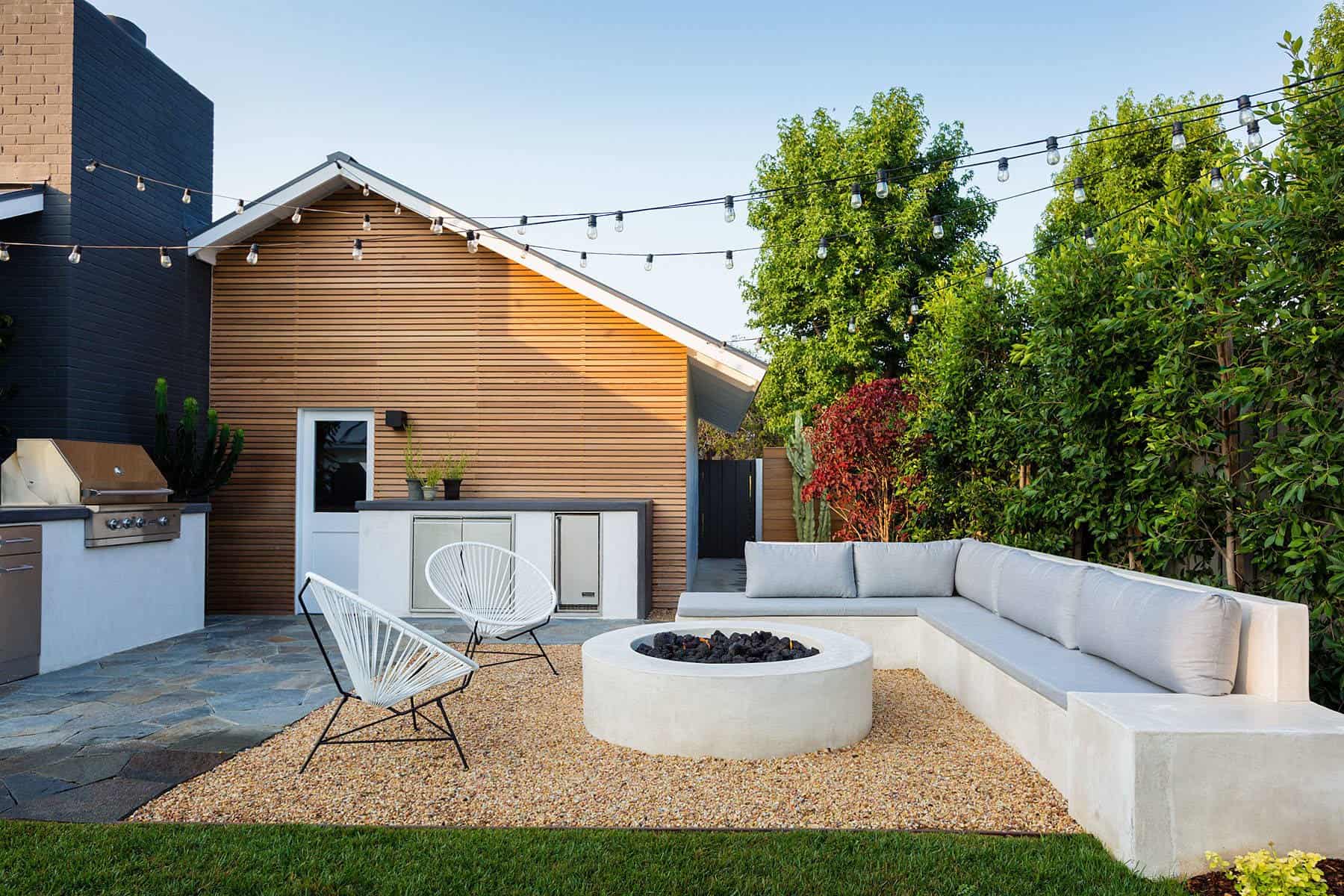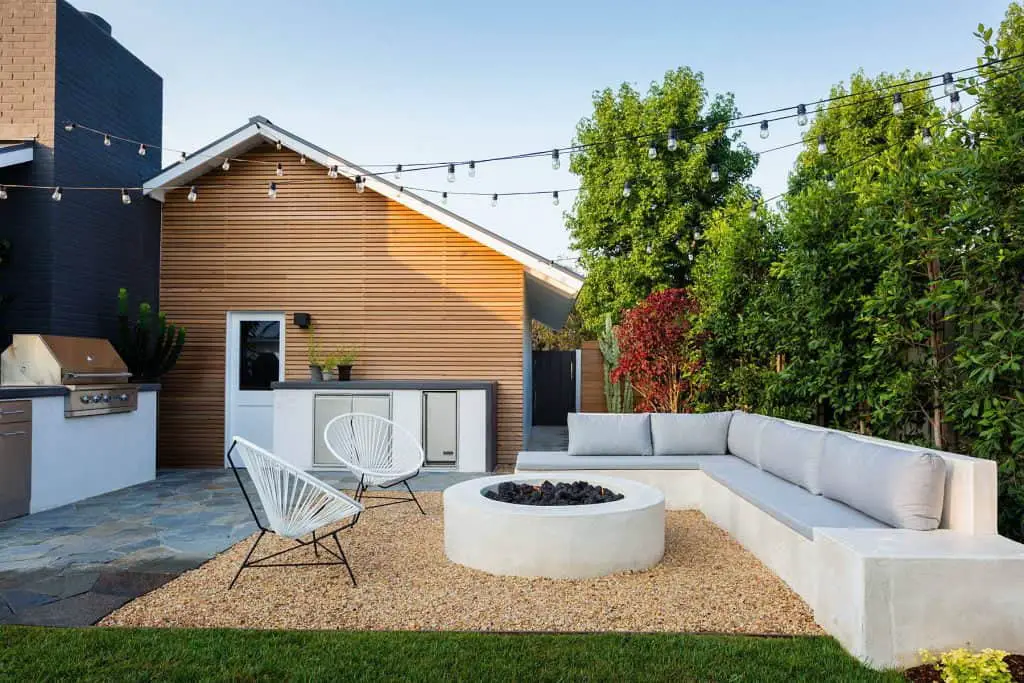 Image Courtesy of Houzz
No products found.
Gardens like this simply take your breath away every time when you look at them. But, if you pay more attention to the photo, you will realize that you could easily transform your garden and make it look like this one. The emphasis here is on the simple and clean design. And, to imitate it, you will need to take advantage of the square geometry, so all the different areas could blend in smoothly.
These were our garden design ideas that are so simple yet so creative that they will completely transform your home. Which one did you like the most? Share your favorite in the comments!