What people used to call a patio roof is now known as a pergola. This outdoor structure is designed to provide shelter from sun, rain, and wind while extending your living space at the same time. Usually, a pergola is the focal point of a yard since it is generally designed in the form of a fancy entrance or a covered walkway. In this post, we have prepared plenty of pergola ideas for your home that will help you come up with a perfect design for your needs.
Pergolas are made of posts, beams, and rafters, and they can be either attached to or detached from a house. Sounds similar to a gazebo? Well, the main difference between a pergola and a gazebo is that gazebos are freestanding and have a pitched roof, whereas the roof of a pergola is flat.
If you have a deck or a patio, then adding this structure to your home will increase your living space and turn your yard into a perfect location for relaxing or entertaining guests.
Pergola roof covers come in as many styles as there are tastes and ideas. They can be made of almost any material – wood, metal, bamboo, straw, plastic tiles, or anything else that will look good as an addition to your home!
Here are 20 covered pergola ideas that represent different styles, sizes, materials, and budgets sure to inspire you!
Our Favorite 20 Pergola Ideas For Your Backyard
Pergola Roof Cover – Wooden Rib
Image Courtesy of Own The Yard
This modern backyard was designed to be a summer spot. Protection from the sun was desirable, but the owners didn't want to block the sun out entirely. So, they decided to go for a straight-lined pergola since it can be covered only by a rigid material.
Sometimes, the best approach is the simple one, so the owners decided to go for a minimalist geometric shape.
Contemporary Pergola Design
Image Courtesy of The Spruce
The owners of this beautiful home decided to go for a contemporary backyard and pergola design. They added a rectangular pool, a flat and simple pergola, and also made sure that the landscape frames the pool and patio.
The entire backyard was designed by 9th Avenue Designs. The designers made sure to include a sleek and modern fire pit as well as slat tables to make the outdoor space more inviting.
Stylish Pergola Covers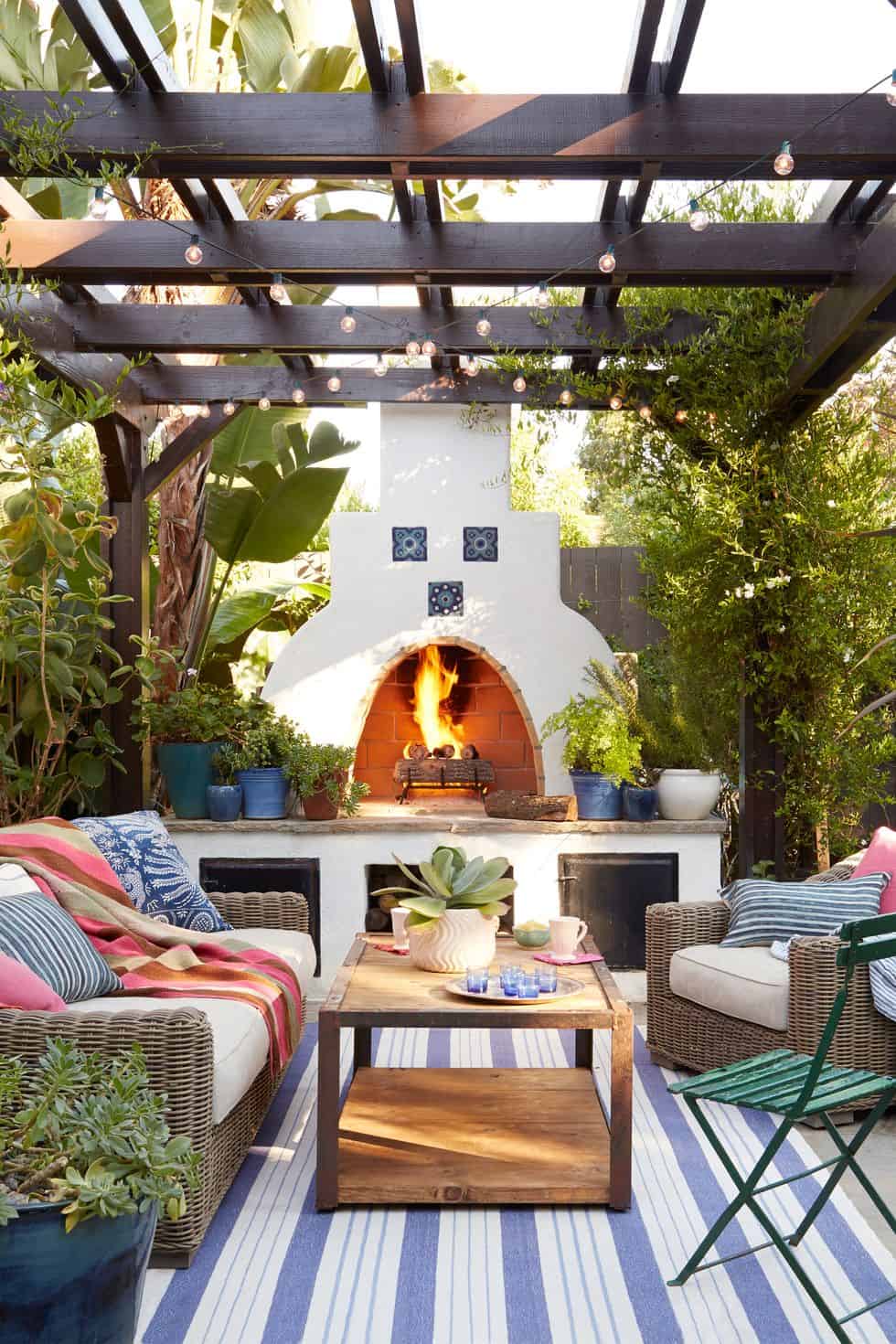 Image Courtesy of Country Living
Did you know that pergolas were one of the top trends in 2019 according to the National Association of Landscape Professionals (NALP)? The structures are usually made out of wood and not only will they provide a pleasant shade but also make your outdoor space more sophisticated.
Of course, you don't have to limit yourself to decorating your yard with just a pergola; you can also add some string lights, plants, a fireplace, and stylish furniture.
Cabin-Like Pergola Covers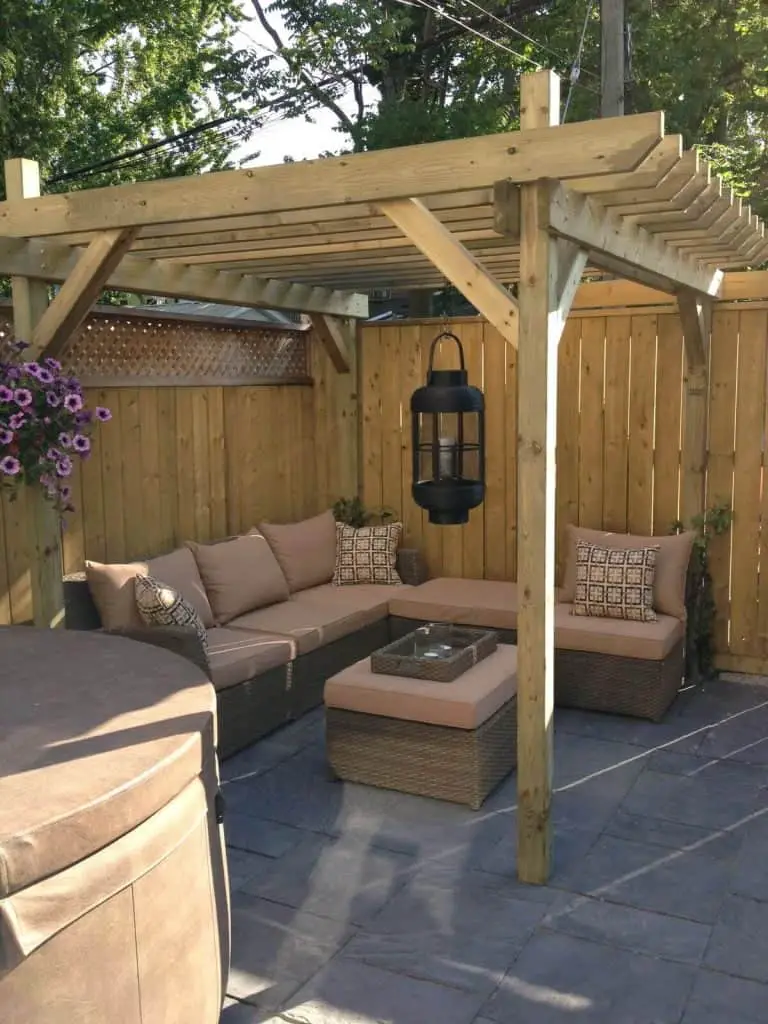 Image Courtesy of Decoholic
The owner of this home decided to go for a rustic look and he managed to achieve it by taking style cues from summer vacation cabins and leaving the wood unfinished. This pergola provides a cozy shelter and looks like an inviting conversation area.
The color scheme is neutral and the woven textures are added to create some contrast. A large lantern was added as a focal point for space.
Cubic Pergola Design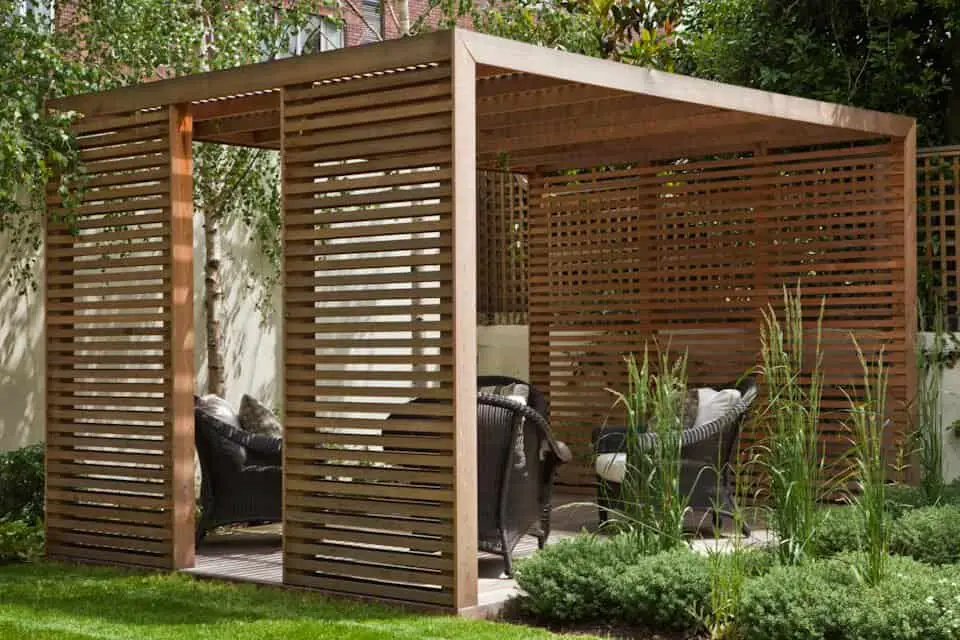 Image Courtesy of Decoholic
A pergola doesn't necessarily have to be built just as a roof cover, as you can see in this photo. You can also go for a cube-shaped design and place it anywhere in your yard to create a shaded outdoor room.
Space is defined by the two slated walls, one of which features a door-like entrance. The charcoal grey furniture adds a beautiful contrasting color and texture, while the white flooring and pillows are used to add some brightness to space.
Inexpensive Covered Pergola Ideas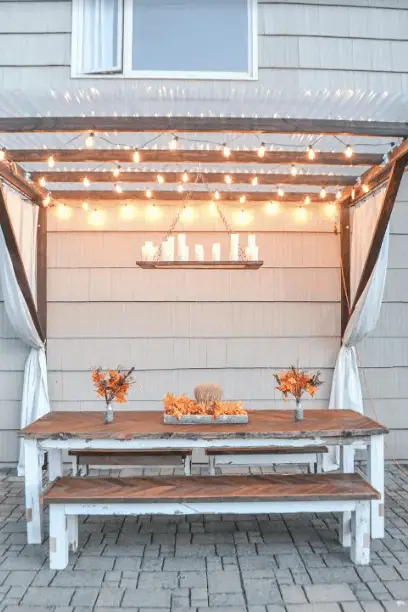 Image Courtesy of Country Living
If you don't have enough space in your yard or if you're on a tight budget, you can always go for gorgeous small pergolas.
According to The Created Home, waterproof pergola covers like this one can be built for less than $200. By investing only that much, you can get a sheltered outdoor space that looks stunning. Don't you just love this chandelier suspended from the center of the structure?
Pergola Decorated With Plants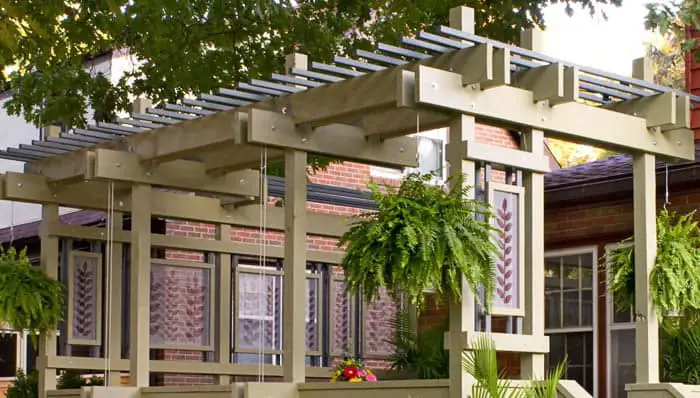 Image Courtesy of Morning Chores
This pergola looks simply stunning, and the greatest thing about it is that you can build it yourself if you are an experienced builder.
A structure like this is meant to be attached to your deck. The unique design allows you to decorate the pergola even more with hanging plants. A design like this one would be a hit for every homeowner looking to decorate his outdoor space!
Outdoor Kitchen Pergola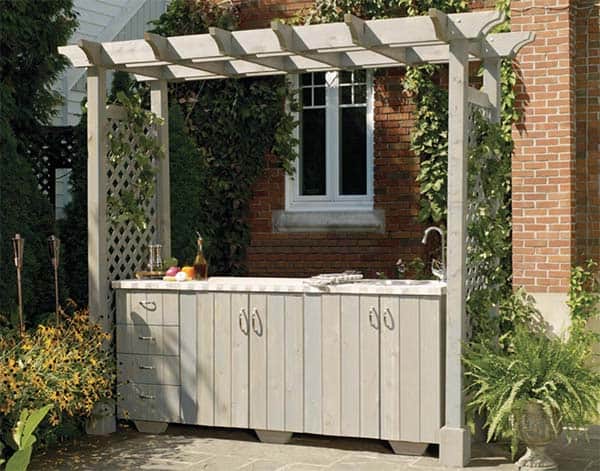 Image Courtesy of Morning Chores
If you are an entertainer who loves having people in the backyard and if you always dreamed of having an outdoor kitchen (or bar) then this snazzy little set-up is the perfect choice for you.
You can take a look at these plans and learn how to build this kitchen island as well as the pergola attachment that will keep you protected from the sun while you're cooking. Any patio or deck would be an excellent choice for an addition such as this one!
Breathtaking Covered Pergola Ideas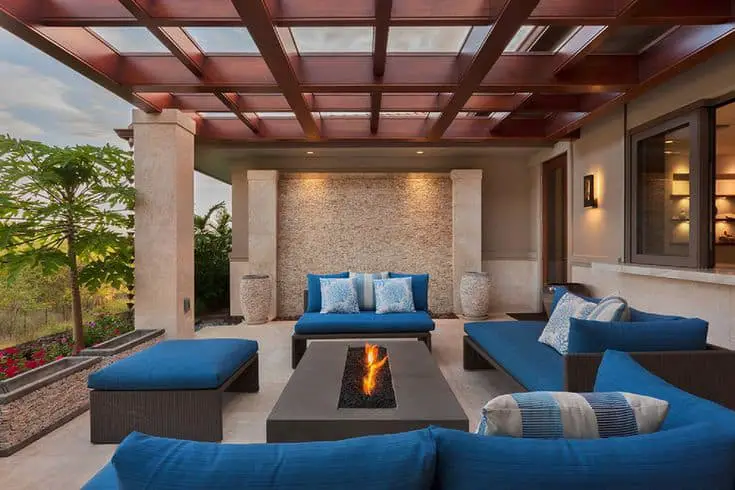 Image Courtesy of The Spruce
Isn't this pergola design from paradise. This one was built by Architectural Design & Construction, Inc. for a beach home located on the southwestern shores of Maui.
The pergola is a seamless transition from indoors to outdoors, and the view is breathtaking from any angle. The rafters and wood beams are flat and built, so they don't block the view. You don't have to own a beach home to build a pergola like this one; you can always adapt the design to fit in with your home.
The Swing Pergola Cover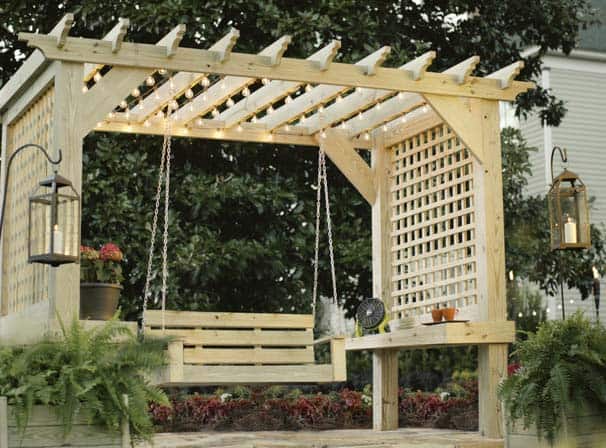 Image Courtesy of Morning Chores
As we mentioned at the beginning of this article, there are countless pergola design ideas. You can build whatever you think of!
This particular pergola is built as a stand-alone structure and it features shelves on the inside. The shelves can be used as a planting station or for any other decorations. Obviously, the greatest thing about this pergola is the swing! You can attach it and enjoy swinging in a nice shaded area.
Pergola On a Deck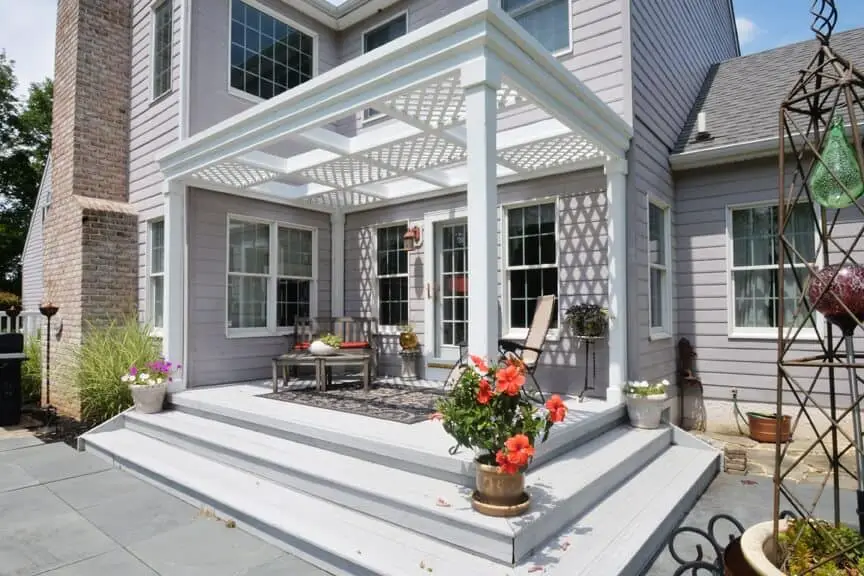 Image Courtesy of Morning Chores
If you already have a deck, then you can always add a pergola to it! It is an excellent addition that will make the deck look much better, and the time you spend there will be much more enjoyable.
As you can see, this pergola is attached to the home. If you're want to make some shade on your deck, but you don't want to cover it completely, then this plan is an ideal choice for you. A structure like this one will protect you from the sunlight while still allowing you to enjoy everything that comes with an uncovered deck.
Pergola for Every Season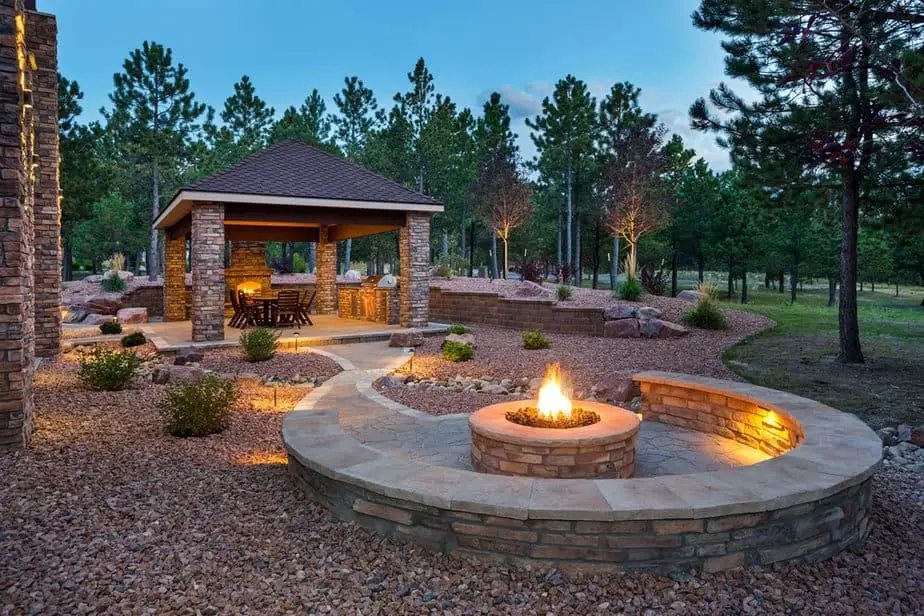 Image Courtesy of Own The Yard
If you're looking for waterproof pergola covers, then this one is an excellent choice for you. To be more precise, this pergola is weatherproof!
It was designed to protect you from all elements, including the extreme heat during the summer but also the snow in the winter. The tiled roof is as sturdy as they can get! The fireplace and the fire pit are a nice touch that will undoubtedly keep you warm when it gets colder.
Stylish Pergola Ideas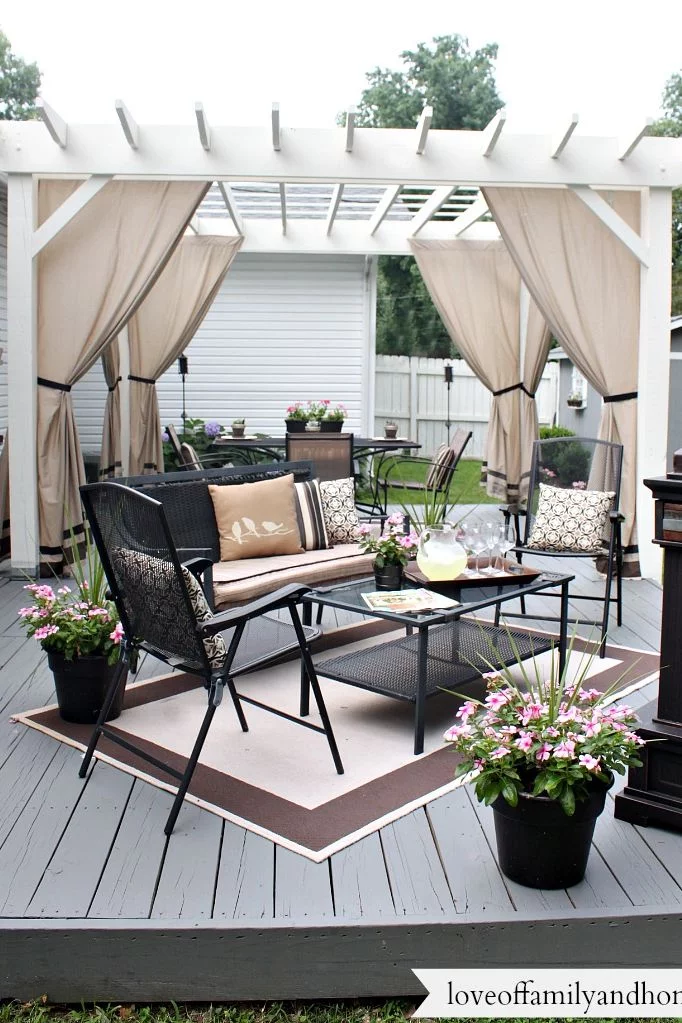 Image Courtesy of Country Living
The beauty of pergolas is that you can decorate them the same way you would decorate any other room. So, any indoor decorations can be used! Just look at this pergola decorated with curtains made of sheets. They add some drama to the entire design and also protect the owners from the looks of nosy neighbors!
Mediterranean Screen Style Pergola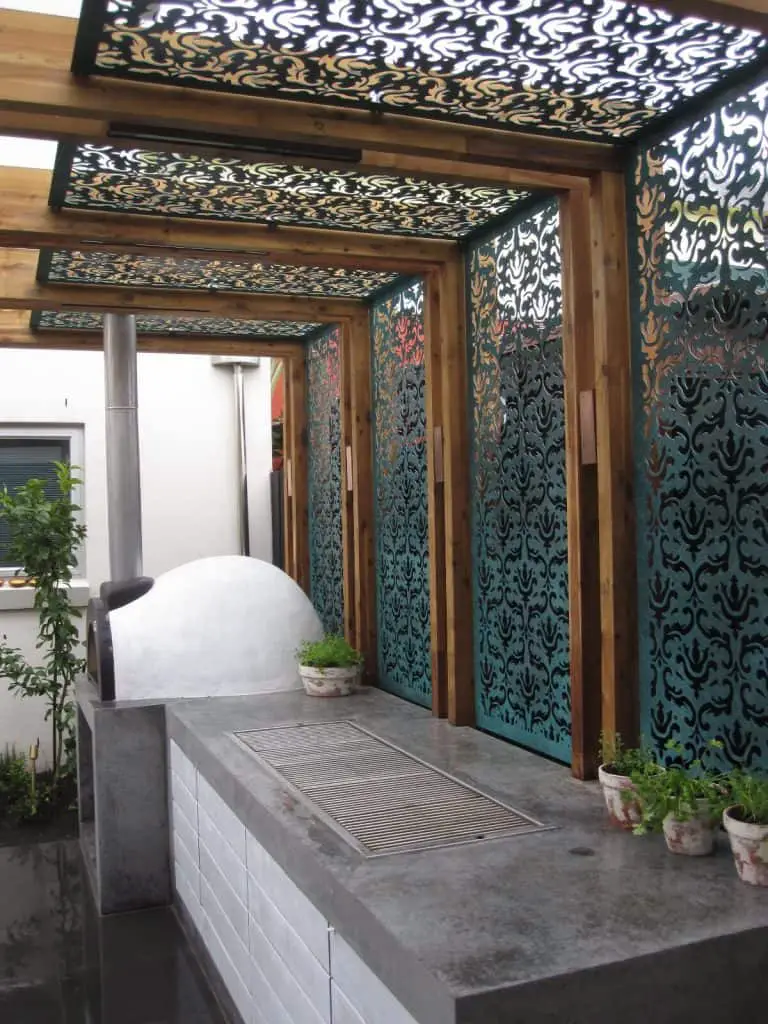 Image Courtesy of Home BNC
If you find the Old World Mediterranean architecture inspiring, why don't you build your pergola that way. The Mediterranean design will add a warm and romantic look to your pergola and the gorgeous design screens provide the perfect backdrop.
By adding the screens you will decorate your pergola with additional patterns and an interesting interplay of light and shadow.
Ranch Pergola Ideas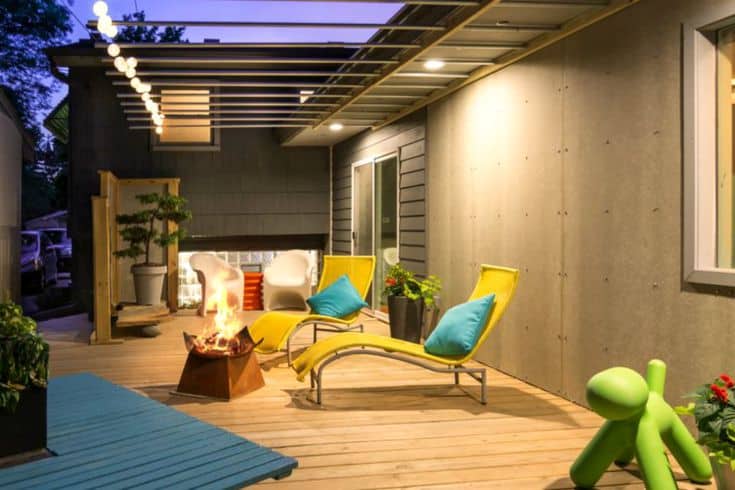 Image Courtesy of The Spruce
How about you turn your pergola into a ranch-like structure?
The owner of this home included the fancy chairs and the fire pit that truly remind you of a ranch. She also added a partition wall to block her family's view of their next-door neighbors and serve as a window treatment for the sliding door. And, did you notice the pergola ceiling? It is made of plumbing pipes. How innovative is that!
Nature-Inspired Pergola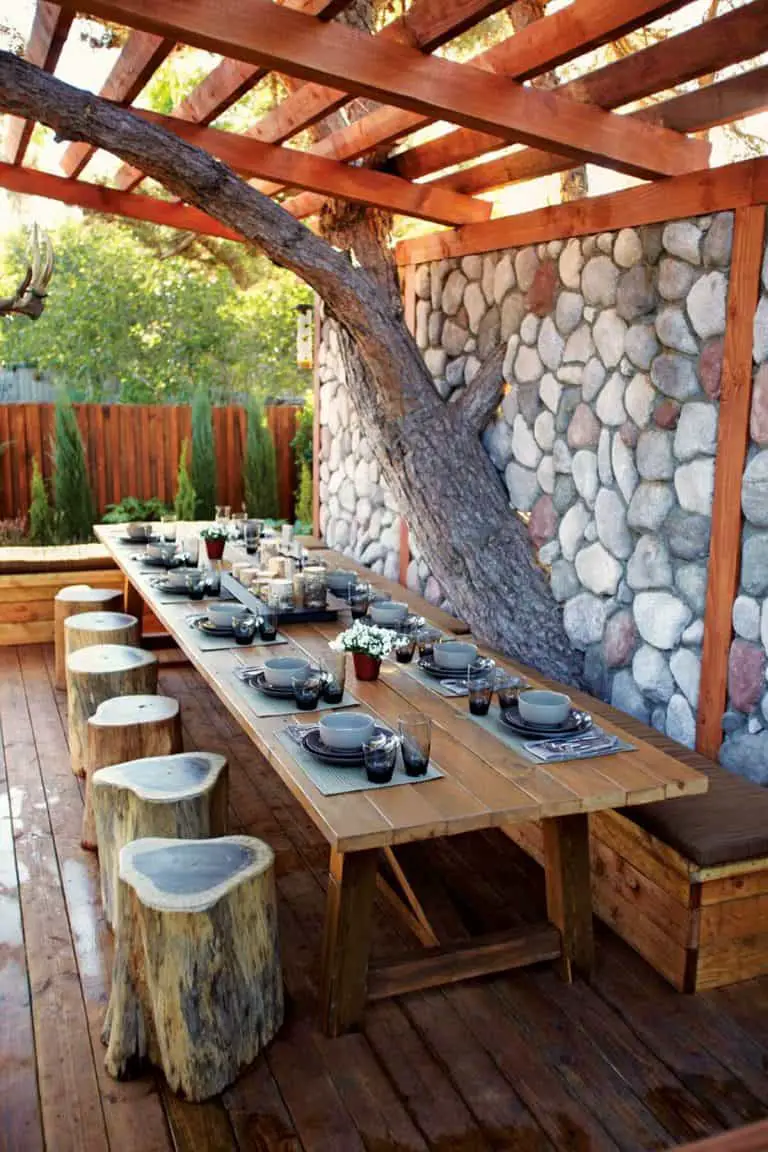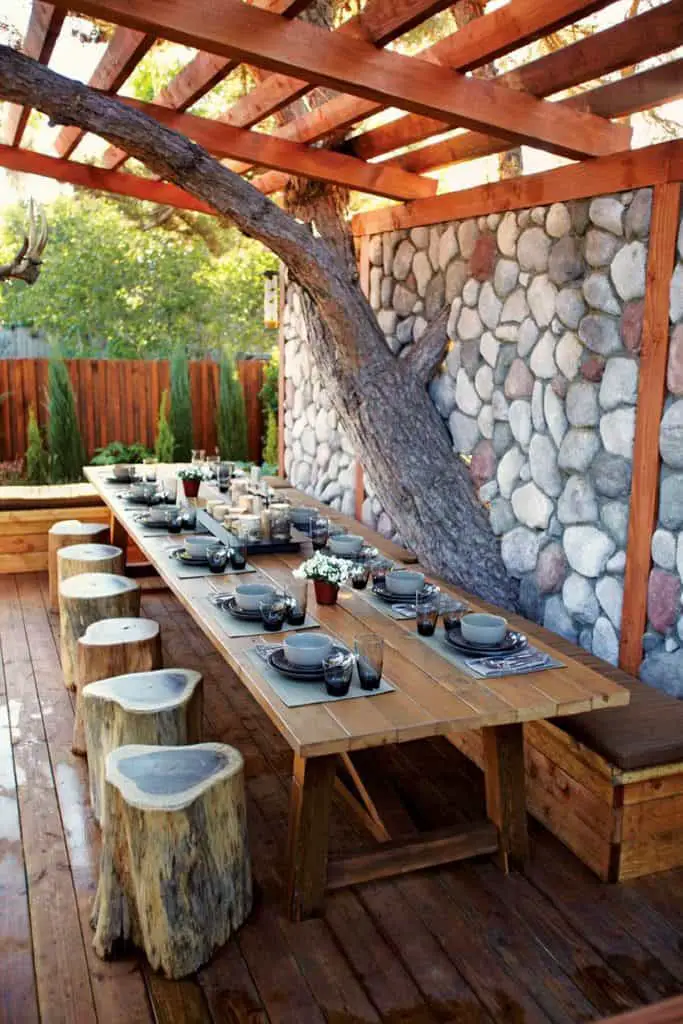 Image Courtesy of Home BNC
Isn't this one of the most unique pergola covers you've ever seen? It incorporates a real tree into its structure.
Whoever built and designed this pergola sure did pay attention to everything. A stone wall is built around the tree, making it appear as if the trunk and one branch are breaking the wall. Wildflowers, tree trunk stools, and a wood plank table provide the perfect accent!
The Perfect Hot Tub Pergola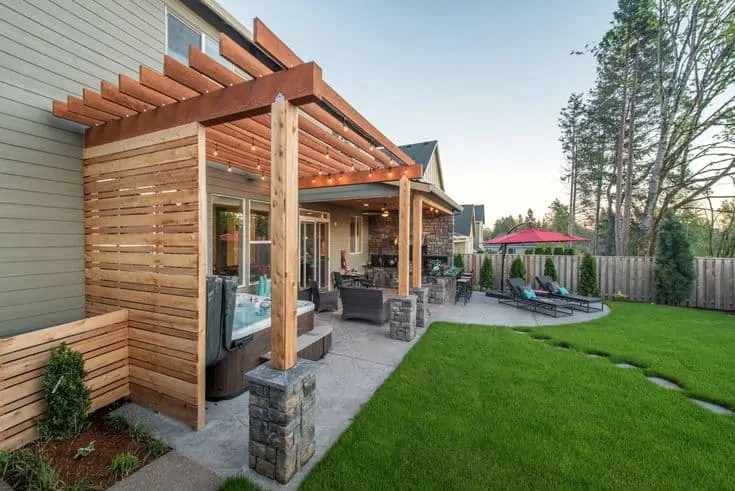 Image Courtesy of The Spruce
If you have a hot tub and you're looking for a way to add more privacy to your yard, then here is an excellent solution!
This pergola is almost attached to the house since the hot tub is located there. Besides decorative purposes, this pergola roof cover also provides shelter and privacy to the homeowner. Designed and built by Paradise Restored this yard seamlessly incorporates several areas of activity.
Pergola Featuring an Outdoor Fan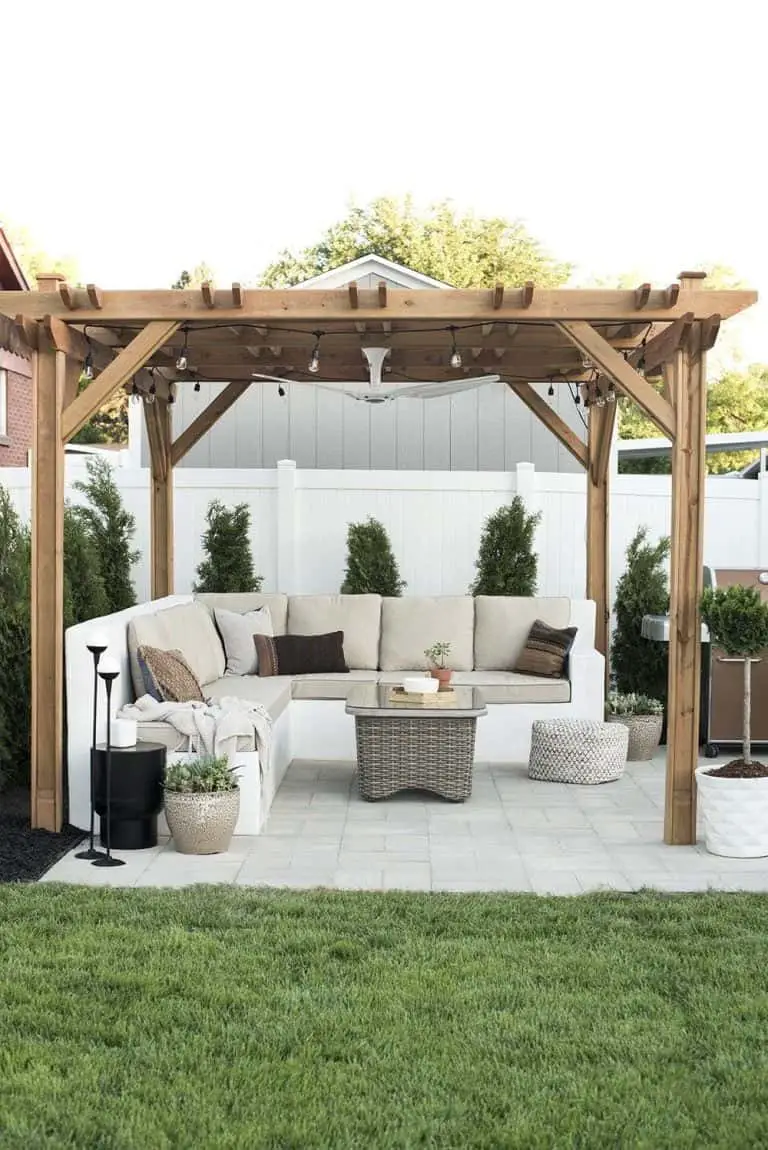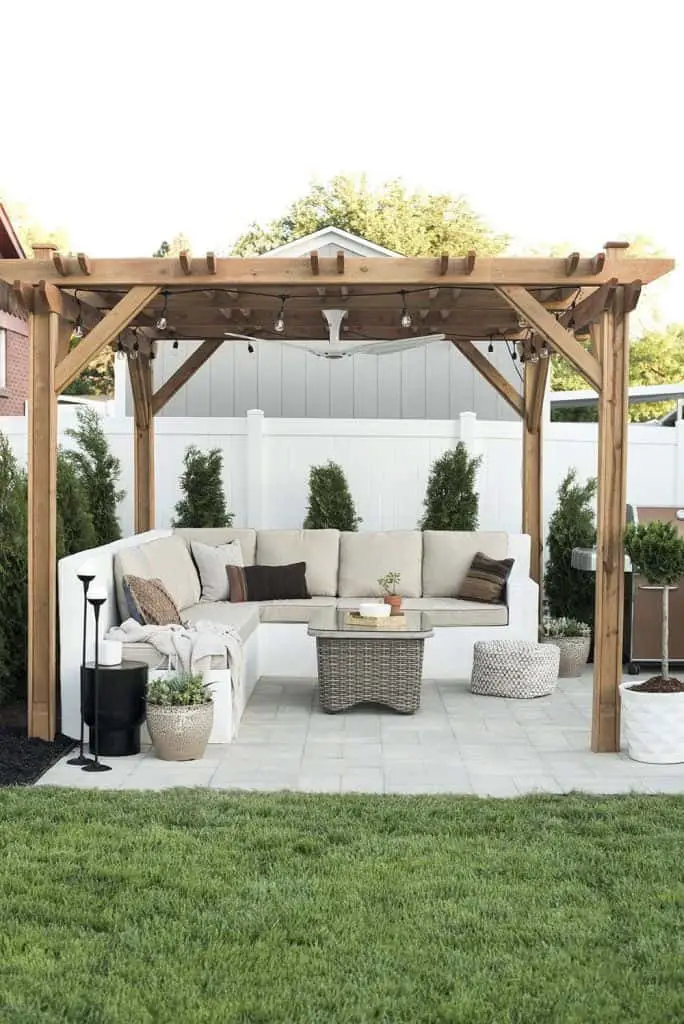 Image Courtesy of Country Living
If you live in a warm climate, then spending time outdoors in summer can be very tricky due to the heat, even if you are protected by pergola covers. However, here is one solution. Install an outdoor fan in your pergola!
This project will require some electrical trenching (probably by an expert), but all the hard work will pay off in the end and you will be able to relax in your pergola even during the hot summer days.
Grilling Pergola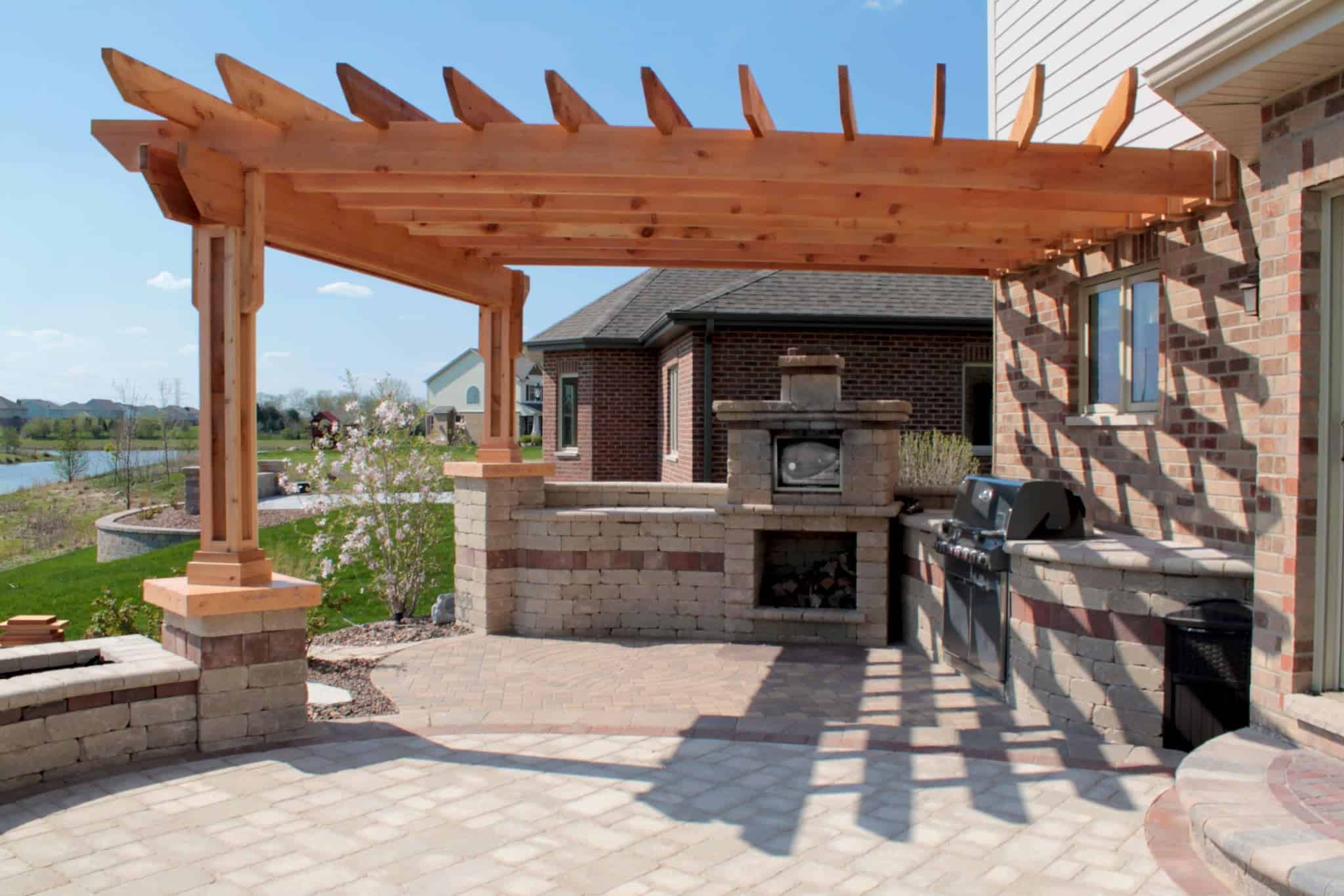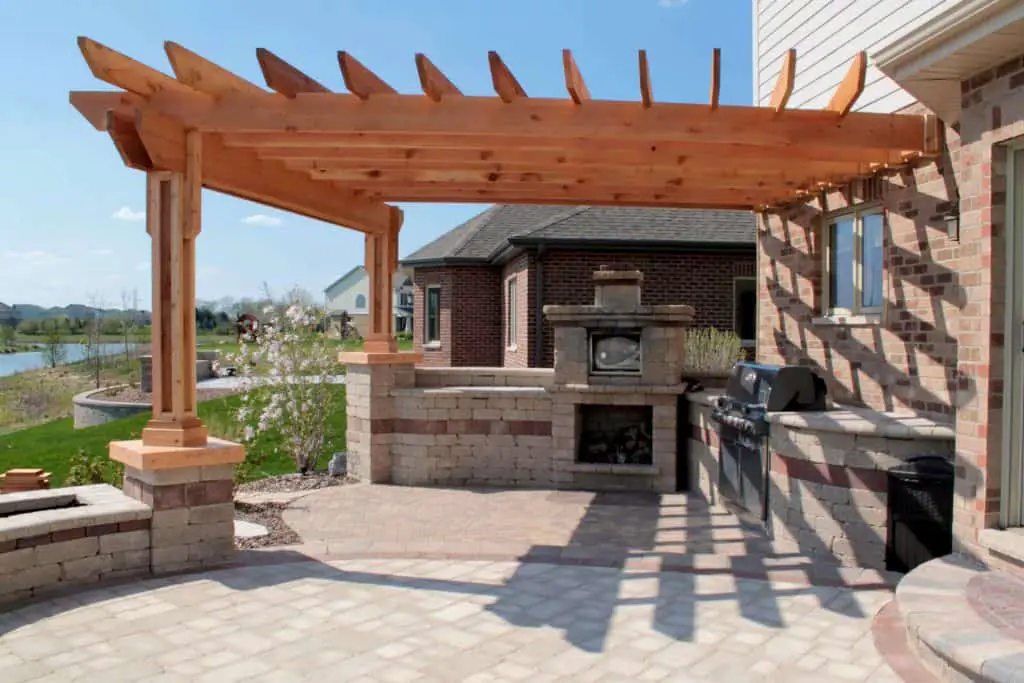 Image Courtesy of Home BNC
Don't you just love barbecuing when the weather is nice? Well, your BBQ experience can be enhanced if you decide to get a pergola. The structure will provide shade and keep you protected from the sun, making it possible for you to barbecue even when it's warm outside.
Luxurious Poolside Pergola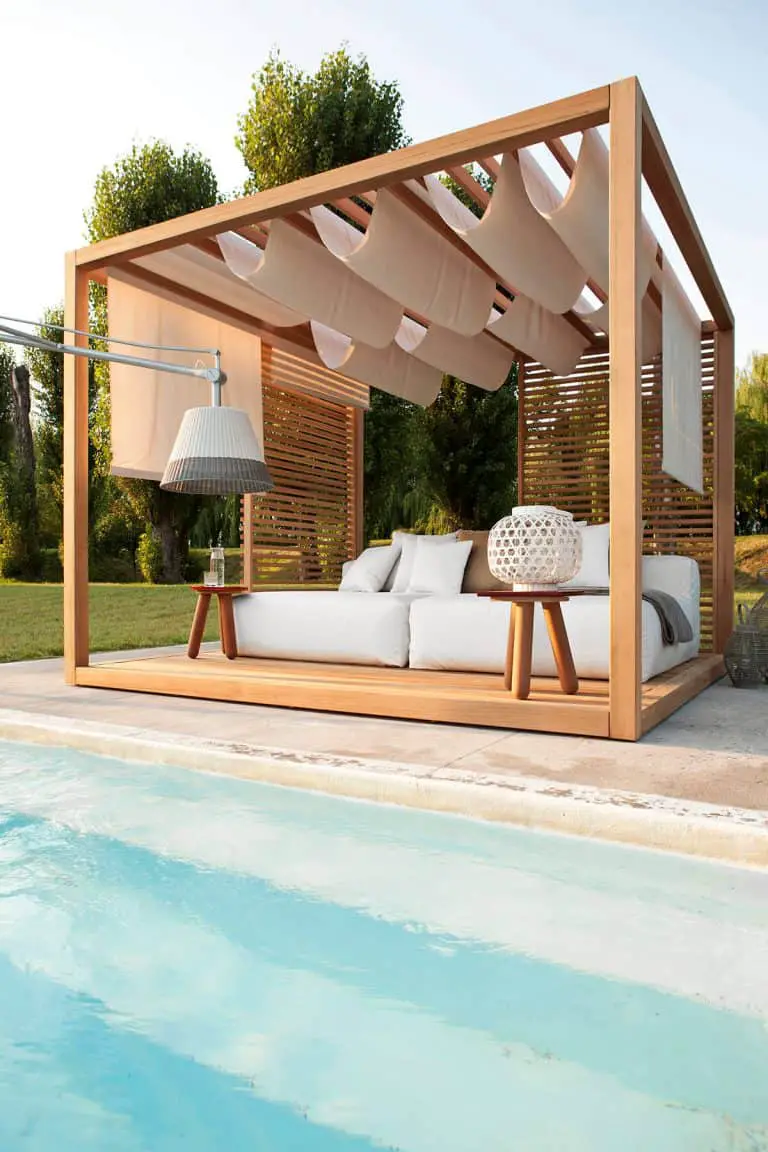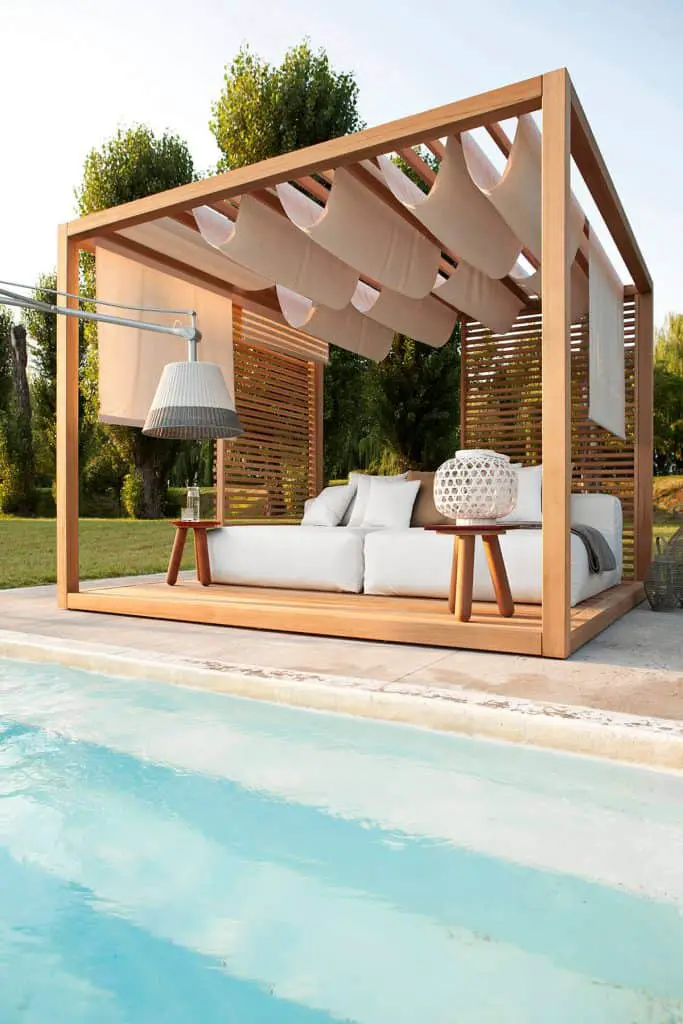 Image Courtesy of Dekoloji
Are you lucky enough to have a pool in your backyard? Then, you must build a pergola right next to it! By doing so, you will create a perfect relaxing spot.
This pergola features white fabric canopies draped along the roof and slatted sides which provides the much needed protection from the sun. The small tables are a nice addition and you can place some decorations on them (like this white lantern for example) or use them for refreshing food and drinks.
These were our favorite pergola ideas that are an excellent choice for every home. Not only will these structures provide a cool shade during the hot summer days, but they will also turn your yard into a perfect place for relaxation and spending time with your friends and family. In addition, you can also use a pergola to ensure more privacy for your family.
The beauty of pergola covers is that you can change and adjust all these designs so they match the vibe of your home and its surroundings. Feel free to use all of these ideas to create your own, personalized pergola! Oh, by the way, if you liked these pergola ideas, then make sure to check out our garden gazebo ideas as well! Then, you can decide which structure would fit in your yard better.
Which design did you like the most?