There are plenty of reasons why you may need a pop-up gazebo in your backyard. Oftentimes, it's the sort of thing that you don't even know that you need until it's too late. You could have an entire get together planned out, only for it to rain. Without a gazebo, you may need to move your party indoors, or cancel entirely. Or, you could have friends over for a fun day of watching the kids play outside. When it gets too hot, you can use your pop-up gazebo to stay in the shade and out of those harmful rays!
In a hurry? Check out the Best Pop-up Gazebos in 2022
Budget Pick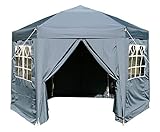 Our Pick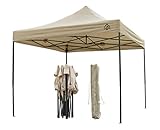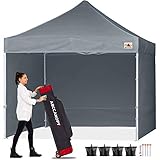 Airwave 2.5m x 2.5m Pop Up Gazebo with Sides, Water Resistant...
Airwave 3.5mtr Pop Up Gazebo HEXAGONAL Blue Fully Waterproof with...
AllSeasonsGazebos Choice Of Colours, 3x3m Heavy Duty, Fully...
ABCCANOPY Pop Up Gazebo With Side Panels and Door Wall Commercial...
Budget Pick
Airwave 2.5m x 2.5m Pop Up Gazebo with Sides, Water Resistant...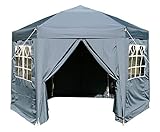 Airwave 3.5mtr Pop Up Gazebo HEXAGONAL Blue Fully Waterproof with...
Our Pick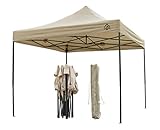 AllSeasonsGazebos Choice Of Colours, 3x3m Heavy Duty, Fully...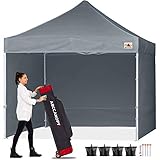 ABCCANOPY Pop Up Gazebo With Side Panels and Door Wall Commercial...
Last update on 2022-06-03 / Affiliate links / Images from Amazon Product Advertising API
Whether you need one for an upcoming event, or just know that it could be handy to have in the future, here are the best pop-up gazebos that you can buy today!
1. Airwave Essential Pop Up Gazebo with Sides
Last update on 2022-06-03 / Affiliate links / Images from Amazon Product Advertising API
Looking at an outdoor gazebo, you may be pained by thinking about how long it will take to set up.  Though they look complicated, they don't have to be. And fortunately, they don't take long to set up at all! That's right, this pop-up gazebo will erect in 60 seconds, and you don't have to worry about all of those pesky polls.
Key Features:
Completely waterproof.
It has two separate, zipped doorways.
Not only is this pop-up gazebo waterproof, but it has extra protection to ensure that rain doesn't damage it. The canopy comes with anti-puddling eyelets, meaning that the weight of water-build up won't hurt the gazebo. So, rain or shine, it's protected. The pop-up mechanism allows a full set-up in minutes, doing all of the important work for you. Along with the two zipped doorways, this gazebo comes with two window panels. You can arrange them in any way that you choose to best fit your event. Whether you want it closed or open, you can decide for each event.
What We Love:
The pop-up mechanism takes the stress out of set up.
Budget-friendly.
It comes in multiple colour options.
What We Don't Love:
It doesn't hold up well against strong winds.
Whether you have a picnic or BBQ coming up, or you just like to sit outdoors in the rain, this pop-up gazebo is a great economic value and smart addition to your outdoor supplies!
---
2. Airwave Pop Up Hexagonal Gazebo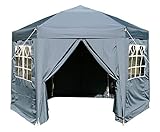 Last update on 2022-06-03 / Affiliate links / Images from Amazon Product Advertising API
When you think of a pop-up gazebo, there's a big change you imagine it to be rectangle-shaped. Well, this Airwave tent uses a unique hexagonal shape, offering an intriguing look for your back yard festivities. But just because there are extra walls doesn't mean that there's extra stress!
Key Features:
It comes in four colours.
Waterproof.
The unique shape to this gazebo makes it perfect for those who try to keep an aesthetically pleasing backyard. So, for those with gardens, it's perfect for you. You can even use it as a centerpiece within your garden, and plant flowers underneath that don't require sun! Plus, with 6 sidewalls, you have the option to swap them around depending on the look you're going for and use the windows to your liking.
This pop-up tent uses 6 legs to ensure maximum stability. So, in days with higher winds and rain, you don't have to worry about it blowing over. Leaving it outdoors for a few days isn't a big problem because of its stability and waterproof features. But, if you only want to put it up for special occasions, it features an easy pop-up feature and will assemble in minutes.
What We Love:
Easy to assemble.
Looks great in your backyard.
What We Don't Love:
It won't hold up with extreme climates like heavy snow.
This pop-up gazebo is basic enough that you could use it for your everyday summer BBQ, yet stylish enough for a higher class party. You can't go wrong with a hexagonal gazebo!
---
3. All Seasons Waterproof Pop Up Gazebo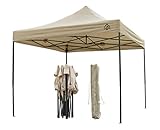 AllSeasonsGazebos Choice Of Colours, 3x3m Heavy Duty, Fully...
Premium, fully waterproof (not just showerproof) heavy duty canopy and frame
Comes with 1 year Manufactures Warranty for peace of mind along with a care guide
Simple "pop up "design with NO POLES to slot in. Instant, portable shelter in minutes
Can be used on all surfaces such as Grass, Sand, decking, patios etc
Last update on 2022-06-03 / Affiliate links / Images from Amazon Product Advertising API
Sometimes all you need a gazebo for is a simple party. And for some, those parties happen every weekend! For anyone who likes to throw casual or last-minute events, this product is perfect for you! It's a compact design that allows for easy take-down and storage, and won't break your budget.
Key Features:
It comes in a variety of colours, from yellow to pink.
Uses built-in support bars for maximum stability.
Like most pop-up gazebos, this one is very easy to assemble. Even though it's easy for you, it still features a steel frame and built-in support bars to make it as durable and as stable as possible. And, with a waterproof fabric, it's perfect for use on even the rainier days. This gazebo comes with three separate height settings and can easily fit up to 6 chairs. Plus, for maximum storage benefits, you can even leave the canopy on when you're storing or transporting your gazebo.
What We Love:
Budget-friendly.
Easy to store and transport.
Works on all surfaces, from concrete to grass.
What We Don't Love:
You never know when you'll want to have an outdoor party. With a pop-up gazebo this cheap and easy, it's worth storing in your garage until then!
---
4. ABCCanopy Heavy Duty Gazebo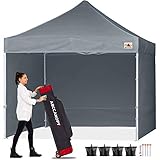 ABCCANOPY Pop Up Gazebo With Side Panels and Door Wall Commercial...
COMMERCIAL GAZEBO FRAME AND FABRIC: 3x3M Commercial Full Truss Structure (1mm thick square shaped legs and super strong cross truss ), bigger and stronger, withstand strong wind. 500 Denier polyester canopy with special PU lining, CPAI-84 fire retardant certificated, waterproof, UPF 50+,block 99.98% harmful rays from the sun light. Heat sealed seam,latest technology in the industry, prevents water penetrate from seams.
EASY UP TO INSTALL: 1-2 person to finish it in few minutes. With no tools required.Take the fully assembled frame with cover out of the bag, pull open, place the fabrics over the frame,extend the legs and you are done. Three different height settings - 315cm, 327cm, 335cm, allow you to pick the best height. Best thumb latch lock system easy to lock and release.
MULTIPLE USE OCCASIONS: 3 side walls and 1 door wall can be installed or not according to different occasions, convenient and practical. Perfect for party, trade shows, outdoor sports, parties, picnics, BBQ,or any outdoor events. It can be used in commercial areas, beaches, playgrounds, yards, gardens, farms and other outdoor occasions, as well as indoor occasions such as large gymnasiums.
SPECIAL DESIGN: To help you attract customers, customize your own banner sleeve in the top front of the tent. Banner is not included.
Last update on 2022-06-03 / Affiliate links / Images from Amazon Product Advertising API
If you're after a sturdy, durable gazebo, this one is perfect for you. The company, ABCCanopy, continues to win awards for its innovative designs in strength and sturdiness. Your only tough decision will be what colour you want yours to come in!
Key Features:
Comes in a variety of colours.
Very heavy duty.
This heavy-duty pop-up gazebo promises the best when it comes to a long-lasting product. A rust-resistant steel frame with thick legs provides quality that's 20% stronger than the leading competitor. And their canopy comes with a strong enough lining that it advertises as 100% waterproof. It's so confident in its toughness that we bet you could leave this out all summer without the slightest of worry!
Not only does this product offer a long-lasting gazebo, but their variety of colours is unbeatable. If you want a modest gazebo, a black or dark grey is the perfect choice. But for those who have children or just want a fun colour, you can pick between blues, purples, oranges, and more!
What We Love:
It will last years.
The variety of colours lets you pick based on use.
What We Don't Love:
Very heavy.
It's pricier than most other pop-up gazebos.
If it's strength that you're looking for, this one cannot be beat. It's perfect for those who like to have regular picnics, BBQs, or like hosting events.
---
Common Pop-Up Gazebo Questions & Answers
These pop-up gazebos seem so easy to install, but you still might be wondering more about them. So, we've compiled a list of common questions that all first-time gazebo buyers should know!
What are the best Pop Up Gazebos
Last update on 2022-06-02 / Affiliate links / Images from Amazon Product Advertising API
What is a pop up gazebo?
A pop up gazebo is a shelter that is collapsable and able to fold down to a compact, portable size.
Why do people need a gazebo?
Plenty of people keep permanent gazebos in their backyard. They allow for a stylish outdoor setting where you can get together with friends and enjoy the day (or night) without worrying about the changing weather. Plus, they just make a yard come together in terms of style. Pop-up gazebos also provide these things. In addition, they can be perfect for hosting events. It helps bring people together in one place and is often the center of many outdoor parties. Other people choose to purchase gazebos to keep overtop their outdoor hot tub. This way, you can enjoy a relaxing soak even in the rain.
Do I need to build a foundation for my gazebo?
Because this gazebo is likely not permanent, you don't need to worry about building any specific foundations before popping it up. Most pop-up gazebos will work perfectly on grass, dirt, or harder surfaces. Though some are specifically made for different surfaces, so it's always important to consult specific listings if you're uncertain.
Does it take a long time to install?
The best part about pop-up gazebos is that they do most of the work for you. So, the thing that takes the most time is simply bringing your pop-up gazebo outside! Most pop-up gazebos have two separate pieces, the canopy top, and the gazebo frame. So, the frame will "pop-up" into place, and all that you have to do is put the canopy on to your choosing.
---
Related:
---
What are the frames made of?
Most gazebo frames will be made out of aluminum or steel. They offer the same shape to the gazebo, but both can be useful for different reasons. Steel frames tend to be cheaper, but are often heavier. Aluminum frames are lighter, but this can impact how durable your gazebo is. Gazebos are now beginning to see a rise in popularity with stainless steel frames, as they're both light and durable.
Can I leave my pop-up gazebo in the rain?
Of course, you can! Most people like to have a gazebo because of its waterproof features. Not only can you safely host events in your gazebo while there's plenty of rain outside, but you can also leave it in the rain for quite some time. Some of the less durable gazebos will recommend that you do not leave it outside overnight. Other more durable gazebos can withstand rain, wind, and even snow for longer periods of time. This will all depend on the strength of the frames and the thickness of the canopy.
Where should I store my gazebo when not in use?
You should keep your gazebo in a cool and dry area. Indoor places like a shed or garage are the best. This will prevent them from getting damp and growing mold, or even discolouring.
What shapes do gazebos come in?
The most common shape for a gazebo is a typical square or rectangle. However, they can also be found in other shapes, such as octagonal, oval, dodecagonal, and more. It can be a bit pricier to have gazebos that are in more unique shapes, as they may require more frames.
Can you move the walls?
The way that you set up your canopy and walls will depend on the use. You could set up your gazebo to only have the roof if you want the gazebo for a more open event, like a small concert or even an outdoor wedding. But if you want to use your gazebo to host guests inside, it's common to keep all 4 walls up or leave only one open as an entrance/exit.
Are gazebos a fire hazard?
Many gazebos are generally quite safe and don't pose any risks such as fire hazards. Since many covers are polyester, they can be made 100% fire-resistant. If you do plan to light fires or candles within your gazebo, we always recommend leaving one side completely open for a quick escape route in case of an emergency.
A pop-up gazebo may be something that you never thought you needed. Well, once you have one, you're going to be wondering what you ever did without it! It takes away any stress about throwing outdoor events. And some even come in big enough styles that you could have a small outdoor wedding underneath one! Whether you want a centerpiece for your backyard, or a casual rain or sun blocker, you can't go wrong with making the purchase of a pop-up gazebo. Winter may be coming, but summer is always right around the corner, which means plenty of parties and BBQs.