Walkie talkies are a great tool, both for fun or utility. Used by both adults and kids everywhere, they're easy to use and can come in handy in plenty of environments. While adults may be more likely to use walkie talkies to help stay in touch while traveling or for work, kids often have a different intention.
For kids, walkie talkies are often used for fun, talking with their friends or family from other areas of their house or play space. They can also be a great prop and handy tool in adventure games and takes their play up to the next level.

If you want to help your kids have a great time, here are some of our favourite walkie talkies for kids that you can buy for them now. And if you're interested in checking out some great walkie talkies for adults, you can check out our walkie talkie guide here.
---
1. Kearui Walkie Talkies for Kids
Sale
Kearui Toys for 3-12 Year Old Boys & Girls, Walkie Talkies for...
Perfect Gift for Kids: Gift for 3-12 year old boys, teen girl gifts, walkie talkies for kids teen boy gifts birthday. Great for both indoor and outdoor activities such as going shopping, spring outing and summer camping.
Clear Sound and Key Lock Function: Kids walkie talkies have cool call alert function, crisp and smooth sound quality with adjustable volume level. Equipped with key lock function, it is not easy for children to modify the channels to enhance the fun of parent-child interaction.
Ergonomic Design: Small and light body allow kids easy to use and just 90g per walkie talkie is easy to carry, these will fit comfortably in children's hands with ergonomic design. An uncomplicated push-to-talk button makes this toy easy to use for 3-12 years old girls.
Perfect Adventure Kids Toys: Situation can be real-time monitoring of children, anti wandered off, intelligent alarm system etc. Stay connecting with your friends and families especially in outdoor activities, the best outdoor toys for boys and girls.
Last update on 2022-05-30 / Affiliate links / Images from Amazon Product Advertising API
This walkie talkie design is simple, yet incredibly functional. They're a great first walkie talkie for any child up to age 12.
Key Features
It comes in 4 colour options, including blue-green, pink, red-yellow, and blue+pink+yellow.
Uses an anti-interference function.
This design is built with a younger user in mind. They're both small and light compared to an adult walkie talkie, and are just 90g each, making them easy to carry. They're also easy to use, with a simple push-to-talk button. With a double click, the walkie talkie will activate a beep signal.
The walkie talkie has the ability to use different channels and broadcast to multiple units. Though, you won't have to worry about the risk of interference. Both to ensure cleaner sound quality and to avoid non-participating listeners, the Kearui walkie talkie has an anti-interference function. This product also has a built-in flashlight, which can come in handy.
What We Love
It's budget-friendly.
It's offered in a variety of colours.
What We Don't Love
They require 4 AAA batteries per talkie, which can be a hassle.
---
2. Aikmi Walkie Talkies For Kids
Walkie Talkies for Kids 8 Channel 3 KM Long Range Ingenious...
☺ENHANCE FAMILY AFFECTION This kids walkie talkies can help parents to find an interesting and inspiring way to accompany kids and listen to the inner voices of their kids, bringing the family closer. Let go of technology and be close to nature. Perfect for any indoor or outdoor activities.
☺DREAM OF BEING A HERO Play soldier and accept mission, it's every kids dream. Two way radio and durable survival bracelet are suitable for camping, mountaineering, hiking, jungle exploration and more. You can keep in touch anytime with kids and make them enjoy adventure safely.
☺PROMOTE FRIENDSHIP The walkie talkies featuring 8 channels and 3 KM range, kids can choose a private communication channel, keep a little funny secret with friends. By outdoor game, walkie talkies will enable them to explore the outside world and gain self-confidence and social skills.
☺CHILDREN'S MOST-WANTED GIFT Kids walkie talkies is easy to use with small size, good volume, long distance and great battery life. The toy walkie talkies is a best gift that no child will refuse. Perfect gift for your children or friends in birthday, Christmas, Thanksgiving day or any other festival.
Last update on 2022-05-30 / Affiliate links / Images from Amazon Product Advertising API
If your children are the ultimate adventurers, this budget-friendly option will boost their fun.
Key Features
It comes in a camo colour, including blue or green camo.
It has 8 unique channels.
This product is so much fun that you'll be wishing you had them when you were a kid. It comes with a variety of fun features, including a bright LCD display, a call alert function, a built-in flashlight, and a belt clip. Kids will be able to pretend to be real explorers with ease.
This walkie talkie has 8 channels and a range of 3km. So, it's great for things like garden games, camping, or hiking. The product also uses an acoustic quality and volume control to allow for clear sounds. There is also an auto squelch feature that mutes background noise.
What We Love
They're budget-friendly.
They're easy to clip on, making it harder to lose them accidentally.
The battery life is long.
What We Don't Love
They require 4 batteries.
---
3. Wishhouse Kids Long Distance Walkie Talkie
Sale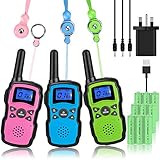 Wishouse Kids Walkie Talkies Long Distance Rechargeable 3 Pack...
🔋🔌【Walkie Talkie Rechargeable 3 Pack】: Each order comes with 1 USB charger and 9 rechargeable AA batteries (3pcs for a walkie talkie). The automatic power-saving function extends battery life and extends entertainment time. You don't need to pay for extra batteries anymore, Save money and stress for you
🎁👨‍👩‍👦‍👦🎁 【Family Outdoor Camping Toys and Gifts】: Wishouse walkie talkies are the best tool for the whole family to keep in touch during camping, hiking and other outdoor activities. It can not only improve team coordination and communication skills, but also promote more harmonious relationships between families
🏕【Long Range Communication Radios】: Wishouse walkie talkie was made with an upgraded chipset, greatly improved communication range, and enhanced signal stability. Up to 1 mile in neighborhood, up to 20 miles in Mountain to Valley. You and Kids can enjoy communication around the house and garden. The range in real conditions can be reduced from the maximum range
👥【One-to-Many Transmission Walky Talky】: WisHouse walkie talkies for adults kids support multi-person calls, all WisHouse walkie talkies can work with each other, you just need to set up the same frequency. And everyone can have their own color, perfect for families, friends, teams.
Last update on 2022-05-30 / Affiliate links / Images from Amazon Product Advertising API
These fun walkie talkies come in packs of 3, all in different colours. The more the merrier!
Key Features
They come in a variety of colour options and combinations.
They're rechargeable.
These walkie talkies come with a charger and a set of 3*AA800mAh batteries. They also feature a power saver function to allow for extended battery time. This is perfect for those longer camping trips. It will also save you the stress of worrying about it dying mid-play time.
Wishouse's product offers various different channels. The range on these walkie talkies is up to 5km in an open area. In more urban areas, this range will be about 1km. Other features include a built-in flashlight, a call tone, and a keypad lock.
What We Love
They also work as a flashlight at night.
You can choose your colour combinations.
What We Don't Love
They're a bit pricier than other options.
---
4. Paw Patrol Walkie Talkies
Paw Patrol New Walkie Talkies - Set of 2 Kids Walkie Talkies...
PAW PATROL TO THE RESCUE! Chase is on the case! Push the button, and send a message to your rescue team! Tell them where they need to go… and what to do to save the day! And Marshall! Make sure you let the patrol know you're A-ok!
UNIQUE SCULPTED DESIGN: Two walkie-talkies shaped like a police communicator! One sculpted with Police Pup Chase and the other Firefighter Marshall! Which hero are you?
STATIC-FREE COMMS: When you're out on an adventure you need clear communication with your rescue team at all times! These mid range walkie-talkies work at approx 1000ft with crystal clear sound so you can stay in total contact!
STRONG AND FLEXIBLE: It can get a bit rough on a rescue mission, and we know Marshall can be a little clumsy! So we built your walkie talkies strong, and with a flexible antenna in case you drop it in the line of duty!
Last update on 2022-05-30 / Affiliate links / Images from Amazon Product Advertising API
Whether your kids love Paw Patrol or would just love to have some dogs on their walkie talkies, this product is the choice for you.
Key Features
They're sold with or without batteries for your convenience.
They're official Paw Patrol licensed merchandise.
This set of 2 walkie talkies are modeled to look like 3D versions of Marshall and Chase from Paw Patrol. They're recommended for use by children over 3 years of age. They're easy for younger children to use and feature a push to talk button for communication.
These products are designed with younger children in mind. So, while they aren't quite fit for a big outdoor adventure, they're fun for inside the house. Their range is up to 100 meters. So, you can still find plenty of fun!
What We Love
They're fun for younger children.
They're budget-friendly.
What We Don't Love
The range is quite short.
The sound quality isn't perfect.
---
5. Disney Toy Story Walkie Talkies
Last update on 2022-05-30 / Affiliate links / Images from Amazon Product Advertising API
If you've got younger children who aren't into Paw Patrol but still want a fun design, these Toy Story walkie talkies are a fun choice.
Key Features
They feature a fun Buzz Lightyear design from Disney's Toy Story.
They're very budget-friendly.
This set of walkie talkies feature very easy to use technology. All you have to do is press and talk to communicate with the other. They also feature an off/on LED indicator. They're built to be chunky in design so that they won't break easily if little hands drop them.
The range on this product is less than others on the list. They're made to be used in the home, and will not work much further than that. Though, they are durable and built to last, so your child will get plenty of use out of them.
What We Love
They're budget-friendly.
They're very durable.
What We Don't Love
The range is very small.
They don't come with batteries.
---
6. QNIGLO Rechargeable Kids Walkie Talkies with FM Radio
Sale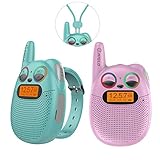 Rechargeable Kids Walkie-Talkies with FM Radio, 2 Miles Range,...
☑️ RECHARGEABLE WALKIE TALKIES WITH FM RADIO: WIth a built-in rechargeable batteries, Qniglo kids walkie talkies support 24 hours talking and 5 days stand-by, extending games time. Having FM radio function, the rechargeable kids walkie talkies support you listen to radios while running, biking, hiking, camping, outdoor adventures.
☑️ CLEAR SOUND & LONG RANGE WALKIE TALKIES FOR KIDS: Taking auto-squelch to reduce interference, the sound of the kids walkie-talkies is clear and loud with adjustable 8 volume levels. The communication range of these kids rechargeable walkie talkies is up to 2 miles long distance in unobstructed field. Families can enjoy outdoor activities safely with the rechargeable walkie talkies.
☑️ WEARABLE & UNIQUE DESIGN WALKIE TALKIE SET: The watch walkie talkies for kids features a charming and adorable cute appearance. When pressing the PTT button, the eyes of the kids walky talky will be flashing colorful lights. The childrens' walkie talkies not only come with watch straps, which can be used as watch walkie talkies to wear on the wrist; but also have lanyards, which can be hanging around neck. Easy for kids to take it while playing.
☑️ PERFECT GIFTS FOR KIDS AND FAMILIES: The kid toy walkie talkie is great presents for Christmas, birthday, Halloween, Thanksgiving day. The watch walkie talkies for kids is the best toys for 3-15 years old girls, boys and teens, which is great gifts for kids' connecting with parents and families, especially in outdoor activities such as going shopping, spring outing and summer camping.
Last update on 2022-05-30 / Affiliate links / Images from Amazon Product Advertising API
These adorable walkie talkies are more than just a way to communicate. They're wearable watches, have FM radio, and work for talking!
Key Features
They come in pink, blue, or both.
They can be worn around your neck or on your wrist.
These walkie talkies for kids are rechargeable. Though, with 24 hours of walking and 5 days of standby power, you won't have to charge them often! They work with a range of up to 3km and have a clear sound for talking.
The products are designed to look like cute cats. When you press the push to talk button, their eyes flash a colourful light. Whether you're wearing them on your wrist or neck, they're always a fun fashionable choice. They also support FM radio, so they are multi-functional.
What We Love
They're adorable.
They're fun to wear. Since they work as an accessory, they're a great option to use when going to public places with your child in case they get lost.
What We Don't Love
There are more budget-friendly options available.
---
Related:
---
Walkie Talkies For Kids Questions & Answers
Whenever you're shopping for your children or another child, you want to be sure that you're getting the best and most safe product out there. Since walkie talkies can be complicated tools, we've done the research for you. Here is a set of commonly answered questions and answers regarding walkie talkies for kids.
How do walkie talkies for kids work?
Regular walkie talkies can be a bit more complicated than walkie talkies for kids. Though, in essence, they work the same. They are all portable radios that use a single shared frequency band with the help of radio waves.
To communicate using two or more walkie talkies, the user must use a channel system. If you're connected to the same frequency, then you'll be able to communicate. Almost all walkie talkies use this system. Though, if they have an extremely limited range, they may only be available through one shared channel that can not be accessed through another walkie talkie set.
What can kids do with walkie talkies?
Adults often use walkie talkies in lieu of cell phones when they're in an area with limited range. This would include while hiking, camping, or traveling. Kids can certainly be a part of this. Though, children also have a variety of different reasons to want to use a walkie talkie.
First off, they're fun and exciting! Being able to talk to someone who is not right in front of them may be a completely new concept to them. So, it's fun to explore and give them the chance to use their imagination.
Other uses for walkie talkies include playtime. Because they have such a distinct function, they can be great for some games. Playing out in the woods, building forts, playing adventure games, or even playing hide-and-seek can incorporate walkie talkies.
You can also use them for safety reasons. If you and your child are going to a public area like a park or shopping mall, you may consider giving a walkie talkie to your child and keeping the other in case they get separated from you.
How old should kids be to use a walkie talkie?
Most products will have a recommendation that children under 3 do not use their walkie talkies. This is mostly because of the small parts, like batteries, that may be unsafe.
Are the plastics safe?
Walkie talkies for kids are typically built with the user in mind. Because kids often end up with toys in their mouths at one point or another, most walkie talkies will be using safe plastics. Though, if you have a younger child and are concerned about this, all products will have their materials listed.
Why are walkie talkies for kids so much cheaper?
You may have noticed that the majority of walkie talkies for kids are cheaper than those for adults. These products do tend to be cheaper because they lack some of the more advanced technology that adult walkie talkies use. Kids don't often need a far range or plenty of channels.
They also don't need crystal clear sound to be able to have fun. They are also rarely waterproof or weatherproof. Though, if your child is planning on using it outside, we do recommend you get a sturdier product.
Some Fun Lingo To Teach Your Kids
You've likely heard some of the common walkie talkie lingo through movies or television. Things like "10-4" and "Over" are common to us, but your kids may have no idea of the entire world of language that exists. If you want to encourage their play and make them feel more official, here are some walkie talkie terms to teach them.
"10-4" or "Copy" are used to signify that you've understood what the other person has said.
"Over" is used to say that you're done saying what you needed to say.
"Over and out" is said when you're done talking and turning off your walkie talkie.
There are plenty more terms that you can use with a walkie talkie, though we think that these will be the most easily incorporated into your children's' playtime.
Hopefully you're already imagining all of the fun that your kids can get up to. If they've never used a walkie talkie before, the technology will be really exciting for them. Plus, if they're always begging to play with your phone, a walkie talkie can be a great way to let them play on their own and have fun without using more adult technologies.
Walkie talkies are also a great gift for the family who already seems to have everything. No kid can play with a walkie talkie and not have a blast!