Do you have plenty of space in your backyard or garden that you would like to turn into an area that can be used for hanging out? One great idea would be using that space for a gazebo! This simple structure can add character and charm to outdoor spaces, and the great news is that you can even build a gazebo by yourself. If you're not a fan of old, traditional options, then make sure to check out our creative garden gazebo ideas.
All outdoor structures, including gazebos, can be made in any design by using a variety of materials. For example, you can get portable canopy gazebos or gazebo kits at almost every home and garden store. Or, if you like DIY projects, you can buy lumber and design your charming outdoor room. You can go for simple, shaded pavilion structures, or, kick it up a notch and come up with your fancy ornate work of art.
However you choose to design and build your gazebo, we don't doubt that it will be a welcome addition to your home and yard. If you are having trouble with imagining how your perfect should look like, then check out our 30 gazebo design ideas below!
Furnished Gazebo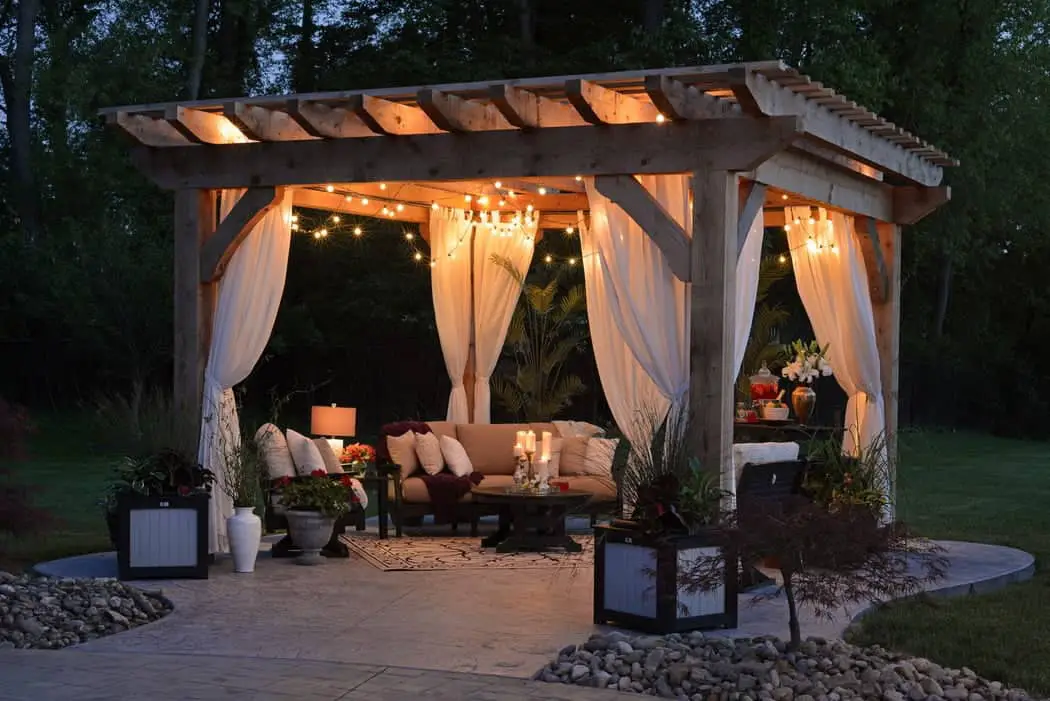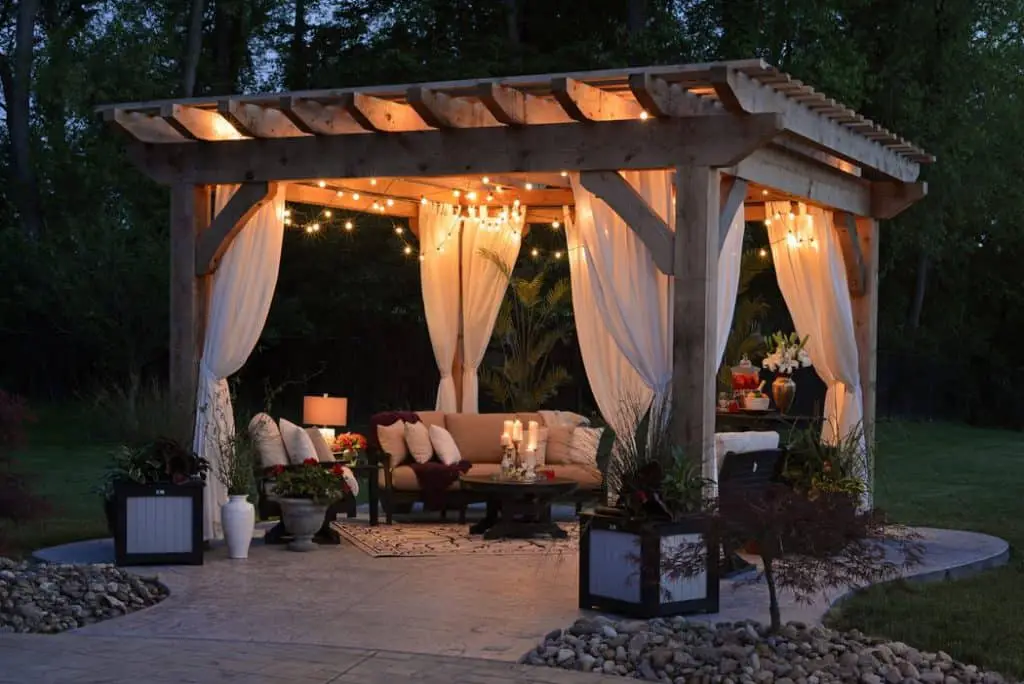 If you're going to invest time and money in building a gazebo, then you should make sure that it is a perfect fit for your needs. You don't have to go for the traditional hexagonal or octagonal structures. Instead, go for a modern gazebo that has more of rectangular shape!
This particular gazebo is equipped with all the comforts you can find in someone's living room, and the string lights add a romantic touch. Depending on the amount of space you have, you can add even more furniture and add a small bar or a dining table to your gazebo!
Image Courtesy of Unsplash
Iron Gazebo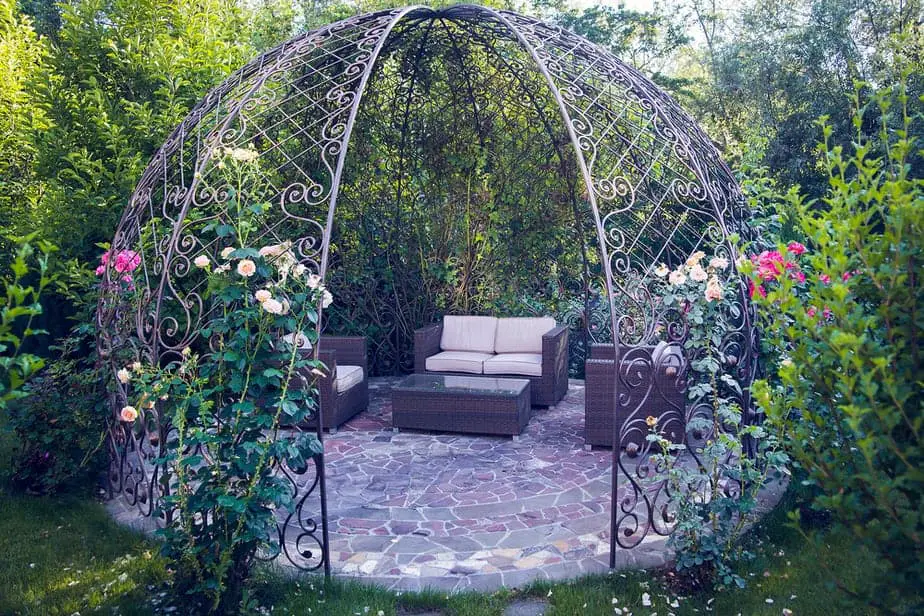 Image Courtesy of Own The Yard
Nobody said that your gazebo has to be made out of wood. You can also go for an iron gazebo! Such constructions are a perfect choice for all those who want to show off their climbing vines or flowers. They usually come with a round dome, but there are plenty of rectangular gazebos available on the market as well.
Usually, iron gazebos come with plenty of decorative details, making them a perfect elegant addition to your outdoor space. Also, most of them feature a roof that will protect you from both sun and rain. The best part about iron gazebos is that you don't have to worry about leaving them out in the rain since they are made out of iron, a sturdy material. However, keep in mind that it is not recommended to leave the gazebo out in extreme weather conditions.
DIY Gazebo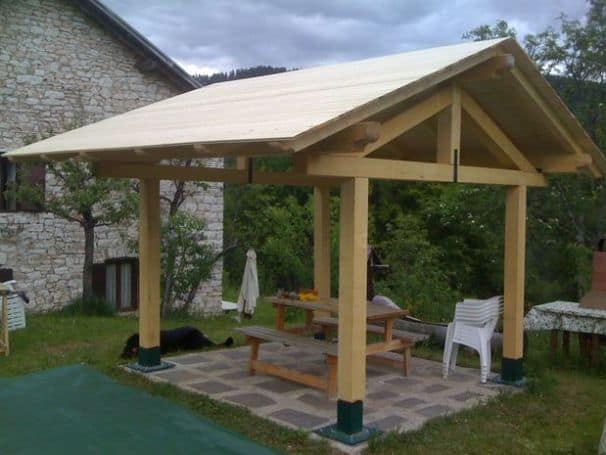 Image Courtesy of Architecture Lab
If you love building stuff by yourself, then you should definitely go for a DIY gazebo. Depending on your skill of expertise, you can go for the simplest option – simply buying a metal frame and a canopy roof, or you can try buying wooden beams that you'll paint and assemble on your own.
DIY garden gazebos can be constructed relatively easy and they tend to be much cheaper than the custom-built ones. If you have any experience in woodworking, then give this project a try! It may take you some time to complete it, but it will save you a lot of money in the long run. Also, whenever your friends come over, you can brag how you built a gazebo all by yourself!
Octagonal Gazebo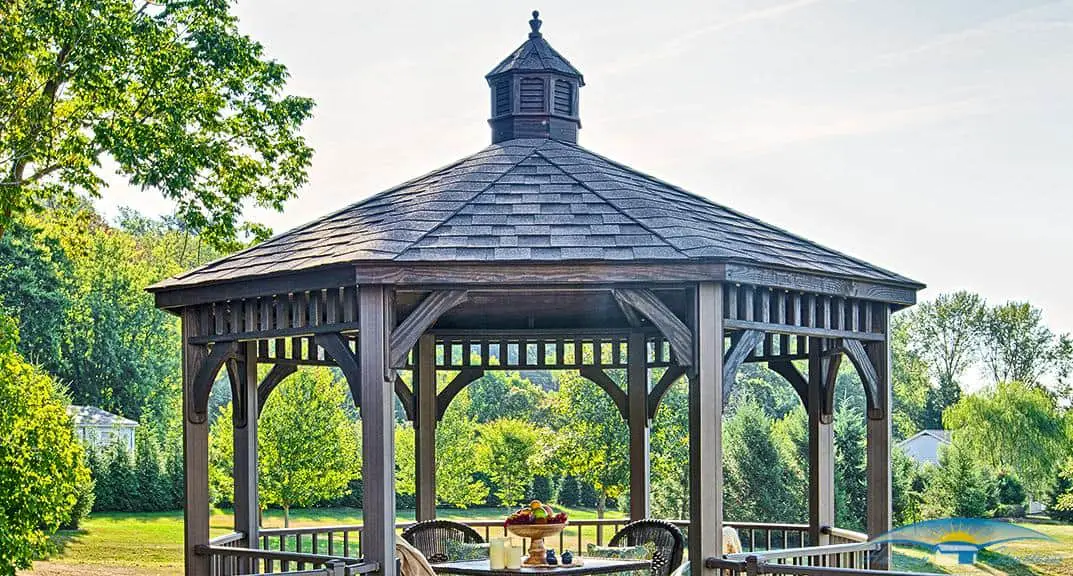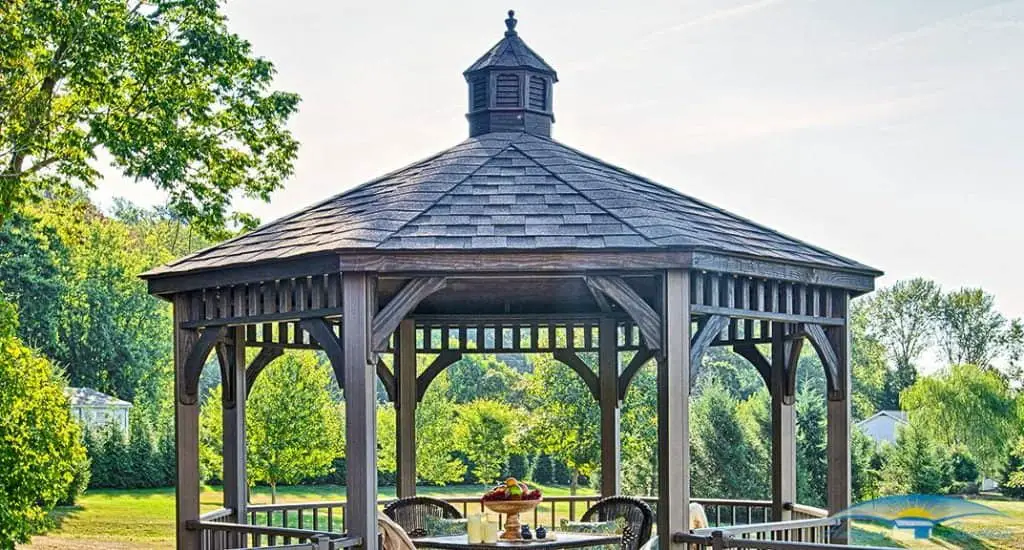 Image Courtesy of Horizon Structures
An octagonal gazebo can be built as a standalone structure, or you can attach it to your home. An octagonal shaped gazebo has a ring of tradition to it, and it will give your outdoor space a unique look. These gazebos can be built in any size you want and also customized to a great extent. This way, you will be able to beautify your garden or yard through your design expression.
A Grillzebo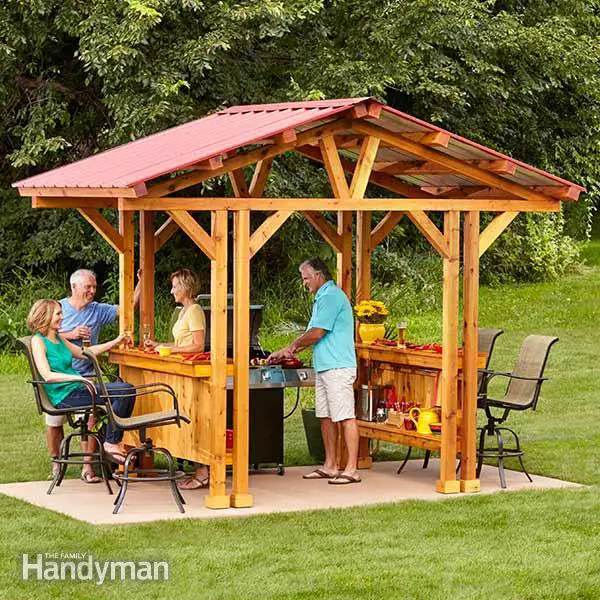 Image Courtesy of Architecture Lab
If you're looking for some unique covered gazebo ideas, then how does a grillzebo sound to you? We're pretty sure that you can figure out from the name that gazebos like this are perfect for those who love grilling and spending time outdoors.
This type of a gazebo should contain two bars that are open on both sides. You can place your barbecue between the bars, so you can spend time with your guests while grilling. A grillzebo is an epic mix that will make you the favorite host for all your friends! You will be protected from scorching sun or rain, you can store your drinks in a mini-fridge, and you can fire up the grill whenever you need more food.
Making a grillzebo is not that hard, and here are some grill gazebo building tips!
The Redwood Gazebo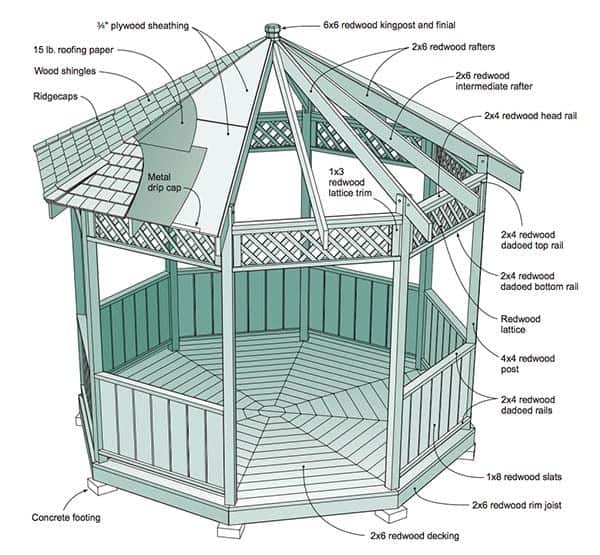 Image Courtesy of Architecture Lab
Are you looking for some traditional gazebo ideas? Well, here is one for you! The redwood gazebo features a traditional design that will bring coziness to your yard with its presence.
Imagine how incredible this sketch would look in reality in stark white color enveloped beautifully by climbing roses or simple green lush vegetation. It would truly be an awesome place to drink coffee or relax with your friends and family. A gazebo such as this one simply translates into happiness, which is easily attainable regardless of the size of your yard. Oh, also, it would make all your neighbors jealous!
The Screened Gazebo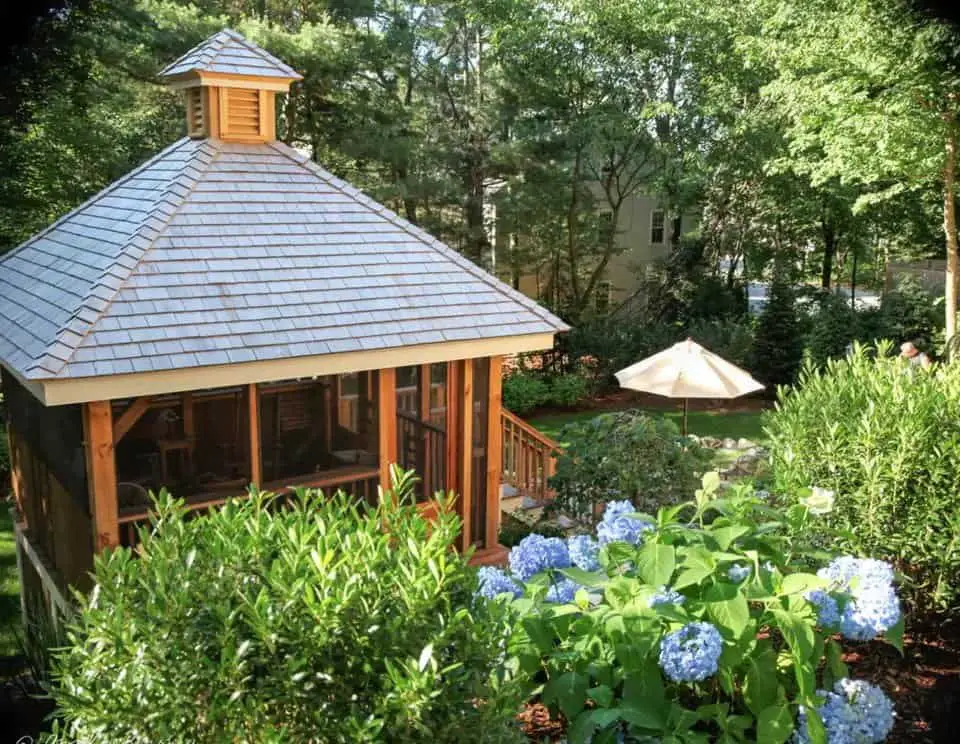 Image Courtesy of Minglewood
You may not notice it at first, but what this gazebo has and the previous ones don't are the removable screens on the sides. These are a great addition that can keep you warm and cozy during the rainy season. Of course, when the sun is shining bright, you can completely remove the screens and allow fresh air to move freely.
This is one of the elegant covered gazebo ideas which will also keep you protected from mosquitoes or any pests.
Lean-Roof Gazebo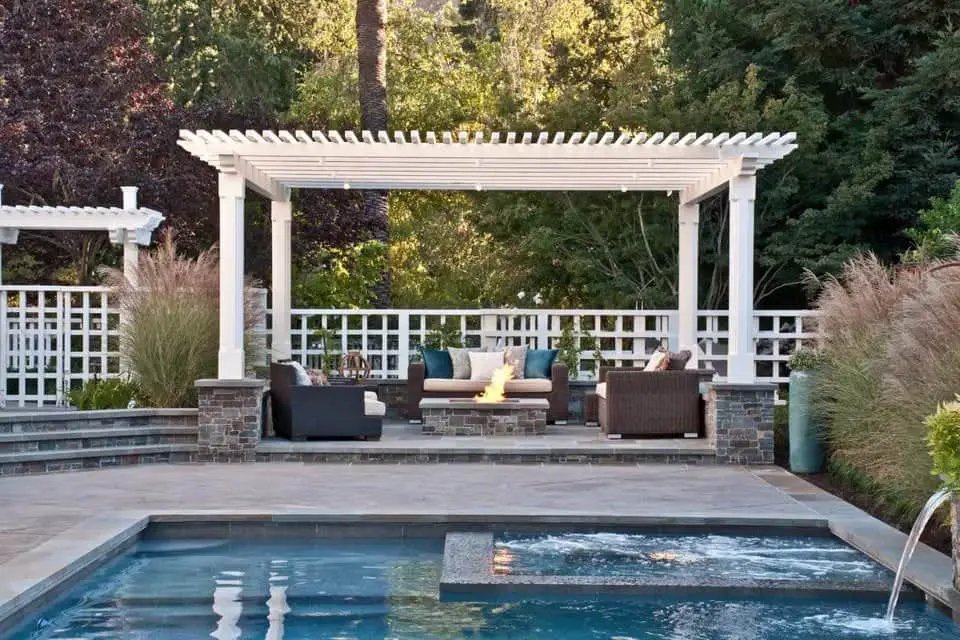 Image Courtesy of The Spruce
If you're looking for gazebo design ideas that are not traditional or ordinary, then you'll love this one! And, the best part about lean-roof gazebos is that they are the simplest ones to build.
This particular gazebo was built on stone pedestals, which are used to hold the posts. The gazebo features an open design, making it perfectly safe for a fire pit. The overhead roof will keep you and the fire protected from the rain. Your old deck can easily be upgraded just by adding a few beams and a roof. What a beautiful place to enjoy your morning coffee!
A Gazebo From Fairytales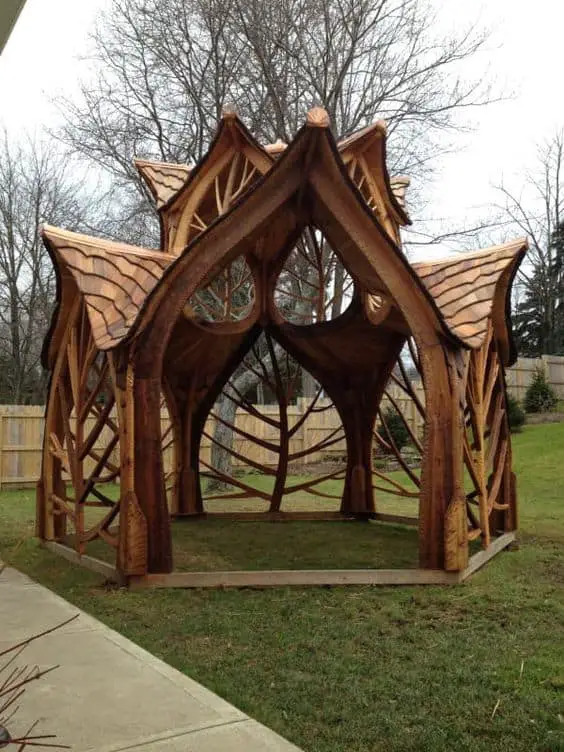 Image Courtesy of Architecture Lab
If you are creative, then you may sketch any gazebo design that comes to your mind. It doesn't matter if you lack the necessary carpentry skills because there are people who will turn your design into reality.
Definitely, one of the most beautiful and the most innovative gazebo ideas you will ever come across, this structure represents the elegance, nobility, coziness, warmth, and power of nature. This particular gazebo was built for a wedding ceremony, but it can also be used to bring a bit of magic to your backyard.
Asian Serenity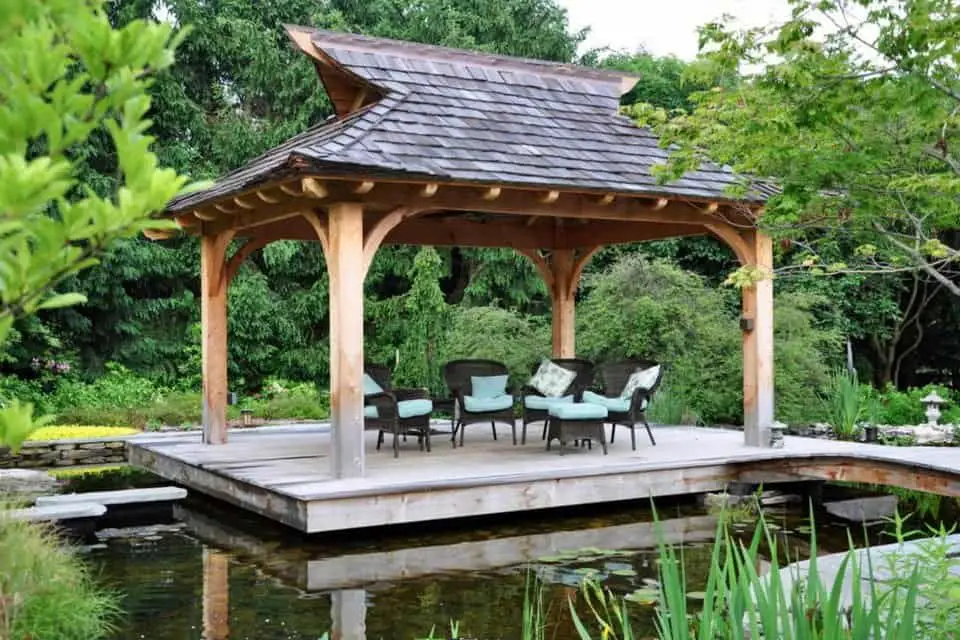 Image Courtesy of McHale Landscape
A taste of the Orient doesn't necessarily come only on a plate garnished with sprouts and soy sauce. If you love Asian intrigue and designs, then make sure to bring it to your backyard as well.
Well, not everyone has a pond in their backyard, but if you're fond of the Asian architectural designs, then you should consider building a gazebo similar to this one. Even a much smaller version of this gazebo will bring character and pizzazz to your backyard.
Ryan Davis designed this gazebo for McHale Landscape Design, and it can be found in Darnestown, Maryland.
Unique Hexagonal Gazebo Design Ideas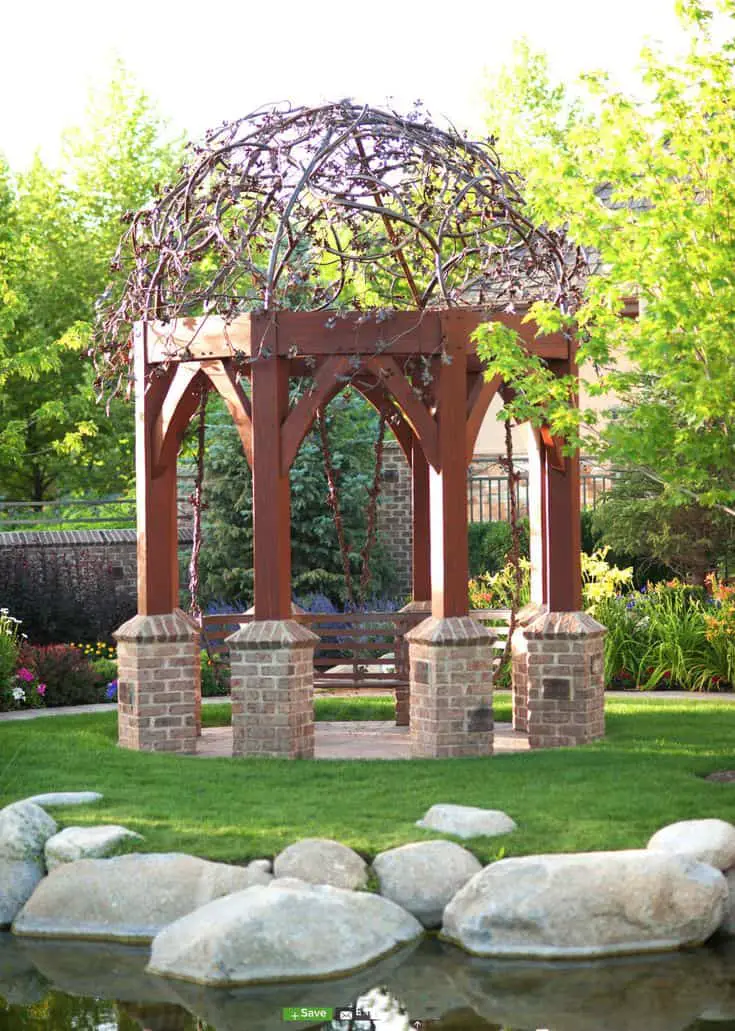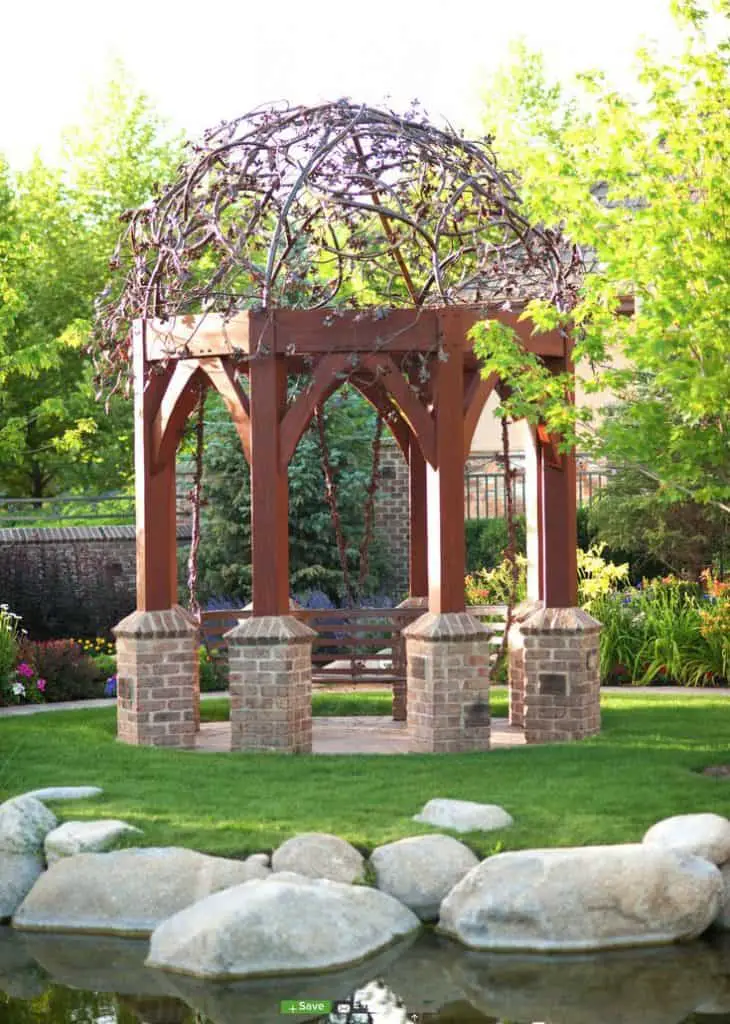 Image Courtesy of Platinum Landscape & Pools
Would you like your backyard to become a favorite destination for your family, friends, and even your neighbors? Well, with a gazebo like this one, it definitely will!
This hexagonal gazebo was designed by Platinum Landscape & Pools. It features stone pedestals that hold the columns. Instead of a typical roof, the owners of this gazebo decided to go for ironwork that supports climbing vines. A beautiful spot to spend your time in spring and summer, when there is no rain or snow.
Modern Gazebo Ideas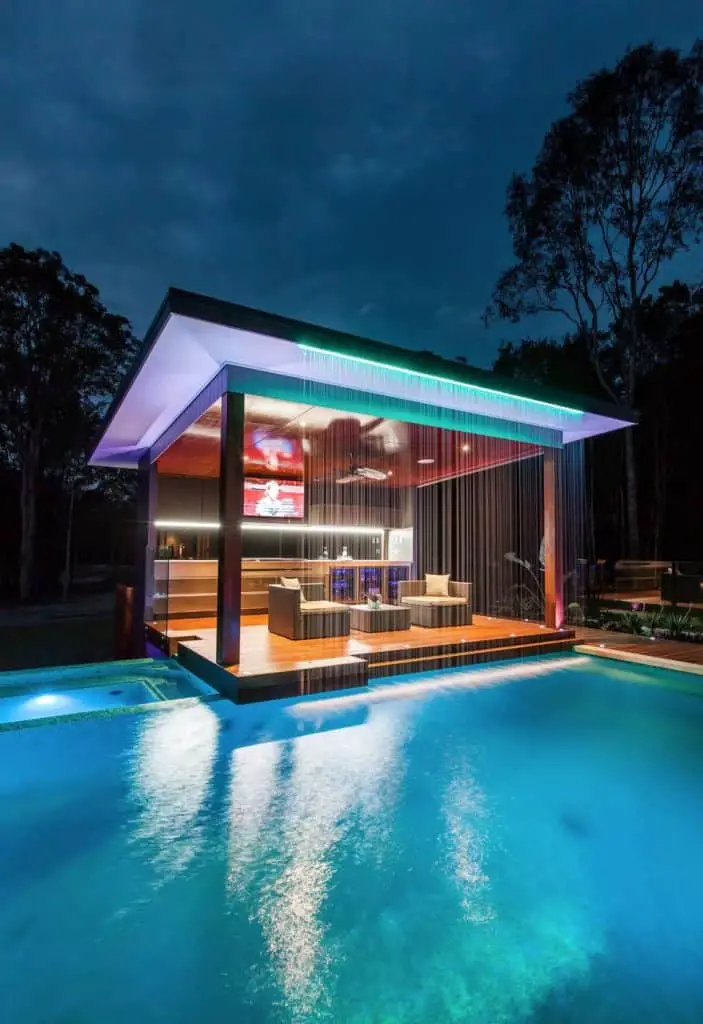 Image Courtesy of Darren James Interiors
Does your home feature a modern design, and you want your gazebo built the same way? Well, here is one incredible idea for you! You can have your gazebo built to feature a modern rectangular shape and a flat roof, all of which are decorated with colorful lights.
Truth be told, building a gazebo like this is not a DIY project. This one was created by Darren James Interiors and, besides the flashing lights, the gazebo features a bar, wine refrigerators, a kitchen, television, and many other amenities.
A Pool House Gazebo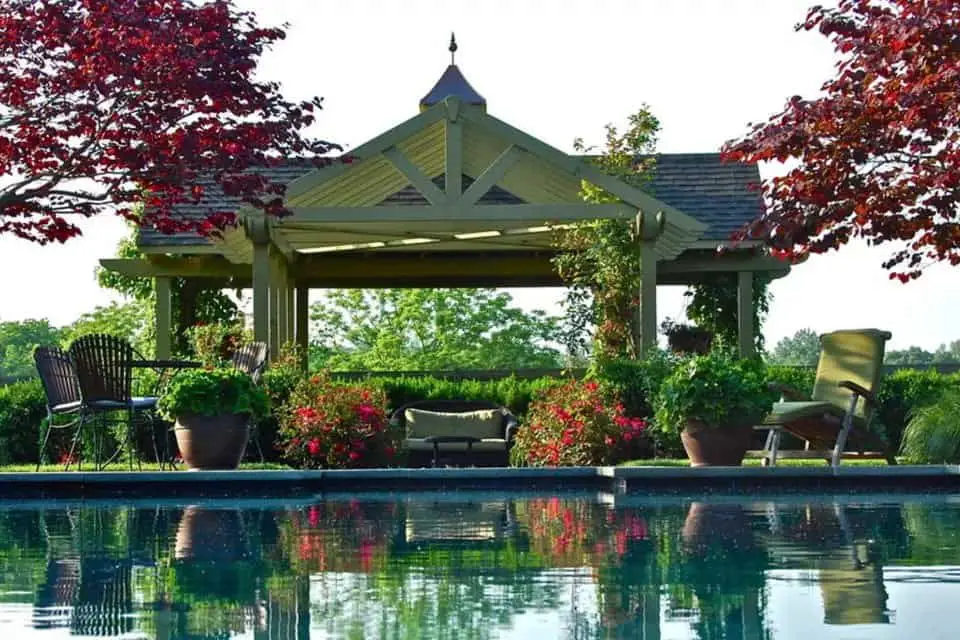 Image Courtesy of LiquidScapes
If you're blessed enough to have a pool in your backyard, then you definitely must build your gazebo next to it. There are many pool house gazebo ideas, but we liked this one the most. It is pretty large, but you can make yours smaller, of course.
Besides decorating the gazebo with necessary furniture, make sure to add some other decorations to make every moment you spend in your gazebo truly enjoyable. LiquidScapes of New Jersey decided to decorate this one with red rose bushes, and you can feel free to "steal" this idea from them!
Gazebo With a View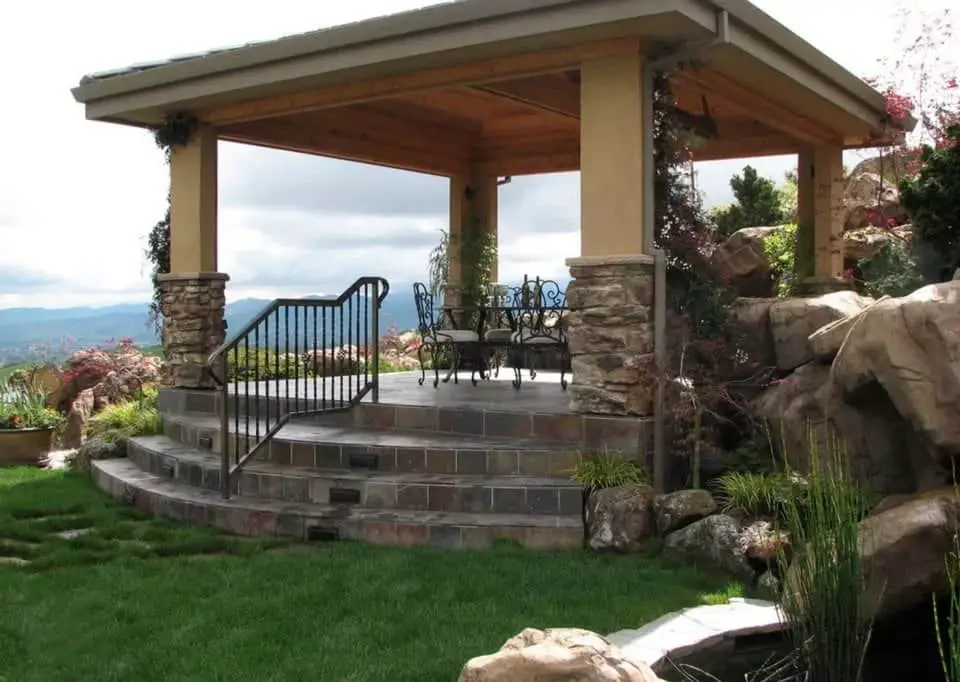 Image Courtesy of The Spruce
If you can observe beautiful scenery from the comfort of your yard, then make sure that your gazebo is built so that it takes in a view. You can just go for a wooden gazebo and add some furniture inside of it, or you can try to imitate this design.
Created by John Montgomery Landscape Architects, this structure is slightly raised so that it's owners could get a better view. Flagstone steps lead up to the structure, where a dining table allows observing breathtaking vistas.
Gazebo Featuring a Fireplace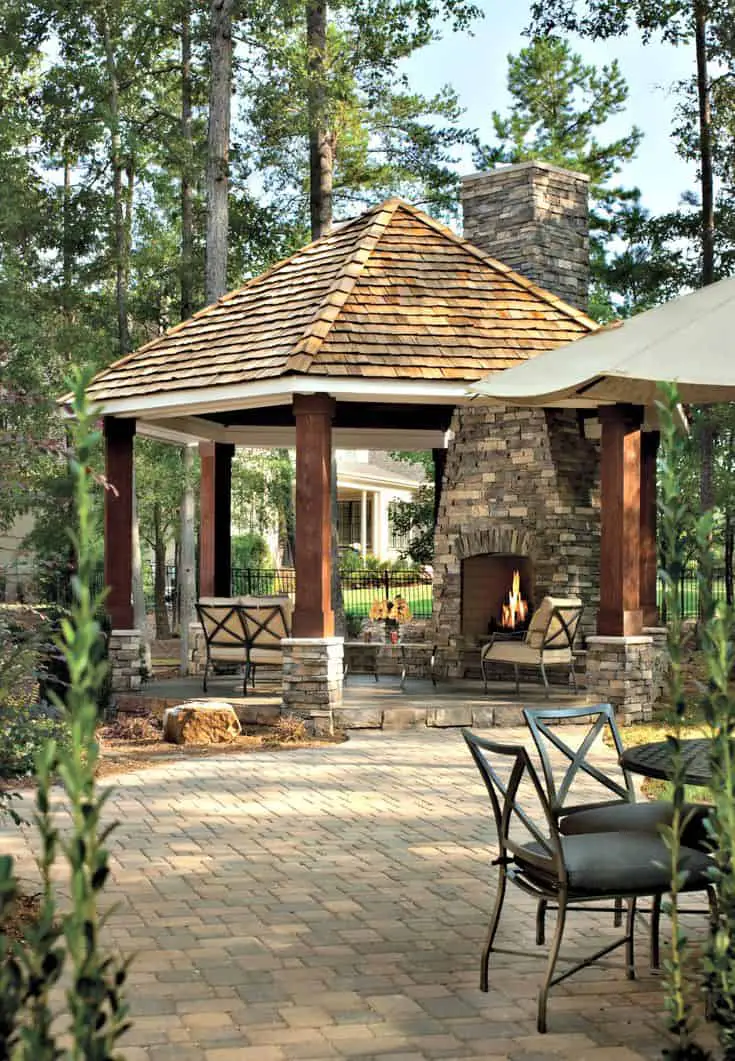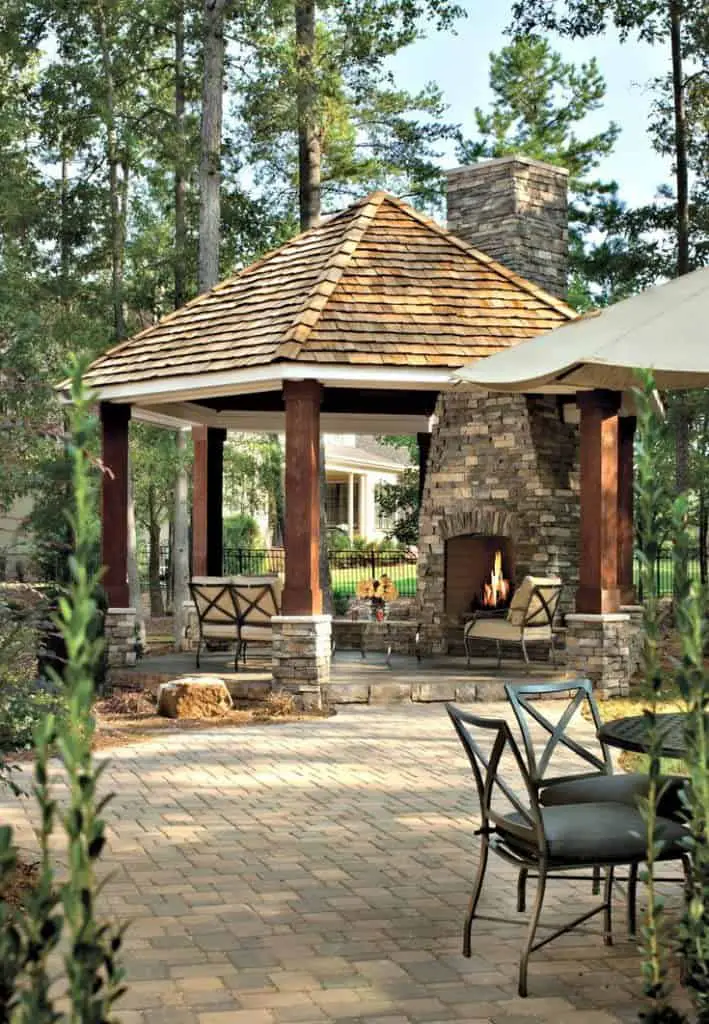 Image Courtesy of Arthur Rutenberg Homes
A perfect gazebo is meant to be your cozy outdoor room where you get to relax by doing what you like the most. And, sometimes people find watching a fireplace and listening to the crackling fire as one of the most relaxing activities. If you are one of these people, then make sure to add a fireplace to your gazebo!
This particular gazebo was designed for Arthur Rutenberg Homes and it features a fireplace with a tall chimney that is attached to a gazebo.
Tropical Gazebo Design Ideas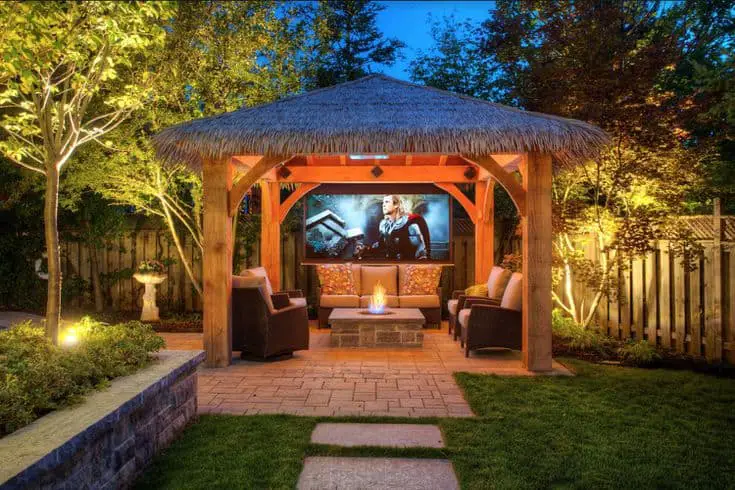 Image Courtesy of Cedar Springs
Do you love spending time at the beach, lying in the sun and listening to the sound of the ocean? If so, then make sure to bring a tiny bit of tropics to your backyard. How? Well, with a gazebo, of course!
It doesn't matter how big your gazebo is; just top it off with a thatch roof and you will get that tropical design. The fire pit can also remind you of the nights spent on the beach, roasting marshmallows. You can always conduct electricity to your gazebo and enjoy movie nights with your family and friends, or even on your own!
The Simplest DIY Gazebo Idea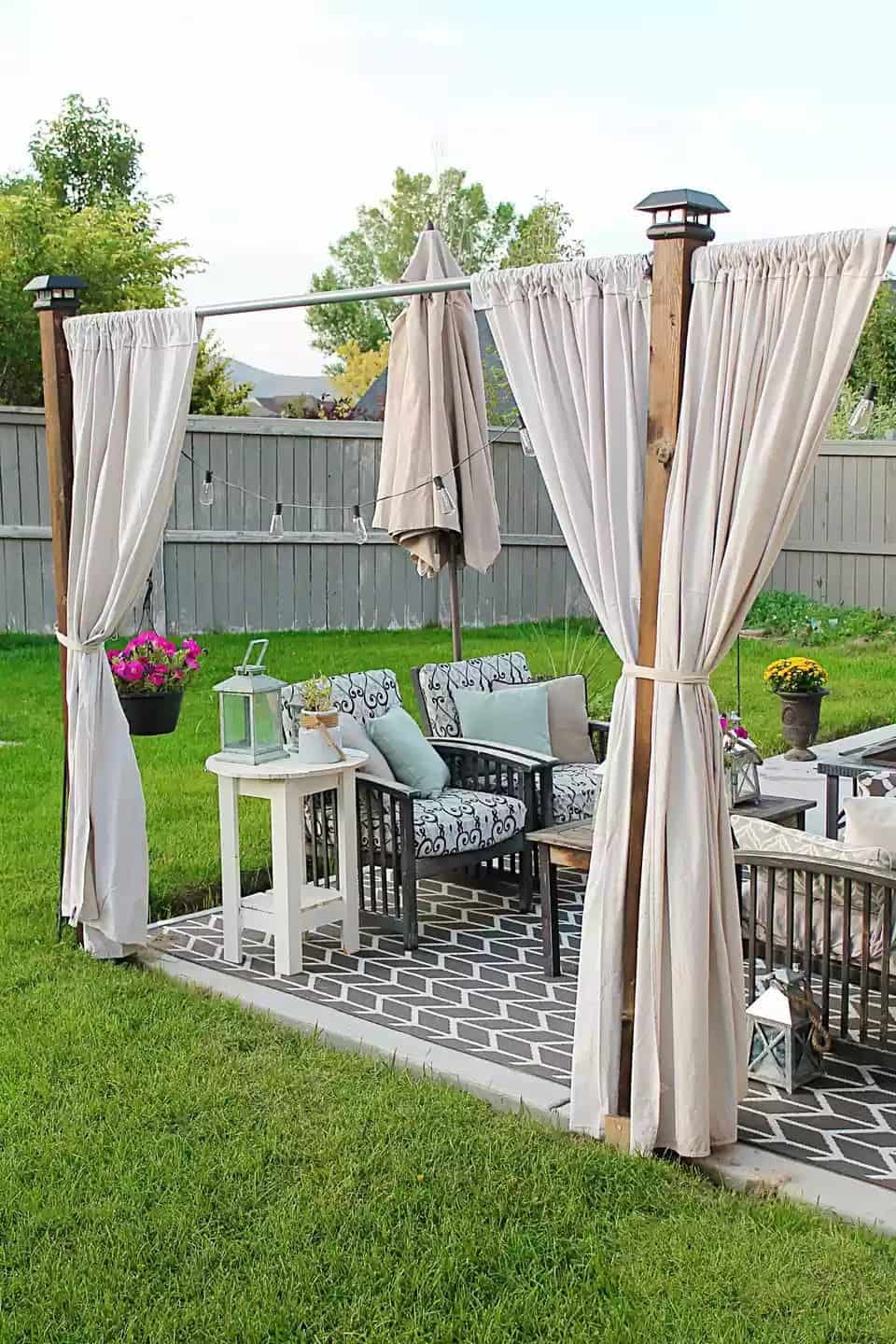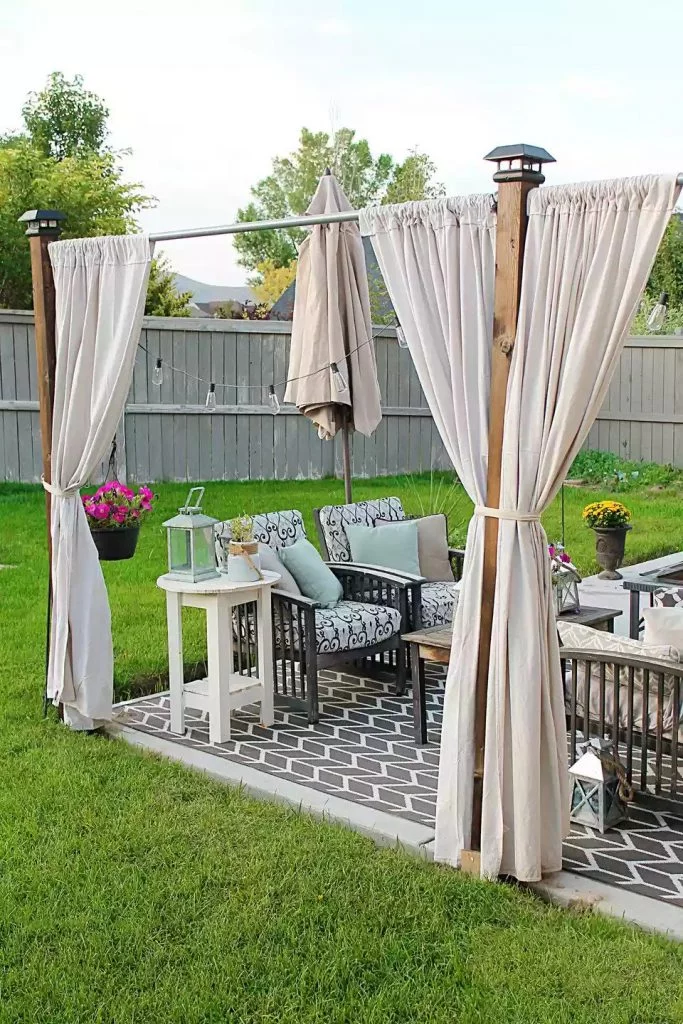 Image Courtesy of Thrifty and Chic
If you want to enjoy all the comforts that a gazebo brings with it, but you don't want to invest too much money, here is one straightforward gazebo idea.
Choose the right spot in your backyard, add some comfortable chairs and a coffee table, and surround everything with a few wooden posts. Then, add a few metal bars between the posts (so you can attach drapes or string lights) and, voila! There you have it, the simplest yet still beautiful gazebo! You don't even have to add the stone floor if you prefer grass and nature.
A Small Gazebo Hut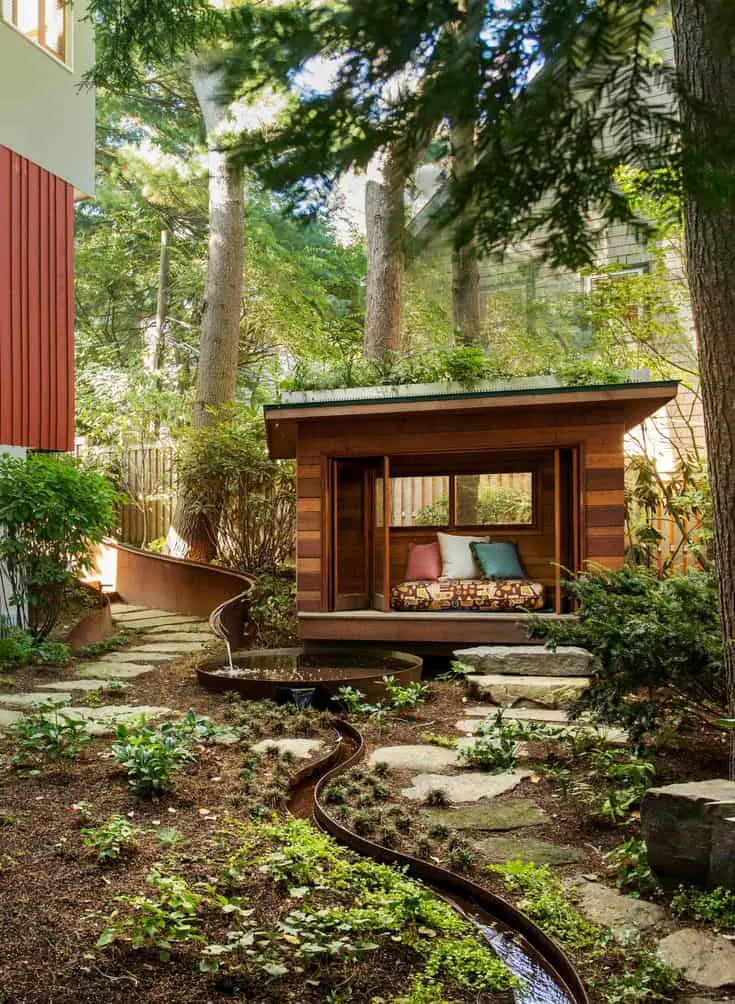 Image Courtesy of The Spruce
If you're fonder of covered gazebo ideas, we bring you the perfect gazebo hut that can fit in any backyard. You don't even have to add chairs and tables to your gazebo. Just put a few large pillows which you can sit on and there you go! A perfect hut for relaxation and even meditation.
If you want to kick things up a notch, you can try recreating a humanmade creek, which you can see in this picture. This particular gazebo is a result of the collaboration of Wolf Architects and Julie Moir Messervy Design Studio.
Perfect Family Gazebo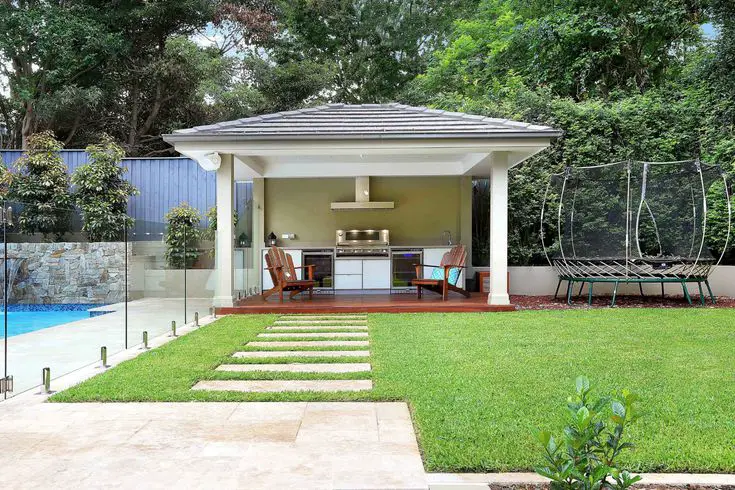 Image Courtesy of Fluid Design
Do you simply adore weekends because you get to spend time with the people you love the most? Building a gazebo such as this one would make the time you spend together even more precious since there would be no screens or any similar distractions.
Designed by Fluid Landscape Design, this gazebo features a fully equipped kitchen, seating, and overhead lighting. When the kids get bored, you can play some outdoor games together or they can have some fun on the trampoline. Just make sure they do it before they eat.
Outdoor Villa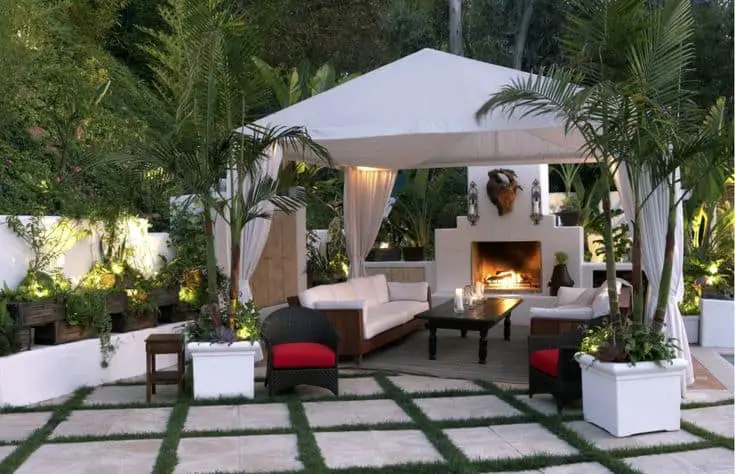 Image Courtesy of Troy Silva Design Group
As you can see in this picture, a gazebo doesn't have to be a magnificently built wooden or stone structure. It can be as simple as this one, yet still elegant.
A gazebo like this is one of the most affordable options and, the best part is, you don't have to hire anyone to put it together for you. But, if you're not a fan of DIY projects, then you can find someone who can do it for you. This particular gazebo is custom made by Universal Awning and Troy Silva Design Group provided the decorative and clever touches.
The Simplest of Gazebo Design Ideas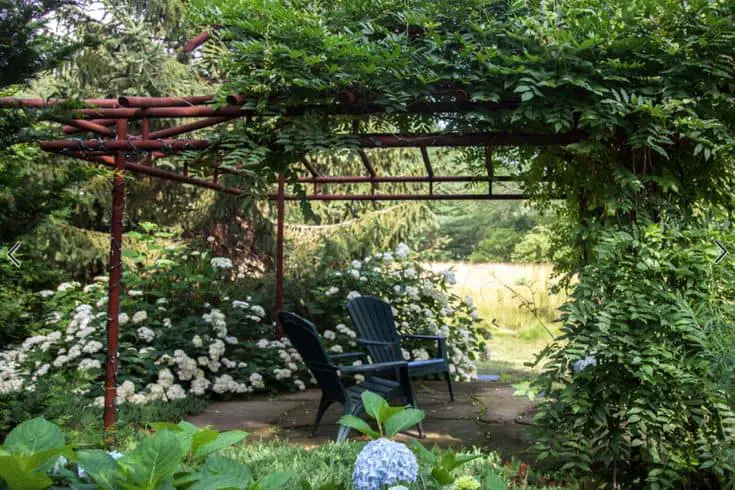 Image Courtesy of Angela Kearney
Now, here is one of the simplest gazebo design ideas that don't require much effort and craftsmanship. If you love trees, plants, and bushes, then you can use them as a decoration for your gazebo; there's no need for fancy roofs, string lights, or a fireplace. And, when it comes to the furniture, you don't have to go overboard. A few chairs will do the trick.
This teahouse gazebo-like structure was designed by Minglewood. It is covered in vines and surrounded by rose bushes and hydrangeas, making it a perfect place for an escape from reality.
BBQ Gazebo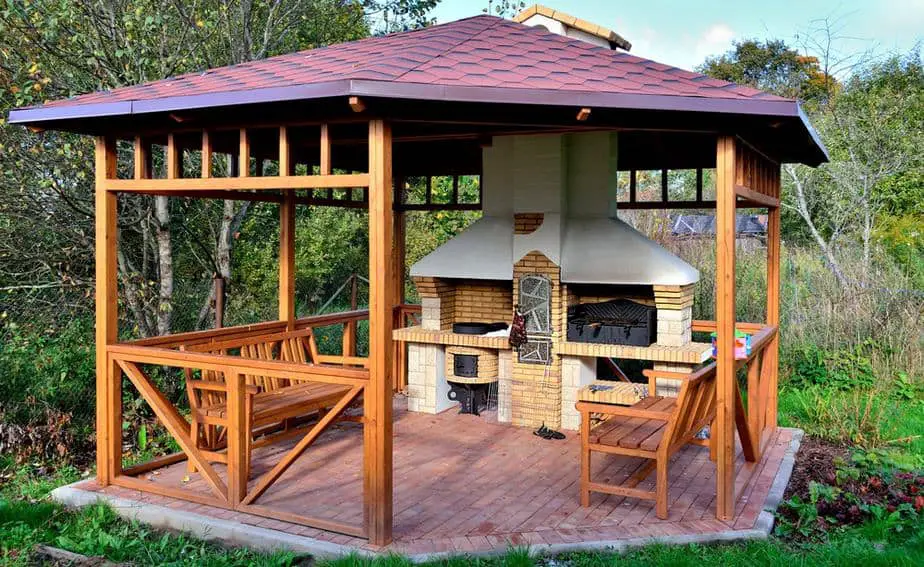 Image Courtesy of Own The Yard
Remember our grillzebo? Well, here is one variation. If you love BBQ and consider yourself a pitmaster, then make sure to equip your gazebo with a proper fireplace and grill.
This hexagonal gazebo is made of straight, stained boards and a shingled roof. The foundation is cement and brick. Besides the barbecue, it also features a built-in pizza oven perfect for evening cookouts. The only thing this gazebo is missing is a table where you can put all the delicious food you make.
Effortless Log Gazebo
Image Courtesy of Own The Yard
Looking for simple gazebo design ideas? Well, here is one for you! All you have to do is get some natural logs and make sure to have an idea of how to put them all together.
This gazebo has a unique, natural touch to it, and the wooden shingle roof keeps everything protected from the rain. The center support post has a bench built around it, and the edges are decorated with benches and lively green vines. All nature lovers will enjoy this practical design!
Gazebo With a Grass Roof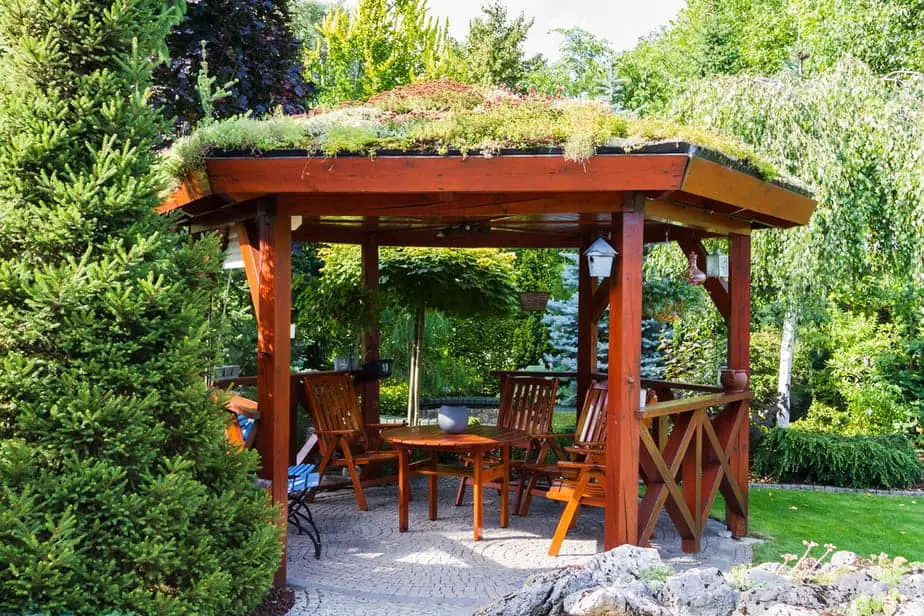 Image Courtesy of Own The Yard
Let's say you decided to go for a classic hexagonal gazebo, but you're looking for something that will make your gazebo truly unique. How does a grass roof sound?
This gazebo features square posts and decorative triangular-shaped railing. But, what makes the structure interesting is the roof. Not only is the gazebo in a garden, but its roof is a grass-covered garden of its own. Combined with the cobblestone floor, this gazebo design is certainly something you don't see every day.
The Perfect Victorian Gazebo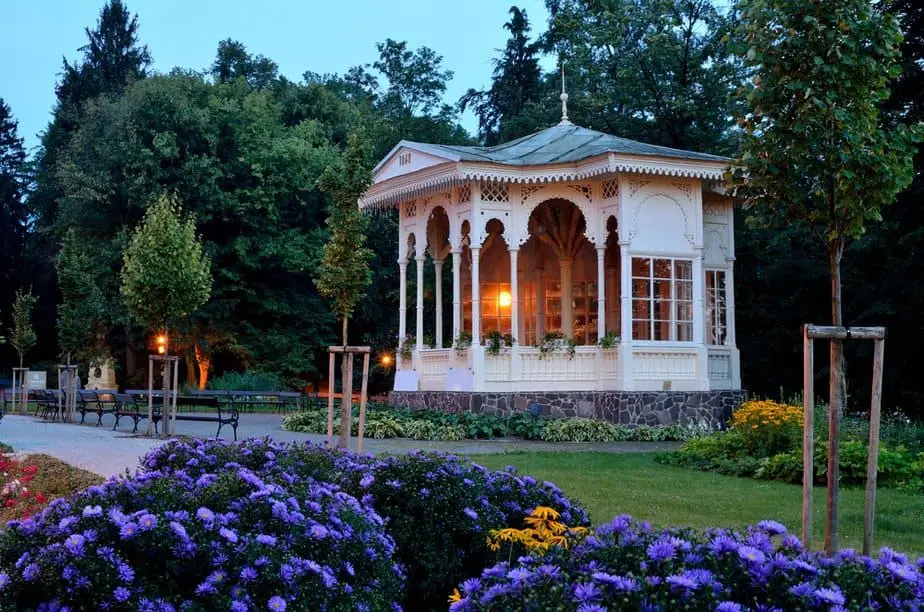 Image Courtesy of Own The Yard
If these modern and fancy gazebo design ideas don't work for you, we have got you covered as well! Every person interested in arts and architecture knows about the exquisite Victorian style and this intricate gazebo is a perfect example of that style.
Spires are inevitable in Victorian architecture, and this ornate white gazebo features a shingle roof topped off with a spire. The gazebo features windows and intricate design details, ranging from the unusual shape to the large stone foundation. It is quite large and ornate, but you can always change the design to make it suit your needs and fit your yard.
White Victorian Gazebo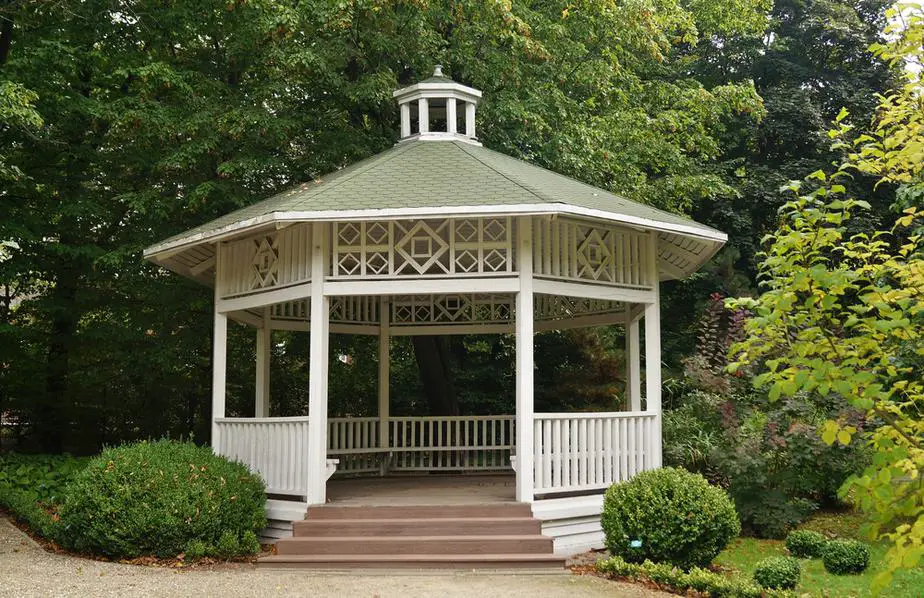 Image Courtesy of Own The Yard
Speaking of Victorian gazebos, here is one more design idea for you. If the previous one was a bit too much for your taste, here is a more simplified version.
This octagonal-shaped gazebo features a green roof and matching finial. All the posts are decorated with a fancy squared design. On the inside, you can notice benches by the side rails perfect for relaxing in the shade. But, you can always add a table or even a grill and make the gazebo suit all your needs perfectly.
Enclosed Gazebo Ideas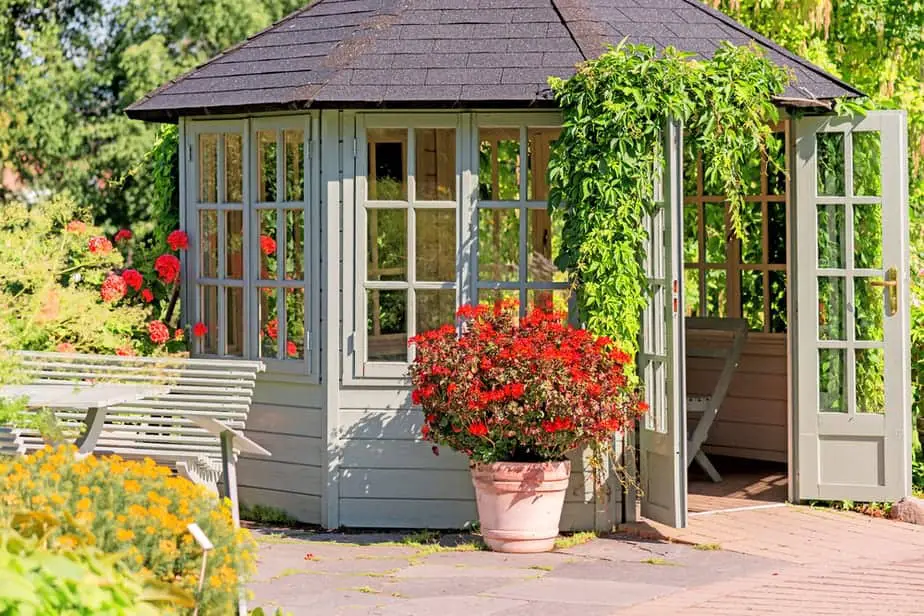 Image Courtesy of Own The Yard
Looking for a fully enclosed and covered gazebo ideas? Well, look no more! This gazebo is enclosed in glass windows and features double glass doors. The shingled roof keeps the inside of the gazebo protected from all the elements, and the brick flooring can withstand any weather.
This is a perfect choice for all those who want to be able to spend time in their gazebo all year round. Also, the glass door and windows can even serve as some sort of a greenhouse.
The Fanciest Dome Gazebo Ever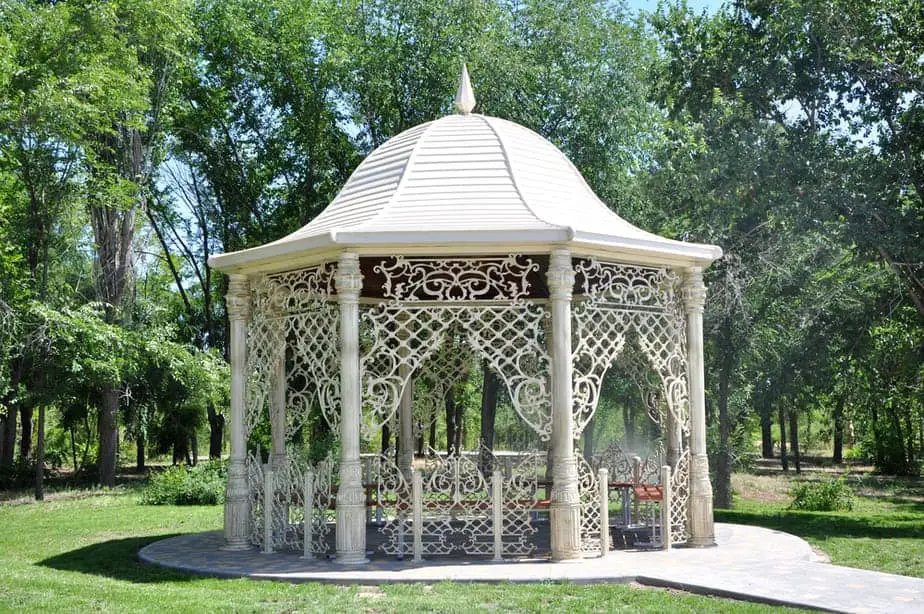 Image Courtesy of Own The Yard
If you love all things extra, luxurious, and fancy, then a domed gazebo such as this one will be a perfect addition to your yard. The white pillars are set off with a beautiful Victorian design, and the white-domed roof has a teardrop spire.
A gazebo this size is more appropriate for a park or botanical garden. But, that shouldn't stop you from borrowing this gazebo idea and transforming it into something suitable for your yard.
An Open-Air Cabin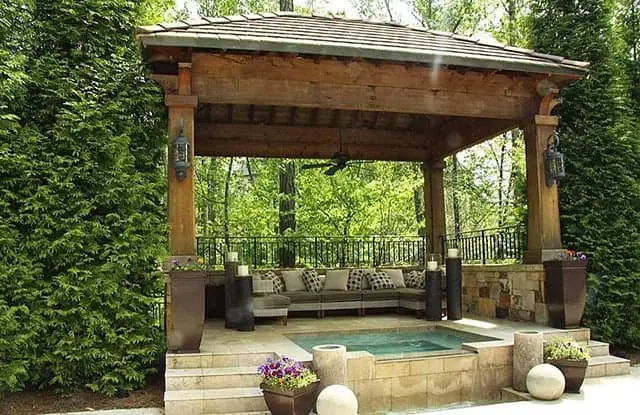 Image Courtesy of Quiet Corner
So many people dislike spending time outdoors because they think it isn't a comfortable experience. Well, this depends entirely up to you. There is no need to sit on the grass or lie in a tent when you can have a gazebo.
A gazebo allows you to create your comfort, and with the right materials, you can build an open-air room right in your yard. Add soft couches, pillows, and blankets to warm up space. If you like pampering yourself (and who doesn't) then you can also make a hot tub a part of your gazebo!
Modern, Minimalist Gazebo Idea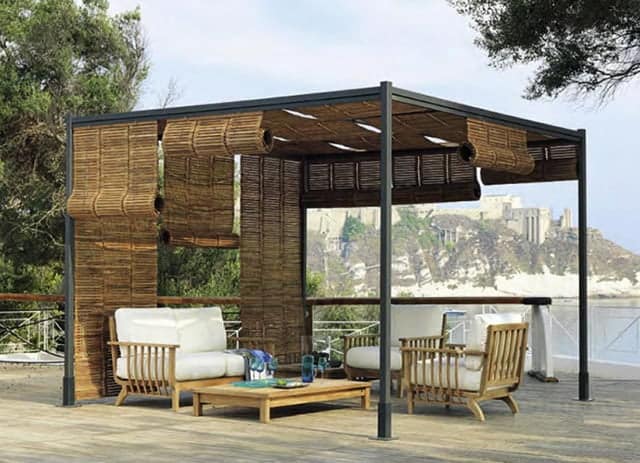 Image Courtesy of Design Rulz
As we pointed it out so many times now, building a gazebo doesn't have to be time-consuming or expensive. You can always use relatively inexpensive materials to build your dream gazebo.
This gazebo features a clean and elemental design. Built out of a few metal poles covered with bamboo, the structure has a quite modern feel. The bamboo is light and airy, but also strong. The teak furniture depicts the peace that can be found in this gazebo. This blend can become your outdoor haven.
---
Similar Posts:
---
We truly hope that our gazebo design ideas will be useful to you and inspire you to build a gazebo that will fulfill all your needs. A gazebo is a perfect place for relaxing, spending time with friends and family, or even meditating. The greatest thing about these structures is that they can be built in any size and shape and out of any material.
You can be as classic, traditional, or modern with your gazebo. The only thing that matters is that you are adding something that will please you to your yard. Whether you're looking for something to dress up your home or an escape from everyday reality, one of these garden gazebo ideas is the answer!
What do you think about these gazebo designs? Which one would you add to your yard? Share your thoughts with us in the comments section!