The best garden dining sets bring function and comfort to your outdoor space. The summer is finally here and we're all looking to spend as much time outdoors as possible. And, there's no better space for relaxation than your own garden. If you're not satisfied with your current garden look, you may give it a quick redecoration just by getting a simple garden dining set.
However, when you open your browser and start typing "best garden dining sets," you may find the results a bit confusing. There are so many different styles and also different materials available. So, we prepared this article that will help you decide what kind of furniture is perfect for your home.
Also, we prepared the most popular garden dining sets currently available so you don't have to spend much time searching the Internet. Regardless of the size of your garden, there is something for everyone on our list!
Best selling Garden Dining Sets on the Market 2021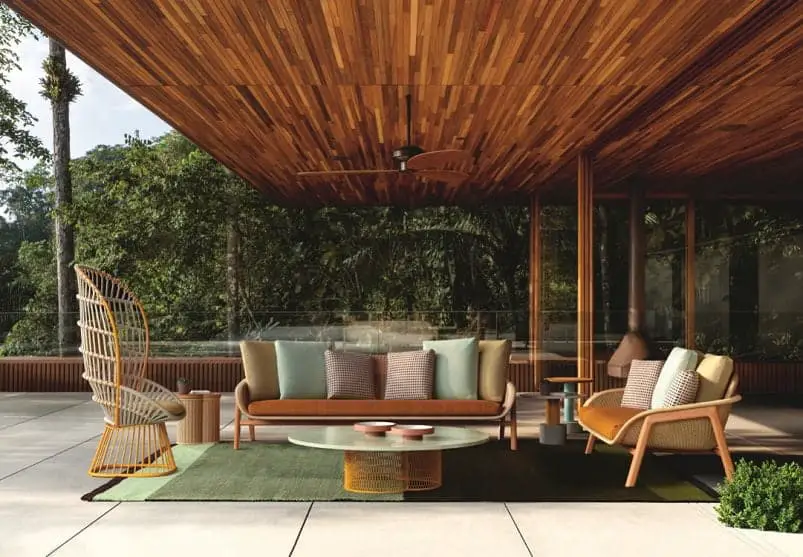 Image Courtesy of Archi-Living
Best Garden Dining Sets Review
1. Evre Outdoor Rattan Garden Furniture Set
Some of the best garden dining sets, including this one, are made from rattan. What makes this material unique is that it is both durable and flexible. It can withstand all weather conditions. However, rattan dining sets should not be left out all year round, otherwise, they'll fall apart.
The Evre Rattan Garden Furniture Set is a perfect choice for all those looking for a premium, luxurious centerpiece for their garden. This set is perfect for relaxing, dining, and even just having drinks with your friends and family. The set is made out of weather-resistant PE rattan, so you won't have to worry about it falling apart because of some rain.
The set comes with cushions for both seats and backrest that are 6 cm thick. The cushions provide additional comfort. In addition, they are removable and can be washed in the washing machine.
Some customers complained that the set is smaller than it seems in the photos. That is why you need to look at the included measurements and see if the size of the furniture is suitable for your needs. In addition, some buyers stated that the assembly is tricky and may take a few hours.
What We Like:
Made from weather-resistant PE rattan and can withstand any weather conditions;
Cushions are 6cm thick and provide ultimate comfort;
The table is made from strong tempered glass that won't break down easily;
Another set can be added to this one, to increase seating capacity.
What We Don't Like:
The assembly is a bit difficult and may take a few hours.
---
2. Wooden Folding Garden Furniture Set
For all those who want something different from the usual outdoor dining sets, we recommend this one. Similar to the benches and tables from the park, this set is the most practical solution for all those who need an outdoor dining space. The set is made of robust spruce and pinewood with a solid metal frame and is perfect for barbecues, parties, and any other occasions.
Why is this set on our list of best garden dining sets? Well, mostly because it is suitable for every outdoor space. Also, the benches and the table feature a clear coat that makes them resistant to moisture and almost every weather condition.
The sturdy steel frame is meant to withstand the test of time, but also it is foldable, making the storing of this garden dining set incredibly simple. In addition, setting the product up is very easy and no tools are required.
What We Liked:
A wooden dining set that is suitable for all outdoor spaces;
Easy to set up – no tools are required;
Features a steel frame that is foldable and ensures simple storing;
Multipurpose: perfect for use at an event, in your garden or while camping;
Made out of quality materials that are weather-proof.
What We Didn't Like:
Some users complained that the set feels flimsy and wobbly.
---
3. Outsunny Outdoor Rattan Garden Dining Set
Here is one of the best garden dining sets for large families or those who like inviting all of their friends over. This one is large enough to house 11 people and the set creates an inviting setting. It is perfect for any garden, patio, porch, or even poolside. This dining set includes one table, four footrests (that can be used as seats), and six chairs. When not in use, both the chairs and the footrests can be concealed under the table to save up space.
The set is made from wicker material on a reinforced aluminum frame. Constructed with quality aluminum frame and PE rattan, the set is meant to last for many years. The table features tempered glass that will not shatter easily. The armchairs are very deep and comfortable and the padded cushions provide additional coziness. All cushions feature removable covers made of polyester that are machine washable.
The only downside of this set is that it comes in one color.
What We Liked:
A large garden dining set which can fit 11 people;
The set is made of quality materials and can withstand all weather conditions;
The footrests and chairs can be easily concealed under the table when not in use;
The set is easy to clean and maintain.
What We Didn't Like:
This dining set comes only in one color.
---
4. Deuba Wooden Garden Dining Set
The reason why we choose this set as one of the best garden dining sets is because of the high-quality materials used. The table and the chairs are made of robust and stable oiled acacia wood. This particular wood is native to Australia but can be also found in Asia and the Pacific Islands. The hardwood is suitable for designing long-lasting items of furniture. Due to its high durability and water resistance, it is ideal for heavy-use items that are in frequent contact with liquids.
The entire set features an appealing natural grain that will fit perfectly in your garden and give it a warm, rich touch. The chairs are very comfortable. They feature armrests and a high backrest. The table and chairs are all foldable, so storing them won't be a problem. The only downside of this set is that it doesn't come with any cushions.
Last but not least, even though it is made from wood, the set won't warp and it is also very resistant to fungus.
What We Liked:
A beautiful wooden dining set that will fit in every garden;
Made of acacia wood that is durable and water-resistant;
The table and the chairs are foldable, and storing them is very easy;
Even though they are made of wood, the chairs are very comfortable without cushions.
What We Didn't Like:
The set comes in many small pieces and assembling it might take a while.
---
5. Outsunny Modern Dining Cube Set
This is one of the best garden dining sets that features a minimalist modern design. The set is large enough for nine people and it comes with four cushioned chairs, four ottomans with cushions, and one dining table. As you could notice, all seats come with cushions that are filled with foam for additional comfort. The cushion covers are removable and are machine washable.
The set is made from durable all-weather PE wicker on a weather-resistant steel frame and it was designed to be functional and long-lasting. Cleaning and maintaining the table and the seats will be a breeze. The tabletop is made of tempered glass which is simple to clean and it also adds a touch of elegance and sophistication to the garden.
Similarly to some other dining sets on our list, this one is also challenging to assemble.
What We Liked:
Nine-piece dining set perfect for inviting friends and family over;
Made of quality, durable PE wicker on a weather-resistant steel frame;
Cleaning and maintaining the table and the chairs is very easy;
Foam padded cushions are included and they provide additional comfort.
What We Didn't Like:
The set is challenging to assemble.
---
Related:
---
Best Garden Dining Sets: How to Choose the Perfect Outdoor Furniture for Your Home
Even the smallest of outdoor spaces can beckon you when they are complemented with the right furniture. Here are our tips for choosing the best garden dining sets for your needs. With the right furniture, your backyard will become your favorite spot for relaxing, dining, and spending time with your friends and family.
1. Decide on Your Patio Furniture Needs
Before you start looking at the different garden dining sets, you need to decide how you would like your garden to function. Do you want to turn it into space where you can lie down and relax? Or do you want to use it for your next dinner party or your kids' birthday party? Or, you just want to use your garden as a dining area on warm summer nights?
List all the activities you want to do in your garden and then use that as your guide for determining what are the best garden dining sets for your needs. For example, if you want to use your outdoor space to invite your friends over for drinks, then there is no need for buying a dining table. Instead, you should go for comfortable seating, side tables, and maybe even a fire pit.
2. Think About the Space You Have
Have you always dreamed of buying a large wood dining table and chairs for your garden? We definitely support this purchase, but, you have to be careful. If your garden is small then a large garden dining set will leave you with little room for maneuvering and you will be better off with a smaller dining set.
The best garden dining sets come in different sizes and layouts. So, make sure to measure your garden carefully and then choose a set that will fit in.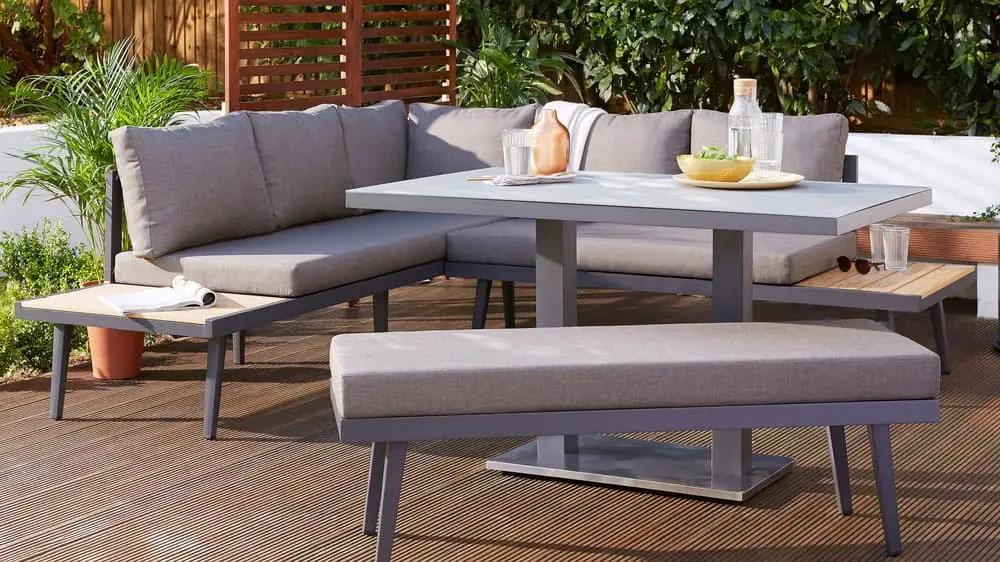 Image Courtesy of Danetti
3. Try Before You Buy
It is a must to try out your garden dining set before buying it. Outdoor furniture can last for years and it is quite likely that you'll use it regularly during the warmer months. So, you should make sure that the seating is comfortable.
The best garden dining sets in terms of comfort are the pieces that come with plush cushions on the seats and backs. But, don't worry, even if the furniture you like is not comfortable at first, you can always get some fluffy pillows. Also, make sure that all products you're buying for outdoor use are weather-resistant.
4. Choose Easy-Care Outdoor Dining Sets
The time you spend outdoors should be reserved for enjoying the warm weather, not for cleaning and maintaining the furniture. That is why we recommend getting outdoor dining sets that minimize the need for upkeep. The best garden dining sets are usually made of metal, teak, cedar, or all-weather wicker and they can withstand everything that nature throws their way.
Such pieces require some wiping every now and then since they are made out of forgiving materials. When it comes to outdoor pillows and cushions, make sure to get those with removable covers that can be tossed in the washing machine.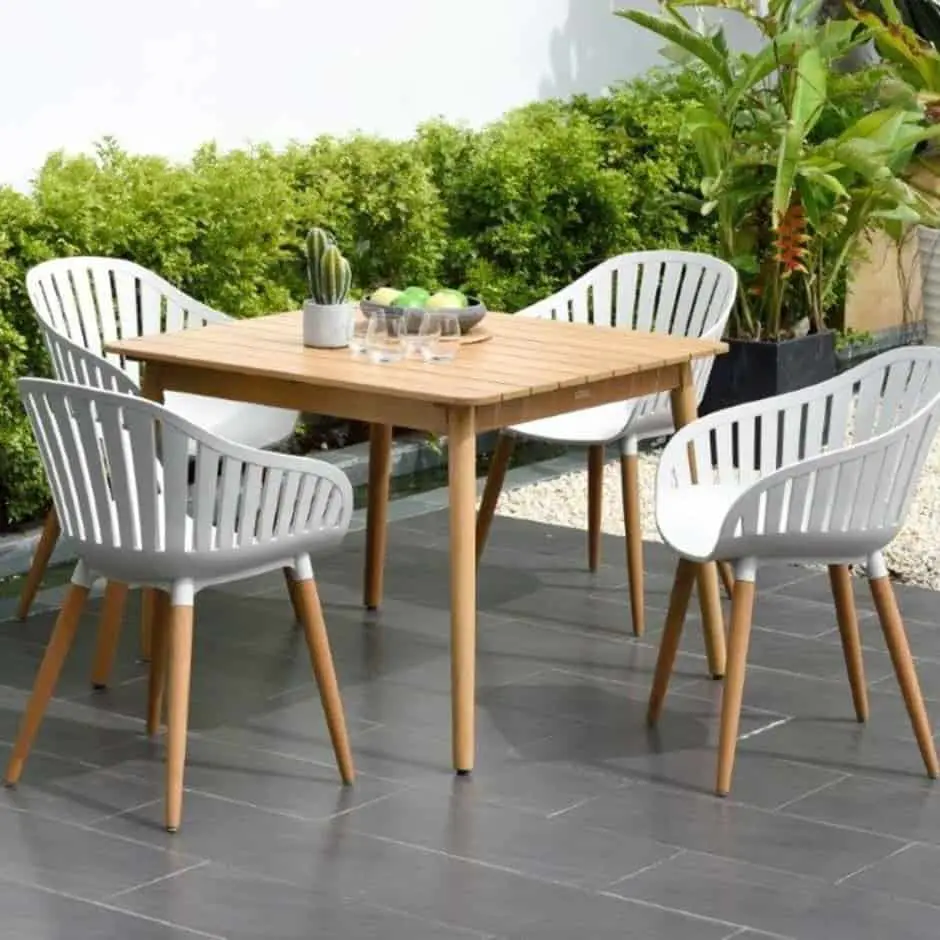 Image Courtesy of Crocus
5. Ensure Proper Storage for Your Garden Dining Set
Garden dining sets are not meant to be used all year round, at least when it comes to the UK weather. To make sure that your outdoor furniture lasts as long as possible, store it in a safe and dry location during the off-season. You don't need any special space; a basement, garage, or shed will do.
Not even the best garden dining sets, such as teak chairs or a wrought-iron settee, can survive tough weather conditions. If you have limited storage space, then look for the furniture that can be taken apart or that folds. Also, getting stackable chairs will maximize storage space.
6. Go for Colors
There is no need to buy garden furniture that comes in neutral colors or the natural colors of wood. Nowadays, the best garden dining sets come in many different, colorful finishes. You can play and match the color of your furniture with colors found in your landscaping or on your home's exterior.
If the dining set you like doesn't come in many colors, then you can just give it a quick paint job with any color you like. It is recommended to reserve bold hues for cushions and accent pieces since these items are usually used less often.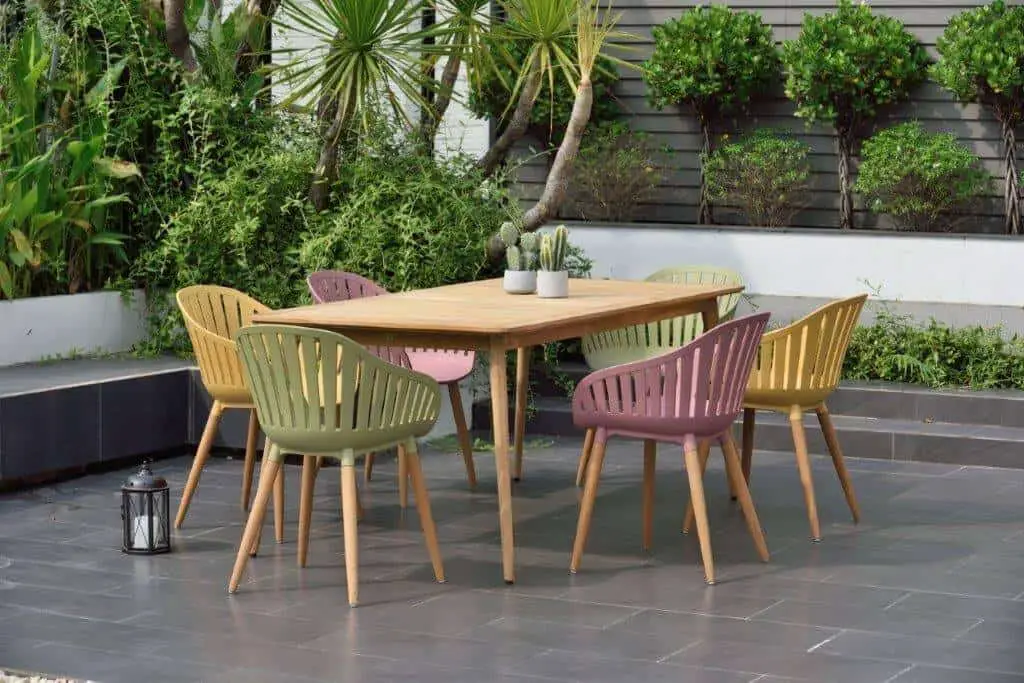 Image Courtesy of Oldrids
7. Invest in Quality Garden Dining Sets
The saying "you get what you pay for" is usually true when it comes to outdoor furniture. Plastic chairs and side tables might look good at first, and they are quite likely to keep their good looks for a year or two. But, in time, plastic dining sets tend to lose their vibrant colors and become brittle.
The same goes for even some wood and wicker pieces. So, before making a big purchase, make sure to check out the product information carefully as well as customer reviews. Consider investing in quality furniture that will last you for years. If you're on a budget, then spend the most money on items that will be used the most, such as the chairs.
8. Add Outdoor Accessories
If you want to transform your garden into a beautiful, relaxing space, then consider investing in some accessories. For example, you can place your dining set on an all-weather rug. These rugs are very soft and rich in texture, and they will lend the comforts of indoors to your garden. Don't forget to check whether such accessories are rated for outdoor use before buying them.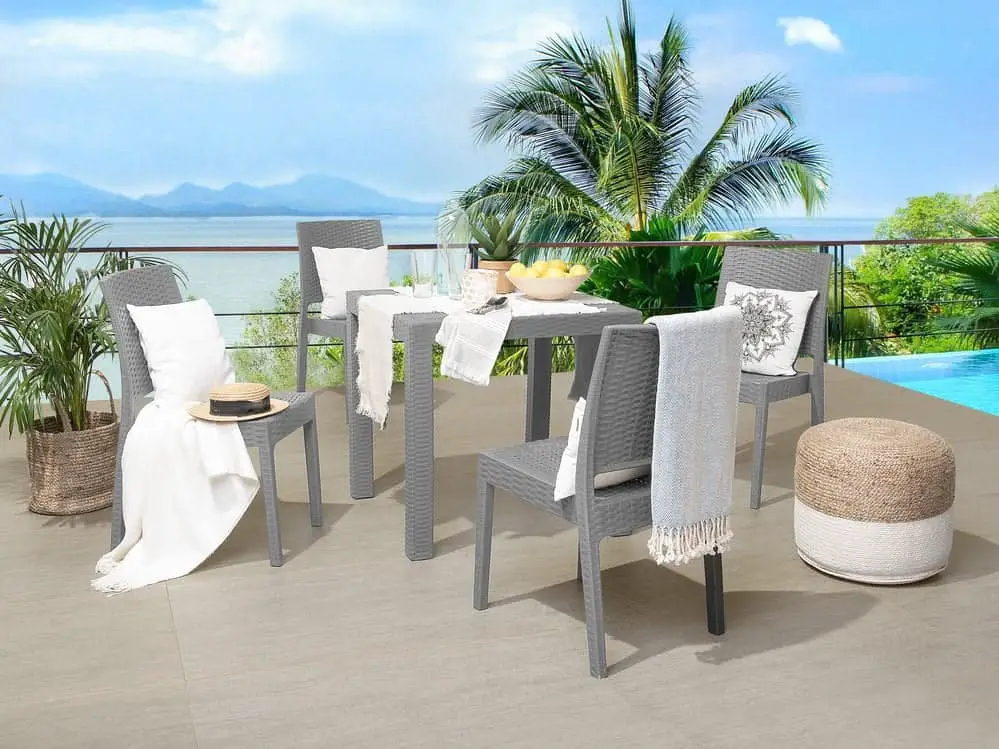 Image Courtesy of Avandeo
9. Choose Dual-Purpose Dining Sets
If possible, you should look for outdoor furniture that will help you get the most out of your money and garden space as well. Some of the best garden dining sets serve multiple purposes and can even eliminate the need to purchase additional furniture.
For example, you can get an ottoman or garden stool that can double as extra seating for guests. A bench can be used on its own or even placed next to an alfresco dining table.
10. Best Materials for Garden Dining Sets
Garden dining sets are made out of different materials. You can choose from wooden, metal, plastic, rattan, and wicker outdoor furniture.
Wooden dining sets can be made either from hardwood or softwood. Hardwood products are quite hard-wearing, but they require regular cleaning and maintenance. Softwood outdoor furniture needs to be treated with TLC regularly.
Metal garden dining sets offer great value for money. Maintaining them is very easy; you just have to wipe them clean. Also, metal outdoor furniture is usually lightweight and easy to move around.
Rattan and wicker garden dining sets provide maximum comfort, ultimate style, and make a great investment overall. In addition, the natural material is a great way to blur the boundaries between a garden room or conservatory and the garden itself.
If you're lucky enough to have a garden that can accommodate more than a chair or two, then you must get a garden dining set. Not only will such set provide additional dining space, but it will also transform your garden into a personal getaway space.
Hopefully, this article has helped you determine what are the best garden dining sets for your needs. And, choosing one of the products from our list will undoubtedly turn your outdoor setup into a cozy space where you want to spend your summer evenings.