If you have a kid, then it's very likely that their toys have taken over your house, your yard, and even your garage. If you're looking for a way to get rid of all these toys (but not throw them away), then making or buying your own outdoor toy storage is the best choice for you. This type of storage will help you move all those toys from your living space, without throwing them away.
Has your house transformed from a tidy home into space with toys creeping their way out of the storage bin and across our yard? You might be okay with the mess until you step on or tripe over some of those toys. To make your life easier, we've researched many different outside toy storage options for you and we found some interesting ideas. You can get bins that hang of a fence, pegboard storage for the garage wall, and even a parking garage for all those ride-on toys (and everybody knows how much space they can take up).
If you are tired of having toys everywhere you turn, it's time for you to get organized! Check out these toy storage ideas and decide which are the best choice for your family.
Take a look at our inspiring toy storage ideas!
15 Incredibly Useful Outdoor Toy Storage Ideas
Pegboard Storage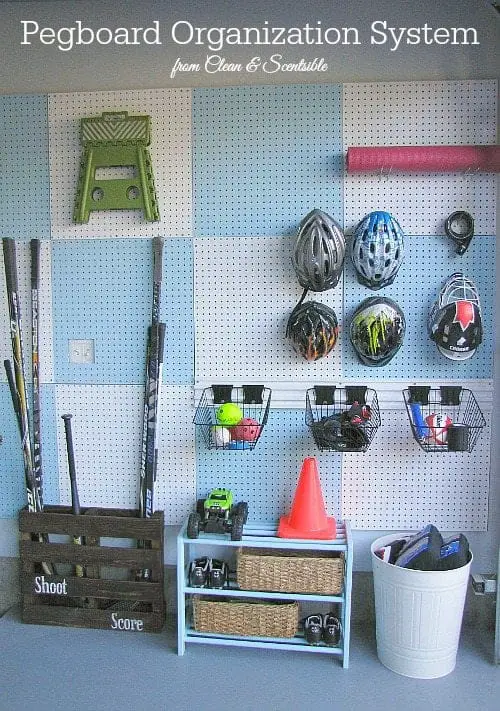 Image Courtesy of Clean & Scentsible
Here is how Jenn from Clean & Scentsible managed to get rid of toys lying around her house. She turned a wall in her garage into a pegboard organizational system.
Do you have a few pegboards lying around in your garage? Now is the perfect time to do something useful with them. You can use one wall to store away your kids' outdoor toys as well as their sports equipment. A great idea is to use open baskets. Not only will you see what's inside but you also won't have to deal with grime that builds up at the bottom of the basket.
Wall Mounted Pegboard Organizer DIY Display Wall Shelf Plastic...
Material - Square peg board is environmental friendly PP material, wear polished surface, elegant design, offer you a concise, fashion and modern decorative background.
Easy Installation - Mounting pegboard can be installed within 2 minutes, use your imagination for wall decor. Using the self adhesive tape attached at the back stick to the wall, no need to nail the wall.
Space Saving - Our peg board organizer storage kit is reasonable design make it full use of space, ideal for storing your small vases, photo albums, sponge balls, hats, umbrellas, bags ,keys, toys, crafts, cosmetics, mini plants, scarves, cups, jars ect.
Widely Use - An ideal decoration for your home, which will fit all of your furniture perfectly, suitable for use anywhere around the house including the living room, study, bedroom, corridor, bathroom, kitchen and balcony.
Last update on 2022-06-23 / Affiliate links / Images from Amazon Product Advertising API
Toy Car Garage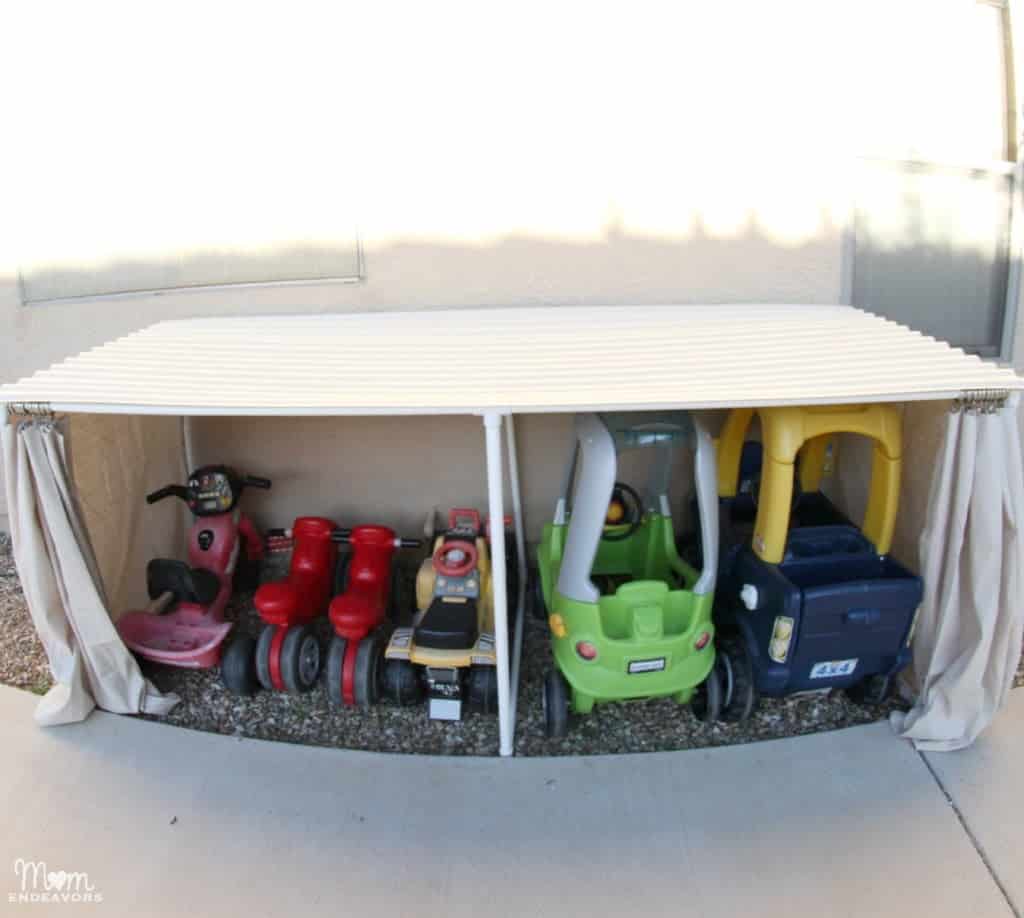 Image Courtesy of Mom Endeavors
If your kids have a selection of ride-on toy cars, a great outside toy storage idea is to build a proper parking garage for them. Not only will your backyard look tidier, but you will also protect your toys.
If you live in a climate where the weather is hot, the toys don't stand a chance in the sun. When exposed to sunlight, the toys fade, brittle, and get ruined quickly. If you have some unused wall space on the side of the house, this DIY project is a perfect choice for you.
If you love this toy garage, click here for tips on how to build it.
Outside Toy Storage Idea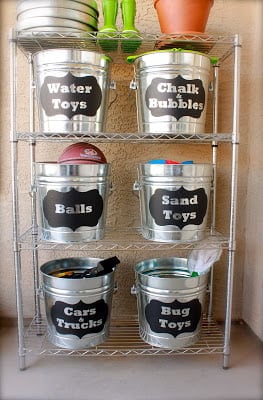 Image Courtesy of Domestic Charm
This is a great idea for all moms who love to keep things organized and labeled. Domestic Charm found a great way how to store and sort all toys with the help of a few buckets.
The first thing you will need is a shelf on which you can put the buckets. Then, you can get galvanized buckets at any Home Depot. Once you get the buckets it's time for you to make the labels for each one. Having the buckets labeled will make cleaning up and finding toys easier than ever before.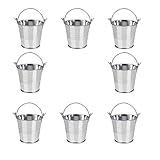 Small Metal Buckets,8 Pieces Mini Metal Bucket Candy Box,Small...
High Quality Materials:The metal buckets made of environmentally friendly metal,rugged, anti-rust treatment. Good surface treatment makes mini metal bucket smooth and will not hurt you.Food grade pretty safe and Includes miniature handle.
Beautifully Designed:The metal barrel is small and exquisite, the silver appearance is more noble, and it can be used in various environments. Modern and clear design ensures quality and durability.
Wide Range of Applications:Mini metal bucket is perfect for all kinds of activities.ou can use them to hold small flowers or green plants. Also can be used for party favors or even during playtime.
Loved by Children:Metal buckets can be used not only for plants, but also for sweets and other snacks, and even as gifts, which are loved by children at parties.
Last update on 2022-06-23 / Affiliate links / Images from Amazon Product Advertising API
Hanging Milk Crates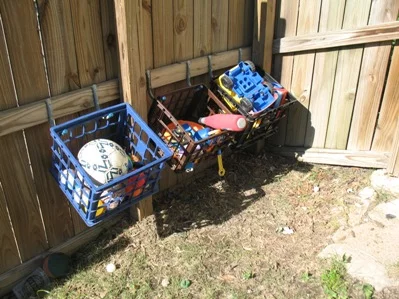 Image Courtesy of Life Your Way
Here is one of the cheapest and easiest outdoor toy box ideas. Every family drinks milk, and even if you don't, you can get yourself a few milk crates or any other crates.
The idea here is similar to the previous one. You can organize toys in each crate; for example, one can be for balls, one for cars and truck, and one for pool toys. Keeping the toys in the crate will also keep them clean. When it rains and the toys are left on the ground, they get all muddy and gross.
Here is a perfect solution to keep your yard tidy and your kids happy at the same time.
Colorful Outdoor Toy Box Ideas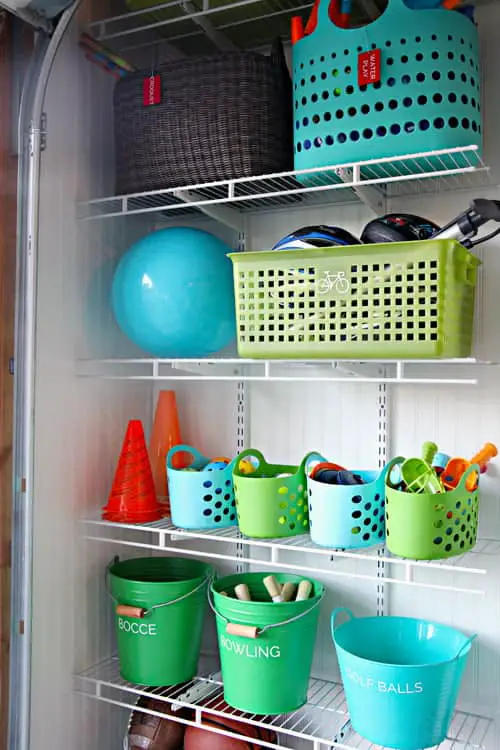 Image Courtesy of I Heart Organizing
Jen from I Heart Organizing loves keeping things tidy and, obviously, organized. She came up with a great idea for outside toy storage that will also make your kids want to clean things up. Why? Well, because kids love all things colorful.
She used plastic totes, metal pails, bins, and baskets. All items have weather-friendly finishes, so you don't have to worry if anything gets left in the rain. Also, she made cute labels so that kids know where to put their toys exactly.
P.S. Putting the toys in totes and baskets makes it easy to take them with you to the park or friend's house.
DIY Rolling Outdoor Toy Storage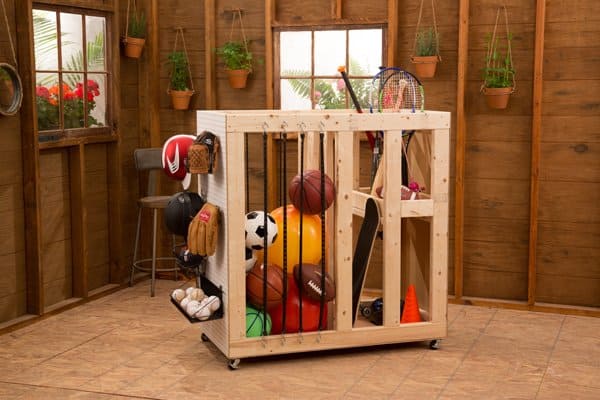 Image Courtesy of Shanty 2 Chic
How amazing does this outside toy storage look? And, the best thing is that you can make it by yourself in no time. Shanty 2 Chic provided amazing printable plans that will make the DIY project a piece of cake.
This storage cart is so simple and multi-functional, yet so big at the same time that you can store all your kids' toys in it. From the bungee ball storage to the pegboard and chalkboard on the sides, to the casters on the bottom for easy moving, this outdoor toy box is just awesome!
Also, you can have your kids help you when making this one! Not only will you have a cool outdoor toy storage box, but you will spend some quality time together.
Neat Ball Storage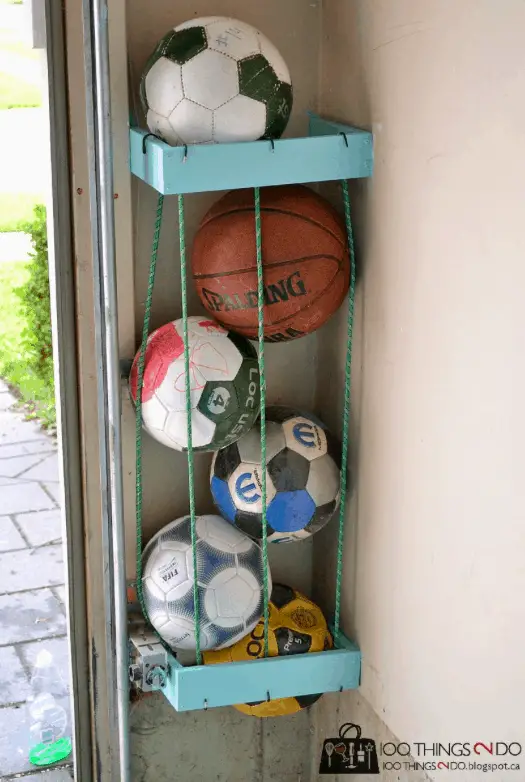 Image Courtesy of 100 Things 2 Do
If your kid has so many balls lying around, then it's time for you to get this neat ball storage. And by getting, we mean making.
This outdoor toy storage for balls is one of the easiest DIY projects ever, so there is no need to be afraid of it. Plus, everything will cost you about $2.
You will need a few pieces of scrap wood and a set of bungee cords. Just attach them all together, and, that's it! Your kids will be able to remove and put away their balls easily, and you will never get angry about balls lying around.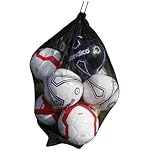 20 Ball Red Mesh Carry Sack Football/Netball Carry Bag Netbag...
20 Ball RED Mesh Carry Sack Football/Netball/Basketball with drawstring closure
Can hold & carry up 20 fully inflated balls. The Listing is for Bag Only , Balls are not included
Ideally suitable for all balls ( Rugby Balls, Footballs or Netballs ) Draw String closure
Size ( cm) : 79cm width x 110cm length , Color : RED
Last update on 2022-06-23 / Affiliate links / Images from Amazon Product Advertising API
Stackable Wheelie Outdoor Toy Box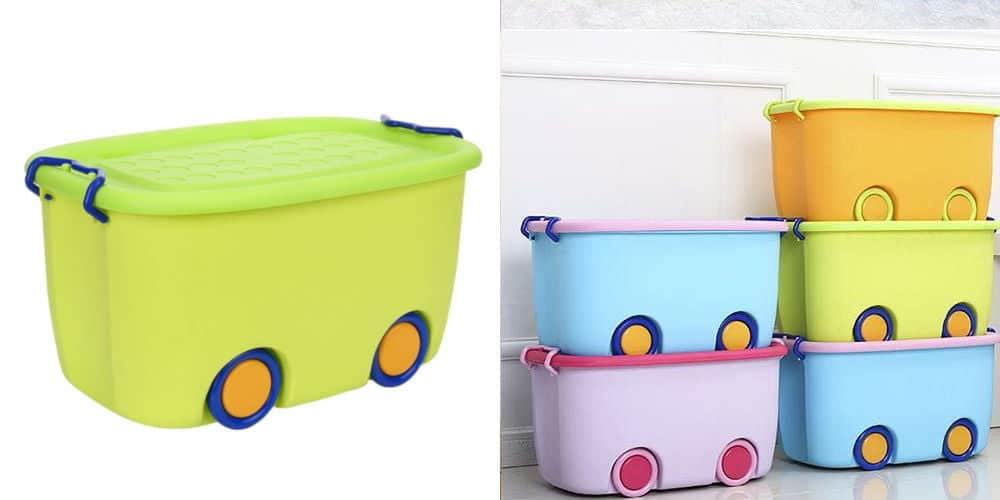 Image Courtesy of My Dream Haus
Storing toys in stackable containers isn't something new. But, getting fancy stackable containers with wheels and keeping them outside is an amazing outdoor toy storage idea. Many of these containers are made from a durable and non-toxic plastic and they can hold up to 70 kg of toys.
To keep everything tidy, it is advisable to divide toys into types and separate them into each plastic container. You can also add labels to the containers to make finding toys easier than ever before. And, the best part about wheelie outdoor toy box is that you can wheel it out and move it around easily, no matter how many toys are in there.
As long as the lid is clipped into place, you can leave the boxes outside without worrying that the toys will get damaged. Plus, the containers stack, so they will take up minimal space in your yard or garage.
Outdoor Storage Bench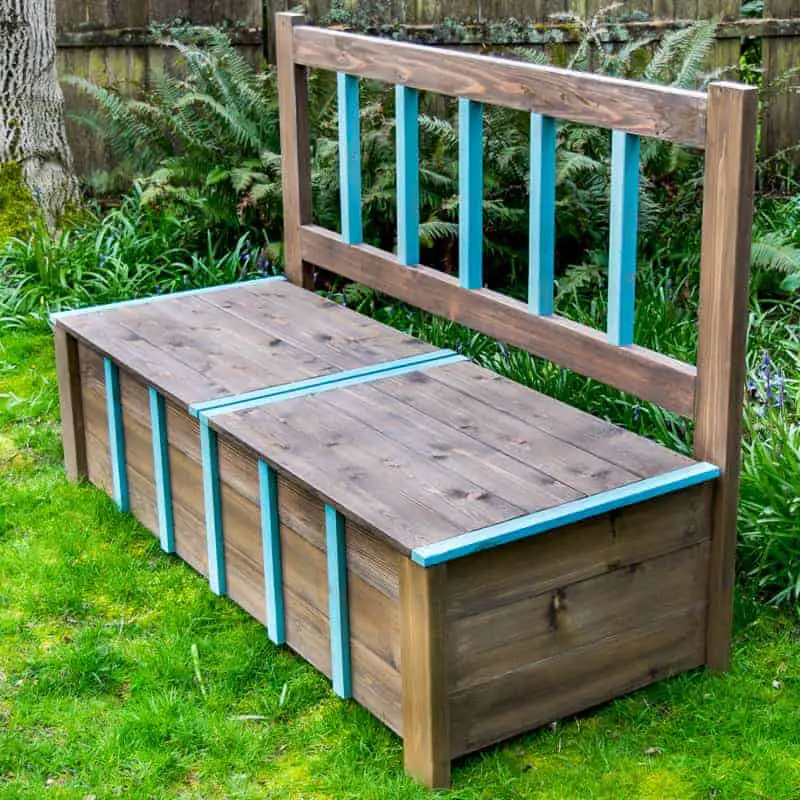 Image Courtesy of The Handyman's Daughter
Are you good with a hammer and nails? Well, that's all you need to make this amazing storage bench. That, and some wood of course.
The Handyman's Daughter provided awesome free plans and tutorials needed for making this bench. It looks nice and will fit in any backyard. Of course, besides using the bench for storage, you can also use it to sit and relax.
The best thing about this outside toy storage bench is that it is big enough to fit all your kids' toys and even balls.
Pool-Side Pallet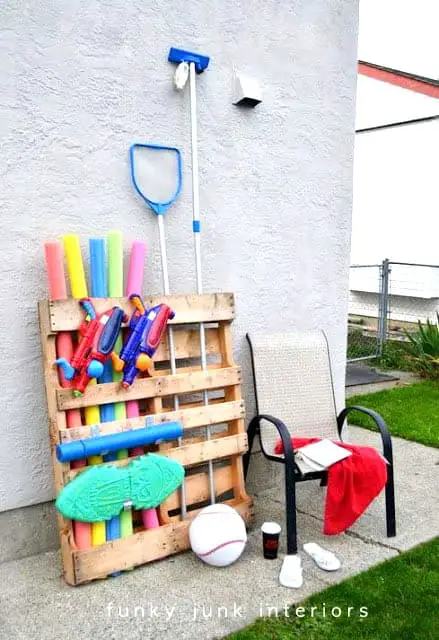 Image Courtesy of Funky Junk Interiors
Do you have an old pallet laying around in your backyard? It just takes up so much space but you can't throw it away because you feel it might be of good use. Well, you're right! You can use that pallet as outdoor toy storage.
This is probably the easiest DIY outdoor toy box ever. All you have to do is take that pallet and put it up against your wall. Then, just start adding the pool noodles and all other pool gear. The pool noodles slip through the top and are easy to grab.
To make the pallet even more useful attach a few screws to it so you could attach the water guns and other similar toys. For your pool towels, just add a few hooks. And, that's it!
Fence Baskets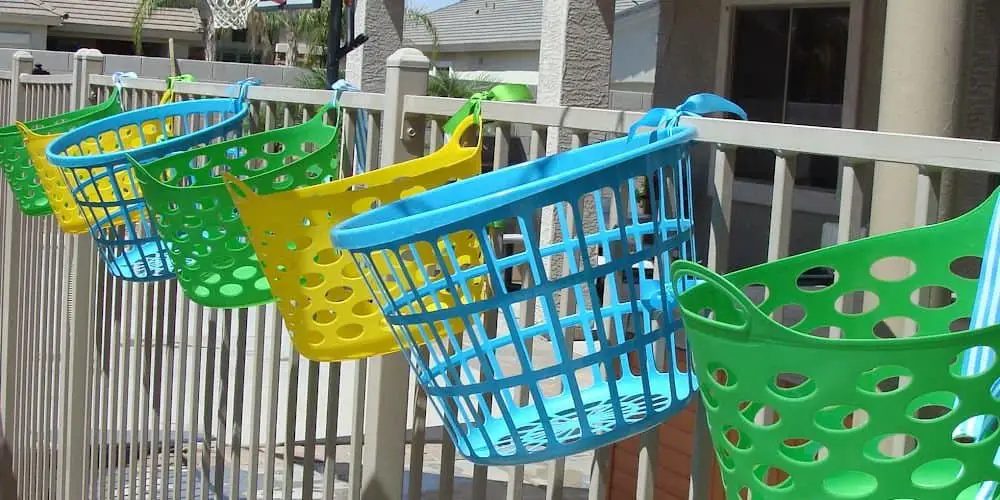 Image Courtesy of My Dream Haus
Okay, we already showed you an outdoor toy box idea similar to this one. Do you remember the milk crates hanging on the fence?
Well, this concept is pretty similar, but it just looks a bit more appealing than the old milk crates.
Just grab a few durable plastic buckets and screw a few hooks into your fence. You can sort different types of toys in each bucket so the kids have an easier time finding what they need. Once they're done playing, they can move the buckets inside or leave them on the fence. Toys won't get dirty even if it rains! (But, they might get wet and rust).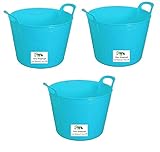 Easy Shopping 3 x 26 Litre Flexi Tub Garden Home Flexible Colour...
3 X 26 Litre Large Flexi Tub Garden Home Flexible Colour Rubber Storage Container Bucket Polyethylene Flex Tub- MADE IN U.K.
Manufactured from heavy-duty polyethylene with a versatile, flexible construction. Fitted with strong carry handles tested for heavy load.
They are great for all sorts of jobs around the garden and home, such as toy boxes, laundry baskets, storage containers, plaster mixing as well as for odd jobs around the garden.
This is a multipurpose flexible tub with 2 integrated carrying handles. It can also be carried like a carrier bag with both handles in 1 hand. They are also designed to stack inside each other (saving space whilst storing or transporting large amounts).
Last update on 2022-06-23 / Affiliate links / Images from Amazon Product Advertising API
Floating Outdoor Toy Storage Box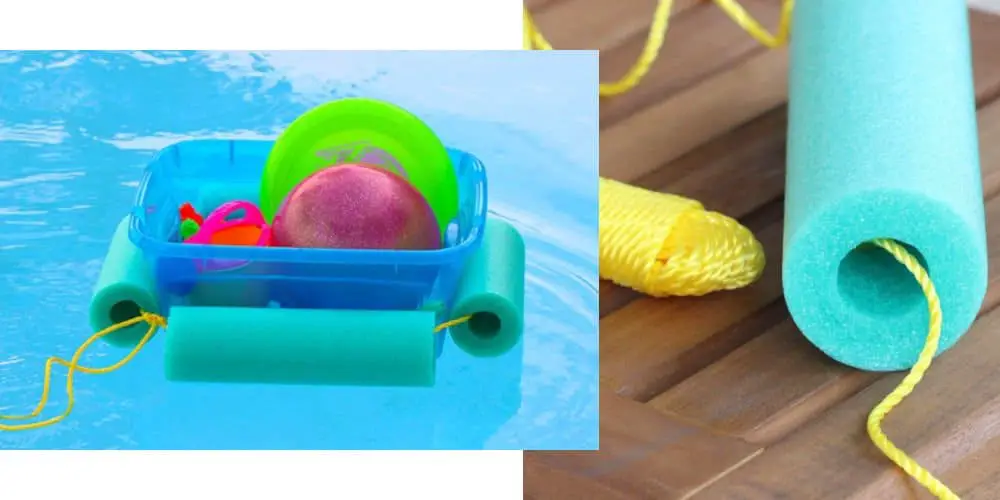 Image Courtesy of Cutefetti
If you have a swimming pool in your backyard, then it's only fair that we recommend how to use it for outdoor toy storage. We introduce the floating pool noodle toy bin to you!
Dawn from Cutefetti used items she already had to make this interesting outside toy storage. She took a small plastic tub, some string, and a pool noodle to create floating toy storage. So, how do you make this?
Start by measuring the tub and pool noodles. Then, cut the noodle into four pieces, ensuring that each piece can cover the side of the tub. Once you wrap the noodle pieces around the tub, secure them in place with some waterproof poly rope.
This is one of the outdoor toy box ideas that take less than 5 minutes to make and you'll be able to enjoy your new tidy home in no time!
Storage Coffee Table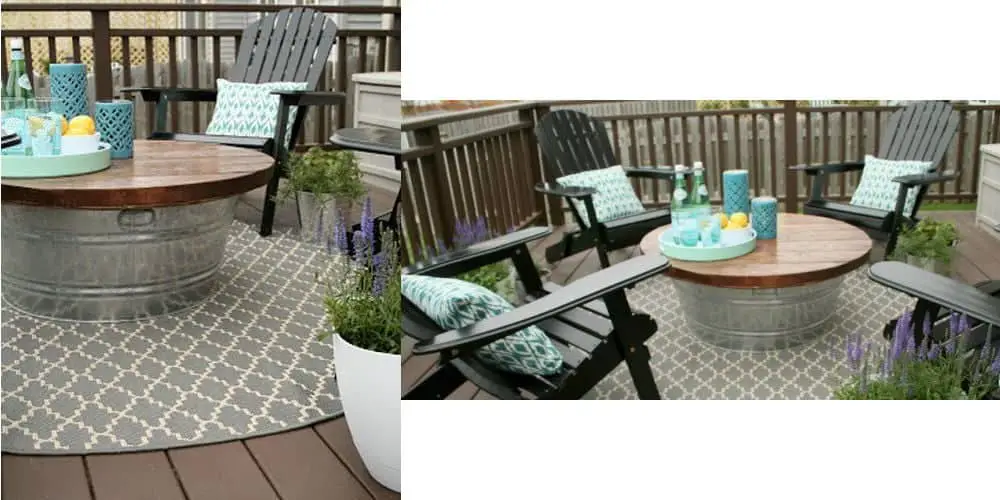 Image Courtesy from Remodelaholic
If you loved our bench outdoor toy storage, but you have nowhere to place the bench, here's another great idea for you. What about a storage coffee table?
This coffee table will create additional storage and you can place it on your patio or even your gazebo. If you don't have a gazebo, check out our amazing gazebo ideas!
Remodelaholic posted an amazing step by step guide for making this coffee table by using a large circular steel washing tub and some old planks of wood. The rustic looking top is perfect for drinks and snacks!
Vertical Outdoor Toy Storage Organizer
Image Courtesy of Amazon
If you're not a fan of DIY projects, or you don't have any empty containers lying around your house, it's time to explore some pre-made options.
There are so many slim, vertical organizers or sheds available for purchase. They are fairly narrow and tall at the same time. This means that the shed won't take up much of your space but you will still be able to store all your kids' toys in it.
Most of these are made of weather-resistant plastic so they can last you for a long time. Also, many models come with adjustable shelves so you can subdivide the shed to hold buckets of toys or make space for larger toys.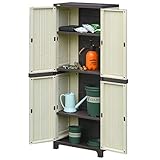 Outsunny Tall Plastic Utility Cabinet Garden Tool Shed Patio...
LARGE STORAGE SPACE: Four shelves design, perfect storage and organize solution for your garden and other outdoor space
ADJUSTABLE SHELVES: Three 15cm up/down adjustable clapboards to accommodate different-sized tools
TWO DOORS: Double-door storage closet offers compact space for outdoor supplies and tools
WEATHER RESISTANT: Tough and rugged high density PP construction protects the garden shed from inclement weather
Last update on 2022-06-23 / Affiliate links / Images from Amazon Product Advertising API
Sports Equipment Outdoor Storage Rack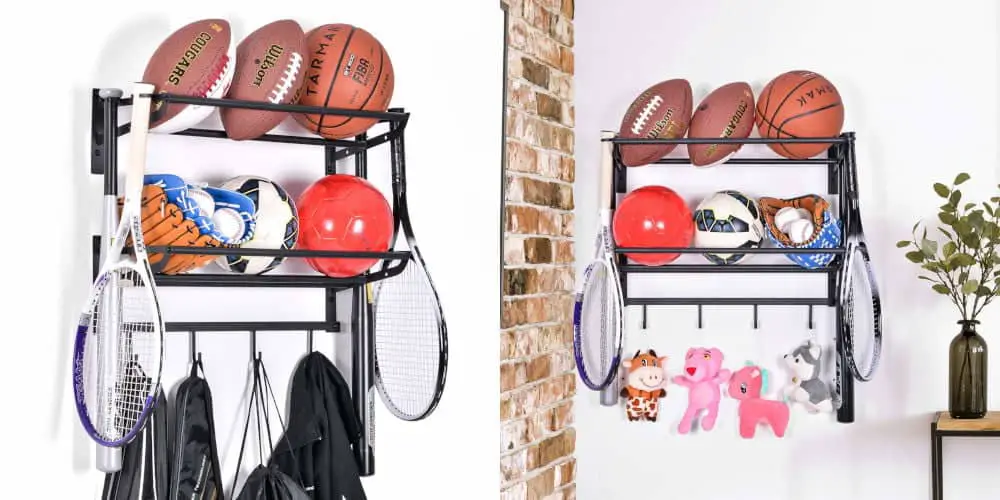 Image Courtesy of My Dream Haus
If your kids leave their sports equipment lying around instead of toys, we've got a solution for you as well. Although this isn't an outdoor toy storage shelf, it can have multiple uses. But, it's made primarily for sports equipment.
This storage rack comes with plenty of space for helmets, jackets, rackets, and even footballs. The rack is made from iron and you can install it either vertically or horizontally.
These were our top 15 outdoor toy box ideas. They are versatile and can be a perfect fit for every home. And, the best part is that you don't need to stick to one idea only; you can always combine a few of them and come up with your personalized outdoor toy storage.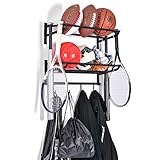 SOUL HAND Wall Mounted 2 Tiers Adjustable Sports Ball Rack...
Wide Range of Storage: Football, basketball, helmets, sports shoes, sweatshirts, jackets, windbreakers, gloves, rackets, bats, etc.Organize all your sports equipment.
Special Hooks Designs: 4 bat hooks to hold all types of bats,rackets and sticks.Others 4 Ordinary hooks hold gloves, backpack, helmets and all your sportswear.
Lifetime Satisfaction: Made of pure iron, it is sturdy and durable.Organize all your sports equipment, multi-function storage rack will help you store more than you think.
Freely Adjust the Spacing of The storage Rack: The position of the rack can be adjusted freely depending on the size of the sports Equipment.
Last update on 2022-06-23 / Affiliate links / Images from Amazon Product Advertising API
Which outdoor toy box ideas do you and your kids like the best? Share your thoughts with us in the comments!