Whether you've been growing flowers and vegetables for some time now, or you're planning to plant your first garden, there are some tools that will make your life easier. Sure, you probably have all the tools you think you need. However, there may be some tools you feel are unnecessary, but they turn out to be a game-changer. That is why we prepared this essential gardening tools list for you. It contains ten tools as well as tips on how to use them.
Keep in mind that your tools will take care of your garden as long as you take care of them. That is why we also prepared a tool maintenance guide for you at the end of this article that will ensure your gardening tools last as long as possible.
10 Essential Gardening Tools List
A beautiful garden turns into a safe haven; a place where you can spend time with your friends and family and escape the stress of life. But, to be able to enjoy your garden, you have to cultivate it. And that requires having the right tools for the job. Our essential gardening tools list will remind you of all the tools you need for a perfect garden and also teach you what these tools should be used for!
1. Weeding Tool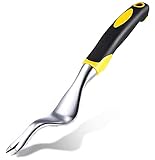 Hand Weeder Dandelion Remover Tool,Manual Weed Puller Bend-Proof...
Easy to use: this transplant weeder tool is easy to use, simply rest the curved metal base on the ground and dig around the roots to pull, use the point fork tip to dig and pry the roots, stem and leave, by eliminating the roots you will get rid of the weed once, can save you much time and effort to deal with the weed
Quality material: these gardening weed removal is made of aluminium alloy, durable and sturdy, not easy to break or deform, rust-resistant, one-piece aluminum shaft leverages against ground, can tackle dandelions and other weeds easily while leaving the surrounding plant well, practical tool for gardening
Ergonomic grip: the weed puller tool is designed with ergonomic handle, and the handle features a whole design, there are no screws to come loose so the handles will not come off easily, nice for gardeners who have difficulty holding tools with small or narrow handles and also make weeding out roots a lot easier, allow easy wrist movement and reduce hand fatigue while working
Size details: the garden weed tool is approx. 11.8 inches in length, light in weight, offer you comfortable grip feeling; The bright color is always easy to spot, avoid to losing the weeder tool easily; And the hang hole is convenient to storage after using.
Last update on 2022-05-19 / Affiliate links / Images from Amazon Product Advertising API
Weeds are a common occurrence in gardens. And, if you want to tackle weeds while staying away from harmful chemicals, then you must get yourself a weeder. This is a small hand tool that has a forked end. This end is ideal for digging up weeds one by one and removing them by the root.
The reason why a weeder is on our essential gardening tools list is because it will allow you to get rid of weeds for good. However, keep in mind that getting used to this tool might take some time and that removing weeds one at a time is a time-consuming process. But, look at it from the bright side – you'll get to spend plenty of time outdoors.
2. Garden Scissors
Fiskars Floral Scissors S28, Length: 19 cm, Stainless Steel...
Florist scissors for cutting flowers and shoots in the garden, For cutting back small plants and herbs and for cutting thin sheet metal, plastic, tubes and paper, Suitable for right- and left-handed users
Break and impact resistant handles made of synthetic material
Toothed, lower blade for clean and precise cuts and better control, Effortless cutting through different thicknesses thanks to individually adjustable blades, Long lasting cutting performance through special grinding
High longevity, Stainless steel blade, Easy sharpening of the cutting blade, Diamond file available separately in the maintenance kit (item no.: 1001640), Finnish design
Last update on 2022-05-19 / Affiliate links / Images from Amazon Product Advertising API
Garden scissors are on our essential gardening tools list because many gardeners tend to overlook this tool. But, having the scissors is very useful since they are a highly versatile piece of equipment that can be used to do a lot of simple chores.
For example, you can use garden scissors for delicate pruning jobs, opening seed packets, and maybe even digging out weeds if you don't have any other tools available. A lot of gardening tools are versatile, and you don't need to get absolutely every single item from our list. With a little creativity, you can accomplish anything in the garden with just a few tools.
3. Soil Knife
No products found.
A soil knife will be on every essential gardening tools list, but, surprisingly enough, it is not the tool a gardener has in their toolbox. Sometimes called Hori-Hori, a soil knife is of Japanese origin. It is everything you need for all kinds of jobs that involve digging and cutting. The serrated blade is very sharp on both ends, so it is recommended to keep this tool out of reach of children.
If this is the first time you've heard of a soil knife, then you're lucky you came across our list! Now, make sure to order one as it will transform your gardening experience.
4. Pruning Shears
Sale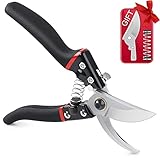 LeaderPro Pruning Shears and Secateurs, Aluminium Garden Hand...
❀Frosted treatment grips, non slip, corrosion resistance, ergonomic design, can be operated with one hand
❀0.9 inch/25mm cutting capacity, never crush branches, equip with SK5 steel blade, HRC56-58 hardness, durable and efficient. Spring opens smoothly for each cut, minimize the strain on your wrist
❀Safety lock mechanism, which fixed the adjustment position so that it will not loosen or bounce. then, manually lock when not in use to protect the blade.The integrated fixed spring plug will not automatically bounce or fall off, the high elastic spring will not deform or break.
❀Attention:The blade has increased chrome to anti-rust, The pruning shears you received are clean and oil-free, but the resin in the branches is corrosive, please wipe it with a damp cloth after daily use.
Last update on 2022-05-19 / Affiliate links / Images from Amazon Product Advertising API
All those who have trees in their gardens enjoy the shade or the fruits the trees make. But, in spring, every tree turns into an unholy mess to behold. After the winter, the branches usually tend to sprout all over the place. That is where pruning shears step in to save you from all the mess.
Just make sure that the shears are sharp enough, especially if you plan to use them on small trees. Pruning with a dull pair of shears turns into a frustrating task in no time.
5. Water Hose or Sprinkler System
Sale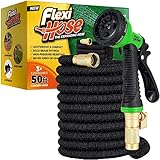 Flexi Hose Upgraded Extendable Garden Hose Pipe - 8 Function...
MOST ADVANCED GARDEN HOSE ON THE MARKET! Made from the highest-quality materials & latest design, The Flexi Hose is the most functional, lightweight & flexible hose that money can buy! The length is long enough to make it easy and convenient for maneuvering around the garden, even when full of water!
NO KINKS OR TANGLES EVER – The Flexi Hose highest-quality material and latest design never tangles, twists, or kinks. Never worry about untangling your hose ever again.
NO MORE LEAKS! - Say goodbye to your frustrating old leaking hose! Flexi Hose's solid 3/4" brass connectors & double latex pipe ensures leaks are a thing of the past! Complete with a sturdy on/off valve, the super-strong Flexi Hose can withstand up to 12 BARS of water pressure, up to temperatures of 45 celsius!
SUPER EASY TO USE & SPACESAVING DESIGN - Usage and storage is a breeze thanks to the incredible expanding design. Super lightweight, the Incredible Flexi Hose expands 3x and returns to its original length in minutes for simple storage! Suitable for 3/4" faucet, connector required for 1/2".
Last update on 2022-05-19 / Affiliate links / Images from Amazon Product Advertising API
Once you're finally done laying out your garden, you can stand back and admire all the work you've done. But that doesn't mean you're free for the rest of the year. A garden requires regular maintenance to stay looking fresh and nice.
Besides sunshine, there is just one more thing flowers and plants need – regular watering. That is why you should get a quality hose or maybe even a sprinkler system that will do all the work for you.
6. Curved Blade Shovel and Flat Shovel
Sale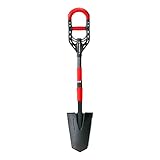 Roamwild Multi-Digger Garden Spade – Reinforced Fibreglass...
[AIR LIGHT POWERFUL NEXT LEVEL HYBRID DIGGING INNOVATION] - Everything you need in one lightweight strong reinforced fiberglass spade shovel design – A digging spade, root cutter and unique ergonomic AIR light handle design. The design allows the user to translate power directly into the ground where it matters, significantly reducing digging efforts. ONLY WEIGHS 2KG - 4.25LBS
[DUAL GRIP HANDLE TECHNOLOGY] – Easy Dig / Easy Shovel - Gives ultimate power and control with easy use. Incorporating 2 sets of grips in the handle, the exceptionally innovative AIR light design and lightweight Fiberglass shaft allows for powerful digging and maximum close up cute control. Extra-large grip for easy comfortable use.
[UNIQUE ARROW SPADE HEAD DESIGN WITH ROOT CUTTING EDGE] – arrow head shaped head with large surface area foot plates and root cutting edge allows you to dig through sod and roots like they're not there Great for rocky, compacted soils and clay. Excellent for transplanting and dividing highly rooted perennials.
[ERGONOMIC LARGE GRIP ARRANGEMENT] - Gives more control and flexibility to different types and styles of digging / shovelling work. Powerful lightweight Fibreglass shaft combined with AIR light ergonomic handle design and durable coated blade offers the ultimate strong but ultra-lightweight comfortable digging experience.
Last update on 2022-05-19 / Affiliate links / Images from Amazon Product Advertising API
There are different types of shovels, and each has its purpose. We believe that curved blade shovel and flat shovel are on every essential gardening tools list.
A full-length curved blade shovel is used for heavy-duty digging jobs such as planting trees and large shrubs. These are also useful when you need to work over a lot of soil in a short period of time. However, this shovel has its limitations.
For example, a round shovel is not a great choice when you need to do edging work. If you're trying to move a section of grass to make a new garden plot, a curved shovel will only get you so far. Once you dig out your plot, you will have to trim the edges. A full-length flat shovel does an excellent job here.
With a flat shovel, you can finish plotting out the perfect garden section and make your yard look exactly how you'd imagined it.
7. Leaf Rakes and Garden Rakes
TABOR TOOLS J16E Telescopic Metal Rake, 160 cm long, Adjustable...
QUICK LAWN SWEEP: This tool is built with a 68 cm wide rake head, which will allow you to quickly clean leaves and small debris off your lawn. It's the versatility of this rake that makes it such a find. PLEASE NOTE: This tool is not meant for cement raking or heavy duty debris.
REACHES THE SMALLER PLACES AS WELL: The rake's teeth extend from 20 cm to 68 cm wide and locks in any position in between. This rake is designed in such a way, that it can be put to work in narrow areas which are difficult to reach for conventional rakes, like under hedges or in between flower beds. When the fan head of the rake is set to a smaller position, it allows you to rake in between perennials without damaging your plants.
LIGHTWEIGHT TELESCOPIC HANDLE. The handle can be locked with a quick turn of the hand. The overall length of the rake is 81 cm in collapsed or 160 cm in extended position and can be locked in any position in between those extremes. It features a comfortable rubberized handle grip. Built to last for years with strong and high-grade steel structure that's guaranteed to withstand damage from prolonged exposure to sunlight and other environmental elements.
EASY STORAGE: The rake can be stored in minimum space, so there's no need to struggle trying to fit a longer handle into a small storage space. The adjustable fan folds to a tight profile so that it is less apt to be damaged while being stored between raking jobs. The rake is low maintenance: the teeth are made of galvanized steel wires to prevent rust.
Last update on 2022-05-19 / Affiliate links / Images from Amazon Product Advertising API
If you have trees in your garden, then you probably don't like seeing all the leaves on the ground when fall comes. Leaf rakes will help you get rid of leaves as well as any other debris that builds up over the winter months. This tool features bristles made from a soft, flexible metal or plastic material that allows you to lightly rake the whole surface of all the debris, but still leaves the soil in place.
However, leaf rakes will not do a great job if you try to use them as a finishing tool on your soil. For that, you need something sturdier, such as a garden rake. This tool is made for cultivation precisely and features a solid flat blade set at an angle at the end of a long pole with several solid "tines" sticking out from the edge of the blade. It will be much easier to break down the surface of the soil with this tool and give it that neat, raked-over, and well-cared-for look.
8. Leaf Blower
No products found.
Even though rakes are an excellent tool for collecting leaves, doing this task manually will take some time and effort. To get rid of leaves quickly, just grab a leaf blower. Many people believe that this tool is the best invention since sliced bread, so we decided that it must have its spot on our essential gardening tools list.
9. Weed Trimmer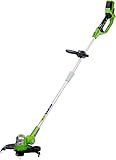 Greenworks Cordless String Trimmer Deluxe 24V 30cm without...
comfortable Ergonomic Design, split shaft for easy transportation and storage with a simple bump action auto-feed nylon head. Forward handle moves along the shaft for user comfort.
With a cutting Radius of 40cm and weighing a mere 2.9kg w/o battery it is easily operated by all users. Uses 1.6mm line in the Bump feed head.
Run time on the G24B2 2ah Battery: 25mins (Battery not Included)
Approved by the EPA and Energy Star Approved. Requires 35% less energy. Zero emissions, Zero Carbon Foot print. 70 % less vibration. No petrol, No fumes. Trigger Start. No service costs.
Last update on 2022-05-19 / Affiliate links / Images from Amazon Product Advertising API
So, you can try using a weeding tool to clear all the weeds from your garden. But, this task will undoubtedly consume a lot of your time. Much easier method would be getting a quality weed trimmer or a strimmer as it is sometimes called.
This tool is great for larger tasks, but it is also an excellent choice if you're pressed for time.
10. Lawn Mower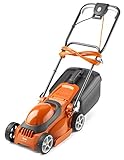 Flymo EasiStore 300R Electric Rotary Lawn Mower - 30 cm Cutting...
Utilises a powerful 1200W motor so you can tackle your lawn with ease
A 30cm cutting width and 20-60mm cutting height ensures a neat and tidy finish to your lawn
Equipped with a large 30 litre grass box meaning less time spent emptying grass clippings
It's 10m cable gives you the freedom and flexibility to move around your garden area without the need to worry about reach
Last update on 2022-05-19 / Affiliate links / Images from Amazon Product Advertising API
And, the item that ends our essential gardening tools list is a lawn mower. Even though it seems like an obvious tool to have, many homeowners forget about it, and they end up with a messy lawn. There are different types of mowers, such as manual push mowers, gas mowers, and electric mowers. Each type comes with different benefits as well as different price tags.
The size of your garden can help you decide what type of lawn mower you need. For example, gas lawn mowers are excellent for large gardens. And, an electric lawn mower will do wonders for all those who have a small patch to look after. Push mowers also do their job well, but only if your garden is flat.
---
Similar posts:
---
Other Garden Tools You May Need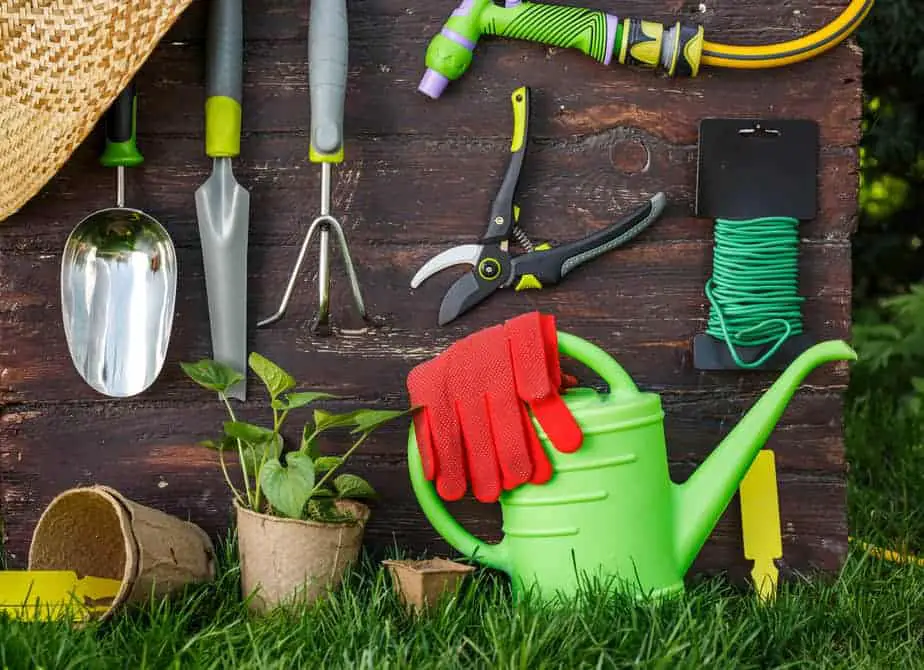 Image Courtesy of Pinch of Seeds
Our essential gardening tools list features all the tools that will make gardening an easy and enjoyable experience. But, besides these tools, there are also a few optional ones that can make a big difference.
Gardening gloves. Getting dirt on your hands makes you feel proud of all the work you do. But, even though you don't mind getting your hands dirty, it is still recommended to get gardening gloves. Digging for a few hours is quite likely to result in some unwanted blisters and perhaps even cuts.
Whenever you dig out new gardens or decide to take care of a weed infestation, you will end up with lots of waste material. A wheelbarrow will save you a lot of time and help you get rid of all that debris.
Garden hoe. This tool will make planting seeds easier than ever before. They allow you to quickly dig a shallow trench in the soil that's ideal for planting seeds just below the surface. If you're planning on having a vegetable garden, a good garden hoe is a must-have.
Pruning saw. You can use pruning shears on plants and small tree branches. But, if you need to cut off large, thick branches, then you need something more powerful. A pruning saw is perfect for this because it is designed to cut on the pull stroke, which gives you greater control when sawing branches.
Garden stool. Even though it may not be considered technically as a tool, a small stool can make your gardening tasks easier. If you tend to spend several hours every week working on your garden, you'll be glad you invested in a garden stool. It will undoubtedly save you from joint and knee pain.
Knee pads. If you don't see yourself sitting on a stool while gardening, then you can at least invest in a pair of quality knee pads. You may feel fine now, but kneeling down to dig in a garden will take its toll on your knees over time. So, it's better to start preventing knee pain on time.
How to Take Care of Your Gardening Tools
As promised, we end our essential gardening tools list with some maintenance tips. Taking care of your gardening tools is not complicated, nor does it require much time. There are just five simple things you need to do to keep your tools in a top-notch shape.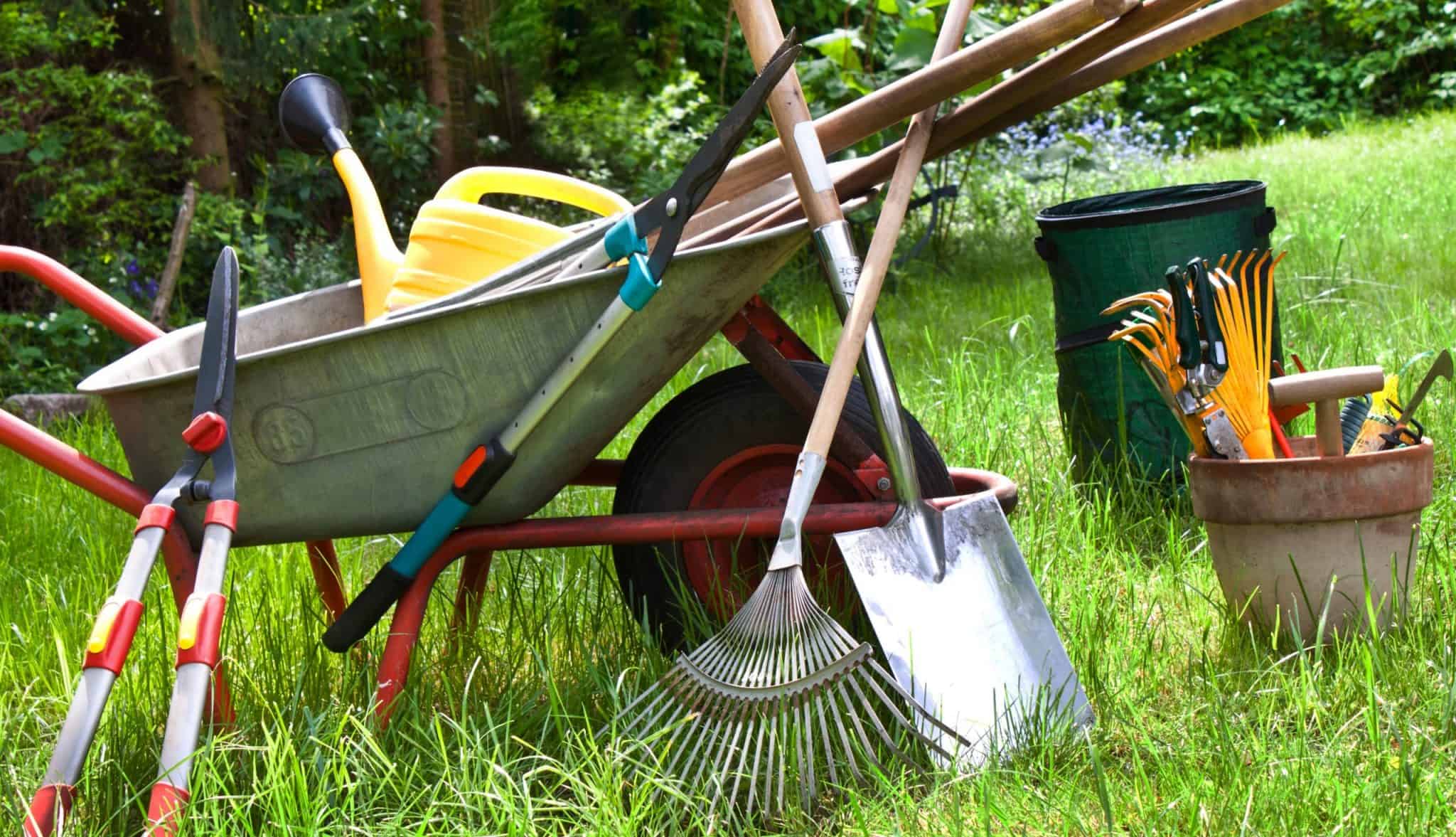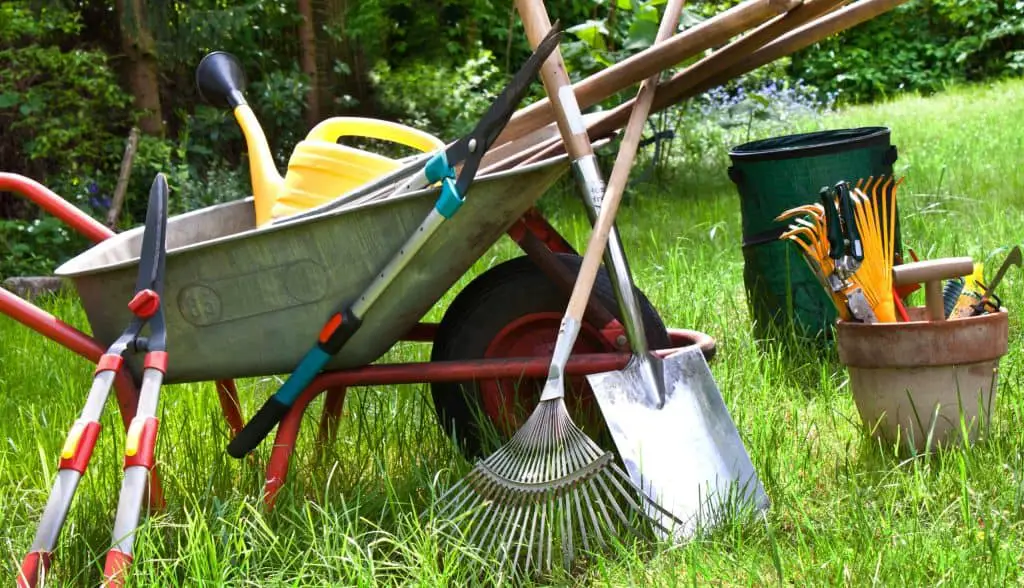 Image Courtesy of Garden Simply
1. Gather Your Tools and Supplies in One Place
The first step for garden tools maintenance is gathering everything in one place. Take a look at your tools and carefully inspect them. If any are too far gone, make sure to put them on the replacement list. Then, grab the following supplies:
A metal file (a single cut file will do the trick);
A wire brush (take one with a handle and a small to medium head so you can get in the crevices);
A multi-purpose oil (this oil will get anything made of metal look and work great again);
Rags (cotton and terry absorb the best);
Soapy water (for cleaning the dirt off your tools);
Nail brush (this is optional, but it does a great job of cleaning small tools such as pruners).
2. Start Cleaning
It is recommended to clean your tools every now and then. But, sometimes we just forget to do this. So, before doing anything, make sure to give your tools a good cleaning.
Use soapy water and wire brush to clean small hand tools;
Large digging tools can be cleaned with a use a strong spray of water from a hose. Scrape off excess with the wire brush, if needed.
Use the rags to dry your tools thoroughly.
Moisture makes all your tools rust, so make sure to remove any excess water from your tools after every cleaning.
3. Sharpen Your Tools
Sharpening your tools is easy. Here is what you need to do:
Use a metal file on the edges of your tools to sharpen them. Remember to file the blade at a 20-degree angle.
You can also use a whetstone or a motorized sharpener. This depends on the tool that needs sharpening and on the equipment that you have.
4. Protect Your Tools
This is where the multi-purpose oil comes in. Apply a small amount of oil with a clean cloth rub along the edges. This will seal and protect all your garden tools from moisture and rust.
For large digging tools, grab a rag, and apply the oil across the entire metal surface. So, if you have a digging fork, apply the oil all over the tines. And, when it comes to shovels, rub the oil in the front and back of the scooping part of the shovel. Not only will this keep your tools protected, but it will also keep dirt and roots from sticking to your shovel as you work, making your job easier.
5. Store the Tools Properly
It is recommended to keep all your gardening tools indoors and hang them up if possible. You can keep your small hand-held tools inside a pot that is filled with sand and oil mixture. This will help clean and condition the metal between uses.
Additional Tips for Maintaining Pruners
Every experienced gardener knows that pruners are the workhorse of the garden. Between winter clean up and harvesting, the pruners are the ones that get the most work done out of all gardening tools, during the entire gardening season. That is why people tend to invest more money into quality pruners.
To make sure you get your money's worth, here are some tips that will help you take care of your pruners:
Keep a nail brush or a scrubby near an outdoor hose so you could wash the pruners after each use. Make sure to always dry the pruners after cleaning them. If you don't have proper storage for this tool, you can use your mailbox.
Replenish the lubrication on the pivot point a few times a year – at the beginning of the season, once or twice in the middle, and then at the end before storing for winter. Just a few drops of the multi-purpose oil will do the trick.
Found a pair of pruners that look as if they can no longer be used? Well, don't give up on them just yet! Even if your pruners are rusted, or they can't open and close properly, they can still be saved. Just give them a good wash, sharpen them, and coat them with some oil. It's quite likely that this will bring your pruners back to life.
And, this would be the end of our essential gardening tools list. In this article, we listed the tools every gardener needs, as well as some tips on how to maintain all your tools properly. Do you have all the tools from our list? If not, which ones do you plan on buying after reading this article? Share your thoughts in the comments!