Food processors are versatile appliances that can help out with a great deal of tasks. Having a food processor is like hiring your own personal chef who will save you from tons of tedious food prep. From chopping onions to mincing mead and grinding parmesan cheese, a food processor takes seconds to complete various food prep tasks that would take you much longer. And, the best food processor models can even knead dough for you.
Some food processors can chop vegetables; some can blend ingredients into soups, pastes, and sauces; and others can mix things like batter and cream. The majority of food processors can perform the same tasks. But, what makes the best food processor models stand out is how quickly they perform these tasks and how much food they leave unprocessed.
We put together a list of the best food processors currently available on the market. We'll review each one in detail and provide you with a buying guide, so you could find the model that will fit in your kitchen perfectly. Keep reading to find the best food processor for your needs!
Best Food Processors on the Market in 2021
Our Top 5 Best Food Processor Models Reviewed
Should I Buy a Food Processor?
If you love cooking and you're looking to speed up food prep, then a food processor is the right choice for you. This appliance will slice, dice, chop, and blitz ingredients in a matter of seconds, faster than any human could do it.
Another great advantage of owning a food processor is that it is a multi-tasker. These appliances often come with plenty of attachments and accessories, so they can perform a variety of tasks. Almost all food processors use a rotating gear to turn their attachments, which will typically include discs for slicing or grating, and blade arrays for chopping or mixing.
Some food processors even feature additional blender-like functions, such as dough-mixing or smoothie-making. Speaking of blenders…
What's the Difference Between a Food Processor and a Blender?
The most basic difference is that blenders turn your ingredients into liquids while food processors keep them in a solid state. The reason behind this is that the blades on a blender aren't as sharp as they are on a food processor.
For example, if you put a carrot into a blender, it would become juice. However, putting whereas a food processor would dice it into cubes, retaining its texture and weight.
Image Courtesy of The New York Times
Food Processor vs. Blender: Which One Should You Get?
We already pointed out the greatest difference between a blender and a food processor. Food processors chop and slice while blenders liquify ingredients.
There is some overlap in what these appliances can do, but it is important to keep in mind that they aren't interchangeable.
If you need a tool for chopping and mincing ingredients quickly and evenly, then a food processor is the right one for you. Full-size models also come with blades for slicing and grating, which is something a blender can't do.
A food processor can also help you puree dips and sauces, but they will have a coarser texture. If you want to make silky smoothies or puree liquids, then you'll need to get a blender. If you're interested in getting a blender, check out our list of top blenders in 2021.
Our Review of the Five Best Food Processors on the Market
1. Cuisinart Style Collection Easy Prep Pro
Cuisinart Style Collection Easy Prep Pro food processor will give you all the performance of a full-size processor but in a compact and user-friendly size. Easy Prep Pro food processor is easy to store, and its beautiful design will be an excellent addition to your worktop.
With Easy Prep Pro, you don't have to worry about cluttering your work and storage space. It comes with just the right amount of accessories that will satisfy all your needs. You will get two blades for mixing, chopping, and pureeing in the small and large bowels and slicing and grating discs to use with the large bowls.
Key features:
9L capacity
Small and large bowls and blades
Multifunction – chopping, mixing, pureeing, slicing, and grating
Low, high, and pulse functions
Dishwasher safe bowls & blades
Five-year motor guarantee
The small bowl (0.7 liters) is best to use for foods like dips and salad dressings, nut butter dough, pastry, and cake batters. It is also great for pureeing baby foods and compotes. A larger bowl (1.9 liters) is excellent when you want to slice or grate food.
You will easily slice and grate ingredients, for example, a salad or coleslaw, and even pizza toppings. Best of all, the discs are reversible for 4mm slices or medium grating and 2mm slices or fine grating.
Easy Prep Pro is one of the safest devices out there because of the integrated smart blade-lock technology that keeps the blade in place when you pour ingredients into a food processor. It's convenient and easy to clean – bowls, lid, blades, and discs are all dishwasher safe.
What we like:
Added control and safety (blade-lock technology)
Small and convenient – doesn't take up much space
Easy to clean – parts are dishwasher safe
What we don't like:
---
2. Kenwood MultiPro Sense Food Processor
The first two things you will notice about Kenwood's MultiPro Sense food processor are that it has a vast range of different attachments and accessories and that the base is bulky and heavy.
Bulkiness and weight are not convenient for storage or lifting in and out of the cupboard, but they ensure that the food processor always stays secured on the countertop. Eight speeds plus pulse adapt the power for different attachments to always produce perfect mixing, slicing, dicing, and folding.
Key features:
5-liter bowl and 1.6-liter thermo-resist glass blender
Four different types of attachments – knife blade, dough tool, whisk tool, and fold tool
Extra fine grating and julienne discs
Built-in weighing scale
Five-year motor guarantee
The main bowl is enormous (3.5 liter), and it can efficiently process large quantities of food, which is excellent if you are preparing lots of food for big family gatherings (Thanksgiving, Christmas).
On the other side, the mini bowl is optimal for preparing smaller quantities of food and sits within the main bowl. Mini bowl is wholly isolated from the main bowl so that the food won't spill everywhere, and you will have an easier time cleaning it.
Built-in scales with LCD display are a real lifesaver. They will save you from the hassle of weighing the ingredients multiple times and having to wash all the extra dishes that get dirty in the process.
What we like:
Suitable for both large and small family servings and events
Auto-variable speed control
ThermoResist glass blender
Shatterproof Tritan bowls
Built-in scales
What we don't like:
Bulky – takes up a lot of storage space
---
3. VonShef 750W Food Processor
VonShef 750W Food Processor is one of the best-value food processors that we have tested for our review. It offers an extensive range of functions at a fraction of similar food processors' prices on the market.
It is equipped with eight different attachments, which will satisfy all your needs when it comes to processing food. You can mix doughs and batters, slice and chop salads, make great dips and sides (like homemade mayo) without hassle, and much more.
Key features:
Wide variety of attachments – dough blade, chopping blade, fine grater, coarse grater, slicing blade, emulsifying disc, juicer, and blending blade
8L blending jar and a 2L mixing bowl with extra-wide chute
Two-speed settings with pulse function for intermittent bursts
Two-year warranty
Basically, it does everything that more expensive food processors do, but a tad bit slower because VonShef is powered by a 750W motor. Although the accessories can take up a lot of space, the food processor, by itself, is smaller in size so that it can live on the shelf without problems.
What we like:
Great value – offers a lot of options for a fraction of the price
Extra-wide chute fits even larger chunks of food with ease
You can process a large quantity of ingredients at once
Removable parts are dishwasher safe
Two-speed settings allows for achieving perfect consistency every time
What we don't like:
It lacks a bit of power, and it takes a lot of storage space
---
4. Magimix 18591 5200XL Food Processor
If we had to describe Magimix 18591 5200XL food processor in three words, those three words would be "speed, ease, consistency." The powerful 1100W will go through even the most demanding batches of food with incredible speed and ease. But in order to always achieve perfect consistency, the motor automatically adjusts its power depending on what type of food is in the processing bowl.
Key features:
Multi-functional – perfect for slicing, grating, chopping, kneading, whisking, and blending
Powerful 1100W motor
Large capacity; 3.6-liter bowl
Quiet Mark accredited
30-year motor and 3-year parts guarantee
The big plus for this food processor is its large capacity. With a stunning 3.6- liter bowl, it offers the largest capacity in the food processor range. But don't worry if you don't require a 3.6-liter bowl every day because it comes with two more processing bowls, a medium-sized (2.6-liter) bowl and a mini-sized (1.2-liter) bowl.
It is also equipped with a dozen different accessories and blades – stainless steel knife blade, egg whisk, dough blade, two slicing discs (2mm & 4mm), two grating discs (2mm & 4mm), BlenderMix ring, citrus press, and spatula. On top of that, you will also get a super convenient accessory storage box and a beautiful recipe book with a lot of new cooking ideas.
What we like:
Motor automatically adjusts its power depending on what's in the bowl
Large capacity is excellent for preparing lots of food at once
Three different sized bowls
Lots of useful accessories
Pretty quiet when it's turned on
What we don't like:
You can't manually adjust the power/speed of blades
---
5. Tefal DO824H40 DoubleForce Pro Multifunction Food Processor
Tefal DO824H40 DoubleForce Pro Multifunction is a straightforward food processor that combines usability with many new, innovative features. Attachments and accessories are intuitive and easy to change.
Even though they have over 30 functions, there is a neat diagram on the front side of the processor, and with a simple turn of the knob, you can choose the option that will suit you the best.
Key features:
Two motor outputs for optimal performance as a processor and as a blender
Six easy-to-use programs that auto-adjust speed and spinning force
Sturdy, 1000W machine with 3L chopping bowl and 2L blender jug
Nine dishwasher-safe attachments
In-bowl disc storage and Easy-Lock lid
Integrated cord
The DoubleForce Pro is on the bulkier side, and it can really be hard to store it properly. It comes equipped with a mixing bowl (3-liter), blender jug (2-liter), chopping blade, kneader, mini chopper (which is excellent for mincing garlic, for example), three reversible slicing-grating-shredding discs, whisk/beater, citrus press, and a spatula.
This processor operates very quietly, no matter which setting or attachment you use. It has a huge capacity, and it will efficiently process even the most demanding batches of food (that's great if you have a big family or you often host parties and get-togethers).
What we like:
High-quality and sturdy components
Super-versatile – attachments have over 30 functions
Quick, effective, and consistent in processing food
Mini-chopper attachment
Extra-wide chute
What we don't like:
It has a large footprint (not so convenient for storing properly)
---
Related Posts:
---
What to Look for When Choosing the Best Food Processor for Your Home?
Keep reading to find out what are the features you should pay attention to when choosing the best food processor for your needs.
Versatility
If you're going to invest in a food processor, then you better make sure that it can handle all prepping tasks. The best food processor models can take on whole or large pieces of fresh fruits, vegetables, and herbs.
Also, the food processor you choose should be able to take on different tasks such as grinding cheese, pureeing sauces, or even kneading dough. When shopping, look for a model that has attachments for slicing ingredients such as tomatoes or cheese.
Attachments
Speaking of attachments, all food processors come with a slicing disk, a shredding disk, a chopping blade, and a work bowl. These accessories are just what you need for making the majority of regular, everyday meals.
Other add-ons to watch out for include alternative slicing discs, a dough blade, thick and thin grating sizes, spiralizer discs or dicing blades. However, these usually have to be purchased additionally. Make sure that all accessories are dishwasher safe for easier cleaning and maintenance.
Capacity
Food processors come in different sizes, which depend on the capacity of the work bowl. The capacity of your food processor depends on how many people you plan to cook for.
2- or 4-cup capacity models are for small tasks like chopping herbs, making hummus, or pureeing baby food. An 8-cup model is perfect for beginners and for households of two. 12- to 14-cup models are recommended for households of four or more people. These models are also large enough to handle bread dough and they tend to come with an assortment of attachments and a second, smaller work bowl.
Programmes
This is not a common feature, but some food processors come with set programmes that distinguish between prepping tasks. This feature adds extra convenience; instead of standing over the processor and carefully pulsing, just choose whether you want to puree, knead, or pulse the ingredients and continue working on your other tasks in the kitchen.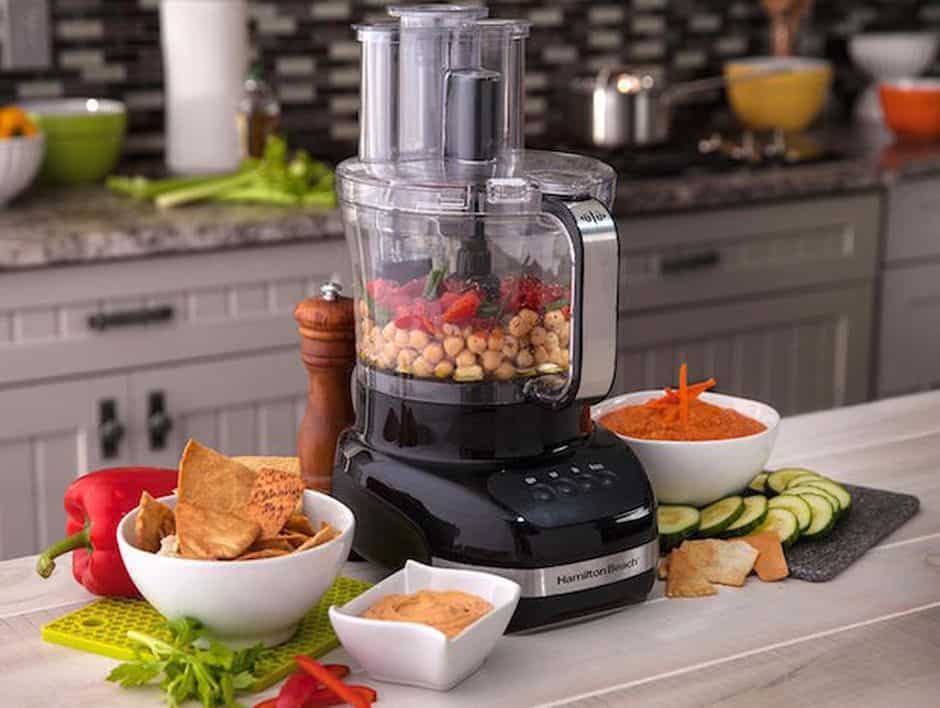 Image Courtesy of CNet
Pulse Setting
We just mentioned the pulse setting. This function is excellent for controlled chopping. If you use the full-speed power option, you can accidentally puree ingredients you intended to chop.
However, when you choose the pulse setting, you can incrementally chop food and control the blade. Pulsing is also great for getting an even chop. The stop-and-go motion allows unprocessed items from the top to fall onto the blade to be processed. Otherwise, items close to the blade just continue to be processed making the ingredients on the bottom finer than those on the top.
Settings & Speeds
An average food processor comes with one speed. You should avoid such models as they are very limiting when it comes to having control over your meals. But the best food processor models come with multiple speed settings – low, medium, high.
When choosing the best food processor for your kitchen, you can't go wrong with a model that has at least two speeds and a powerful motor. The most common configuration is a low, high, and pulse option.
Weight & Stability
A heavier food processor base helps when it comes to performance, but the weight doesn't necessarily mean more power. Lighter materials make some food processor models more affordable and easier to move around or store.
In addition to weight, it is important that your food processor is stable on a countertop because of the speed their blades spin at. Accessories such as suction cups may seem cheap to you, but they do a great job at keeping the base from moving around on the countertop.
Materials
Speaking of materials, you should consider what is your food processor made of. If you plan to use it regularly, and you are not the most careful chef in the kitchen, then a sturdy stainless-steel processor is a better choice for you instead of the plastic one, which can be less expensive but easier to break.
Food processor bowls are usually made from a hard plastic that is easy to clean and dishwasher. The best choice is getting a bowl that is tough enough to handle being knocked around without cracking.
Food Processor Care and Maintenance
Food processor blades are not designed to be sharpened. The best food processor models come with blades that should last you for years. But, if you use the blade more frequently than an average consumer, then it could become dull. In case that happens to you, we recommend getting replacement blades.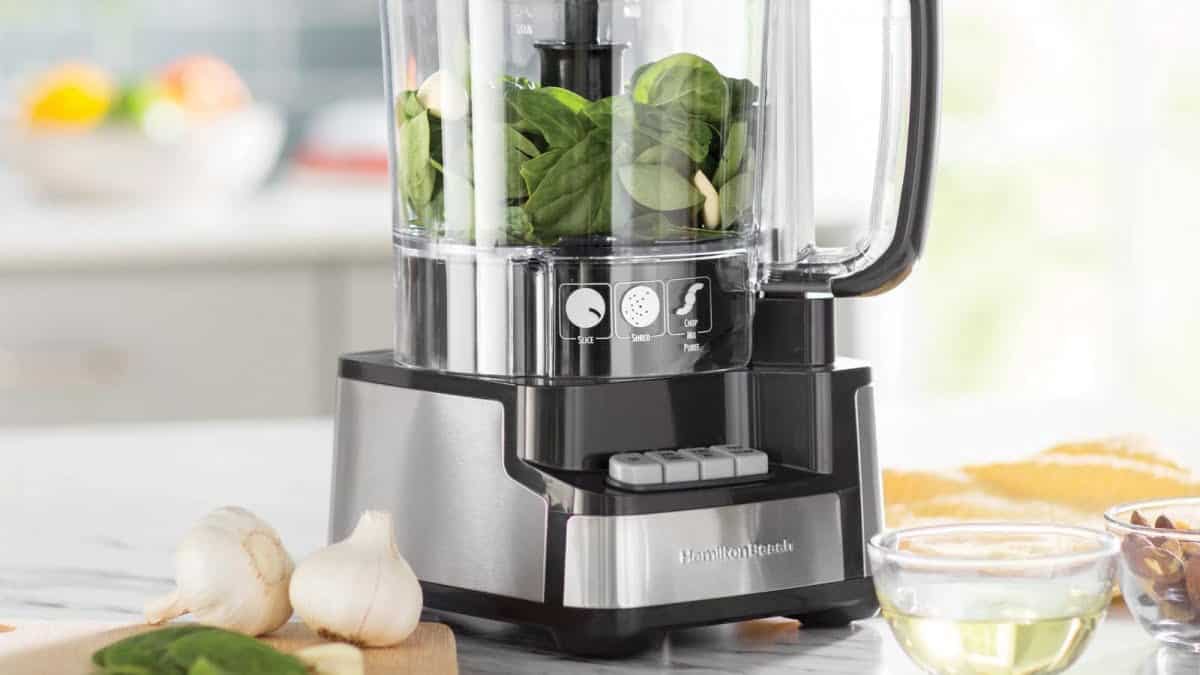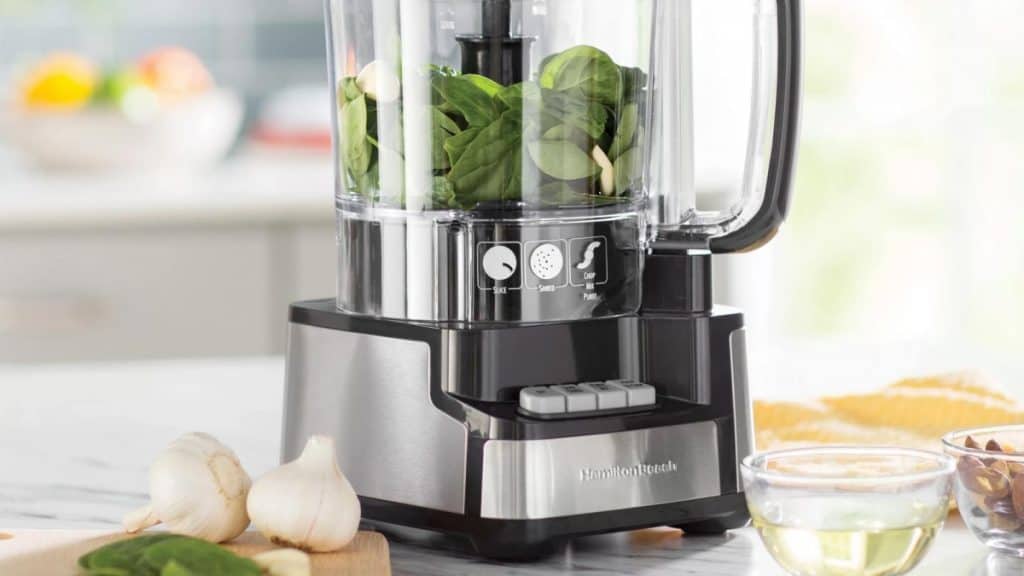 Image Courtesy of Review Geek
When it comes to cleaning your food processor, all you need to do is put some water and a few drops of dish soap into the bowl and start the machine. If you have a bottle brush, you can use it to clean around the feed tube, inside the food pressers, and along the sharp blades. Remember that you should never submerge the base of a food processor in water. If you want to clean it, just wipe it down with a damp cloth or sponge.