Air fryers are incredible kitchen appliances. They're handy for making things like crisps and other frozen foods. You'll be surprised to find out just how many things you can cook in such a small machine!

Despite the unique addition that they bring to any home, many people have either never heard of one or haven't bothered to try them. So, let's explore one of the best new things to add to bring to your mealtimes!
In a hurry? Take a look at the best air fryers on the market!

Budget Choice

Our Pick



Philips Airfryer with Rapid Air Technology For Healthy Cooking,...
Tower T17025 Vortx Compact Air Fryer with Rapid Air Circulation,...
COSORI Air Fryer Oven with Rapid Air Circulation, 100 Recipes...
Air Fryer, Bagotte 4.5L Chip Fryers, Air Fryers Oven 1500W with...
NETTA 4.2L Digital Air Fryer with 60 Minutes Timer, 1300W - Touch...

Philips Airfryer with Rapid Air Technology For Healthy Cooking,...
Budget Choice

Tower T17025 Vortx Compact Air Fryer with Rapid Air Circulation,...
Our Pick

COSORI Air Fryer Oven with Rapid Air Circulation, 100 Recipes...

Air Fryer, Bagotte 4.5L Chip Fryers, Air Fryers Oven 1500W with...

NETTA 4.2L Digital Air Fryer with 60 Minutes Timer, 1300W - Touch...
We've gathered up our favourite picks for the best air fryers around. We've also got some questions answered for you at the end so that you can feel more confident in your purchase.
---
1. Philips HD9220/20 Air Fryer with Rapid Air Technology
Philips has always been a well-known and trusted brand for your home needs. Their air fryer proves once again that they're worth it.
Key Features
It comes with a recipe app.
Philips offers a 2-year warranty.
With the Philips air fryer, you can make your food with minimal or no oils. While deep-fried, greasy food might come to mind when you think of an air fryer, this product lets you keep things as healthy as you want them to be! This air fryer uses a unique rapid air technology. Its goal is to have the food crispy on the outside while keeping it tender on the inside.
An integrated timer on this product allows for pre-set cooking times that go up to 30 minutes. It goes up to 200 degrees. You won't need to worry about forgetting your food, because the sound indicator will tell you when it's done. And if you aren't sure which meal to start with, you get an international recipe booklet with this air fryer.
What We Love
Pieces are dishwasher safe, making it easy to clean.
What We Don't Love
It's not budget-friendly.
It's not big enough to cook large meals for big families.
---
2. Tower Air Fryer with Rapid Air Circulation System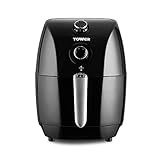 This budget-friendly option will amaze you for just how much it can do for such a small cost.
Key Features
It uses a compact design.
All compartments are detachable.
This product features the rapid air circulation technology that has become a favourite with air fryers. Using this technology mixed with low-calorie cooking spray helps you fry things in a healthier way, while also keeping your frying time down. For the newer chefs out there, this air fryer uses integrated safety features. The automatic switch-off and overheat prevention will ensure that you don't overcook anything.
You can set the temperature for this fryer anywhere between 80-200 degrees. This lets you cook anything from cake to chicken. And when you're done your frying, you won't have to stress too much about the cleanup! All of the compartments are detachable, making them easy to wash off.
What We Love
It's fast to heat up and to fry foods.
It's budget-friendly.
What We Don't Love
It's too small to cook large portions.
---
3. COSORI Air Fryer Oilless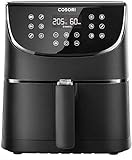 The COSORI is a pick for the best air fryers because it's user-friendly on top of its ability to make great tasting food.
Key Features
It comes with 100 air fryer recipes.
It's designed to produce maximum amounts of food.
This air fryer is as easy as it can be with a built-in touch menu. All you have to do is select one of the 11 presets for the meal you're making. Options include things like poultry, seafood, vegetables, or desserts. The fryer itself uses rapid air circulation to ensure properly cooked food without needed oil.
The design of this product uses a square basket. This allows for more usable space within the fryer and fits 3.5L of food. The basket itself is non-stick and removable, as well as dishwasher safe. So, it's also easy to clean!
What We Love
It's mess-free and easy to wash.
It holds a good amount of food.
It's easy to use.
What We Don't Love
The fan can become quite noisy while it's running.
---
4. Bagotte 4.5L Air Fryer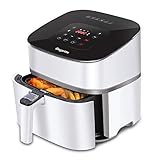 The Bagotte air fryers are big enough to feed the whole family and healthy enough that you can feel happy doing so.
Key Features
0 oil is required.
A recipe book is included.
The square basket that comes with this air fryer is 4.5L. That's larger than the rest on this list, and makes it big enough to feed the whole family! The design of the product is also compact enough that you can keep it anywhere in your kitchen while still saving space.
This product uses a removable nonstick coated fry pot and basket. It's dishwasher safe and easy to detach, making all elements easy to clean. It's also made with 100% safe and non-toxic materials. While there are safeguards in place to prevent you from overheating, Bagotte also offers a 3-year warranty.
What We Love
It's easy to clean.
It's big enough for family mealtimes.
What We Don't Love
The recipe booklet provided isn't very thorough with instructions.
---
5. NETTA 4.2L Digital Air Fryer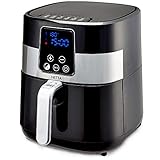 Netta's air fryers are totally modern with an all-digital design. It's so easy to use that you'll forget you're even cooking!
Key Features
It features an overheating protection system.
It's made with stainless steel making it a stylish addition to any kitchen.
The Netta air fryer is another large capacity fryer. The basket is 3L and the drawer is 4.2L. When using the food, you have the ability to adjust the temperature from 80-200C degrees. This design also doesn't require oil, so you can be confident that you're feeding your family the healthiest options out there.
A pause button is also featured in the design of this product. This allows you to pull out your food drawer mid-cook to check on everything. The built-in memory feature makes sure that your timing doesn't get affected, so your food can go right back to cooking!
What We Love
It's stylish.
It has a big basket.
What We Don't Love
---
Air Fryers Questions & Answers
Cooking and food preparation comes easy to some people. For others, not so much. If you're worried about your kitchen abilities and want to learn a thing or two about air fryers, we've got some answers for you. And for those who think they're quality level chefs, you might still learn something new about air fryers in our question and answer compilation below.
What are air fryers?
These kitchen appliances are designed to make fried food with little to no oil. They are mini-convection ovens. They heat up food by circulating hot air inside with a small fan. So, the cooking is done via the convection process.
How exactly do air fryers work?
Air fryers use a method of hot-air circulation. Once your food is inside of the fryer, hot air induces a quick flow around your food. This cooks the inside while ensuring a crunchy or crisp outside layer.
---
Related:
---
What parts are there to an air fryer.
Your air fryer has 3 essential parts. These are:
The appliance/body. This is the unit that your air fryer works within, and will often include any digital screens or temperature selection settings.
The pan. This is where you insert the basket.
The basket. This is where you put your food or ingredients. The basket typically has a handle to make it easier to use.
What foods can be cooked with an air fryer?
Air fryers are for more than just crisps. Here is a list of foods that you can make with your air fryer.
Vegetables
Frozen foods
Cakes
Muffins
Calzones
Chicken
Potatoes
Cookies
There are plenty more types of food that you can make with an air fryer, but we hope that this list has reminded you of all of your air frying opportunities!
Are air fryers a healthy way of cooking?
Air fryers get you a taste that's similar to what you'd get from deep frying. The difference is all in the oil. Deep frying uses tons of oil, which is pretty unhealthy. The air fryers are able to get to a similar level of crispiness with far less or no oil, depending on the air fryer that you're using.
If you decide to use oil in your air fryer, some of the most common include sunflower oil, olive oil, canola oil, or peanut oil.
Do air fryers take a long time to cook?
How often do you crave a certain food but don't want to wait forever for your oven to preheat? By the time the food is ready, your cravings may be gone! Air fryers don't need to preheat in the same way that regular ovens do. So, with that time eliminated, your cooking time is greatly reduced. You can be on your way to a tasty meal in minutes.
You do not need to preheat your air fryer to start making the food. Though, giving the fryer a few minutes to warm up is still a good idea. This allows the heat to be evenly spread throughout the basket.
How much food can fit inside of an air fryer?
The capacity of your air fryer depends on the brand and model that you buy. Though, most baskets can hold enough for at least 2 servings. Some baskets are built with a multi-liter capacity that's enough to feed the whole family. How many people you typically cook for is an important factor to consider when choosing your air fryer.
How are air fryers cleaned?
The parts of an air fryer that get dirty the fastest are the basket and the drawer. Most models make these parts removable and dishwasher safe for easy cleaning. Whenever you clean the basket and drawer, it's recommended that you briefly turn on your air fryer to ensure that everything is dried properly.
Food splatters and other general kitchen messes can also impact the cleanliness of the body of your air fryer. So, it's important to wipe this down regularly to avoid build-up. Make sure that your air fryer is turned off and cool before you start cleaning it. Any basic kitchen cleaner can be used for the outside of the machine.
What other accessories may be required for an air fryer?
You can usually buy an air fryer and never need anything more than what comes with it. Though, some recipes call for more accessories. Here are a few products that certain recipes may need.
A baking dish. Some recipes will need the food to be made in a baking dish. This dish can go in the air fryer basket
A flame distributor. This prevents oil splashes. Though, this will only be important if you use plenty of oil in your recipes.
A grill mat. This is used to keep the basket clean and prevent any buildup of oils or grease.
---
Air fryers are a great addition to any kitchen. Fortunately, they aren't all that common! This means that an air fryer can make a great gift to anyone who loves to introduce new foods or ways of cooking into their lives. Air fryers are also simple enough to use that you can teach your kids to use them, and help introduce them to the kitchen. So, what are you waiting for? Add an air fryer to your basket today.