A good chef knows just how important great cooking products, like induction pans, are to a yummy meal. Pans are one of the most commonly used kitchen tools, so it's worth investing in some good ones. Induction pans are some of the best that you can buy, and are an easy way to boost your flavours and make you look like a great chef!
We've compiled a list of the greatest induction pans that you can buy. Some of them are sold separately, while others are sold in a set. And for those who don't really know their way around the kitchen (yet), we've answered some common questions that you may have after reading our list. So, here are the best induction pans around!
In a hurry? Take a look at the Best Induction Pans in 2022
Table could not be displayed.
---
1. Tefal 30cm Comfort Max Induction Frying Pan
Sale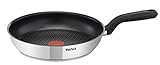 Last update on 2022-06-07 / Affiliate links / Images from Amazon Product Advertising API
If you're looking for a single pan to add to your collection, look no further! This induction frying pan will be a great addition.
Key Features
It's available in five different sizes.
It's induction compatible and dishwasher safe.
No matter what type of food you're cooking, this product will work with you. Buyers can choose between 20cm, 24cm, 26cm, 28cm, and 30cm sizing. It can also be purchased with a lid bundle for a small additional cost if you want to get all of the extras out of it.
The pan uses thermospot technology and will inform you when your pan has reached the perfect temperature to start cooking your food. It's made with power resist coating, ensuring that nothing will stick. The stainless steel is also of the best tefal premium quality.
What We Love
It's a budget-friendly choice for those who don't want to buy an entire set.
It's easy to clean.
What We Don't Love
The non-stick promise is not long-lasting.
---
2. Nuovva Copper Frying Pan
Copper Frying Pan Non-Stick Coated Stainless-Steel Induction Anti...
PREMUIM QUALITY: This stunning copper coated non-stick frying pan is made of pressed aluminium, the inside coating contains a thick layer of ceramic black coating anti scratch technology.
VARIETY OF USES: Cook, fry, bake, broil, flambé & more in this saute pan! Perfect for making quick last-minute meals healthier. The non-stick, non-toxic and PFOA free surface allows for use of less oil and fat to create a healthier meal & the stickiest of meals will slide right off and wipe right out.
STAINLESS STEEL INDUCTION: The nuovva frying pan incorporates stainless steel induction plate for even heat distribution which is suitable to be used on all types of stovetops including gas, electric or induction hob up to 400 degrees.
EASY HANDLING: Wooden look bakelite rubber coated handles stops the heat travelling up the handle preventing unwanted burns.This ergonomically designed handle has a comfortable grip ensuring a convenient cooking experience.
Last update on 2022-06-07 / Affiliate links / Images from Amazon Product Advertising API
This beautifully designed induction pan meshes a stylish copper look with a wooden handle, making it a great choice for any kitchen.
Key Features
It's anti-scratch.
It's non-stick.
This pan is available for purchase in 20cm, 24cm, or 28cm. It uses stainless steel induction and is suitable for use on any type of stovetop, whether it's gas, electric, or uses any other heating methods. The interior is also made with non-stick coating.
The wooden handle isn't just a stylish feature, but a safety one. It's riveted to the pan, and stops the heat from traveling up the handle. It also has a hanging loop, making it easy to keep in your kitchen. The product is also dishwasher safe.
What We Love
It's budget-friendly.
It's easy to clean.
It's stylish for your kitchen aesthetics.
What We Don't Love
The handle begins to feel loose after multiple uses.
---
3. GadHome Premium Nonstick Frying Pan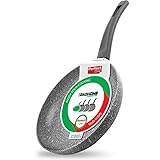 GadHome Premium 20cm Nonstick Frying Pan | Aluminum Induction Pan...
SCRATCH-RESISTANT NONSTICK COATING: Coated with 5 stick-resistant layers, our 20cm induction frying pan makes cooking enjoyably easy. Foods slide right off the nonstick surface & retain less fat for healthy cooking at home.
PREMIUM GRADE PAN IN ASSORTED SIZES: Besides our classic 20cm non stick frying pan, we offer a wider range of pan sizes. Each chef quality non stick pan supports the even frying of veggies, meats, eggs, pancakes & more.
ERGONOMIC ANTI-SCALDING PAN HANDLE: Proven to resist the absorption of heat, the handle applied to our non stick pan remains cool to the touch for safety. Easy to grab & ergonomic, the handle makes flipping flapjacks easy. Before using any type of non-stick pans for the first time we recommend to oil the internal surface of the frying pan. Do not overheat the frying pan for a long time without food and without oil.
FANCY GRAY STONE GRANITE-LIKE FINISH: With the elegant look of a natural granite stone frying pan but the durability of an aluminium pan, our Italian made induction nonstick fry pan unites modern style with traditional convenience.
Last update on 2022-06-07 / Affiliate links / Images from Amazon Product Advertising API
This induction pan uses a nice gray stone granite effect, but the uses are even more appealing than its style.
Key Features
It uses a scratch-resistant and non-stick coating.
It's available in assorted sizes, including 20cm, 24cm, and 26cm.
The handle on the GadHome pan is ergonomic and anti-scalding. So, no matter how hot your stove or food is, you'll never have to worry about hurting your hands. The pan is suitable for all stovetops. It's also dishwasher safe. Though it's designed to be easy to hand wash, so you'll never have trouble with cleaning it.
This pan is also coated with 5 stick-resistant layers. You'll never have to worry about pealing sticky foods off of your pan and ruining them again!
What We Love
The granite design is quite stylish.
The handle is sturdy.
What We Don't Love
It's less budget-friendly for a single pan than other sellers.
---
4. VonShef Aluminium Saute Pan
No products found.
This versatile pan is great for any kind of food, and its suitability with induction makes it even greater.
Key Features
It comes with a tempered glass lid.
It's non-stick.
The VonShef pan is a large pan with a 28cm diameter. Its capacity is 4.3L. So, it's a quality pan for everything including sauteing, searing, pan-frying, poaching, simmering, and caramelising. With the tempered glass lid, you're able to prevent pressure build-up inside of the pan when using it.
This product can be used on all hob types. It works to distribute heat evenly across the 3.5mm non-stick surface, ensuring a great tasting meal every time. There's also a 2-year manufacturer warranty to boost your buying confidence.
What We Love
It's budget-friendly.
It's versatile for different cooking styles.
What We Don't Love
The surface is not durable when consistently making more complicated meals.
---
5. Granite Induction Frying Pan
No products found.
If you've ever wanted to buy a gift for the best cook in your friend group, then you've stumbled on the right product. The brand is so confident in their gifting ability that the product comes with a gift box!
Key Features
It's offered in 20cm and 24cm for the frying pan. The brand also includes additional products in the same collection that you can buy at an extra price. These include a 2l saucepan, a 6.4L stockpot, a 10 piece cookware set, or a 28cm saute pan.
It comes with a lifetime warranty.
The material on this product is a press aluminum, designed to make it lighter and collect heat more thoroughly. It's bottom layer also features a magnetic energy gathering ring. This addition is to ensure that heat is conducted quickly.
This pan uses granite coating to ensure that it stays non-stick. It also has an additional non-stick coating inside of the pan to ensure wear resistance and prevent deformation. It's also oven safe and compatible with any stovetop.
What We Love
It's easy to clean.
It can be purchased alone or with similarly designed products.
What We Don't Love
It's not the most budget-friendly option on its own.
No products found.
---
6. Tefal 5 Piece Induction Set
Sale
Tefal C972S544 5 Piece, Comfort Max, Stainless Steel, Pots and...
Thermospot technology that lets you know when the pan has reached the optimum temperature to start cooking on the Frying Pans only
Power resist coating that promises a durable non-stick cooking performance on the frying pans only
Set Includes - 14cm Milk Pan, 16/18cm Saucepan with Glass Lids & 24/28cm Frying Pan
Induction compatible
Last update on 2022-06-07 / Affiliate links / Images from Amazon Product Advertising API
And finally, for the buyer who wants to fill their entire kitchen with induction friendly products, there's a Tefal set that's just right for you!
Key Features
It can be purchased as part of a 3-piece or 5-piece set.
Each product uses non-stick technology.
This set includes a milk pan, 2 saucepans with lids (one is 16cm, the other is 18cm), a 20cm frying pan and a 24cm frying pan. So, no matter what you'll need for your meal, this set should have it! All products are designed to be durable with its stainless steel materials.
Products are all dishwasher safe and can be used on any stovetop. They can also be used in the oven for up to 1 hour at a maximum of 175 degrees Celsius. Other specifications include power resistant, non-stick coating, stay-cool handles, and a thick anti-deformation induction base.
What We Love
All products are created with the same strong and induction friendly materials.
It's perfect for those who are in need of multiple kitchen products.
What We Don't Love
It's not a budget-friendly option for the buyer who only wants one pan.
---
Related:
---
Induction Pans Questions & Answers
Becoming a master of the kitchen is no easy task. While some may know their way around different kitchen items, others may not know the least. So, we've compiled some of the important questions that you may be wondering right now to ensure that you know what you're looking for.
What is an induction pan?
An induction pan is any cooking pan that works with an induction stovetop. Normal stoves (typically electric or gas) heat up and transfer that heat into whatever is on the burner (so, the pan). An induction stove is quite a bit different. Instead of just transferring up the heat, it uses a copper coil that produces a magnetic field. This will only heat up a ferromagnetic item. So, you can only use an induction pan on these stoves.
Why use induction over classic?
Induction pans, using the induction stovetops, have benefits compared to original pans. They're faster and more energy-efficient. One of the most notable differences is how the heat is dispersed. When using an induction pan, the heat only heats up the pan. Whereas an original pan and stovetop will heat up the air around the pan.
Induction is also a safer choice. Because the heat is typically only going through the bottom of the pan, there is a significantly lower chance of burning yourself.
Can you use an induction pan on any stovetop?
Induction cookware can typically be used on any stovetop. This includes electric and gas, as well as induction stoves.
Do all induction stovetops work with all induction pans?
There has yet to be a recognized standard for induction stovetops. So, if you have a specific brand of stovetop, you may need to ensure that it'll work with the pan that you're purchasing. However, most brands are widely compatible.
What are the most common stovetop items that you should have?
Basic pans are not the only important kitchen item that you'll need if you're trying to master the kitchen. Skillets, saucepans, and stockpots tend to be the most common and important kitchen items to have. Their biggest difference is the amount of food you can fit inside of them.
Skillets are the smallest piece that you'll find yourself buying. They are commonly used for things like sauces, eggs, and pancakes.
Saucepans will have a taller rim than a skillet, so it can fit more food. A stockpot is a much deeper stovetop item that is usually made for soups, sauces, and larger portions.
Should you buy an individual induction pan or an entire set?
The answer to this question entirely depends on your cooking skills and attitudes. If you're an infrequent cook or only make pretty basic meals, you'll likely only need to buy a single induction pan. If a recipe ever calls for more, then you can easily go out and purchase another product.
However, if you tend to do a lot of cooking or complex meals, a cookware set is recommended. They're more expensive up front, but you're more likely to have it pay off in the end. Having all of your pieces be from the same company and with a similar style can also be a huge bonus for many.
What size induction pan is recommended?
Again, the answer to this question is all about what you tend to make. Your cooktop size will also impact your answer. Buying a larger pan can be better so that you're able to make more food options. Just make sure that your stovetop will be large enough to handle it.
Stick versus non-stick induction pans
Non-stick induction pans tend to be more popular and easier to find. They're easier to clean and will require less oil to avoid food sticking to the pan. However, there are some benefits to stick induction pans. They give the chef more freedom of sear and browning effects. Though, if you're a beginner, it's probably best to go non-stick.
How are induction pans cleaned?
Many of the induction pans on this list are dishwasher friendly. However, sometimes it isn't as simple as just throwing your pan into the dishwasher. If it's got plenty of food or residue on the pan, it's better to hand wash it first. One of the easiest ways to get rid of burned food on a pan is to boil baking soda and water. Warm and soapy water is often enough to clean a pan without burned food.
Ensure that your cookware is completely dry before leaving it in a drawer somewhere. In fact, it's recommended to leave many induction pans out to hang in a dry place.
Hopefully by now you've started to think about all of the yummy recipes you can make once you have a brand new induction pan. If you're on the hunt to collect enough products to fill an entire kitchen, check out some of our other guides to kitchen products, such as our bread mixers and coffee machines.