Kettles are simple kitchen pieces that do plenty of important work! They help you boil water quickly for a variety of uses. Most commonly, kettles are for making tea or other hot drinks. Though, they can be used for other things, too, such as basic cooking needs and for heating hot water bottles for bodily aches and pains. Since they're such a hard-working product, we know that you deserve the best of the best. So, let's explore some of the options available to you.
In a hurry? Take a look at the Best Kettles Available 2021

Budget Choice


Our Pick

Breville Impressions Electric Kettle, 1.7 Litre, 3 KW Fast Boil,...
Russell Hobbs 20460 Kettle, Stainless Steel, 3000 W, 1.7 liters
De'Longhi Brilliante Kettle, anti-scale filter, 1.7 Liters, 360°...
Breville HotCup Hot Water Dispenser, 3 KW Fast Boil, 1.5 Litre,...

Breville Impressions Electric Kettle, 1.7 Litre, 3 KW Fast Boil,...
Budget Choice

Russell Hobbs 20460 Kettle, Stainless Steel, 3000 W, 1.7 liters

De'Longhi Brilliante Kettle, anti-scale filter, 1.7 Liters, 360°...
Our Pick

Breville HotCup Hot Water Dispenser, 3 KW Fast Boil, 1.5 Litre,...
These kettles are our top picks based on design, performance, and functionality. So, whether you're buying for yourself or a loved one, we're here to make the choice easier.
1. Breville Impressions Electric Kettle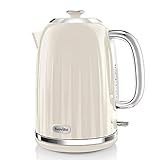 This cute little kettle comes in four colours, including black, white, cream, and red. Not only does it look great in your kitchen, but it'll also do everything that you need from a kettle.
Key Features
Can make 6-8 cups at once.
Boils quickly.
This kettle is a solid choice for anyone who needs to boil plenty of water at once. The 1.7 L capacity can make 6 to 8 cups at once. And even if you do need more, it boils fast enough with the 3 kW element that you won't need to wait around for long! This product also has a 360-degree base, so pouring is quick, safe, and easy.
Even though you aren't going to making many messes with kettles, it's still an important product to clean properly. Fortunately, this kettle has a removable and washable lime-scale filter. So, you'll be able to keep it in good shape for a long time.
What We Love
It's budget-friendly.
It has a stylish, simple design.
What We Don't Love
It's made of plastic, which some say can affect the taste of the water.
---
2. iKich Glass Electric Kettle
No products found.
For those who strictly prefer glass kettles, this iKich design is an easy decision.
Key Features
Made with glass.
Energy-efficient.
One of the most common reasons to prefer a glass kettle is because of the healthier materials being used to boil your water. This product is made with borosilicate glass and 304 stainless steel. So, you won't have to worry about your water tasting any less perfect than it should.
With this kettle, you can have a full pot in 7 minutes, or 1L in 4 minutes if you'd prefer. The product will shut off within 30 seconds of the full boil, too, so that you won't have to worry about electricity waste. It'll also last you a long time, with an estimated 5000 uses of the heating elements. So, you can rest assured that you won't need to replace it any time soon!
What We Love
The water always tastes perfect and natural.
It's easy to open the lid.
It's easy to store.
What We Don't Love
It can take time to position the kettle for boiling properly.
No products found.
---
3. Russell Hobbs Quiet Boil Kettle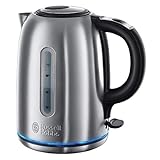 This brushed stainless steel kettle is pretty much everything you could ever need for your kettle purposes. And the best part? It'll help you stick to your budget.
Key Features
Heats up quickly.
It can boil a single cup in 45 seconds.
Kettles aren't the noisiest kitchen machine, especially in comparison to something like a blender. But considering how often we use them in the morning, their noise doesn't go unnoticed. Fortunately, this kettle uses quiet boil technology to keep it at the lowest possible volume. So, you won't have to worry about waking up anyone in your home or pushing you out of your zen morning routine.
This product uses a removable limescale filter that you can wash. So, whatever you're boiling will be sure to taste great. Another fun function of this kettle is that it uses a 360-degree base. If you're left or right-handed, you won't have any issues pouring your glass with this kettle!
What We Love
It's budget-friendly.
It makes minimal noise.
What We Don't Love
The lid can be tricky to open.
---
4. De'Longhi Brillante Kettle
Sale
You can find a kettle in almost any home, but rarely will you find one as stylish as this one.
Key Features
360-degree swivel base.
Fits 1.7L of water.
As often as we use kettles, it is easy to make a quick mistake and burn your hands or spill some water. Fortunately, the De'Longhi kettle uses some measures to protect against this. It uses an auto-shutoff when boiled, or when the machine is lifted. So, you don't have to worry about burns. It also uses a thermal cut-off system.
Since it's "just water", it's easy to forget about how important cleaning your kettle is. But with the removable and washable scale filter, you won't have to stress about long cleaning processes. It's quick, simple, and easy!
What We Love
It has a unique, stylish design.
What We Don't Love
It uses a plastic faucet, which some drinkers prefer to avoid based on the materials.
---
5. Breville HotCupt Hot Water Dispenser
Sale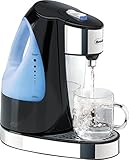 This kettle is one of the more unique designs on our list and makes boiling water a little bit easier.
Key Features
Kettle-to-cup design.
1.5 L tank.
This kettle can boil a cup of water in less than 50 seconds and can go straight to the cup. So, for those who only need one glass for their preferred drink, you won't have to wait. But for those who need to make more water for a whole family, the 1.5 L tank can get you enough water for 5-7 cups in minutes.
The Breville HotCup product uses an easy-fill water tank, so you can quickly fill your tank as fast as it'll boil. The stylish design will even glow blue when boiling, adding a fun feature to your kitchen. Plus, with the removable drip tray and permanent limescale filter, you'll never have any issues cleaning and maintaining this product.
What We Love
With the kettle-to-cup feature,  you'll never have to worry about pouring heavy and hot water.
It boils quickly.
What We Don't Love
---
Related:
---
Frequently Asked Questions About Kettles To Help You Make Your Choice
Electric kettles are able to boil water to save energy. On a commercial stove, heating one litre of water took just over eleven minutes with twice the energy consumption. Electric water heaters are available in two versions: one has a heating coil like an immersion heater, the other variant uses a heated base plate to heat the water. As a rule, water heaters with heating spirals are somewhat faster when heated, as the heating process takes place in the medium itself.
What are the Best Kettles on the Market in 2021?
People are constantly asking what are the best kettles on the market, so we have provided you with the top 10 below. Choose the best kettle that suits your coffee or tea needs.
| # | Preview | Product | Rating | Price | |
| --- | --- | --- | --- | --- | --- |
| 1 | | Russell Hobbs Textures Plastic Kettle 21271, 1.7 L, 3000 W -... | 8,610 Reviews | £20.00 | Buy on Amazon |
| 2 | | Aigostar Adam 30KHH - Glass Water Kettle with LED Lighting, 2200... | 6,898 Reviews | £23.99 | Buy on Amazon |
| 3 | | Russell Hobbs 23910 Adventure Brushed Stainless Steel Electric... | 4,921 Reviews | £21.99 | Buy on Amazon |
| 4 | | Morphy Richards 102786 Brushed Equip Stainless Steel Jug Kettle,... | 853 Reviews | £24.49 | Buy on Amazon |
| 5 | | Russell Hobbs 20460 Kettle, Stainless Steel, 3000 W, 1.7 liters | 14,182 Reviews | £32.29 | Buy on Amazon |
| 6 | | Russell Hobbs 24361 Inspire Electric Fast Boil Kettle, 3000 W,... | 17,785 Reviews | £29.10 | Buy on Amazon |
| 7 | | Russell Hobbs 21600-10 Illuminating Glass Kettle, Black, 1.7... | 7,848 Reviews | £38.99 | Buy on Amazon |
| 8 | | Russell Hobbs Mode Kettle 21400 - Black | 13,982 Reviews | £26.53 | Buy on Amazon |
| 9 | | Bosch Styline TWK8633GB Variable Temperature Cordless Kettle, 1.5... | 5,709 Reviews | £69.99 | Buy on Amazon |
| 10 | | Russell Hobbs 26051 Cordless Electric Kettle - Contemporary... | 11,817 Reviews | £24.99 | Buy on Amazon |
The case: plastic, stainless steel or glass?
Kettles are usually offered in three different materials, including heat-resistant plastic, stainless steel, and glass. Each material has its advantages and disadvantages, which we will briefly explain below.
Plastic – Cheap but potentially unhealthy. Plastic kettles are offered at relatively low prices. Such models do not dissipate the heat of the boiling water too much to the outside. Thus, the housing is not hot outside and there is no risk of burns. But in the case of plastic models, many consumers are concerned that these devices may emit a very unpleasant plastic odor and also that harmful substances may be released into the water as they boil. According to current research, plastic kettles are not harmful to health . And even the smell of plastic can usually be remedied by repeated boilings.
Stainless steel – chic and noble. Stainless steel kettles are becoming increasingly popular, as stainless steel convinces with its understated elegance. But in addition to the visual benefits, there are additional positive features. In comparison to other materials, stainless steel heats up faster and at the same time, the heat is stored longer. In this way, the water boils faster and stays hot longer. In addition, most stainless steel appliances have a limescale filter, which protects against unwanted lime residues in the kettle. As far as care is concerned, the stainless steel kettle is characterized by its easy cleaning of the kettle.
Glass – material for design lovers. Glass kettles are very interesting for design lovers because of their optical effect. But glass kettles also offer practical and functional benefits. Glass is completely tasteless and odorless and it contains no health substances that could be dissolved out when cooking the water. Although there are hardly any specimens in glass kettles that are completely plastic-free, though, in comparison to the stainless steel stove, the chance is greater. Since glass does not have any pores, there are fewer attack surfaces for germs and mold. And if dirt deposits occur, they can be quickly identified and cleaned.
What are the most important features to look for in a kettle?
Performance: The following rule of thumb applies: The larger the kettle, the stronger the performance should be. The capacity of the kettle should correspond to the capacity. This means that devices with a capacity of up to 1.7 litres have about 2000 watts of power. This can bring about one litre of water to boil in about three minutes.
Capacity: Capacity in millilitres or litres is one of the most important criteria. Kettles are available in different sizes, for a two-person household a device with at least 750 ml capacity is recommended. A four-person household, on the other hand, is well-advised to double its capacity, ie at least 1.5 litres.
Cool Touch Case: A big problem is often the poor insulation of the case, which can cause burns. For high-quality kettles, the case is specially insulated so it can not get too hot. Manufacturers call this grandiose "Cool Touch Case".
Double-walled cookers: Boiling water risks burns due to the hot walls of the digester. With double-walled stainless steel containers, the heat stays inside and the outside wall stays cool. An advantage if children are nearby.
Temperature setting: More and more consumers make sure that the kettle is equipped with temperature setting and display. Especially if only warm rather than boiling water is needed, such as when preparing tea, this is an advantage.
Removable scale filter: A limescale protection is recommended for regions with extremely calcareous water. The limescale filter is attached to the grommet in the form of a small sieve and retains limescale. You should take care that the scale filter can be removed so that it can be cleaned or replaced with a new scale filter.
How to properly clean your kettle?
Logically, you should regularly clean or descale a kettle. Lime is known to be the most stubborn enemy of the kettle, but you can effectively counter that with a little care.
Vinegar or Essigessenz: These are a proven and effective means to remove lime. Add so much vinegar/vinegar essence to the empty container until the calcified soil is completely covered with the liquid. The vinegar should then act for 10 to 20 minutes before the container is filled with tap water and activated. Then rinse the kettle again with clear water.
Fresh lemon: The inside of the kettle is rubbed intensively with a thick slice of lemon. The lemon juice comes out and accumulates on the bottom above the heating element. Then the container is filled with water and turned on the device. After boiling, rinse the kettle again with clear water.
Baking soda: Put a bag of baking soda into the kettle and top up with water. Thereafter, the baking powder-water mixture is brought to a boil. After boiling, allow the mixture to act for about one hour and then drain. Then again bring fresh water in the container to a boil.
Descaling agent : Stubborn lime deposits can be counteracted with special tabs or liquid descaler. The detergent is mixed with water and filled into the container. The tab is placed in the already filled with water device. The water is boiled and the mixture should act for about an hour. Then clean the kettle several times with clean water to remove any remaining cleaning residues.