If you keep waking up with stuffy sinuses and dry skin, then it's time for you to check out the market for the best humidifier models. Even though many people consider this machine unnecessary, it is desirable that the air in your home has a 40 to 50% humidity level. Not only will this help with your dry nasal passages, but it can also affect how you look and feel, according to Clifford W. Bassett, MD, medical director of Allergy and Asthma Care of New York. Having the right humidity level in your home and bedroom makes it easier to breathe (especially when you're sick), prevents skin from drying out, and can even improve your sleep.
There are a lucky few people (usually those who live in newer homes) who have HVAC system with built-in humidifiers. But, the rest of us need to search for a good humidifier that will tackle dry air, especially during the winter.
Our humidifier reviews will help you choose from some of the best humidifier models currently available on the market. Also, we'll teach you what the different types of humidifiers are available and which one will be the most suitable for your home.
Best Humidifiers on the Market in 2022
Last update on 2022-06-06 / Affiliate links / Images from Amazon Product Advertising API
Who Is This Product Suitable For?
Have you been struggling with dry sinuses or nosebleeds recently? Are your lips cracked and sore all of a sudden? Or, maybe you've been getting shocked by static electricity more than ever before? If the answer to any of these questions is yes, then it's quite likely that the air in your home is under-humidified. Usually, this problem appears in cold winter months, especially in homes with forced-air heating systems. However, any type of heating, including radiators, can cause this issue since humidity tends to be lower during the winter.
Using a good humidifier is the simplest and most affordable way to keep the air humidity in your home at levels recommended by the EPA – below 60 percent, and ideally between 30 percent and 50 percent. By doing so, all the above-mentioned symptoms should disappear.
If you're not sure whether humidity is a problem in your home, then you can get a basic hygrometer that will help you keep track of both humidity levels and temperature in your home.
One thing to keep in mind before deciding to get a humidifier is that this machine requires some maintenance. Not cleaning your humidifier regularly (on a weekly basis) can expose you to some health risks such as  nasty fungal wheezing of hypersensitivity pneumonitis, also known as "humidifier lung." If not taken care of properly, a humidifier can do you more harm than good.
No products found.
Different Types of Humidifiers
There are several different types of humidifiers – evaporative, ultrasonic, and warm-mist humidifiers. Keep reading what are the differences between these different models.
Evaporative Humidifiers
This type of humidifier takes advantage of the natural process of evaporation. A fan draws in air from the room and passes it through a filter that adds humidity before blowing the air back into the room. The process will gradually slow down as humidity increases to prevent over-humidification of the room. Also, the filter will remove most of the minerals from your local water supply, eliminating the residue that ultrasonics can leave on nearby surfaces as a white, dust-like film. In general, these humidifiers are robust and fail-proof, since they work pretty much like a room fan. And, they also sound like one.
Evaporative humidifiers are mechanically simple; however, they do require maintenance which can be frustrating sometimes. The wicks should be replaced regularly (every one to three months) since they can clog with minerals or turn into a breeding ground for mold and bacteria. In addition, the tank and the inside of the humidifier should be cleaned weekly.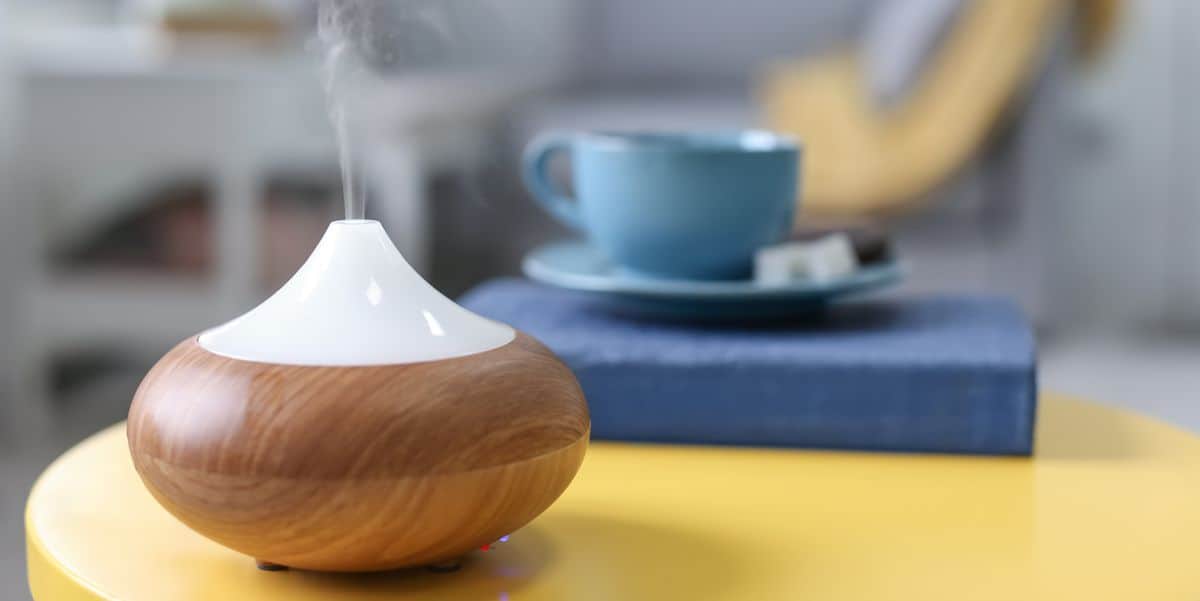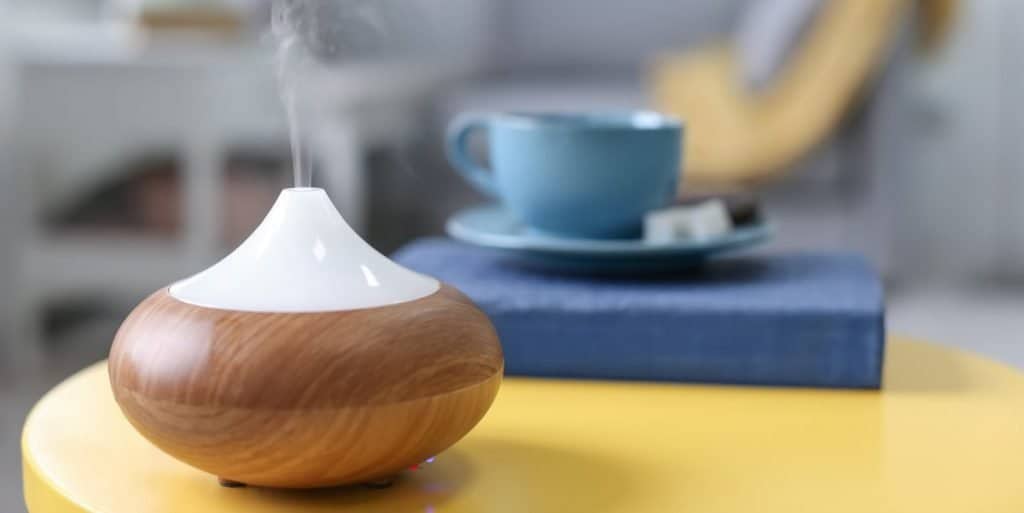 Image Courtesy of Country Living
Ultrasonic Humidifiers
These humidifiers use a rapidly vibrating diaphragm to launch tiny droplets of liquid water into the air, where they quickly evaporate and become water vapor. This means that ultrasonic humidifiers are much quieter, unlike the previous type. However, these humidifiers can also make a small water puddle if you don't place them high enough so that the droplets have time to evaporate.
Ultrasonic humidifiers are easier to maintain since they have no disposable wicks, unlike the evaporative humidifiers. However, these models are also prone to over-humidify the air in your home. Luckily, most of the models feature a built-in humidistat that will help you avoid this problem. In addition, ultrasonic humidifiers also come with other digital features that make them look high-tech and appealing.
Warm-Mist Humidifiers
The way that warm-mist humidifiers work makes them slightly dangerous if you have small children or pets. These models heat water until it turns to steam and these models have the potential to cause burns from the hot water and steam and from the heating element. They perform similarly to evaporatives or ultrasonics. However, they tend to use a lot more energy while operating. In addition, these humidifiers might slightly heat your room, allowing you to slightly turn down the thermostat. But, don't expect that you'll be saving too much money since your electricity bill may increase.
Best Humidifier Reviews
1. Proscenic 808C Humidifier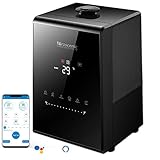 proscenic 808C Humidifier for Bedroom 5.3L, App and Alexa...
Convenient to Control: The Proscenic humidifier can be adjusted by the large LED display touch screen, App or Alexa voice control to adjust temperature, humidity and misting. Also can be remotely scheduled the boot time with the App, making it smarter and easier to improve your quality of life.(The name of Alexa skill is Proscenic Humidifier.)
Large Capacity for 30h Working Time: Large 5.3L capacity allows up to 30 hours of continuous use with one full fill; Proscenic 808C Humidifier can easily cover a bedroom and living room and create a comfortable environment with the constant and suitable humidity for you.
Smart & Considerate Humidifier: Built-in accurate humidity sensor to automatically diffuse mist to adjust the humidity to the most suitable level in a healthy range. You can also customize a suitable and comfortable humidity level based on the surrounding. (7-Levels Mist Adjustment)
Aromatherapy function: Add the essential oils to the aroma container, and then use the misting function to give your home a pure and fresh aroma. It is suitable for yoga studios, gyms, living rooms, bedrooms and, nurseries. NOTE: Do not add essential oils to the water tank, as this will cause leakage and stop the machine from working properly.
Last update on 2022-06-06 / Affiliate links / Images from Amazon Product Advertising API
All humidifier reviews should have Proscenic 808C on their list. This model is incredibly convenient to control. It can be adjusted by using the large LED display touch screen, app, or Alexa voice control. Besides setting the humidity level, this model allows you to adjust temperature as well for either cool or warm mist. In addition, the humidifier is so advanced that you can schedule its run time in advance with the app.
The humidifier features a large 5.4-liter tank that ensures up to 30 hours of continuous runtime on just one fill. The model is large enough to cover one entire room and create a comfortable environment with proper humidity.
Proscenic 808C also ranks as (one of) the best humidifier for bedroom, as it has an aromatherapy function as well. You can add essential oils to a special aroma container and then choose the misting option that will infuse your home with a pure, relaxing smell. Keep in mind that essential oils should not be added to the water tank, as this can cause the device to malfunction.
What We Like:
A smart humidifier that can be controlled via touch screen, app, or Alexa voice control;
The large 5.4-liter tank allows continuous operation for up to 30 hours;
Allows both cool and warm mist;
The aroma container allows you to add essential oils to the humidifier and infuse your home with pleasant smells.
What We Don't Like:
Some users complained that the humidifier doesn't respond too well to Alexa commands.
---
2. ANSIO Ultrasonic Cool Mist Humidifier
Sale
ANSIO® Humidifier for Bedroom 1500ml Cool Mist Air humidifier...
Ultrasonic Cool Mist Humidifiers : [Not An Aroma Diffuser] Cool Mist Technology Safely Moisturises The Air For Up To 14 Hours Continuously In The Low Setting.
Ideal For Medium Sized Rooms: The 1.5 Litre Tank Has The Capacity To Moisturise And Improve The Air Quality In A Medium Sized Bedroom, Living Room Or Any Other Rooms.
Dual Speed Control: Ideal To Adjust The Direction Of The Mist At A Speed Level Which Suits Your Needs. Optional Soothing Night Glow Light: Overnight Operation With Optional Soothing Night Glow Light Helps You To Relax.
Automatic Shut-Off: Certified Safe To Use As The Automatic Shut Off Safely Turns The Humidifier Off If The Water Level Is Low Or If The Water Tank Is Removed.
Last update on 2022-06-06 / Affiliate links / Images from Amazon Product Advertising API
If you're looking for a simple, frills-free model, then ANSIO has the best humidifier for you. This ultrasonic humidifier is perfect for small and medium-sized rooms. It features a 1.5-liter tank that enables it to work continuously for up to 16 hours. Keep in mind that this humidifier must be used only with distilled water, and you shouldn't add any essential oils. Otherwise, the device will stop working properly.
Using the ANSIO humidifier is very simple. It features a power button on the front. There is also one nozzle that allows you to adjust the mist speed. The manufacturer also included a special cleaning brush that makes maintaining the unit very easy. Last but not least, the humidifier uses ultrasonic technology and operates quietly. You can even place it on your bedside table and fall asleep while it is turned on.
What buyers also love about this humidifier is its affordable price. And, as a proof of the excellent performance (despite the price) is the two-year warranty.
What We Like:
A good humidifier that comes at an affordable price;
Using the humidifier is very simple and convenient;
A cleaning brush is included and it makes maintenance easy;
The ultrasonic technology ensures quiet operation.
What We Don't Like:
Some users complained that their device started leaking after a few months.
---
3. Homasy Ultrasonic Cool Mist 2200ml Humidifier
No products found.
Homasy ultrasonic is definitely a good humidifier and the right choice for all those looking for an affordable and reliable device. It features a 2200ml water tank that ensures 30 hours of continuous run time. The 360° rotating nozzle ensures that humidity is distributed evenly at home, providing a better humidification effect.
The Homasy humidifier releases fine mist much higher than some other models, ensuring that your desk or floor don't get wet. In addition, the device can increase humidity levels in a large space of up to 300 square feet. Just like the previous model, this one is ultrasonic and operates very quietly. Last but not least, this model features the auto shut-off feature, meaning you can leave it on without worrying about anything.
Cleaning and maintaining the humidifier is very easy, thanks to the large 3.25-inch opening. The arc-shaped handle with anti-slip grooves offers a secure grip, making it easy to carry the humidifier around.
What We Like:
An affordable humidifier that performs excellently;
The 2200ml water tank ensures 30 hours of continuous run time;
The 360° rotating nozzle ensures that humidity is distributed evenly;
Cleaning and maintaining the humidifier is easy.
What We Don't Like:
Some users complained that the humidifier is noisier than the manufacturer claims.
No products found.
---
4. SmartDevil 500ml Desk Humidifier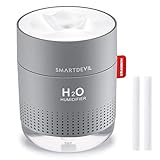 SmartDevil Humidifiers 500ml Cool Mist Humidifier Air Humidifier...
1.【Whisper Quiet & Night Light Function】 Silence operation below 30dB allows you to sleep easily in a comfortable and quiet environment. There are two modes of night light function, constant light mode & breathing light mode(Long press the button to control).
2.【Large Capacity & Large Spray】 The liquid water is atomized into micron-sized water particles by ultrasonic vibration. The large volume of 500ml and the fine spray are used to increase the air humidity. It is a good companion for air-conditioned rooms.
3.【Waterless Auto-Off & Powered by USB】 The humidifiers will automatically shut off when water runs out. This USB humidifier is powered by USB cable(interface of computer, laptop, adapter, power bank). No AC Adapter in box, one USB cable is included.
4.【Two Spray Modes】 This cool mist humidifier contains two spray modes: continuous spray & intermittent spray. First single press mist button to start the continuous mist mode; Second press mist button to switch to intermittent mode. The duration of the spray can last up to 12 hours and the intermittent spray can last up to 18 hours.
Last update on 2022-06-06 / Affiliate links / Images from Amazon Product Advertising API
All those looking for a small, compact model that can be taken anywhere are about to realize that SmartDevil is the best humidifier for their needs. The water tank is quite large for a portable model (500 ml).
The humidifier has two spray modes: continuous spray and intermittent spray. When you click the spray button for the first time, continuous spray mode will be activated. Clicking the spray button a second time will switch to the intermittent spray mode (sprays for three seconds and then stops for two seconds). The runtime of the humidifier depends on the spray mode; it can last up to 12 hours in the continuous spray mode and up to 18 hours in the intermittent spray mode.
Last but not least, the humidifier will turn off automatically as soon as it senses that the water level is lower than the water level probe.
What We Like:
A compact humidifier that is very portable;
There are two spray modes – continuous and intermittent spray;
The 500ml water tank ensures a runtime of 18 hours;
The auto-off feature is activated as soon as the water level becomes lower than the probe.
What We Don't Like:
Some users complained that their product broke down after a few weeks of use.
---
5. TaoTronics 4L Cool Mist Humidifier
No products found.
Are you looking for a humidifier that can cover a large space and work all night? Well, TaoTronics has got you covered! They offer one of the best humidifier models that can work up to 30 hours and humidify the air in rooms up to 30 m² or 322 square feet.
The humidifier features an LED display that gives you all the information you need. The built-in humidistat tells you the current humidity level and allows you to choose between three modes. In addition, you can manually set your desired humidity level.
The unit is safe to use, and it will shut off automatically when the water runs out. The microporous cartridge filters micro-organisms from the water and should be changed every four to six months.
What We Like:
A good humidifier with a large water tank that ensures 30 hours of runtime;
The product can humidify air in large spaces (up to 30 m²);
There are three modes to choose from;
You can set the desired humidity level manually.
What We Don't Like:
Some users complained that the humidifier is difficult to clean.
No products found.
---
Best Humidifier Features to Look Out for
With so many good humidifier models available, it's difficult to settle down for one only. Taking the following features into consideration will make your decision easier.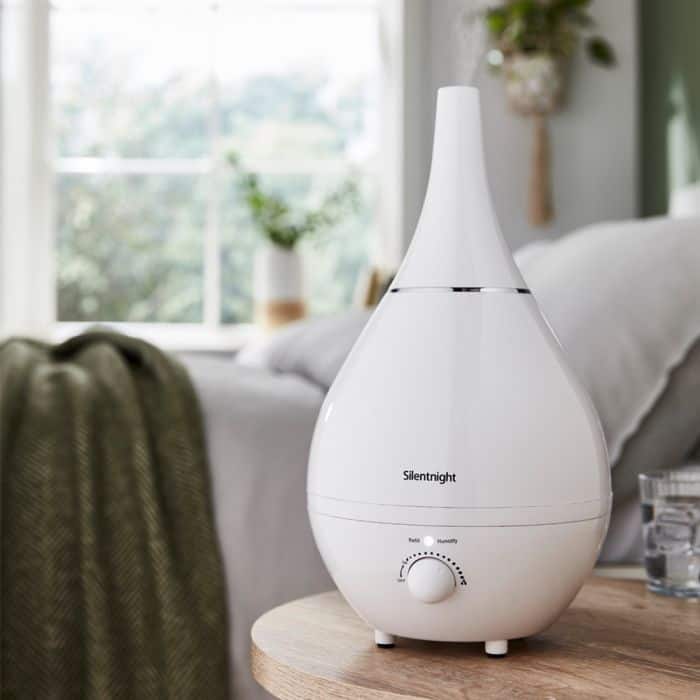 Image Courtesy of Silentnight
Size
Every humidifier is designed for a certain room size. This depends on factors such as the tank size and discharge rate. The manufacturer usually points out the square footage the humidifier is sized for on the product description. So, the first criterium that will help you choose your humidifier is the space you plan to use it for. There are three sizes of humidifiers available on the market: portable, console, and whole house.
Portable humidifiers are small and feature limited water tanks that need to be refilled often. However, these models are less expensive and can be easily moved from one room to another. The smallest portable humidifiers are suitable for traveling and feature dimensions in the size of a water bottle.
Console humidifiers are larger and have increased-capacity water tanks that will require less frequent filling than portable humidifiers. Console humidifiers are the best choice for spaces up to 1,000 square feet (depending on the model).
Whole-house humidifiers need to be attached to the ductwork in your home. These are the best choice for those who want to add moisture on a large scale. And, since these humidifiers are connected to a home's plumbing, they don't need to be refilled at all.
---
Related:
---
Run Time
Besides thinking about the size of the room the humidifier is suitable for, there are some other features to keep in mind, such as the run time. Some models are designed to operate for a few hours before they need a refill. Others can work continuously for up to 24 hours.
Auto-Off Feature
Humidifiers have a limited run time, and they will operate as long as there is enough water in the tank. If you plan to leave your humidifier on for extended periods of time, it is recommended to look for a model with the auto-off feature. This will turn off the device when the water runs out and prevent it from overheating or burning out.
Tank Design
Believe it or not, tank design has a big influence on your experience with your humidifier. In general, it is good to choose a humidifier with large openings to make refilling and cleaning easier. Also, a translucent design can be quite helpful as it allows you to see how full the tank is and when it's time for a refill.
Ease of Cleaning
As we already mentioned, you should clean your humidifier once a week to prevent the growth of microbes, bacteria, and mold. Getting a unit that is easy to disassemble and clean is desirable since you'll be doing the cleaning regularly.
Humidistat
To make sure that the level of humidity in your home is optimal, make sure to get a model that features a built-in humidistat. This feature will help you keep an eye on the humidity in the room, and the appliance will turn off automatically as soon as it reaches its target humidity level.
Even though this feature is not essential, it does take the guesswork out of operating a humidifier and will prevent excess moisture in the air from fogging up windows or creating a musty odor in the room. If your humidifier doesn't have an integrated humidistat, you can always get a hygrometer, which is quite small and inexpensive.
UV Light
Moist, humid conditions are a perfect breeding ground for bacteria, pathogens, and molds. To prevent this from happening, some humidifiers feature a UV light. The UV light filtration system is designed to eliminate microbes that may be growing in the humidifier's tank and prevent them from being released into the air with the mist.
Demineralization Cartridge
A demineralization cartridge is a filter that collects minerals present in hard water and prevents them from being released into the air. It is recommended to get a model with this filter if you have hard water.