Nobody out there likes the sound of an alarm clock. No matter what noise you set it too, it's still going to be annoying. So, why do we always start our day with something we hate? Waking up on time is important, sure. But does it always have to be with such noise? Fortunately, the perfect product has been invented for those out there who can't stand to spend another morning listening to a blaring alarm. Wake up lights are perfect for those who want to start their day peacefully. So, here are the best wake up lights that you can buy right now!
Best Selling Wake Up Light Alarm Clocks in 2022!
Last update on 2022-06-06 / Affiliate links / Images from Amazon Product Advertising API
Without further a do, lets take a more detailed look at the best wake up light alarm clocks in 2022.
1. Lumie Bodyclock Starter
Lumie Bodyclock Starter 30 Wake-up Light Alarm Clock – The...
Bodyclock alarm clock wakes you with a natural, gradually brightening light, helping you feel refreshed, alert and energised all day
Light cues your body to produce more cortisol, setting a healthy sleep/wake cycle, aiding early mornings and beating winter blues
30 minute sunrise/sunset options, dimmable bedside light, snooze function, back up beeper
Certified Medical Device (class 1) designed and manufactured by Lumie, the inventors of the Bodyclock integrated dawn simulator
Last update on 2022-06-06 / Affiliate links / Images from Amazon Product Advertising API
This body clock alarm clock is all about starting your day on the right note. The light cues the body to produce more cortisol, helping your sleep/wake cycle self regulate. Not only is it great for the frustration of early mornings, but it aims to help the winter blues.
Key Features
Gradually brightening light. The light on this clock will slowly increase in brightness, helping your brain ease itself into a state of wakefulness.
Back up beeper. In case the light doesn't naturally wake you up, you can trust that the backup beeper will wake you if necessary.
3-year warranty. You can purchase this wake-up light with confidence.
This light is designed to mimic a real sunrise. As the light gets brighter, you will naturally wake up from even the deepest sleep. The clock works by reducing the production of sleep hormones (like melatonin), and increasing levels of activating hormones like cortisol. This is especially helpful for people who struggle waking up in the morning, or those who have SAD (Seasonal Affective Disorder).
The sunrise duration on this wake-up light is 30 minutes and comes with a ray effect. You can choose to wake up to only light, or to light and an alarm beep. If you also plan on using the clock to fall asleep at night, it has a sunset duration of 30 minutes to help take you off to sleep.
What We Love:
The extra reassurance of the alarm beep
Waking up to light makes it easier to get out of bed
Sunset feature helps control your relaxation at night
Can be used as a bedside light
What We Don't Love:
The build of the wake-up light feels flimsy
Does not always show time when light alarm is set
Overall, this is a great, budget-friendly option for those who want to start waking up in a better mood. You'd be surprised at how easy it is to change your sleeping patterns by just one light!
---
2. Phillips Wake-Up Light Alarm Clock
Sale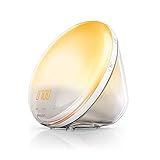 Last update on 2022-06-06 / Affiliate links / Images from Amazon Product Advertising API
This wake-up light not only comes with the life-changing, illuminating "alarm" clock, but it comes with a handful of other key features to make it worth its price tag!
Key Features
Radio function. Not only does it produce light, but it gives you a wide range of sounds, too!
7-minute battery back-up. If the power goes out, you won't need to worry about your alarm not waking you up.
Sunset function. This wake-up light will also help you get to sleep.
This Phillips light product provides a coloured sunrise simulation with a choice of 5 natural wake-up sounds. The brightness of the display will adjust itself automatically. However, you do have the option to personalize your light settings to match your sensitivity. There are 20 light intensities to choose from. And, if you aren't in the mood to wake up right away, there's a smart tap snooze option.
In addition to the light modes, this product also comes with a digital FM radio and reading lamp functionalities. So, not only do you get the great light settings of the product, but it comes with all of the functions of a regular alarm clock, too!
What We Love:
Easy to use and operate
Choice of light intensity to suit personal needs
What We Don't Love:
Considerably more expensive than your basic alarm clock
No battery back-up
This stylish wake-up light not only helps you wake up easier, but it's also an aesthetically pleasing addition to any room. It's almost as if the sun is right there with you!
---
3. FITFORT Alarm Clock
No products found.
This FITFORT product is great for those who are on a budget, but still want to learn all about waking up to light. Within 30 minutes, this clock will go to 10% brightness right up to 100%. Plus, you can set an alarm to any one of the wake-up light's 6 natural sounds, or your favourite radio channel.
Key Features
FM Radio. You can wake up to light and music with this product.
Battery powered. So, you'll never have to worry about what will happen if the power goes out!
This wake-up light has intelligent sunrise and sunset simulation that works to guide you to rest and to wake-up. There are 11 levels of brightness, so you can adjust your light to your sensitivities and desires. Plus, with 6 natural sounds and 6 different colours, you have plenty of personalization to explore! You can set the light to green, red, blue, pink, orange, or indigo. So it's not just a sleep aid, but a stylish clock, too!
What We Love:
Great value for how many functions it has.
Easy-to-use interface.
The wide selection of colours.
What We Don't Love:
The sound quality is not perfect.
The buttons are small, which can be difficult when adjusting in the dark.
There's no doubt about it – this light is going to change your mornings forever. Plus, when you aren't in the process of waking up or falling asleep, you've still got music to listen to. This is a great option for yourself, or your kids as they can play around with the colours, too!
No products found.
---
4. Philips Somneo Sleep and Wake Light
Sale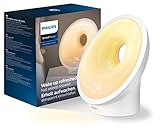 Philips Sleep and Wake-up Light with Relax Breath
Clinically proven to improve general wellbeing after waking up
92% of users find it easier to get up in the morning
Relax Breath: light-guided wind-down breathing helps you relax to sleep while the sunset simulation is preparing your body for sleep
Smart touch display for easier device control. Product dimensions (W x D x H):225x220x120 mm,Cord length:1.5 m
Last update on 2022-06-06 / Affiliate links / Images from Amazon Product Advertising API
Not only is this light a great wake-up light, but it has the science to prove it. 92% of Philips Somneo Sleep and Wake-up Light uses have found it easier to get up in the morning. So, there's a pretty good chance that you will, too!
Key Features
Comes with a light guided breathing guide, RelaxBreath. 
Provides additional sunset simulation to get your body ready to rest.
Not only does this product come with the usual sunset simulation, but it has RelaxBreath, meant to help you fall asleep easier. You can choose from one of seven breathing rhythms of light intensity to follow your breathing with, helping you fall asleep peacefully.
If you turn this sleep-light on in the middle of the night, it will provide a dimmed lighting. So, if you wake up in the middle of the night to find your phone charger, you won't be blinded by maximum light intensity.
What We Love:
The music starts playing quietly, increasing in volume to help guide you to alertness.
You can control the brightness settings.
What We Don't Love:
There are no "alarm" sounding noises that your body is already used to.
Mediocre sound quality.
We think that this product is worth it for the RelaxBreath alone. Sure, waking up is hard, and all of the wake-up lights on this list target that. But this product also recognizes how important it is to fall asleep peacefully. So, with this product, your entire sleeping habits will change for the better.
---
What's The Science Behind These Things?
We all know that loud noises wake us up. Unless you're an incredibly deep sleeper, it's not hard for a loud buzzing to bring you back to alertness. But, with wake-up lights, there's a little more science behind it than just "loud noise means awake". Because these products claim to held with things like Seasonal Affective Disorder, there has been plenty of research put into them. Humans have learned through evolution that brightness means daytime. So, training your body to wake up through light only makes sense. Waking up to an alarm in a dark room tells your brain that it's still night time. However, waking up with a wake-up light brightens your entire area, signaling to your brain that it's daytime, and you should wake up.
This ability to fake daytime is why these wake-up lights are best in the wintertime. For most of us, it'll still be dark out when we have to wake up for work or school. The wake-up light will trick you into thinking otherwise, so your body won't dread waking up to a cold, dark morning.
Other Questions You May Have
How long do the lightbulbs last?
Yes, your wake-up light revolves around a light bulb. However, the light won't be turned on all of the time – just when you're falling asleep or waking up. Most products will have a lightbulb with a long-lasting lifetime, and you should be able to go at least a few years before worrying about your wake-up light.
Do you have to wake up to sound and light?
Almost all wake-up lights will allow you to select three options. You can either wake up with just light, just sound, or both. Plus, many products let you choose which sounds to wake up to. So, you can pick music, nature sounds, or silence.
Are these the same as SAD lights?
A common way of treating Seasonal Affective Disorder is light therapy. Many of those who deal with SAD will purchase artificial lighting to help with symptoms. These artificial light boxes usually have a 10,000 Lux max. Most wake-up lights only have 300 lux max, so they are not the same. However, waking up is a huge issue for many SAD sufferers, so it may help alleviate some symptoms.
What happens if you pull the covers over your face while you sleep?
An important element to remember is that your body has to be able to sense the light to help wake yourself up. So, if you frequently pull your blankets over your face, or bury your face into the pillow, you may not be getting the full effect. For people with this issue, it's recommended that you also allow the wake-up light to broadcast noise, whether it's natural sounds, or a radio. You'll still get many of the benefits of the wake-up light. Because the light has progressively made your room brighter, you'll still wake up to a lit room, helping you get out of bed.
Is it worth it?
In short, it's worth a shot. Wake-up lights have been an increasingly popular phenomenon, and have been used and reviewed by thousands of consumers. The clear consensus seems to be that yes, these wake-up lights are worth it, and do work. Since we all have alarm clocks on our phones, using a wake-up light also helps us put our phones away at night. How many of us keep our phones by our heads just to use the alarm? Too many. With a wake-up light, you can put your phone in your purse or your drawer, and rely on the light instead.
Once you start using the wake-up light regularly, your body will thank you for helping set a sleep cycle that you can stick too. Plus, as many of the lights come with sunset simulations, you'll also be falling asleep faster, and staying well-rested easier. Honestly, we can't see a reason not to try it!