The upcoming winter can mean more than just snow. For some, the declining temperatures and sunlight means that those with Seasonal Affective Disorder (SAD) will be at risk for some heightened emotions. When the days get shorter and it feels like you never get to see the sun, it's easy to feel the blues. For some, it can be as simple as a reduced mood and less motivation. Though for others, SAD can get pretty serious.
There are professional treatment methods for SAD out there, but a relatively new invention, the Sad Light, is a budget-friendly and easy to access way of helping beat SAD, even on the darkest of days. So, here are our top picks for the best SAD lights available for purchase, so you can get ahead of your blues.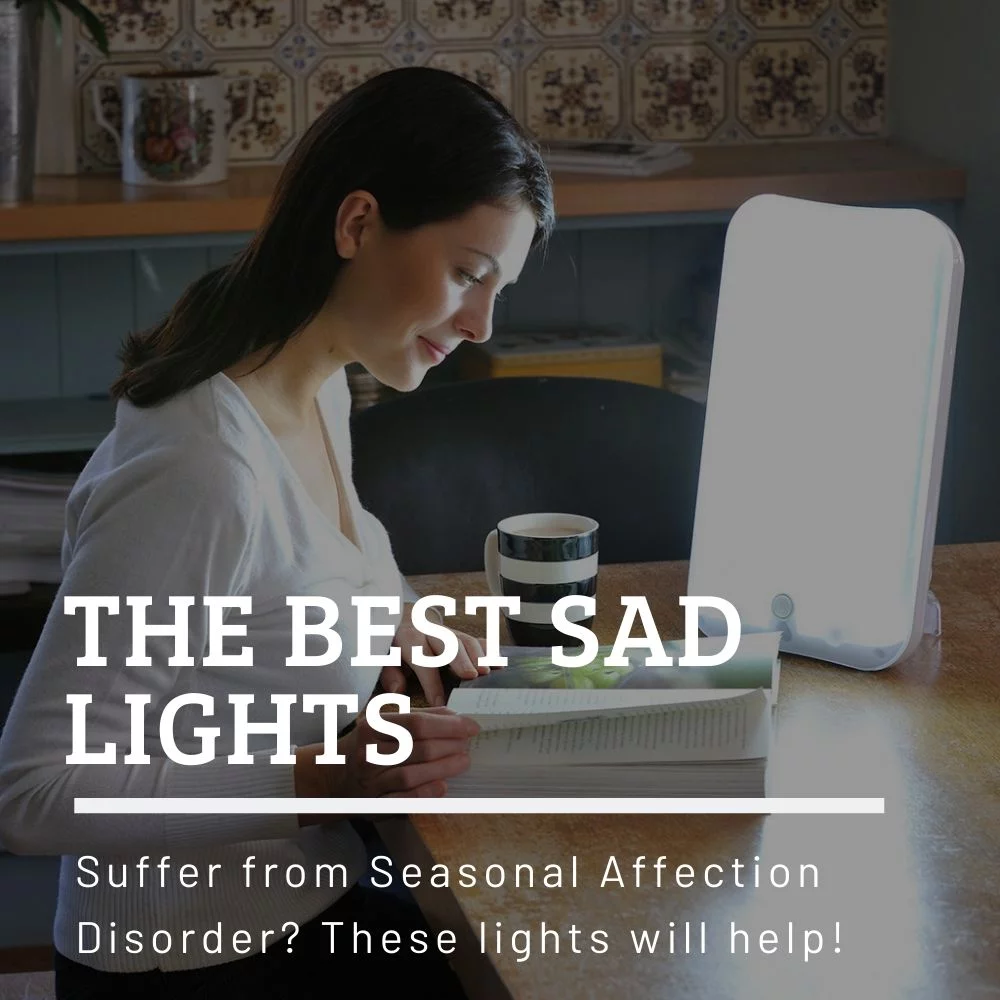 In a hurry? Take a look at the Best SAD Lights in 2022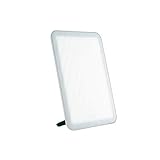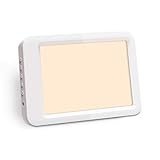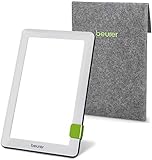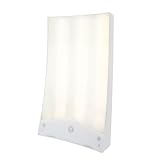 Lumie Vitamin L - Slim Light Box for Effective SAD Light Therapy
Mlife Portable Light Therapy Lamp,10000 Lux LED Sunlight Daylight...
Beurer TL30UK SAD Lamp - Helps Combat Seasonal Affective Disorder...
Lumie Brazil – Large 10,000lux SAD Light Therapy Lamp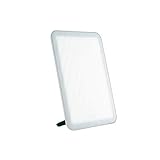 Lumie Vitamin L - Slim Light Box for Effective SAD Light Therapy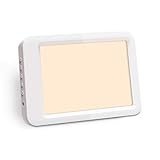 Mlife Portable Light Therapy Lamp,10000 Lux LED Sunlight Daylight...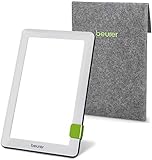 Beurer TL30UK SAD Lamp - Helps Combat Seasonal Affective Disorder...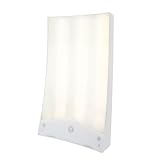 Lumie Brazil – Large 10,000lux SAD Light Therapy Lamp
Last update on 2022-06-07 / Affiliate links / Images from Amazon Product Advertising API
1. Lumie Vitamin L Slim Light Box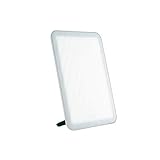 Lumie Vitamin L - Slim Light Box for Effective SAD Light Therapy
Lumie Vitamin L is the slim light therapy solution you can take with you to improve mood, energy and focus at home, work or college
Lumie Vitamin L produces 10000lux at 16 cm; 30 minutes recommended for the symptoms of winter blues and SAD
Portrait or landscape position - generous 20 x 28 cm surface area with cool white LEDs and rippled diffuser for a soft, comfortable light
Medical device (class 2a), energy-efficient and UV-free with 3-year warranty
Last update on 2022-06-07 / Affiliate links / Images from Amazon Product Advertising API
This light therapy option is the perfect size to keep on your desk or next to your bed. So, you don't even have to think twice about getting your daily light therapy in.
Key Features
It uses a 30-minute system.
Works in portrait or landscape position.
This Lumie product will produce 10,000 lux at 20cm and recommends only 30 minutes of treatment to reduce symptoms of SAD and winter mood disruptions. Instead of overwhelmingly bright light, this uses warm white LED lights and a rippled diffuser, so you get a more soft and comfortable light. The light is beneficial whether you've got it in landscape or portrait position, so it can be adjusted to your space.
This product is considered a certified medical device, under Class IIa. So, you can rest assured that you're getting the best help. It's also incredibly energy efficient, so you won't have to worry about wrecking your power bills. And for those concerned about safety, it does not use any UV-light, so your physical health will remain the same.
What We Love
The design is modern and can work into your home's aesthetic.
It's easy to use and will produce results in under an hour.
What We Don't Love
The power cord is not incredibly long, so you'll have to use very close to a socket.
There are no levels of brightness.
If you're worried about your mood changing this winter, we recommend ordering this product now to get ahead of your feelings and be prepared.
---
2. Portable Light Therapy Lamp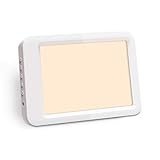 Mlife Portable Light Therapy Lamp,10000 Lux LED Sunlight Daylight...
Easily Contorl with Remoter:You can operate it easily through control panel of light or remoter.Press L1,L2 and L3 button to switch color temperature mode and brightbness .It can meet your various needs under different circumstances.
Superb Humanized Design: Considerate design included adjustable brightness and color, timer function, wireless control, portable size and mounted bracket of backside. Come with a lamp remote control, enable to effortlessly operate and enjoy your energy light source at home ,office, café shop, yoga class etc.
Dimmable Brightness Lamp: Dimmable brightness controlled by long pressing the brightness key button, you can either increase or decrease the light level, allowing you get your preference of brightness. Besides, the light temperature is adjustable to warm, white and natural (3000-6500 K) to mimic morning, midday and evening light. It can meet your various needs under different circumstances.
You're Only 30 Minutes Away from Feeling Better: If you are ready to boost your energy, enhance your focus, improve your mood, and sleep better than ever, try this sunlight Lamp then get back to your best shape!
Last update on 2022-06-07 / Affiliate links / Images from Amazon Product Advertising API
Not only is this portable option budget-friendly, but it comes with all of the customizable options that you could ever hope for!
Key Features
It can be controlled via remote.
Features customization settings.
With this product, you can control everything, including colour, temperature mode, and brightness. So, no matter what you're feeling the need for, it will work within your needs. Some people may need the brightest option possible, while others may just need a brief bit of light in their lives. Because SAD is so unique per person, this light knows that your experiences matter. Plus, it's controlled with a remote. So, you can use it from afar! It's also a portable design, so you can bring it to work, or just stick with using it at home.
This product recommends 30 minutes of use at a time, and that even minimal use can increase energy, focus, and improve mood and sleep. And if it doesn't work? They have a 100% moneyback guarantee!
What We Love
It offers all of the features of other SAD lights for a fraction of the price.
It's very portable and can be used anywhere.
What We Don't Love
The design is not as stylish as other options, making it a potential eye-sore in your bedroom.
If you think you'll need to use your SAD light in more than just the bedroom, we recommend this super portable option.
---
3. Beurer TL30UK Ultra Portable SAD Lamp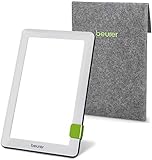 Beurer TL30UK SAD Lamp - Helps Combat Seasonal Affective Disorder...
WINTER WELLNESS: Combat symptoms of seasonal depression such as low mood and lack of energy during darker months with light therapy
LIGHT INTENSITY: Simulates natural daylight of 10,000 lux at a distance of 10 cm. Medically recognised to help ease seasonal affective disorder
COMPACT: A neat and compact SAD lamp that sits discreet on any desk and comes with protective pouch for travelling
EASY-TO-USE: Single-button operation makes the Beurer SAD lamp particularly easy to use
Last update on 2022-06-07 / Affiliate links / Images from Amazon Product Advertising API
From afar, this Beurer product is so sleek and stylish that it looks like an e-reader. Though, it's actually a SAD lamp, and a certified grade II medical product!
Key Features
Uses 10,000 lux light intensity.
It's easy to use.
This lamp uses LED technology designed to save you on energy costs. So, while it's bright, it won't bring up your power bills. It also uses a rotatable design, so for those who prefer landscape or portrait, your eyes can have their way. This design is meant to be compact so that you can bring it anywhere. Despite its small design, it still uses an efficient light outlet and will simulate natural sunlight at a distance of 10cm.
What We Love
The light output is perfectly even.
It's easy to use with a one-button activation.
It uses very little electricity.
What We Don't Love
There are no customizable features for light settings.
If you're after a small, yet powerful SAD lamp, this is the one for you.
---
4. Lumie Large SAD Light Therapy Lamp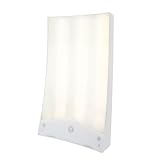 Lumie Brazil – Large 10,000lux SAD Light Therapy Lamp
Brazil lightbox provides bright light all year round to lift your mood, enhance concentration and boost your energy levels
Gives fast treatment for SAD (Seasonal Affective Disorder) and winter blues, typically 30 minutes
3 x powerful warm white bulbs provide 10,000 lux at 35 cm with convex design to channel the light
Medical Device (Class IIa) so you can be sure it's designed for light therapy and 3-year warranty
Last update on 2022-06-07 / Affiliate links / Images from Amazon Product Advertising API
While plenty of SAD lights are small and portable, sometimes you need a little extra sunshine in your life. There's where the large lights come in.
Key Features
Uses 3 powerful spectrum bulbs.
Certified medical device.
This Lumie product aims to influence your body chemistry, specifically your melatonin and serotonin levels. So, you'll feel energized, awake, and positive – all of the things that SAD tends to target. If you're feeling unsure about just how powerful this light is, you can rest assured by knowing that it's a certified medical device. And, if you don't notice a difference, it comes with a 3-year warranty!
This SAD light may look a little bit different from the others on this list. That's because it uses a unique convex design. Instead of being flat, it uses its shape to channel the light and ensure the ultimate benefits to the user. It uses 3 spectrum bulbs, providing the ultimate amount of light to make up for that lack of sunshine.
What We Love
The light is huge compared to other SAD lights.
It encourages a positive mood for hours after use.
What We Don't Love
It's on the higher end of price options for SAD lights.
If you think you need a little extra help for your SAD, this light is got you covered – literally.
---
Related:
---
10 Best Selling Seasonal Affective Disorder Lights in 2022
Last update on 2022-06-07 / Affiliate links / Images from Amazon Product Advertising API
Common Questions About SAD Lights
SAD lights are a simple, yet advanced technology. Since it's a treatment option for something so unique and personal to everyone who deals with SAD, it's important to understand why it's working, and how it impacts you. So, here are some of the most common questions we've heard about SAD lights, along with all of the answers you may be looking for.
What exactly is SAD?
SAD, or seasonal affective disorder, is a form of depression. It's directly related to the changes in seasons, and will often occur only during certain times of the year. They tend to stop and start at near-identical times, often beginning when the days start to get shorter and colder. It tends to end when the days start getting longer, and the colder weather starts to go away. Symptoms are similar to those associated with non-seasonal depression. They include general feelings of depression, a loss of interest in activities, low energy, trouble with sleeping, and feeling sluggish, among others.
When your body is exposed to reduced levels of sunlight, your biological clock, also known as your circadian rhythm, is easily thrown off. Another common thing seen in SAD is a drop in serotonin and melatonin levels. Seratonin is a neurotransmitter that affects mood, while melatonin levels can disrupt your sleep patterns. When both of these combine, there can be a huge impact on your day-to-day life.
SAD tends to be far more common in areas with long winters. For those living in places where seasons do not follow the typical 4-season layout, it can be hard to adjust. SAD may begin at a young age, though it can also be unexpectedly brought on by moving to more northern areas. Some people may experience all of the symptoms of SAD, while others may experience only a select few. While SAD tends to affect people in the winter, there are some who are affected in the spring or the beginning of summer. While more uncommon, everyone's experiences with SAD is unique should be considered.
Should you see a doctor for your SAD?
Feeling down because of a cold, dreary day is common. On its own, it's not a single sign that you have SAD. If you begin to notice your mood being affected on a regular basis, you should check things out with your doctor. You may be dealing with SAD, or have another struggle that could use some professional advice.
How do SAD lights work?
Since SAD is mostly caused by a decrease in sunlight, SAD lights are meant to replace that sun. So, the light is meant to be a simulation of the missing sunlight. The light needs to emmit at least 2,500 lux, a unit that light intensity is measured in. This amount is required to provide serotonin release. It can also explain why using a basic bright light will not be enough to treat SAD. Many SAD lights are specially made to be less sensitive to your eyes, while still emitting a powerful 10,000 lux.
Do you just sit in front of the SAD light?
It's not as simple as just leaving a SAD light in your room, or sitting directly in front of it. For optimal use, you should have the light placed on the side, so that it's in your peripheral vision. Depending on the level of lux, the distance you need to place the light away from you will be different. On average, 30 minutes of exposure a day is enough to see an increase in mood and a decrease in other symptoms. Because the body is usually experiencing sunlight at the start of the day, using it earlier has the most effects. Plus, it gets your day started off on the right foot.
What are other treatment options for SAD?
While SAD lights can have a significant impact on SAD, there are other forms of treatment out there. It's important to speak with your doctor and find out what combinations are right for you. Aside from SAD lights, other treatment includes:
Medications. Antidepressants can be useful for those with SAD. Your doctor may recommend taking certain medications only during the periods that you experience symptoms, starting before the symptoms begin, or taking the medication year-round. There are a handful of different medications for depression and SAD, so you'll have to have a discussion with your doctor about what would work right for your mind and body.
Psychotherapy. Having an outlet and professional listener to talk through your SAD and related symptoms can be invaluable. This can help you identify your symptomatic behaviors and learn to cope with negative thoughts that may occur despite other treatment methods. You can also learn how to manage other life areas, including stress and healthy coping mechanisms.
Holistic methods. SAD lights, medication, and therapy are all useful for a variety of reasons. Though, some people like to approach their struggles with an approach that incorporates all aspects of the self. Holistic methods may include meditation, mindfulness practice, relaxation techniques, or yoga.
Are SAD lights dangerous?
SAD lights tend to have more positive benefits than negative ones, especially when used right. Though, there are a few side effects and risks that you should know about. These include:
Eyestrain. If you spend too much time directly looking into the light, your eyes can be impacted.
Headaches. Eyestrain and attentional issues can lead to related headaches.
Nausea. Having to get used to a new treatment method can expose your body to unexpected side-effects that include nausea. Nausea will typically go away after repeated exposure to your SAD light.
Are SAD lights for everybody?
Depending on your medical history, you may want to avoid SAD lights. It's not recommended to use SAD lights if you're using medications that make you sensitive to sunlight. Those with eye conditions may also want to proceed with caution, and consult your optometrist before any use.
How can I experience the most benefits from using my SAD light?
Even a one-time exposure to a SAD light can make a noticeable difference in your mood. Though, if you want long-lasting effects, you may have to work a little bit harder. Depending on your doctor's recommendation, you may be recommended a specific amount of light exposure. Your doctor may recommend one with a lighter amount of light, or a larger, extreme emission. You'll also have to remain consistent with your use. You don't have to use it each and every day all winter, but using it on a daily or near-daily basis will ensure maximum effect. Using it for the same amount of time every day is also important and can help you maintain a regular schedule.
The best way to get the best use of your SAD light is to incorporate it within your daily care routine, along with other forms of SAD treatment. A doctor's recommendation of medication, therapy, and your SAD light will offer maximum impact and help you deal with your SAD faster and more efficiently.
If you've ever wondered if your seasonal moodiness was more than just a phase, you may be surprised to see just how much a SAD light can help you out. Winter blues can be common, but that doesn't mean that it's normal. So, speak with your doctor today, and consider adding a SAD light to your daily routine. Soon enough, you'll stop dreading those long winters, and look forward to the colder months.