Whether you're a home baker or a professional, a sturdy stand mixer is essential in your kitchen. This appliance allows you to whip up anything from layer cakes to bread dough while cutting down on the time and effort of mixing by hand. Some of the best stand mixers come with accessories that can help out with other cooking projects such as making pasta from scratch, your DIY ice cream, and even freshly squeezed juice.
However, every powerful kitchen appliance comes with a high price tag. High-end stand mixers retail for more than $1,000, and quality models may cost up to a few hundred dollars. There are also so many models and brands to choose from, ranging from basic and budget-friendly to feature-rich models with stylish designs. So, if you're trying to buy a stand mixer, it can be quite a challenge to find the one that will suit all your needs.
We prepared this guide to help you hunt down the best stand mixer for your kitchen. We combed through dozens of best-selling stand mixers to see which tools not only garnered top-notch ratings but also have reviews from people who've actually used them. Whether you're looking for a compact mixer for small spaces or a splurge-worthy gadget for your countertop, we bring you some of the best models currently available on the market.
Best Selling Stand Mixers on the Market in 2021
Our Top 5 Best Stand Mixers Reviewed
Best Stand Mixers Reviews
1.     Russell Hobbs 25930 Go Create Stand Mixer
Looking for a sturdy and reliable stand mixer with excellent features and an affordable price tag? This Russel Hobbs model is then the best stand mixer for your needs!
Key features:
Robust, versatile, and designed for ease of use;
Features a powerful 1000w motor;
Large bowl with 5 liter capacity;
Includes whisk attachment, dough hook, beaters, splash guard, and plastic beater.
The Russell Hobbs 25930 is a budgets stand mixer that combines generous capacity and power. It is an excellent choice for all those who want a functional mixer and don't care too much about wowing with a statement piece.
Thanks to its numerous attachments, the mixer is capable to handle everything you throw at its dough hook, beater, and balloon whisk. However, sometimes you may need to push dry ingredients down into the mix.
This stand mixer is not too large or heavy, so you may expect it to move slightly when it is mixing tough doughs. The controls are pretty straightforward and the attachments and bowl easily twist into place. Unfortunately, the bowl can't be cleaned in the dishwasher. But, at least it is simple to wipe clean it.
What we like:
A quality stand mixer that comes at a good price;
Features 10 different speeds to tackle all cooking tasks easily;
The controls are straightforward;
There are quite a few attachments that easily twist into place;
The powerful 1000w motor can handle any kind of mixture you throw at it.
What we don't like:
Since the mixer is not heavy, it may move when mixing heavier dough. Also, the bowl can't be washed in a dishwasher.
---
2.     Vospeed Food Stand Mixer
Let's say that you really like the idea of having a stand mixer in your home. But, once you start exploring the most popular products, you notice that they tend to be quite expensive. Well, we bring you one of the best stand mixers currently available that come at an affordable price. It may not have all the bells and whistles like some high-end models, but, it will do its job well.
Key features:
A powerful stand mixer featuring a planetary stirring system;
There are eight adjustable speed options;
Comes with a whisk, dough hook, and mixing beater;
The manufacturer provides a one-year warranty.
This stand mixer uses a planetary stirring system, which is the most efficient mixing system available. The mixer will allow you to mix up and bake a variety of food, ranging from pasta to ice cream, egg whites to bread dough.
There are three attachments included – a whisk, dough hook, and mixing beater. By using these three attachments, you'll be able to blend, beat, whip, knead, mix eggs or cream. The mixer is great for making cakes, bread, cookies, pastry, muffins, and waffles. There is a splash guard included that helps you add ingredients without making a mess. All mixing accessories are dishwasher safe.
The mixing bowl has large capacity (five quarts) and it is large enough to mix up the dough for three loaves of bread, five pounds of mashed potatoes, or seven dozen cookies. The mixer features a tilt-head and anti-slip design that not only allows clear access to the mixer bowl and attached beater but also makes it easy to install and remove the stainless bowl and the attachments.
What we like:
The most affordable quality stand mixer you can find;
Tilt-head and anti-slip design make using the mixer easy and convenient;
Three attachments and five-quint bowl are dishwasher-safe;
A splash guard allows you to make less mess while mixing ingredients.
What we don't like:
The mixer is quite basic when compared to more expensive models.
---
3.     Kenwood Chef Titanium XL KVL8300S Stand Mixer
No products found.
Not interested in basic models? Well, here's one that will blow you away! It's perfect both for home bakers and professional chefs. And, with this baby on your counter, there won't be a recipe you can't make. However, we should warn you in advance that all amazing appliances are pricey.
Key features:
1700W motor with 6.7 Litre stainless steel bowl for speed even under heavy loads while baking;
A full set of non-stick baking tools including the K-beater, balloon whisk and the dough hook;
In-bowl illumination provides more control so you can monitor your mixing;
Unique fold function gives you control over your baking and lets you create delicate mixes;
Unrivaled versatility with 25 optional attachments.
Among all the stand mixers on our list, the Kenwood Chef XL Titanium stands out with its low, square design and unrivaled versatility. . It's a modern model and its quality and style shine through, with an enclosed guard for the bowl and lighting feature in the attachment head.
You will truly feel the difference when you try a more luxurious mixer model. The controls and mechanisms on this stand mixer are a pleasure to use, with smooth actions, sprung loaded movements, and satisfyingly solid attachments.
The whisk, hook, and beater are hefty and fit perfectly into the head. If you're a cooking professional, there are many interesting accessories to fix to the mixer's additional high or low-speed ports.
What we like:
A quality, high-end model with a powerful motor;
The mixer is covered by a 10-year guarantee;
The baking tools and the bowl are dishwasher-safe;
The clever lighting gives you more control over your mixing;
The mixer will tackle even the heaviest loads without struggling or moving.
What we don't like:
The only downside of this model is its price; not everyone can afford it.
No products found.
---
4.     Kenwood kMix Stand Mixer
Like the previous mixer, but find it too expensive? Here is another stand mixer by Kenwood, that stands out for its excellent performance and stylish desigh. It's more affordable than the Kenwood Chef Titanium XL, but has almost identical features.
Key features:
Stand mixer with a glass bowl and a stylish design;
Features non-stick baking tools that are dishwasher-safe;
There are over ten optional tools for all sorts of cooking tasks;
Unique folding function allows to create delicate mixes.
Designed to combine simplicity, function and style. The mixer comes in more than 25 bright, bold colours that will add a vibrant and modern look to any kitchen. This model functions by using the planetary mixing that covers the entire contents of the bowl, so no ingredients are left behind.
How does the kMix differ from the Chef Titanium XL? Well, it comes with little less power (1,000 w) and a slightly smaller bowl (5 litres). Other than that, all features are the same. Also, there are ten available optional attachments for his model, whereas Chef Titanium XL can fit 25 different optional attachments.
This model also features the unique fold function that helps you create mixes like brioche. Also, all tools and the bowl are dishwasher-safe for quick and easy cleaning.
What we like:
A quality mixer that is almost as good as the Chef XL but comes at a more affordable price;
Tools and the bowl are dishwasher-safe for easy cleaning;
The 5-liter bowl is big enough for whipping up 44 cupcakes;
There are ten optional attachments available for the mixer.
What we don't like:
Some customers complained that the glass bowl got stuck to the mixer base after a few months of use, making it impossible to remove it.
---
5.     VonShef Red Food Mixer
The VonShef Red Food Mixer is perhaps the best stand mixer for those who are looking for a mixer to make cakes occasionally or mix dough for one or two loaves and don't want to spend too much money. It performs as good as the other mixers on our list but may take a bit longer. But, you won't mind this tiny "flaw" as much when you see the bargain price!
Key features:
Eight speed settings for mixing tough doughs and whizzing airy mixes;
Tilt-head design makes it easier to add ingredients;
Lightweight and easy to move around;
Comes with a 4.5-liter bowl;
The manufacturer's two-year warranty is included.
This VonShef stand mixer features a decent 1000W motor, so it should be able to cope with tough doughs and whizz air into sponge and meringue mix. But, as we already mentioned, it may take this mixer a bit more time to do its job compared to other models on our list.
The model is stylish, lightweight, and well-put-together. If you don't want a mixer that will stand on your counter all the time, then this one is an excellent choice. The mixer's casing is plastic, so it might pick up a few scrapes if you don't handle it with care.
The manufacturer says that the bowl capacity is 4.5 liters, but in reality, the mixer has a 3-liter working capacity. This means that the mixer won't be able to cope with huge quantities, but it is good enough for occasional cakes or a loaf or two of bread. Of course, all attachments and the bowl are dishwasher-safe, making the cleaning incredibly easy.
What we like:
A quality and lightweight model that is easy to move around;
Comes at a bargain price but offers excellent performance;
The 1000w motor is powerful enough to cope with tough doughs;
The mixer features a tilt-head design and eight speed settings.
What we don't like:
The capacity of the bowl is small, so this model might not be a suitable choice for every chef.
---
Related Posts:
---
What is a Stand Mixer?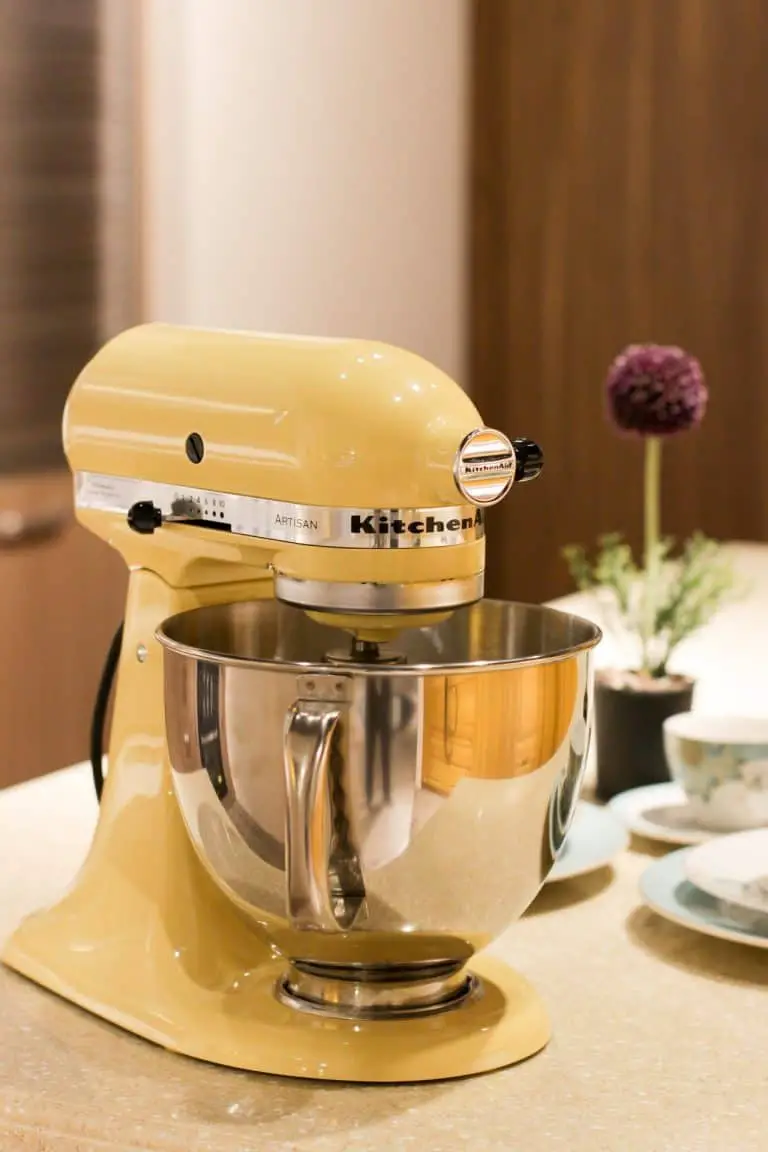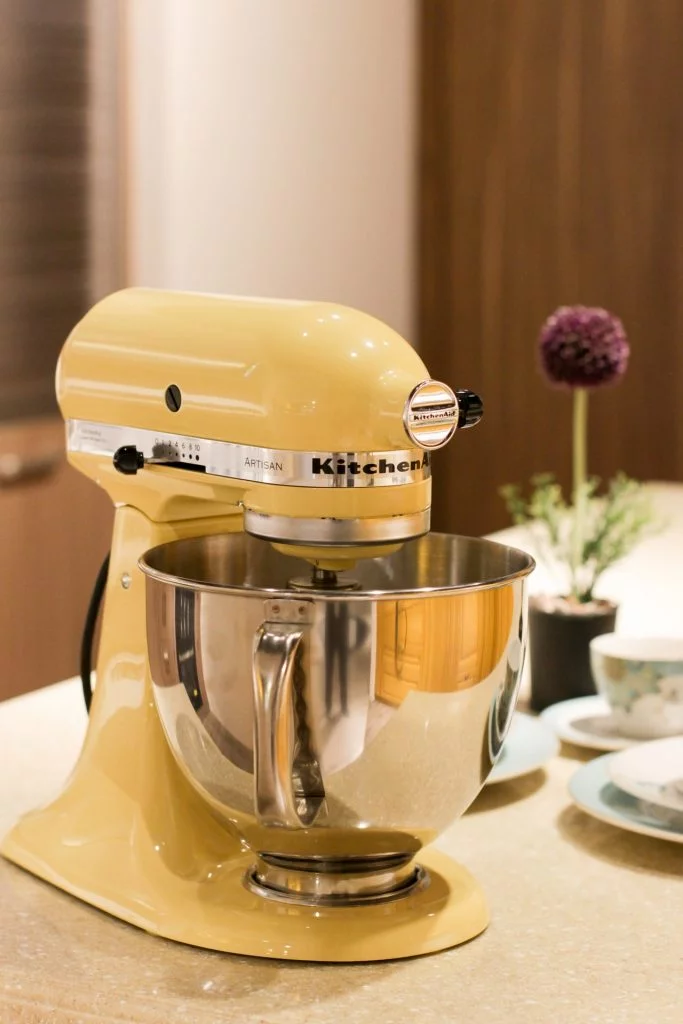 Image Courtesy of Pexels
A stand mixer is an appliance that uses a rotating mechanism to carry out repetitive kitchen tasks. It comes with multiple attachments and a large-capacity bowl that are perfect for whipping and whisking, making cakes, and kneading dough. A stand mixer is more effective than a food processor in this respect.
Stand mixers have a hinged main body and an output for various attachments, such as whisks, dough hooks, beaters, and many more. Stand mixers often have simple speed settings and are easy to operate. They're a medium-sized appliance, taking up around as much space as a slow cooker or blender.
Hand-Held Mixer vs. Stand Mixer
If you already have a hand-held mixer, then you may think a stand mixer is an unnecessary addition to your kitchen. After all, a hand mixer performs the same baking tasks as the stand mixer. However, there is one significant difference. Hand mixers are far smaller and capable of only doing the basic tasks.
A stand mixer is more powerful and has a higher wattage and larger capacity. These appliances are often more versatile, thanks to the variety of their attachments. They are also entirely hands-free, allowing you to get on with other things while the mixer is working.
Even though hand mixers are more compact and more affordable, they are reduced to performing only the basic tasks. On the other hand, stand mixers are roomy bowls designed to contain multiple ingredients, minimize mess, and better handle heavier mixes such as pastry and pizza dough.
Different Types of Stand Mixers
Stand mixers can be categorized according to two criteria – the design of the base and by mixing action.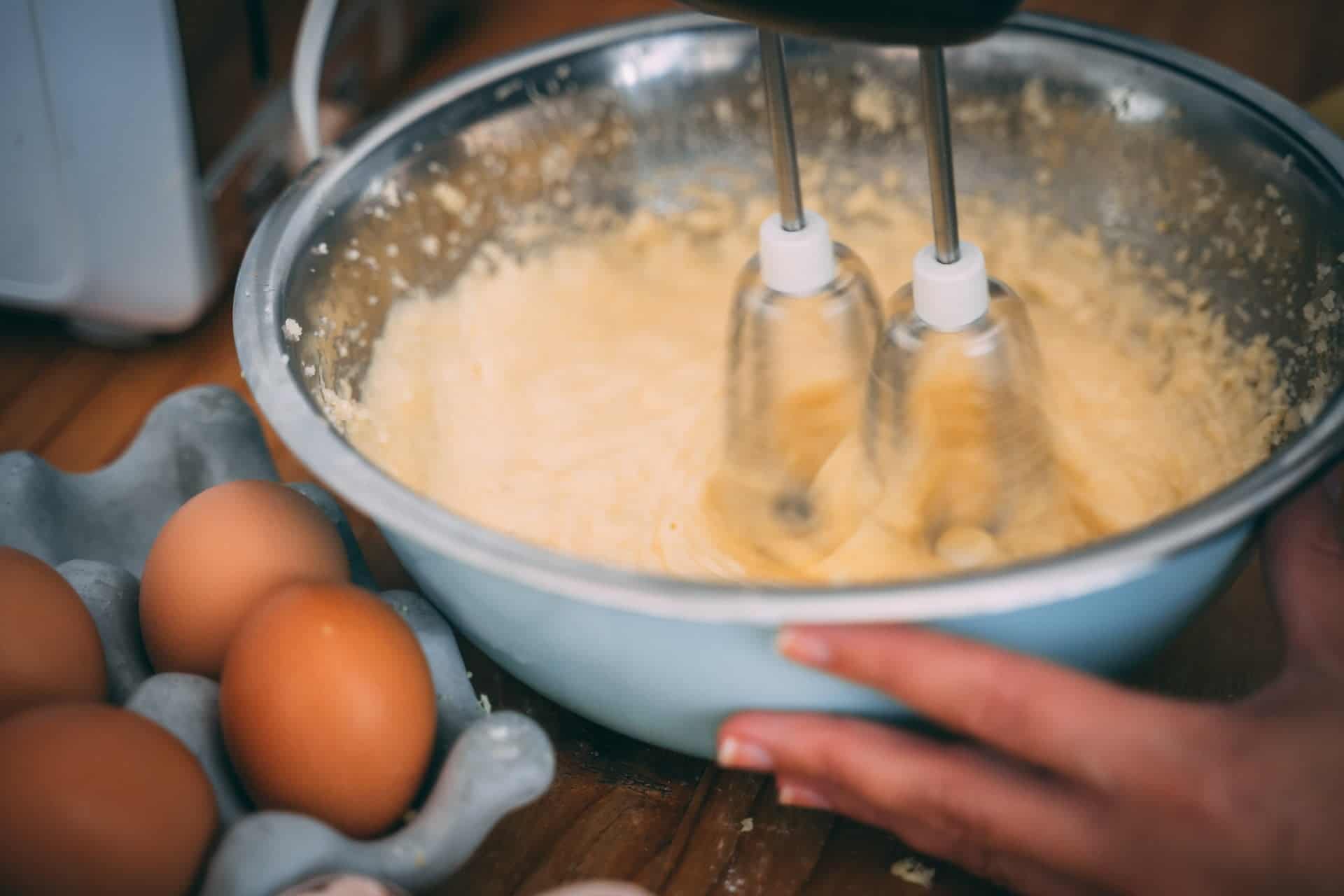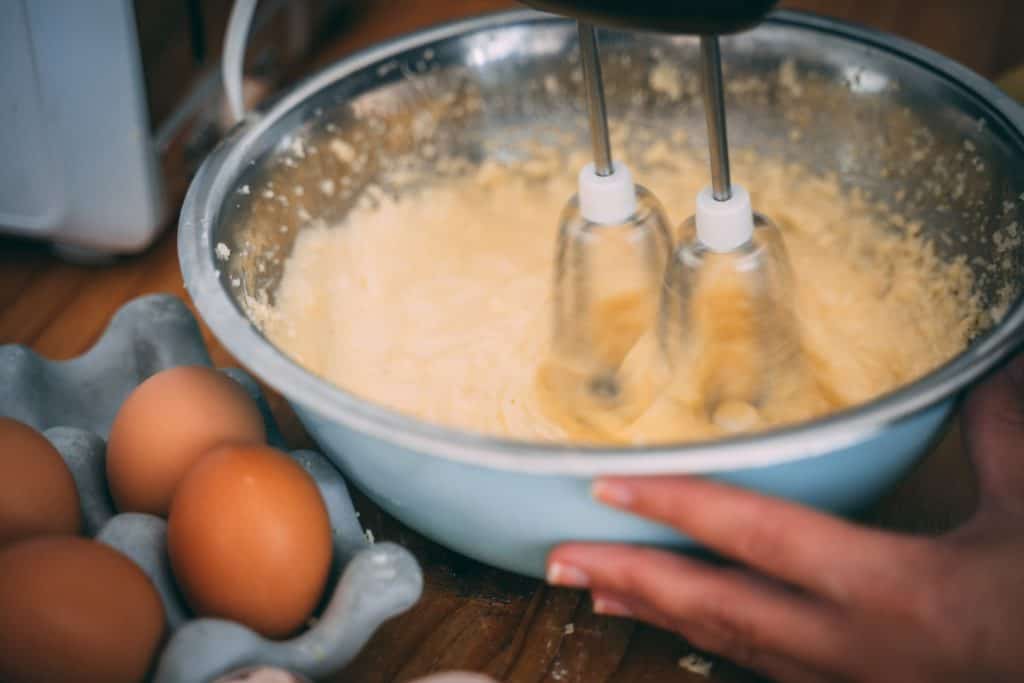 Image Courtesy of Pexels
The design of the base determines how the beater attachment meets the bowl. There are two styles available: tilt-head design and bowl-lift design. Tilt-head design features a top that tilts up when you want to attach or remove the attachments or bowl. Most stand mixers for home use are made in this style. One advantage of tilt-head mixers is that they tend to be more compact than bowl-lift mixers.
Bowl-lift stand mixers feature a bowl that can be snapped into place on the mixer base and then lifted towards the mixing attachment using a lever. This design is mostly found among professional mixers, but also quite a few of those designed for home use. These mixers tend to be larger, sturdier, and more stable than tilt-head mixers. It is a bit easier to add ingredients to a bowl-lift mixer. However, it is also impossible to remove the bowl without also removing the beater attachment.
When it comes to the mixing action, stand mixers can be divided into planetary and stationary. Planetary mixers feature a single beater that spins on its axis while it rotates around the bowl. This action ensures more points of contact and more consistent mixing. Stationary mixers come with two stationary beaters that spine while the bowl turns in place. As a result, these models don't mix as thoroughly because the beaters are stationary and never touch the entire contents of the mixing bowl.
How to Choose the Best Stand Mixer for Your Needs
When choosing the best stand mixer for your needs, it is recommended to pay attention to the following features.
Power and Range
If you're planning to invest in a stand mixer, make sure that you get a powerful model, with a range of high and low speeds that can handle all sorts of recipes and baking needs. In general, it is recommended to start at a low speed to prevent the ingredients from splashing out of the bowl.
Low speeds are also more suitable for delicate batters. High speed is excellent for quickly whipping cream and egg whites or mixing cream butter and sugar to a fluffy consistency. Powerful stand mixers won't strain, smoke, or "walk" when mixing heartier doughs at high speed.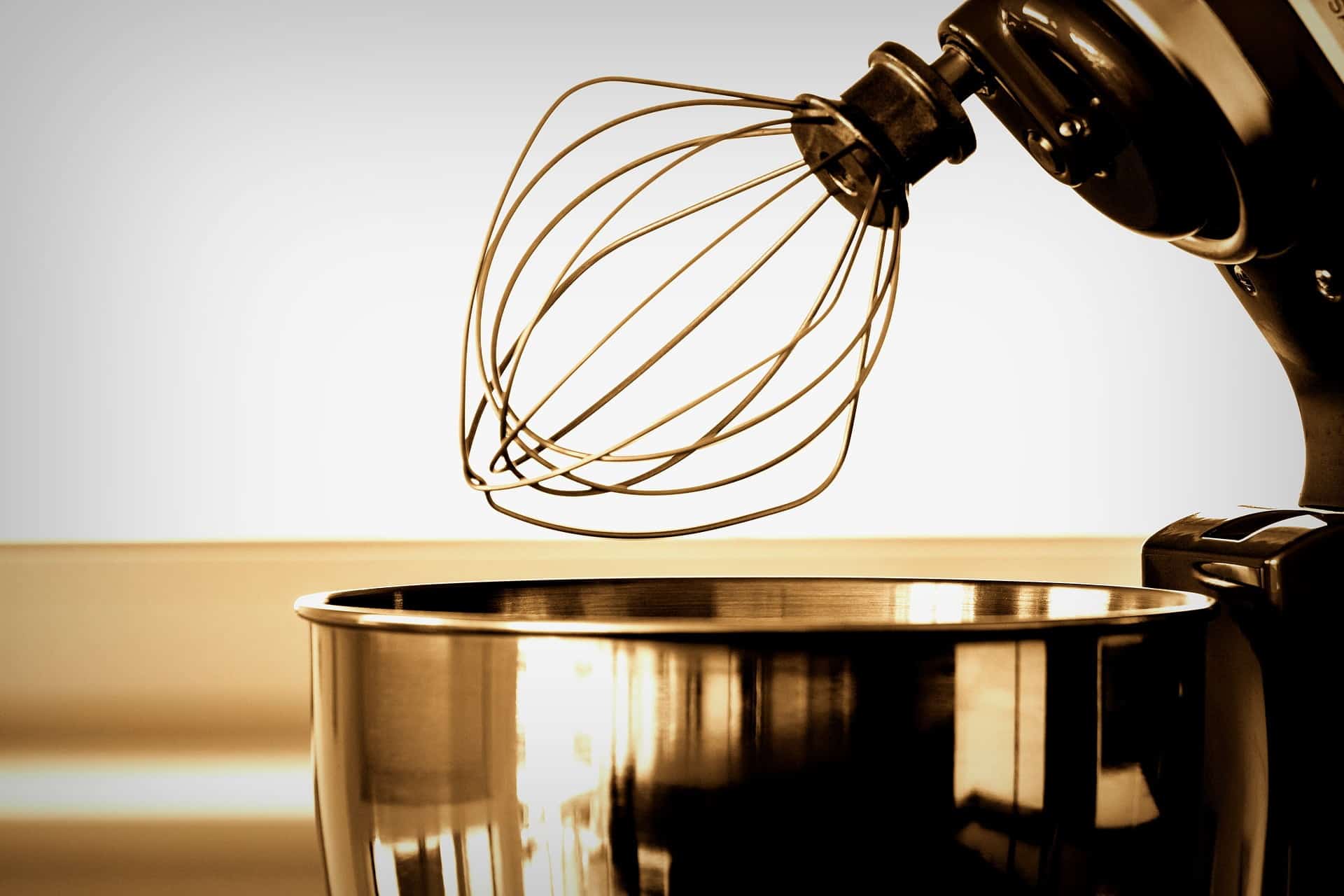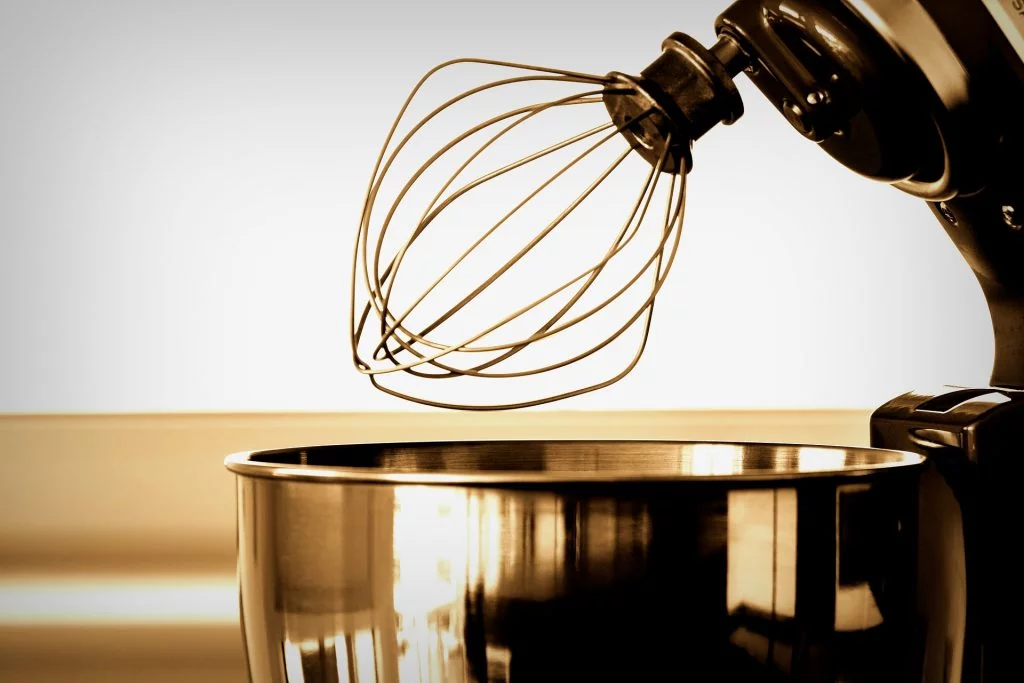 Image Courtesy of Pixabay
Ease of Use
Stand mixers tend to be bulky appliances that take up some space. But, they should be easy and intuitive to use. Lifting the head, adding or removing attachments, and securing the bowl to the base shouldn't require much effort. A handle on the bowl is extremely convenient when you're pouring cake batter or perhaps scooping cookie dough.
Interchangeable Attachments
Stand mixers tend to come with multiple beater attachments that allow you to whip up all sorts of recipes. Ideally, the mixer should include a paddle for beating most batters and cookie doughs, a dough hook for kneading bread, and a whisk for aerating things like egg whites or whipping cream. The attachments are usually made of metal or nylon coating and are dishwasher safe, making it easy to clean and maintain them. Speaking of maintenance…
Maintenance
It would be surprising if you managed to whip up an entire cake without a puff of flour or a splash of cream hitting your mixer. Luckily, stand mixers tend to be very easy to clean with a sponge and a bit of soapy water. It is recommended to wipe down the mixer as soon as possible to prevent caked-on splatter from forming.
If you buy a model with a glossy finish, make sure not to use the sponge's rough scrubber side so you don't dull the shine of the mixer. Consider getting a stainless-steel cleaner or polish on stainless steel-finished models to refresh their look occasionally.
When it comes to mixing bowls, almost all of them tend to be dishwasher safe, just like the attachments. Always make sure to read the included user manual to see the recommended way of cleaning your equipment.
Size and Heft
According to Baker Anne Gordon, "a quality mixer should be heavy enough to handle its force—which means it won't rock around on the counter on a high-speed setting." Buyers sometimes tend to complain about the heavyweight of stand mixers, which is perfectly understandable if you have to pull it out of a cabinet every time you want to use it.
However, stand mixers are actually designed to stand on the counter. If you're looking for a more portable model, then you should consider investing in a hand mixer instead. The added heft of a stand mixer is crucial to keeping it stable and prevent it from rocking on a counter during intensive mixing sessions.
When it comes to the bowl, it is recommended 5 to 6 quarts. This size is good enough to make about four dozen standard-size cookies or tackle just about any home baking task.
Versatility
If you have the right attachments, you can use a stand mixer to make just about anything, including even pasta or sausages. We recommend that you sit down and think about what you would like to use the mixer for before making a purchase. Then, find a model that comes with all the accessories you need for your cooking adventures.
Additional Accessories
Some stand mixer models come with hubs that allow you to attach additional accessories, such as a meat grinder or pasta maker. These accessories have to be purchased additionally.
Even though it is not essential to get a stand mixer with space for additional accessories, it is convenient having the option to get even more use out of what is usually a large, expensive machine.
Cost
The price tag is one of the factors that have the most influence on your buying decision. When purchasing a stand mixer, you might be tempted to go for the more affordable model. However, it is recommended to buy a quality model with an acceptable price (for your budget). That way, you'll get added mixing power, stability, and versatility. All in all, you should get the best mixer you can afford.
When it comes to these appliances, more money usually means more features and attachments. But, you shouldn't splash out on a feature-rich mixer with plenty of accessories if you're never going to use them.