Fast fashion and the ease of buying clothing and materials pushed the sewing machines into decline. Nevertheless, there are still many supporters of tailoring for easy repair of clothes or for creative well-being. So, we wanted to create a list to share the best sewing machines available now. Whether you're an avid sewer or a total beginner, you can never start too late. So, here are some of the best sewing machines available now.
What are the Best Sewing Machines on the market in 2022?
Last update on 2022-06-24 / Affiliate links / Images from Amazon Product Advertising API
Our Favourite Sewing Machines
Now that you've seen some of the top-rated sewing machines, let's take a closer look at what is available for you to purchase now. For this list, we'll be looking at some machines best suited to the beginner sewer, and some more advanced machines. So, it's important to keep in mind what experience you're starting off with before buying a machine.
1. Brother LS14S Metal Chassis Sewing Machine
Sale
Last update on 2022-06-24 / Affiliate links / Images from Amazon Product Advertising API
A traditional machined with a fun design, this Brother machine is a great option for all kinds of sewing.
Key Features
Jam proof drop-in bobbin.
LED light for simplicity.
This product advertises itself as perfect for the people who want to sew whole outfits or just do some simple clothing repairs. It works with 14 stitches and has a 4 step buttonhole. It also includes a jam-proof drop-in bobbin that will show you how much of your bobbin thread is left. The simple LED light is also there to show you that thread and colours aren't distorted. You're also able to easily adjust the tension, and convert the machine to a free arm.
This purchase includes a zig-zag foot, buttonhole foot, zipper foot, set of needles, 3 bobbins, a disc-shaped screwdriver, foot control, and an easy-to-understand DVD.
What We Love
It's simple to use the machine for people who aren't used to sewing yet.
It's light and easy to transport.
What We Don't Love
It can be loud for a sewing machine.
---
2. Portable Sewing Machine with Foot Pedal
No products found.
This machine may look complicated, but it has a user-friendly approach that even the newbie sewer can get used to.
Key Features
Has double thread and double speed functionality.
Has 12 built-in sewing patterns.
This mini sewing machine is perfect for all types of sewing. It has a handful of user-friendly features to make the experience easy, while still showing some awesome results. Features include the LED sewing light, anti-slip bottom pads, a replaceable foot, cut and sew overlock stitches, 2 unique speeds, and reverse sewing.
This purchase comes with the sewing machine, a power adapter, a foot pedal, a spare needle, a needle threader, 4 thread spools, and a user manual. It's only 4.2 pounds, and 27×26.5x12cm, so it's small enough that you can store it easily.
What We Love
It's budget-friendly.
It's easy to use.
What We Don't Love
No products found.
---
3. Brother FS40 40-Stich Electronic Sewing Machine
Sale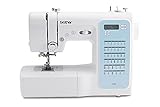 Last update on 2022-06-24 / Affiliate links / Images from Amazon Product Advertising API
Brother knows how to make some great sewing machines, and this one is no exception. The price tag might be a little bit higher than the rest on this list, but it's recommended for the person who knows their way around a sewing machine. And if you're ready to get used to a more advanced one, this also comes with an instructional DVD so you can rest assured you're using it properly.
Key Features
5×1 step buttonholes.
Quick touch selection that offers adjustments for length and width.
This product is advertised towards the more advanced sewer and comes with a variety of features. It features a start/stop button with slide speed control so that you can control it all with your hands when desired. It also has a drop-in bobbin and automatic bobbin winder. And with the 5×1 buttonholes, you can sew buttonholes of all different sizes!
40 stitches may seem like a lot, but they will come in handy across your time sewing. The options include more simple and straight stitches, to zigzag utility stitches and decorative stitching. For easier use, the electronic display with stitch selection will show the foot type needed for each stitch.
What We Love
All of the stitching options.
It's full of features for advanced sewers.
What We Don't Love
It's a little pricier than many other options.
A bit bulky in design.
---
4. Eunicom 12 Stitches Sewing Machine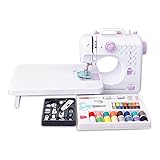 Eunicom 12 Stitches Mini Electric Sewing Machine Multifunction...
☆ Sewing machiens Mini size, Portable and save space for you. Easy to use. Design the pattern whatever you want to sewing in textile like clothes,pillow cover,bed sheet etc. Good for beginners and everyday sewing projects.
☆ Double thread, double speed (Low / High). Multifunction sewing tool. Forward and reverse stitch button, ABS casing. 2.67KG lightweight could be taken to everywhere.
☆ Multi-purpose sewing machine with 12 built-in stitch patterns, meet your different needs of DIY sewing. Light bulb for work space illumination .16 kinds of special dedicated function pressure foot can be competent for a variety of sewing needs,16 Metal Matching Bobbins Sewing Kit for Professional, Home, Travel, Gifts, Art School, Tailor Shop.Please don't use the power adaptor and batteries at the same time.
☆ Forwards and reverse sewing. Use hand switch or foot pedal to start. Including all-purpose presser foot replacement holder and 11 kinds of special dedicated function pressure foot and extension table can be competent for a variety of sewing needs.
Last update on 2022-06-23 / Affiliate links / Images from Amazon Product Advertising API
This product comes with everything that you could need when starting your sewing journey, for a reasonable price.
Key Features
It includes a needlework box set.
Portable and lightweight.
With the Eunicom machine, you can use the double thread and double speed options. Other features and options include forward and reverse stitch buttons, ABS casing, and 12 built-in stitch patterns. So, it's great for the average sewer, regardless of what kind of project you're working on. This product also includes an automatic thread rewind.
The biggest perk to this purchase is all of the extras that you get with purchase. Included items are 2 thread spools, 2 metal bobbins, 1 needle, 1 threader, 1 foot pedal, 1 AC adaptor, 11 piece presser foot set, a sewing tools kit needlework box set, and 1 extension table.
What We Love
It isn't loud like many other machines.
It comes with plenty of perks.
What We Don't Love
It feels a little bit too lightweight for the more experienced sewer.
---
Related:
---
FAQs about Sewing Machines
No matter what you plan to do, whether it is to conjure up a pretty summer dress from your favourite fabric or repair and complete your family's wardrobe. Sewing yourself is the best way to put your own touches on something special. With a little practice and the right sewing machine, it can be done in no time. But what should you pay attention to when choosing the right sewing machine?
Every beginning is hard
Sewing is not just a great way to save money. Sewing is also a relaxing pastime and a welcome way to creatively express one's own personality to many who like to put their hands on the sewing machine.
The most important thing for beginners in this area is that they feel well with the selected sewing machine and are not overwhelmed by the functions. The machine should definitely be easy to use even for the first-timer. This requires an easily understandable operating manual with a detailed explanation of the individual functions, without too many extra functions.
The sewing machine should, of course, master all basic functions to allow clean and tidy sewing. This includes not only the mastering of utility, elastic, and decorative stitches, but also the reliability of the sewing machine. Favourable for sewing beginners is a so-called "slow-sewing mode". With this, it is easy to keep track of where you're at. In addition, the attached symbols should be easily recognizable and understandable. Though, some studying of the machine will always be needed.
This is how the sewing machine works
A sewing machine works with at least two threads: the upper and lower thread. The upper thread is clamped in the device and then threaded into the eye of the needle. The lower thread is on the spool under the presser foot. During the sewing process, the sewing machine links both threads in the following way:
The needle initially pushes the upper thread through from above.
Thereafter, the resulting thread loop is connected at the bottom via a so-called thread gripper with the lower thread.
This fixes the upper thread and fixes the resulting seam.
The upper thread then forms the seam that you see on the outside of the garment.
Important features
When buying a sewing machine, consider that a beginner typically does not need all the features a professional needs to use on a daily basis. Nevertheless, you should value some basic functions:
Stitch types: In principle, all sewing machines can sew two different stitches at a time. A simple straight stitch for sewing together and a zigzag stitch, which is mainly used for elastic seams and for clean edges. From the combinations of these two engravings subsequently arise the so-called utility stitches by means of computer technology, which combine the stitches freely. For normal household use, the following stitches and features are required:

Overlock stitch: This is used for a durable and elastic seam.
Blindstitch: This stitch is intended for invisible seams.
Elastic stitch: It is essential for stretchy materials or stitches.

Transporter: The transporter pushes the fabric under the sewing needle. Especially when working with denser woven fabrics or when stuffing it is necessary that it can be sunk.
Additional feet: For a good seam, the right foot is essential because it provides the fabric with the optimal position. For many sewing machines, such additional feet are already included as standard in the scope of delivery.
Free-arm: When sewing on a freestanding armhole, round-closed textiles such as trouser legs or shirt sleeves can simply be placed over the arm and sewn. Therefore, you should always select a sewing machine with a free arm. Many sewing machines can be converted into a free-arm by removing a machine part.
Sewing speed: It is optimal for the user to be able to adjust the sewing speed infinitely. This ensures that the stitches do not get uneven or crooked. In addition, newcomers often get along better at slower speeds.
Rewinding function: In order to place the required yarn on the so-called bobbin thread, it is rewound from a bobbin onto a special bobbin. This is done with different systems. Sometimes the thread remains threaded in the needle, which saves threading and unthreading. Other devices automatically switch off the sewing unit to protect the drive. High-quality machines can both rewind and sew.
Buttonhole automatic: Many household sewing machines are equipped with a so-called "buttonhole automatic". All you have to do is set the length of the buttonhole. Everything else is taken care of by the sewing machine, which then sews the buttonhole completely independently and in addition sews the thread.
Mechanical or electric sewing machine
When choosing a sewing machine, you have to decide whether to buy a mechanical or an electronic device. The decision depends on your requirements in terms of comfort and creative possibilities. In addition, the price issue plays a role here, as electric or computer-controlled sewing machines are significantly more expensive to buy.
In mechanical sewing machines, the speed is controlled by means of an electric foot pedal. It is necessary to adjust the stitches with their widths and lengths, the tension of the upper and lower thread and the needle position itself. This is done with the help of a lever or handwheel. Such sewing machines are very robust and are suitable for beginners. If you intend to process stronger materials, such a device is rather unsuitable. For fabrics that are to be processed with standard stitches, but the devices are more than adequate.
An electronic sewing machine offers much more comfort. Speed ​​and the start and stop process are electronically controlled by pressing a button. The desired stitch is set via a number pad. Everything else is done by the machine itself. At the touch of a button, these devices also sew backward. In addition, there are often more than 100 types of stitches available.