Have you ever had to shop for somebody who seems to have everything? While the typical gifts may seem boring or unnecessary, a walkie talkie is always a unique, exciting gift for anybody, even if they seem to have everything!
Not only are they a great gift to get for somebody else, you never know when they may come in handy for yourself. Whether you want to use a walkie talkie to have fun with your kids around the house, or to do some exploring outside without the risk of getting lost, they are a great addition to any home.
In a hurry? Take a look at the Best Walkie Talkies in 2021

Budget Pick


Our Pick


Motorola Tlkr T92 H2O PMR446 2-Way Walkie Talkie Waterproof Radio...
eSynic 2Pcs Walkie Talkies 2 Way Radio Long Range Rechargeable...
Motorola Talkabout T82 Extreme PMR446 2-Way Walkie Talkie Radio...
Motorola T42 Talkabout PMR446 2-Way Walkie Talkie Portable...
Wishouse Two Way Radios for Adults Travel, PMR446 Walkie Talkies...

Motorola Tlkr T92 H2O PMR446 2-Way Walkie Talkie Waterproof Radio...
Budget Pick

eSynic 2Pcs Walkie Talkies 2 Way Radio Long Range Rechargeable...

Motorola Talkabout T82 Extreme PMR446 2-Way Walkie Talkie Radio...
Our Pick

Motorola T42 Talkabout PMR446 2-Way Walkie Talkie Portable...

Wishouse Two Way Radios for Adults Travel, PMR446 Walkie Talkies...
Not convinced? Here are the best walkie talkies that you can buy now to help you stay in touch with the people who matter.
1. Motorola Tlkr T92 2-Way Walkie Talkie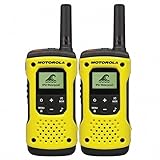 When you picture a walkie talkie in your head, something similar to this Motorola will likely pop into mind. It's pretty basic, but sometimes that's all you need!
Key Features
No fees, bills, or contract.
All weatherproof.
You never know when you'll need to radio out to someone else. So, this product works up to 1 meter underwater for up to 30 minutes! There's even a dedicated emergency button because you never know when you'll run into trouble. Plus, you'll never have to worry about fees, as it works on a licence-free PMR446 radio.
The range on this walkie talkie is up to 10km, depending on your conditions and terrain. This makes it perfect for use while hiking, traveling, or if you just want to chat back and forth with your kids from the inside of their hidden fort.
What We Love
The batteries last for a long time.
Sturdy and durable for proper use in any condition.
What We Don't Love
They take a long time to charge.
If you've ever been out on an adventure where cellphones aren't feasible, you'll know how important communication can be. And what better way to help facilitate it than a great functioning walkie talkie?
---
2. eSynic 2 Way Radio
Sale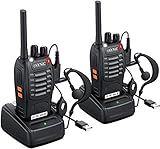 This walkie talkie goes beyond just being able to talk from far away, while only costing a fraction of the price of other walkies!
Key Features
It comes with headsets for convenient usage.
Charges via USB or plugin.
Walkie talkies and radio functionality may seem complicated, but eSynic makes it easy. There are 16 channels to choose from, and as long as both walkies are connected to the same one, you'll be able to chat. Plus, they come with a built-in LED torch, so you can use them at night.
The range on these walkies is up to 5 kilometers, depending on the environment you're using them in. Using them in a wide, open space means that you can get a further range, while things like mountains or trees blocking the way can lower it. While it may be less of a range than other models, the lower price makes up for it.
What We Love
They're easy to use.
They're budget-friendly.
What We Don't Love
They take a long time to fully charge.
While the range on these walkie talkies won't take you on any serious traveling, they're a great product to use for playing with kids, or even for use at a job site like construction.
---
3. Motorola Talkabout T82 2-Way Walkie Talkie
Sale
If you're after some walkie talkies for the whole family, this 4-pack has got you covered.
Key Features
It comes with 4 radios and special equipment.
Weatherproof for all conditions.
This 4-pack of radios also comes with lanyards, earpieces, and a carry case. So, if you've got a whole squad in need of some radio communication, you'll be well-equipped. This product also features an all weatherproof capability, so you won't have to worry about getting caught in some bad weather.
Like all Motorola walkie talkies, this one uses a license-free radio system, so you don't have to pay a cent for airtime. It uses a simple pairing system, making it an easy process to have all 4 walkies in sync. Other features include a built-in LED torch, so you can navigate your way around at night, and a range of up to 10 kilometers.
What We Love
The battery life lasts for days.
The sound quality is very clear.
What We Don't Love
They're more expensive than most walkie talkies as there are more in the pack.
Very susceptible to background interference.
This walkie talkie set is an excellent choice before a family vacation, or to gift to someone else who likes to adventure.
---
4. Motorola T42 Talkabout 2-Way Walkie Talkie
Sale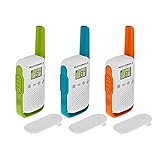 Walkie talkies rely on some pretty old-school technology, so plenty of them lack in style. This Motorola product offers a fun, exciting design to keep your walkie talkies from looking boring.
Key Features
Comes in a pack of 3.
Range of 4km.
This Motorola product works on a licence-free radio system with 16 channels. So, all you have to do is have every walkie talkie hooked up to the same channel, and you're set! This purchase will feature 3 walkie talkies, in orange, teal blue, and a lime green option. So, you can colour-coordinate!  The range works up to 4km. With the shorter range, fun colours, and cheap price, this would make for excellent toys for your children or a fun way of staying in touch from across the house.
What We Love
The colours keep them from looking drab.
They're easy to use.
What We Don't Love
The range is shorter than most walkie talkies available.
This product is our favourite pick for those who have children. What better way to encourage play then to send them off on an adventure with a fun way of keeping in contact!
---
5. Wishouse Two Way Radios
Whether you want to use these walkie talkies for some serious travel communication, or just for some outdoor strategy games, the Wishouse two-way radio is a strong option.
Key Features
They're designed to be lightweight and portable.
Uses noise cancellation to reduce background noise.
This walkie talkie product comes in a fun orange design and includes a belt clip and slings for easy portability. Not only are they easy to carry around, but they're also easy to use. With the VOX system, you can adjust your walkie talkie so that you don't even have to use your hands to communicate. This is perfect for the traveler who needs to communicate hands-free, like when biking, rowing, or another consuming activity.
This radio will work with a range of up to 5km. Wishouse is so confident that you'll fall in love with their product, as they offer a 90-day warranty guarantee. So, for whatever reason, you can return if it's not what you're looking for. Now that's brand confidence!
What We Love
Noise cancelation makes it easy to hear who you're speaking with.
The battery lasts a long time.
What We Don't Love
Batteries are not included with your order.
This is the best walkie talkie option for those who need to remain hands-free. We're looking at you, cyclists!
---
Related:
---
Common Questions About Walkie Talkies
Now, walkie talkies have been around for a long time, so many of us have a good idea of how they work. But with the emergence of cell phones, walkie talkies have seen a decrease in use. So, you might know a little bit less than you thought. Let's explore some of the common questions that many people ask about walkie talkies.
10 Best Selling Walkie Talkies
How do walkie talkies work?
Walkie talkies are essentially portable radios. They work by using a single shared frequency band via radio waves. Walkie talkies all have a transmitter and receiver, antenna, and a speaker/microphone combination that works with a push-to-talk feature. To communicate with others, each walkie talkie uses a channel system. So, all you have to do is be hooked up to the same frequency band, a.k.a. radio channel. Push the push-to-talk button, say what you need to, and let go of the button. Hopefully, someone will hear you.
Why do people use walkie talkies?
Walkie talkies have plenty of uses. In more recent years, they're perfect for use in places where cell phone service is hard to find, or unreliable. So, when camping, hiking, or out on the water, it's a safer choice for when you need to keep in touch with someone. And if you're camping or in a space that you're unfamiliar with, keeping a walkie talkie is excellent in emergencies. You never know when you might get lost from the group.
Another fun thing to do with walkie talkies is to use them as toys or gear for children. It's a fun addition to playtime, and children may love getting to play with a "grown-up" looking toy. They're excellent additions to spy games, wilderness exploration games, or anything else that their imagination can come up with. If your kids like to go out of sight and are still too young for cellphones, you can also equip them with a radio and keep the other.
An additional use for walkie talkies is for baby-monitor usage. Many walkie talkies have features that do not require you to push-to-talk, so a walkie talkie can be used to listen to your baby while you're not in the same room.
What are walkie talkies not great for?
Since walkie talkies use channels, it's not hard for someone to come on to the same channel as you. So, you shouldn't be sharing any private information over a walkie talkie. You never really know who is listening. Some expensive brands will offer encryption, but that's pretty hard to come by.
Walkie talkies are made for more close-range communication, so you won't be able to use them when you're far away. Most products will work within a range of 4-10km, but it all depends on the area. Places with mountains, hills, or buildings can decrease how far the range that you can speak in is. When you're in a more open area, or water is the only thing separating you, you'll be able to communicate from further distances.
How long do the batteries last?
Because walkie talkies are commonly used in outdoor settings, products know that you won't always be able to re-charge. Some brands charge with plug-ins, while others use simple batteries. No matter what product, you should expect to get at least one to two days out of their battery. You should always consult with the specific brand information before going out without a back-up, as some brands may have shorter battery power.
What does licenced and licence-free mean?
Licence-free radios are easier to use and more common for the average walkie talkie user. They have no fees associated with them and use basic channels to communicate. If your main use will be during things like hiking, camping, or at home, a licence-free radio should be fine. The only downsides are that other uses can be on the same frequency as you, so privacy can never be 100% expected.
Licenced radios allow you to use a unique frequency more securely. So, you won't have other walkie talkie users stumbling on your radio frequency. This is optimal for people who intend to use their walkie talkies for work purposes, like communicating with coworkers. These tend to have a larger range. Though, obtaining a walkie talkie that is licenced will cost you a bit more.
Can you use walkie talkies anywhere in the world?
Walkie talkies are great for traveling, especially because you won't always be able to use your cellphone in another country without paying high fees. Fortunately, licence-free radios can be used pretty much anywhere. Though, if you're planning on using a licenced radio in another country, you'll have to hire the licence for the country you want to use this in. This can cost more, and you'll have to arrange it in advance. So, if you're planning on using a licence walkie talkie, it's recommended that you arrange it at least 3 months in advance.
Do people still use the walkie talkie lingo?
Most of us have picked up some common walkie talkie lingo from movies and television. Not everyone is strict with this kind of communication, but it can still be a fun and easy way to communicate. So, we've compiled the most common walkie talkie lingo for you.
"10-4" is used to confirm that you've understood what someone has told you.
"Copy" is another way to say that you've heard and understood the message.
"Standby" is a way of saying that you've heard what someone has said, but you're unable to reply at the moment.
"Standing by" means that you're waiting for someone to tell you more information.
"Over" is easily the most recognized walkie talkie word. It's used to indicate that you're done talking, so the other person can speak without being interrupted.
"Over and out" is commonly used to indicate that you're done speaking, but also that you're turning off your walkie talkie or leaving the frequency.
If you're using your walkie talkie with friends or family, or especially with children, you can speak the way you normally do. Though, there are some common walkie talkie etiquette rules that may make conversation easier, specifically if you're using them to communicate when doing more serious activities like hiking or camping. Speaking briefly and to the point makes communication easier, especially because some radio frequencies have lots of interruptions or bad signal. You should also remember to speak clearly, slowly, and loud enough or close enough to the microphone that you know that you are heard correctly.
Another fun suggestion? Code names. Using a walkie talkie is a fun alternative to cellphones, so mix things up and be creative!
We hope that you are starting to think about all of the fun, exciting, or useful ways that you could put a walkie talkie to use. Whether it's for you and your family, or a gift to a friend, a walkie talkie is always a great idea. Plus, it can teach your kids to get off of cellphones and communicate the old-school way! Here's an idea: buy walkie talkies, and the next time your child builds a fort, give them one of the devices. They can talk to you from inside their fort when you're in another room, and that way they can pretend that they're camping all by themselves!