We all know how important hair (or lack thereof) is when it comes to our appearance and confidence. Balding clippers are key for those who like to keep a bald head, or for someone who is about to rock the shaved head look for the first time.

While head shavers are a thing, balding clippers are a totally different product that takes it to the next level. They're there to get rid of everything, bringing you the closest shave that you'll find.
In a hurry? Take a look at the best balding clippers on the market!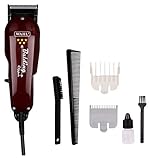 Budget Choice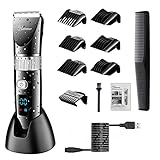 Our Choice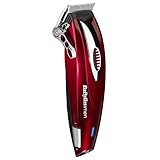 Wahl Balding Hair Clipper
Hatteker Professional Hair Clipper Cordless Clippers Hair Trimmer...
Philips QC5570/13 DIY Easy Reach 180 Degree Hair Clipper
BaByliss for Men Super Clipper XTP Hair Clipper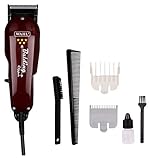 Wahl Balding Hair Clipper
Budget Choice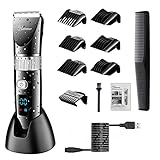 Hatteker Professional Hair Clipper Cordless Clippers Hair Trimmer...
Our Choice
Philips QC5570/13 DIY Easy Reach 180 Degree Hair Clipper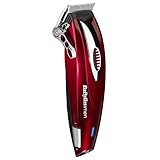 BaByliss for Men Super Clipper XTP Hair Clipper
Last update on 2022-06-04 / Affiliate links / Images from Amazon Product Advertising API
So, whether you're thinking about shaving your head, or know that balding is coming, get yourself a pair of balding clippers. Here are our picks for the best balding clippers that you can buy.
---
1. Wahl Balding Hair Clippers
Last update on 2022-06-04 / Affiliate links / Images from Amazon Product Advertising API
Wahl has solidified itself as a go-to company when it comes to men's hair care needs. This balding hair clipper product is one of their best. It's moderately priced, but built to ensure that it lasts.
Key Features
It's designed to stay quiet.
It comes with a variety of accessories.
The Wahl product is designed with a level of style that you'll be happy to keep as part of your grooming tools. It's inspired by a vintage grooming design. It uses a powerful motor and blades with zero-overlap to ensure the closest cut out there. It's also corded and easy to use.
This product also comes with added accessories. With the purchase of the clippers, you'll also get the high-prevision, zero-overlap surgical blade set, a pre-shave brush, clipper oil, and a cleaning brush. Just remember that it's there to give you a very close cut, so be careful.
What We Love
It cuts incredibly close to the skin.
It's designed with style.
What We Don't Love
---
2. Hatteker Professional Hair Clippers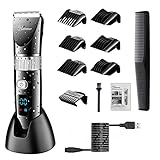 Hatteker Professional Hair Clipper Cordless Clippers Hair Trimmer...
【User-friendly design】 Ceramic Cutting Blade create the perfect shave without any irritation for Men, Kids and Babies. Moderate size and smooth line offer the comfortable feel, which conform to easy handle principle.
【High Performance cutting system】Professional 5-degree rotatable blade ensure an effective shaving, explore which haircut suit your best and maintain the hair style.
【LED Indicating light】One key for switch to complete your skin-friendly shaving experience with HD display. 100% waterproof for easy cleaning.
【One Lithium ion battery &Powerful and duarble motor 】long-lasting rechargeable battery with a run time of up to 2.5 hours after just 90 minutes of charging / Quiet, low noise superior performance haircut machine
Last update on 2022-06-04 / Affiliate links / Images from Amazon Product Advertising API
Hair clippers are a product that's been around for decades, but Hatteker's design gives it a modern touch.
Key Features
The product is cordless and rechargeable.
It's waterproof.
The Hatteker product uses a ceramic cutting blade to give the perfect close cut while decreasing the risk of irritation. It's designed to work on your head or face, so you can tackle any hair. The t-degree rotatable blade also ensures that you can get at any curves, like a jawline or around the ears.
The rechargeable clipper takes 1.5 hours to get a full charge. Afterward, you can use for up to 120 minutes of work time. So, it's also a great option for traveling! Purchasing this product will also get you 6 different comb heads. This includes 22-24mm, 16-18mm, 10-12mm, 7-9mm, 4-6mm, and 3mm.
What We Love
It's budget-friendly.
It's great for traveling.
It's great on thick hair.
What We Don't Love
The attachments can be tricky to put on.
---
3. Liberex Cordless Hair Clipper
No products found.
This high-tech looking clipper comes in black or gold and is sure to give you the closest cut you're after.
Key Features
It comes with 3 attachments to ensure choice for your cut.
It uses a rechargeable battery.
This clipper isn't just for the top of your head. It will work around your face, ears, and neckline. So, if you want a totally clean look, it's here for you. It uses a t-shaped blade that's self-sharpening and designed to prevent pulling and snagging. The attachments allow for different lengths, and using it without an attachment will give you a 0.1mm trim.
The motor is designed to be quiet, yet powerful. It's also lightweight enough that you won't get tired after a long shaving process. The battery needs 1 hour of charging for every 90 minutes of cordless use. There is also a status indicator on the LED display to tell you how much time you have left. You'll never have to worry about the battery dying in the middle of the cutting process!
What We Love
It's budget-friendly.
The battery lasts a long time.
What We Don't Love
It's not waterproof and can only be used on dry hair.
No products found.
---
4. Philips Do-It-Yourself Hair Clipper
Philips QC5570/13 DIY Easy Reach 180 Degree Hair Clipper
Comes with 180 degrees rotating head
Comes with 13 lockin length settings. Two combs provide length settings from 1 mm to 15 mm
Top cutting performance with selfsharpening, stainless steel blades.
Rounded edges on the blades and combs mean less scratching and a more comfortable trim
Last update on 2022-06-04 / Affiliate links / Images from Amazon Product Advertising API
If you want a salon-quality shave or cut without the price, then the Philips product is here to help you out.
Key Features
It uses a special rotating head.
It can be used plugged in or from the rechargeable battery.
Making sure that your cut is perfectly precise and even all around is the trickiest part about doing your hair at home. This product uses a unique 180-degree rotating head to ensure that you don't miss any spots. You can also select and lock-in the length with the integrated zoom function.
This product isn't just easy to use, but it's easy to clean as well. It's 100% washable, so you just need to run it under the water for a thorough clean. You can choose to use this product with the cord. Though, if you prefer a rechargeable product, you can get an hour of use for every hour of charging.
What We Love
It's great for traveling.
It's easy to get a full cut, even over different textures.
What We Don't Love
It's recommended that you also purchase oil with this product to get the best results.
There's no way to tell how much battery you have left.
---
5. BaByliss For Men Super Clipper
Sale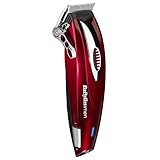 BaByliss for Men Super Clipper XTP Hair Clipper
Ultra-powerful corded or cordless professional grade hair clipper
Precision engineered Japanese steel blades for smooth and effortless cutting
Note : Please charge 2 hours before the first use, a 2 hour charge will provide approximately 85 minutes use
Grades zero to 8 for a variety of different lengths and styles
Last update on 2022-06-04 / Affiliate links / Images from Amazon Product Advertising API
Whether you want red or black with rose gold detailing, you're looking at a high-quality, long-lasting product.
Key Features
It can be used cordless or corded.
It can be used for a variety of different lengths, from bald to trimmed.
This product uses precision-engineered Japanese steel blades. The design is made for smooth, effortless cutting for all different lengths. It grades from zero to 8. If you're keeping it bald or just short, this product will work with you.
You can get up to 85 minutes of high power after a 2-hour charge. Features include a taper control that makes for great blending or fade styles. There is also an advanced motor that works quickly and quietly.
What We Love
You can choose from corded or cordless.
It's perfect for blending and fading styles.
What We Don't Love
It's not budget-friendly.
It takes a long time to get a full charge.
---
Related:
---
Balding Clipper Questions & Answers
As I'm certain you already know, your head and hair are a pretty important thing to pay attention to. It's one of the first things that people notice. So, you want to make sure that it's groomed right. That includes when it comes to shaved or bald heads. So, here are a few questions with answers for when it comes to balding clippers.
What are balding clippers for?
Balding clippers are pretty self-explanatory. They're there to help you clip your hair on the way to balding! Sometimes they are used for people who are going bald or have a receding hairline. They're great for this as it helps you get ahead of the hair loss, and lets you get rid of your hair on your own terms. Some folks just prefer to use them for style preferences when they just want to be bald. They are a different product than head shavers. Though, the function is similar.
This type of product is designed to give you the closest cut/shave possible. It still works to avoid nicking or irritating your skin. So, your head will be fresh and clean.
How do you use balding clippers?
Sure, you can go to a fancy salon or hairdresser to get your head shaven. Though, that cost can add up quickly. So, if you want to do it at home with your own balding clipper, here's a quick guide on how to do it!
Get it short enough. You can't go from shaggy hair to bald in one cut. For those starting with longer hair, grab some scissors. You'll want to trim your hair as much as you can, while still leaving enough hair to use the clipper on. Using a small guard size (1 is recommended) is perfect.
Start with the sides. Start with the back and sides of your head. This will make the rest of the process go smoother. We recommend using two mirrors to inspect your head and have eyes on every angle.
Shave the opposite way that your hair grows. This will usually be front to back, especially if it's your first time shaving.
Ensure that your clippers are at the right lever. Most clippers will have different lengths and blade attachments to fit the cut that you need. If you're after the absolute closest shave you can get, make sure you're using the right function.
What factors should you consider?
Since all of our heads are unique, we all have different features that will best accommodate us. Here are a few features and functions of clippers that you should consider when choosing which is best for you.
What cutting lengths are offered. If you're set on a close shave, you won't need too much variety. Though, it's nice to have a choice.
The blade width. Head width of around 1.5″ is recommended. This will impact the ease of getting around the ears and neck.
Motor power. These motors can be an electromagnetic motor, a pivot motor, or a rotary motor. Electromagnetic motors tend to be the most popular and last the longest.
Blade teeth. A shallow set of teeth is your best bet for a close cut.
Corded or cordless. If you travel a lot, or just like to have more movement with your product, you'll want to look for a rechargeable product that's cordless. Though, corded options do have their benefits. You'll never have to worry about unexpectedly losing power, or needing to plan a charge.
The handle and weight. How easily the product fits in your hand, and how heavy it is, are things that people don't often consider. A lightweight product may be best for those whose hands tend to tire easily.
Is it waterproof? Some people swear by trimming hair in the shower. Others prefer the dryer route. Corded products will never be waterproof. Though, not all cordless ones are either.
Are there any attachments? Some products and brands sell their clippers with add-ons. If these are important to you, be sure to check with each product.
Are the blades self-sharpening? This isn't often a deal-breaker, but some people prefer a blade that keeps itself sharp. This is done with a function making the blade rub against a metal strip to sharpen it.
How do you clean balding clippers?
You're probably focusing on keeping a clean head, and not clean clippers. Though, it's important to maintain your clippers. Not only is this hygienic, but it'll make the clippers last longer. Here are some tips to keep your product clean.
Use a dry brush on a regular basis. This will knock out dead skin and hair that will have accumulated on the brush.
Oil your blades.
Consider blade cleaners. They use a pressurized mist that cools down the blade and gets rid of gunk and residue. It's also a disinfectant for any bacteria that has built up.
---
Being bald may have some stigma attached to it, but it shouldn't. Nor does it need to! Men and women everywhere make the decision to keep their head shaved or bald. There are also times when you can't control being bald. No matter what the reason is for living a life free of head hair, balding clippers are here to make it all easier. So, we hope that you've learned a few things through this buyers guide, and feel confident to make a decision on which to buy!