The state of your head hair is pretty important. After all, it is right there for the world to see. So, when it comes to keeping on top of your stylistic choices or upkeep of however much hair you grow, it's necessary to have a product that gives you the peace of mind that you'll finish your routine looking as stylish and hair-free as needed.
Because we want to make sure you're keeping confident with your hairstyling routines, we've compiled a list of some of the best head shavers available now. And, so that you feel fully ready and educated to use them, we've also got a thorough list of questions and answers for you.
In a hurry? Take a look at the best head shavers in 2021

Philips Series 5000 S5530/06 Wet and Dry Men's Electric Shaver...

Philips Series 5000 S5530/06 Wet and Dry Men's Electric Shaver...
So, let's take a look at the best head shavers that you can buy today, whether it is for yourself or a bald or wanna-be bald person in your life!
---
1. The Electric Egg-Shaped Rotary Shaver
Sale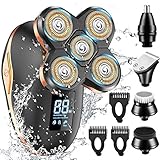 You've probably already got a pretty good idea in your head about what a head shaver is meant to look like. This egg-shaped shaver is here to defy your expectations!
Key Features
Wet and dry functionality.
It comes with a grooming kit.
It's 100% waterproof.
You're probably asking yourself what is up with this product and its weird design. Well, the egg-shaped body is designed to fit comfortably in your hand, so that you can move it around as needed. Plus, it works as both a head shaver and a beard trimmer, so you can get as much use of it as wanted! This product uses three floating heads so that you can adjust motions and movements to the desired area.
With only two hours of charging this product, you'll get a full 90 minutes of use before needing another charge. That's more than enough time to shave off all of the important bits! Not only is it easy to charge, but it's also easy to use. All you need to do is use a simple one-button operation to activate. And the best part? You can use it wet or dry.
What We Love
It's budget-friendly.
It's easy to clean.
It gives a very close shave.
What We Don't Love
The physical design is hard to get used to for those who have adjusted to their old shavers.
Because of the neat little design of this shaver, it also makes a great (and unique) present. So, if you're treating yourself or a loved one, we think this is the right option for you!
---
2. 5-in-1 Rechargeable Electric Shaver
If you want it all, then this 5-in-1 product has it.
Key Features
Cordless after USB charging.
100% waterproof.
Wet and dry functionality.
This product comes with pretty much anything you could need, whether you just want to shave your head, or the whole face, too. It comes with the electric razor and a grooming kit, featuring a precision trimmer, a nose and ear trimmer, a facial cleaning brush, and a facial massage brush. It also features an LED light to help you get those hard-to-see hairs.
A lithium battery is used to keep this product charged. It offers USB charging and gives a 60-minute cordless charge. It's also fully washable, so you can clean it or use it in the shower if needed. The double-ring independent floating blade uses a 5-head system to work with everyone and their unique head structures.
What We Love
It's small enough to carry around while traveling.
The palm grip handle is comfortable for use.
What We Don't Love
Changing accessories can be difficult to navigate.
If you are looking for a gift for a loved one, you can't go wrong with a product that features pretty much all of your facial grooming needs, whether they're bald or not.
---
3. Palm Skull Shaver
Sale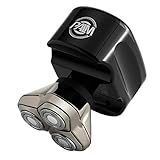 This Skull Shaver product is the best choice for a man who likes a complete shave all across his head.
Key Features
It comes with an accessory kit.
A high-performance battery that offers 60 minutes of cordless shaving.
This shaver also utilizes a unique design to get the best shave. The design features an ergonomic handle that fits comfortably in your palm. The shaving head is flexible enough that you can reach your neck, head, and face, without any strain. It uses CR-3 blade technology with 3 pivoting rotary heads that are able to tackle the thickest of hair and the most complex skull shapes.
This product comes with an ear and nose trimmer as an add-on for the multi-use shaver. It's also easy enough to clean, with a waterproof body. Since it's waterproof, you can also shave in the shower, and do a thorough rinse afterward to help keep it clean.
What We Love
This product makes it easy to get rid of every hair.
The shave is smooth and nearly free of risk of nicking the skin.
What We Don't Love
The blades are not long-lasting.
It's pricier than other options on the market.
We recommend this product to the users who are used to having a complete shave, and want to be able to keep up with it as easy and quickly as possible!
---
4. Electric Razor Bald Shaver
If you want a smooth, comfortable shave for one of the best prices on the market, then this one is for you!
Key Features
Safety lock design.
100% waterproof.
What is neat about this bald shaver is the safety switch lock design that works on the shaver. You need to press the security button for 3 seconds to exit the lock mode. This means that you won't have to worry about the razor accidentally turning on while traveling, protecting your baggage and saving energy. It also means more safety if someone mistakenly touches the product.
This product allows for a wet or dry shave and is waterproof. The charging works through USB charging, and features an LED indicator so you won't have to risk the product dying mid-shave.
What We Love
Budget-friendly.
Safe to use.
Comfortable grip.
What We Don't Love
The product takes a long time to charge (3 hours).
This is an excellent product for the world traveler who needs to maintain a shave while on the go.
---
5. Philips Series 5000 Wet and Dry Electric Shaver
Sale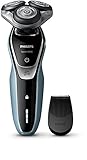 Philips has been a trusted brand for shaving and hair trimming for years, and their series 5000 product is an excellent option for a head shave.
Key Features
Wet and dry functionality.
It doesn't use up much power.
Also works on face and neck.
This Philips product offers a Turbo+ mode that works to provide you with 20% more power. So, for a man who needs a strong shave job, it has your back. The Multi-Precision blade system raise and cut both longer and shorter hairs, so you'll have a fast but thorough job. And with the 5-directional flex heads, you can rest assured that it is covering every inch of your head.
This product uses a protection mechanism that advertises 10x protection against nicks and cuts compared to other options. It also gives 50 minutes of shaving time after an hour charge, so you can go weeks without needing to re-charge.
What We Love
It does a great job at shaving all facial and head hair.
It's easy to clean.
What We Don't Love
It's a pricier option than other competitors.
If you're after a trusted and reliable brand, you can buy with confidence with Philips.
---
Related:
---
Common Questions With Answers
Now that you have a better idea of what is available for you to buy, let's dig into some common questions you may have about head shavers and shaving heads in general.
What are the best selling head shavers?
| # | Preview | Product | Rating | Price | |
| --- | --- | --- | --- | --- | --- |
| 1 | | Head Shaver,Upgrade Electric Razor for Bald Men ,Men's Electric... | 13 Reviews | £36.54 | Buy on Amazon |
| 2 | | Electric Shaver for Men,GOOLEEN 5 in 1 Head Shavers for Bald Men... | 666 Reviews | £29.99 | Buy on Amazon |
| 3 | | Remington RX5 Ultimate Head Shaver for Bald Men, Easy to Clean... | 1,256 Reviews | £59.99 | Buy on Amazon |
| 4 | | Electric Razor for Men, ElectriBrite Bald Head Shaver Rotary... | 2,796 Reviews | £23.79 | Buy on Amazon |
| 5 | | Skull Shaver Pitbull Gold PRO Men's Electric Head and Face... | 2,368 Reviews | £119.99 | Buy on Amazon |
| 6 | | Electric Shaver 5 in 1 Electric Razors for Men Rechargeable Bald... | 182 Reviews | £32.99 | Buy on Amazon |
| 7 | | Head Shaver, 5D Floating Electric Shaver for Men, Head Shavers... | 2,637 Reviews | £32.99 | Buy on Amazon |
| 8 | | Electric Shaver Men 5 in 1 Multifunctional Electric Razors for... | 77 Reviews | £29.99 | Buy on Amazon |
| 9 | | Electric Razors for Men Electric Shaver Men 6 in 1 Rechargeable... | 69 Reviews | £29.99 | Buy on Amazon |
| 10 | | SEFON Electric Shavers for Men Bald Head,Razors Shaving 5-in-1 5D... | 137 Reviews | £23.99 | Buy on Amazon |
Why is head shaving so common?
For some, seeing a fully shaved head is commonplace. For others, they might wonder why shaving your head is an option. Each person may have a unique reason for doing so, but it's common for a variety of reasons. While shaving can take time, it's a much less time-consuming choice of hair than keeping it long, since you won't have to worry about styling it. Or maybe someone just likes the aesthetic purposes. Other common needs to keep a shaved head includes military work, religious purposes, and cultural purposes. Another perk of keeping a shaved head? You don't have to worry about spending as much money on shampoo and conditioner since you'll be using a lot less of it!
First time? How to shave a head.
If you're shaving your head for the first time, you might consider going to a salon to make sure that its done right. While this might give you a bit of confidence, it's also easy enough to do on your own. So, here's a quick step-by-step so that you have an idea on how to approach the first shave.
Trim and soften your existing hairs. You can't go into a shave with a full head of locks. Cut off a decent amount of hair with scissors to make the shaving process easier.
Rinse off with hot water. You don't want to start shaving with leftover hairs from your trim.
If desired, apply shaving gel. You don't have to do a wet shave, but some people prefer it as it protects against irritation.
Check your blades and shaver. Using an old razor won't cut it for this. Make sure that you're using a strong razor (like the few listed above) that don't have dull blades.
Go for it! Use light and gentle movements at first to get the hang of it. It's important to use an even amount of pressure so that each section is being treated the same.
Go against the natural contours of your scalp. You'll also need to be careful around the ears.
Clean your shaver. The faster you clean it out, the longer the blades will stay sharp.
If desired, re-apply shaving gel. This is for some added protection against irritation.
Dry off your head. Fortunately, one of the many perks to a shaved head is that you don't need to wait for your hair to dry naturally (or with a blow-dryer).
Moisturize your head. This can easily be forgotten, but using an aftershave or moisturizer will keep your scalp feeling fresh, soft, and hydrated.
How to maintain a shaved head
It's easy to go through the steps during the shave itself, but you can't forget the aftercare on your head. Here are a few tips to keeping your scalp feeling good.
Wipe off your head with warm water in the mornings.
Use SPF-heavy moisturizer on your head. If you're going outside, it's getting exposed to the sun no matter what. It's important to wear hats on, particularly sunny days.
Cleanse head once a day in the shower. It's important not to over-cleanse so that you don't dry out the skin.
How often do you need to shave your head?
Hair grows differently on everyone. Some people will need to shave every few days, while others will be able to go up to a week without seeing too much stubble. Since shaving your head can be done at the same time as the rest of your face, its recommended to just do it all at once.
Does frequent shaving affect hair growth?
Nope! This is a common myth. Shaving your head will not affect your hair growth. So, if you decide to grow your hair out later, you shouldn't have a problem. Shaving doesn't pluck the hair follicle out of the bulb, so it remains intact and ready to grow.
How long will it take for my hair to grow back?
Hair typically grows at about 1/2 an inch each month. So, about 6 inches per year.
Will my scalp look different than the rest of me?
If you've never shaved your head before, you may be surprised to see a slight difference in colour compared to the rest of your face and body. This is common in the summertime, as you may be tanning, but your head isn't. Because the hair acts as a protective barrier, it doesn't get the same exposure to the sun, therefore staying pale no matter how tan the rest of us is.
Do women shave their heads, too? And is it the same process?
While head-shaving is more common amongst men, there are women who choose to shave their heads. The process is the same, though the scalp may be shaped and curved differently depending on the person.