You may not want to admit it, but Christmas is just around the corner. And if you've got kids, there's no way you can leave the Christmas shopping until the last minute – their lists will soon be in the post to Santa, and toy shop shelves will be empty before the first door of the advent calendar has been opened.
So, to save you the anguish of deciding between disappointed faces on Christmas Day or remortgaging the house to pay over the odds for the latest toys on eBay, here are the top toys for Christmas 2018.
LEGO Harry Potter Hogwarts Express
LEGO is a mainstay of Christmas lists for kids of all ages, Harry Potter is never off the TV around Christmas – so it's no surprise that LEGO's Hogwarts Express train set, complete with railway bridge and Platform 9 ¾, is expected to be one of the season's biggest sellers.
Complete LEGO-sized Harry, Ron and Hermione, along with Remus Lupin, the Trolley Witch, Dementor and Scabbers figures, make sure you order early before this disappears from the shops.
Sale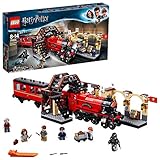 LEGO 75955 Harry Potter Hogwarts Express Train Toy, Wizard...
Build the iconic King's Cross Platform 9¾ and Hogwarts Express train, then begin your own magical journey!
Hogwarts Express train includes a carriage with 4 seats, removable side panel and roof, plus the Trolley Witch with sweets trolley.
Remove the train carriage roof and side panel to place the minifigures in their seats.
Platform features a railway bridge with a clock, steps that lead to a moving brick wall entrance, newspaper stand with 2 Daily Prophet newspapers, and a 'Wanted' poster.
Last update on 2022-07-24 / Affiliate links / Images from Amazon Product Advertising API
Paddington Bear with Classic Boots and Suitcase
Peru's favourite export has been given a new lease of life thanks to the hit movies. If your kids want to get their hands on a plush Paddington, complete with trademark blue duffel coat, red wellies and suitcase, then this 33cm tall teddy is a must have.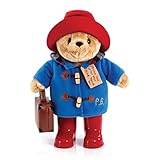 Rainbow Designs Classic Paddington with Boots and Suitcase 36cm
A NOSTALIGIC TREASURE FOR ALL AGES - Our Large Cuddly Classic Paddington plush soft toy with his own suitcase, makes the perfect best friend for playtime adventures for little ones, or as a the ultimate gift for any enthusiast or collector of Paddington Bear.
EVERYONE'S FAVOURITE BEAR – Paddington Bear is one of the most loved characters and adored by all generations from baby through to great grandparent. This fun-loving, kind-hearted bear has travelled all the way from Peru and full of adventures!
PLEASE LOOK AFTER THIS BEAR - This premium Paddington Bear soft toy stands 33cm high and wears his famous blue duffle coat with real toggles and a gold embroidered 'P.B' on his coat, a battered red bush hat and real shiny red wellington boots. Paddington also carries his brown suitcase with the gold initials P.B. in printed and wears his important 'Please look after this bear. Thank you' leatherette tag around his neck
A BEAR FOR LIFE - Little ones often form bonds with a special teddy bears or soft toys, and surrounding your little one with lovable teddy bears such as Paddington, to cuddle and share playtime with, helps your baby or child to feel safe and secure
Last update on 2022-07-24 / Affiliate links / Images from Amazon Product Advertising API
L.O.L Surprise Dolls. Pearl Surprise 2
This year's must-have dolls, L.O.L Surprise Dolls are delivered in a shell that's split into separate compartments, and the only way to unlock it is to use the code cards that are tucked into each compartment. With the accessories unlocked, you can then take off the dolls protective case and dress her up.
The Pearl Surprise 2 comes with a limited edition doll and sister, six pearl surprise dolls, and a glitter case that can be used as a purse, a storage case, or a bath playset.
Last update on 2022-07-24 / Affiliate links / Images from Amazon Product Advertising API
Chow Crown
There's always one family game that's a must-have at Christmas, from Doggie Doo to Pie Face, and this year it's Chow Crown that looks like it'll rule over the rest.
Each player wears a crown from which they dangle their favourite food, which they then must eat while music plays – the aim is to eat as much as possible before the music stops, the catch is that players can't use their hands, and the crown spins as it plays music.
Sale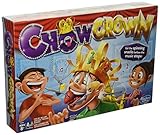 Hasbro Gaming Chow Crown Game
The Chow Crown electronic kids game is ideal family fun with a tasty twist. It's an ideal choice for family game night and get-togethers
Load up the forks; once the music starts, the snacks will begin to spin. Try to eat the spinning food before the music stops (snacks not included)
Get ready for lots of laughs as players try to catch the snacks. Players try to bite the food off the forks without using their hands
The hilarious Chow Crown game has 2 modes of play. Try to eat the most food before the music stops or amp the challenge by switching to longer game mode
Last update on 2022-07-24 / Affiliate links / Images from Amazon Product Advertising API
Crate Creatures
Sure to be a special delivery under Christmas trees up and down the country this year, each Crate Creature come packaged in its own crate, from which it makes noises and peers out with glowing eyes. You can release the creature using a special crowbar (which comes as part of the package, so no need to rummage around the shed on Christmas morning), and if you record yourself speaking to the Crate Creature, it'll repeat what you said in its own monster voice.
Sale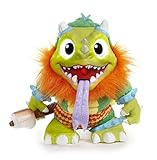 Crate Creatures Surprise- Sizzle
Pull their tongue and creature vibrates, makes fun noises and has glowing eyes inside of packaging.
Use the crowbar to pop the lock and open your creatures crate.
Motion sensor inside creature reacts when they're upside down, knocked over, or laying down.
Record your voice and creature will play back your message in monster voice.
Last update on 2022-07-24 / Affiliate links / Images from Amazon Product Advertising API
What Christmas presents shall I buy for friends and family?
You might have the kids boxed off for Christmas, but what if you're stuck for ideas for other family members and friends? If you need some inspiration, check out our Which To Buy buyers guides for the lowdown on everything from the latest lady shavers to the best beard trimmers.