Going anywhere with your baby during their first year or so can be quite challenging. Taking your baby with you is the easiest part. But, carrying all the things it may need while you're out is quite a challenge! list of things they might need while you're out is endless. From nappies and wipes to a change of clothes, muslins, dummies, formula, bibs, bottles, nappy bags, baby food, Calpol, toys…
What many parents struggle with is finding baby changing bags that look good and can do the job well. Luckily, the world of baby-changing bags has come on leaps and bounds over the last few years and there are so many brands that make baby bags with sleek and smart designs.
We have prepared the ultimate guide on baby changing bags that will help you discover the most popular models on the market currently and also teach you about all the various features you should look for in a changing bag. Keep reading to find the perfect bag that will suit all your needs!
Best Selling Baby Changing Bags on the Market in 2021
Our Top 5 Baby Changing Bags Reviewed
Best Baby Changing Bags Review
1.     BabbleRoo Baby Changing Backpack
BabbleRoo came up with a perfect baby changing bag for moms on the go. And, a great plus is that this backpack combines a stylish and functional design that both mom and dad will love. BabbleRoo hands-free baby changing bag is made of premium tear-resistant waterproof fabric, sturdy zipper & stitching that ensure durability.
This backpack consists of two main compartments and additional 18 pockets that will help you keep all your baby's stuff well organized. There are five insulated pockets for baby bottles, a wipe pocket, a key loop, and a dedicated multi-function changing pad pocket holds tablets and laptops up to 15.6″. Multiple pockets with easy-glide zippers make this nappy changing backpack easily accessible with one hand.  The bag also features an easy wipe-clean foldable changing pad, built-in buggy clips, and a detachable pacifier case.
In addition to all this, the backpack features cushioned shoulder straps and a padded back panel that distribute the load evenly on your shoulders. The easy-grab top handle and convenient buggy clips allow you to wear this diaper bag as a backpack, a handbag or attach it to your baby's pushchair.
In case that some of the zippers get stuck or the backpack is damaged, the backpack is covered by a 180 days warranty. You can contact the 24/7 email customer services and ask them for help.
What we like:
A high-quality backpack made of tear-resistant and waterproof materials;
The backpack features a stylish yet functional design and can be worn as a backpack or a handbag;
Two large compartments and 18 pockets will allow you to keep all your baby's items well-organized;
The cushioned shoulder straps and padded back panel distribute the weight evenly;
The backpack is covered by a 180-days warranty in case that something goes wrong.
What we don't like:
Some users complained that the backpack is not as durable as the manufacturer claims.
---
2.     Lässig Baby Nappy Changing Bag
Lässig Baby Nappy Changing Bag is one of the most sophisticated baby changing bags you'll come across. It sports lustrous highlights and wins the hearts of all fashion-conscious moms with its stylish yet functional design and sparkling features. What many moms love about this back is the versatility. You can carry it as a handbag or a shoulder bag, use the adjustable strap to transform it into a backpack or attach it to the stroller with the special attachment.
The bag is roomy but feels light at the same time. You can fit all your baby's items in there without struggling for space. There are so many different compartments so everything has a place. The bag boasts a well-organized interior with spacious compartments and accessories such as a water-repellent changing mat, insulated bottle holder, removable baby food jar compartment, integrated cell phone compartment, key finder, and much more. And, the best part is, the bag is so stylish and functional you can use it for work or the gym long after the diaper-changing days.
It is important to point out that all Lässig products are pollution-free. All manufacturing sites commissioned by Lässig are obliged to adhere to the respective environmental standards, to continually work to reduce environmental pollution, and to use natural resources with great care.
What we like:
A high-quality and stylish baby changing bag all fashion-conscious moms will love;
The bag can be worn in four ways: as a handbag, shoulder bag, backpack, or attached to a stroller;
There is a spacious main compartment and several more integrated compartments that allow easy storage;
Lässig pays attention to the environment; product manufacturing complies with strict environmental standards.
What we don't like:
The bag is quite expensive.
---
3.     Elephantine Me Baby Changing Bag
The majority of baby changing bags aren't the most stylish accessories out there. And, if they are, they are mostly suitable for moms then. Elephantine Me baby changing bag unites style and practicality in one beautifully designed bag that looks great on both moms and dads. And, of course, the backpack is made of the most durable materials. The brand uses a high-quality waterproof Oxford fabric that not only makes the bag look and feel great but also helps protect it from day-to-day wear and tear.
But, the design is not all that matters. The manufacturer put in a lot of care and effort to develop a bag packed with wonderful features and accessories to make sure you've got everything you need when you're out and about. Whether you're visiting friends for dinner out for a stroll in the countryside, you'll always be prepared with this baby changing bag.
Inside this nappy bag, you'll find insulated milk bottle pockets, a wet wipe/tissue dispenser, and an easy access zip on the back. The wide top opening, large capacity, and multiple interior pockets will all make it easy to access the right thing at the right time.
Being hands-free is an absolute must when you're out with your baby. Use this changing bag as a rucksack or use the included buggy clips to hook it over your pushchair/pram as a buggy bag for a completely hands-free experience. Your pram bag also comes with a foldable changing mat so you're always ready for an emergency.
In case something happens to your bag, there's no need to worry. This one is covered by a 12-month warranty! If you're not happy with the quality of your nappy changing bag at any time within 12 months of making your purchase, the manufacturer will give you a full refund, no questions asked.
What we like:
A high-quality baby changing bag that looks good both on mom and dad;
The premium Oxford fabric looks great and protects the bag from wear and tear;
Features wide main compartment, insulated bottle pockets, easy-access zip on the bag, and a foldable changing mat;
The bag is covered by a 12-month warranty.
What we don't like:
Some users complained that the bag is smaller than the manufacturer's claims.
---
4.     YOOFOSS Baby Changing Bag
At first sight, this is just another regular baby changing bag. However, once you carefully examine the features of this bag, you'll see it is much more than that. This large-capacity backpack features 18 internal and external pockets, well-layered compartments to keep separated wet and dry nappies or clothes. There are side pockets for baby wipes, bottles, or even an umbrella. There are also two insulated pockets for 4-9oz bottles. The bag is made of high-grade polyester fabric with waterproof treatment makes sure years of use. Inside lining is water-resistant and easy to clean.
There are two additional features that make this backpack stand out from the rest. The backpack features a USB Charging Port and Power Cable to help you recharge your cell phone on the go conveniently. Also, the changing bag is more than just that; it can also be transformed into a travel bed or baby cradles. Besides changing the baby's diapers, this bag also allows you to put your baby to sleep.
What we like:
High-quality bag with plenty of space and additional pockets;
The outside and inside of the bag are water-resistant and easy to clean;
The bag can be transformed into a travel bed or baby cradle;
USB Charging Port and Power Cable allow you to recharge your cell phone on the go.
What we don't like:
The backpack is a bit bulky.
---
5.     Babymel Robyn Convertible Baby Changing Bag
Babymel came up with one of the most versatile and stylish baby changing bags currently available. This multi-wear bag is affordable, looks beautiful, and you can wear it four different ways – as a backpack and as a shoulder bag, across your body or handheld. The bag is made from water-resistant durable canvas and faux leather trim. It has six internal and external pockets for all your essentials, including one zipped pocket for storing important items securely, such as your wallet or smartphone.
The backpack features the clever easy-wipes pocket that allows you to remove a wet wipe on the go, without unpacking your changing bag. It's extremely roomy, waterproof, and versatile and went down well with so many moms. The bag also features a quality padded changing mat that is machine washable. An insulated bottle holder with drawstring closure will keep fluids warm or cool for up to four hours.
What we like:
A stylish yet versatile baby changing bag made of quality materials;
The bag can be worn four ways – as a backpack, shoulder bag, across your body, or handbag;
Six internal and external pockets will fit all essentials; the zipped pocket allows you to store phone or wallet securely;
A quality padded changing mat and an insulated bottle holder are included with the backpack.
What we don't like:
Some users complained that shoulders are not comfortable enough and need extra padding.
---
Related Posts:
---
What You Should Know Before Buying a Baby Changing Bag
Before you start your search for the perfect baby bag that will suit your style and fulfill all your needs, there are a few things you should pay attention to.
A baby bag can be quite heavy once you put all the items you need in it. Look for a model that you can wear cross-body or on your back to save your posture.
Bags that have multiple pockets will allow you to store things separately, for quicker and easier access.
It's helpful to get a bag with a thermo-insulation section to keep bottles warm or cool.
Nearly all baby bags come with a baby-changing mat. Don't settle down for a bag without a changing mat if you don't have one.
With all the bottles and food inside, baby bags can get quite messy. For easier cleaning, look for a material that is waterproof and can be wipe cleaned.
If you think you'll put your bag on your pram look for stroller-friendly options with clips for easy attachment.
Look for a bag that both you and your partner will be happy to use. That way, you can only buy one main bag.
Baby bags are durable and hardwearing, but you will need them only for a year or so. You can look for a bag that can be easily transformed so you could use it for work or the gym once your baby grows up.
If you know the gender of your baby you could opt for a 'gender-specific' bag. You can also search for a brand that offers personalized bags and will decorate yours with your baby's initials.
What Can You Fit in Baby Changing Bags?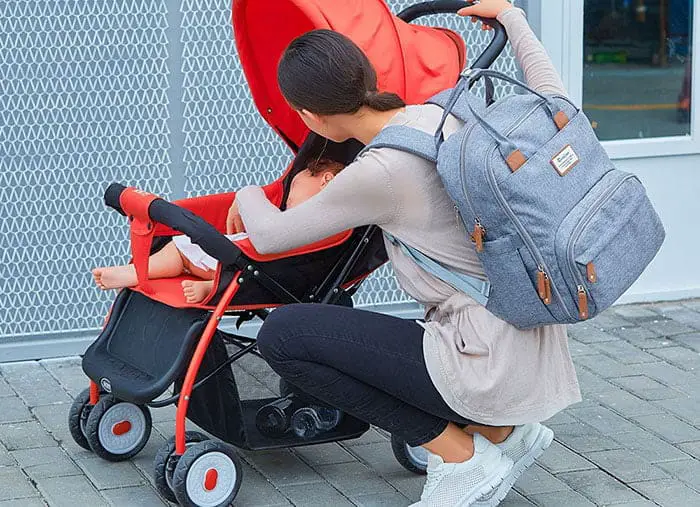 Image Courtesy of No Nonsense Ninja
If you're a new mum and you've never had to pack a changing bag before, here is a checklist of things you should consider taking with you. Make sure to get a bag that can fit all of these:
Clean nappies
Baby wipes
Nappy bags for disposing of used nappies or packing soiled clothes
A couple of muslin cloths
Spare baby clothes
Basic health supplies, such as a bottle of Calpol, a tube of teething gel and some antiseptic cream
An extra cardigan or hat for baby in case it gets cold outside
Baby snacks, when they're old enough for solids (e.g., rice cakes or puffs)
Bottles of milk – either pumped breastmilk or recently-prepared formula
A bottle of liquid formula (for emergencies, in case you forget to pack a fresh bottle)
A toy or book that will keep your baby entertained
Spare bibs, either for dribble or eating out
Baby's water cup, once they're old enough to drink out of it
A spare t-shirt for mum or dad
Baby Changing Bags Buying Guide
With so many baby changing bags on the market, it can be challenging to choose only one. Here are some features you should look out for when choosing the perfect bag for you and your baby's needs.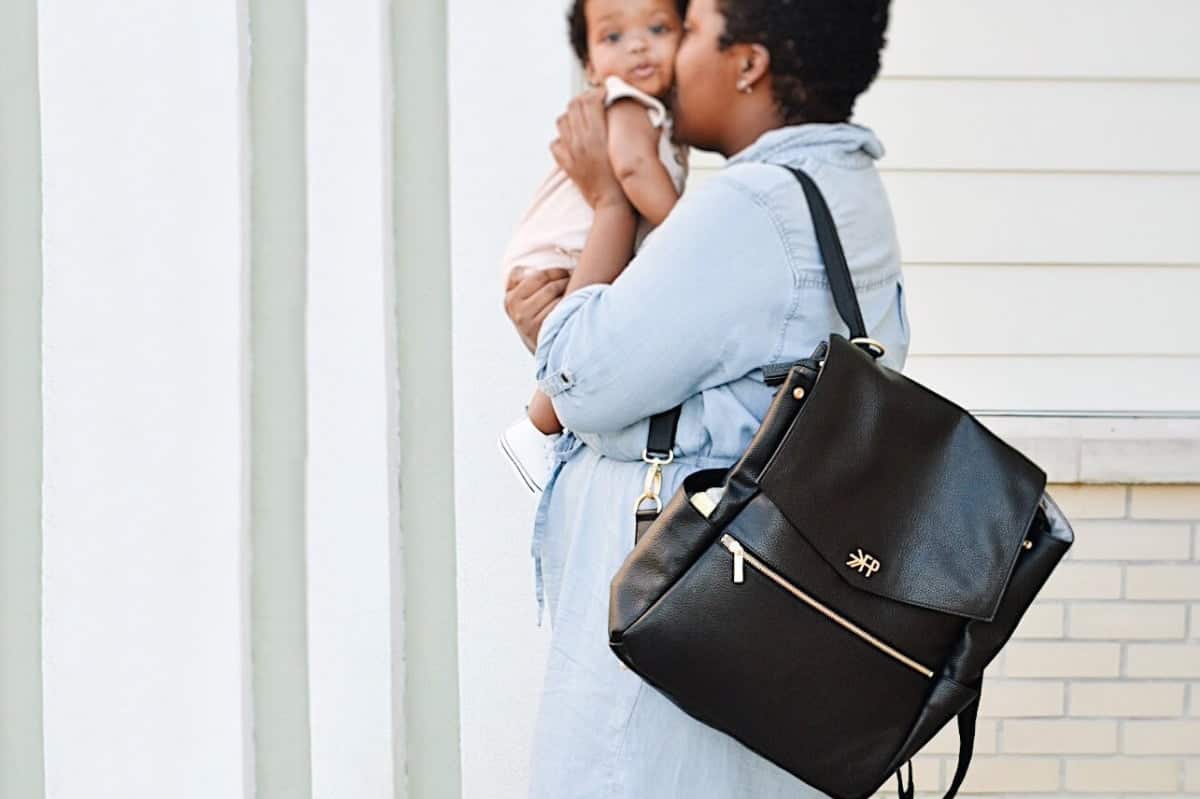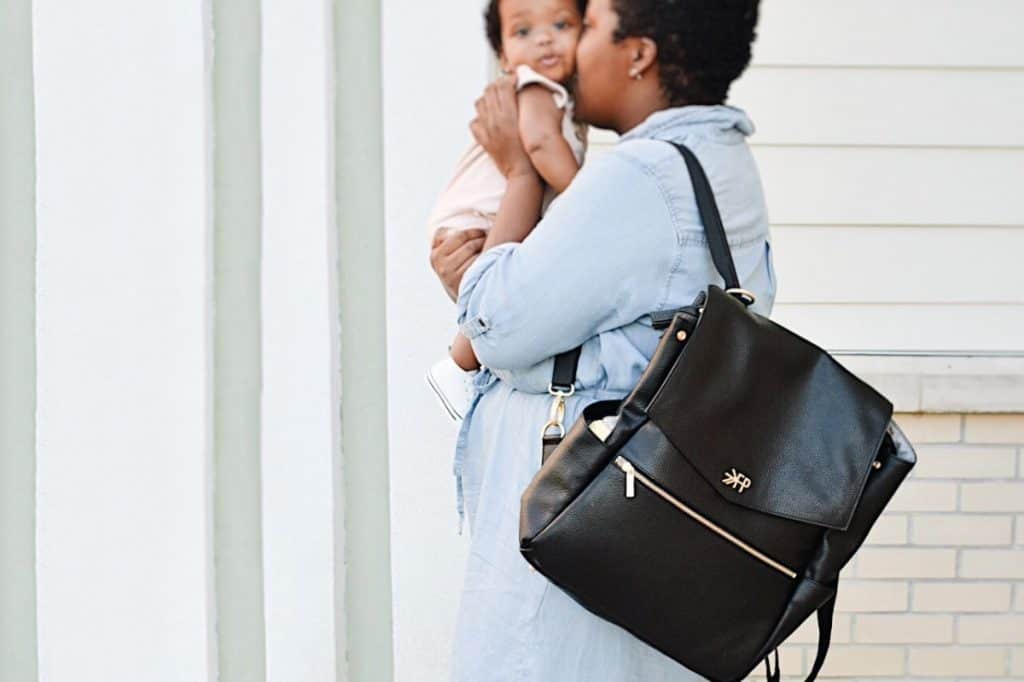 Image Courtesy of BabyList
1.     Pockets
When it comes to baby bags, you would think that "the more, the merrier." However, this is not always the case. If you get a bag that has a separate pocket for every item, then you might have a hard time finding anything as it is quite easy to forget which item is in which pocket. Plus, if you're ever planning to send the bag away to a grandparent's house or a babysitter, don't be surprised if everything comes packed in the wrong pocket.
Moms tend to prefer baby changing bags with one main compartment and just a few interior pockets for keeping things in place. You can store all larger items, such as clothes and nappies, in the main section and keep toys or pacifiers in smaller pockets.
2.     Convertible Straps
There are plenty of baby changing bag models on the market that can be worn as either backpacks or messenger bags. This depends on how you attach the convertible straps. If you're used to both carrying methods, then a changing bag with convertible straps can be quite helpful for you and save you from backache.
3.     Insulated Bottle Pockets
There are a lot of baby changing bags that come with insulated pockets that will keep your baby's bottles warm or cool for longer periods of time. This feature can add a bit to the cost, so carefully consider whether you need it before splashing out.
A note about milk safety – although some bags are marketed as being able to keep bottles of milk warm for hours on end, the safety of this practice is questionable. Bacteria love to grow in warm environments, so keeping a bottle of milk warm for too long is perhaps risky, especially if you're going to feed an infant with it.
Since the research in this area is quite limited, it is perhaps best to use the pockets for keeping the milk fresh for longer, rather than warm.
4.     Material and Design
Baby changing bags come in all different shapes and sizes, and they are made from various materials. If you're looking for a basic bag, then you can choose one of those standard polyester bags. If you're looking for something that is a bit fancier, faux-leather bags are an excellent choice.
Faux leather bags are durable and also very practical. They are quite easy to wipe clean if milk or juice gets spilled inside. Since faux-leather is water-resistant, you can also wear your bag in light rain without worrying about any of your belongings getting wet.
Different Types of Baby Changing Bags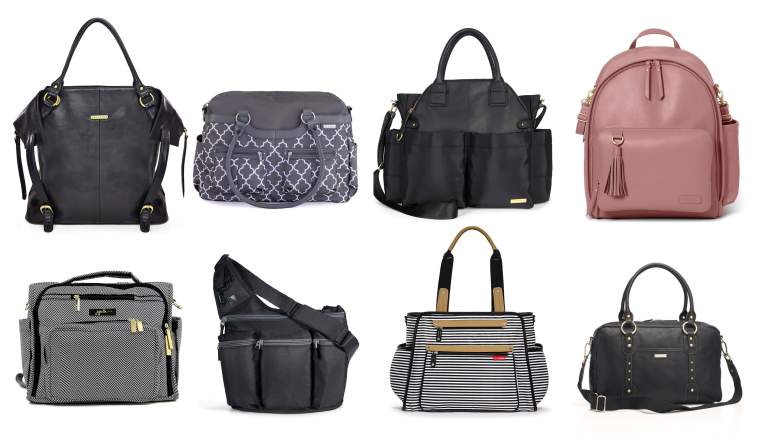 Image Courtesy of Heavy
Messenger-style vs. Backpacks
Baby changing bags can be divided into two main categories: backpack-style bags (worn on your back with two shoulder straps) and messenger-style bags (worn on the hip with a long cross-body strap).
There are some models with convertible straps that allow you to convert your bag from one type to another, depending on what's more appropriate for the particular occasion. Both bags will leave you with your hands-free for carrying babies, so you don't have to think too much about which model you'll choose.
However, it could be helpful to mention that backpacks will keep the weight of the bag centered across your shoulders, rather than all of the weight being held on one side. This is a lifesaver for all parents with back issues or those who use baby carriers.
Messenger-style bags are also a great choice. However, they can also be a bit uncomfortable if they sit on your shoulder for too long. Also, leaning forward can sometimes cause the bag to swing around in front of you.
Changing Units
In addition to baby changing backpacks and messenger bags, you can also get some smaller changing units. These are designed to just carry the essentials – a few nappies, wipes, and a change of clothes.
Instead of purchasing a changing unit only, we recommend getting one in addition to a full-sized baby changing bag. You can leave this one in your car and use it for emergencies or just take it for quick trips out of the house when you don't want to pack everything.
Regular Backpack
Some parents will argue that it is unnecessary to buy baby changing bags and that a regular backpack can do the trick. Well, for some parents this can work. Backpacks are versatile and you can fit plenty of items in there.
However, changing bags are designed with a parent's needs in mind. They often have some unique and useful features, such as baby changing mats, insulated bottle pockets, and wipes dispensers, that you won't find in a standard backpack.